As promised in the last blog post I wanted to share with you what I wore on that lovely Cotswolds holiday Now some of the photos in this post are mere selfies, but so many of my subscribers asked about a blog post for this, so I hope you enjoy it.
The holiday was a while back and you can read all about what I got up to here but luckily, we had the hottest week of the year. And thank goodness the weather has picked up again. The temperatures at the moment are the best for me. Anything over 25 degrees I hate. On the holiday each day reached into the thirties.
What I wore to travel in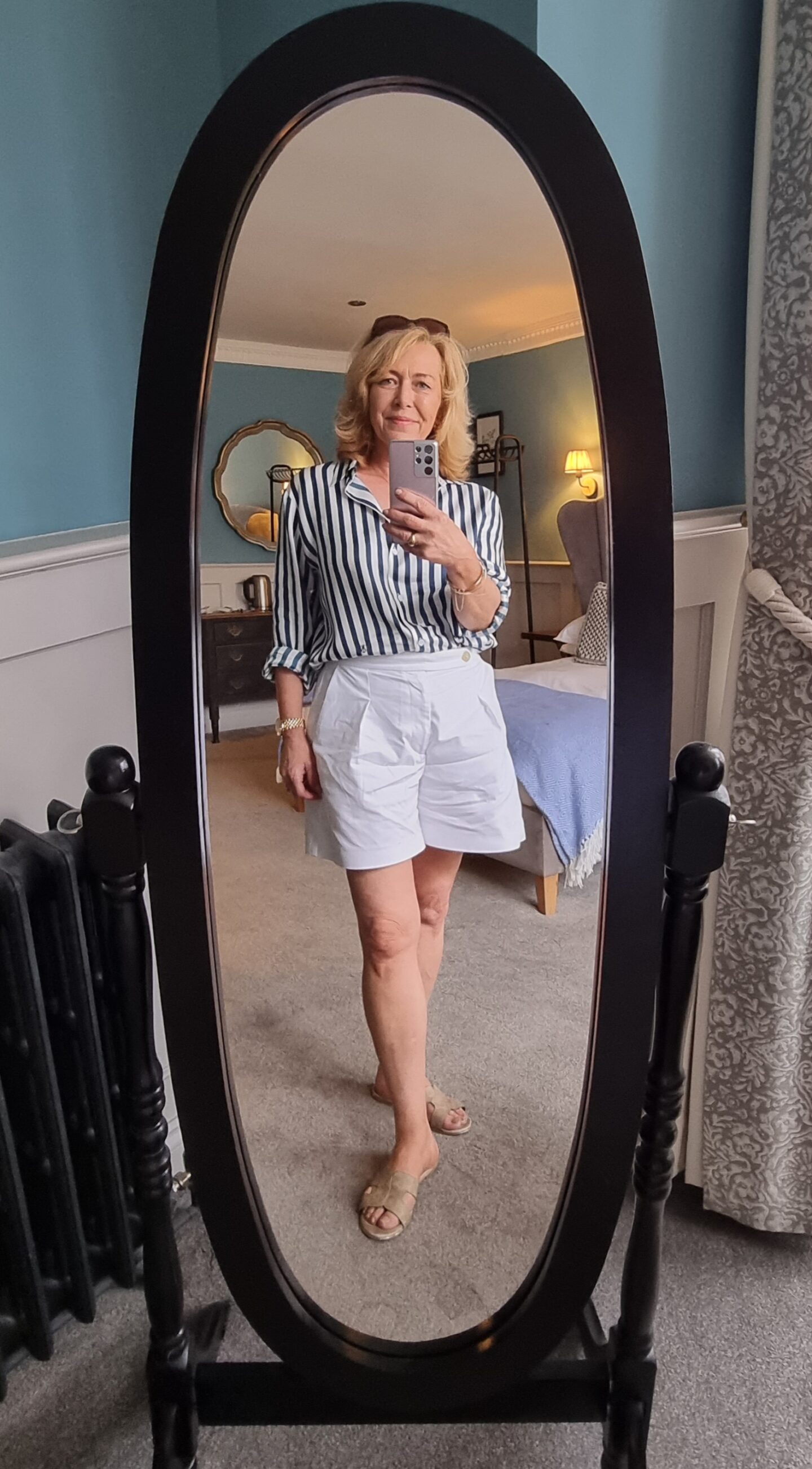 A little crumpled (and not just the outfit!) after a two-and-a-half-hour drive, I've loved wearing this shirt from Lilysilk. I wore shorts for comfort and chose the silk shirt because it's surprisingly cool to wear in high temperatures.
If you don't follow over on YouTube, I often film a selection of new items for Lilysilk and I also have an ongoing discount code for my followers. I will leave a link to the latest film along with the discount code that I have.
The shirt looks fantastic with navy or white trousers too. It's a really smart shirt that screems Riviera vibes. The flat sandals are the Loopey Sliders. I live in them when it's hot!
Shop The Look
Get 12% Off Any Purchase At Lilysilk With Code vanity12
The sell-out dress from Marks And Spencer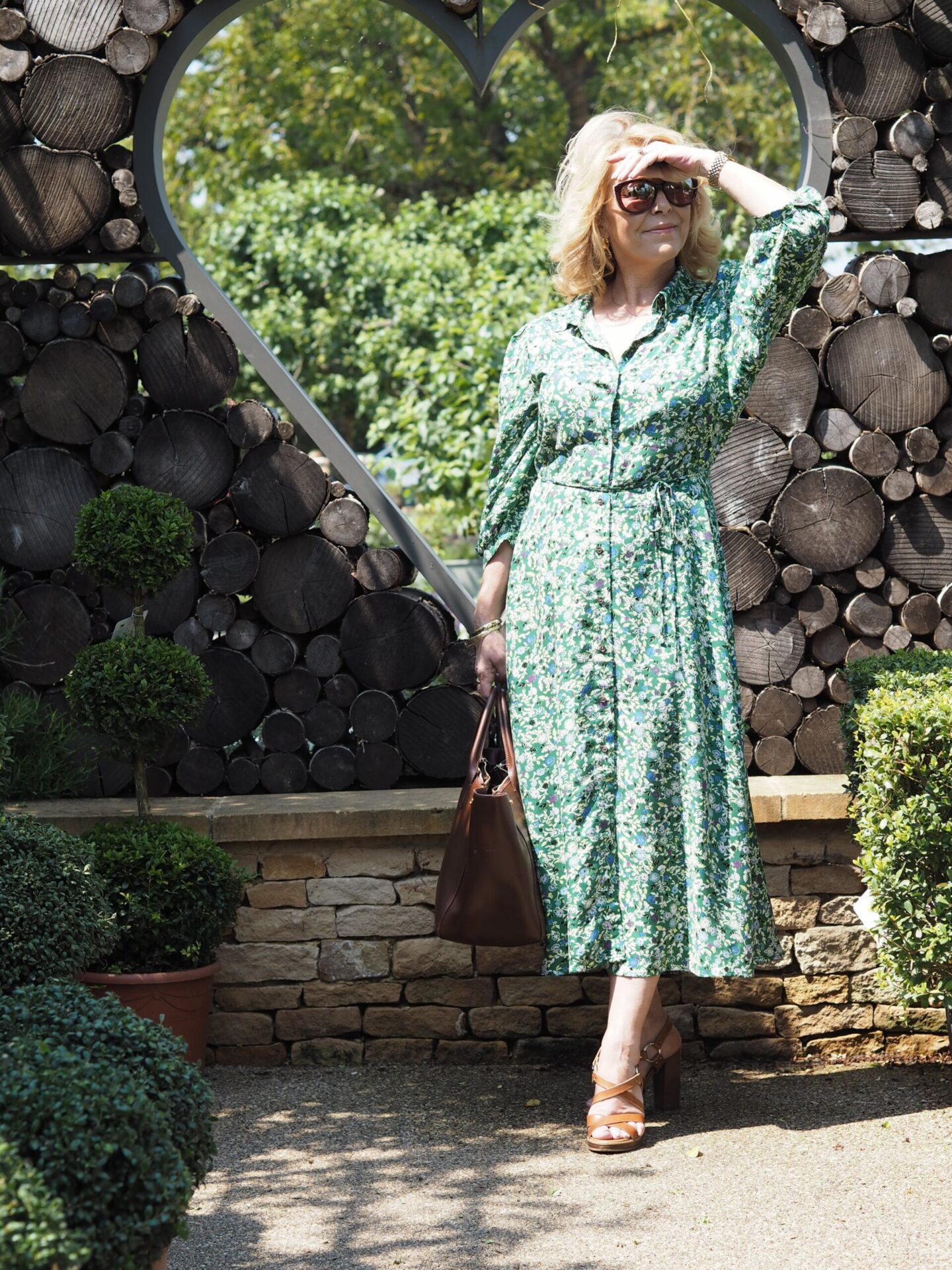 This has to be one of my favourite outfits for this spring, and summer 23. A dress from Marks And Spencer that's a really comfortable one-piece to wear. That's the beauty of a dress, isn't it? All you have to worry about after that is accessories.
The dress, available in three different colours sold out like hot cakes but they have just released a similar one that I've added to the shop the look below.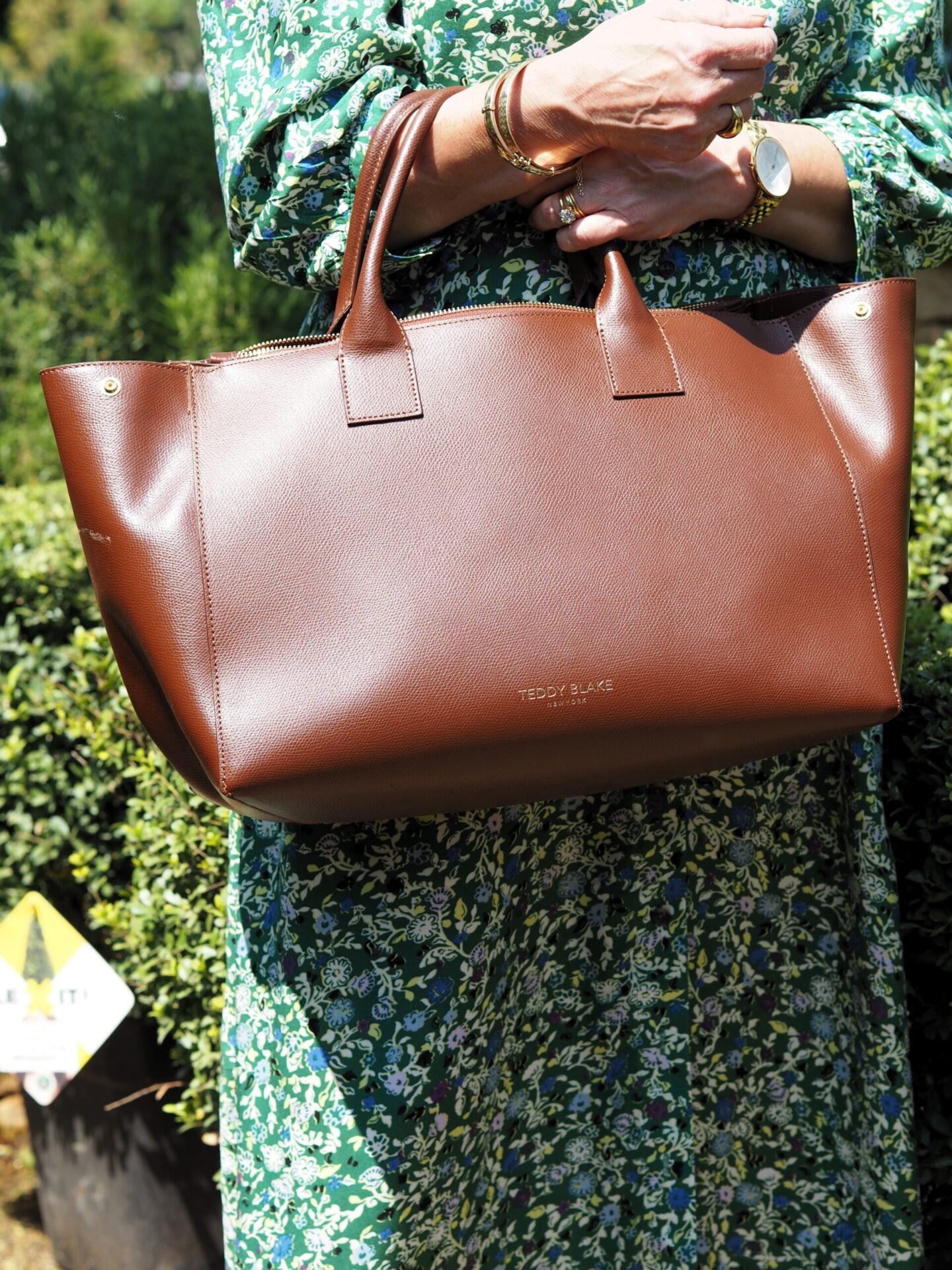 Tan Accessories are my go-to in Summer or winter but the size of this Teddy Blake 15″ Bella Palmelatto bag? It came in so handy for the holiday and as you can see I've popped the extender buttons and used it to its full potential.
The bag was an absolute godsend for the holiday, it held everything I needed for a day out and I can't help thinking that if I were a commuter, working in the city, how great this bag would be.
If you would like to see the Marks And Spencer dress in action, then you might like to watch the try-on haul that I featured on YouTube. There are some really lovely other items in the film too. I haven't listed the Kurt Gieger sandals in the shop the look because they aren't available any more. So I've listed mt new Chloe sandals that I've been living in since purchasing.
Shop The Look
What I wore for a day shopping at Bicester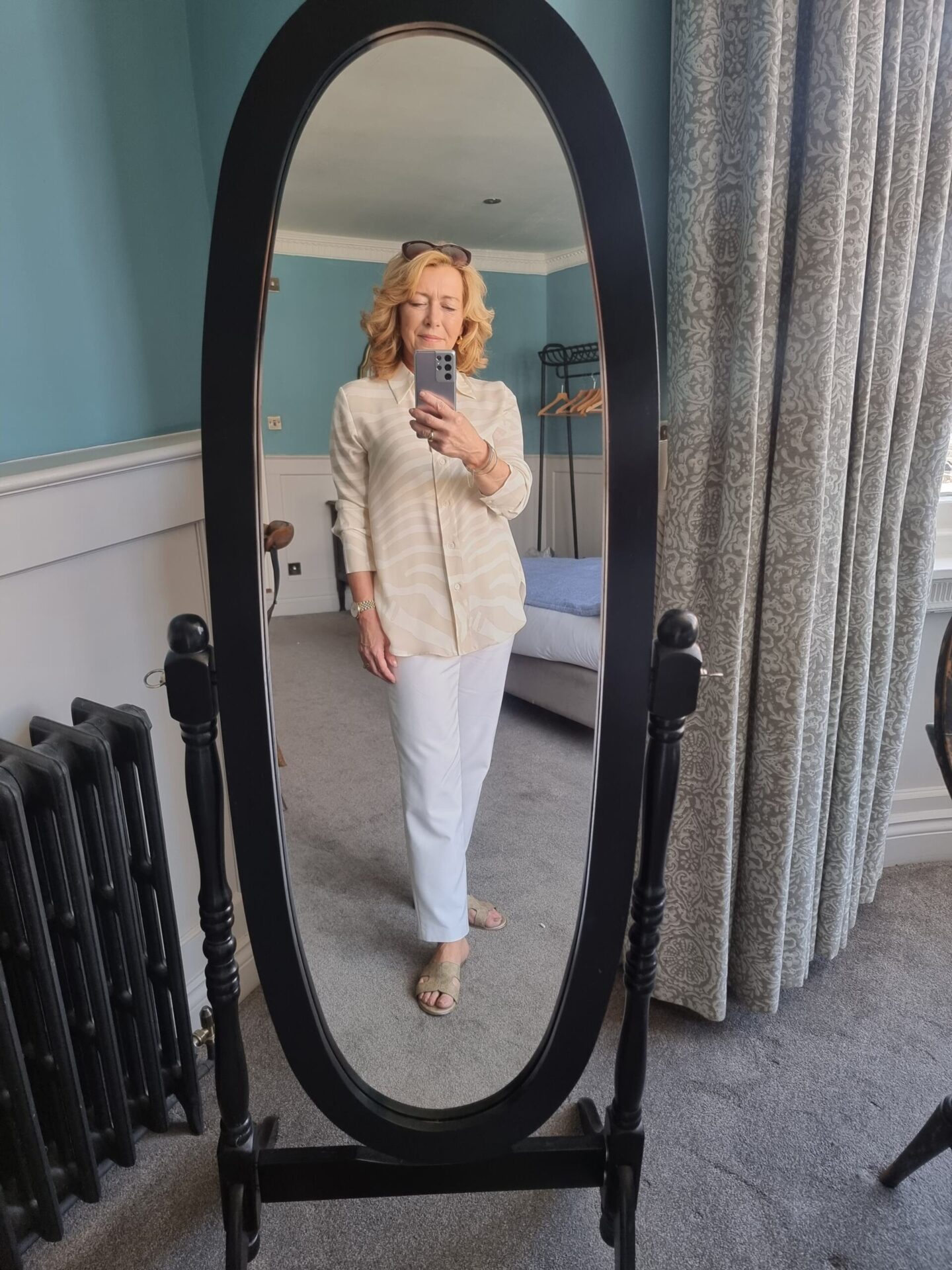 I wore the simplest of outfits for a day of shopping at Bicester Village. The shirt has to be one of my most worn pieces through this year's summer. Paired with easy, comfortable straight trousers and of course those comfortable slides again.
The shirt and trousers are both from H&M a real budget outfit in my favourite summer hues of creams and whites. Neutral all the way! The shirt never requires ironing ( bonus) and the Cigarette trousers I have in nearly every colour. They are so easy to pair with anything.
Holidays require exceptional loungewear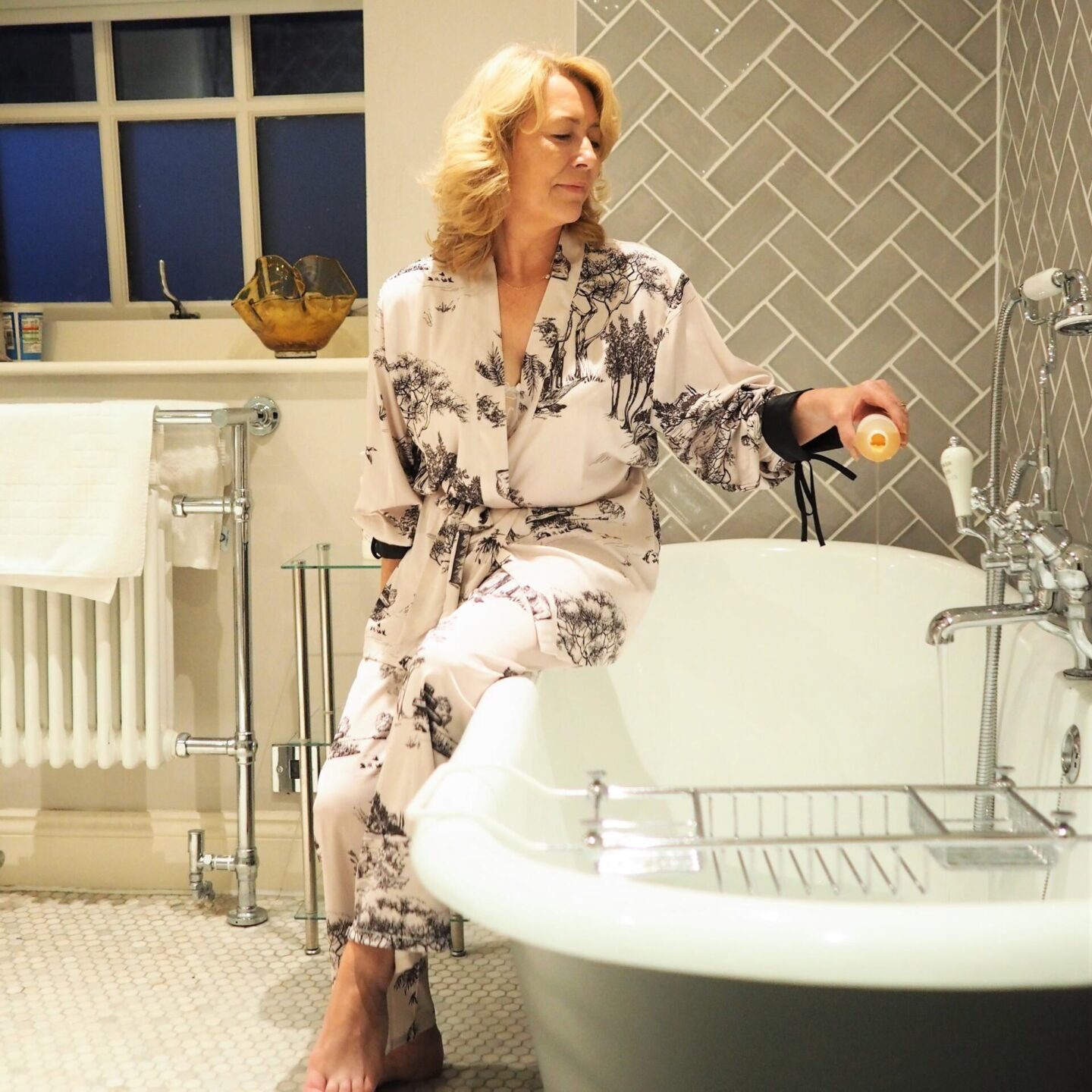 Feel good Pyjamas. That's what I call them. I was gifted these gorgeous Pyjammas from a brand called Ulivary Life. A brand that has some of the most gorgeous loungewear. I also have a velvet dressing gown for when the weather is colder ( not too soon I hope ) The Pyjamas actually come with a black camisole as well but I forgot to pack it.
I have a discount code for 30% Off at Ulivary Life Use the code VANITY23
A beautiful linen dress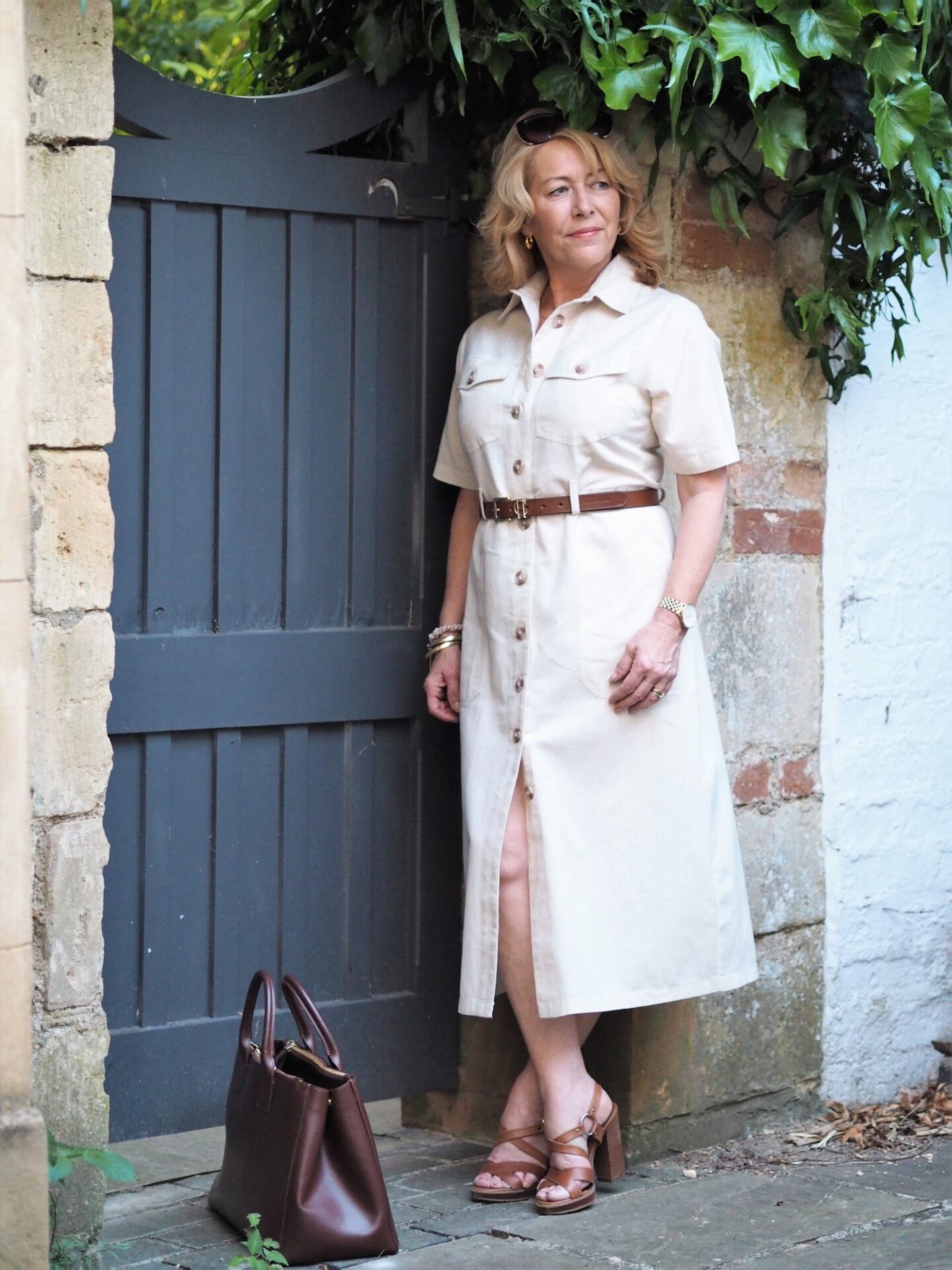 I received this linen dress from Apricot just in time for the holiday. I'm a big of the Apricot brand. There's never a time that I go for a quick browse on the Apricot website and don't end up with a wish list. If you are a long-time reader, then you may remember the photo shoot I attended with them alongside the Thames. That was a fabulous day, and that's when I developed a passion for the brand. Looking back at that post, it was in 2019! It feels like yesterday!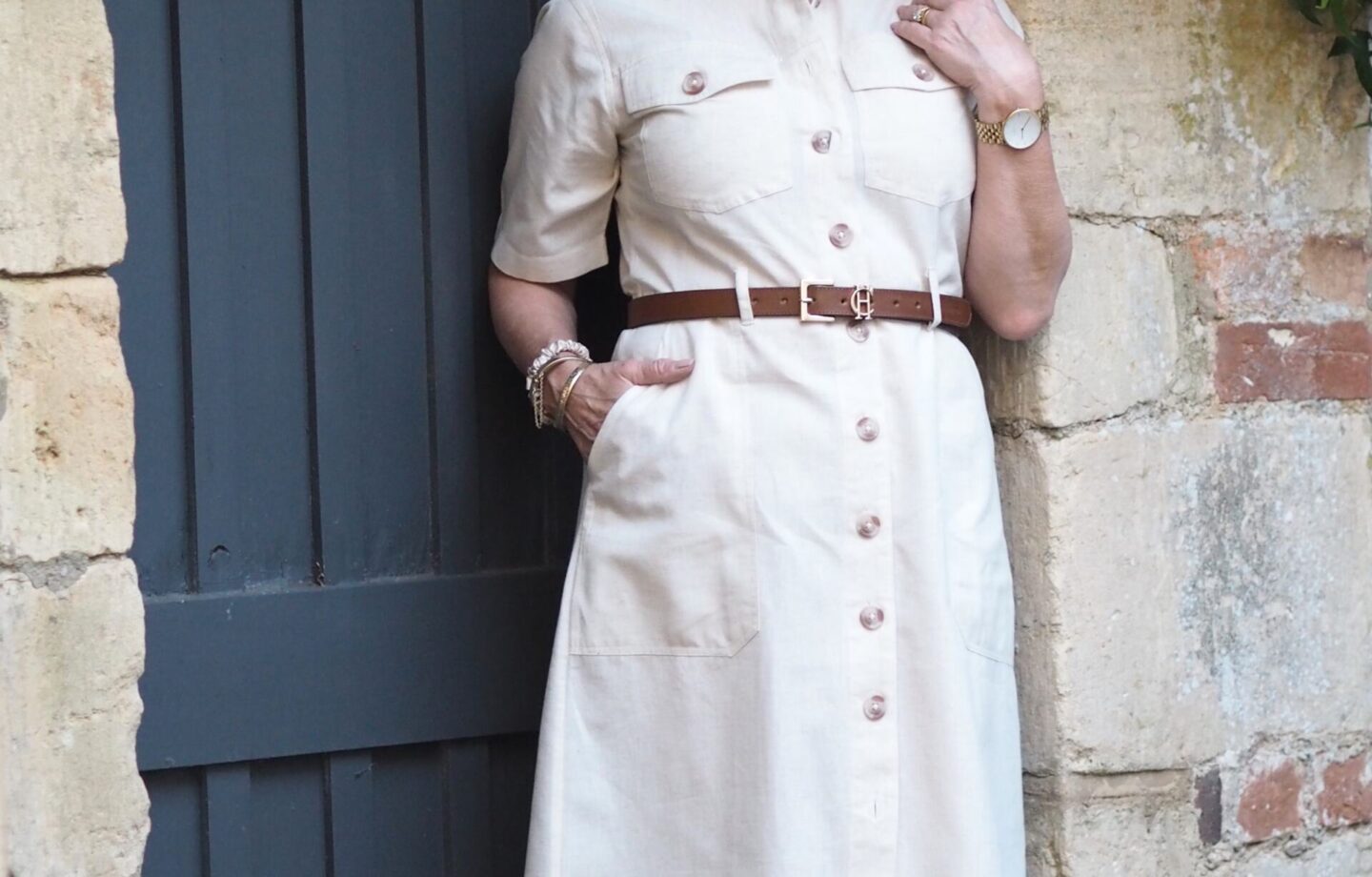 I paired the dress with the new belt that I bought at Bicester Village. It's from my new brand crush Holland Cooper. This is one of the reasons that I like this neutral linen dress is that you can accessorize it with literally anything. Of course, I chose my favourite tones of tan. You can't go wrong with tan accessories. They work well for both summer and winter.
I love the gold hardware on the belt. The little HC is not too ostentatious. The leather is of excellent quality. I have a huge wish list for the Holland Cooper brand!
A very chilled time in the Cotswolds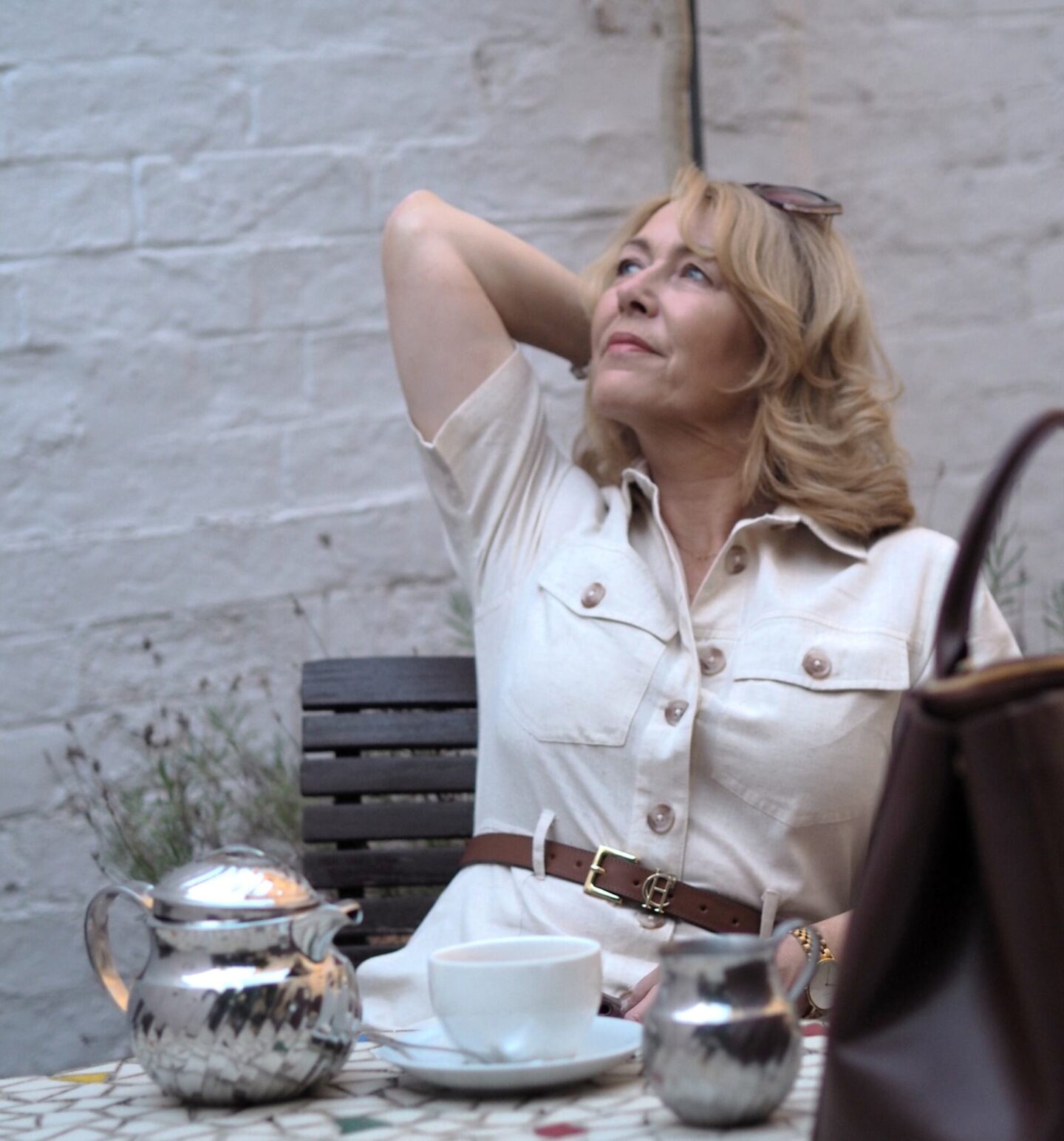 Sitting in the private courtyard of my hotel room on the last evening, soaking up how good I felt during this holiday in the Cotswolds. I can't wait to return.
Shop The Look
Please be aware that there are affiliate links included in this post at no cost to you if they are clicked on
---
Thank you for stopping by!
Come back for more. Click on the subscribe form below
YOU MAY HAVE A FRIEND THAT'S INTERESTED IN THIS POST. PLEASE USE THE SHARE BUTTONS
XO LAURIE
Subscribe for the latest updates!