So. The big 60 happened! I found it quite a daunting thought to become 60 but I don't feel a bit different. That question "what to wear over 60" hasn't entered my head either
I got super spoilt with a surprise birthday and there were some friends there that I hadn't seen for years. Dee really did her homework getting in touch with people and now it's lovely to catch up with people that I'd drifted apart from through the years. There were lots of laughs!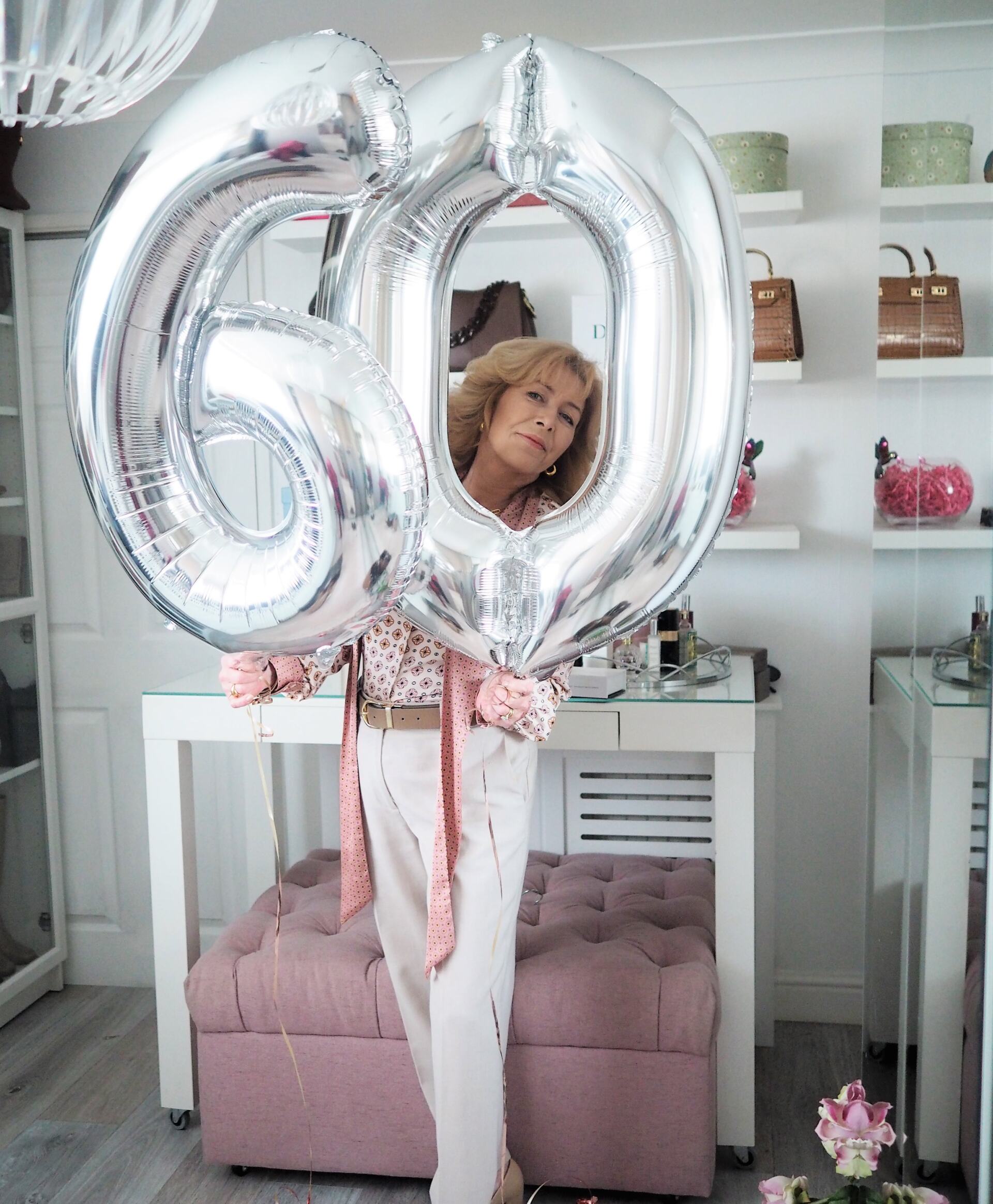 Here's my celebratory photo taken with balloons from the party. My house also has never been so full of flowers!
I will be wearing the same style as I have throughout all my years Classic simple styles with on-trend accessories will still be my go to and it won't change. And I will still shop in River Island! And all of the younger lead shops! Don't ever let the idea into your mind that you can't wear something because of your age. And for the record, I will be forever in my fifties from now on!
The jumper I've been wearing non-stop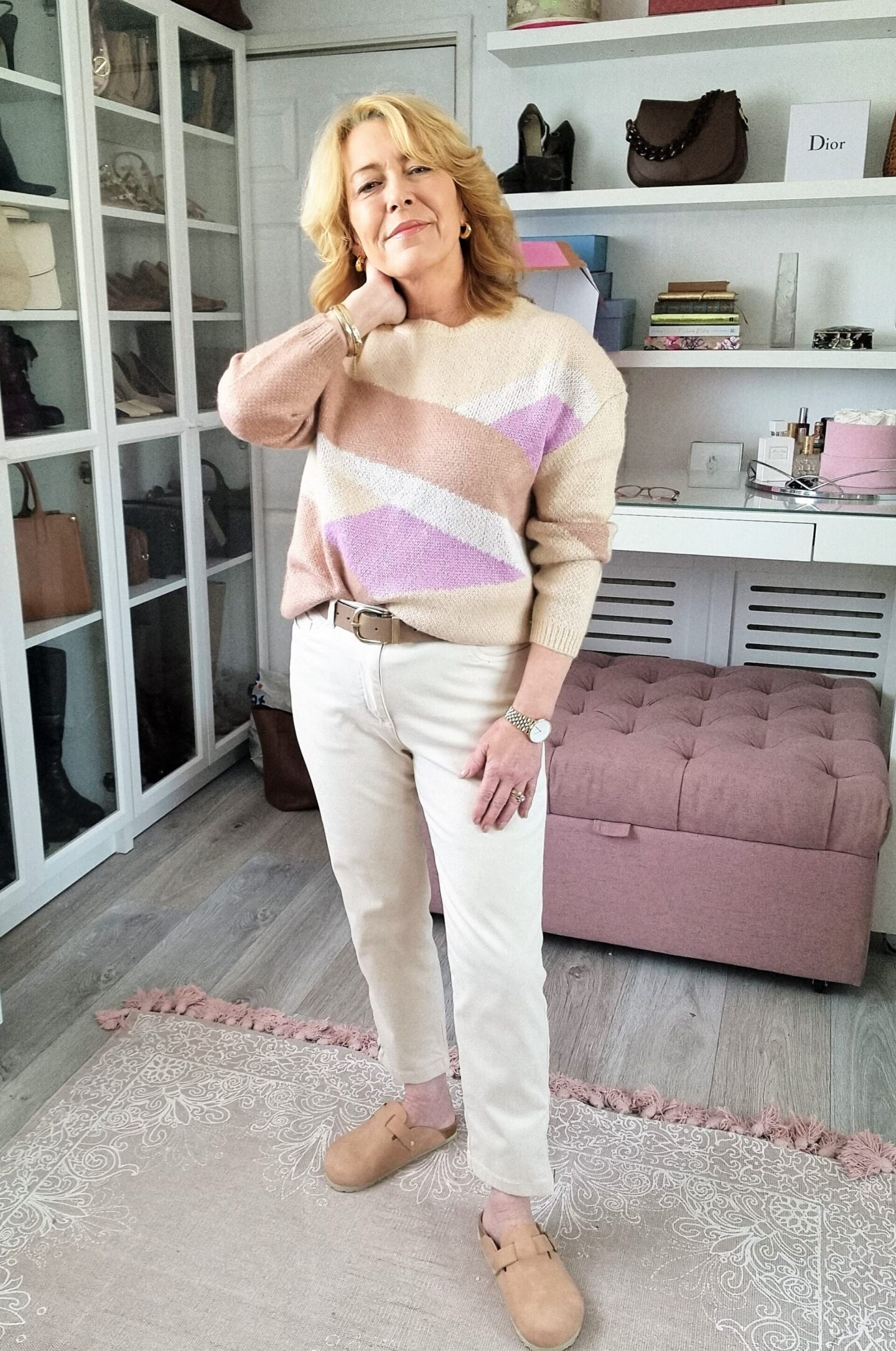 I received this Jumper and jeans from Damart. I love the dash of Lilac in the knit. Not a colour I normally go for but I found it paired with so much in my wardrobe. It's still as snuggly soft as the day I received it.
The jeans are a lovely colour and would be three-quarter length on most humans that are over 5'2 which is my height. I'm a big fan of Damart jeans. Their styles and fit are brilliant.
Shop The Look
what to wear over 60? You can't go wrong with a classic neutral style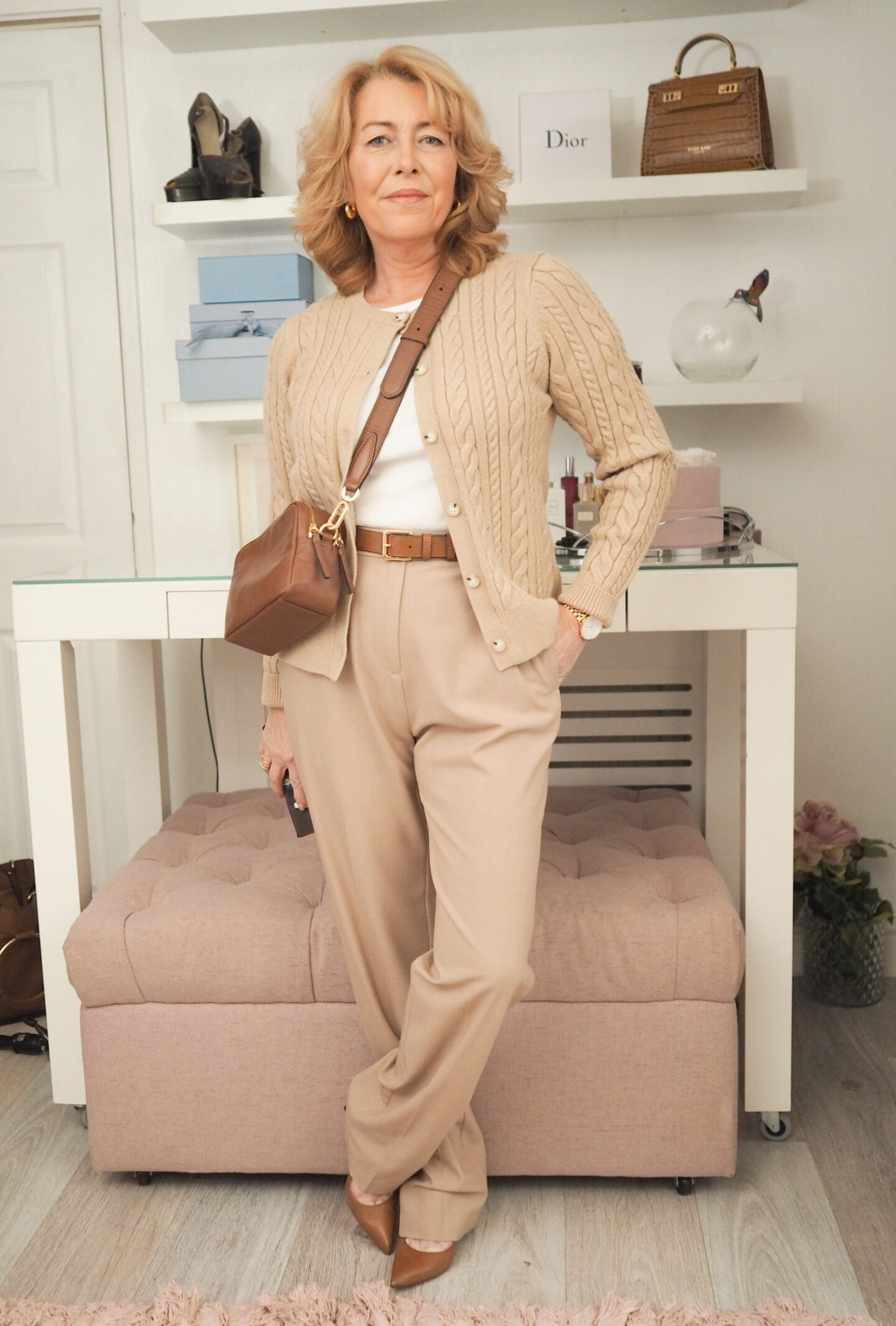 This gorgeous cable knit jumper from Cotton Traders kept me very warm in those freezing temperatures that we had the past few months. Looking on the website I noticed they have the same style in more summery colours, pinks, blues and lemons with short sleeves. I love lemon colours in summer. It's so fresh.
The trousers are new and I will be getting these Marks And Spencer straight leg trousers with stretch in other colours. They are so comfortable and I like the cut of them.
Shop The Look
The dress to wear now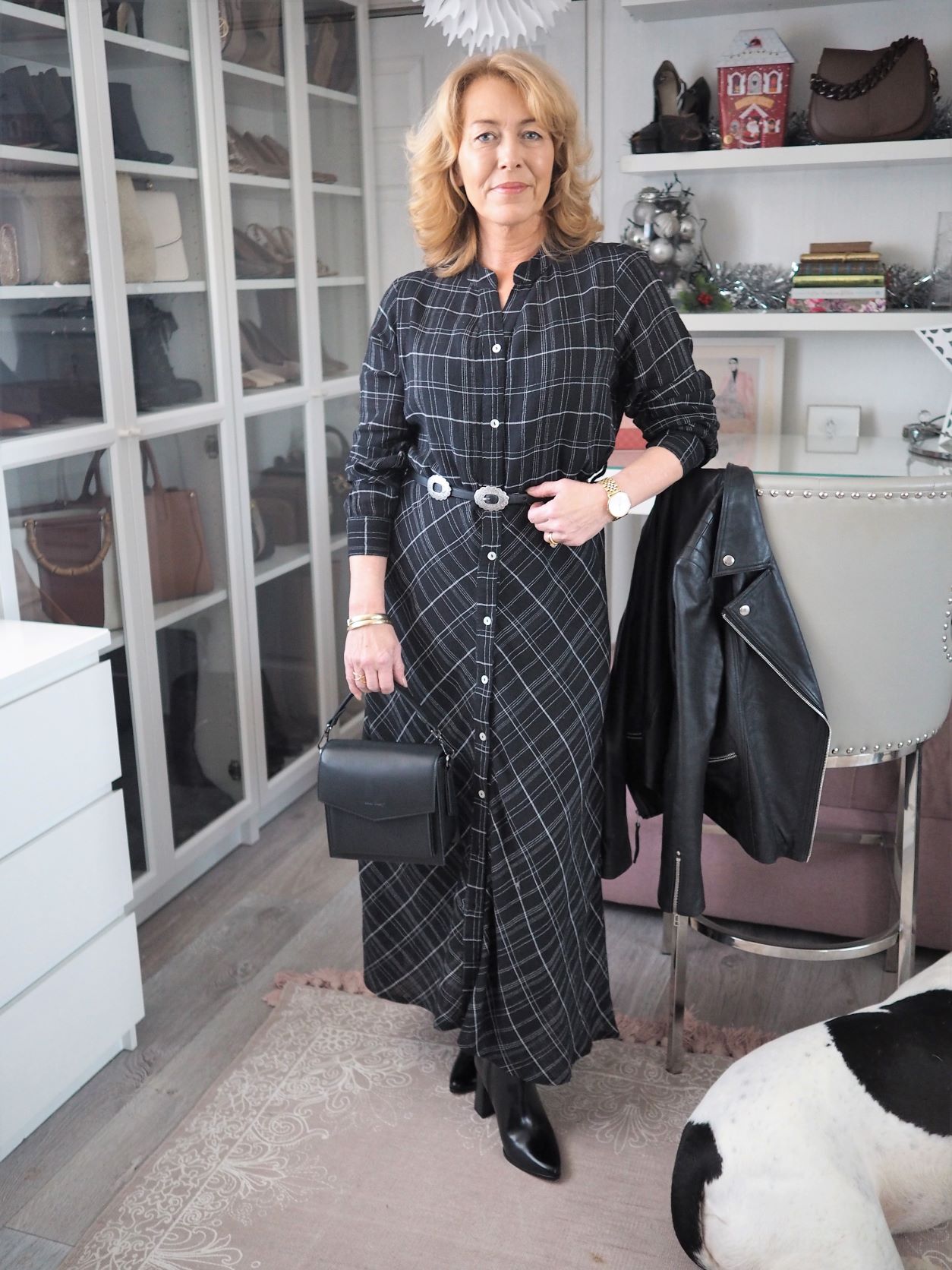 I also received this dress from Cotton Traders and to be fair it's barely seen the light of day yet. The sun is shining as I write this and the temperatures are climbing a little so I will be pleased to give it an airing and wear as much as possible before it's too warm.
It comes with a full slip and self-tie belt but I've added my own favourite from Ralph Lauren. I don't wear a lot of black but with the lighter check in the dress, I really like it.
Shop The Look
Now the sun's starting to make an appearance and it's getting warmer, I've been dying to share this special offer with you!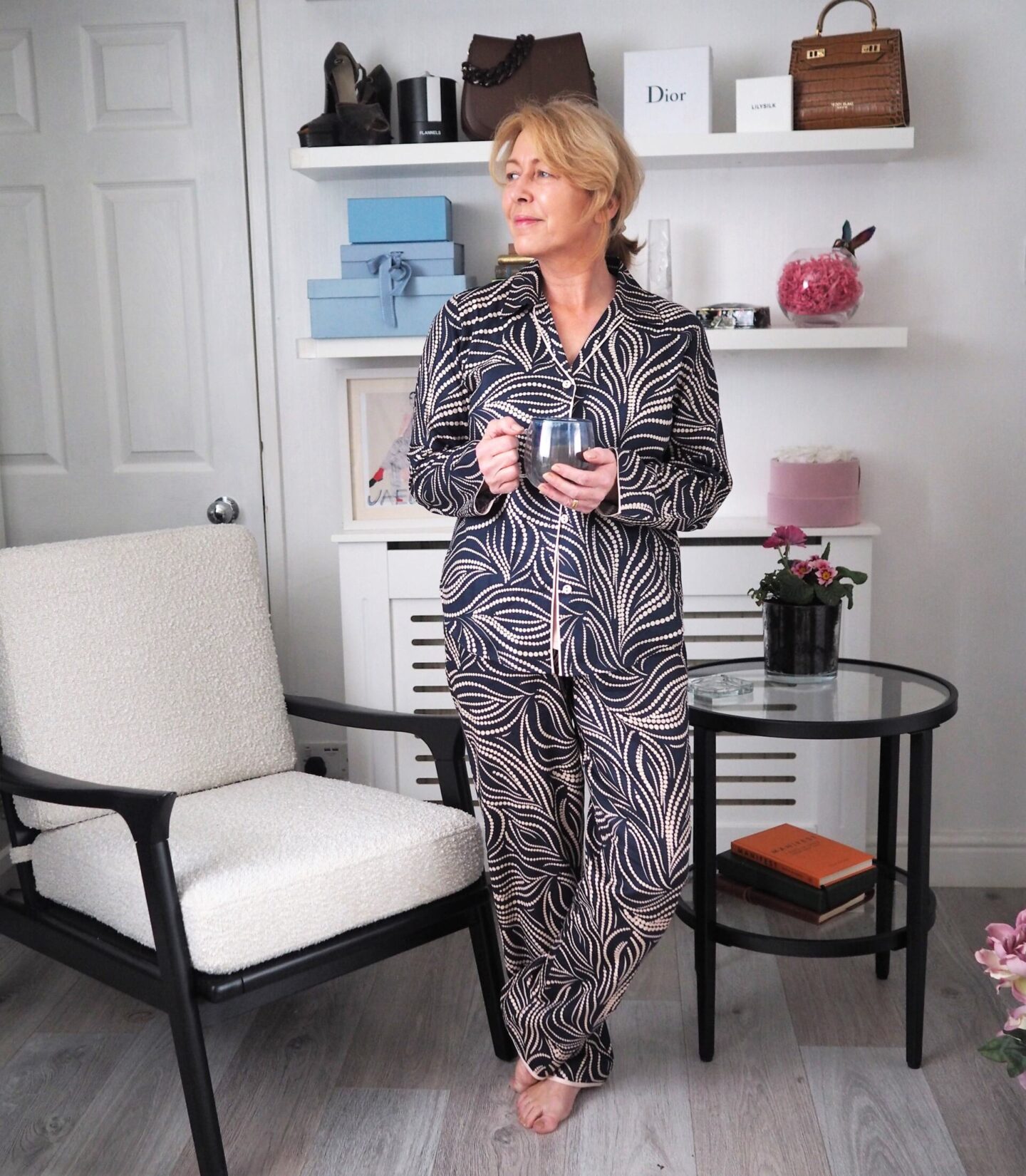 I've long been a fan of CyberJammies and I'm proud as punch to become a brand ambassador for them. So for the foreseeable, I will have a 10% discount for any items from Cyberjammies.
I'm super pleased with the new pair of pyjamas that I'm wearing in the photo above. I love the print and the pink edging that's added. The best quality, I'm still wearing the Pyjamas from the post a few years back.
Use the code VANITY_AND_ME for your discount
Shop The Looks
Neutral style – The favourite outfit of 2023 so far!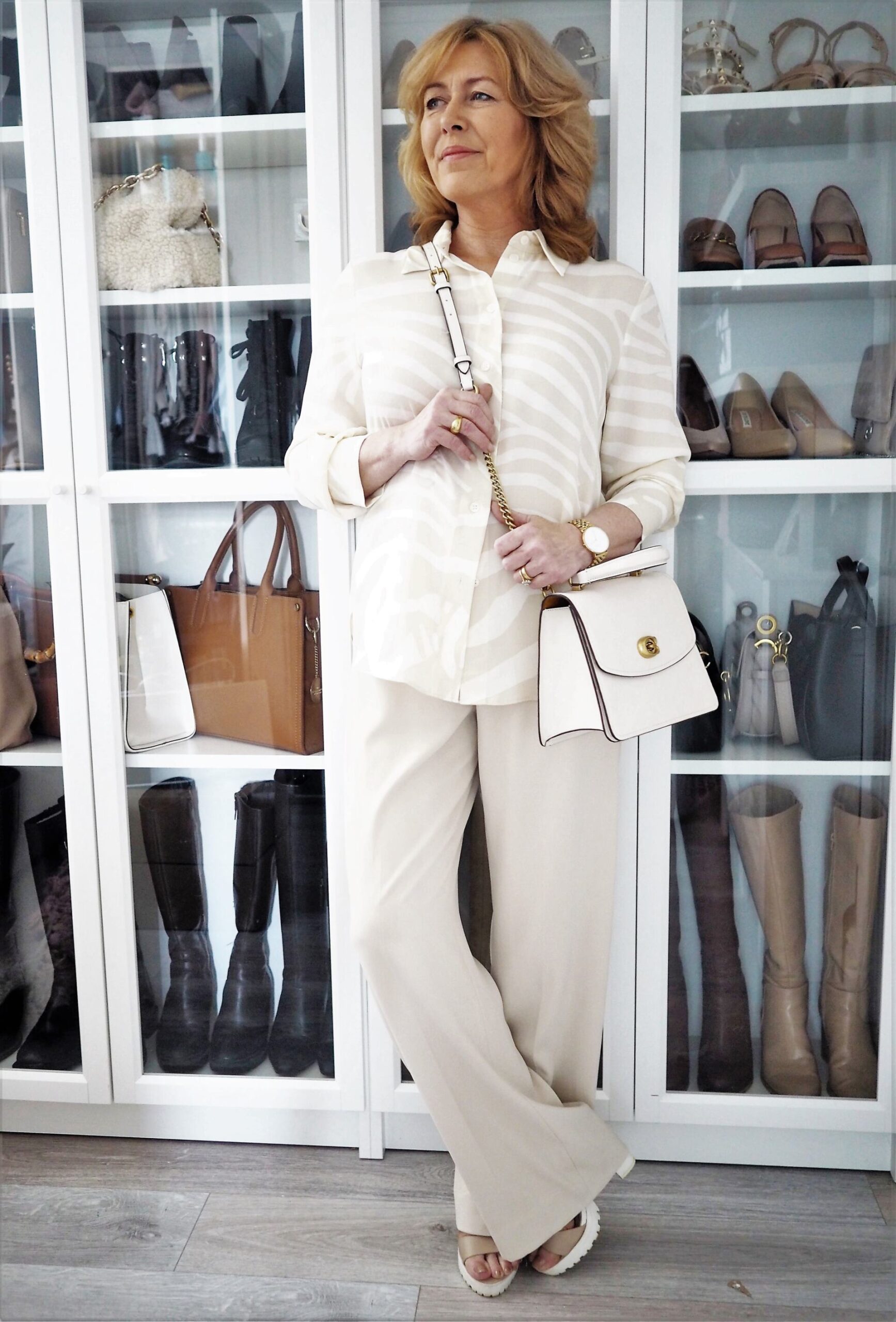 I regularly film a H&M try-on haul over on my YouTube channel and the shirt above was such a good find. I've paired it here with trousers from a previous haul for a more dressed-up look but the shirt also looks good with white jeans or any other neutral-coloured trousers. It's an absolute bargain at £17.99 The shirt comes in lots of other colours and prints too.
The trousers were a good buy too. Wide-legged and a lovely heavy fluid material and they hang beautifully. A very plain design, with no pockets but they're very slimming I think. I bought them for a wedding last year and I'm just about to buy them in black.
Shop The Look
Fingers crossed for better weather. I have some lovely new-in pieces to share with you.
Speak soon xx
Please be aware that there are affiliate links included in this post at no cost to you if they are clicked on
---
Thank you for stopping by!
Come back for more. Click on the subscribe form below
YOU MAY HAVE A FRIEND THAT'S INTERESTED IN THIS? PLEASE USE THE SHARE BUTTONS
XO LAURIE
Subscribe for the latest updates!