Oh my goodness! Where did 2022 go? I can't believe this is most probably the last post until 2023. I might try and squeeze in another. Any requests? I've kept one of the best brands until last, a gorgeous Corduroy shirt dress from Brora.
Have you noticed that Corduroy has been having a bit of a moment? All the major fashion houses have featured some corduroy of some sort.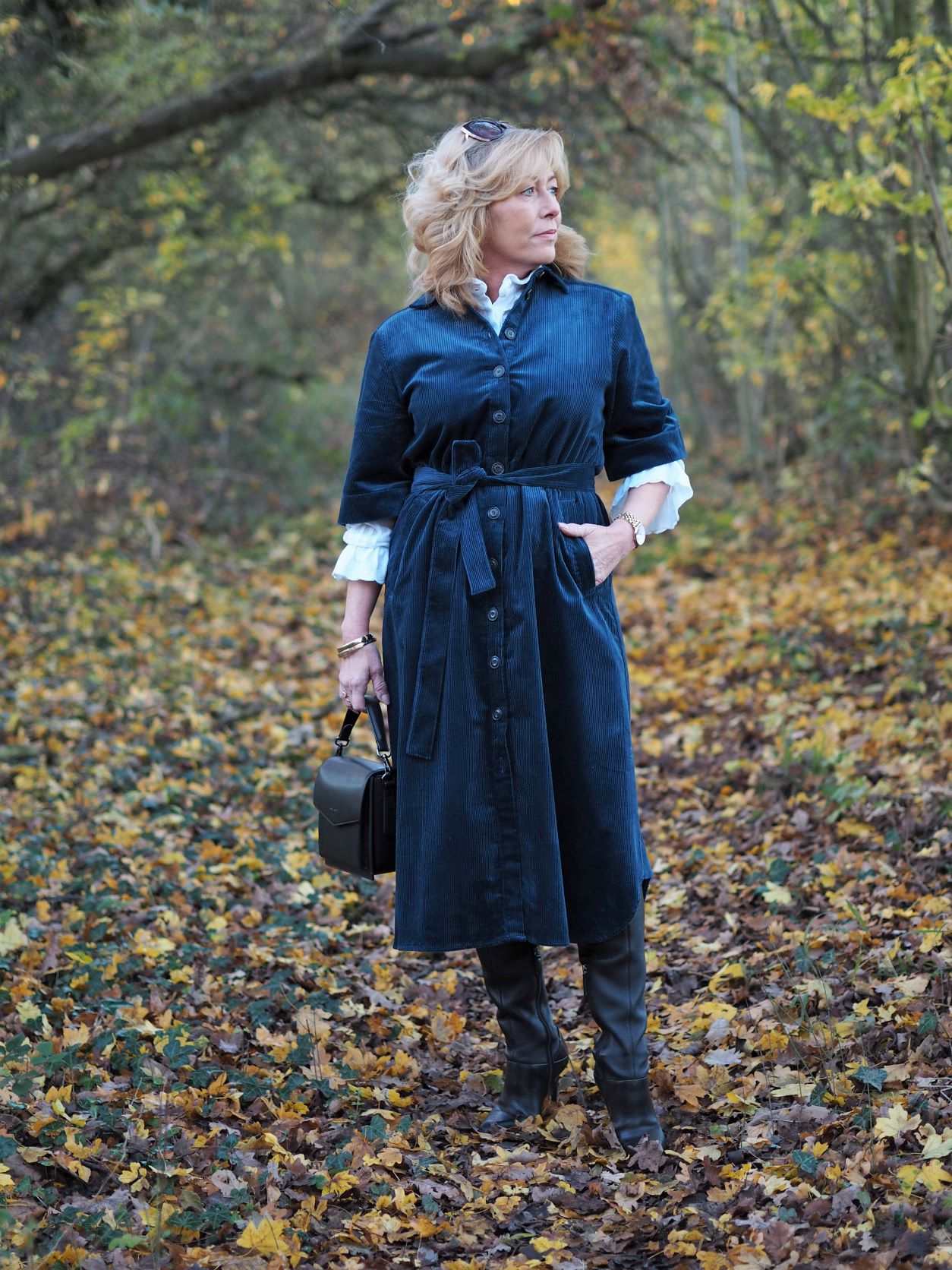 This is the Corduroy Shirtdress in a rich blue shade called Dusk. The dress can be worn either belted or loose.
I like to wear the dress both ways. Today, I paired the dress with the first Brora item I tried when the brand stole my heart! I still wear the blouse regularly and thought it paired perfectly under the dress with the frilled collar and frilled cuffs just peeping out.
One of the reasons I love Brora is the detailing of the clothing. The blouse has a three-layered Broderie Anglaise collar and the cuffs are just so pretty.
Brora is most probably one of the pricier brands in my wardrobe but you certainly get what you pay for. I will be eagerly hitting the Brora sale as soon as it starts! So if you have some Christmas pocket money to spare ladies! This is a brand to keep your eyes on.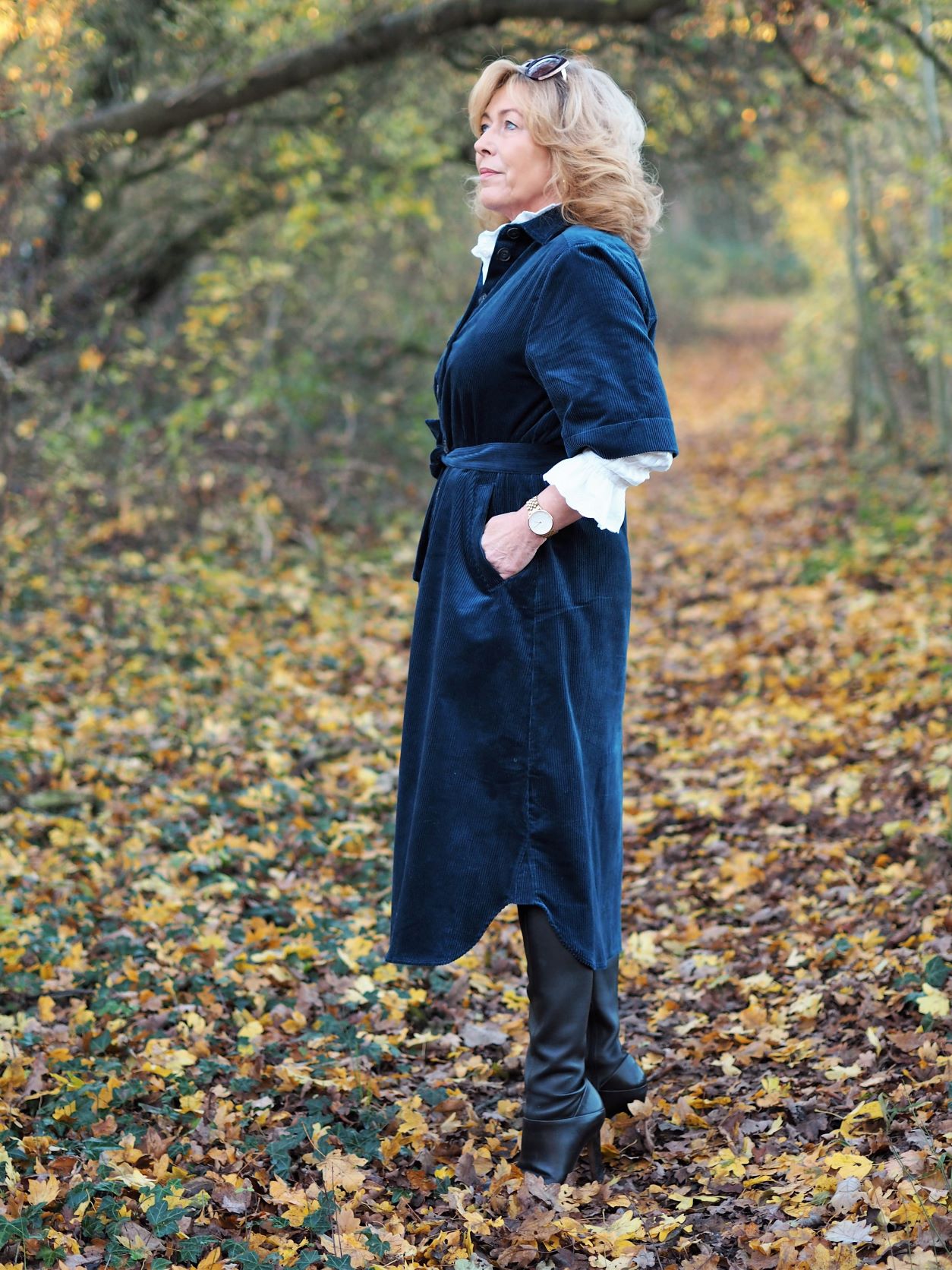 I love the volume of the shirtdress. Buttoned all the way through in the softest corduroy. Large volume sleeves and dipped hem. This shirt dress looks great unbelted with a cosy roll-neck underneath too. I've worn it like that before and it's so comfortable.
If you'd like to see the dress in more detail, pop over and see the try on over on my YouTube channel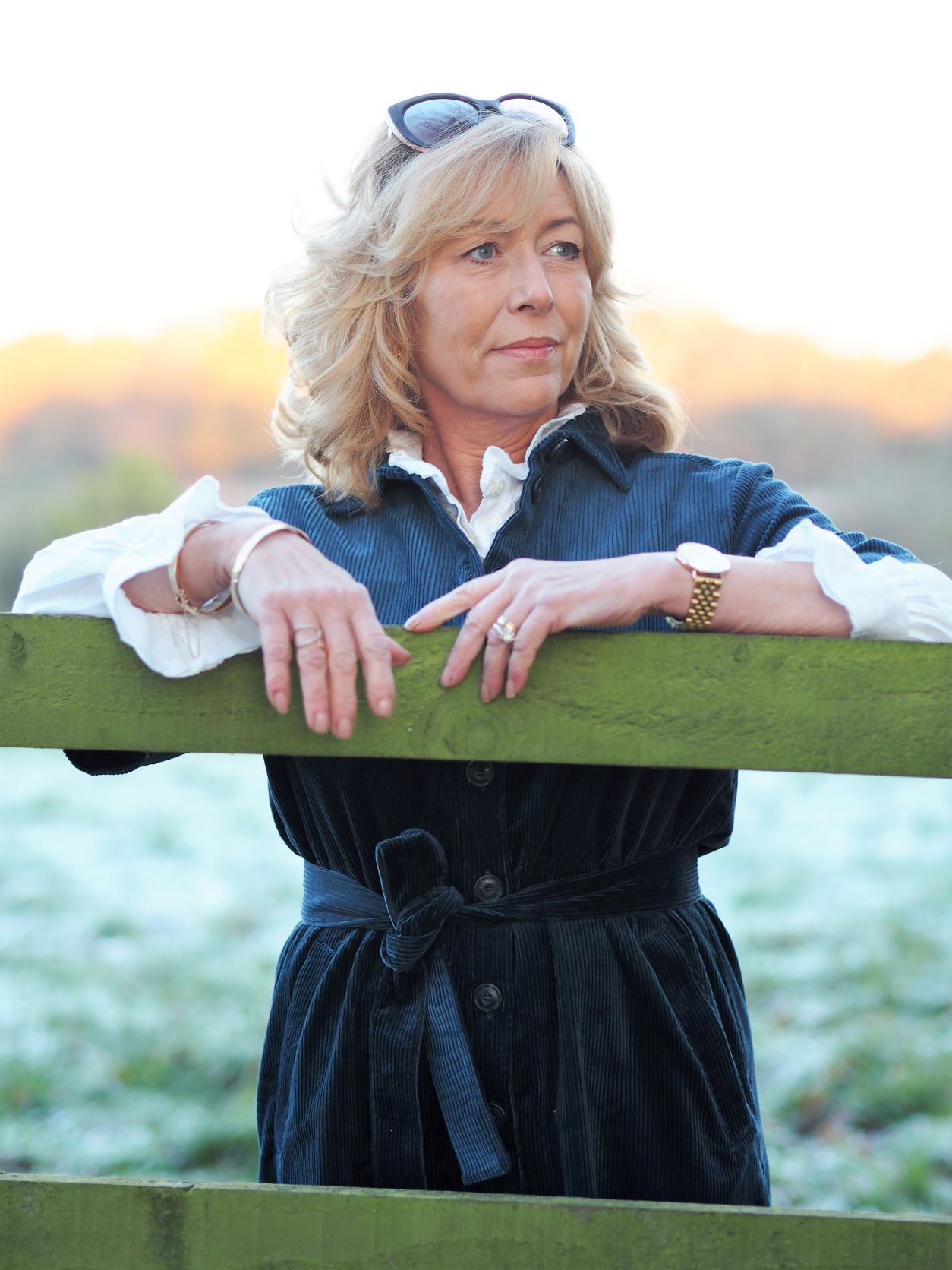 The snow has just started to disperse here in Essex. Shame there won't be a white Christmas. It was so picturesque in the countryside as well. Just a week before Christmas and I still have so much to do!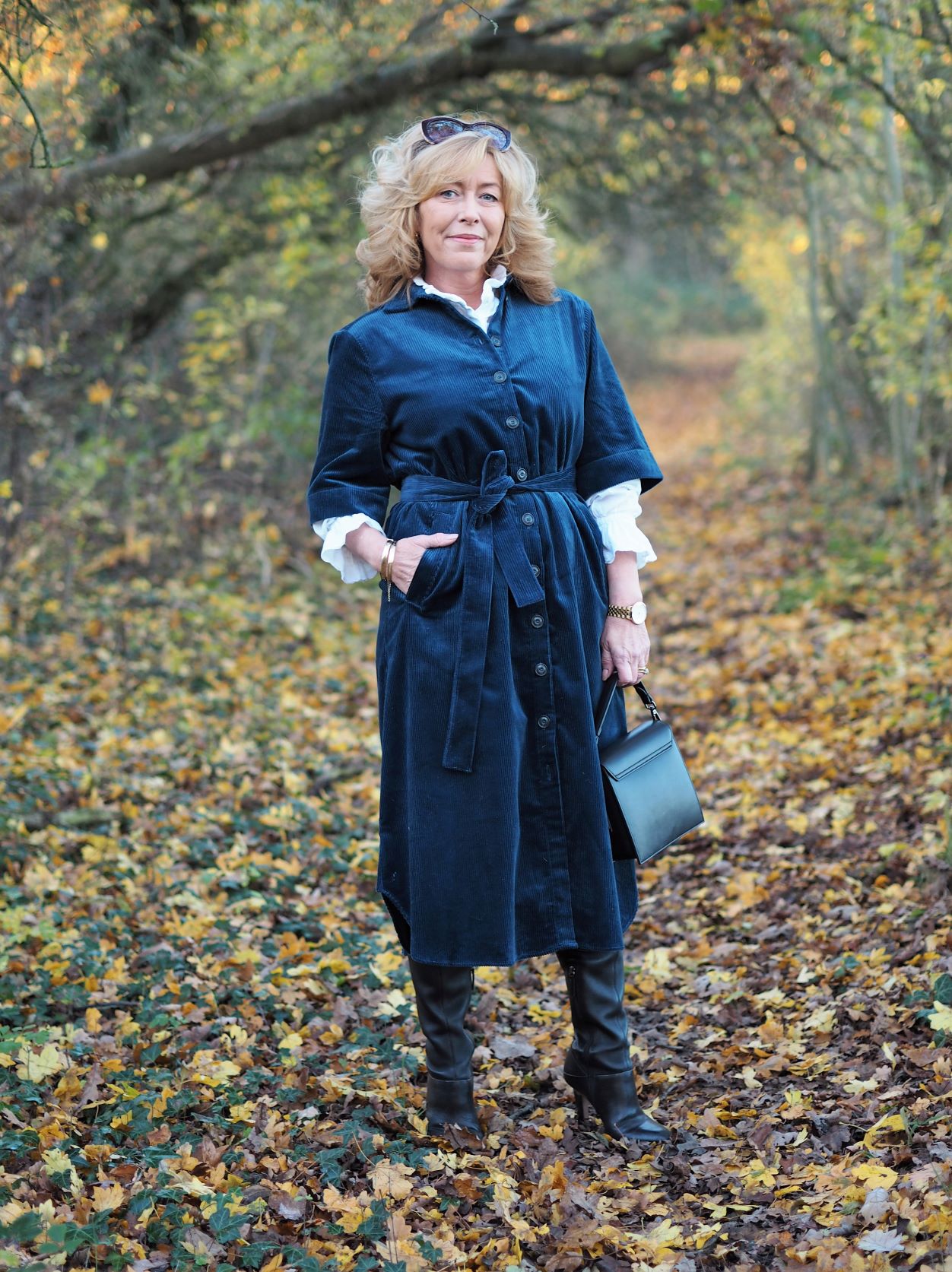 I've amped the dress up today with my favourite high heeled black boots and a fabulous new bag from Beau Today. I'm having lunch with friends at their house literally ten feet away from this country field. I'm wearing the sunnies because it's really been bright and sunny and bright but freezing!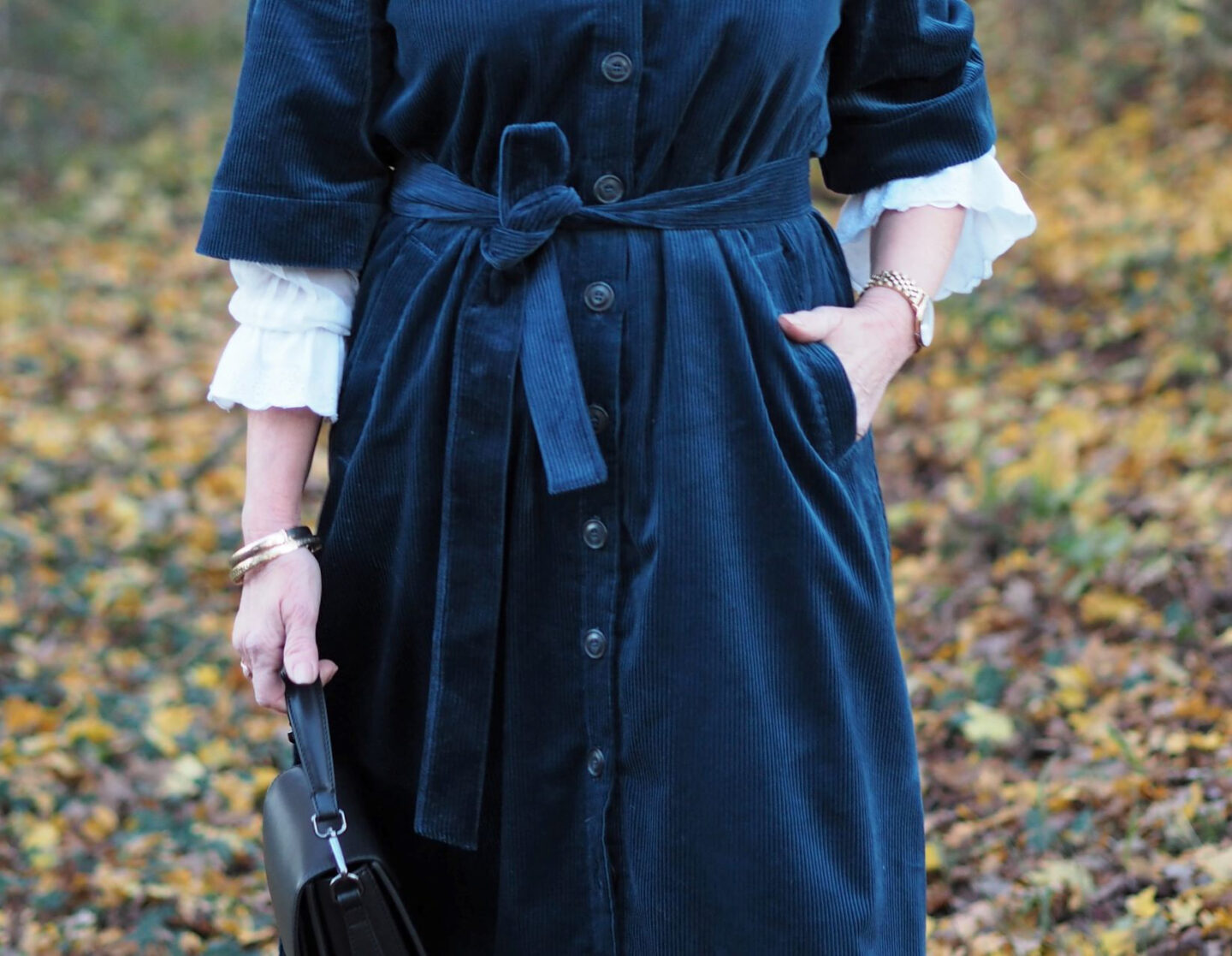 A little extra information. Brora have just joined forces with Nick, Lily and Edie Ashley. ( Edie works and designs for Vivienne Westwood) Keeping their mothers and grandmothers passion alive with a stunning collection of iconic prints and cashmere.
I've been a fan of Laura Ashley since a very young age. I was bridesmaid in a Laura Ashley dress when I was around twelve. I think the love for the brand developed from there. The Needlecord Print Shirt Dress is on my wish list!
Shop The Look
Wishing you the best Christmas
I hope you all have the best Christmas. Take time out, pamper, relax, be a sloth! just have the best time. Love to you all
Laurie xx
Please be aware that there are affiliate links included in this post at no cost to you if they are clicked on
---
Thank you for stopping by!
Come back for more. Click on the subscribe form below
YOU MAY HAVE A FRIEND THAT'S INTERESTED IN THIS? PLEASE USE THE SHARE BUTTONS
XO LAURIE
Subscribe for the latest updates!