from those last warmer sunnier days, heading into the winter wardrobe. Here are some of my favourite outfits. Layering is key at the moment. This must be the latest time I've ever done the wardrobe changeover.
I've just started Christmas shopping and I have my eye on a few items that I hope are going to be discounted still. Black Friday seems to be hanging around! I'm not complaining though.
The Pink Campaign for Damart – Breast Cancer Awareness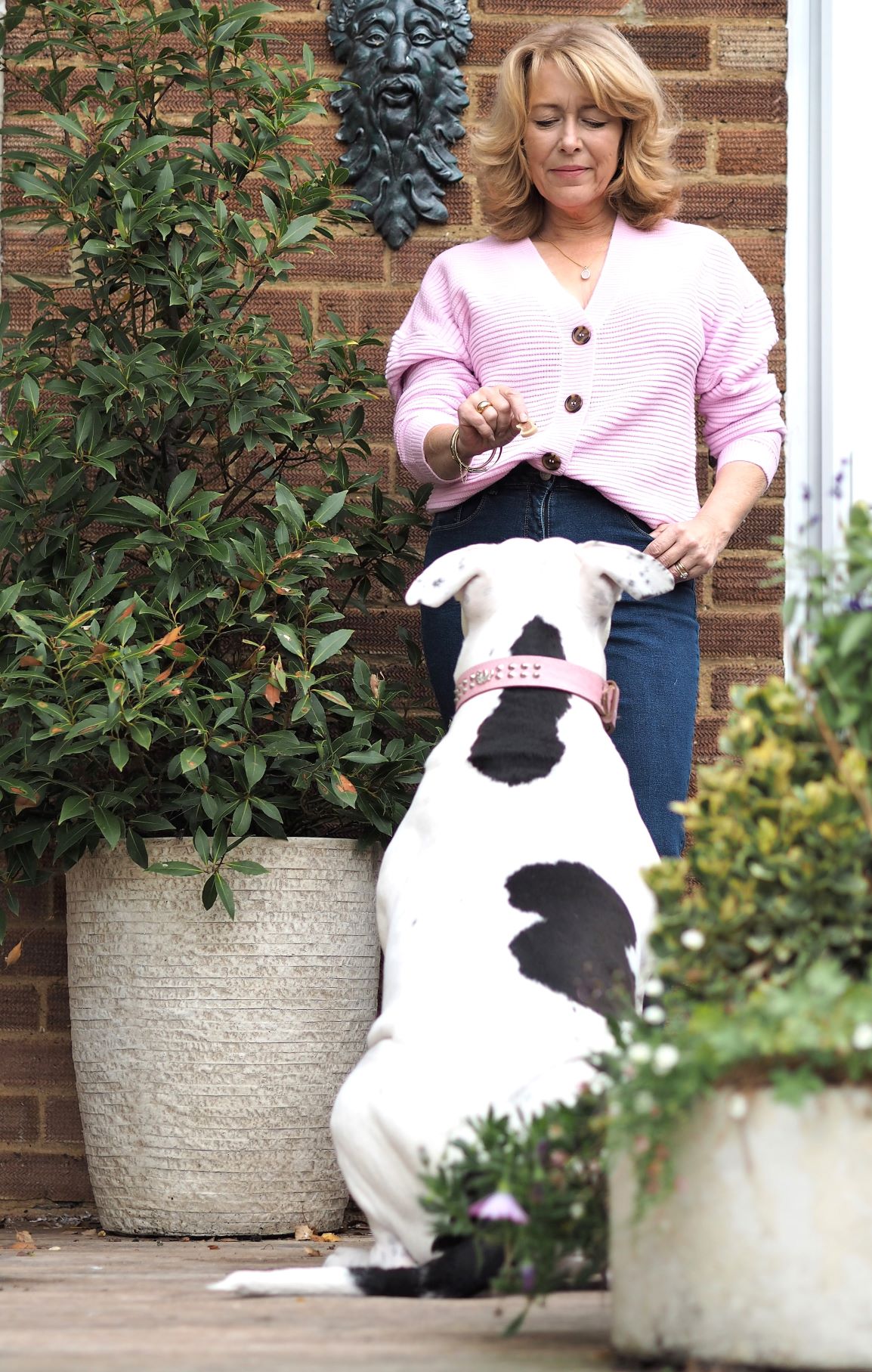 You may have spotted the Pink Campaign for Damart on my Instagram. I was proud to be part of it. Every year Damart donates to the breast cancer charity Breast Cancer Now. For all the pink items sold, Damart donates £5.00 to the charity.
This cosy pink cardigan was part of the pink campaign and I've worn it so much. I wouldn't normally choose pink but I really liked this one and it's been a welcome addition to the winter wardrobe. Beau sporting her pink collar for the campaign too!
Shop The Look
Roman is a firm favourite for winter wardrobe staples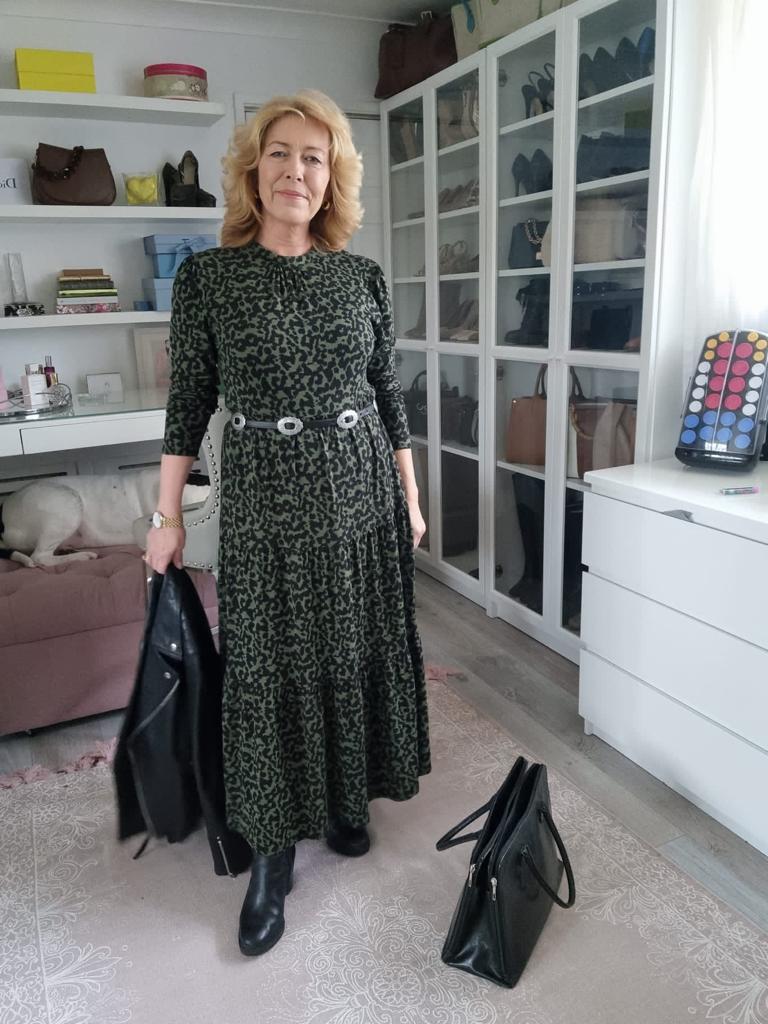 I've chosen a couple of dresses from Roman and the first one I'm sharing is an absolute stunner. Easy to wear, no creasing, warm enough ( I wear a full slip underneath ) I love it. A great winter wardrobe essential. Green is a firm colour favourite for me this year like the Safari dress I wrote about recently from The House Of Bruar.
I've paired the dress with a Ralph Lauren belt, black boots and a black biker jacket. Very comfortable I must say, and Roman has some gorgeous items this winter, especially evening dresses for the Christmas season. I have my eye on this one. Who's into all the sequins this year? They are everywhere I look in the shops
Shop The Look
Until recently I was still wearing Blazers!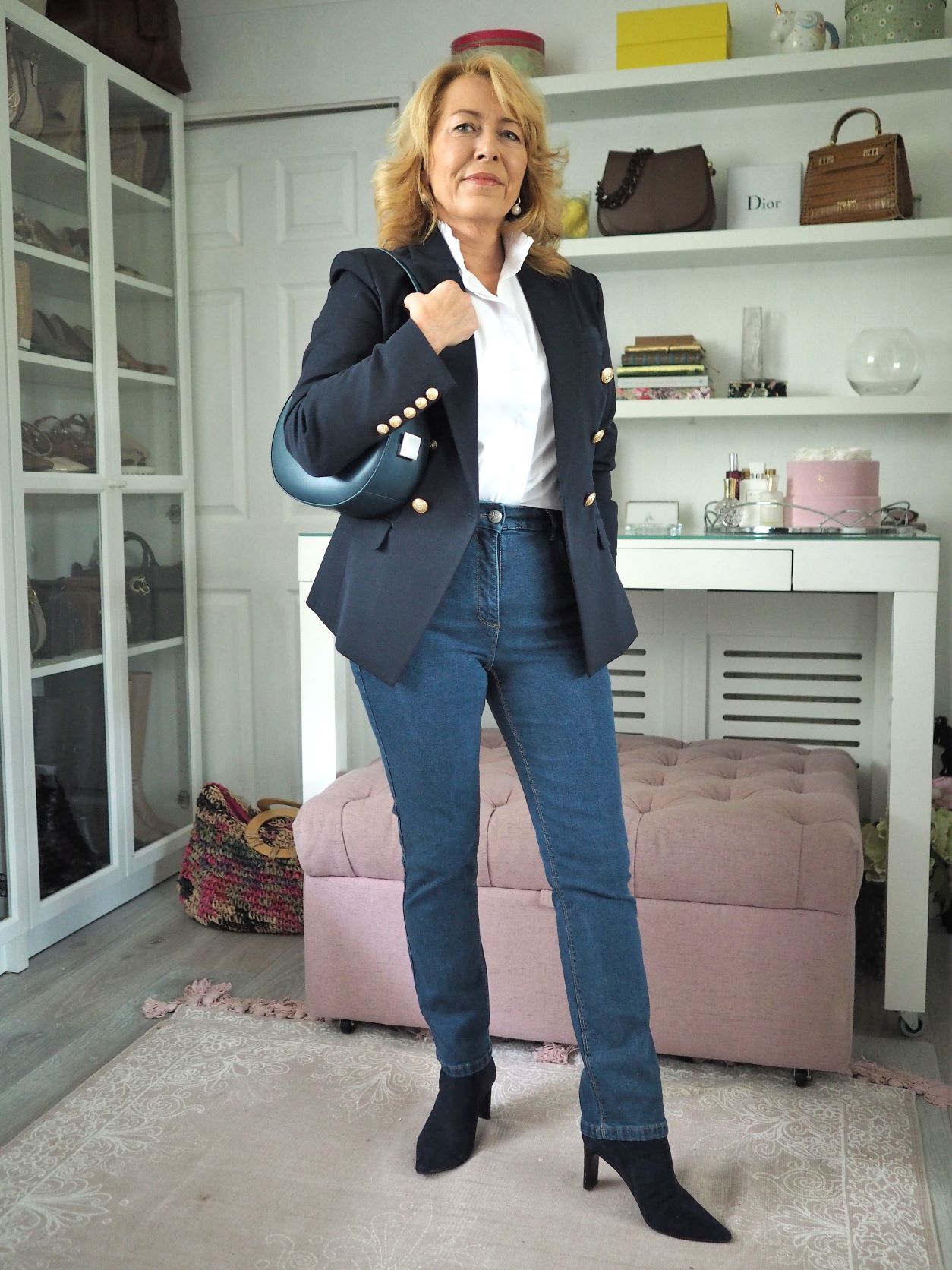 This blazer is special. The cut/shape of it and the material are excellent. I featured the blazer in a Lilysilk haul over on YouTube. I have since published another if you'd like to watch it.
A navy blazer, white shirt and jeans are just such classic styling, aren't they? You can't go wrong. If you love the Lilysilk brand as much as me, I have a 12% discount code. Use Vanity12 at the checkout The blue leather bag is from Beau Today. A brand I rate highly. And I have a discount code for those too Use the code VANITY10 at the checkout for a 10% discount.
Thermals, thermals and more thermals!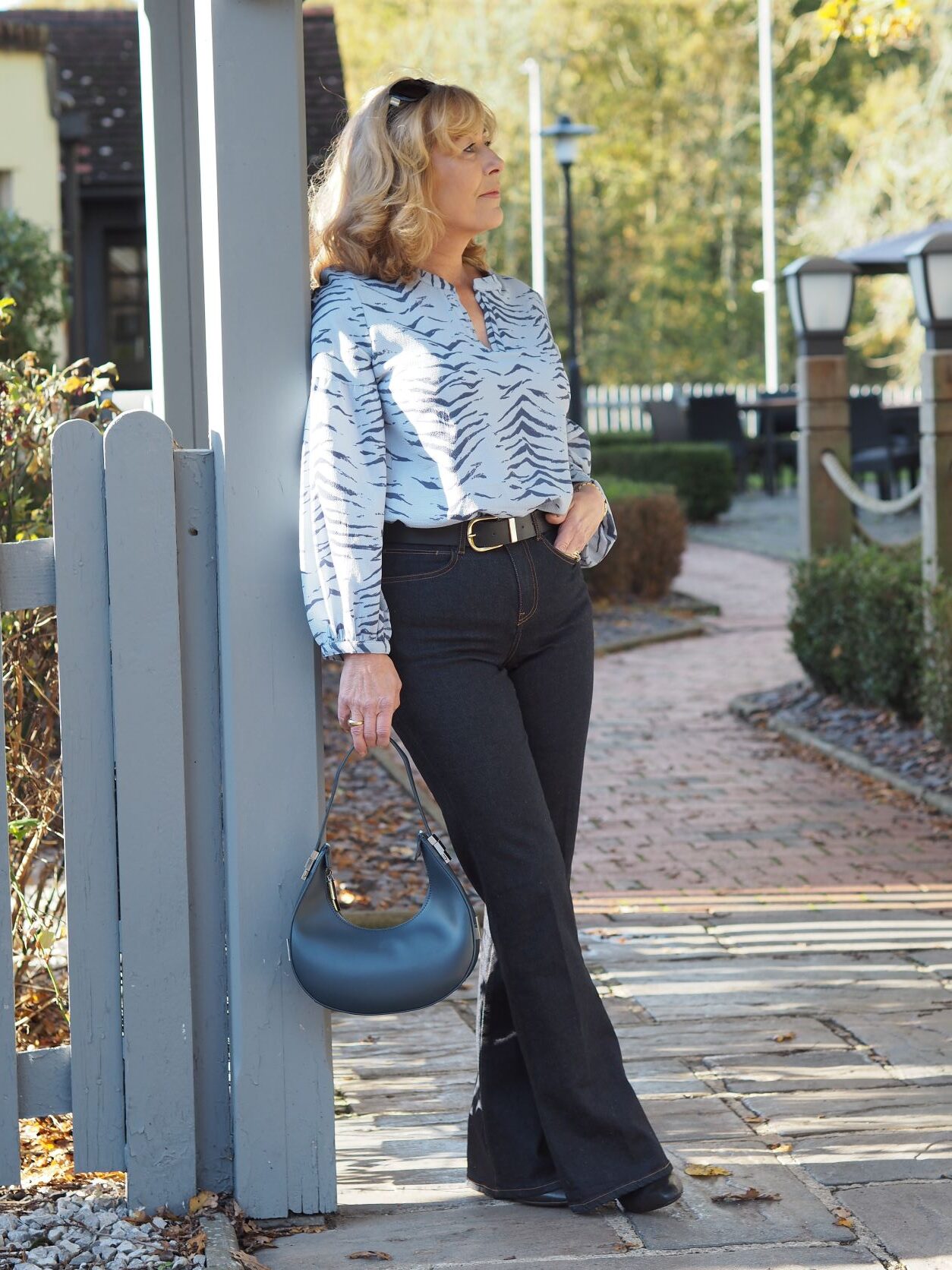 I was delighted to get to choose some pieces from Bonmarche's Lorraine Kelly collection. This blouse has to be my favourite item. Lorraine did well, creating some really lovely easy-to-wear pieces.
The blouse is currently on special offer for an absolute bargain price of £12.00 as I write this. Again, I'm wearing a thermal short sleeve top underneath. ( why haven't I tried this before!)
The jeans are my current favourites from Baukjen. I have a constant discount code running with Baukjen. 15% off any full-priced items with the code Laurie15. The Valentina Organic Bootcut jeans are such a flattering cut, fairly flared at the bottom I love them.
Shop The Look
The winter coat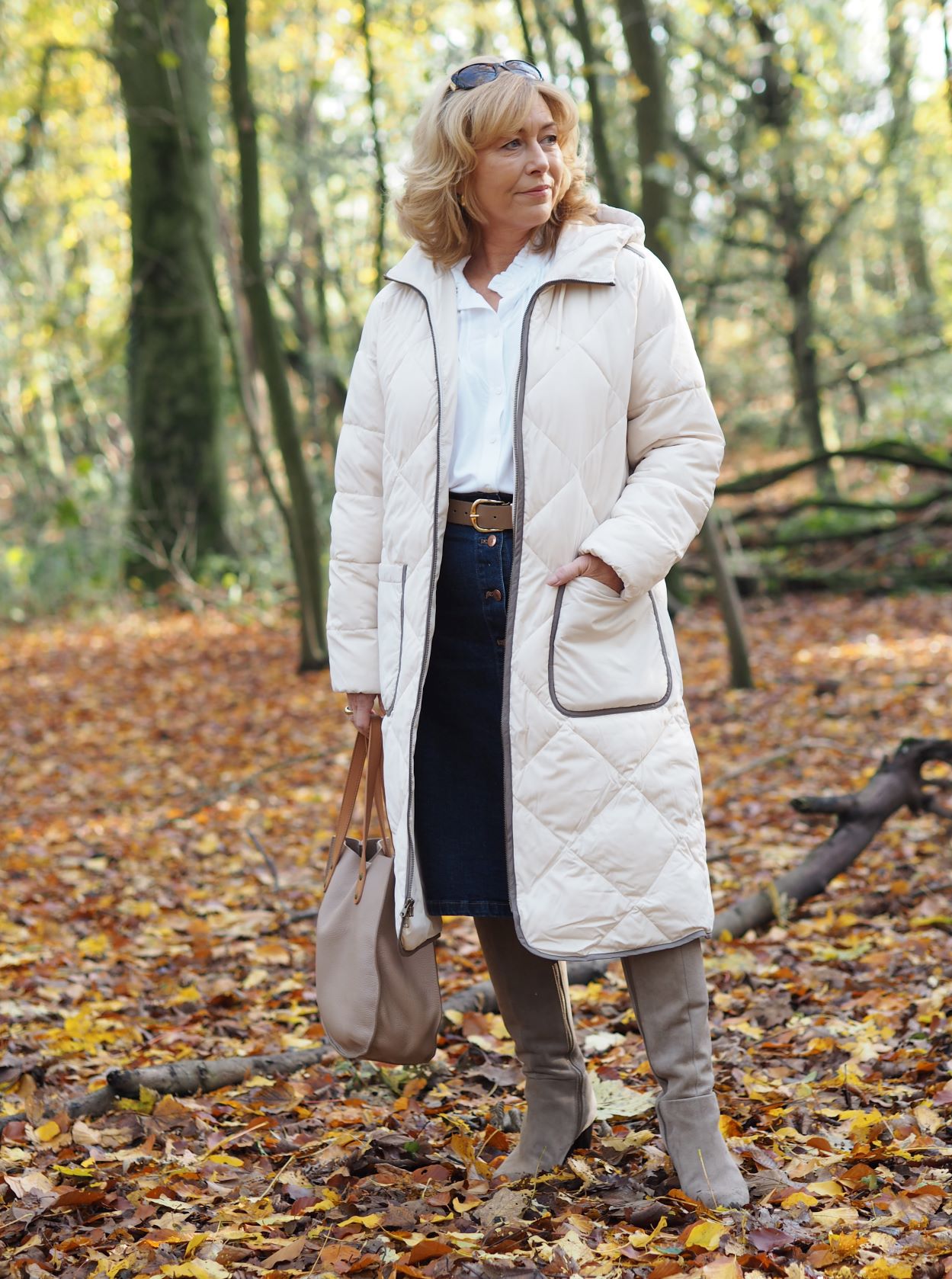 This coat will be worn a lot over the next few weeks as our temperatures have plummeted and now the snow has fallen. A Landsend Thermoplume quilted Coat zipped all the way with a hood, this coat has everything you need for a cold blustery day.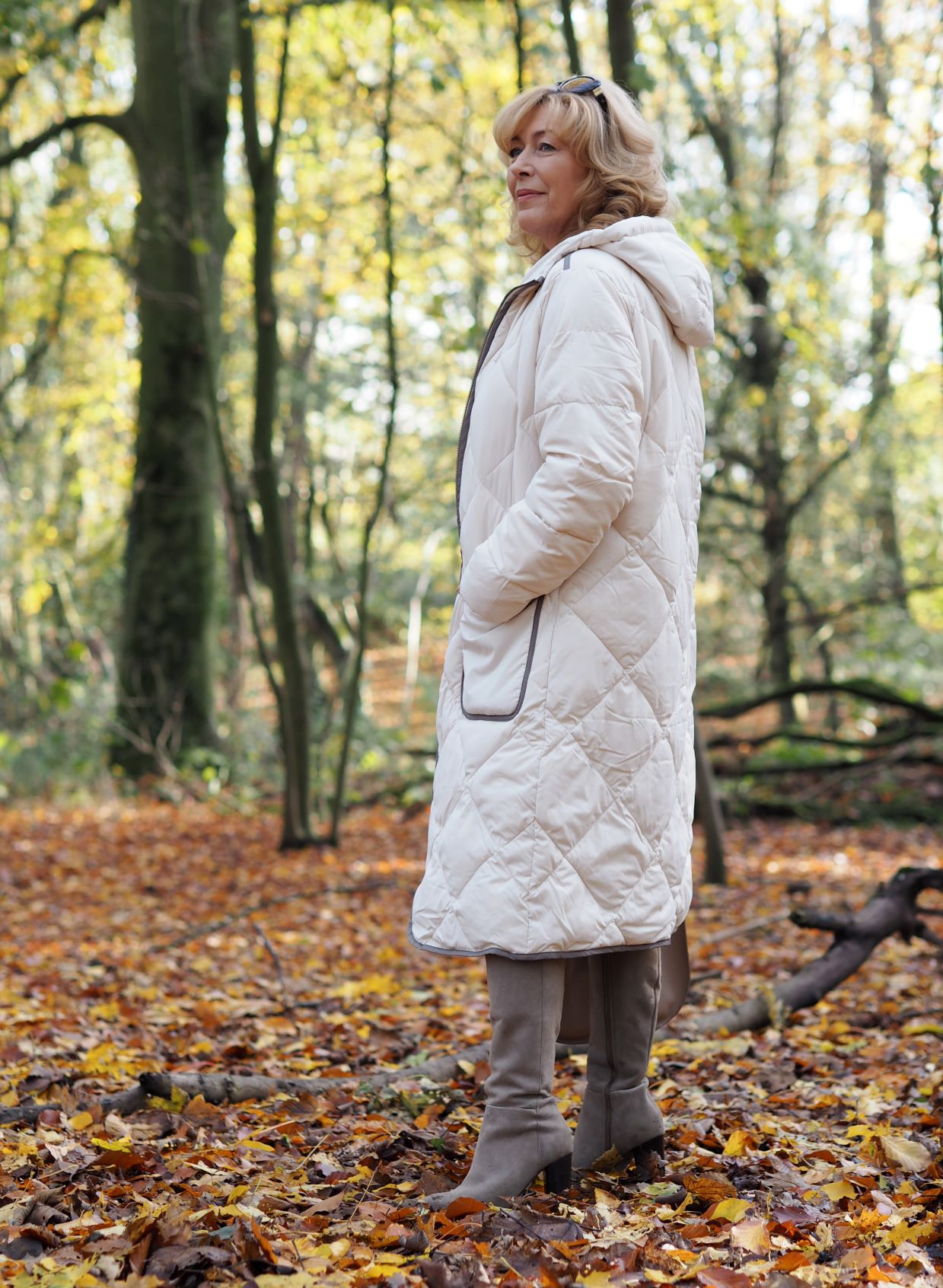 ThermoPlume is the very latest in lightweight synthetic insulation. Designed to mimic the lightweight warmth and softness of natural down, ThermoPlume traps warmth in air pockets – just like the real thing. This clever insulation makes the coat super warm. This coat is also waterproof too, so with the hood, that's a real blessing. It's almost like going out in your duvet!
Check out the coats at Landsend
Christmas came early with a pair of fluffy sheepskin slippers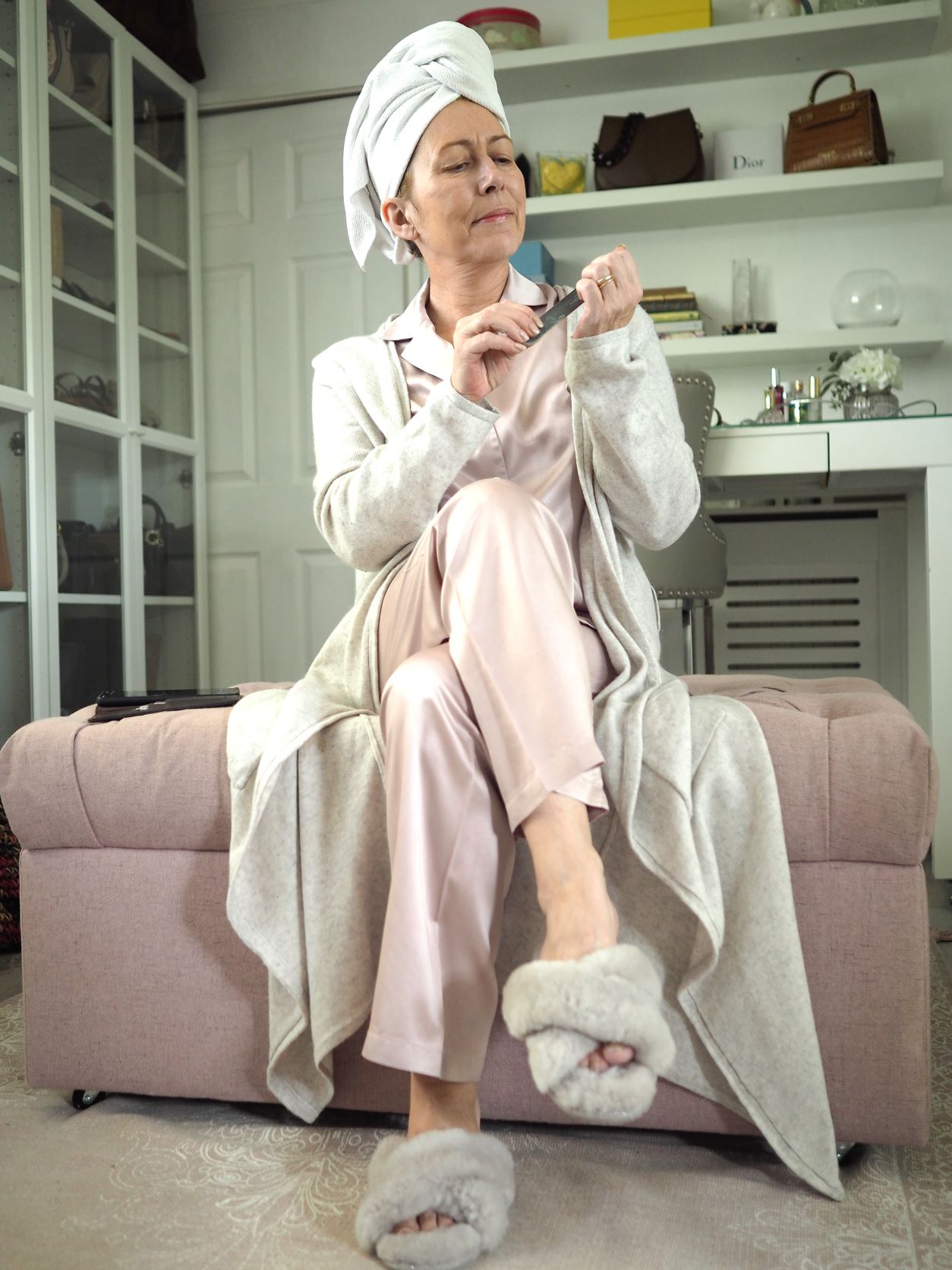 No winter wardrobe is complete without a snuggly, cosy pair of slippers to see you through the colder months. These plush ones are from just sheepskin and they're like having clouds on your feet. They have a memory foam sole too. Silk Pj's and a cashmere robe, set me up for a little pampering and relaxing.
This is what I like to wear when I know I'm going to take some good quality time out. those three materials all give off the feel-good factor!
Shop The Look
I hope your Christmas plans are going well. See you soon!
Thank you for stopping by!
Come back for more. Click on the subscribe form below
YOU MAY HAVE A FRIEND THAT'S INTERESTED IN THIS? PLEASE USE THE SHARE BUTTONS
XO LAURIE
Subscribe for the latest updates!