So here we are with the first Autumn style post of 2022. I can't believe how quickly the year has flown by. Writing this in the first week of October, it's been surprisingly mild and I still haven't done the wardrobe changeover yet.
My feet are however crying out for warmer footwear, so it's definitely time to do it. Vionic UK came to my rescue though.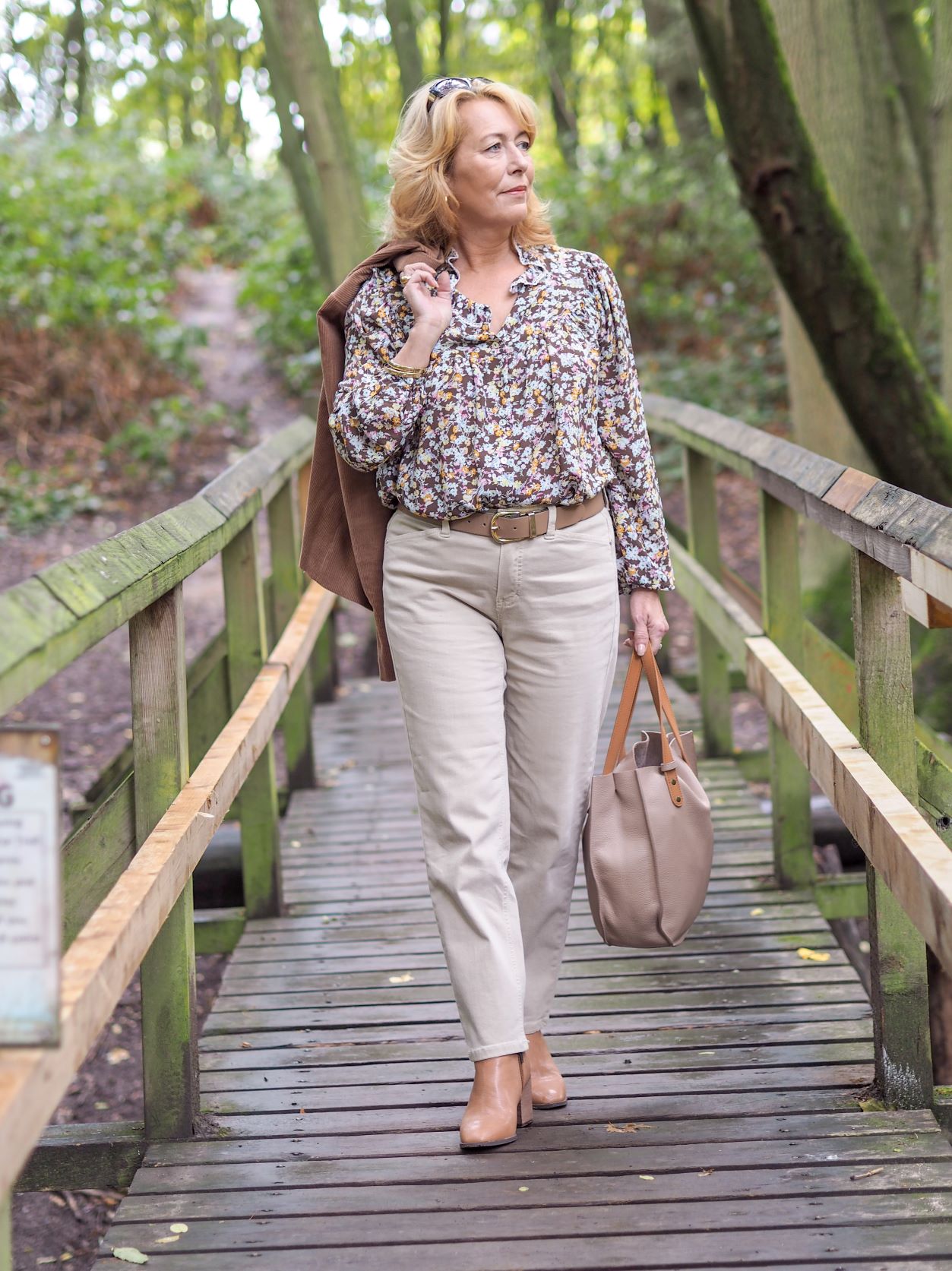 Can I just say, I'm loving all the colours mixed within this outfit? Different textures and shades of my favourite colours, plus a little bit of feminine floral added to the mix. The floral blouse from Baukjen is now on sale and I'm having a slight obsession with corduroy at the moment.
I have my eye on a couple of items in corduroy. Not sure if it's a trending fabric this year but a few items I've spotted and really like are in this fabric. But let's talk about the boots.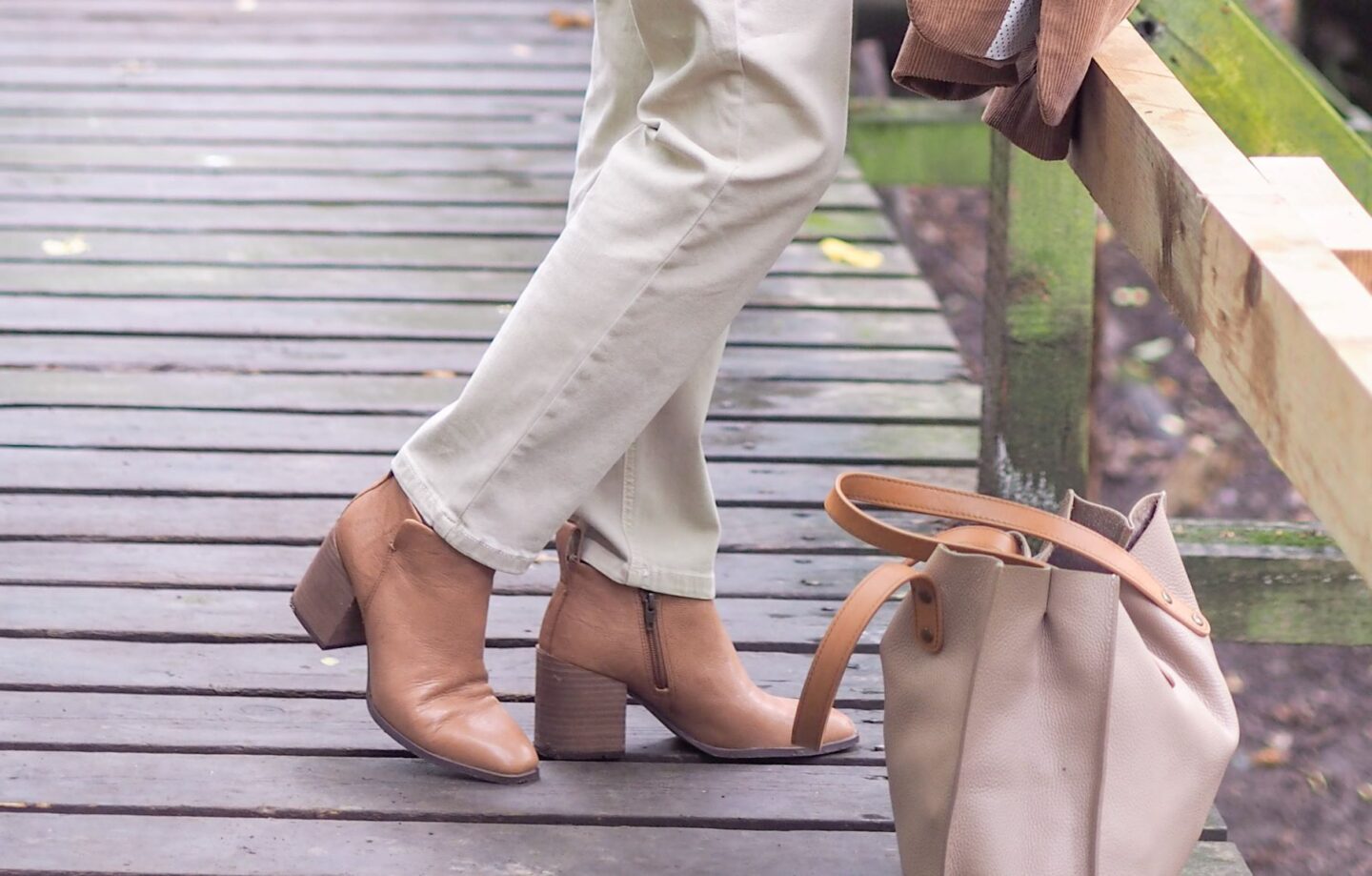 These Lyssa Vienna ankle boots in Toffee ( also available in black ) are just the perfect staple pair of boots to have in your wardrobe. A perfect heel height for me and the colour is just gorgeous. Tan/Toffee shades just work with everything, don't they? It's an Autumn style staple colour or at any time of year for that matter.
The Arch support inside the boot makes all the difference to comfort I think and that's why I rate the Vionic brand so highly. Take a read about what Vionic Shoes are all about regarding foot and back health care. If you suffer from Painful heels it's also worth taking a look.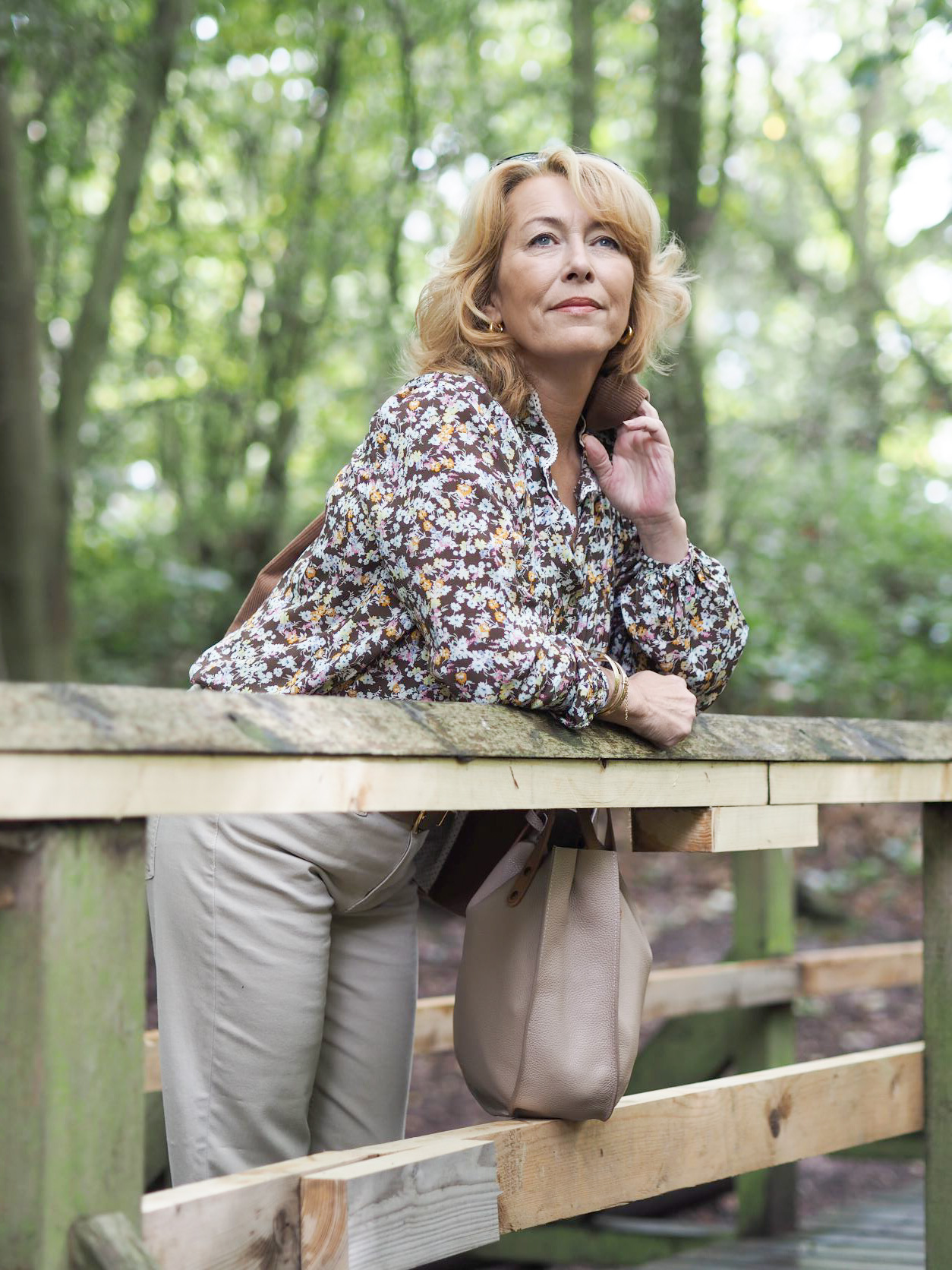 Taking photos in the local park, I reminisce about when I was a child coming here with mum and dad and then my own children and now grandchildren! A place filled with memories and I find myself doing this a lot since living back in Essex. I miss London but I'm so glad I took the plunge to move back.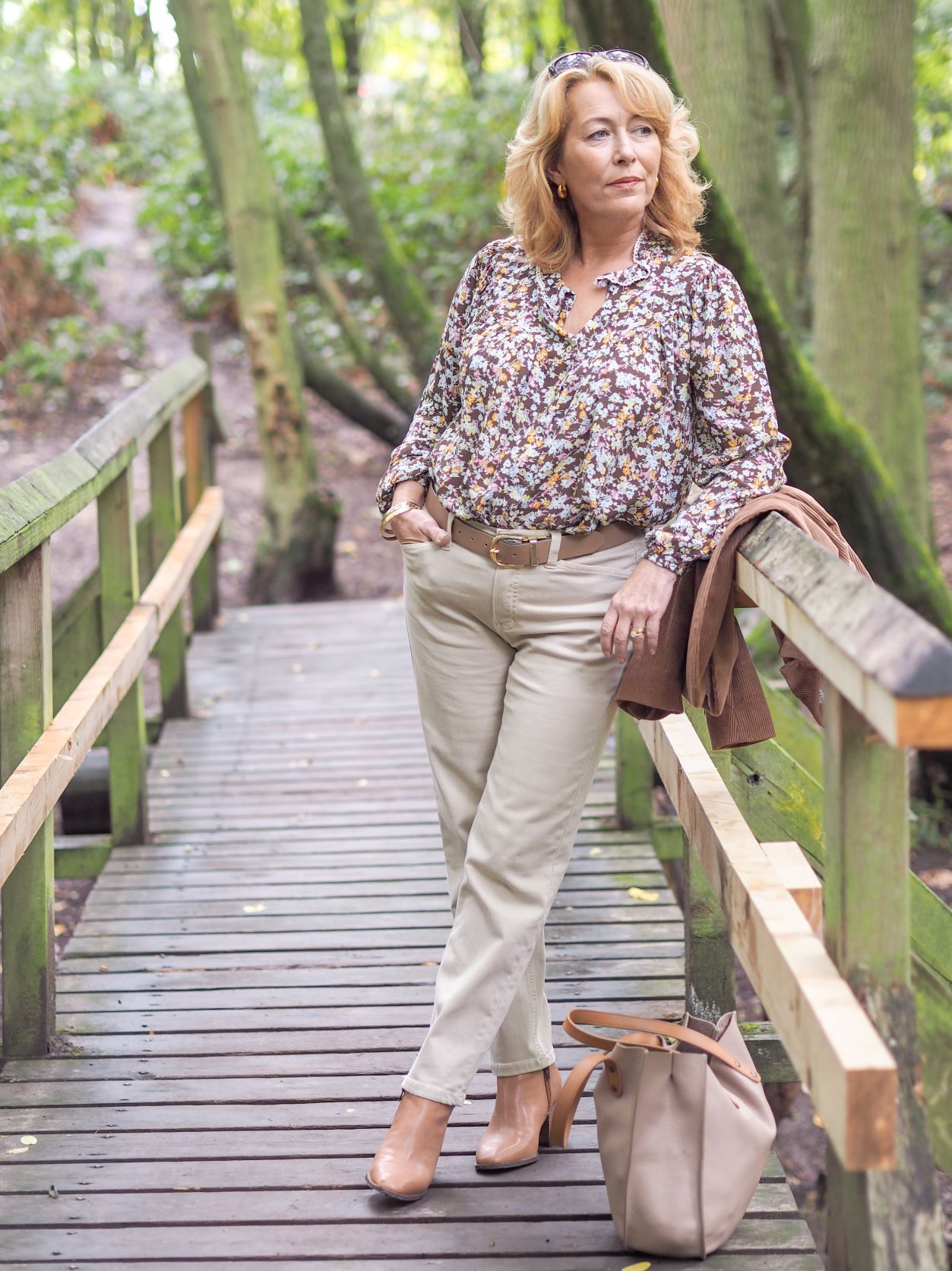 A new pair of jeans for my Autumn style wardrobe from Artichoke. You may remember the post about the Annabel Shirt in high summer. It's now getting all the wear it deserves in these cooler months.
Not quite ready to wear knitwear yet, I add a camisole under my shirts and blouses. It really makes such a difference and you get more wear out of them that way.
The bag from Nadia Minkoff pairs perfectly with the boots I think. not available in this colourway now but on sale in this colour which is just as lovely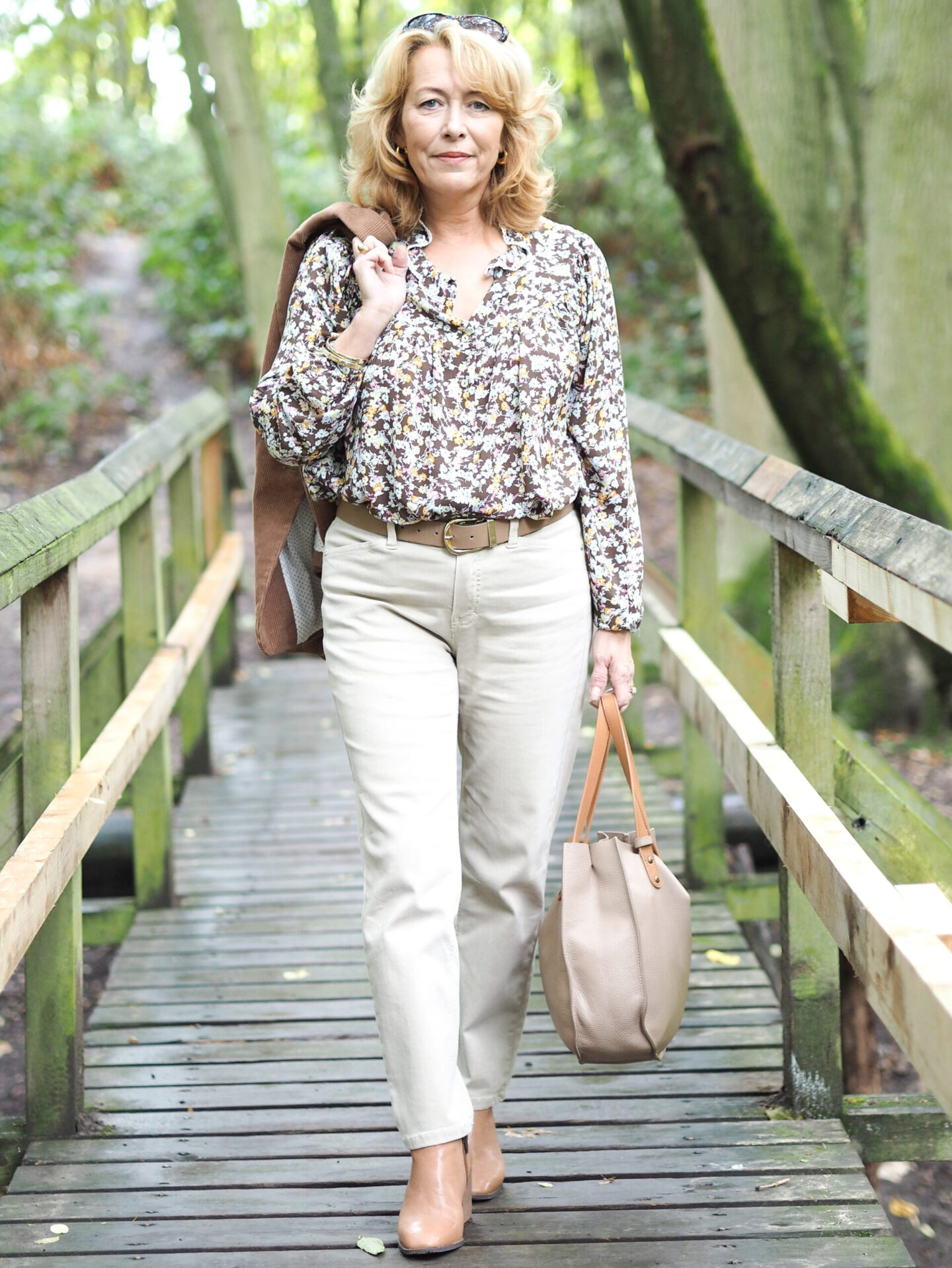 The Anna Montana Jeans from Artichoke have been featured by Mark Heys on GMTV several times. Sarah from Artichoke tells me they sell out when this happens. I just had to try a pair. These are the 7/8 length which is perfect for my 5'2 height and I love the colour, fit and style of these jeans.
They will work well with my other Autumn style neutrals I'm looking forward to retrieving from the loft that I wear year after year.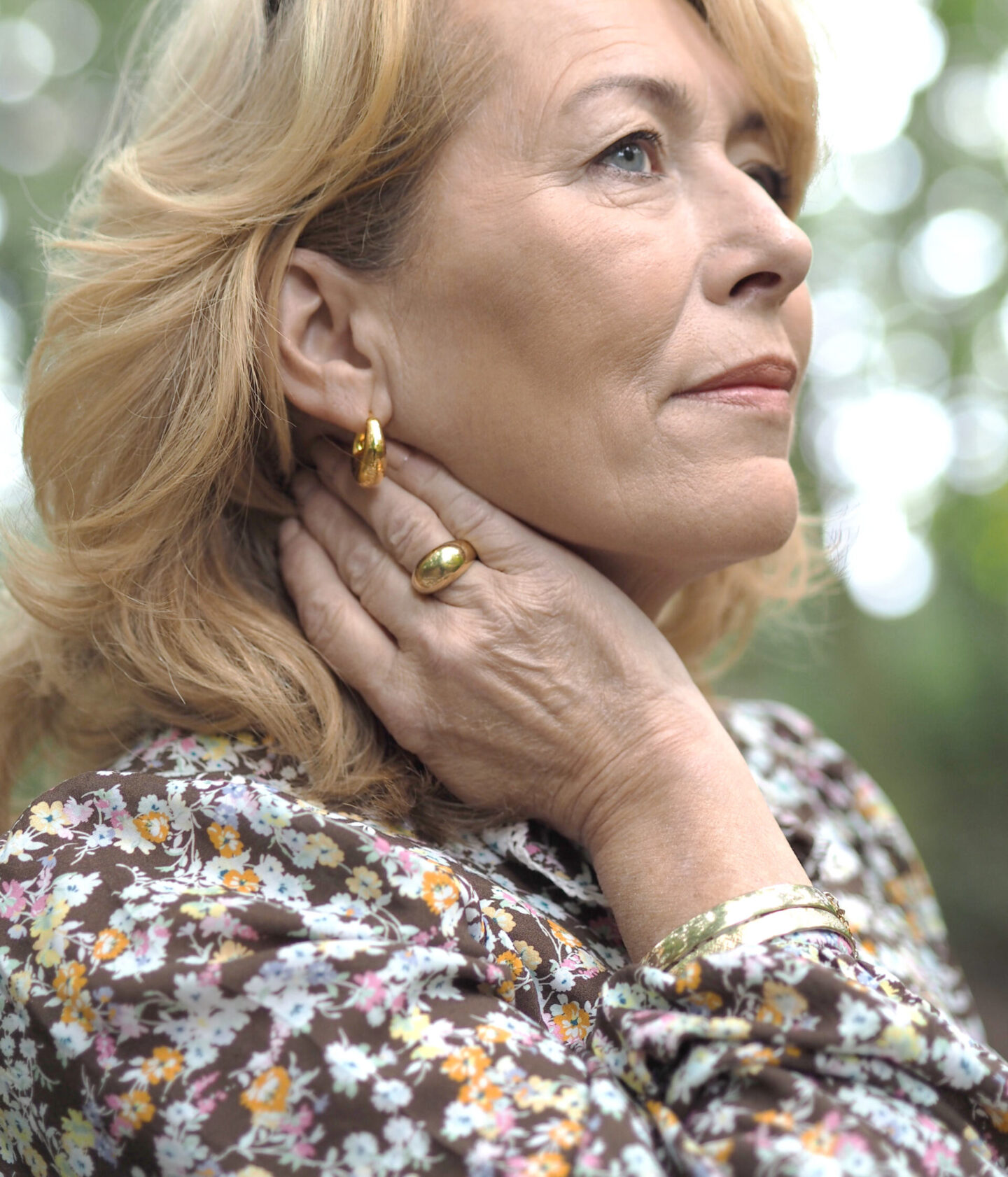 Before I go, I wanted to share with you my new everyday earrings from Monica Vinader. The Deia Chunky Hoop Earrings.
I thought I had lost one of my precious Bvlgari earrings a few weeks ago. I've worn them for years and I went into a blind panic when I thought I had lost one.
I love the Monica Vinader brand most when it comes to costume jewellery. Having pieces in my possession now for over five years I know how good the quality is. No tarnishing from any item I own, so I thought these hoops would replace my daily pair of earrings. A perfect day-to-night pair.
I still bloody hate doing these close-up shots though! But I thought I'd share before they sell out, plus I need to get brave with these close-ups, there's a new skincare/makeup post coming soon. I hope you will join me for that.
Thank you for stopping by!
Come back for more. Click on the subscribe form below
YOU MAY HAVE A FRIEND THAT'S INTERESTED IN THIS? PLEASE USE THE SHARE BUTTONS
XO LAURIE
Subscribe for the latest updates!