I was recently challenged by Damart to choose colourful clothing items from their summer collection. Now you all know what a monochromatic neutrals lover I am, But at the same time, if you look through the blog posts I do like a loud print every now and then. One extreme to the other!
So Here are some colourful clothing outfits that I chose. I'd love to hear which one is your favourite. The Damart brand holds my seal of approval for clothing. I recently got a sneak peek at their Autumn/Winter range and I have the biggest wish list. Lots of gorgeous items.
I find myself wearing Damart now on a near daily basis and if I was to suggest one item from Damart it would be the Slim Leg perfect fit jeans – link They fit so beautifully and I look so much slimmer in those! Anyway, enough waffle, let's get into the outfits
Outfit One – Tropical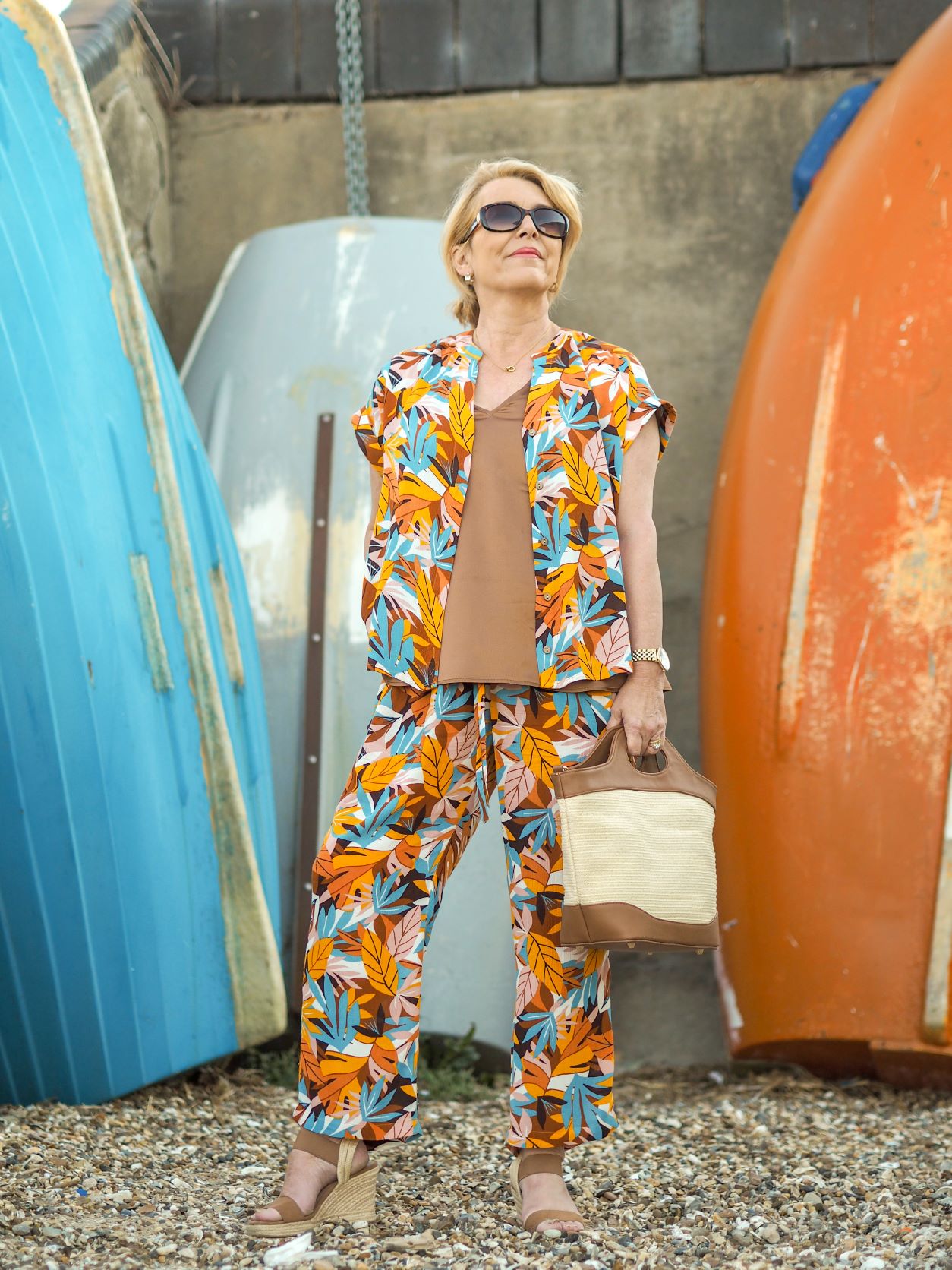 Can I just say? These photos were taken at six in the morning! The hottest temperatures ever recorded and I really wanted to capture a holiday feel with these photos. So getting ready and driving down to Southend-On- Sea, well, I will let you figure out what time I got up out of bed!
Driving down and having breakfast after taking the photos plus watching the seafront come to life was really lovely though. Dee and I have vowed to do this again.
This two-piece is really lightweight and floaty. Worn together the suit actually looks like a jumpsuit. You Can view it worn like this on my Instagram. On this day I paired the suit with a silk vest. I could take the blouse off if it became too hot.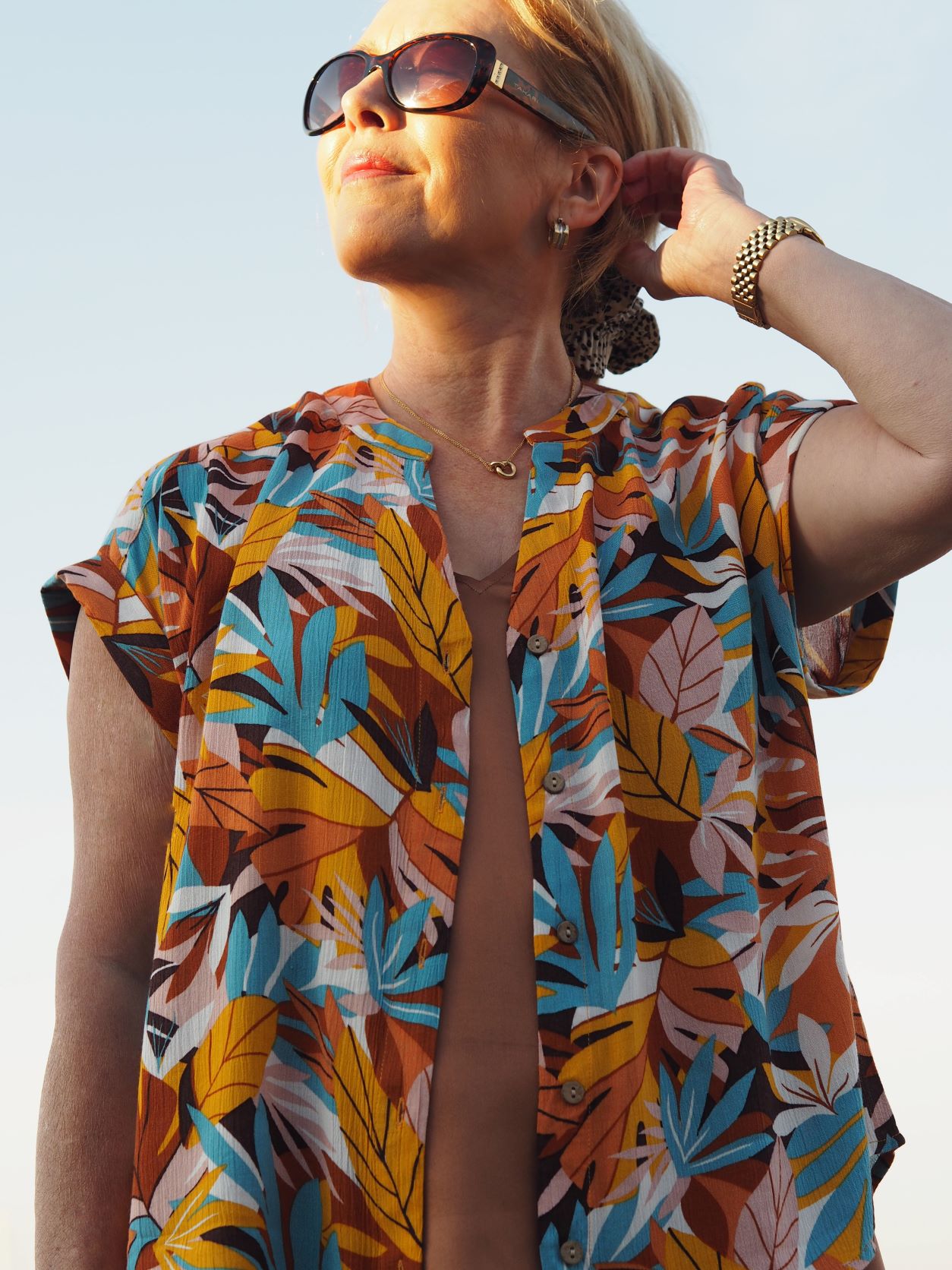 I love the colours in the print, especially the blue/turquoise. Both the top and the trousers are very easy to pair with other items. In one of the outfits are some Climatyl Wide-leg Jeans and I often wear the top of this set with those.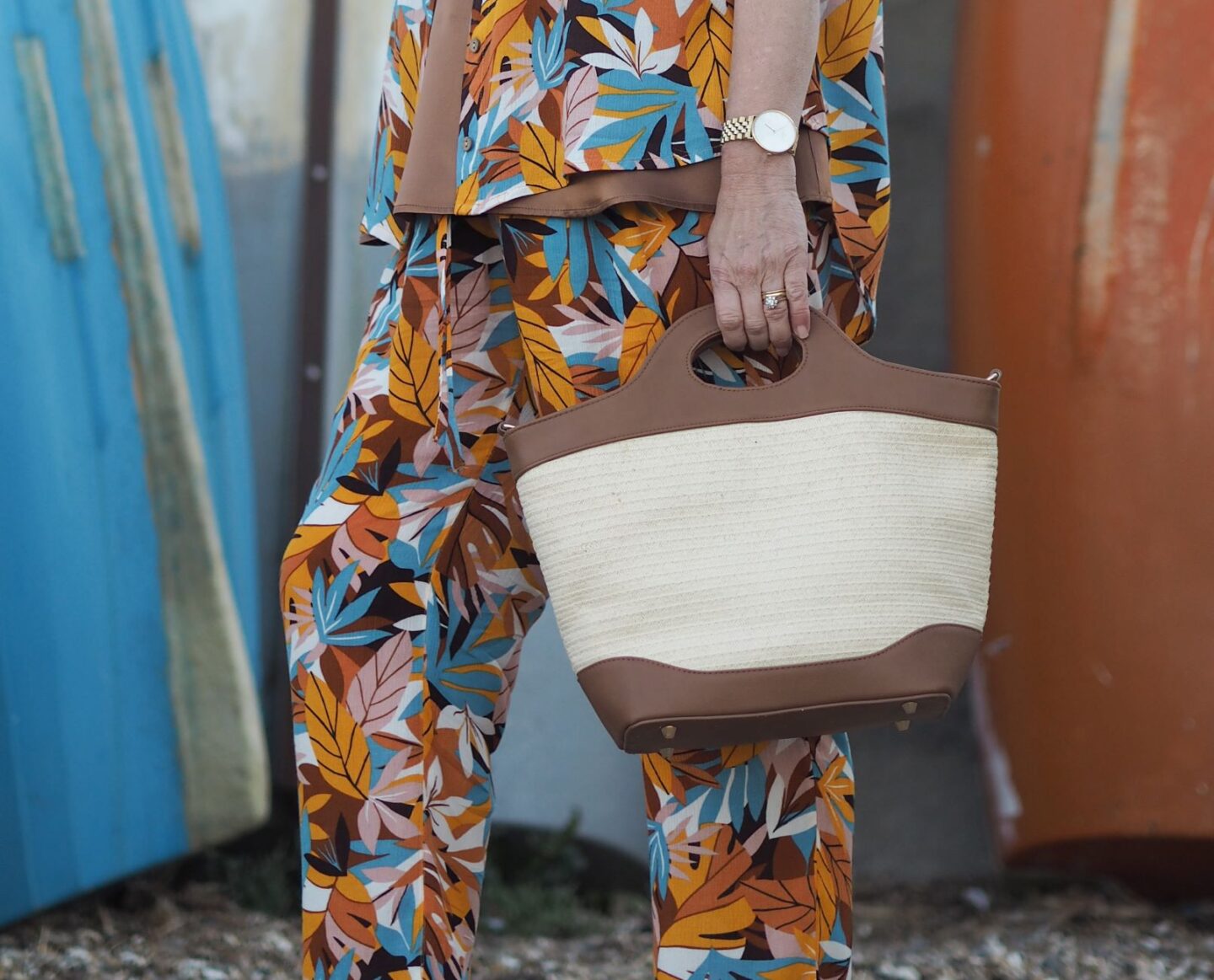 Accessories were kept simple. Even a cross-body bag irritated me in those high temperatures! But this top handle bag that I also have from Damart last year fitted the bill. It's on sale at a fabulous price at the moment (£17.50) as are some of the items featured here in the post.
A "go with anything" bag I use this one a lot because of the size. Not overly large nor too small. It's a good daily bag to have in my wardrobe.
Shop The Look
Trying colourful clothing I found a new colour that I love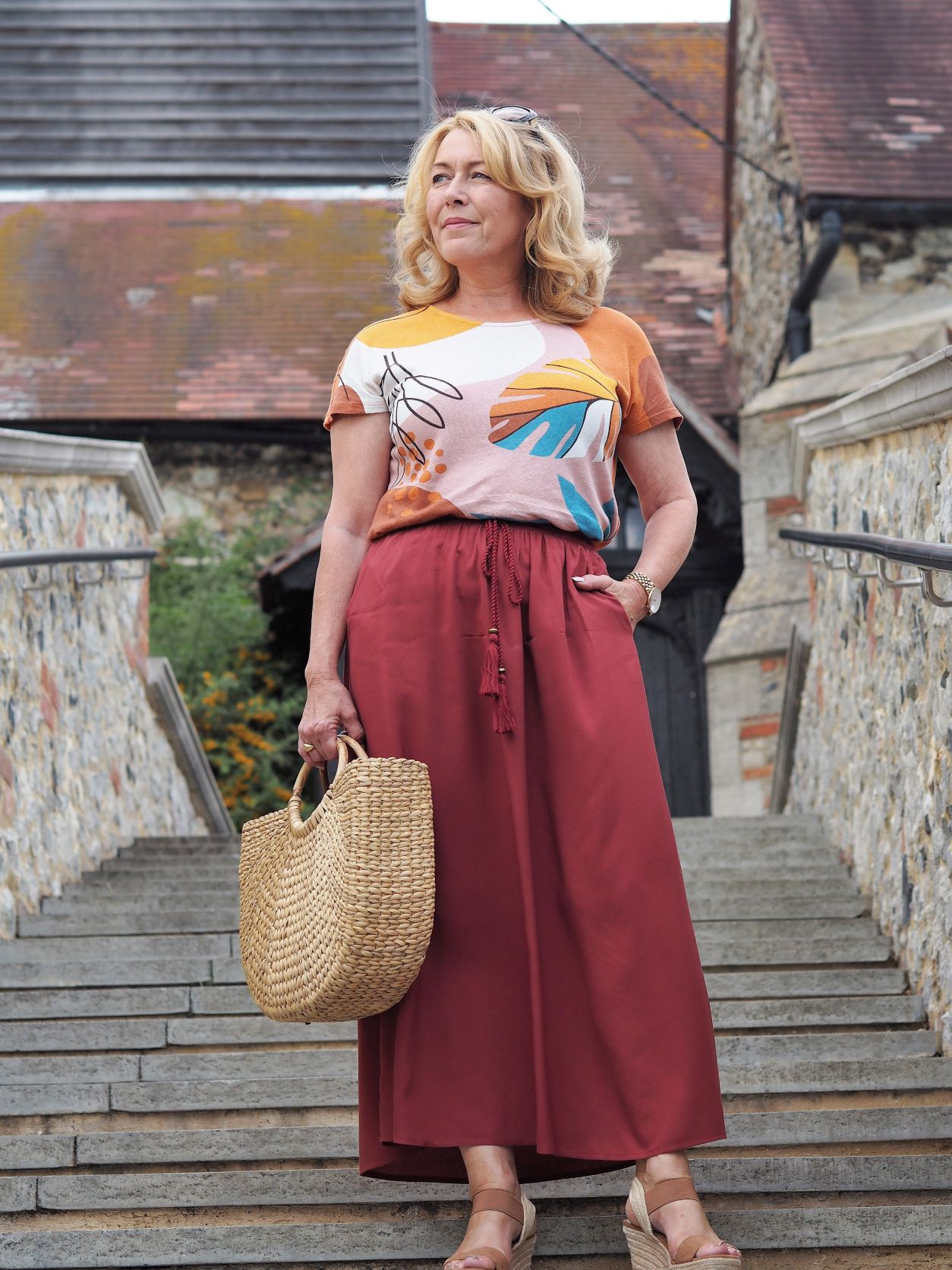 I just love the colours in this outfit. Rust's and warm orange tones crept into my wardrobe this year and when I was filming my last New In Haul, seeing it all on the rail I realised that I had subconsciously acquired a lot of items in these colour tones.
Just look at all the colours in the Linen Blend T-Shirt. I've worn this T-shirt a lot. It goes really well with cream tones and I just love the warmth of these colourful clothing items. Very cool to wear this one due to the linen blend and this T-shirt is also currently on sale too.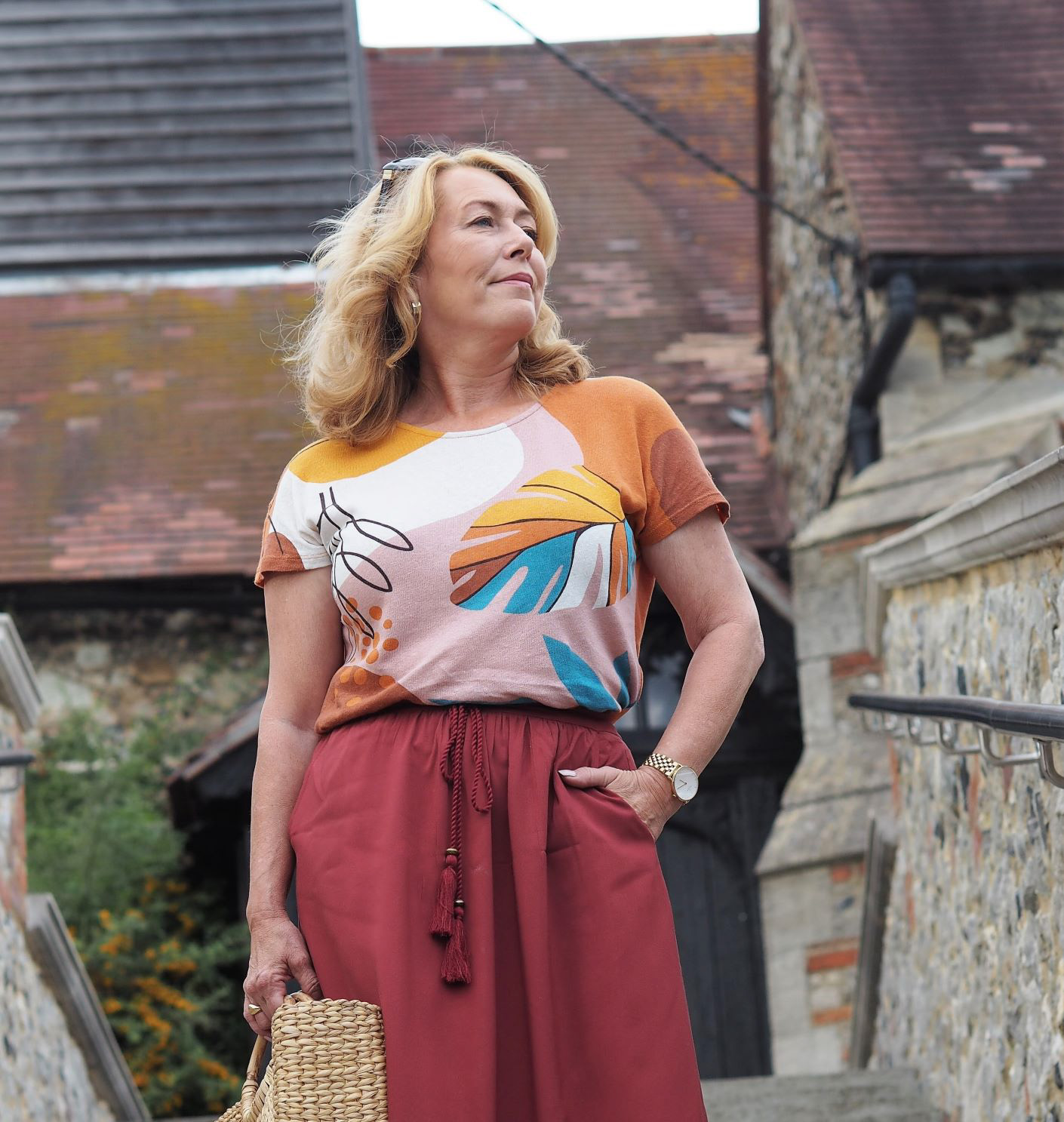 The Boho style skirt is very comfortable with a soft elasticated waist and it's very light-weight. I do think though, that with a half slip underneath, a nice chunky jumper and boots, this skirt will transition into my winter wardrobe too. The tassel ties and the pockets are a nice little touch too.
I've also paired the blouse of the first outfit with this skirt. I was clever with choosing these items and they all pair together differently to create more looks.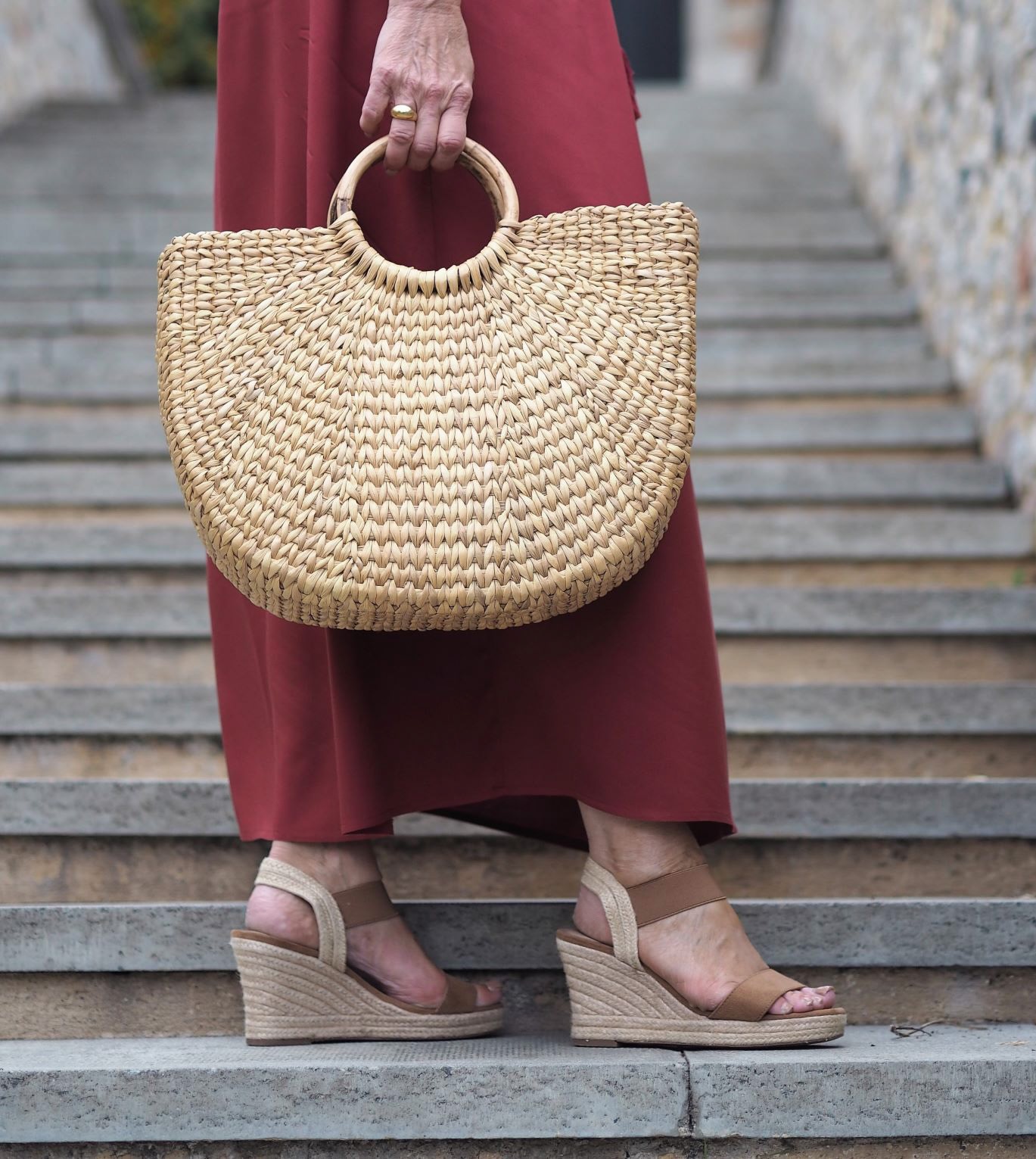 The basket bag and wedge sandals have played a big part in my summer wardrobe this year. If you are a regular reader then you will know I'm such a big fan of Espadrilles. I bought two new pairs in Black and cream this year and they've barely been on my feet due to the heat. Have you unworn new items in your wardrobe because of this year's summer?
I feel I was really caught out his year, my wardrobe is not equipped for 30/40 degree heat! I won't get caught out next year though. More shorts and strappy tops are required!
Shop The Look
Tropical prints and jean-style trousers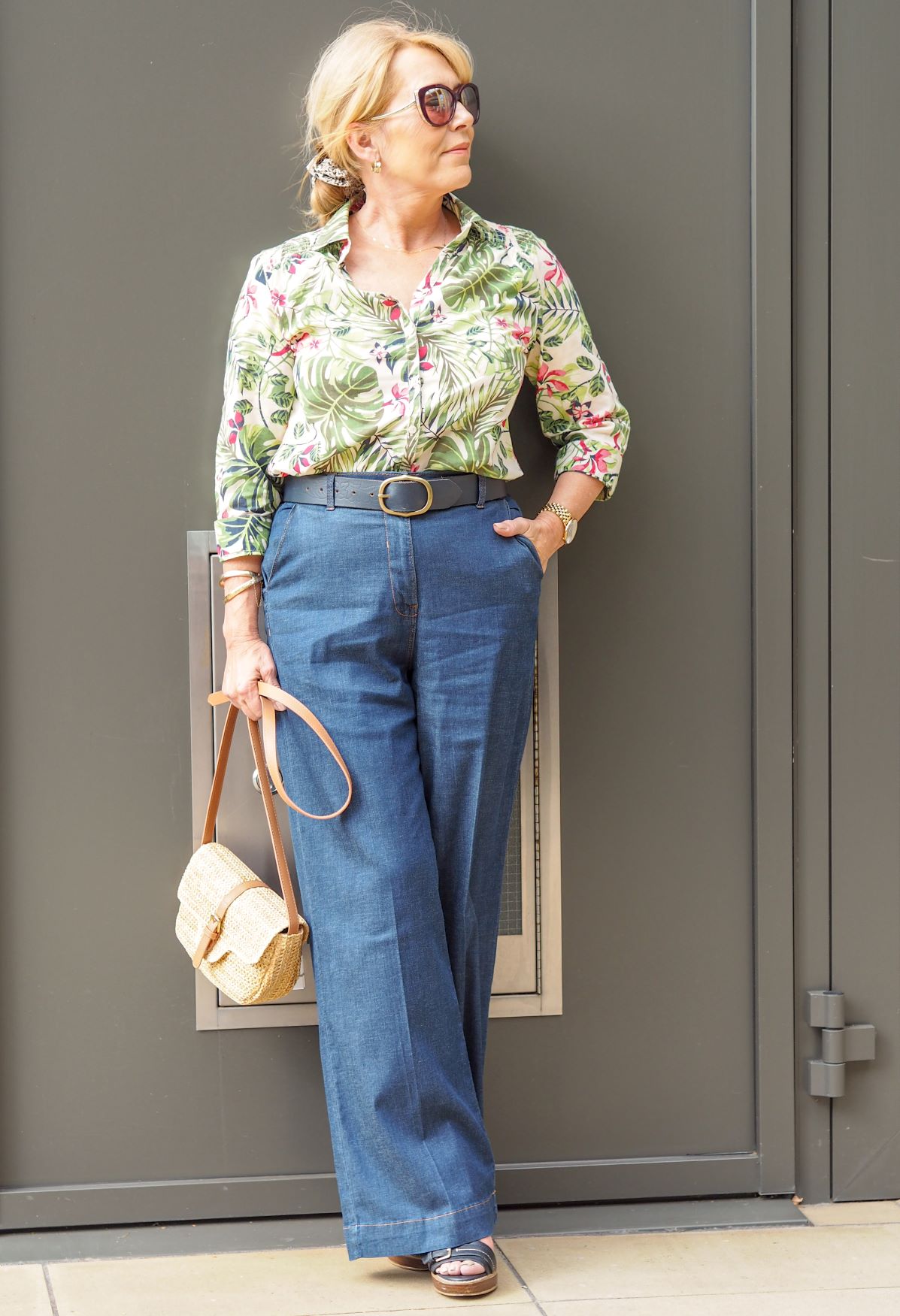 Damart really came up trumps with the Climatyl Wide-leg Jeans. ( I call them denim-style trousers) The material is really lightweight and I love the style. They were comfortable to wear, Climatyl is a trademark material developed by Damart. Climatyl fabric to keep you fresh, cool and confident
I love the deep hem and the wide cut of these trousers. Another item that will transition into the cooler months. Very similar to chambray they are super soft too.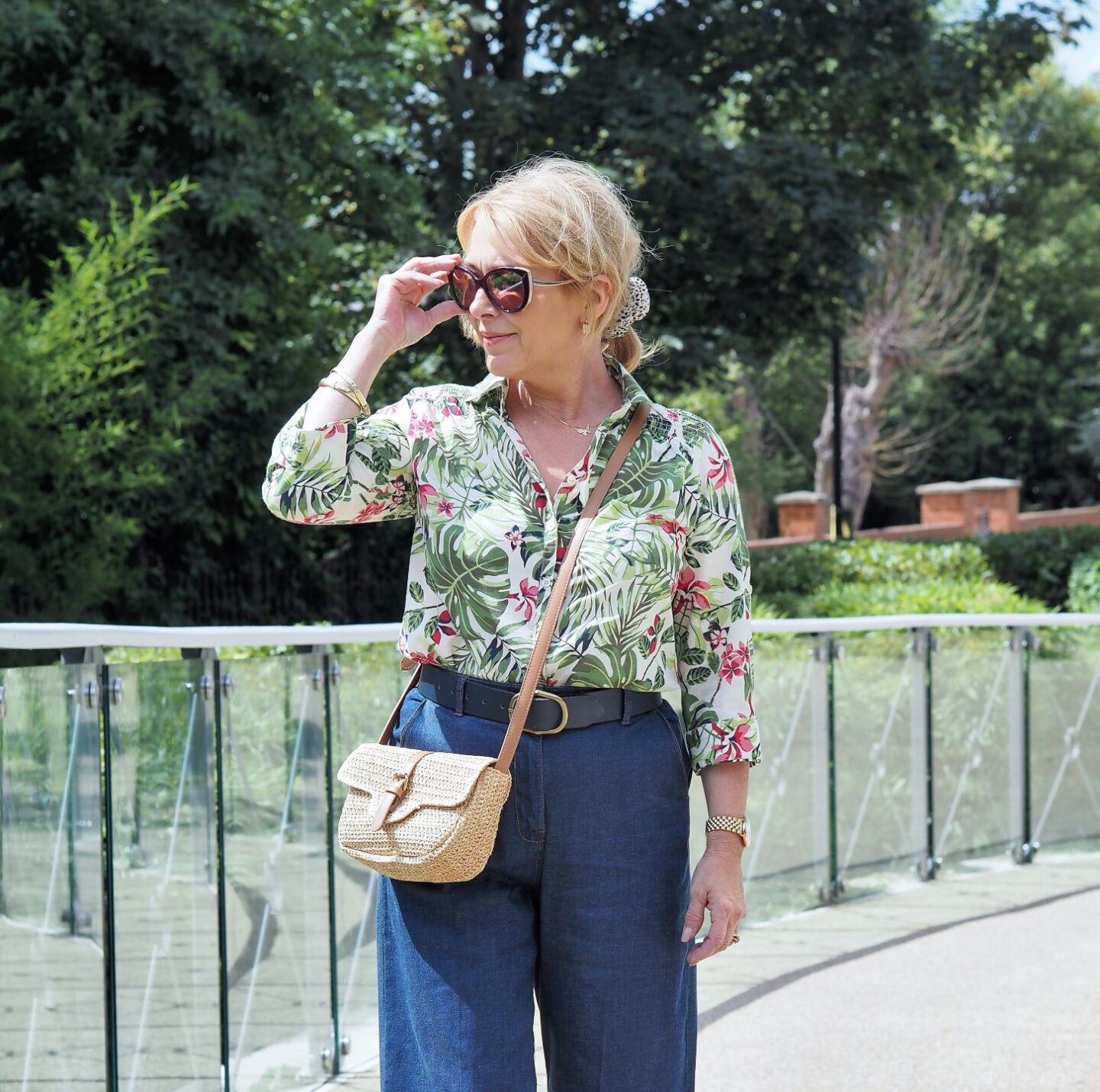 The Lime Green and Hot Pink mix in the shirt really caught my eye. The sleeves have button ties so that you can have them short-sleeved too.
The hair constantly tied up. I had given up at this point! I don't think I've ever worn my hair tied so much. As soon as those temperatures rose, the humidity would just turn my hair to its natural frazzled state!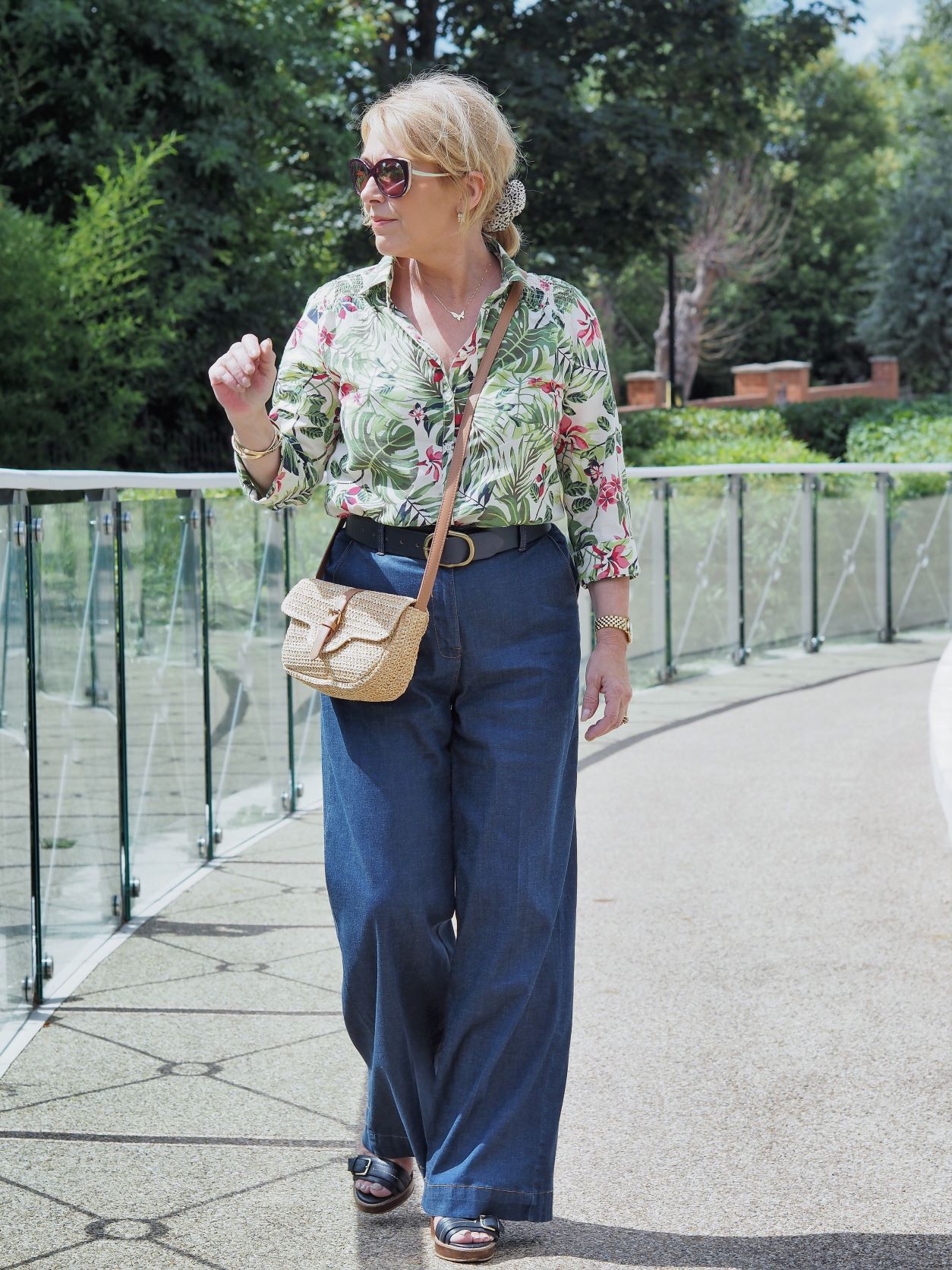 So What do you think of my colourful clothing choices? I like how they can pair into different outfits plus there's a couple of items here to take into the cooler months.
What a summer we've had this year. Reading back through this post I sound grouchy about the heat. 25/30 are my favourite temperatures but I love how light it is in the summer months and I'm not looking forward to those darker days.
Do take a look at the Damart website. A lot of these items are at bargain prices and the new Autumn/Winter collection is gorgeous.
Shop The Look
Please be aware that there are affiliate links included in this post at no cost to you if they are clicked on
---
Thank you for stopping by!
Come back for more. Click on the subscribe form below
YOU MAY HAVE A FRIEND THAT'S INTERESTED IN THIS. PLEASE USE THE SHARE BUTTONS
XO LAURIE
Subscribe for the latest updates!