I'm sharing a beaut of a dress here with you today from Brora. I've had the dress for some time now and it's just gone into sale. If you haven't tried the Brora brand before, then now is the time to take a look.
A high-end brand that's a little more costly than the average high street brand but boy can't you tell that you've found something special. Clothing that gives you that feel-good factor. So I thought I'd share a little sale edit within this post because if you want exceptional quality with a cheaper price tag then the time is now. Be quick! These pieces won't hang about for long.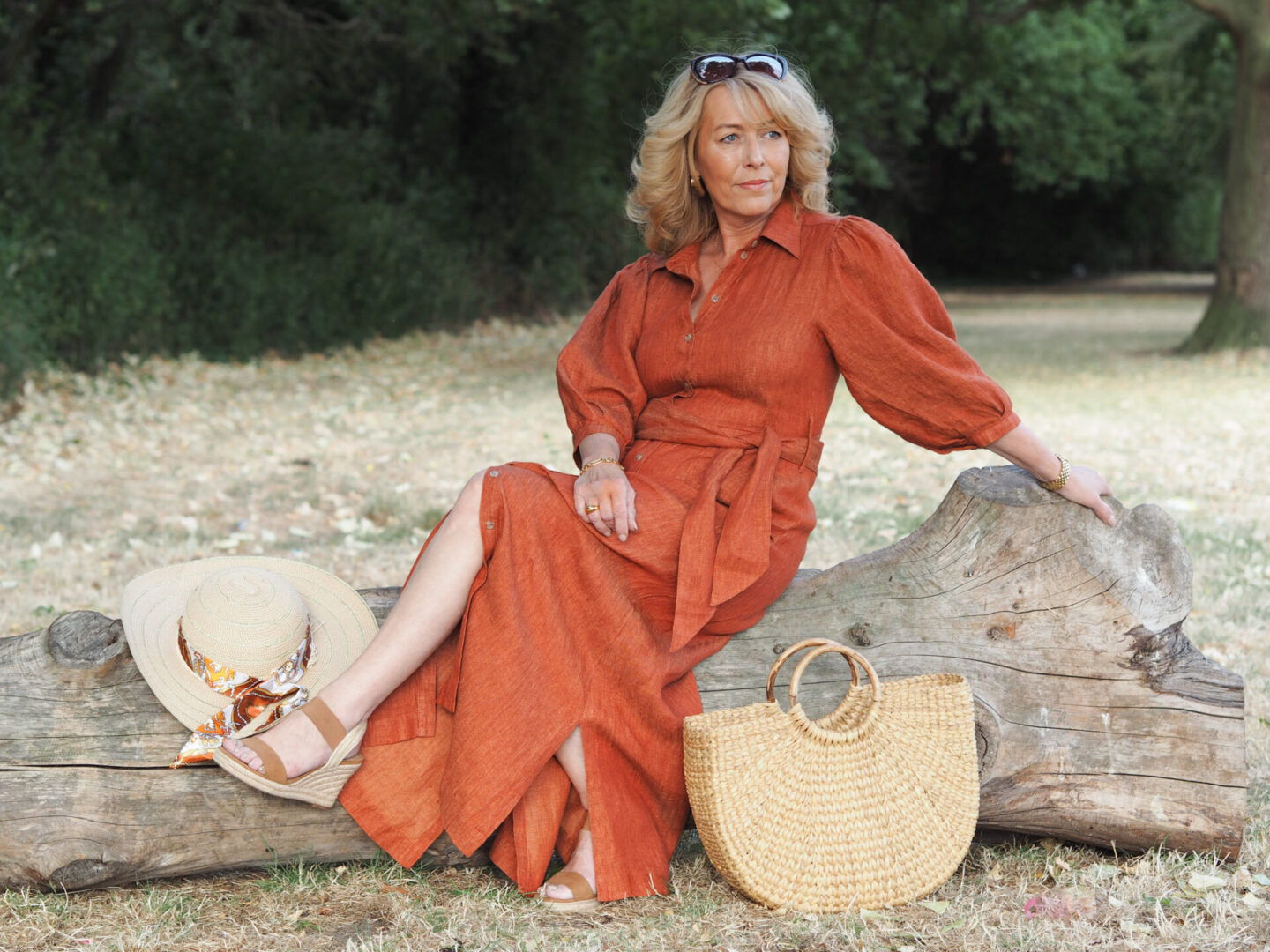 Catch that golden hour to take photos and it just adds so much more drama! These photos were taken at our local park and I love how Dee captured this photo that was supposed to be just a relaxed photo of me sitting on a log. Perfect timing that doesn't often happen.
But getting onto the gorgeous herringbone weave Linen dress that's simple yet has so much detail. I absolutely love it.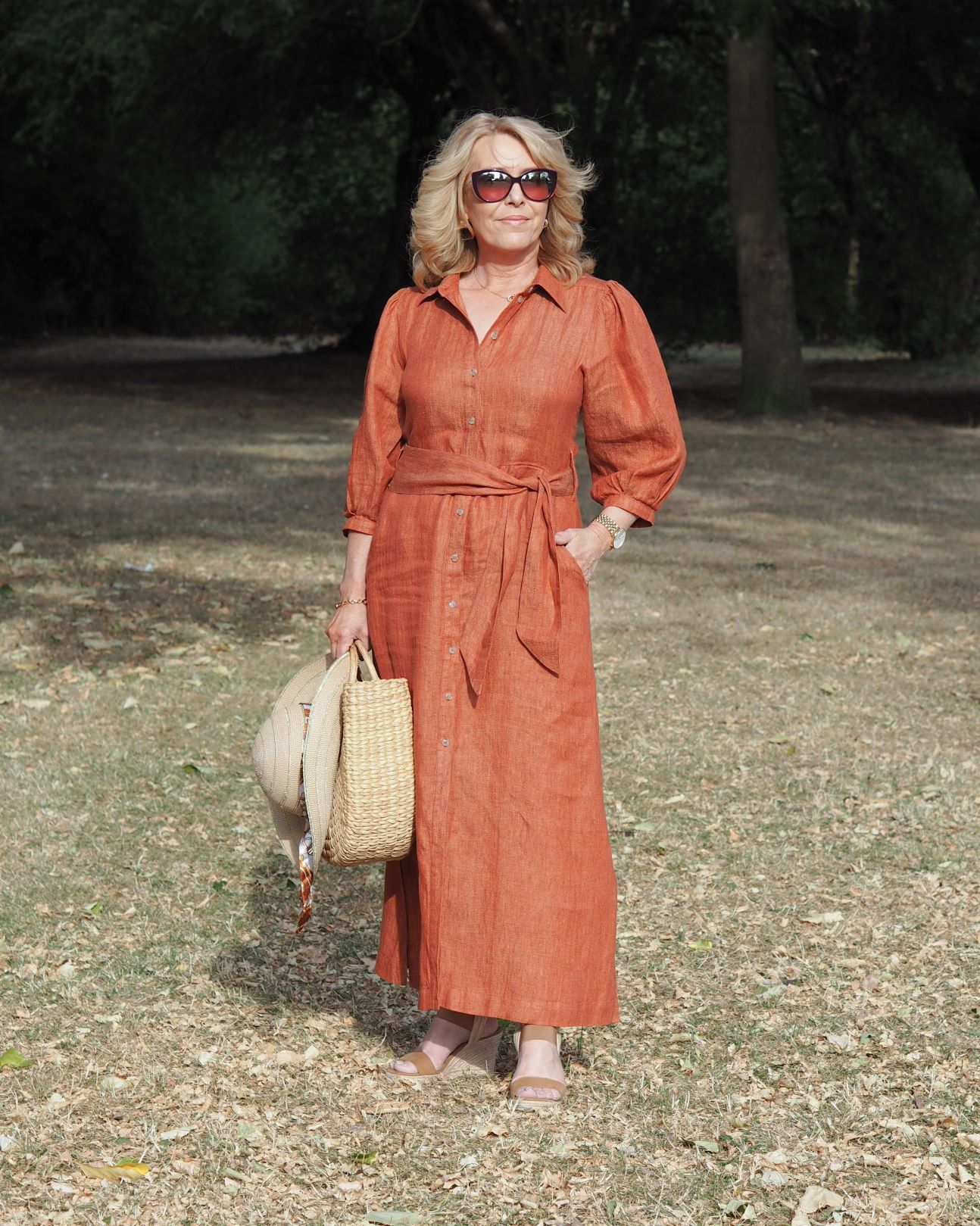 A heavier than usual linen variety, a herringbone weave, but it's soft and drapey, not stiff like some linens can be. and a shirtdress style that won't date. The statement balloon sleeves are what makes this dress special I think and the wider belt is really nice.
I often cut the ends of a self-tie belt and insert a firm belt inside so that they don't crinkle but I haven't had to with this dress. The weave of the fabric is so warm in this copper shade. A new favourite colour for me.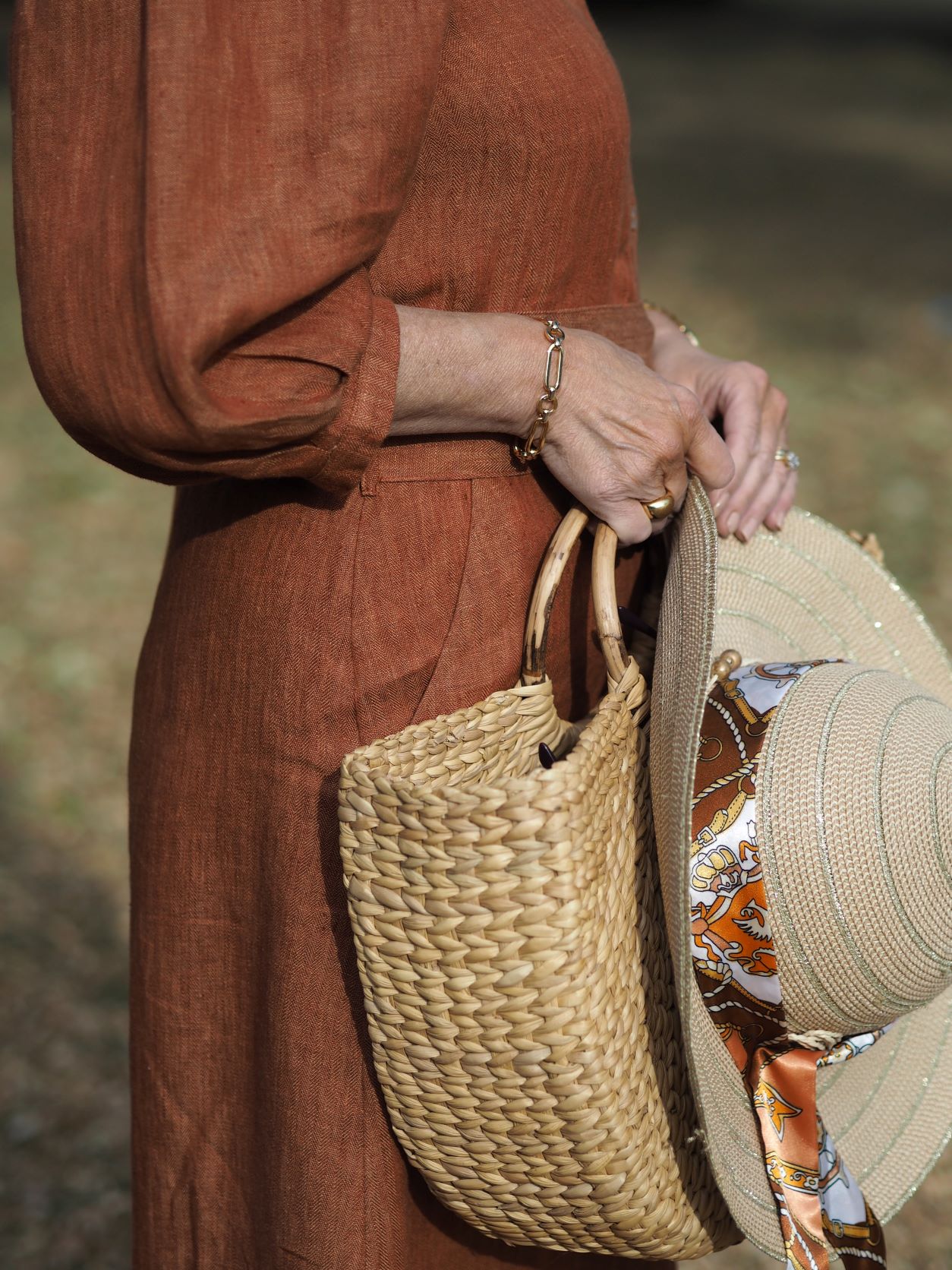 I've kept the look simple. A basket bag and I've tied a contrasting twilly around the sun hat. Sun hats have been needed more than ever this year haven't they? As fast as my hair colour is applied the sun lightens it up with our scorching sun.
Look at the sleeve detailing here. Expertly done pleats and gathers that make a balloon sleeve drape to a 3/4 length perfection. It's little finishes like this that make all the difference.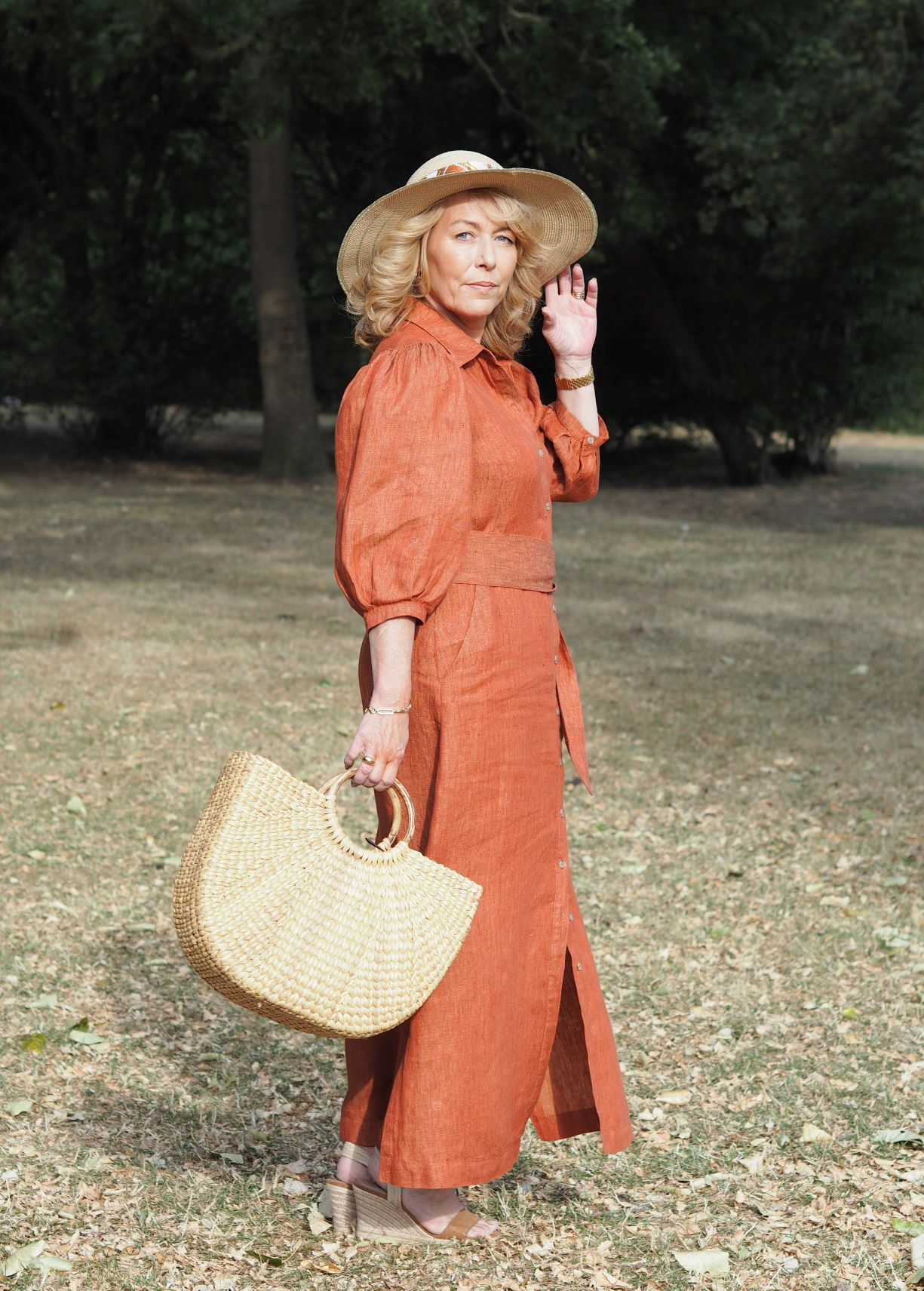 Nice deep pockets are an added bonus. I think this dress could easily be styled up for a special occasion too.
Do you remember the white blouse that I featured some time ago from Brora? There's barely a week goes by that I don't wear it. Another special piece that's more than earned its cost per wear. And I'm sure this dress will come out to play year after year.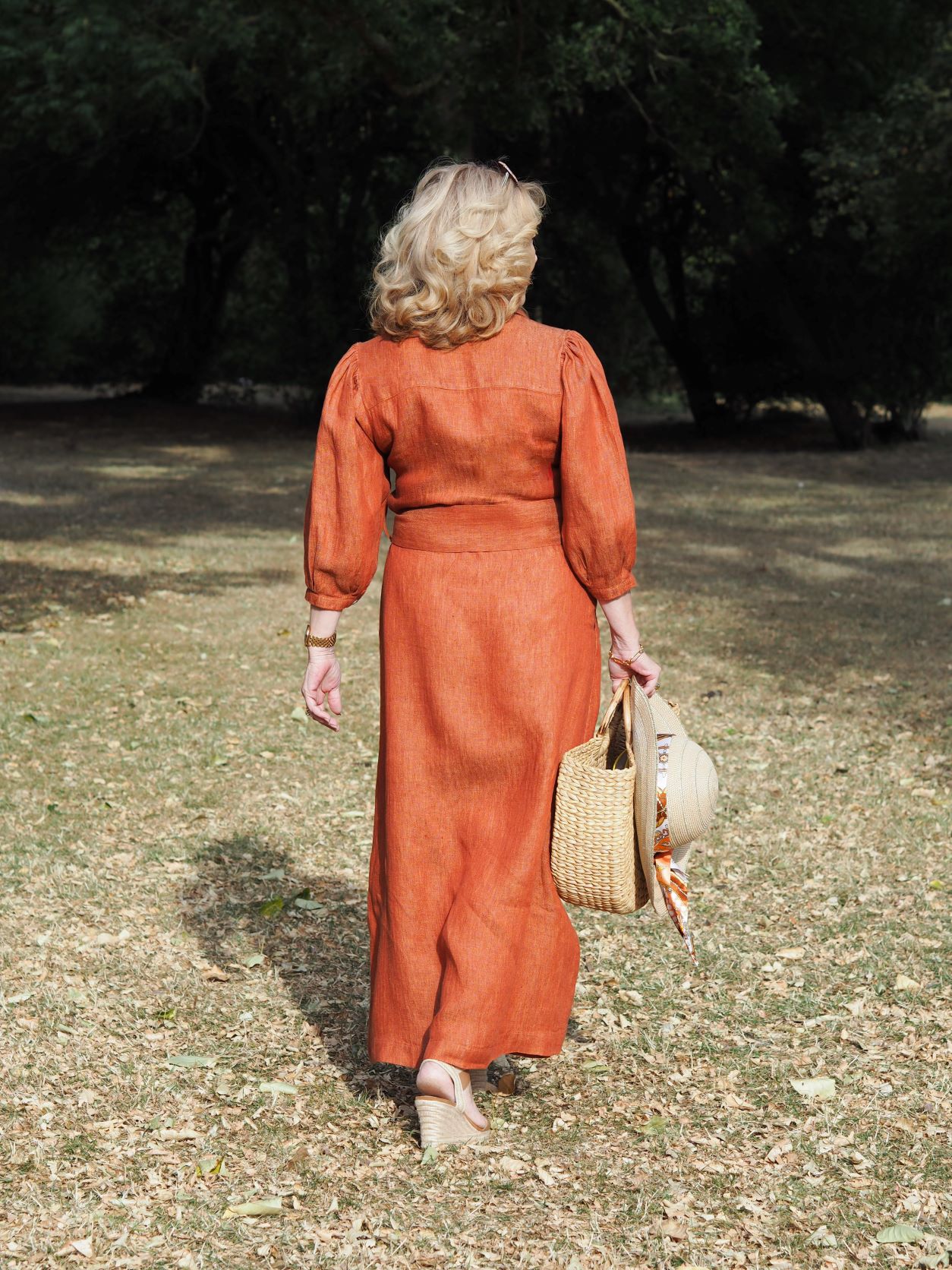 Brora has a few stores dotted around the country. The Kings Rd in London and I'm planning to visit when I'm in London. There are also stores in Oxford, Bath, Guildford, and Edinburgh Have any of you readers tried the Brora brand? let me know. I know a few of my YouTube community have.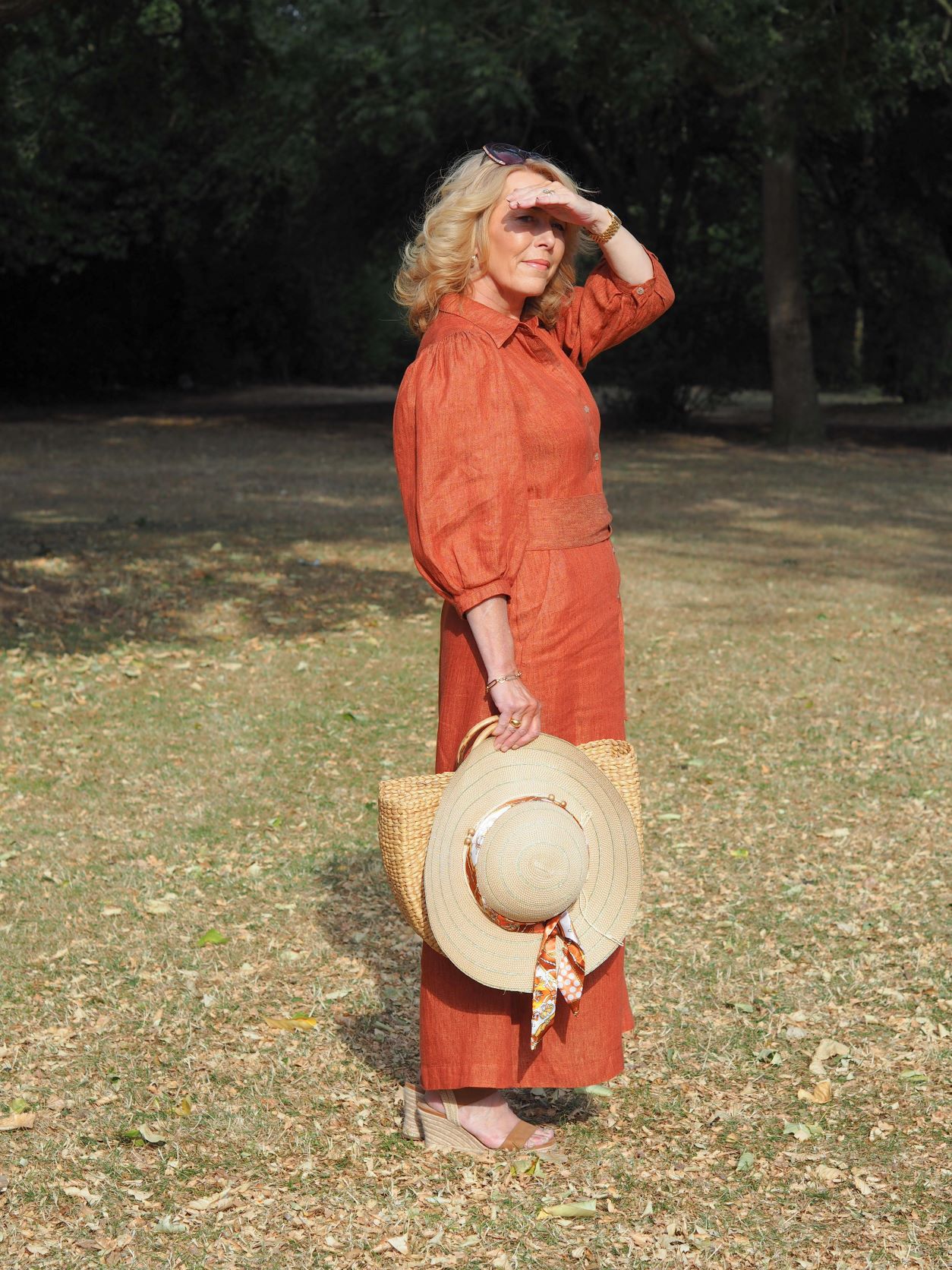 As I said, be quick to check the Brora sale. I have my eye on a jumpsuit in the wish list sale edit below, Brora runs true to size by the way. I'm wearing my regular size 10 here. This often gets asked, so I thought I would add that here.
Shop The Look
Shop The Brora Sale
Please be aware that there are affiliate links included in this post at no cost to you if they are clicked on
---
Thank you for stopping by!
Come back for more. Click on the subscribe form below
YOU MAY HAVE A FRIEND THAT'S INTERESTED IN THIS. PLEASE USE THE SHARE BUTTONS
XO LAURIE
Subscribe for the latest updates!