As I write this post I'm wondering how my blogger friends are coping with taking photos at the moment with our high temperatures! But a couple of days ago I braved it out in the heat to share this gorgeous white shirt that's been designed by the Artichoke girls for the Artichoke fashion website. It really is a beautifully cut shirt and I want to share it with you before they're all gone.
A white shirt is a good wardrobe essential, isn't it? Buy the best that you can and reap the rewards with all the easy styling. I'm sharing how I like to wear a white shirt here. I wished that I had added shorts. I'm living in them at present and this shirt would also be great as a cover-up with a cami under it.
Of course, I'm starting the first outfit with a neutral look. My favourite choice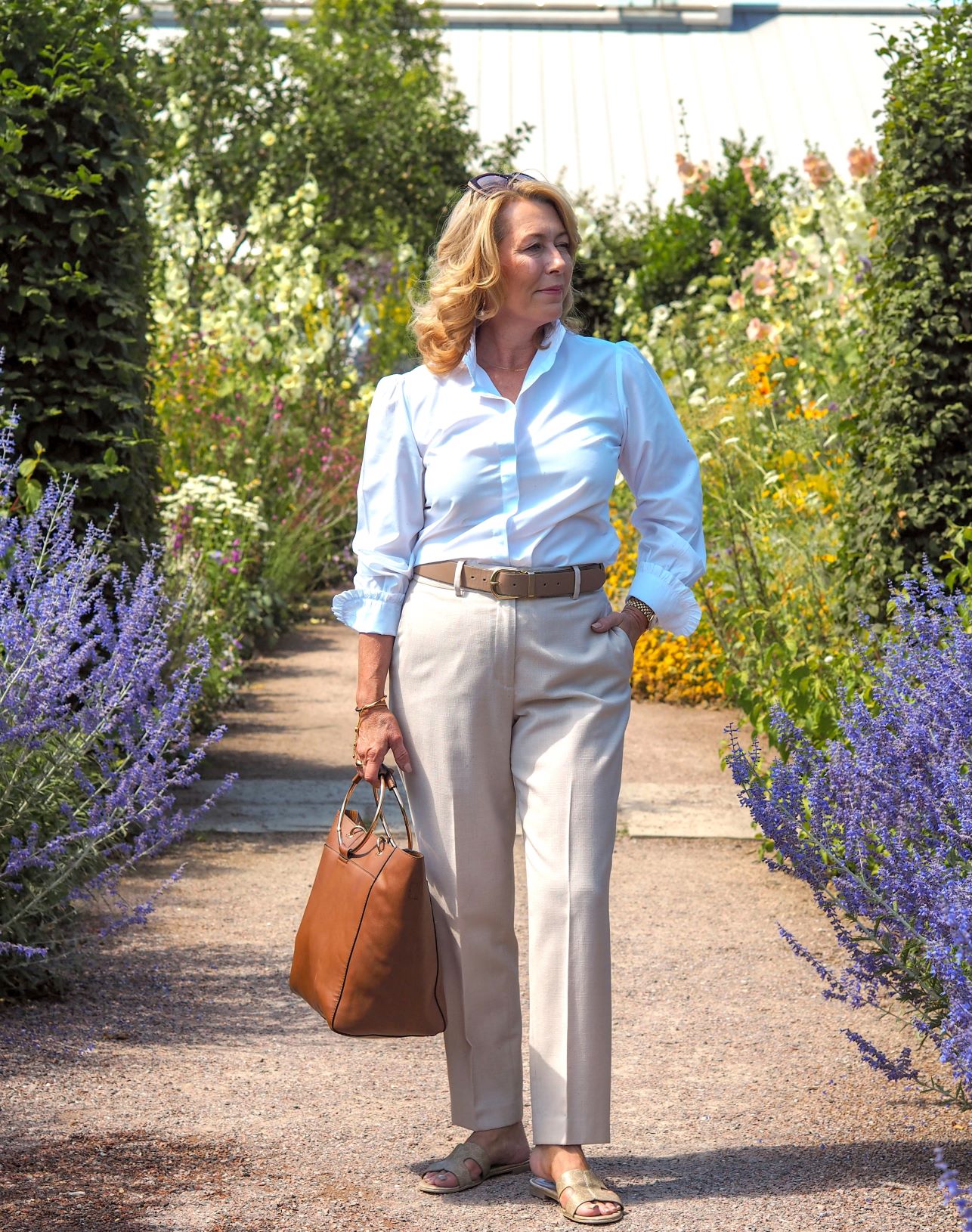 Oatmeal, White and Tan just mix so well together I think. The Annabel shirt is made from 96% Organic Cotton and 4% elastane to give that little extra movement to the shirt. I was advised to size up on ordering which I did. I'm wearing a size 12 and it fits lovely. It has a perfect little nip in at the waist and I really like that.
It's a while since I worked alongside the Artichoke fashion team and they have done amazingly well building their fashion house. It all began in a little shop in Swaffham and from there Artichoke launched online. They now have an amazing following and loyal returning customers for clothing that you won't find everywhere on the high street. Brands worth looking into, Artichoke also offer an online virtual styling service and can be found sharing styling tips on their social accounts. I always enjoy watching those.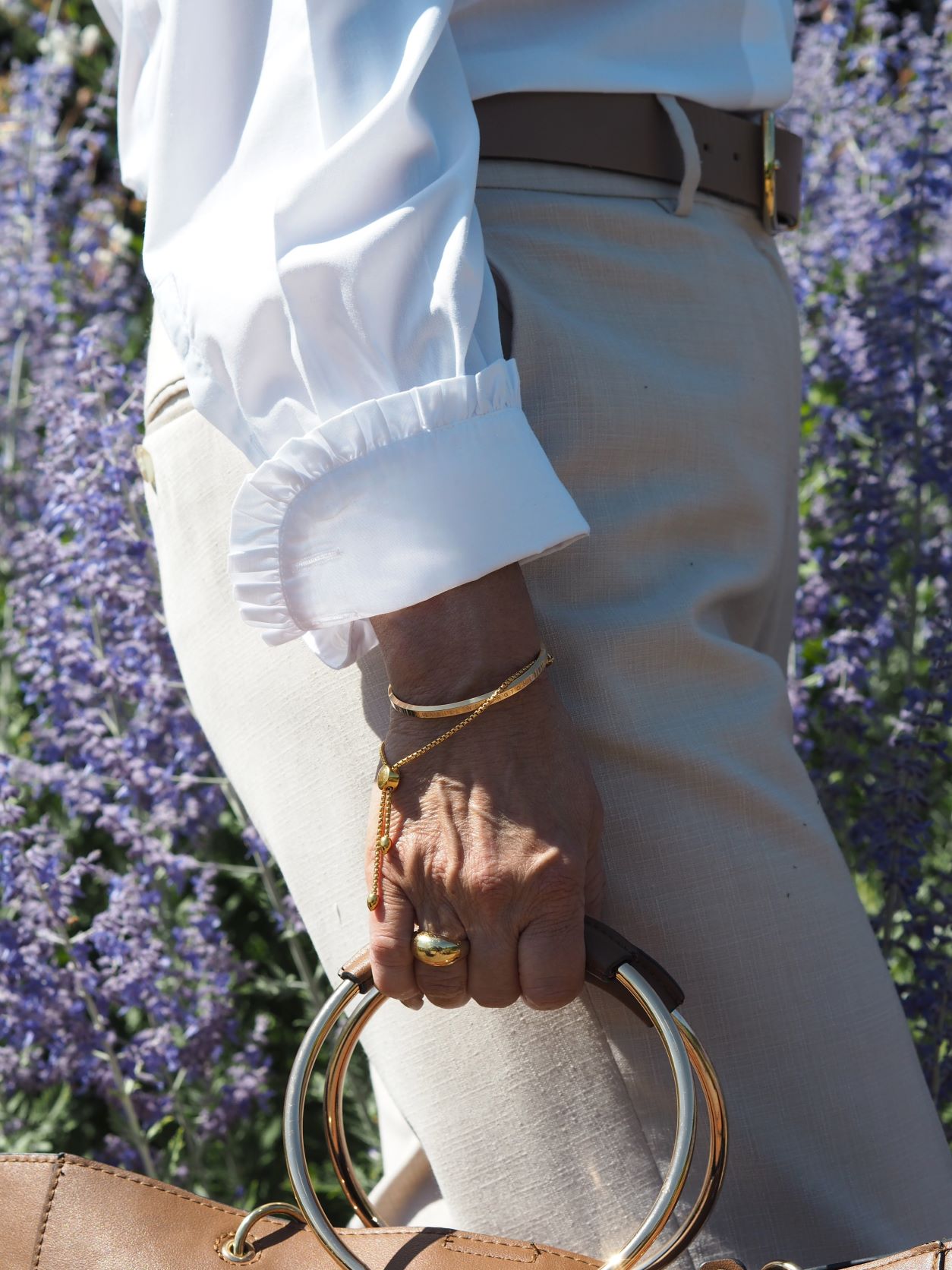 I've turned back the deep frilled cuff for my shorter-than-average arms. But I love the frill added to the cuff. It makes the shirt that little bit more special. The tailoring is exceptional and I wanted to show the detail and how well it's been done here.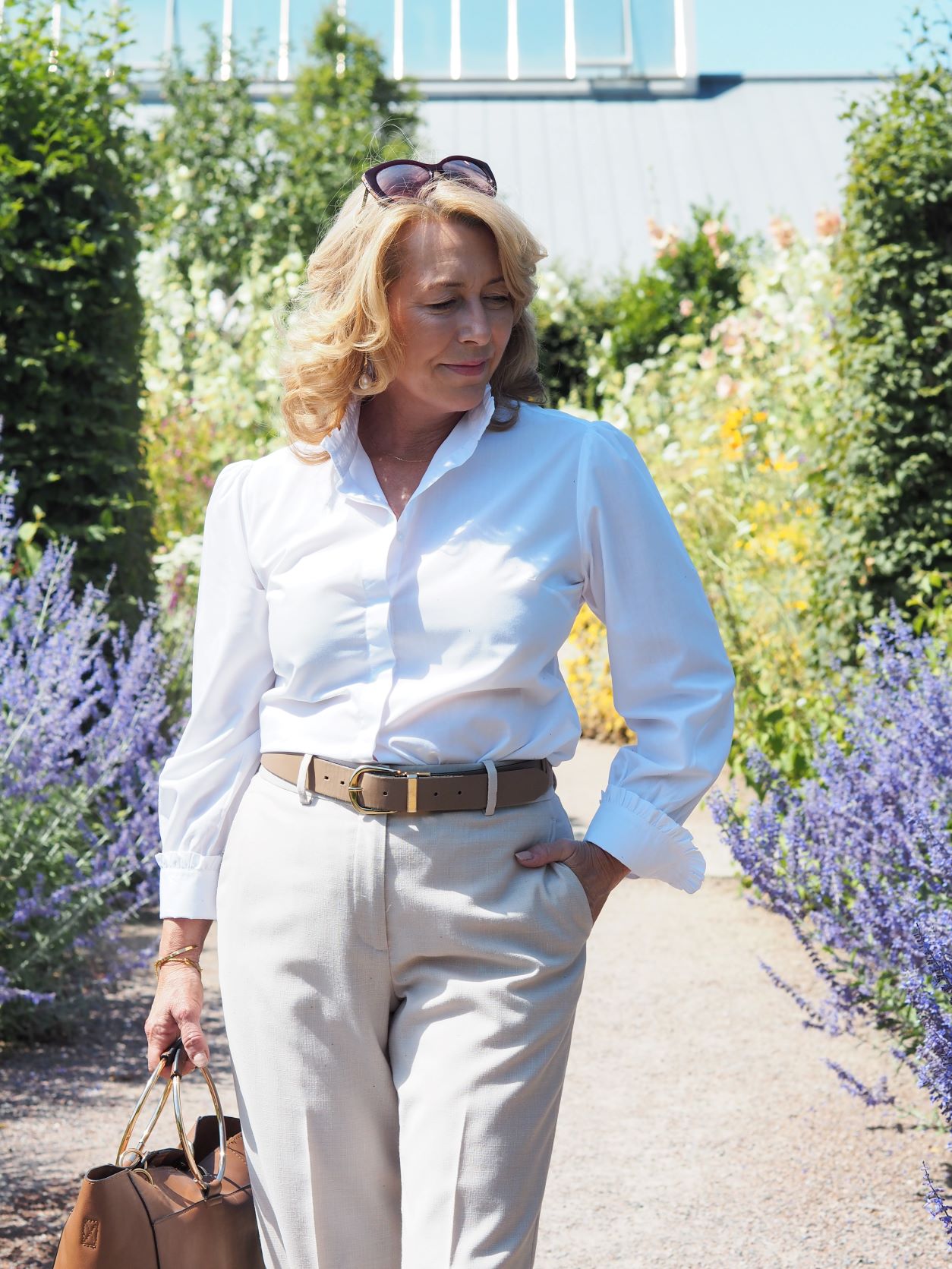 I've left the frilled collar open but it looks lovely done up too for a more formal look. Flat sliders to keep my tootsies cool. The Dune Loupe sliders were found on Amazon at a reduced price. Now I want more colours! I've been living in them.
When choosing a shirt from the Artichoke website I want to mention the Tallulah shirt in Floral Rose. This would have been my second choice. More of a boyfriend-style shirt that's available in various plain or printed materials, I fell in love with the Floral Rose print.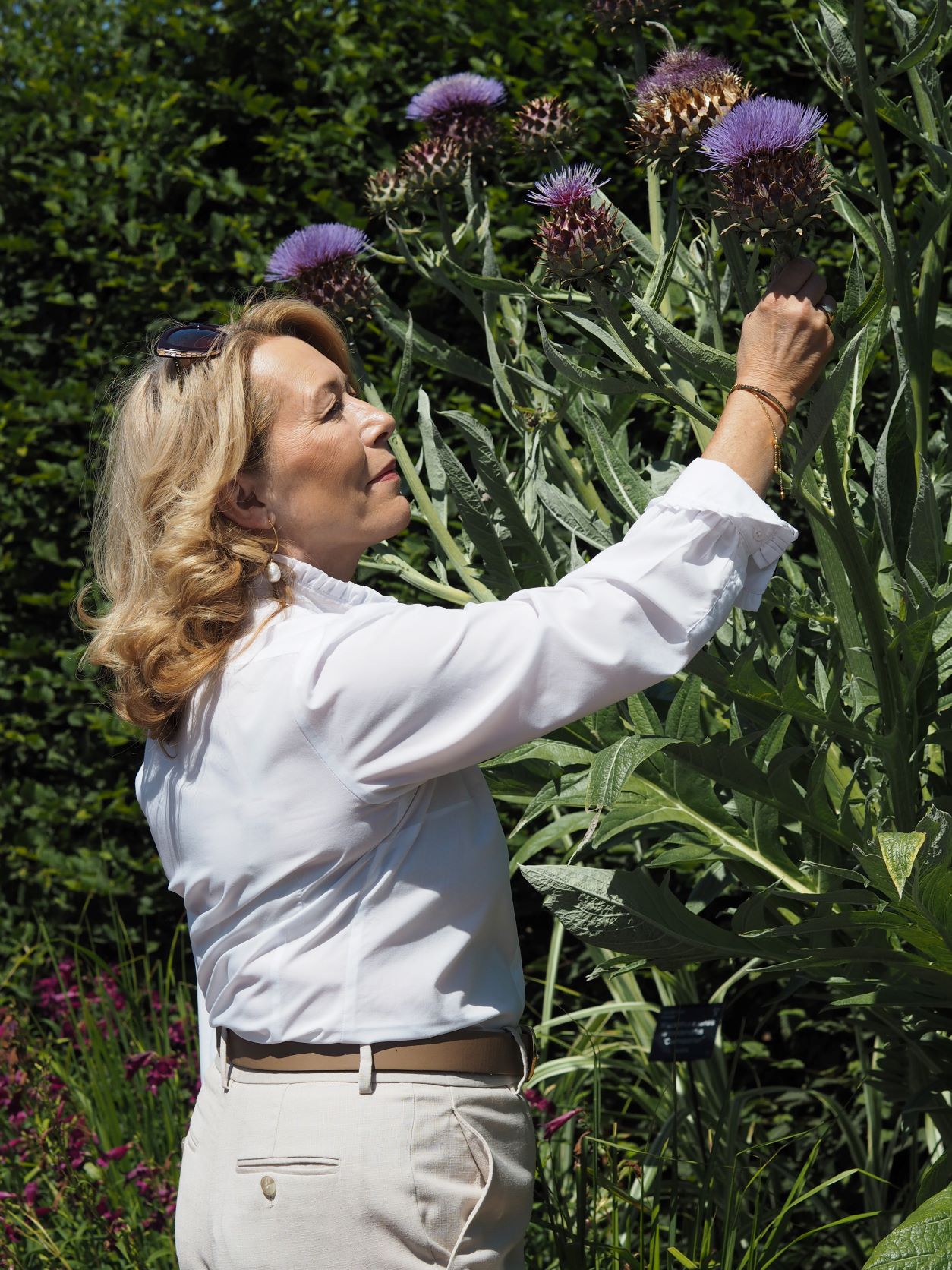 Just sharing here how much movement there is in this fitted shirt. It really is comfortable and I don't feel hemmed in like you can with some fitted shirts.
I've taken a visit to one of my favourite gardens Hyde Hall in Chelmsford to take photos. I marvelled at the size of the thistles. Beautiful. If you love gardens then Hyde Hall really is worth a visit.
Shop The Look
You can't go wrong with Navy and White. Classic styling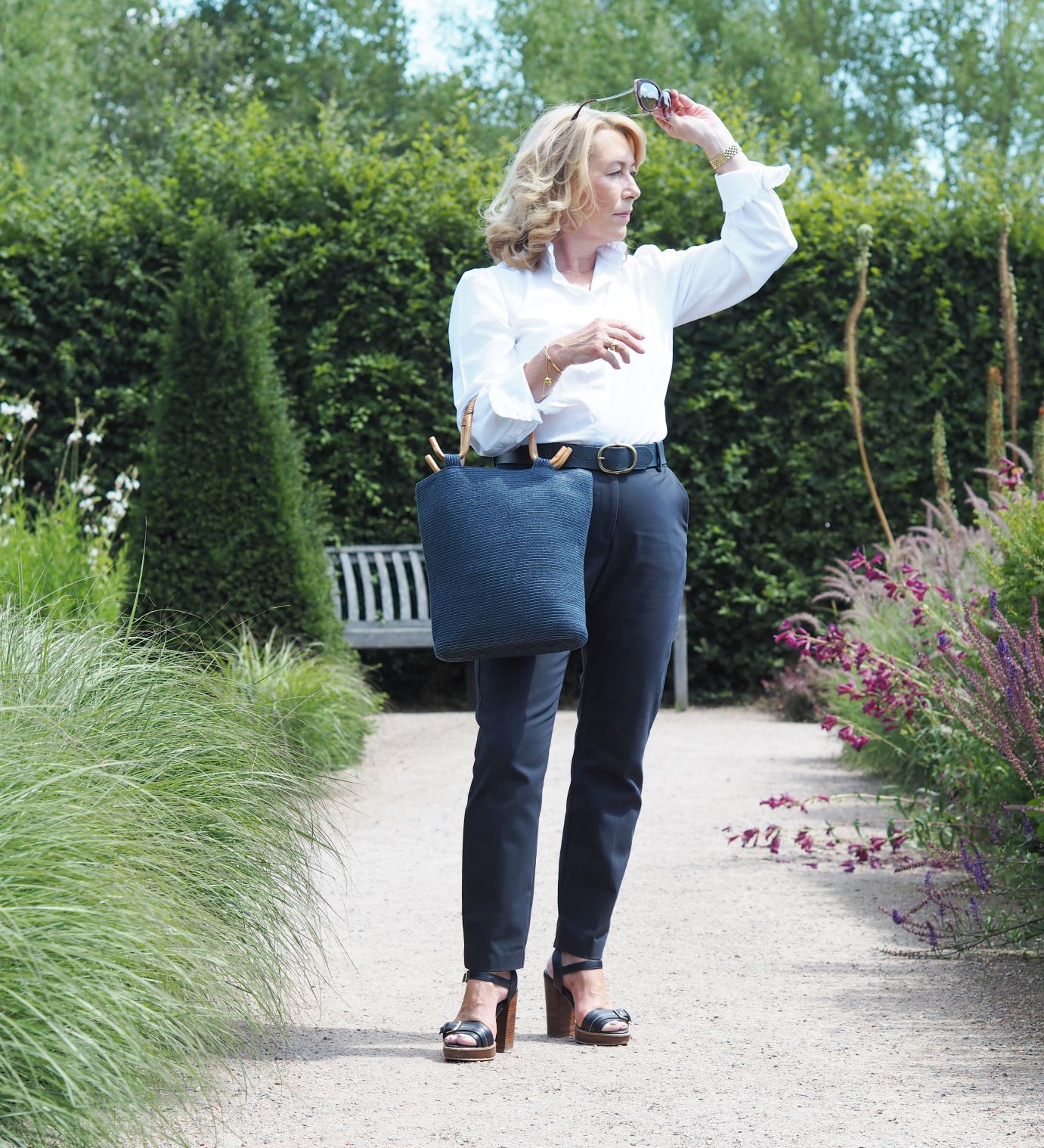 Although I've never worked in an office, I can't help thinking what a great work outfit this is. Navy and white is a classic winner in my book. I've kept the look very monochromatic, adding a Navy basket bag, Navy sandals and Navy belt.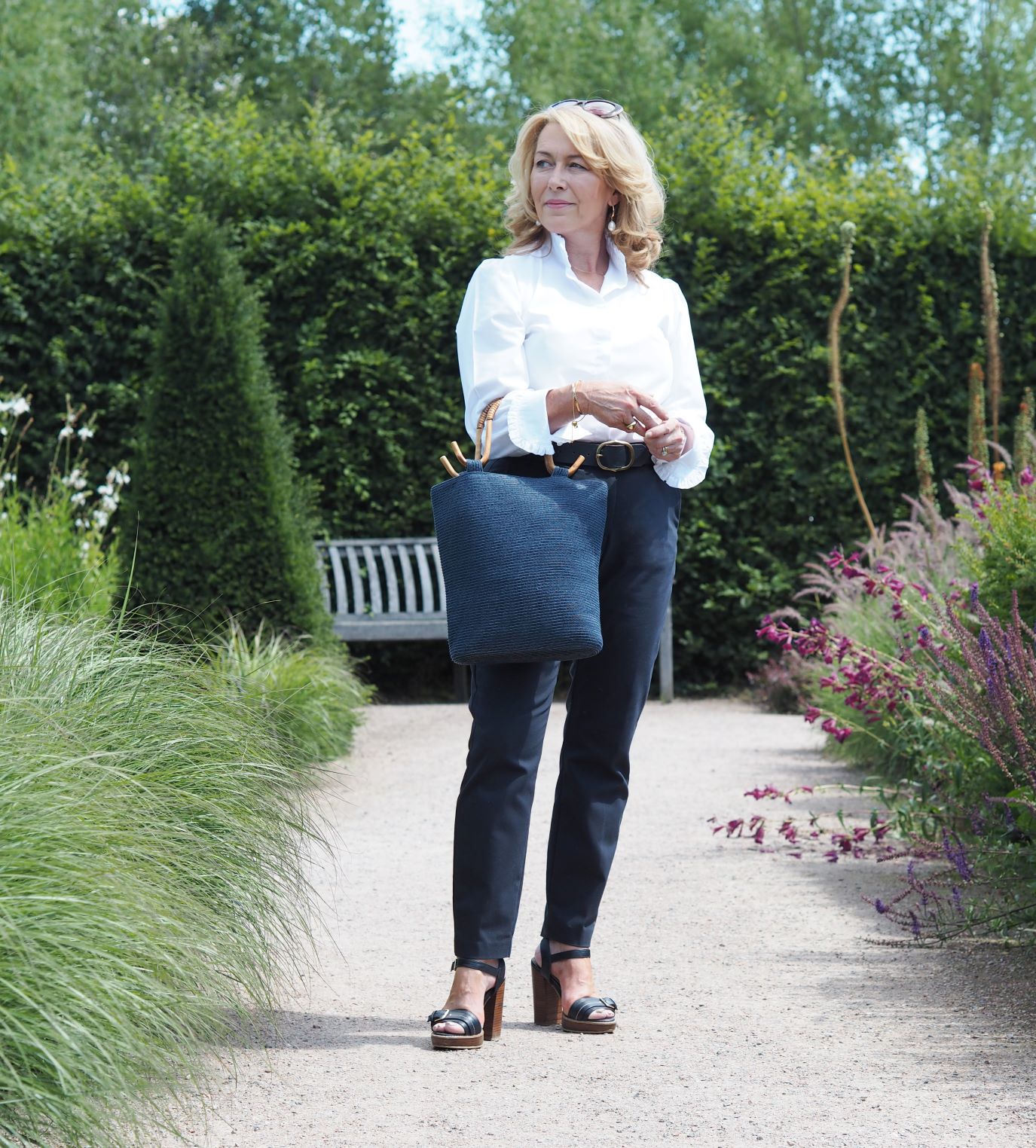 You will have seen the HM Cigarette trousers numerous times on my Instagram feed. I have them in nearly every colour. I spoke about my Instagram disaster in the last post. I'd appreciate any support you can give.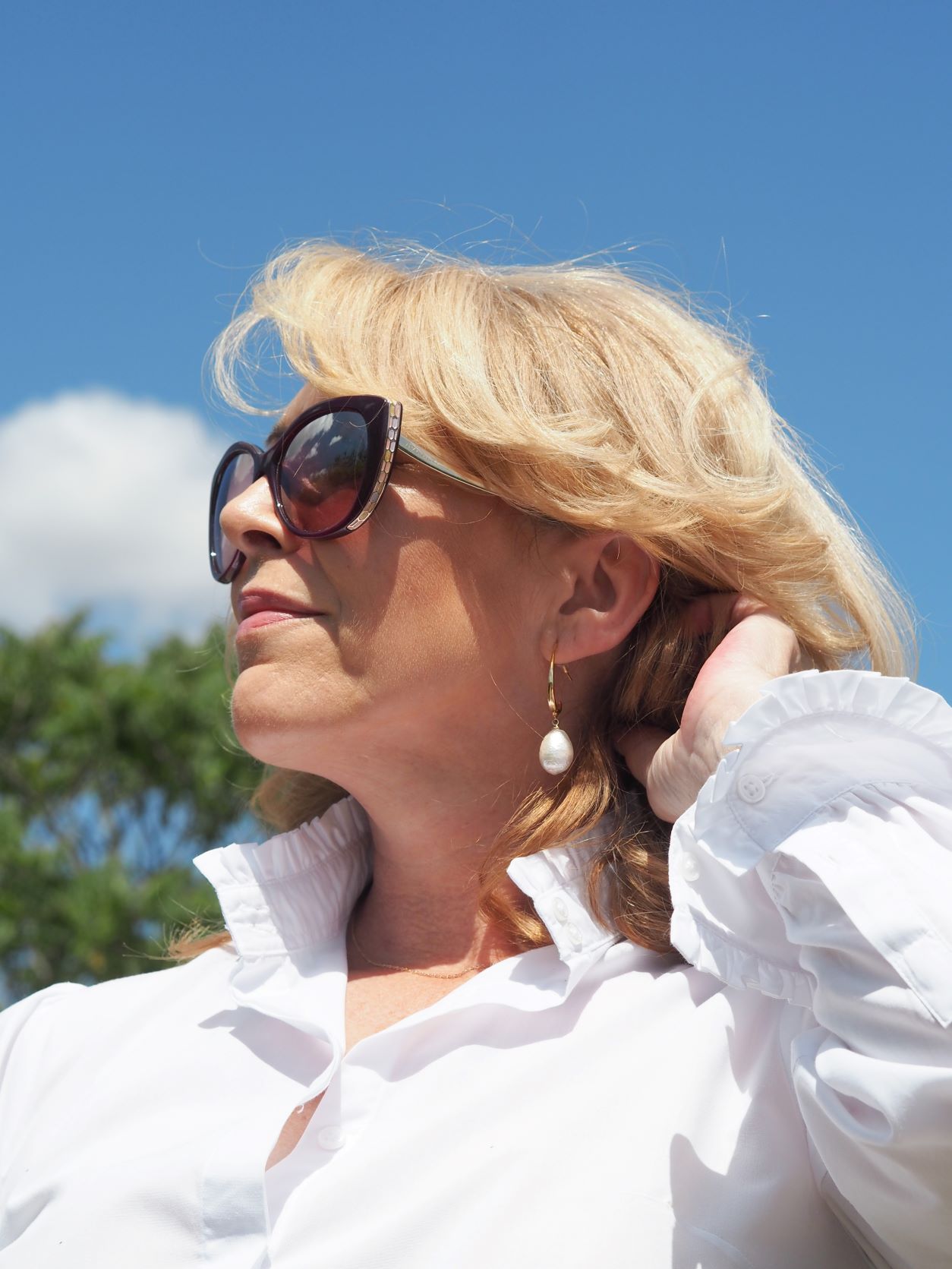 I've paired this outfit with Pearl earrings. Always a favourite and I couldn't believe how purse friendly these earrings are on the Artichoke website. Very similar to my Monica Vinader ones but a fraction of the price. Artichoke has some really lovely accessories including handbags.
I have a 15% discount for Artichoke's own brand of shirts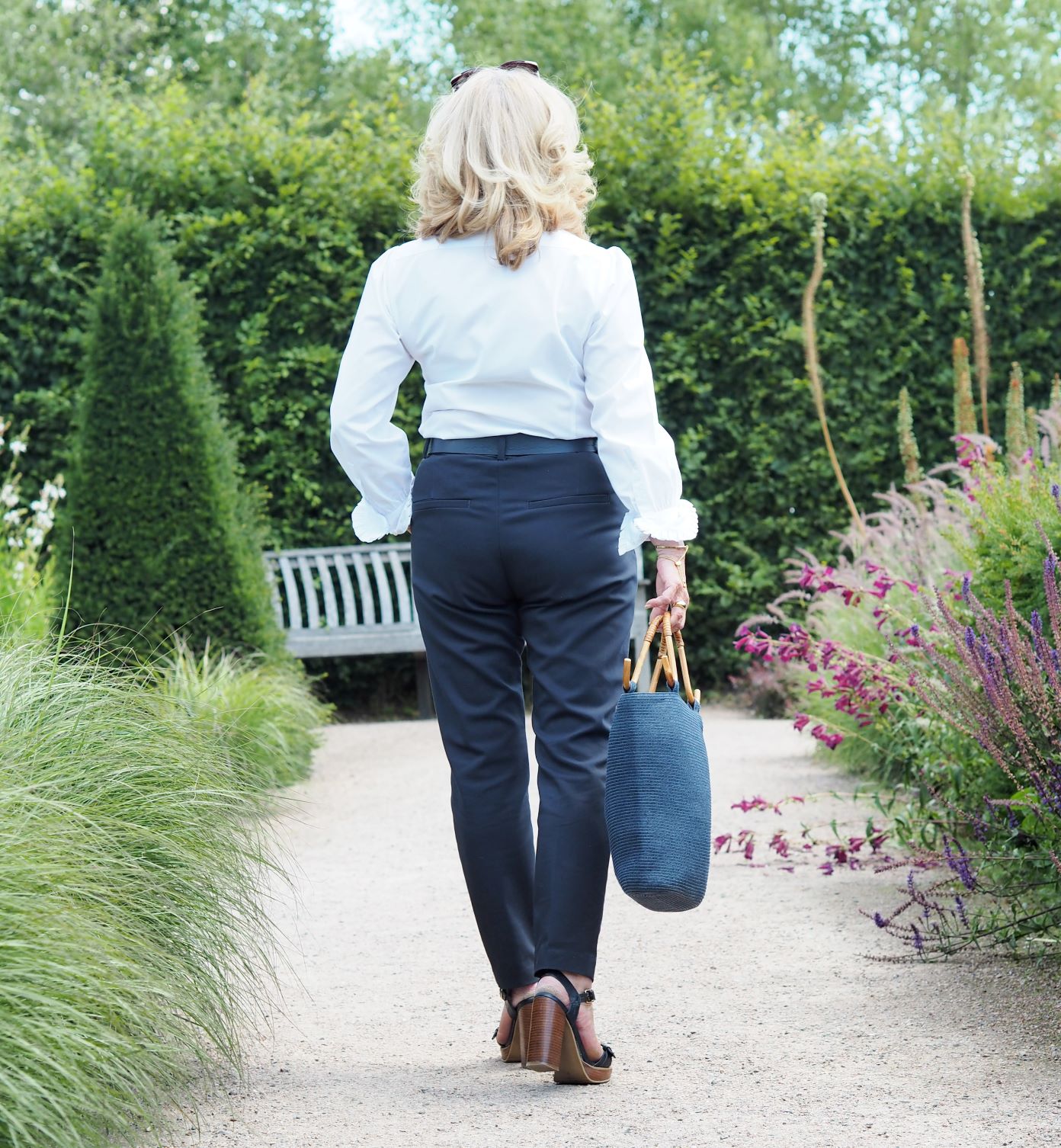 use the code vanityandme at the checkout
Shop The Look
The no-brainer Artichoke fashion white shirt and denim look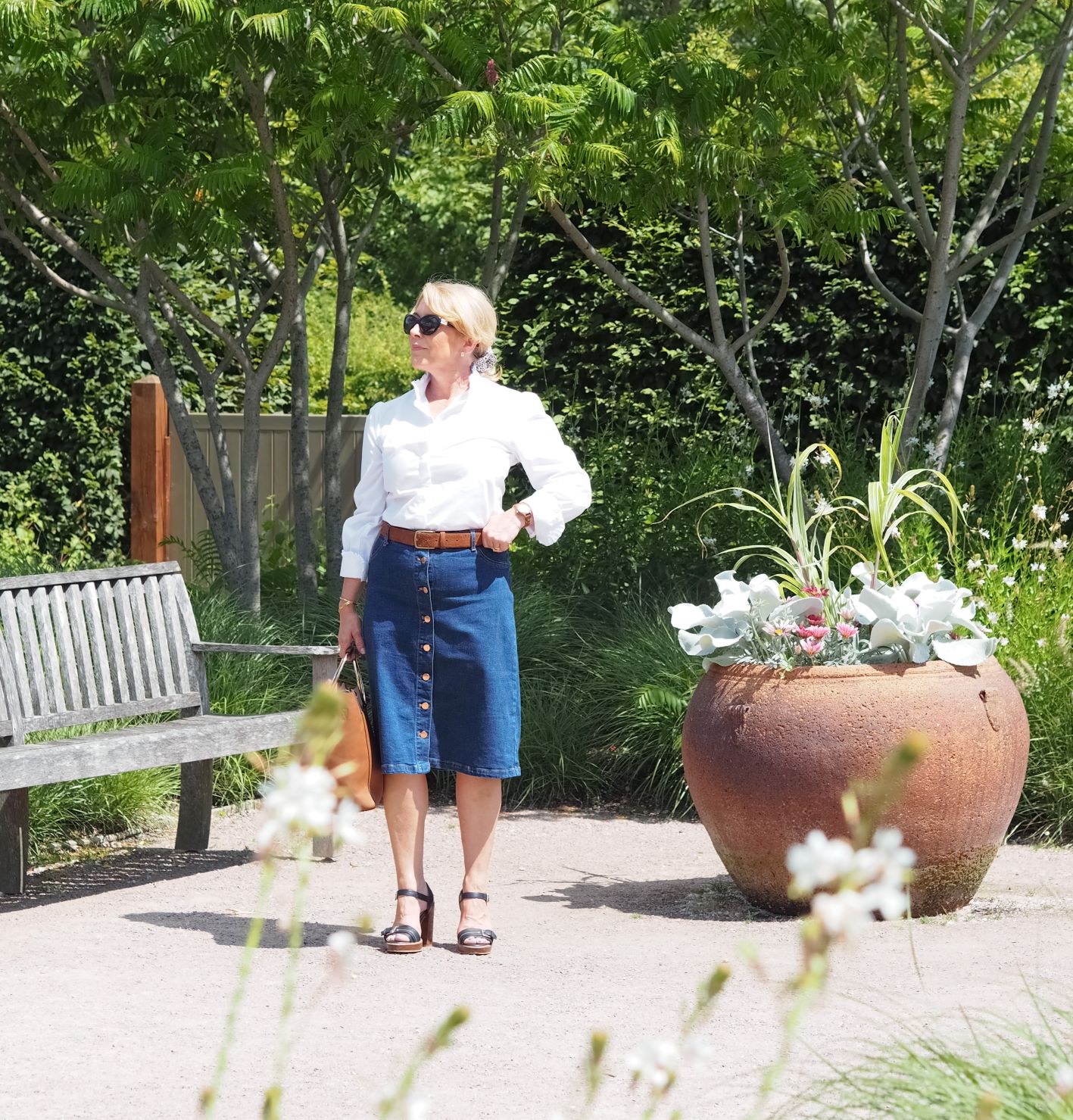 I fully intended on wearing my favourite bootcut jeans with the Annabel shirt. That's how I would prefer to wear it on a cooler day! You would have to peel those jeans off in our high temperatures!
So I sifted through the wardrobe and remembered this denim skirt and I think the look worked out well. That's the beauty of this shirt. You could wear it really dressed up for an evening ( I would add a statement broach to the collar a la 80's style.
Or you can create a really laid-back look as I have here. I would actually like to try The Angelika Magic Stretch Jeans that Artichoke sell. Mark Heyes has featured them on This Morning's Lorraine. They look really good.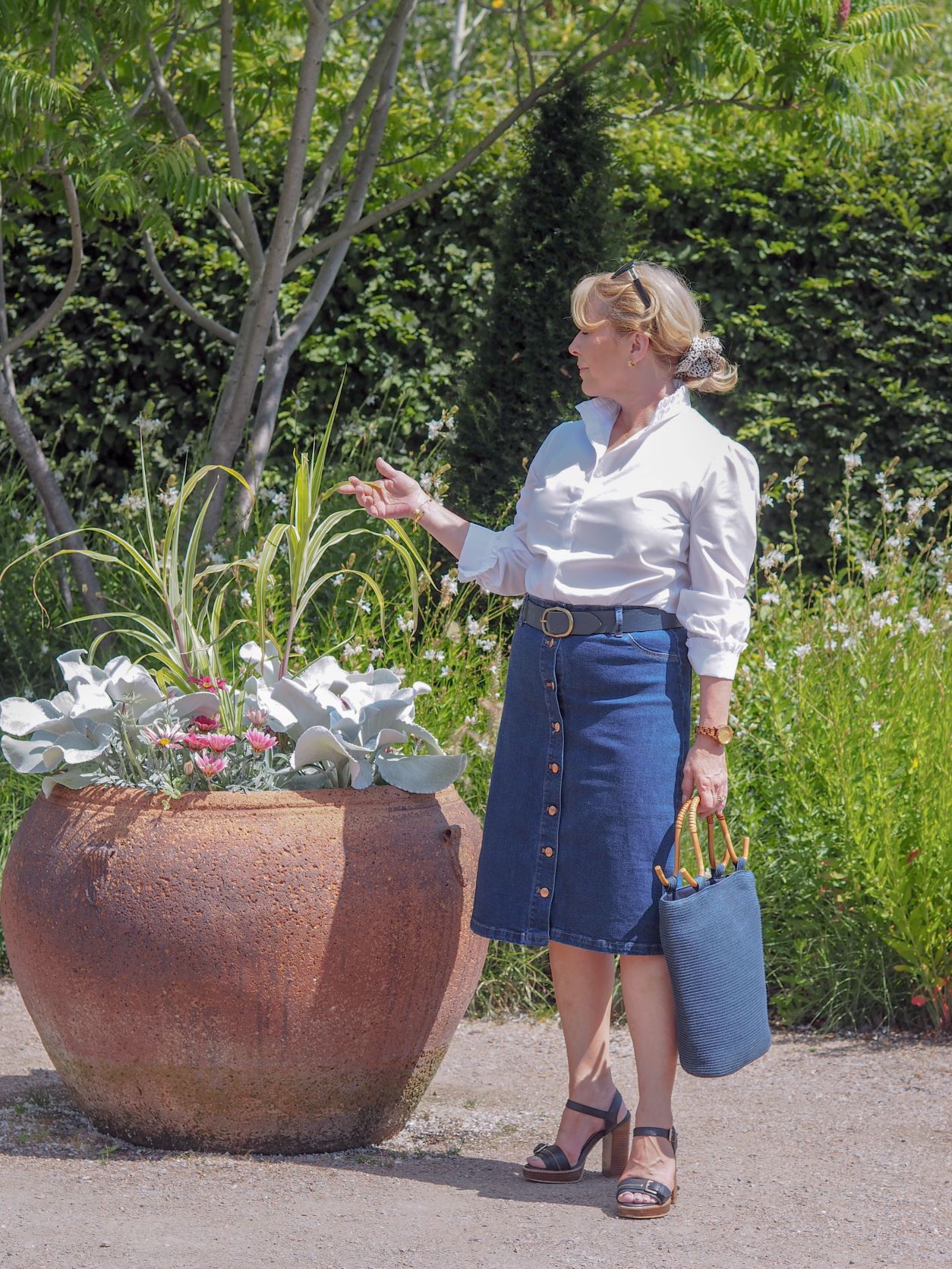 The hair got scraped back on outfit three, everythin is starting to wilt in our hi 30's heat but I often do that to give off a more casual look. Do take a look at the Artichoke fashion website and join them on their styling sessions over on Instagram or Facebook. and do let me know what your favourite look was out of the three above.
Shop The Look
Please be aware that there are affiliate links included in this post at no cost to you if they are clicked on
---
Thank you for stopping by!
Come back for more. Click on the subscribe form below
YOU MAY HAVE A FRIEND THAT'S INTERESTED IN THIS? PLEASE USE THE SHARE BUTTONS
XO LAURIE
Subscribe for the latest updates!