Since moving from London to Essex I'm still finding lovely places to take photos. Luckily I'm living right on top of the main town but having all the countryside on the outskirts. I feel I have the best of both worlds. Town and Country right on my doorstep.
I'm sharing a couple of lovely outfits with you from my favourite brand Baukjen. An evening in town at a bar and an afternoon exploring the countryside.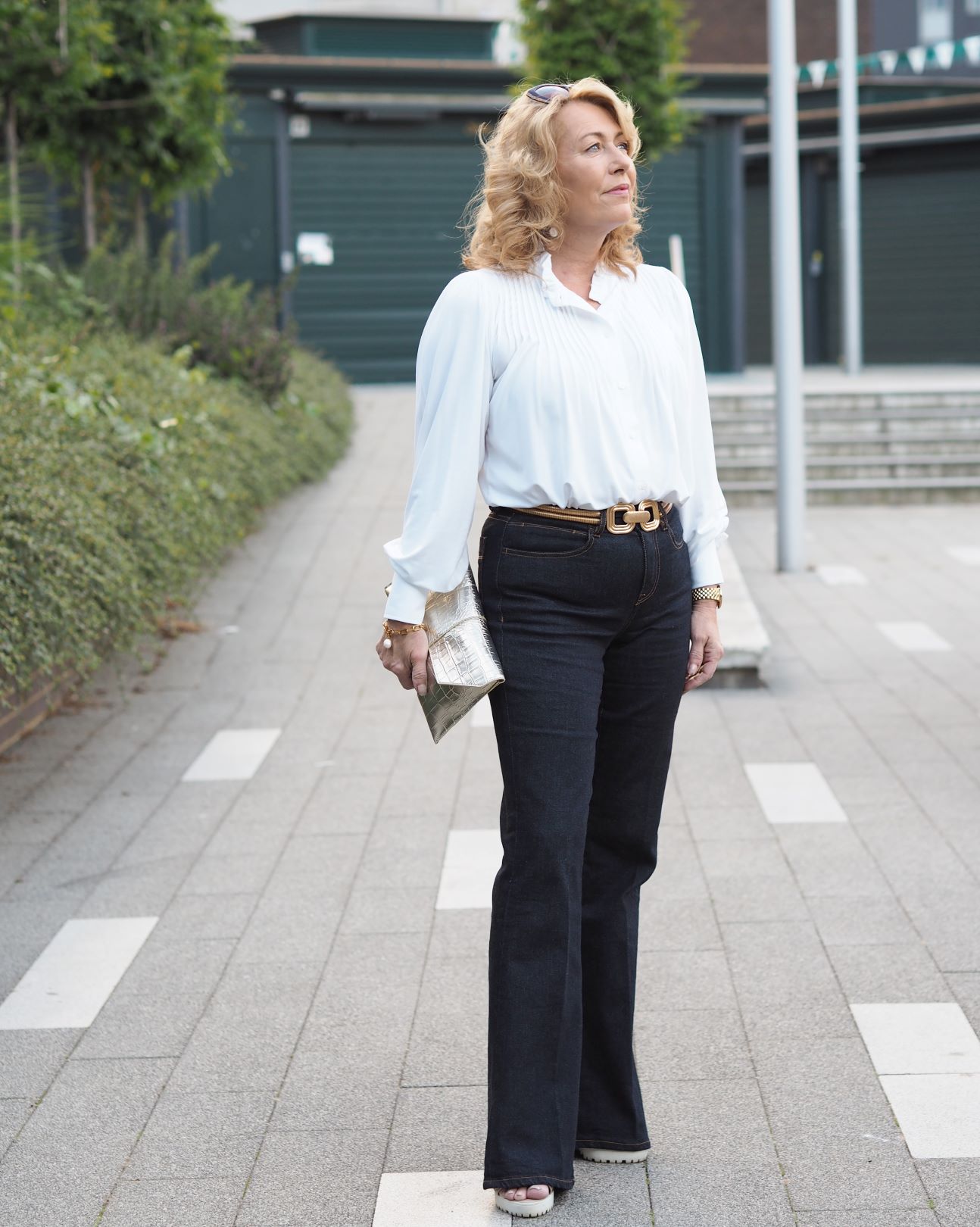 I love everything about this outfit. It has a real seventies vibe to it. Puff sleeves, the gold belt and the flared jeans. Let me tell you, these are special jeans, I love Baukjen's tailoring. They get it spot on.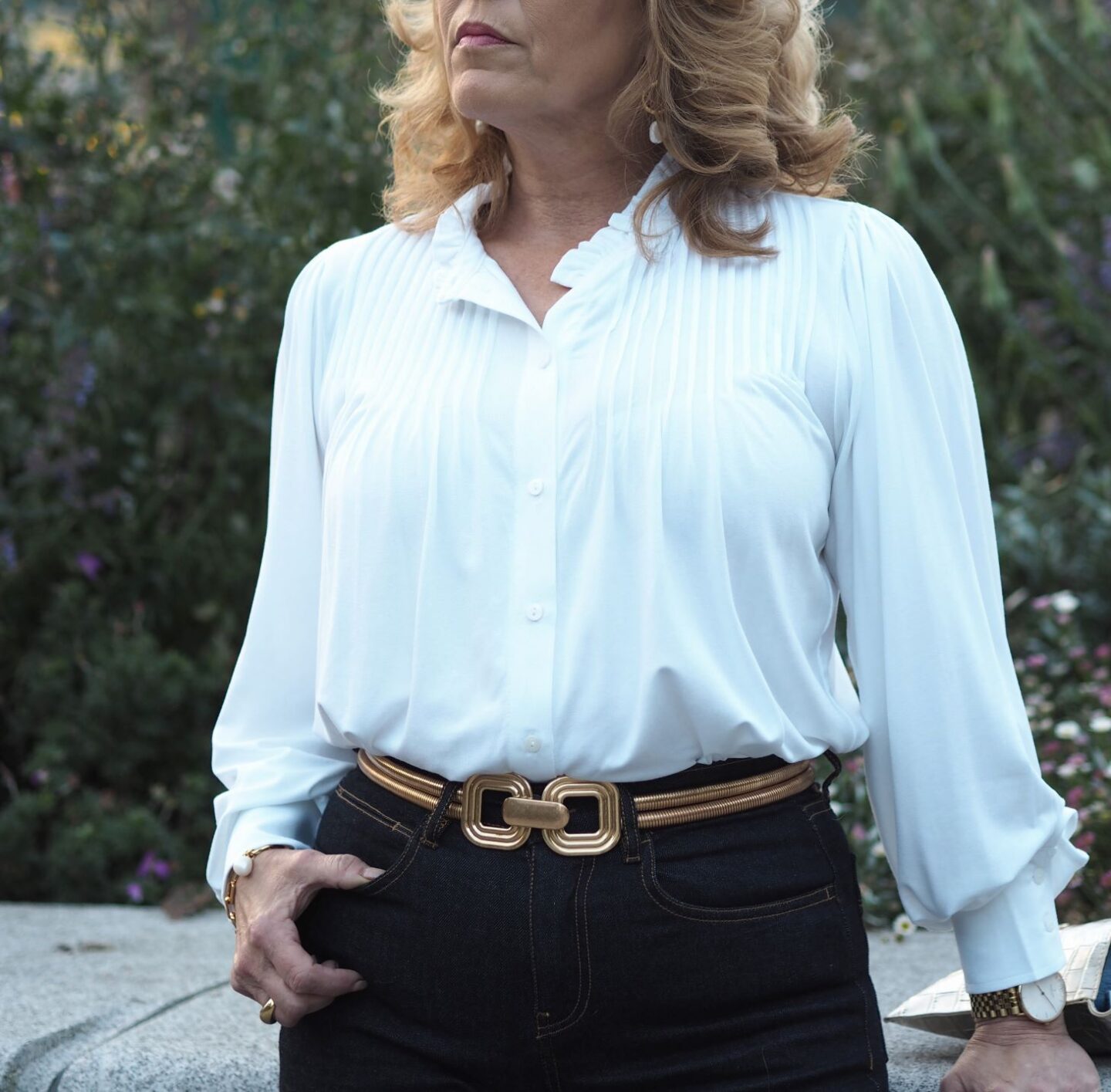 Let's start with the Imken Blouse and all its detail. The slightly puffed sleeve, the pin tuck detail and the frilled collar. I love the style of it but the extra bonus is the material it's made from. LENZING™ ECOVERO™ it's a material widely used in the Baukjen collections. It feels beautiful on and it doesn't crease at all. I have a few tops from Baukjen made from it and it doesn't crease at all. I often pack one in my suitcase on travels and I know I can unpack it and hang it up to wear the next day and it will be crease-free.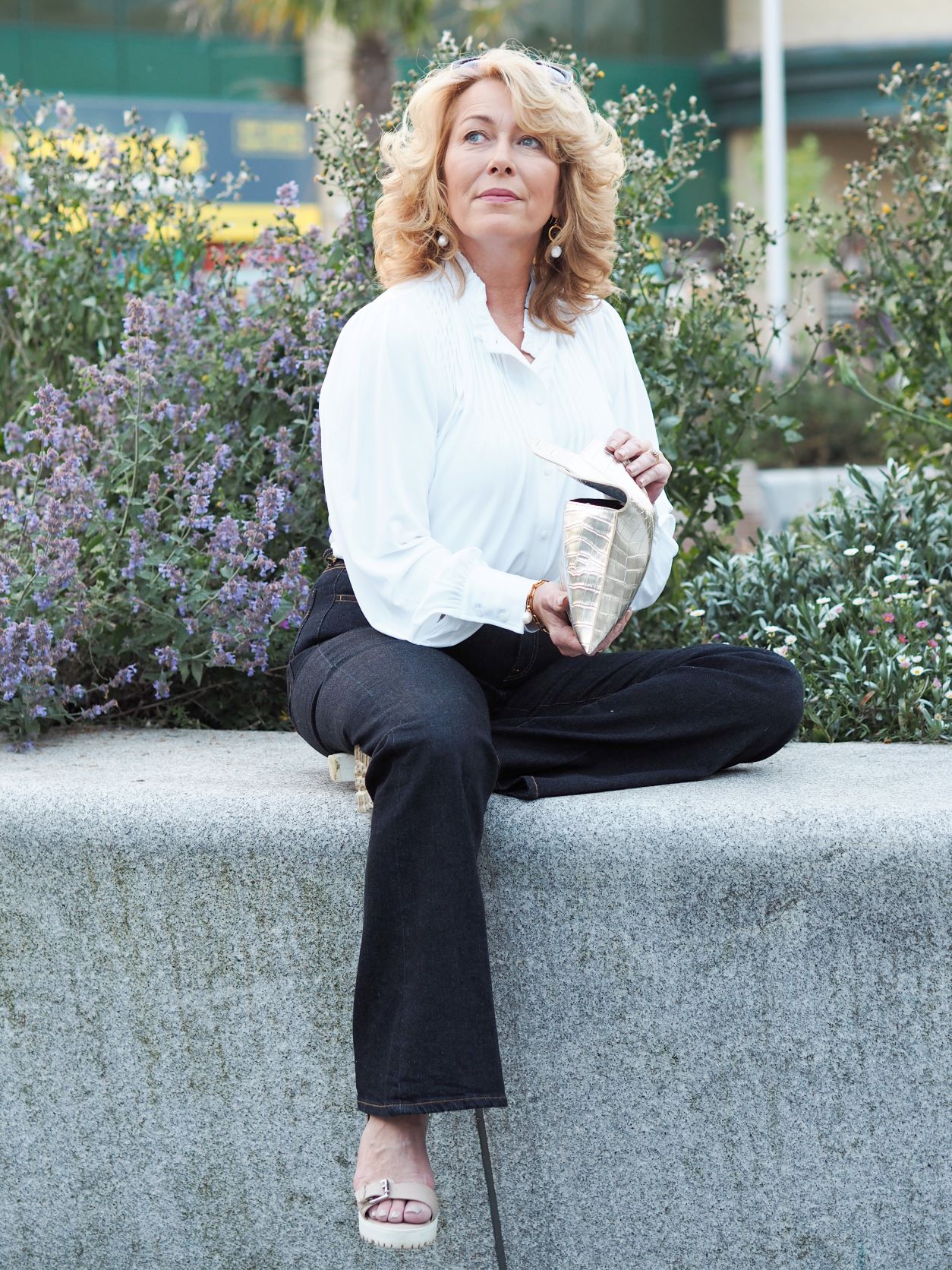 The Valentina boot-cut Jeans are cut to perfection. I would say they're between a mid to high rise which is just right for me. Made from organic stretch denim they're figure-hugging and the tapered kick-flare reaching right down to the floor elongates my legs. Anything that helps make them look longer is an added bonus!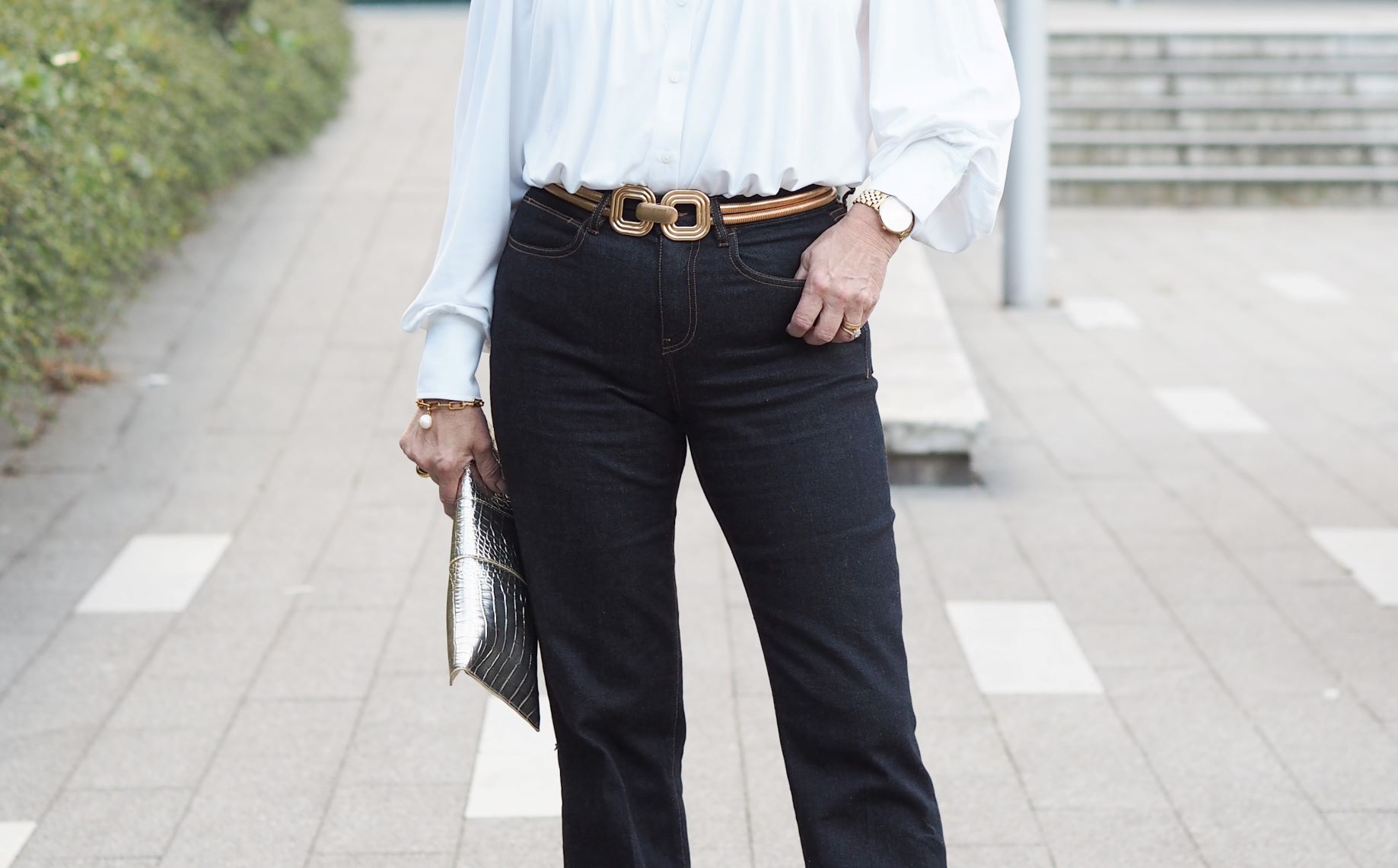 Two items that can be worn casually or with added glamourous accessories create a good outfit for a night on the town. The jeans are going to look great with a simple T-shirt. They're going to be a good staple item in my wardrobe.
I've added gold accessories. The belt from Zara is a favourite find. I think it helps add to the seventies vibe. A gold Clutch and jewellery are all that's needed to finish off the look. Simple.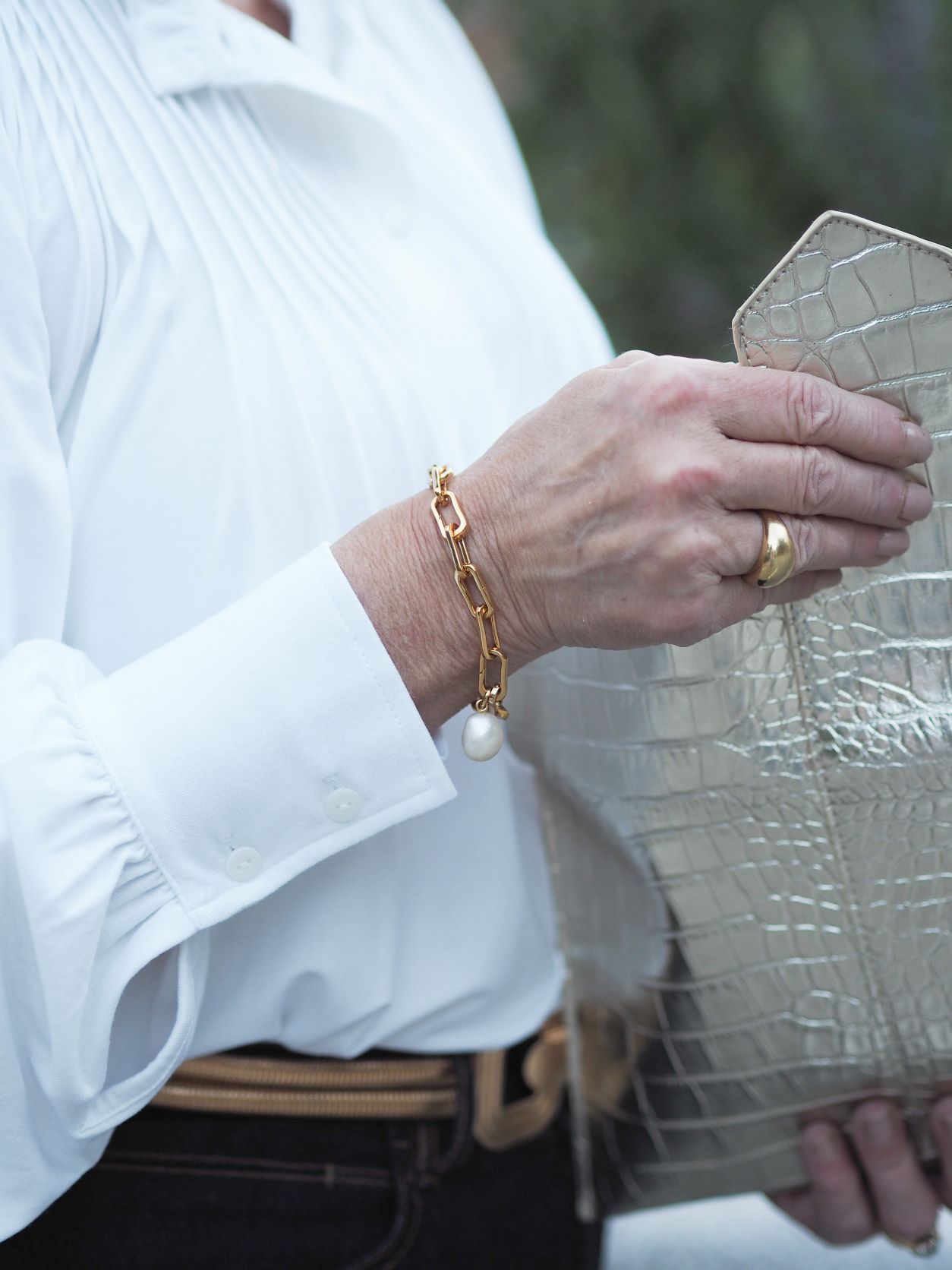 And finally, to finish the look a new addition to my jewellery collection is the Monica Vinader Alta Capture Charm Bracelet. A really beautiful statement piece. Each hinged link opens so that you can add one or many charms of your choice. I've added here the Pearl pendant charm.
You can also see closer the tailoring of the cuff on the Imken blouse. It's all the little details that are so well done that make it special.
Do you like the '70s trends? or are you an '80s 90s or oos fan? I don't know why but I'm always drawn to the 70's era. I think my next favourite decade would be the 40s
Shop The Look
Town and country looks. Switching to country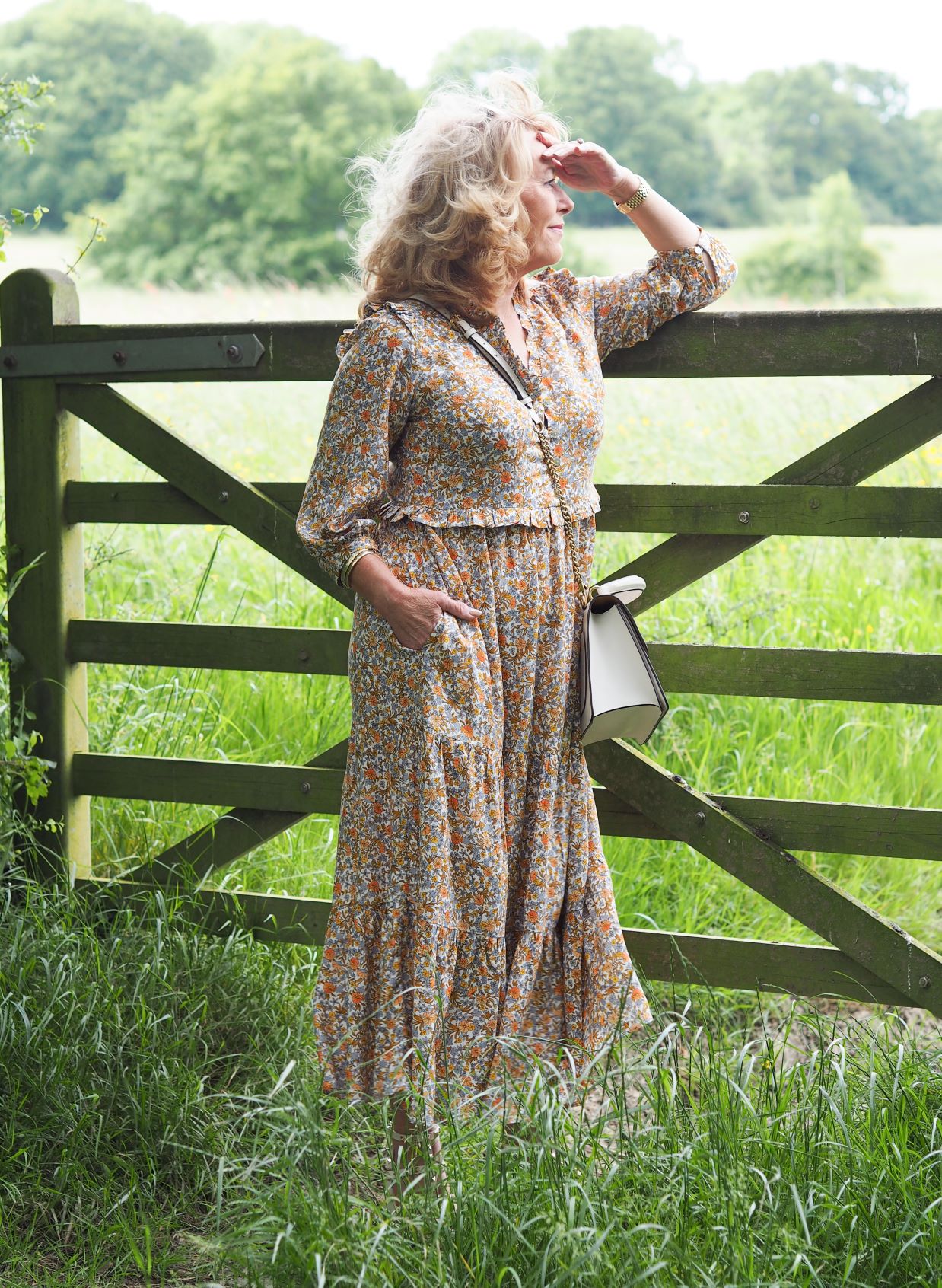 On our way to friends, it was a pure fluke that we found this beautiful country spot. Not even prepared for photos, it was so peaceful, all you could hear was the Russel of the leaves and birdsong. I will be bringing the grandchildren here for a picnic, they will love it.
The Baukjen Val dress has been in my wardrobe for a few weeks now. It's super comfortable and I've worn it either loose as above or belted. You can see via my YouTube try-on session how it looks in more detail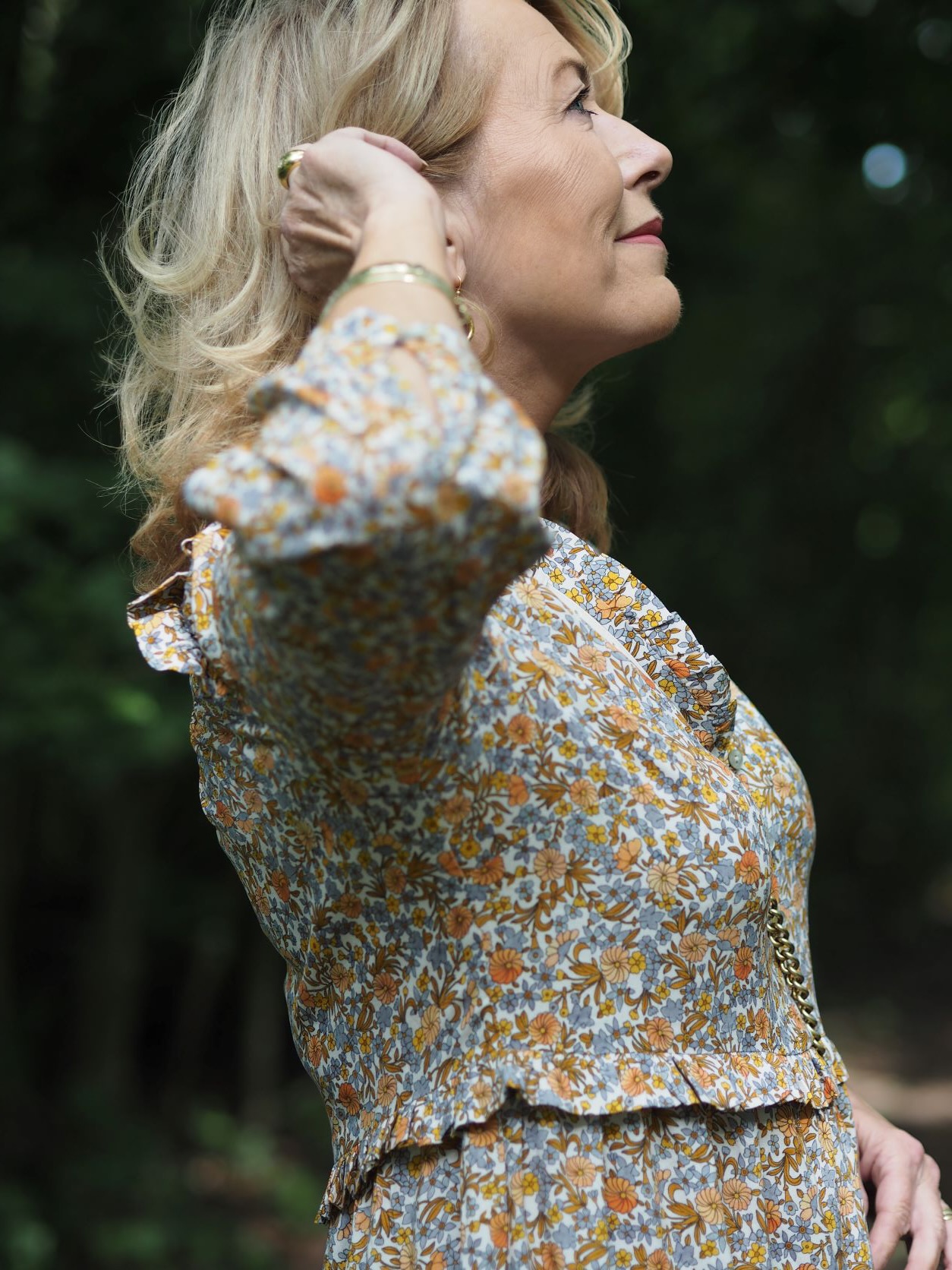 Another beautiful ditsy print from Baukjen here and I love the colours in the dress. I also featured the Stefania blouse I wore in the Dressing room Diaries post and that also has a lovely ditsy print. I love how Baukjen gives all their creations a name. There was a Laurie coat one year! And don't forget I have a 15% discount code for full-priced items at Baukjen.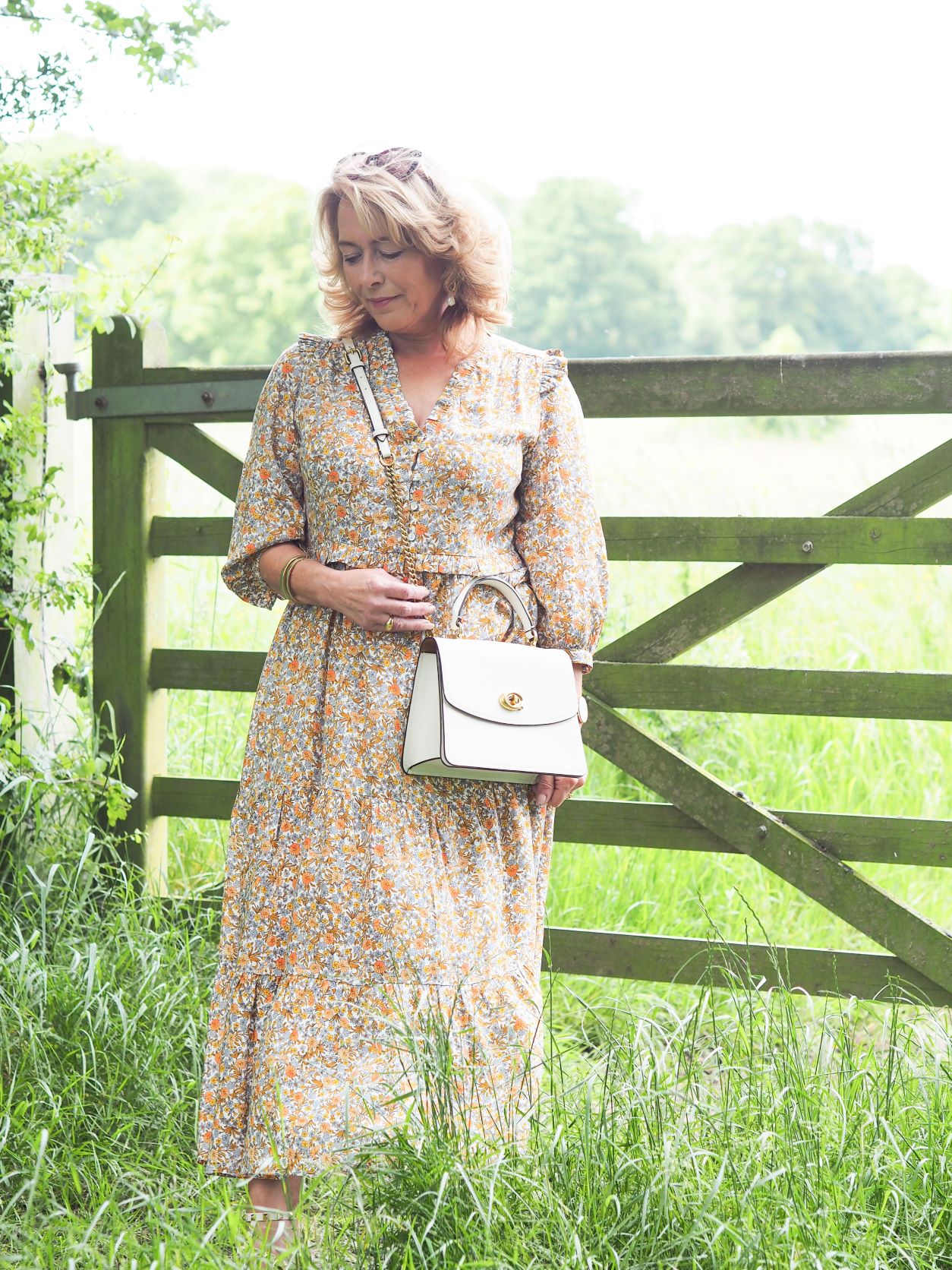 I'm always banging on about going over the top with frills at my ripe age but again Baukjen has come up trumps with just enough detail on the Val dress. A little frill on the V-neck opening, on the shoulders and on the waistline.
A gathered hem at the bottom It's a lovely dress to wear loose when it's a warm sunny day. Loose and billowy. It's great belted too. You can see how it looks on my Instagram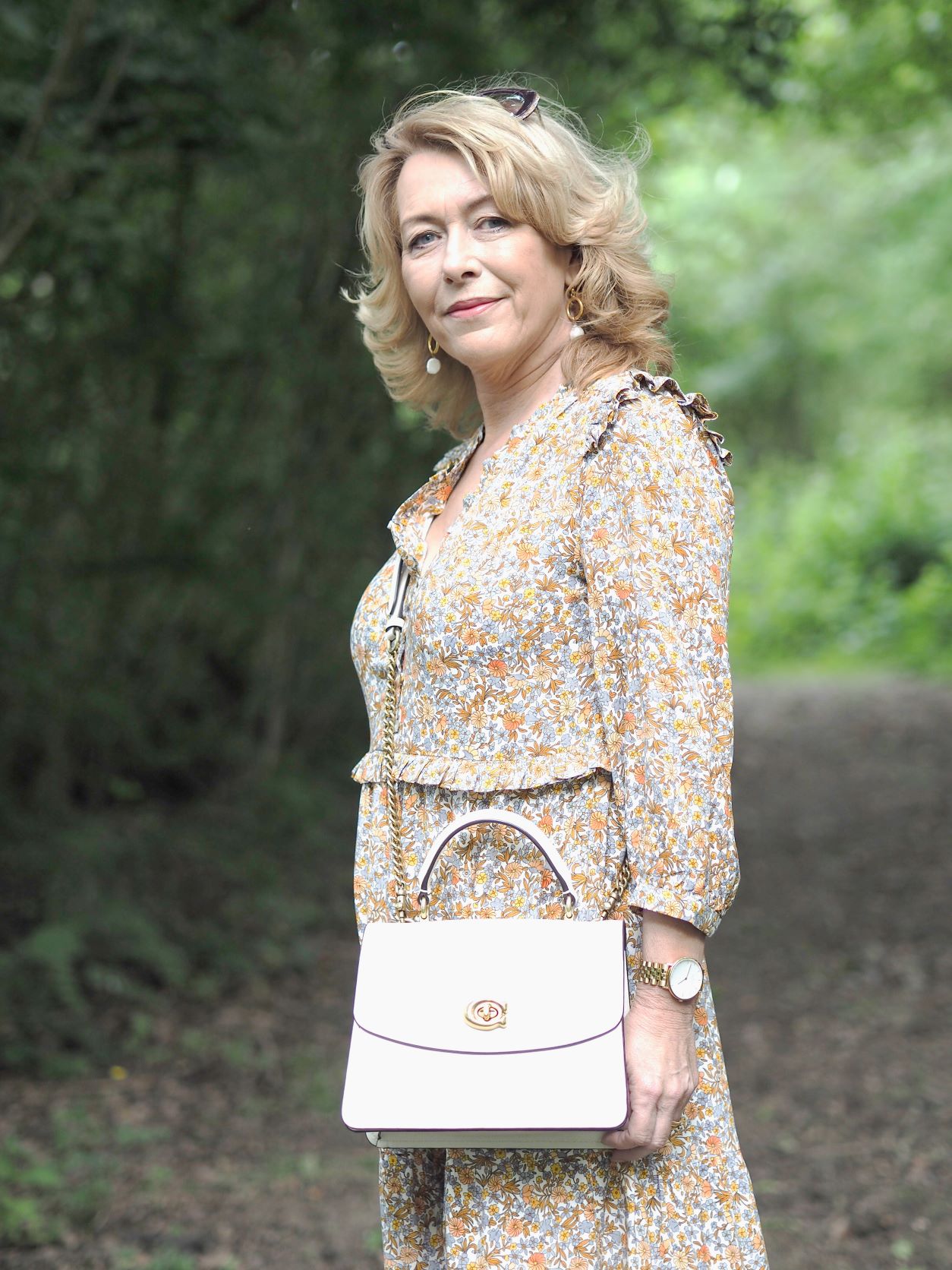 I would normally pair a ditsy print dress with a basket bag, but as I said, we're on our way to see friends and I'm eager to show off the bag that my lovely son bought me when he took me on a shopping trip to Bicester. I can't wait to go back there again. It's worth the long drive!
I filmed my time at Bicester and you can catch the film here. I keep hinting to the boy about taking me again. I felt truly spoilt that day!
So that's my two looks for Town and Country. Let me know what your favourite is. I'd love to hear from you!
Use the code VANITY15 for a 15% discount at Baukjen
Shop The Look
Please be aware that there are affiliate links included in this post at no cost to you if they are clicked on
---
Thank you for stopping by!
Come back for more. Click on the subscribe form below
YOU MAY HAVE A FRIEND THAT'S INTERESTED IN THIS? PLEASE USE THE SHARE BUTTONS
XO LAURIE
Subscribe for the latest updates!