It's been a long time since I've had a piece of Broderie Anglaise in my wardrobe, especially some as nice as this. The brand Brora popped up in my emails and I was hooked, looking at all the beautiful items. Brora is famous for its top-quality cashmere. I had heard about that, but browsing online I didn't realise how gorgeous all their clothing designs are, not just the cashmere but a really beautiful collection of clothing.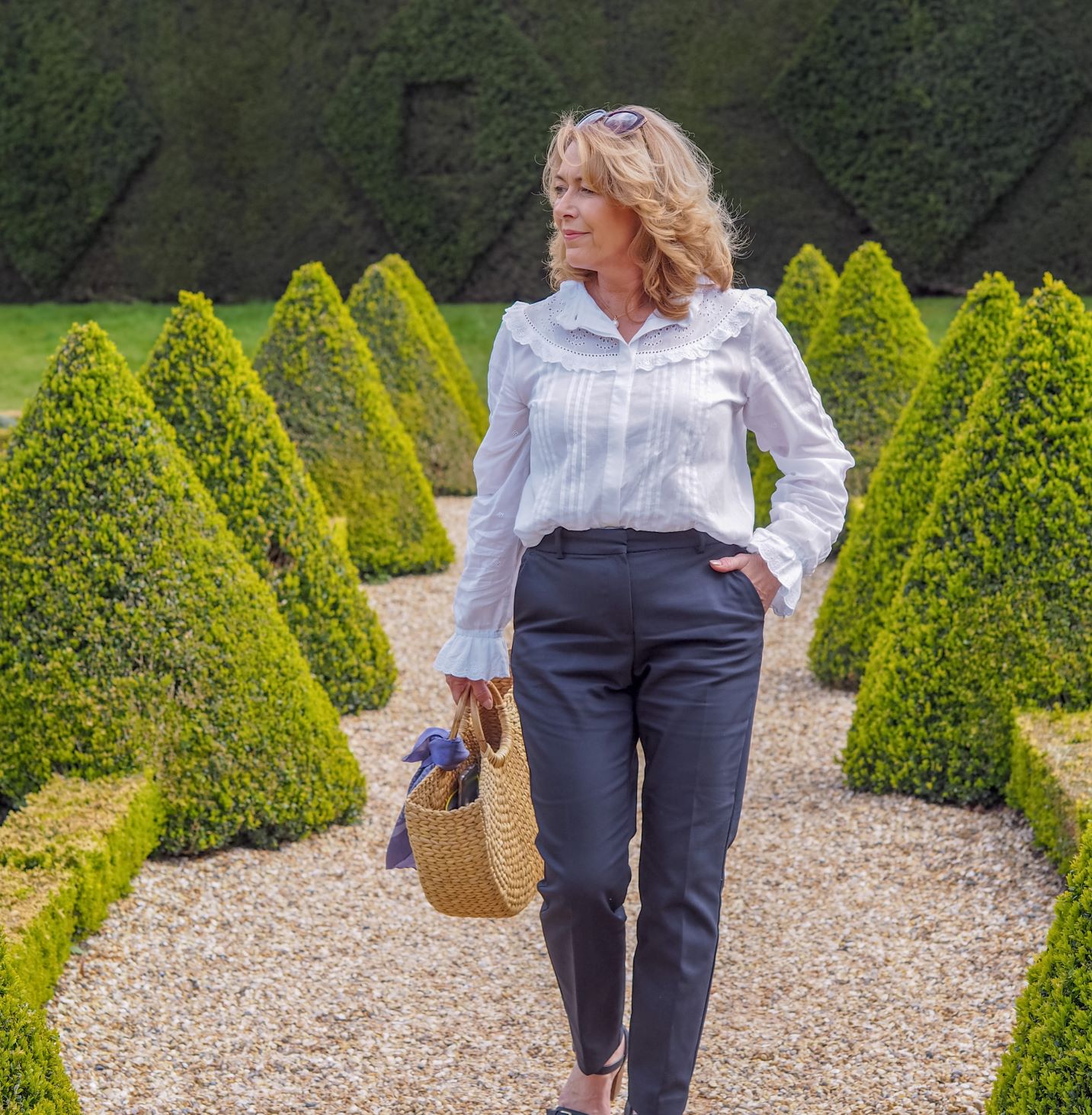 We spent a couple of days in London Visiting family and I also got to visit Ham House in Richmond Upon Thames. The gardens were absolutely beautiful. Haven't we been lucky with the weather in the Uk?
It was a perfect opportunity to wear this gorgeous white blouse that has so much detail. It's also available in the same style in green silk print. I chose white because, well it goes with everything doesn't it? And if you're going to have a white blouse in your wardrobe that you're going to wear a lot then make it a good one that will last for years to come.
There's so much detail in this beautiful Broderie Anglais Blouse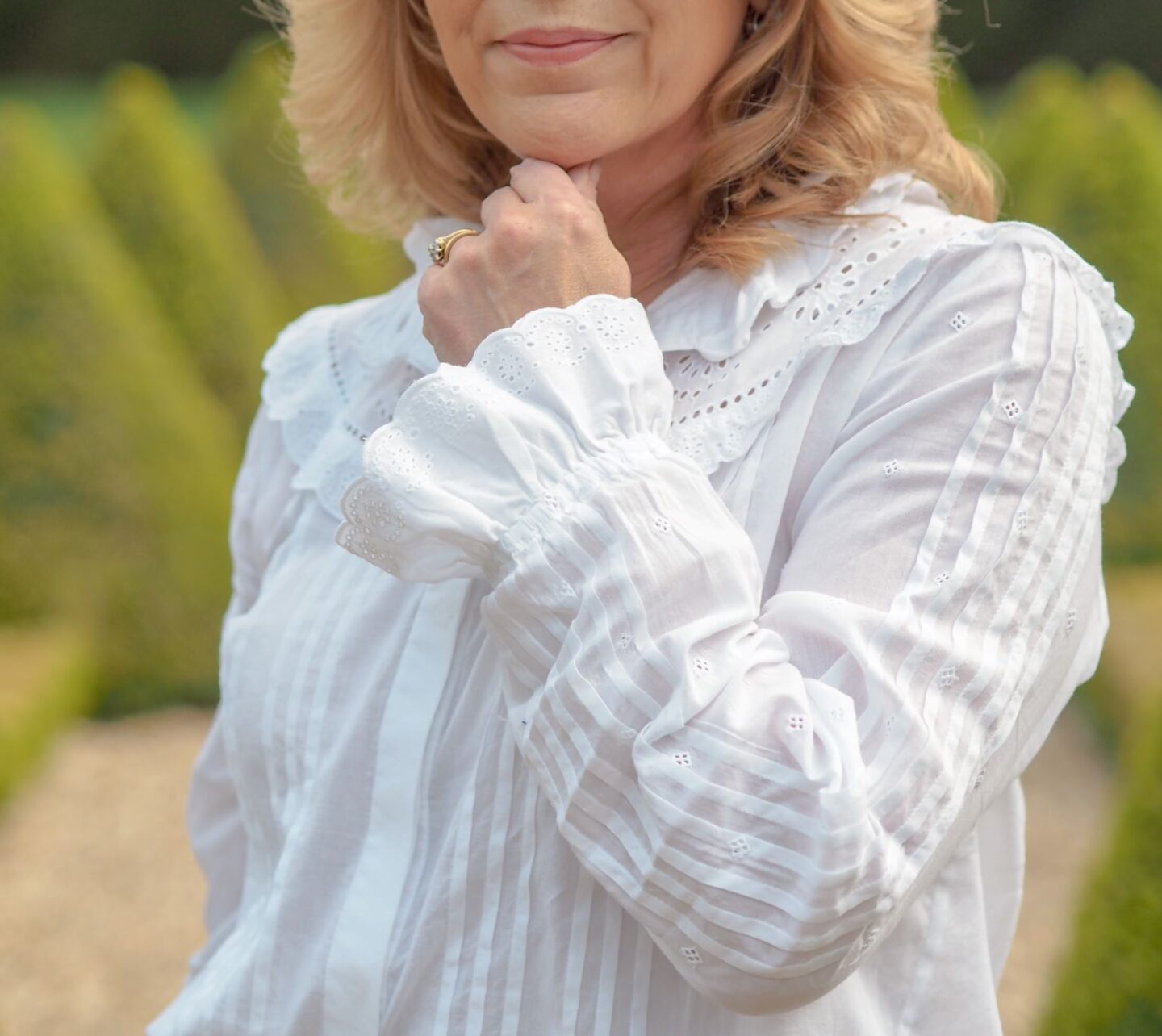 A beautiful double frilled cuff that's softly elasticated. I always ruche my sleeves up! The collar is double frilled too and I love all the pintucks through the sleeves and the front of the blouse.
It felt slightly matronly to wear the blouse buttoned up to a high neck, I've just worn it loose like the model on the Brora website.
The gardens at Ham House were beautiful. Especially on such a lovely day.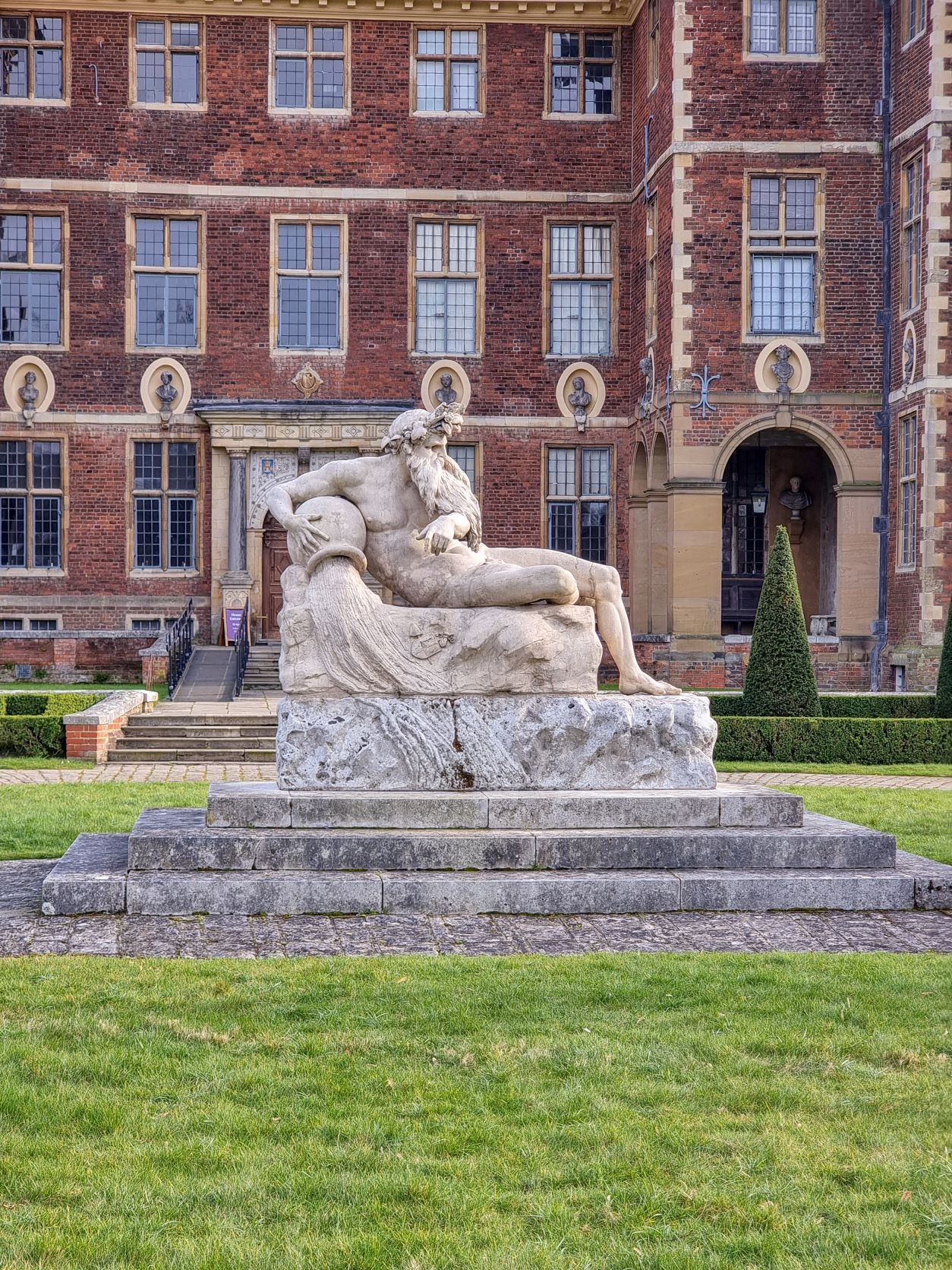 Ham House is really lovely. If you're ever on the West side of London it really is worth a visit. The gardens are so well manicured. There's a lot of expert Topiary going on there!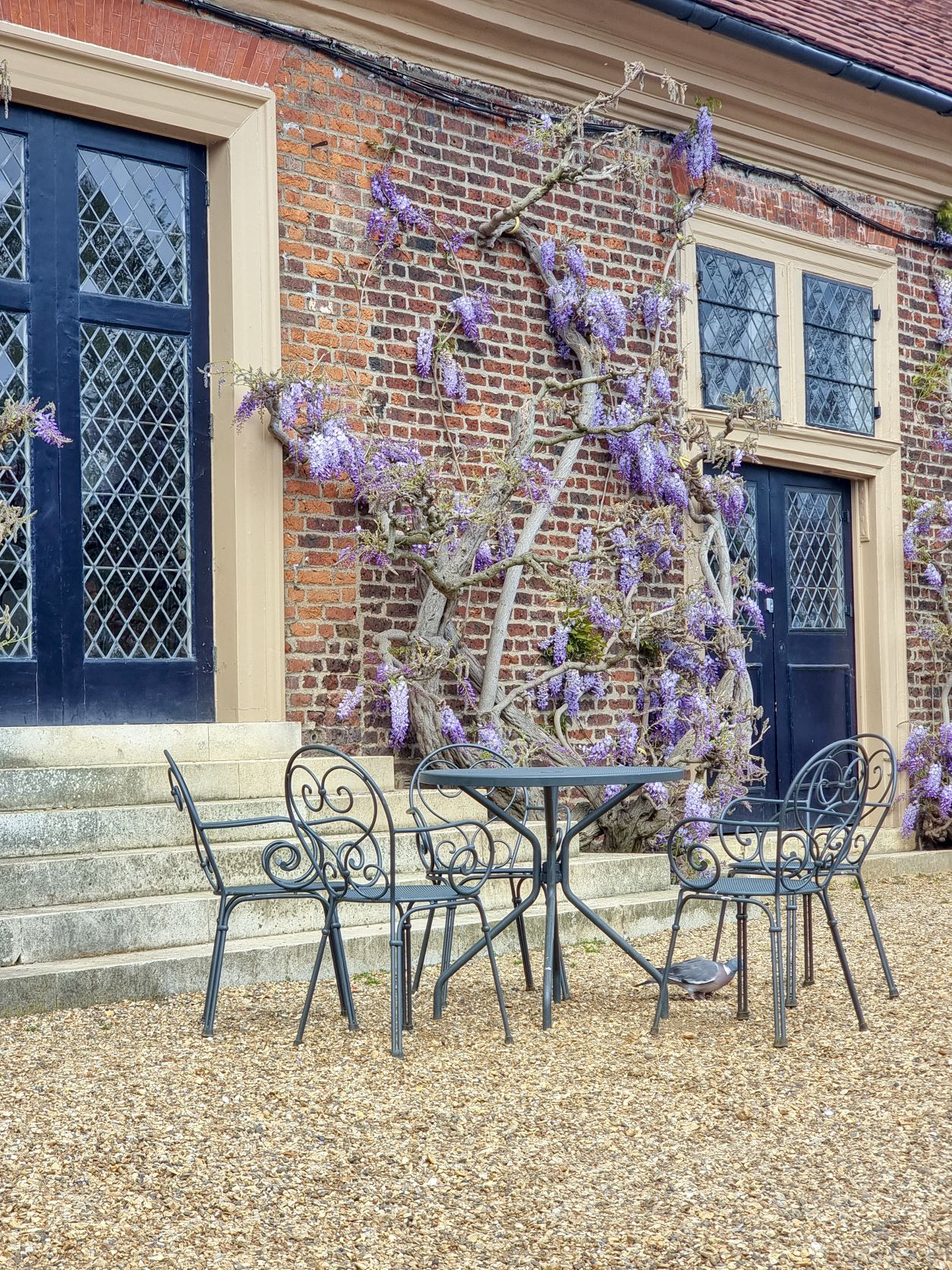 How beautiful is the Wisteria growing up the wall? This is just outside the orangery where tea and snacks are served. It was lovely sitting outside taking in all the gardens and beautiful flowers. I filmed some of the gardens if you'd like to take a look over on YouTube. I will certainly be returning.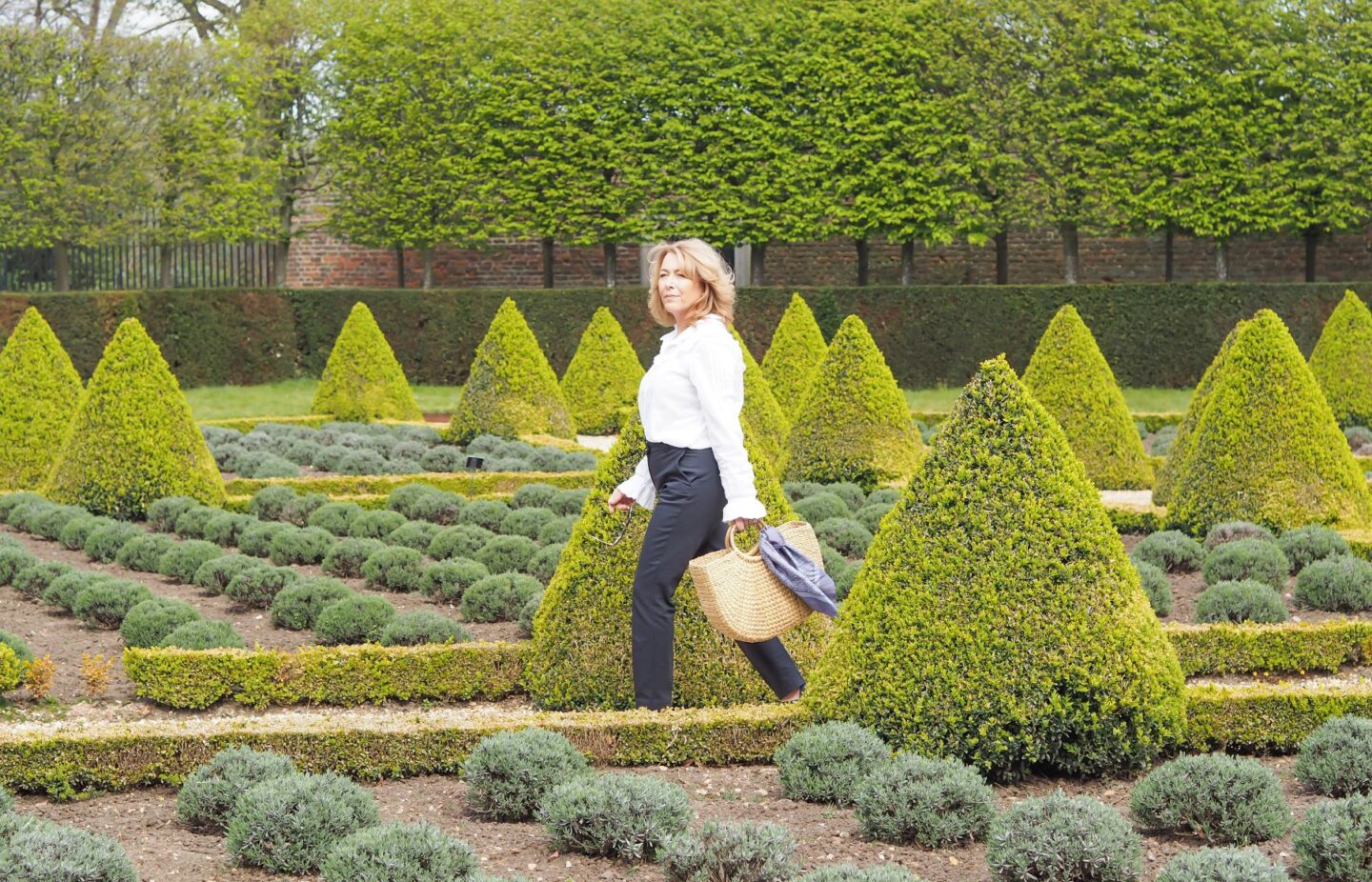 Just look at how perfectly manicured everything is. Hats off to the gardener!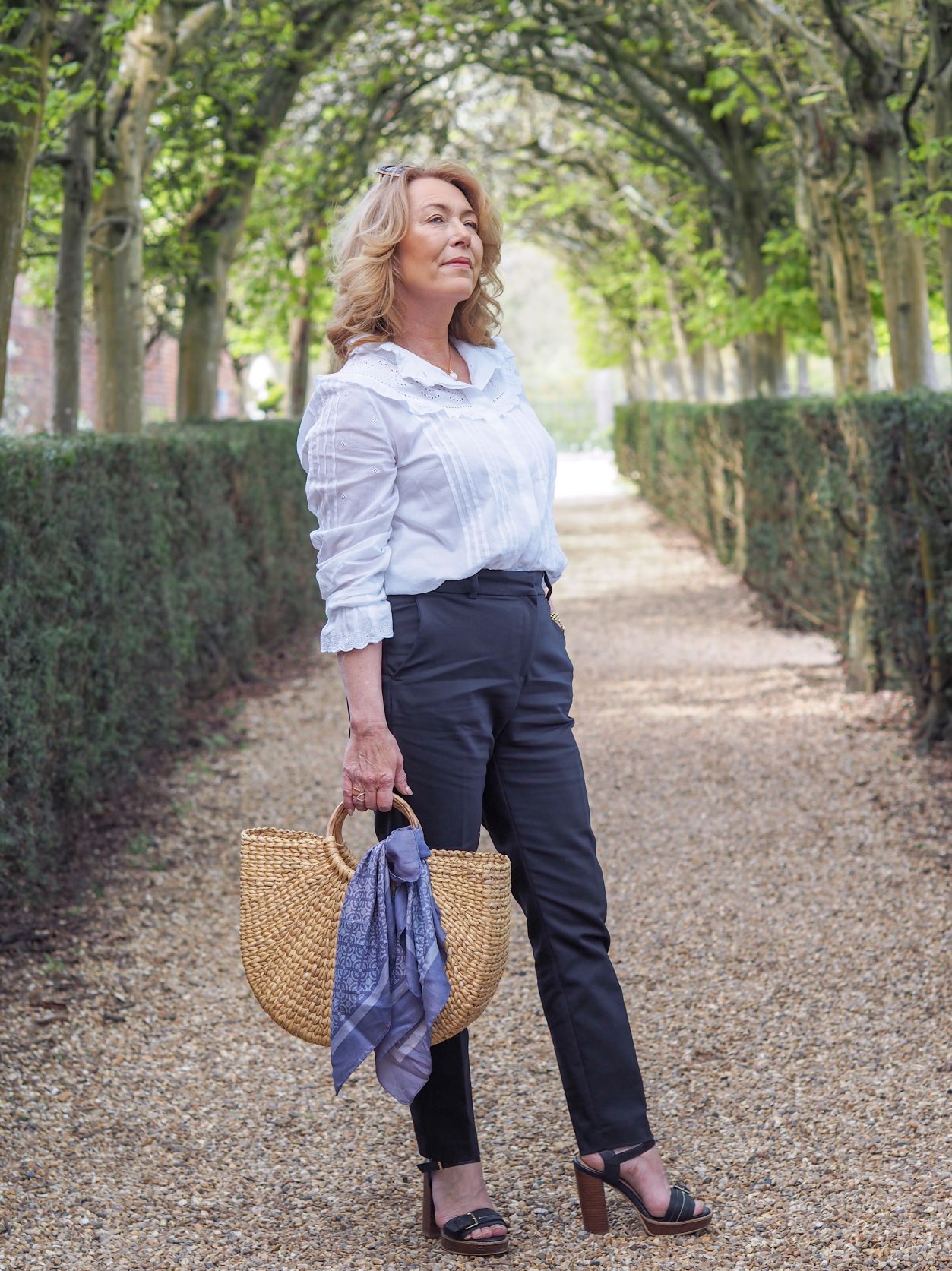 I chose to style the Broderie Anglais blouse with yet another pair of Cigarette trousers from H&M I now have them in black, Navy, Beige and White.
Have you spotted the platform sandals? A big trend this year. I was glad to find these on the shoedrobe changeover! They are quite old but surprisingly comfortable.
A basket bag finished off the look. They hold so much, don't they? Great for a day out. The Monica Vinader Pearl necklace was the only statement jewellery that I wore with the outfit. I let the blouse speak for itself.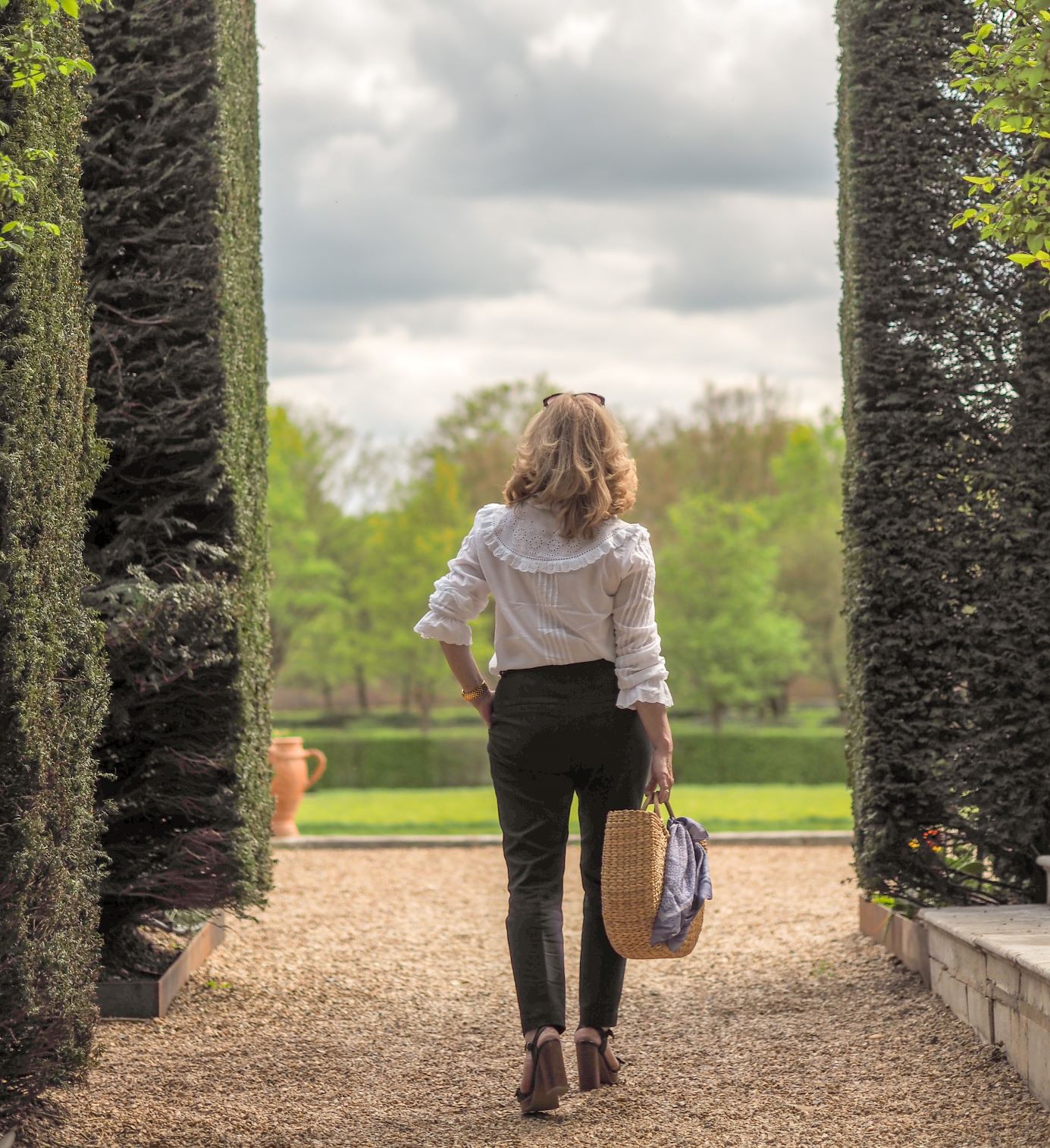 I just had to share the detailing at the back of the Broderie Anglaise blouse. I recommend a look at the Brora brand. The summer dresses are to die for! I have my eye on this Linen one. I always collect a good piece of Linen each year for the summer months.
I'm sure you will catch me in this blouse paired with jeans or shorts maybe a skirt that I have in mind. But that's the beauty of a good white blouse, isn't it? It will go with everything.
Shop The Look
Please be aware that there are affiliate links included in this post at no cost to you if they are clicked on
---
Thank you for stopping by!
Come back for more. Click on the subscribe form below
YOU MAY HAVE A FRIEND THAT'S INTERESTED IN THIS? PLEASE USE THE SHARE BUTTONS
XO LAURIE
Subscribe for the latest updates!