Puffer jackets have come a long way, haven't they? The regular black puffer jacket is still very much on-trend here in my Essex town. It's like a uniform. I actually counted how many women were wearing black puffer jackets as I walked through my hometown once. I would say at least 70% of the women shoppers were wearing a black puffer jacket.
There's barely a clothing shop that doesn't stock puffer jackets nowadays and the variation has widened. You can buy all colours with slightly different detailing but yet still I see a sea of black in my town.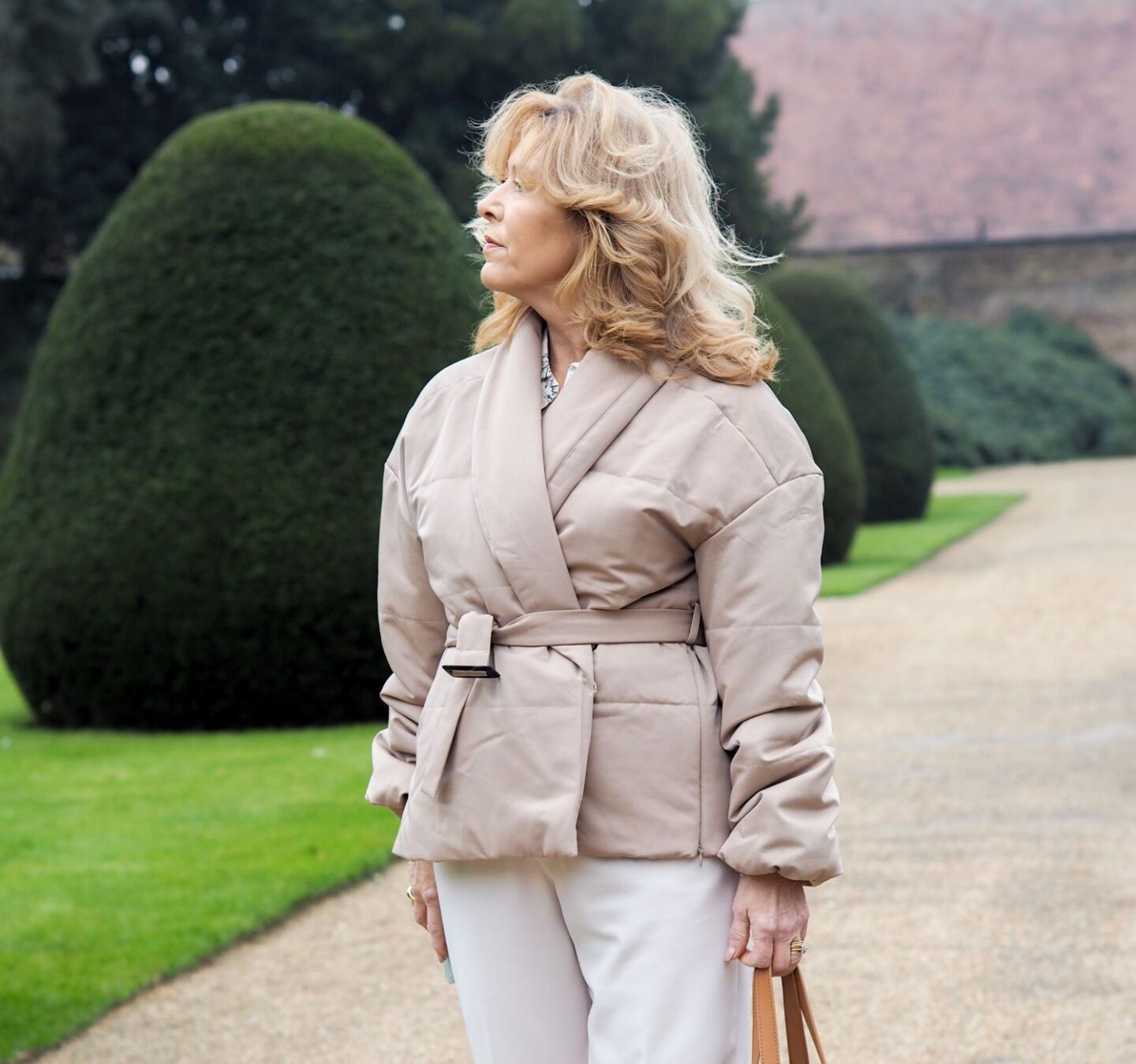 Looking online at Lattlier's new collection I spotted a puffer jacket with a difference. A posh looking one as I would call it. As soon as I spotted it I knew this would be perfect for me.
It's not overly filled ( puffy) and of course the colour! I haven't seen any in the shops this colour before. And the cherry on top was that it also has a belt. Just to give that little bit of shape. A nip at the waist.
A puffer jacket that ticks all the boxes & 30% off code for Lattelier Store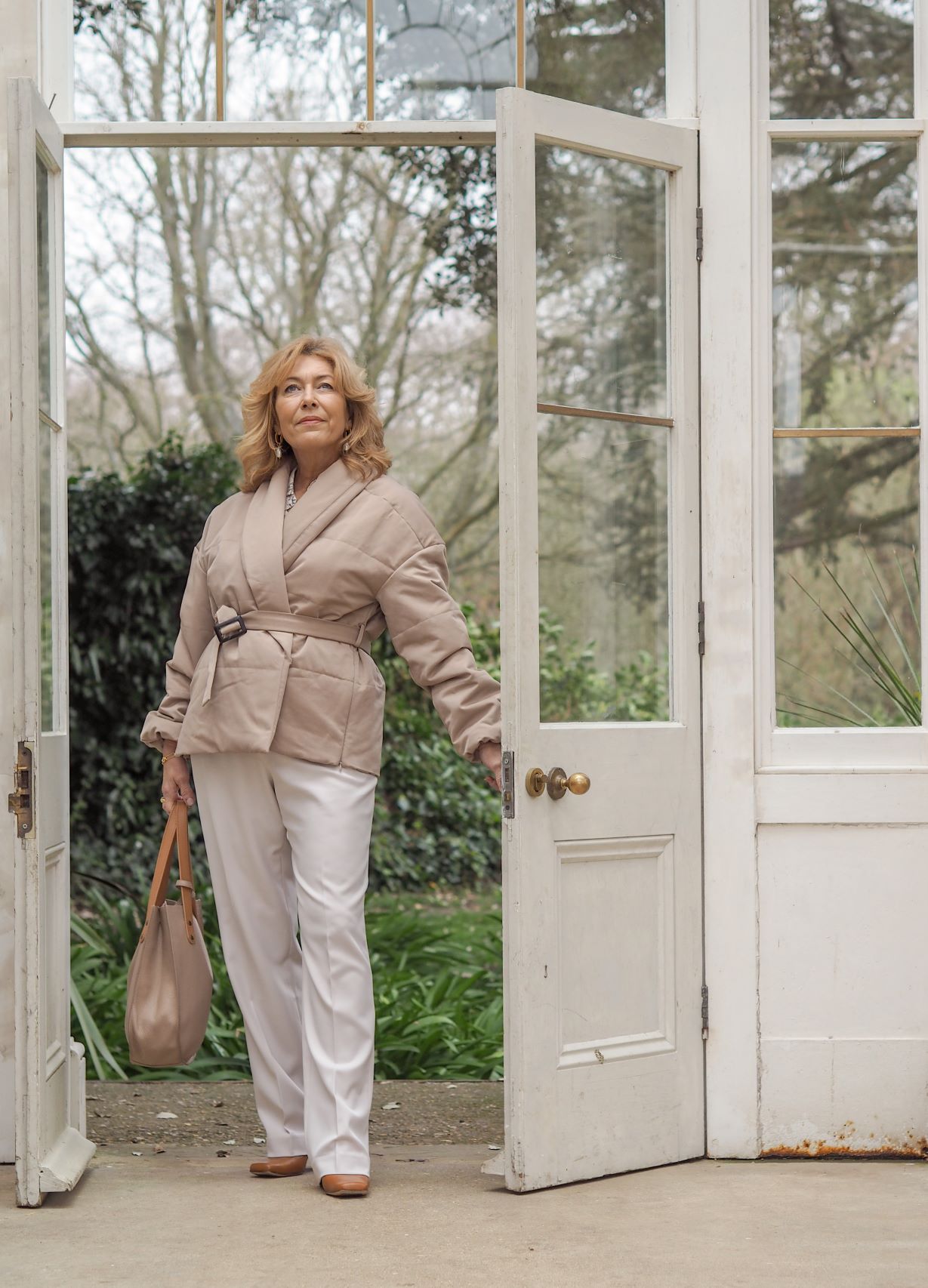 I like the shawl collar too. The jacket looks very smart how I've styled it here but I've worn it on many a cold morning with jeans or leggings walking Beau. It's so warm. And I also like the slightly puffed elasticated sleeve that stops the cold wind from getting in. And let me tell you, this jacket looks way more expensive than it actually is
Lattelier became one of my love labels last year. The raincoat and bag have been favourites worn times over. I'm so impressed with everything I've had from the brand. The raincoat is actually still available. It takes a while for anything to arrive I must add but it's well worth the wait.
A quick stop-over in London I had to visit my favourite gardens
A one night stay over in London, I decided to visit my favourite Syon Park & Gardens. If you're ever near West London and have an hour to spare then try and visit this beautiful place. It was cold and windy on my visit but the great conservatory was open and it's just so beautiful and peaceful. The skies are blue but it was damn cold!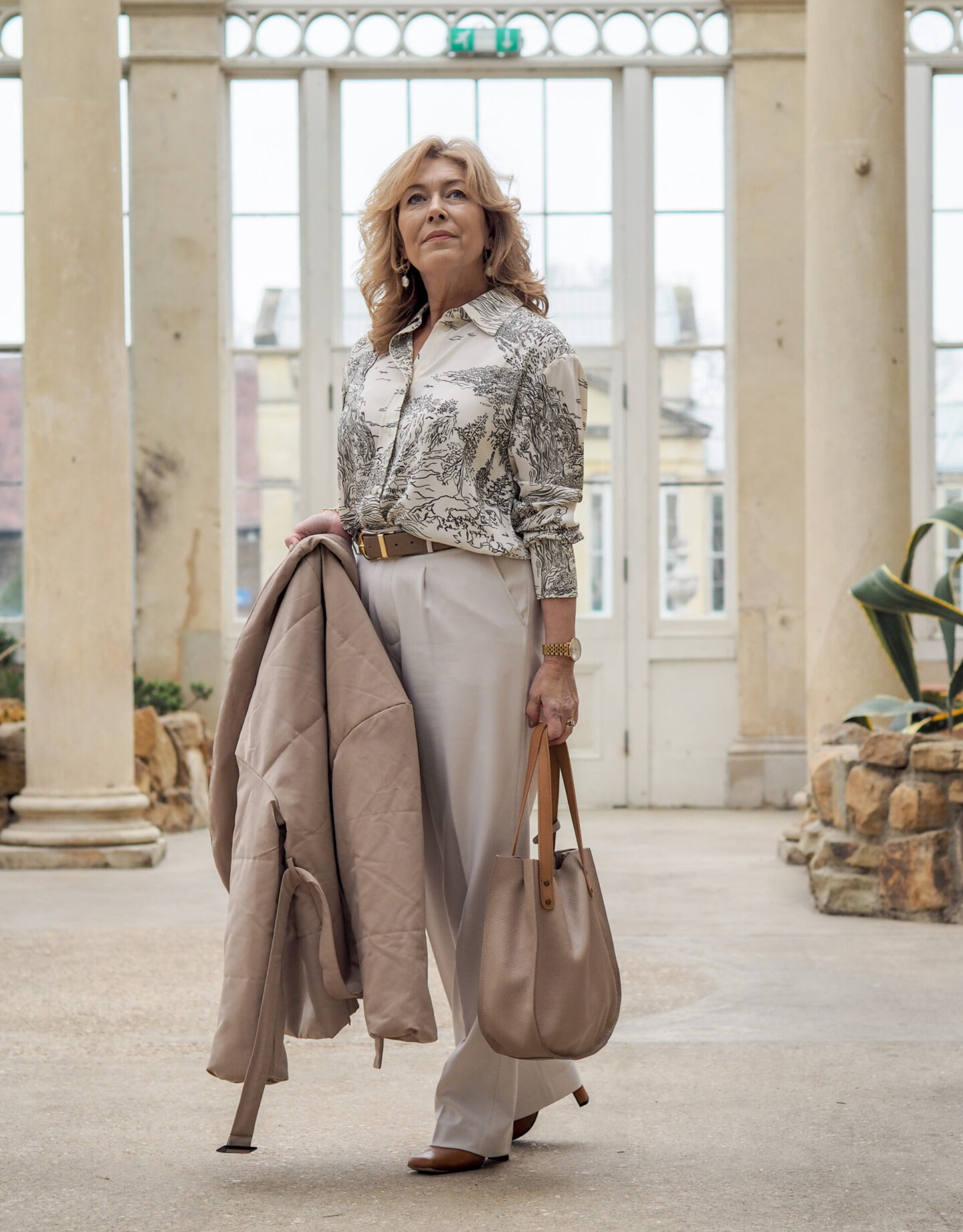 I paired the jacket with a new favourite. The shirt from HM. You may have seen the items I chose on my YouTube? I've been wearing it lots. Such a bargain piece.
The trousers are by Lattelier from the post I wrote last year. A perfect classic pair of trousers that works so well with all my neutrals. They're very comfortable and don't crease. When you're driving around London for some time, this is a bonus!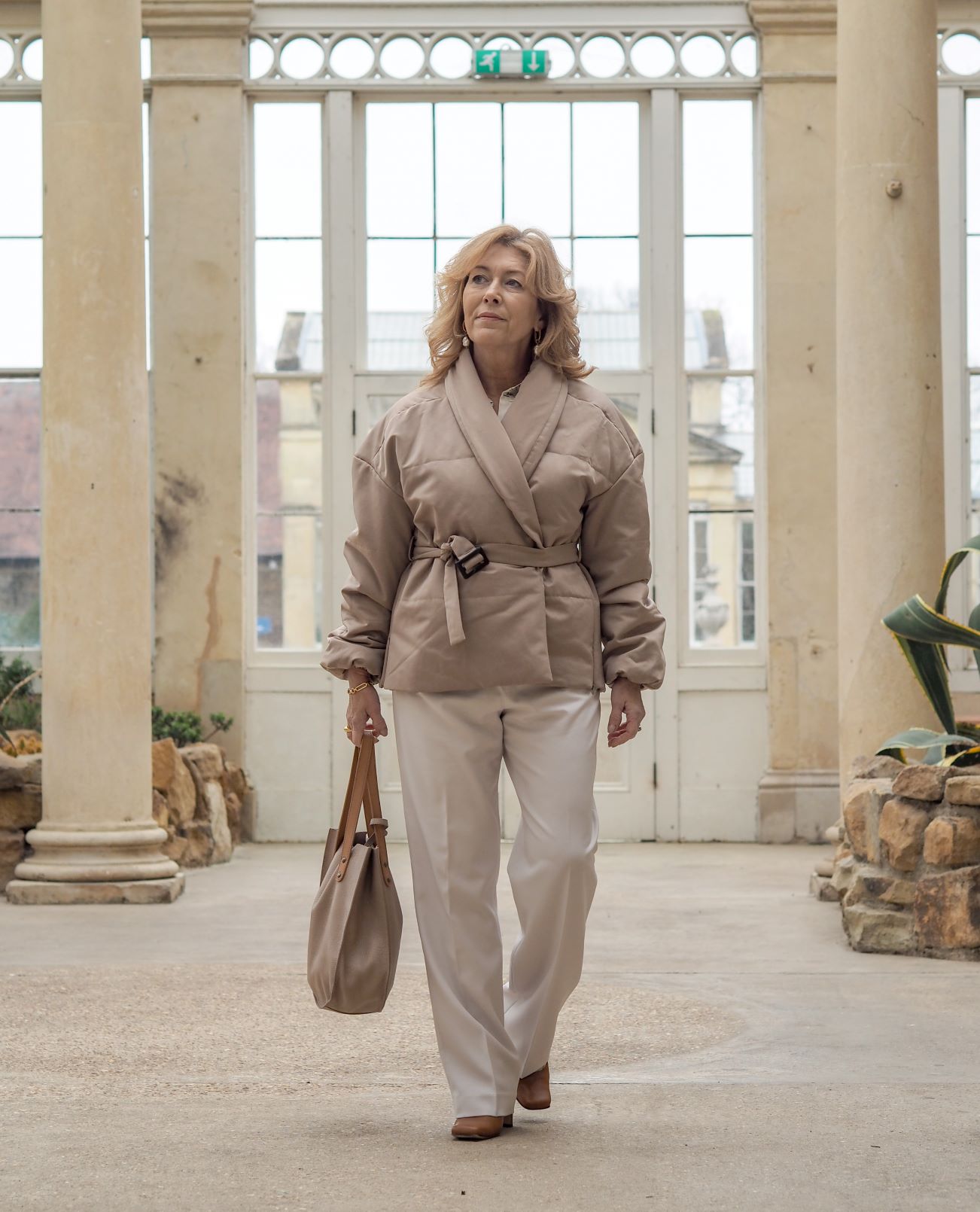 I've not stopped using the bag from Nadia Minkoff. It holds a lot and I love the two-tone colour. The leather is super soft, you can literally scrunch it up.
I think the whole look pairs together so well. The jacket is great with jeans, especially cream ones or black. I'm so happy that I found another great wardrobe item that pairs well with everything.
Let's talk about comfortable heels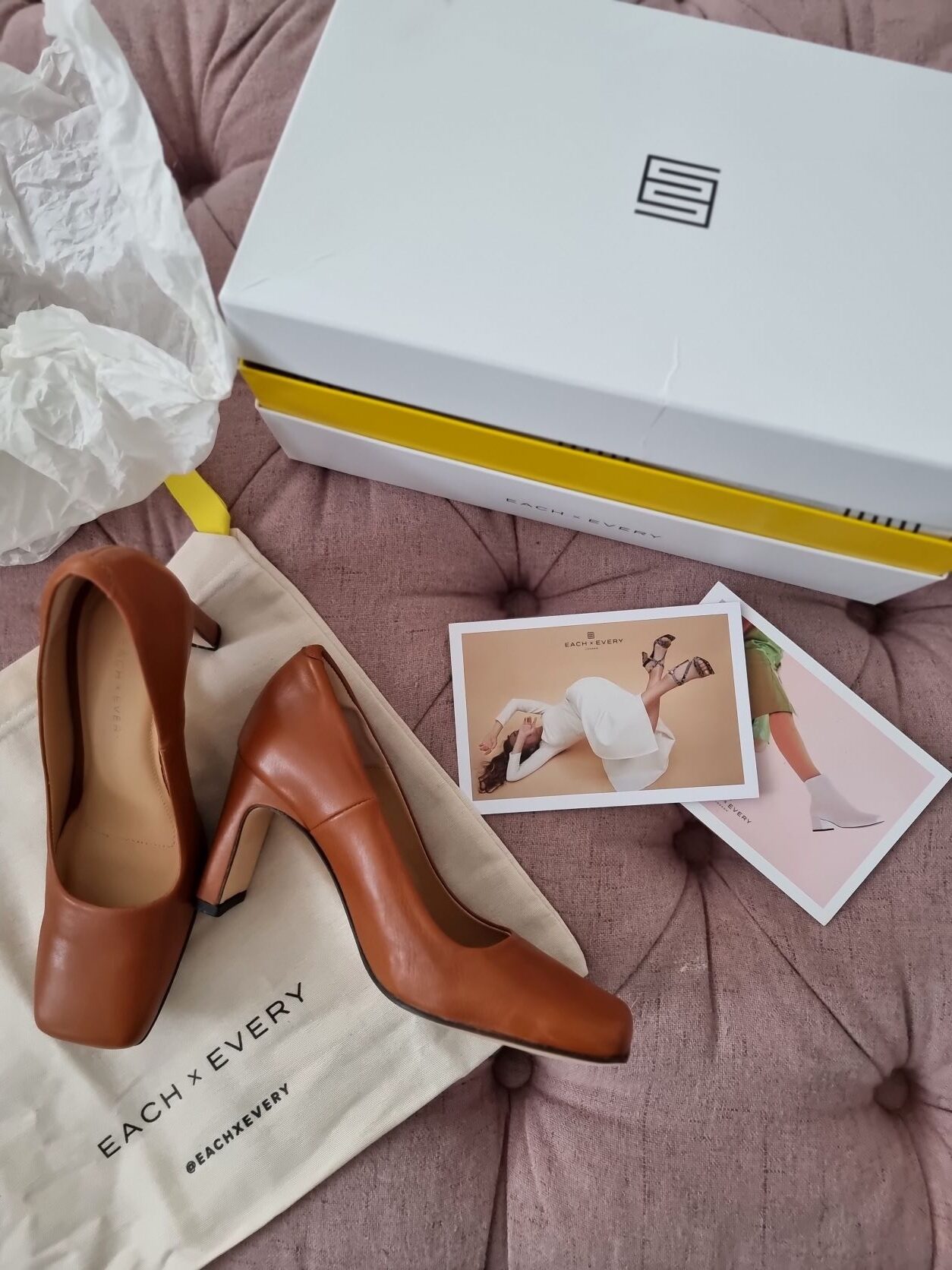 These shoes by EachxEvery. Oh my goodness they are so comfortable. Cushion on the inside and a special cushioned sole too. There's even padding around the back of the shoe. I thought this would be the perfect opportunity to take them for a test to see if they still feel so comfortable after walking around the grounds for an hour or so.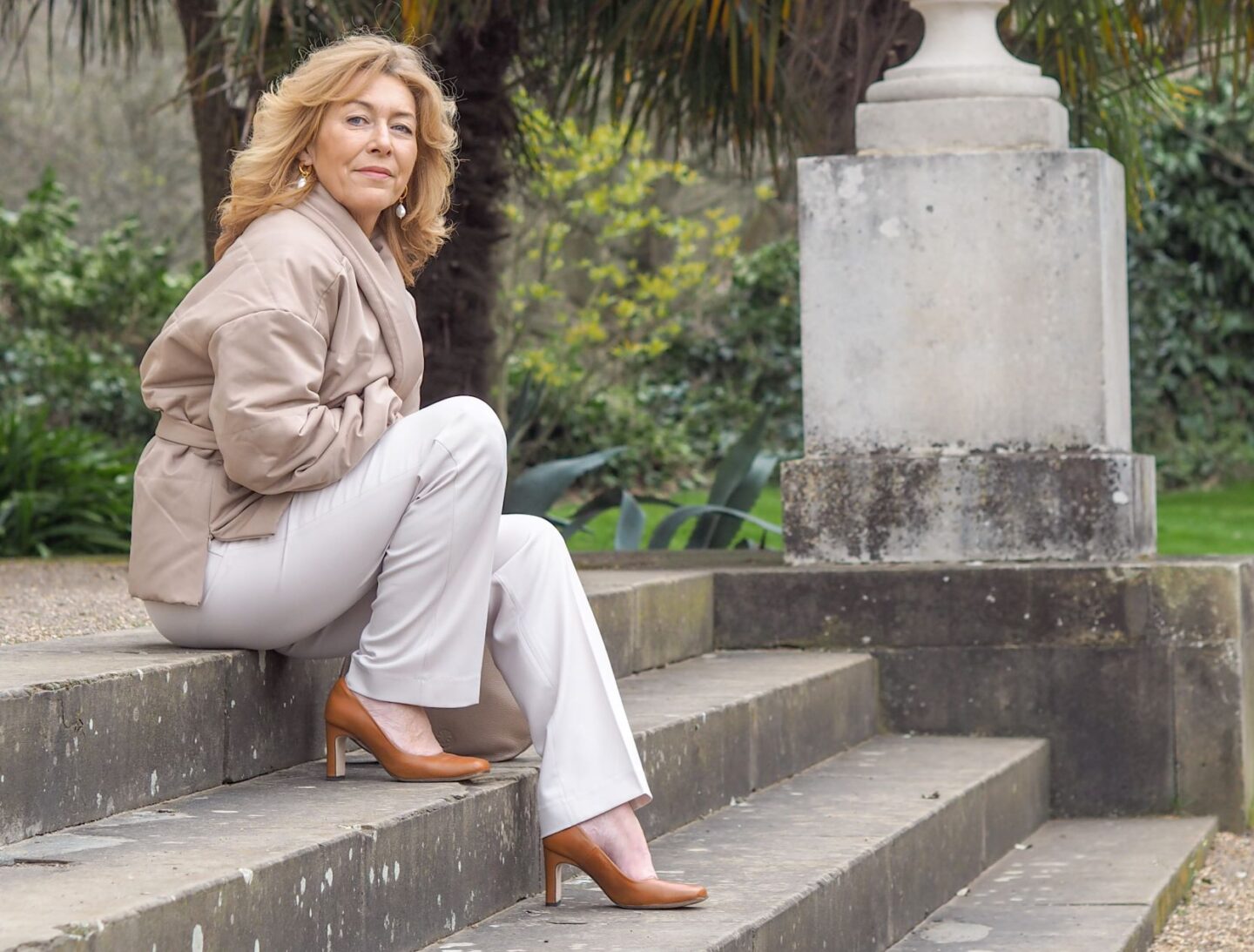 The shoes are amazing to wear. I have since been shopping in them too. I can't remember the last time I felt so comfortable in heels doing a lot of walking. The EachXEvery brand is well worth a look. Have a read about why EachxEvery's shoes are so comfortable. I have my eye on a gorgeous snakeskin pair too.
The look is finished off with pearl hoop earrings. These are also by Lattelier. I do love a good pearl earring! I think they elevate any outfit/look.
Are you a fan of the puffer jacket? Do you have one? I think they look so much better with a little shape added by the belt. Let me know your thoughts
Shop The Look
Please be aware that there are affiliate links included in this post at no cost to you if they are clicked on
---
Thank you for stopping by!
Come back for more. Click on the subscribe form below
YOU MAY HAVE A FRIEND THAT'S INTERESTED IN THIS? PLEASE USE THE SHARE BUTTONS
XO LAURIE
Subscribe for the latest updates!