One essential item I didn't have in my wardrobe was a black blazer. I don't often wear black, but I do think that a black jacket or blazer works well over lighter or coloured items. I can get away with that. When I spotted the Alanis jacket I knew this was the one that I would get most wear out of.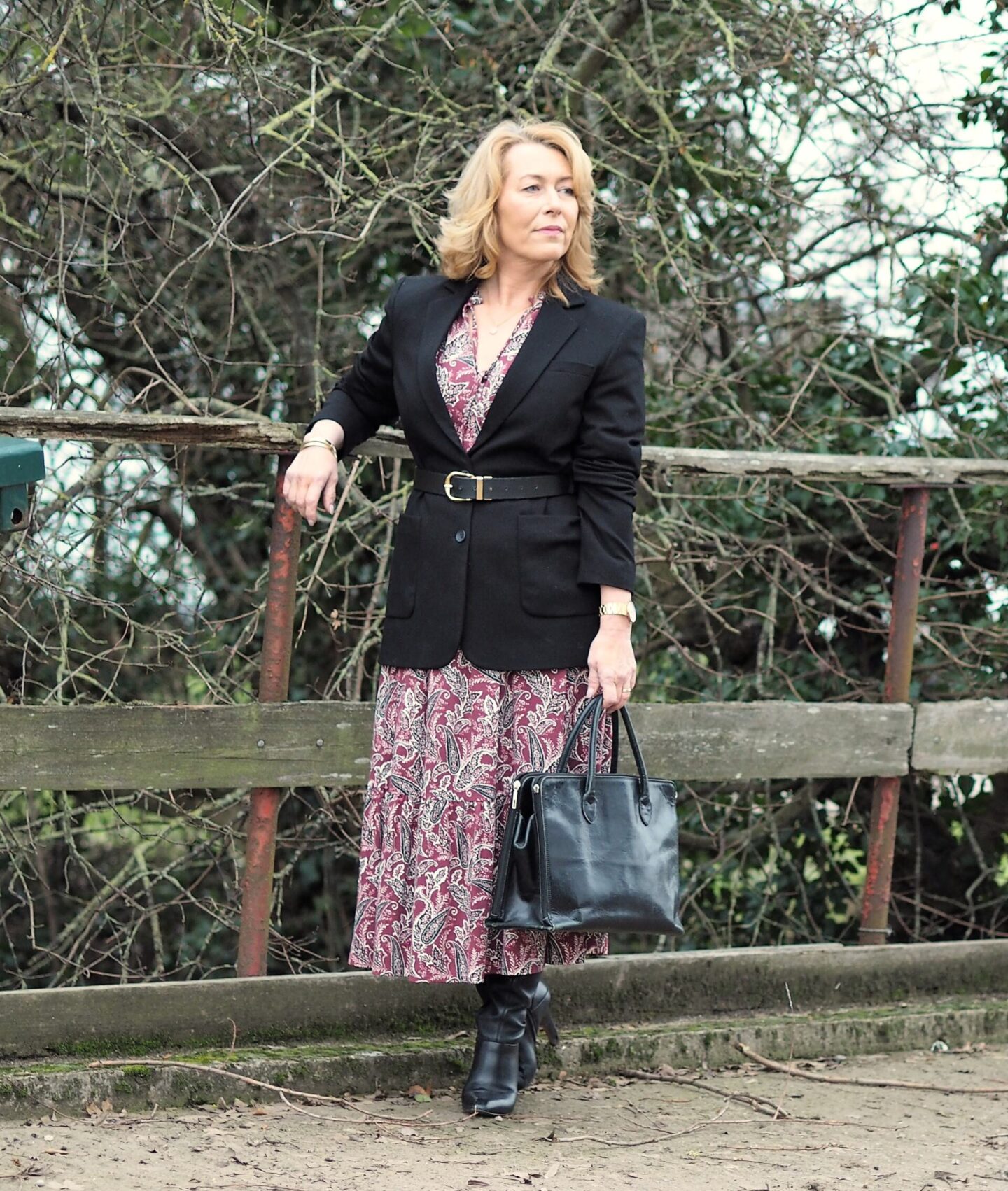 Let's start off with a smart look. And I'd like to add that one of the things I like about the Alanis blazer is that it's not too structured. This is why I think I will get more wear out of this blazer. But to add more structure for a smarter look I've added a belt. My daily wear, the reversible belt, also from Baukjen. I feature it here on the blog in literally every post.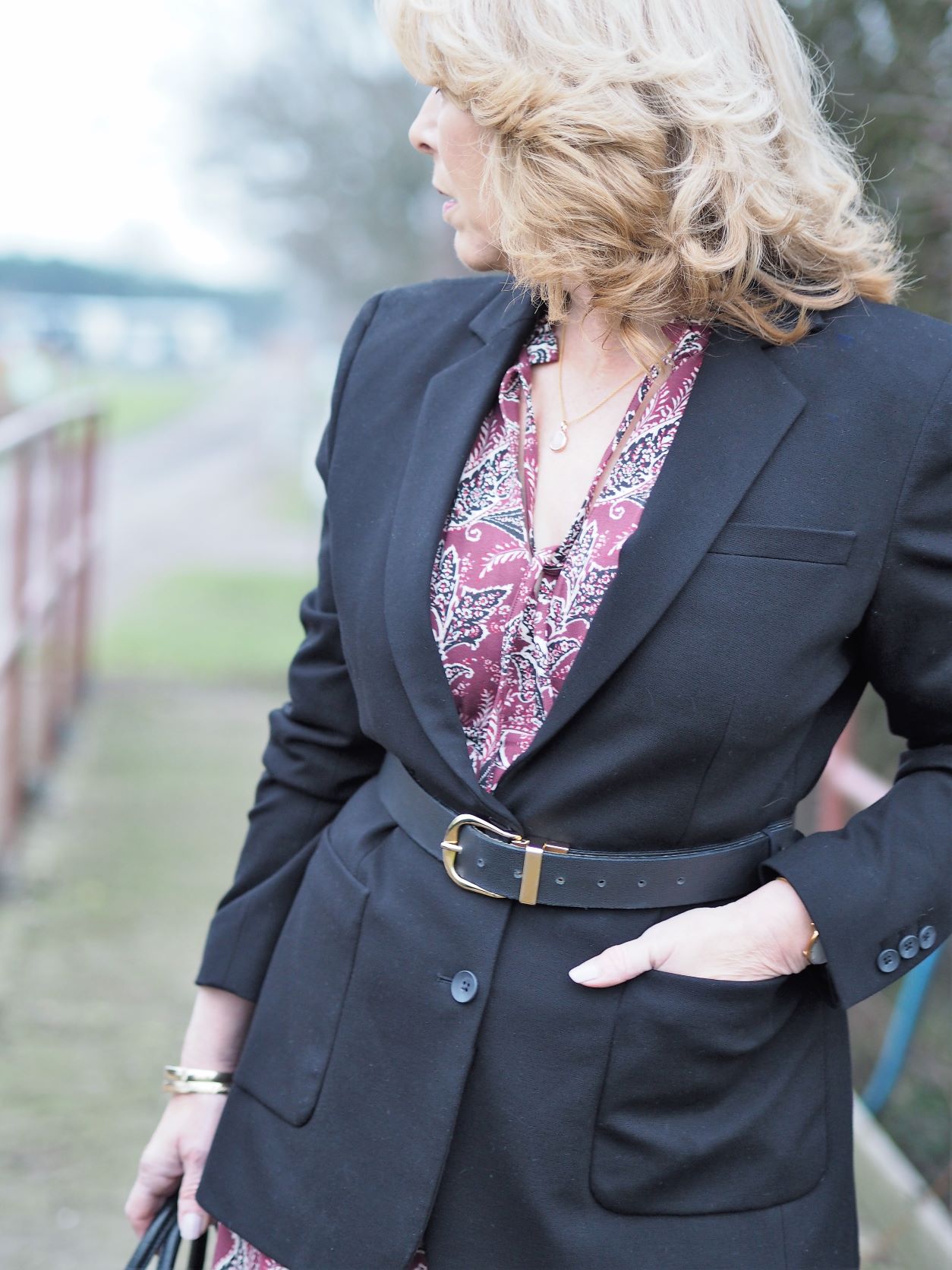 Two other reasons that this is the perfect, easy to style with anything blazer is one, the larger pockets that aren't overly tailored. I must add that I rate Baukjen's tailoring highly. The Pink blazer that comes out year after year is also from Baukjen. Flick through the fashion posts and you will see that nearly every tailored blazer is from Baukjen.
And two, a single-breasted is best I think for an all-rounder that's going to work with literally everything you pair with a blazer. I love double-breasted blazers but for versatility single-breasted is best.
Adding a burst of colour to my wardrobe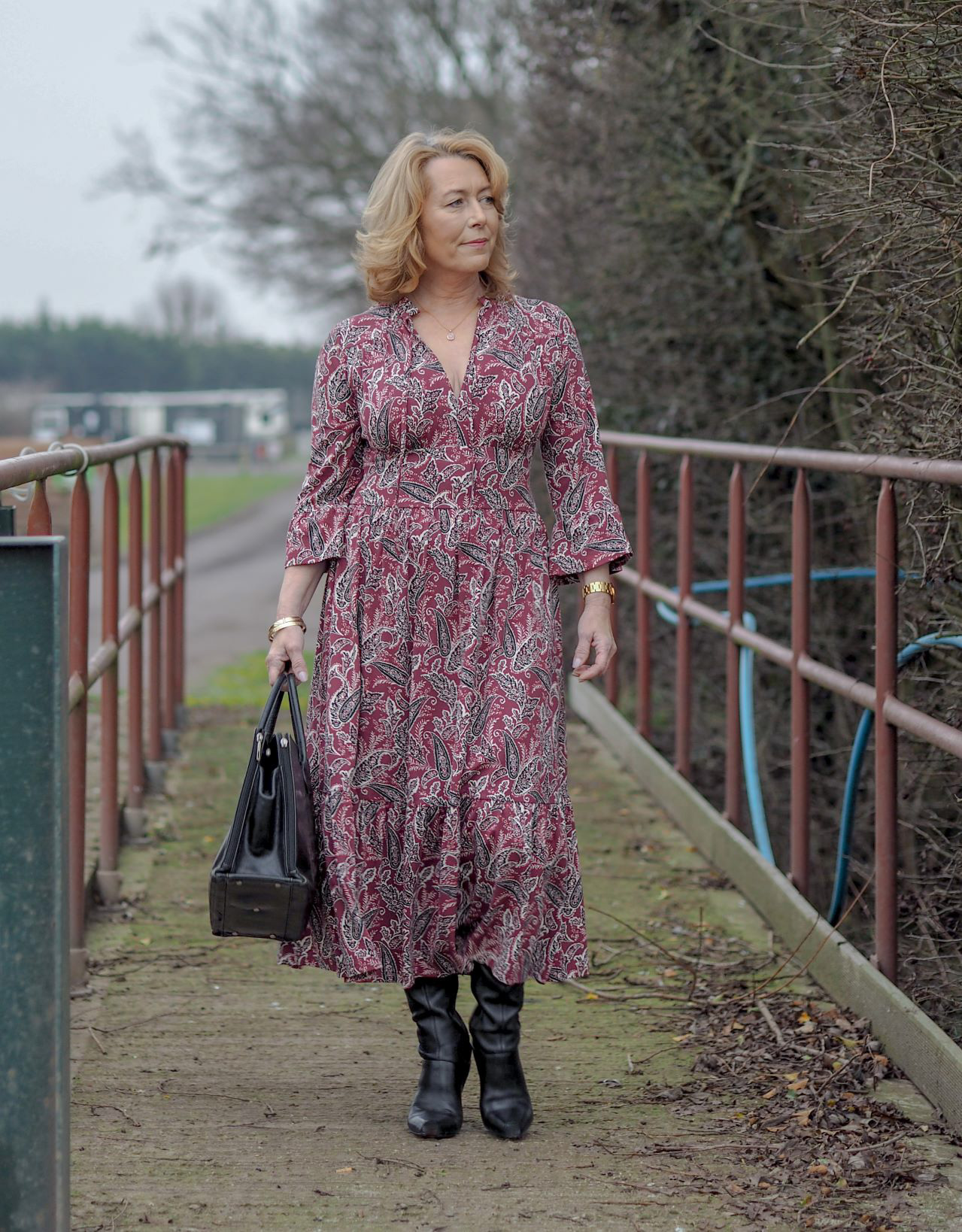 Now, as you know I love my neutrals, but I also love a good print too. It was love at first sight of this Astrid dress. Made of Baukjen's highly rated Lenzing Ecovero Jersey material. It's weighty and doesn't crease at all. I love it. It's comfortable. stretchy and very versatile. This could be dressed up easily with heels and other accessories.
Also available in a plain material of navy or this years trend colour green that I nearly went for. But I do love a paisley print and I really like the colours in this one.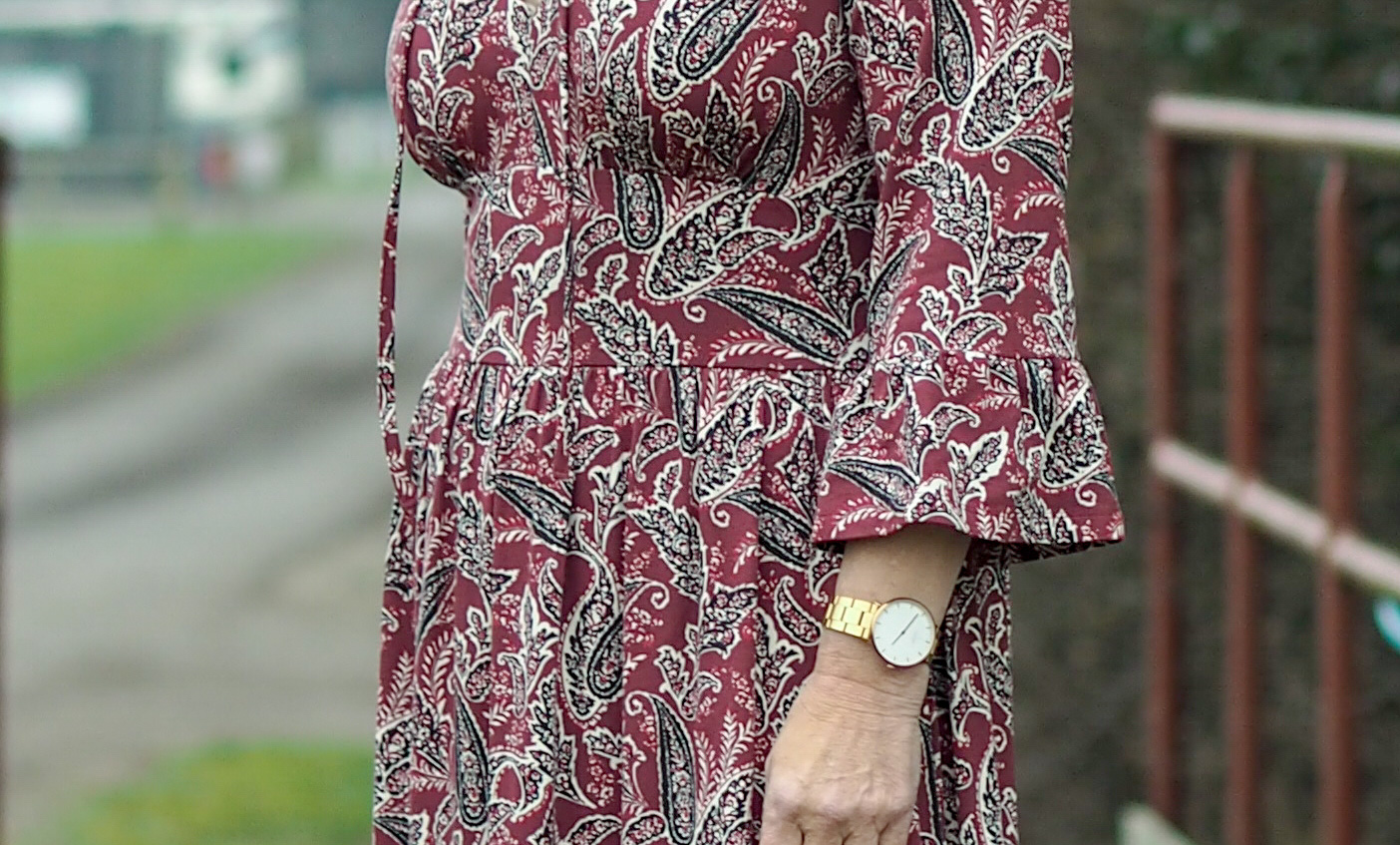 There's a lot of subtle detailing to the Astrid dress. The deep waistband that's very slimming, the gathered hem and a lovely frill on the three-quarter sleeves. I did wear a minimizer bra with this dress I might add. It makes your bust look way fuller than it actually is.
I paired the outfit simple with my black Reiss boots and a black tote that I've had for years. There are some similar on sale and I have to say that yes, they are expensive but worth their money all day long. As I said I think the belt elevates the outfit into looking more smarter.
Shop The Look
New to my wardrobe. The updated denim shirt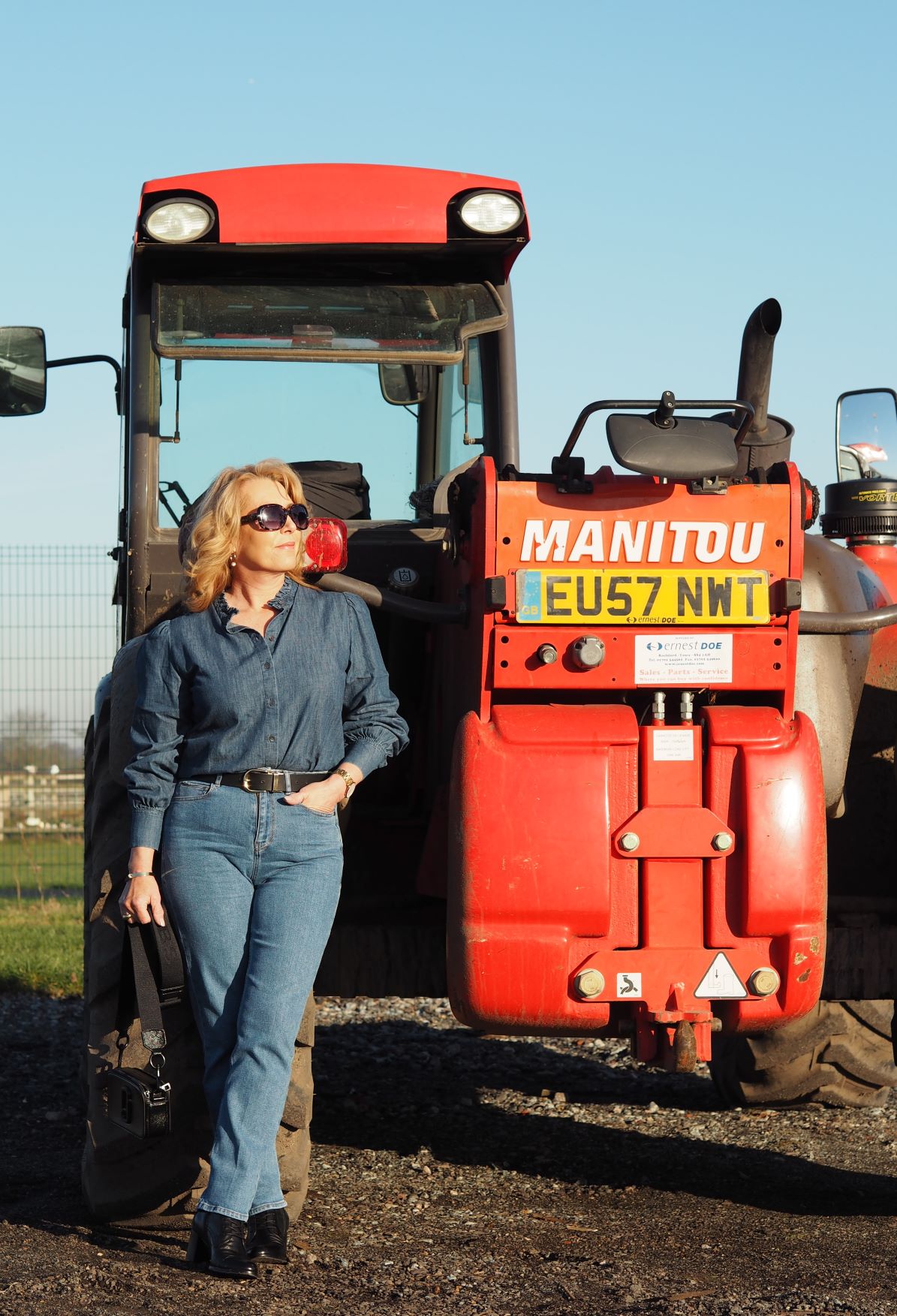 I decided to style the blazer with a double denim look next. But first, let's talk about the new updated denim shirt in my wardrobe. I've already worn this loads prior to featuring here on the blog. The Cadie Organic Chambrey blouse that's on sale. This design has just been launched in a crisp cotton white shirt too.
Actually chambray, not denim but I would call this a double denim look. A very easy, casual style to wear. Chambray is preferable because it's not so bulky.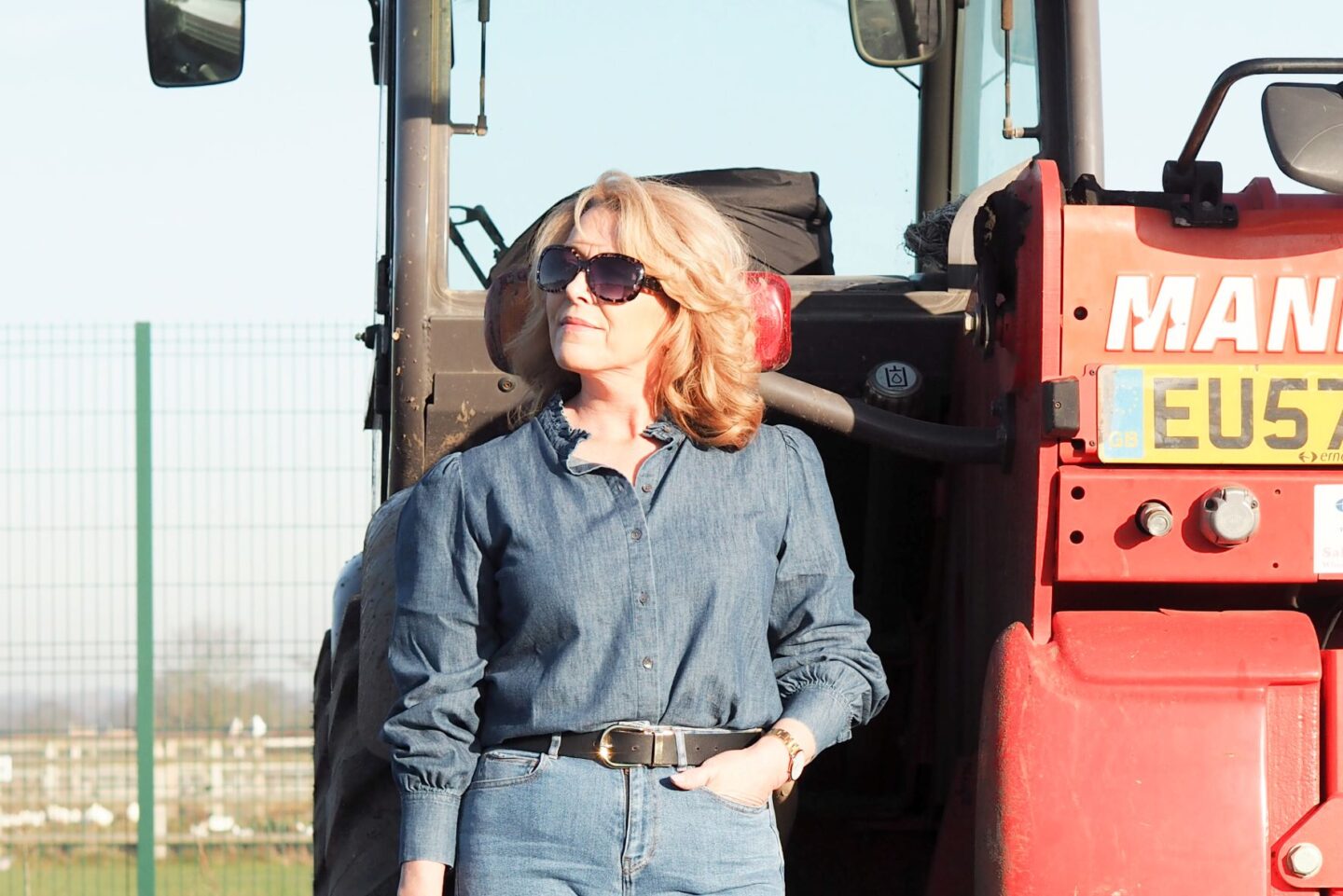 A slight puff sleeve and frilled collar updates this classic style of shirt perfectly. It's not at all fitted, but a straight cut is comfortable and will pair with anything in my wardrobe. And it was lovely to get a few minutes of sun! The weather has been dire here in the UK. I've also listed below in the shop section the Miriam blouse that I lived in during the last part of summer 21. It really is a lovely blouse and it's reduced from £99 to £29!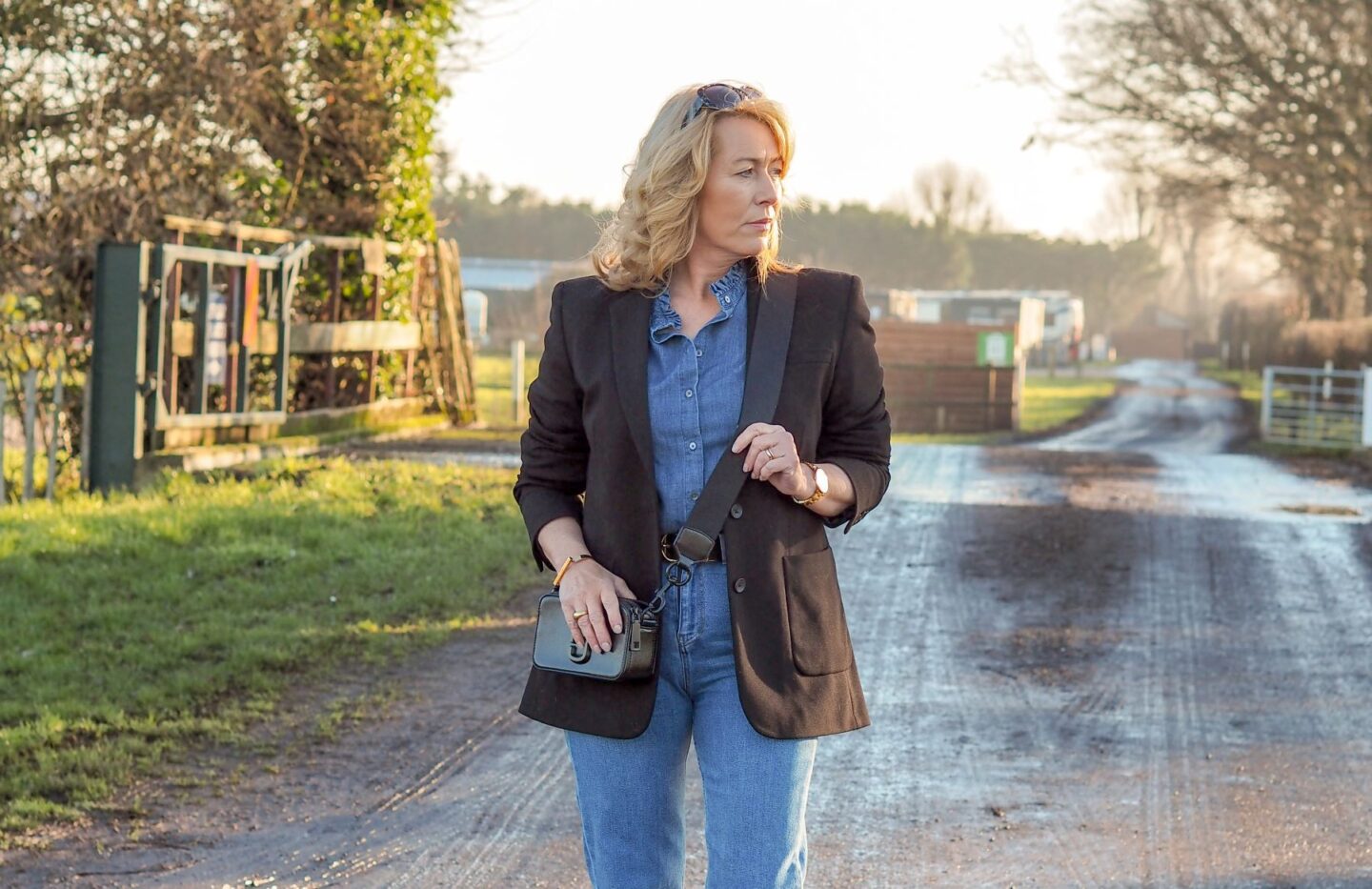 You can see here how the Alanis blazer has taken on a more casual look. without the belt, unbuttoned it pairs perfectly with denim. And I think a warm jumper and black trousers will look good too.
The jeans are Baukjen's Girlfriend Jeans. I've struggled with this style of jean. Higher waist and a baggier leg but these are the best that I've tried. And trust me I've tried many! I did size down on these though, for a more fitted look.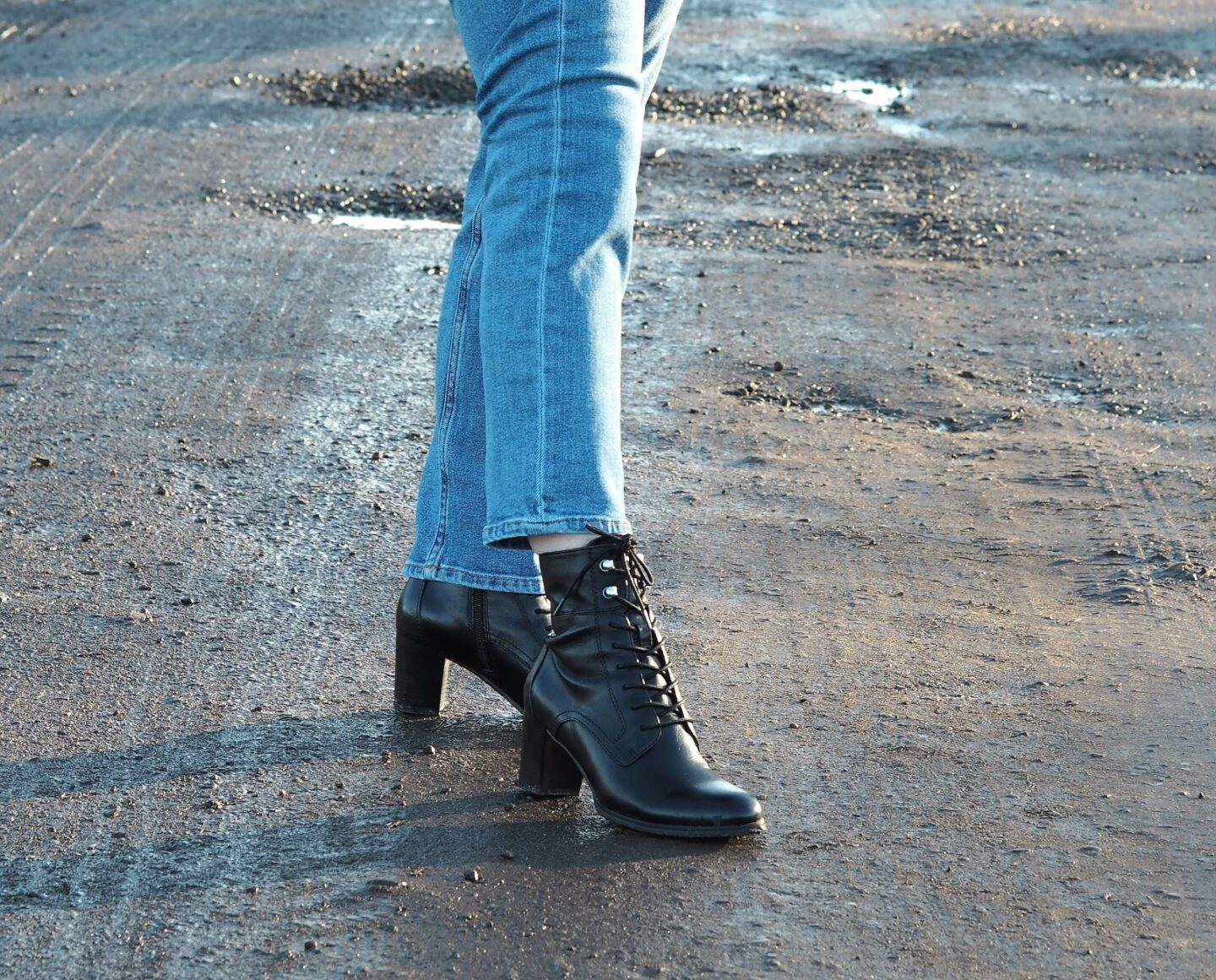 I've paired the double denim look with Black. My Marc Jacobs Snapshot bag, the daily worn Black reversible Baukjen belt and these boots that are so comfortable from Pavers. They have a side zip, so no need to keep doing all those laces!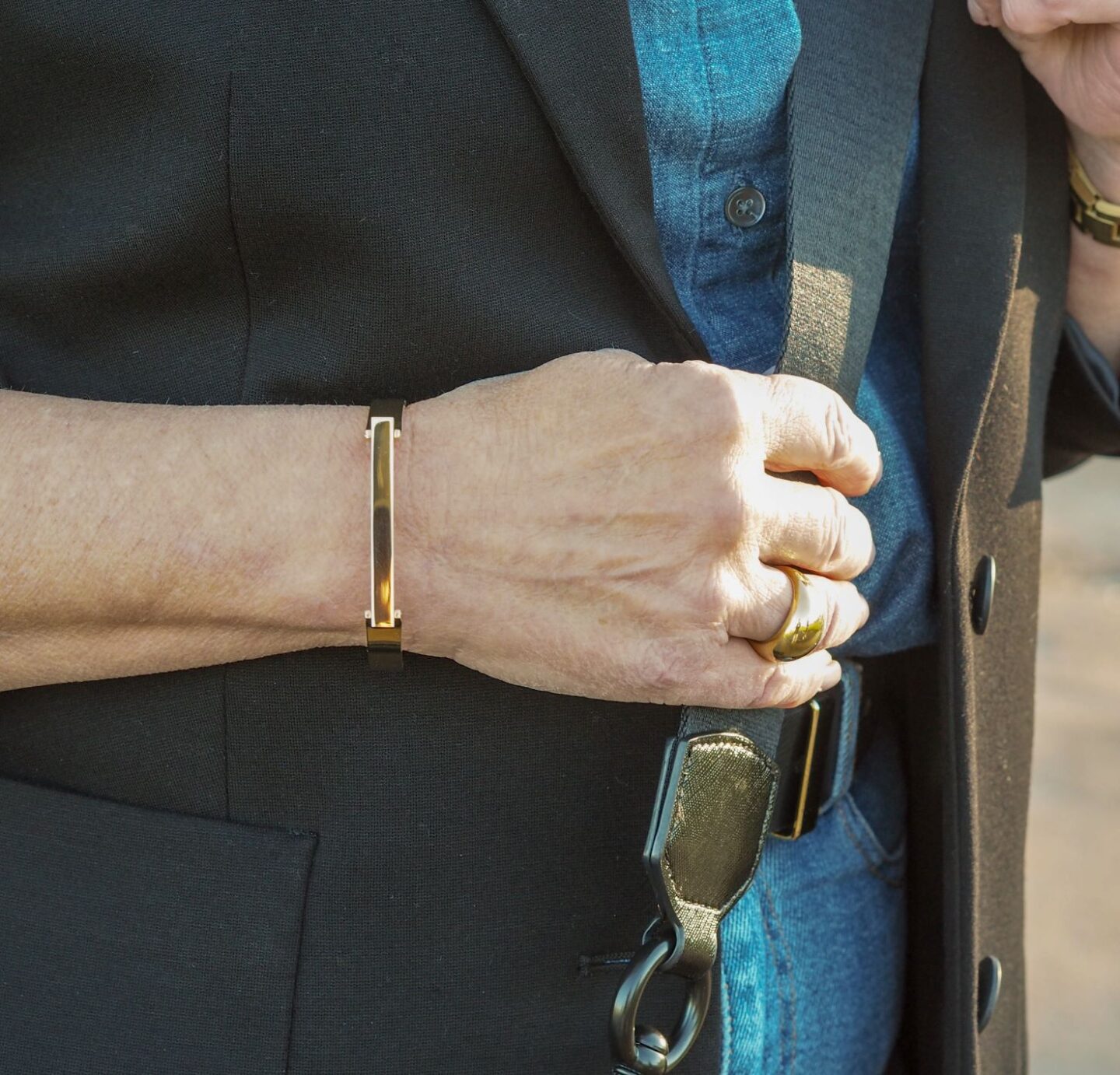 Updating accessories is how I like to keep my looks a little more on-trend. I talked about this in my latest YouTube film. I'm a classic dresser all the way but I like to update my looks this way. The bangle is from Opus Robur and I like the bulky bar and unusual shape.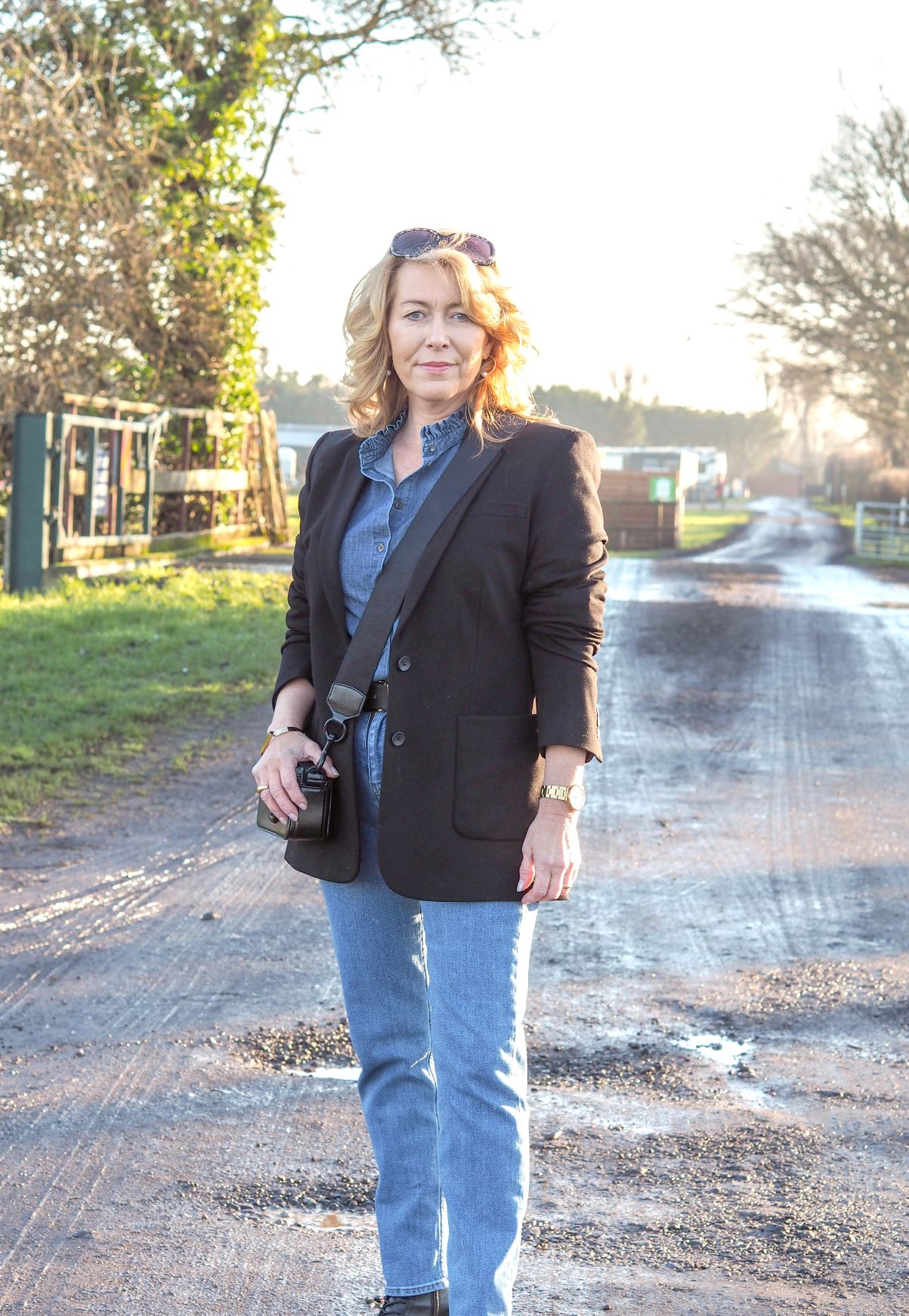 I still have a discount code for Baukjen for you!
Use the discount code VANITY15 for a 15% discount off any full-priced item at Baukjen
Shop The Look
Keep you and yours safe and well xx
---
Please be aware that there are affiliate links included in this post at no cost to you if they are clicked on
---
Thank you for stopping by!
Come back for more. Click on the subscribe form below
YOU MAY HAVE A FRIEND THAT'S INTERESTED IN THIS? PLEASE USE THE SHARE BUTTONS
XO LAURIE
Subscribe for the latest updates!