It's been a while since I updated you on anything interior related. I've had a few requests to see how the bathroom renovation turned out that was finished over a year ago! where did that time go? I wish I had before photos to show you. The hard drive broke in my PC some time ago and the before photos must have got lost on there.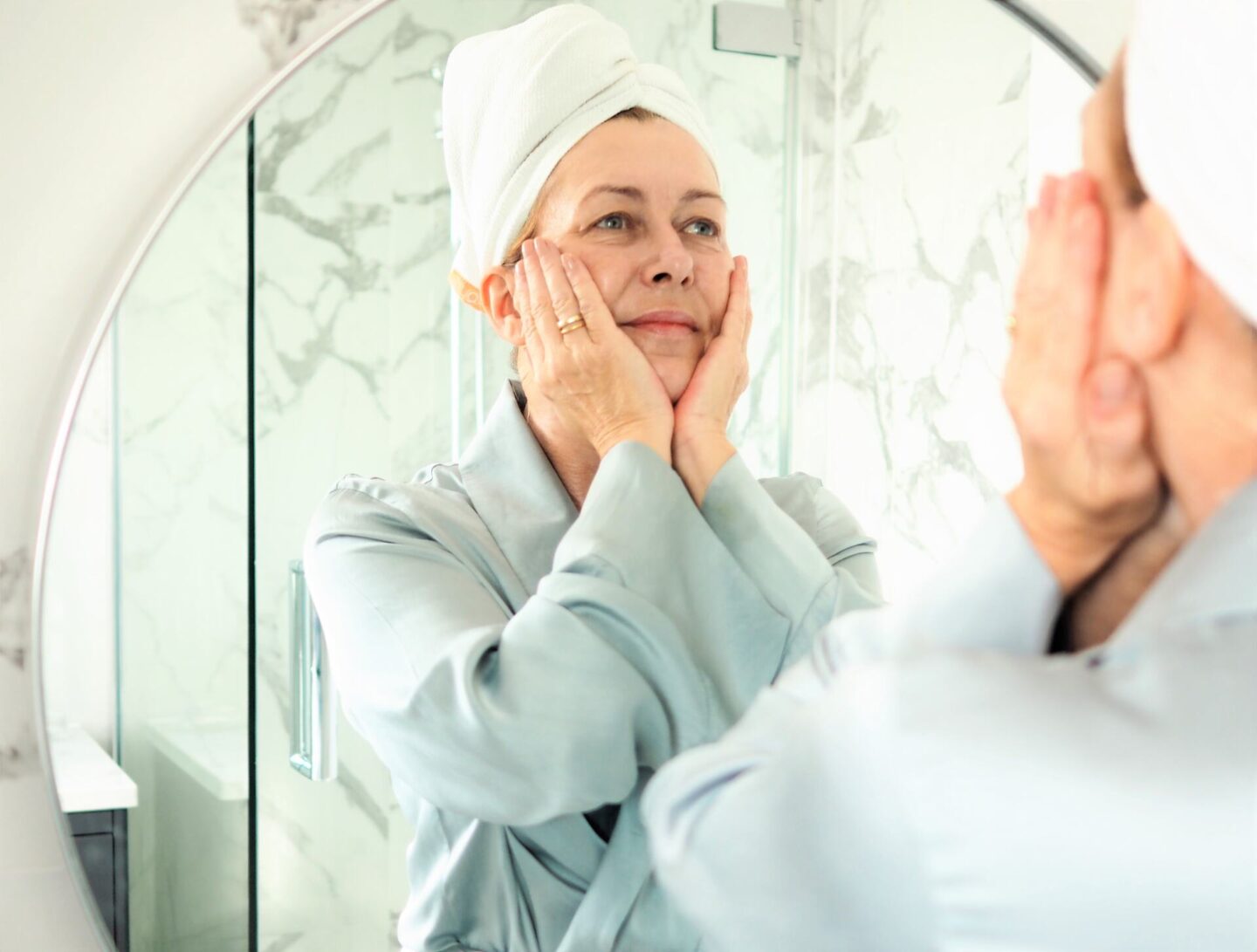 Our bathroom is very small. Our whole house is small! A mere two up, two down that's just perfect for the two of us. I remember thinking before we moved here about how low maintenance I wanted this home to be. So far, everything has turned out so well, apart from the main bedroom. You might have already read about how unhappy I was about how it turned out? There are changes coming!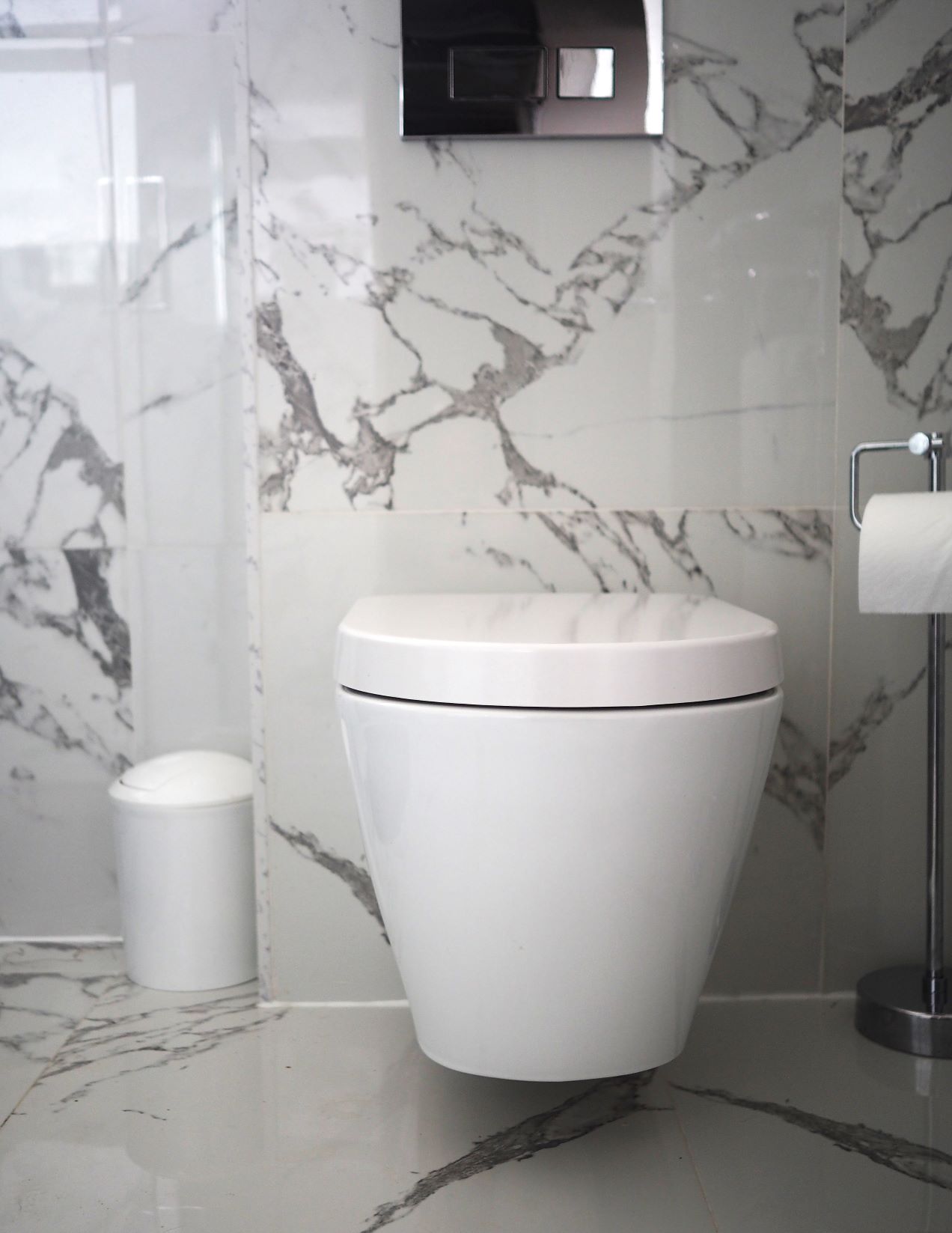 before starting the bathroom renovation I thought long and hard. No room for mistakes.
Scouring Pinterest for eternity for ideas, doing a bathroom renovation is not cheap no matter the size and I knew I had to get it spot on. Costs trickle through your fingers, it's not just the fixtures and tiles but new windows, electrics and all the things that you can't see that soon mount up. I had to have a new soil pipe just because I wanted the bathroom a certain way, and let me tell you it doesn't come cheap!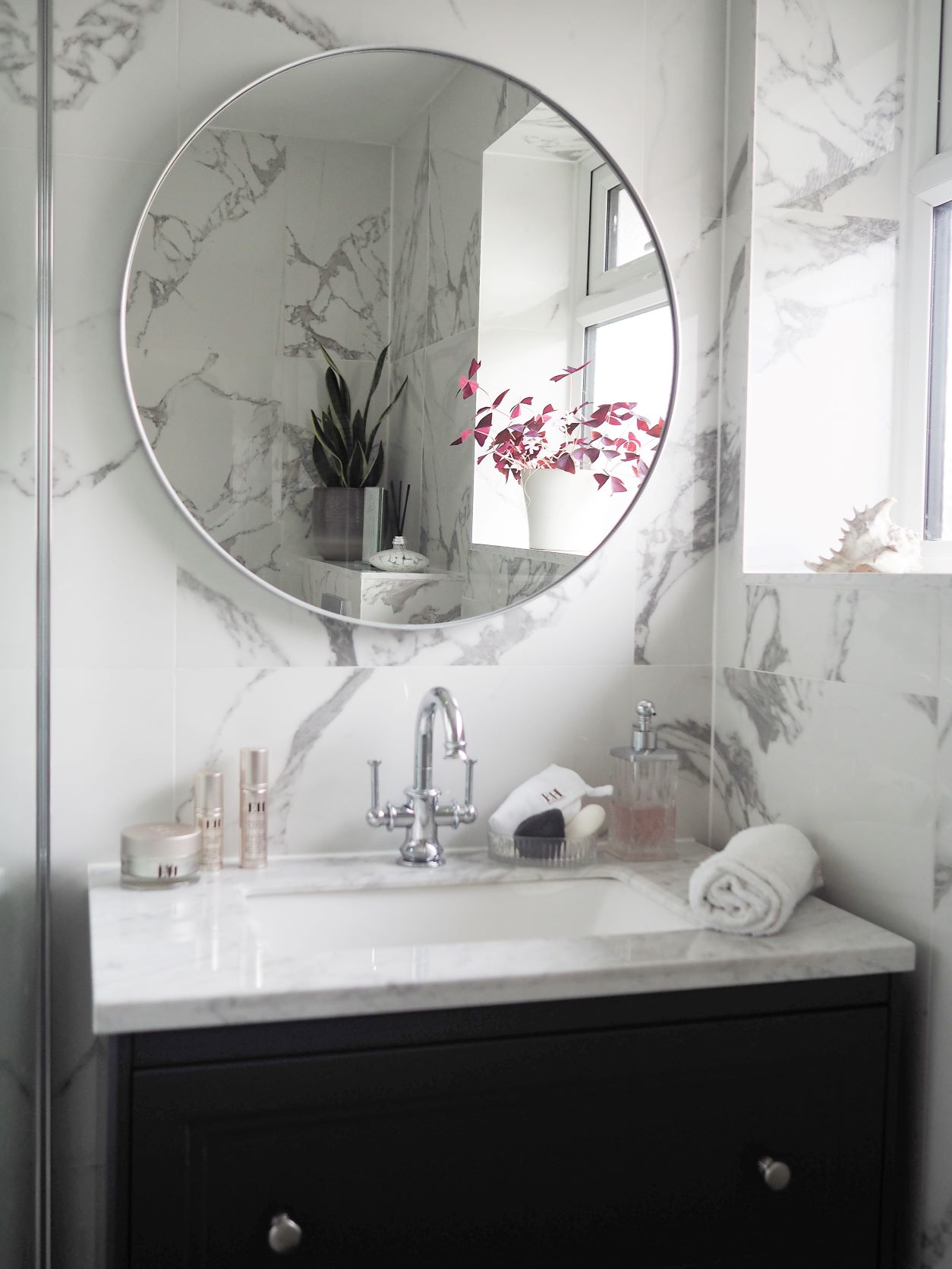 On an overnight stay at a hotel in London is where my bathroom renovation was born. I didn't want anything cluttered, but clean lines, light and as much trickery to the eyes as possible to make it feel more spacious than it really is.
The floating toilet gives an illusion of space and the large mirror reflects light and also gives off a more spacious feel.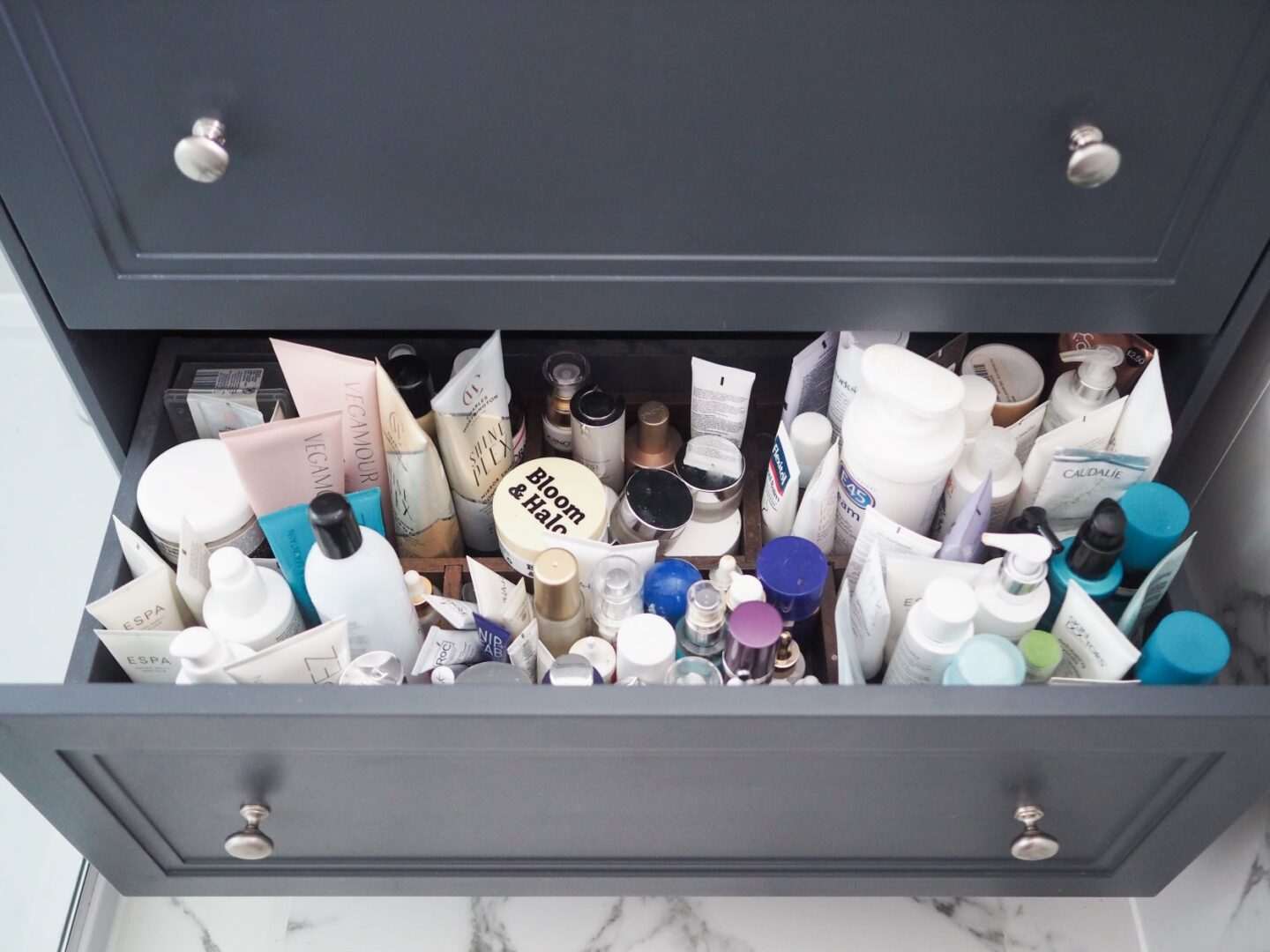 The sink unit with the deep double drawers is an absolute godsend. I have the bottom drawer while Dee has the top one. Plenty of room for any beauty/skincare blogger.
One thing that I did decide on was no fixings to be added to walls. The only screws that have entered the tiled walls are the ones holding the mirror. There's no bathroom cabinet on the wall, so this free-standing sink unit worked perfectly. I'm always changing my mind about accessories be it interior or fashion and I wanted the choice to be able to do that. I also bought a free-standing loo roll holder, and that can be replaced at any time.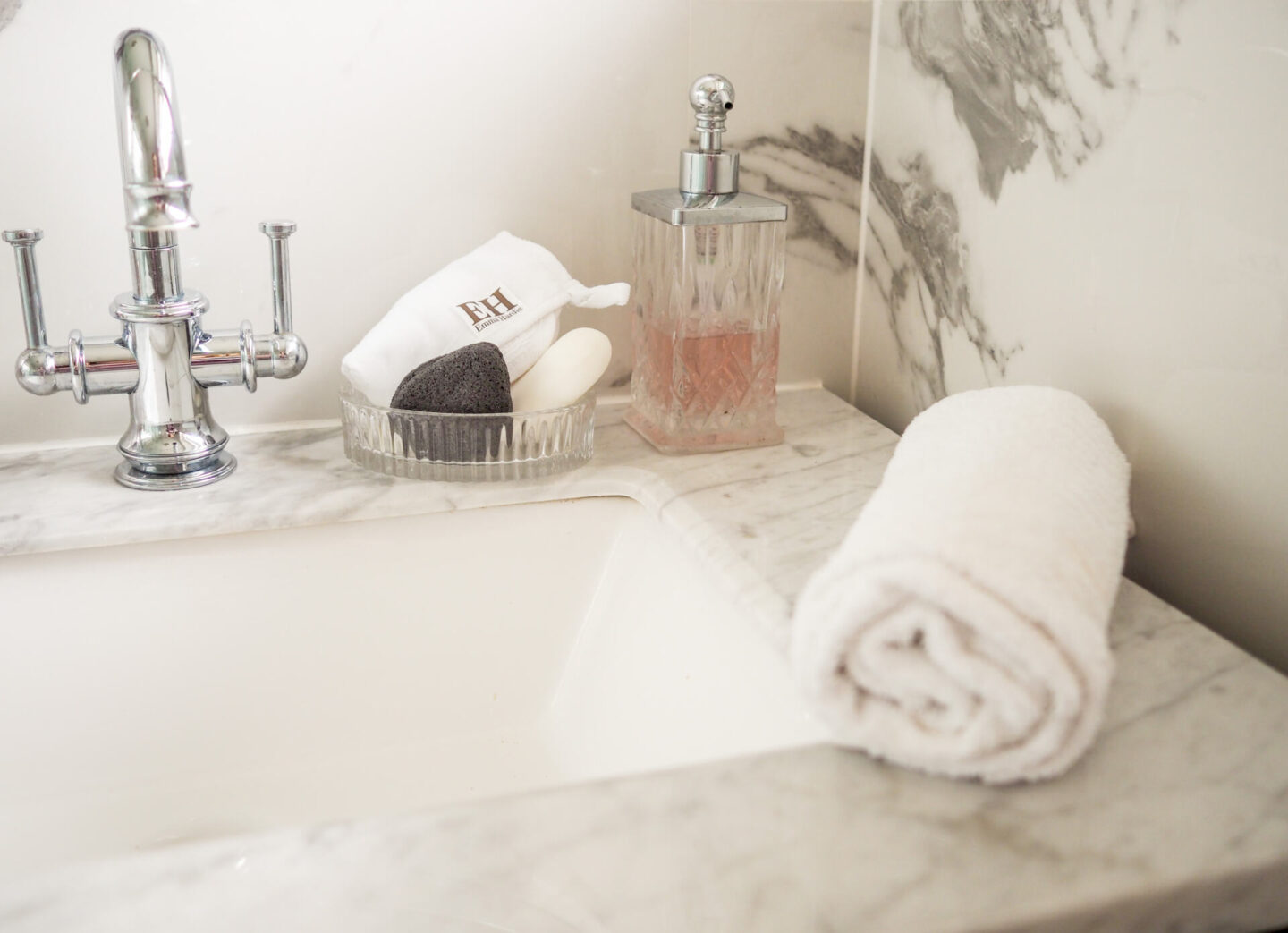 The marble sink top blends well with the large glossy marble effect grey and white tiles. I didn't have a towel holder added to the wall. I roll a hand towel and have it on the sink unit. I'm still having to nag Dee to roll it after each use though!
A few creams and trinkets on the sink top just add enough character. I bought the soap dispenser at TK Max. I think they have fantastic bathroom accessories. The glass dish is from Laura Ashley.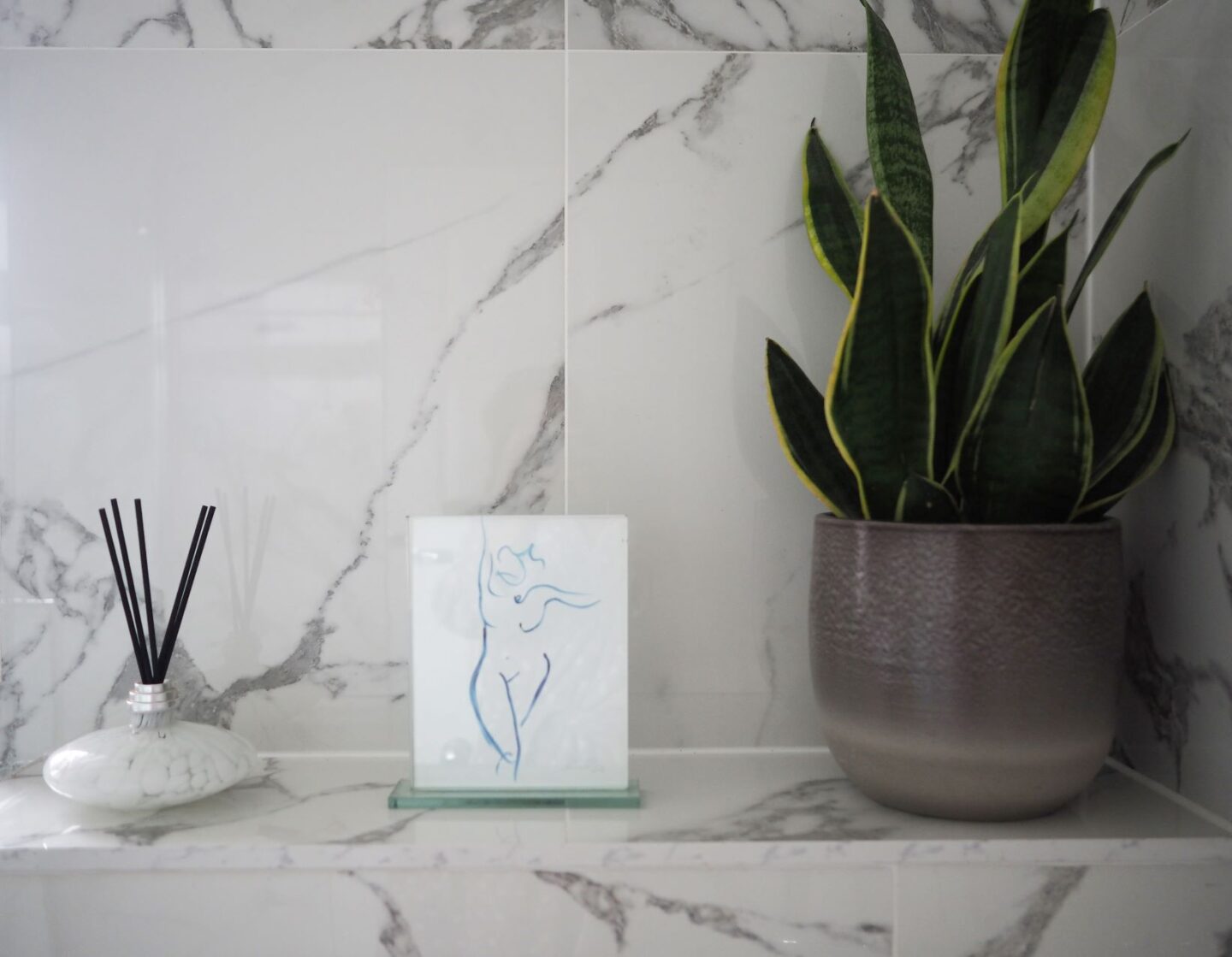 The deep shelf above the toilet was going to have glass shelves above for towels. I decided against those and added a few accessories for interest. The Mother-In-Laws tongue thrives on the shelf. They obviously like moist air. The sketch in the glass frame is actually a gift from a jewellery brand that I worked with some years ago. I always had it in mind for a bathroom somewhere and I'm glad I kept it well preserved.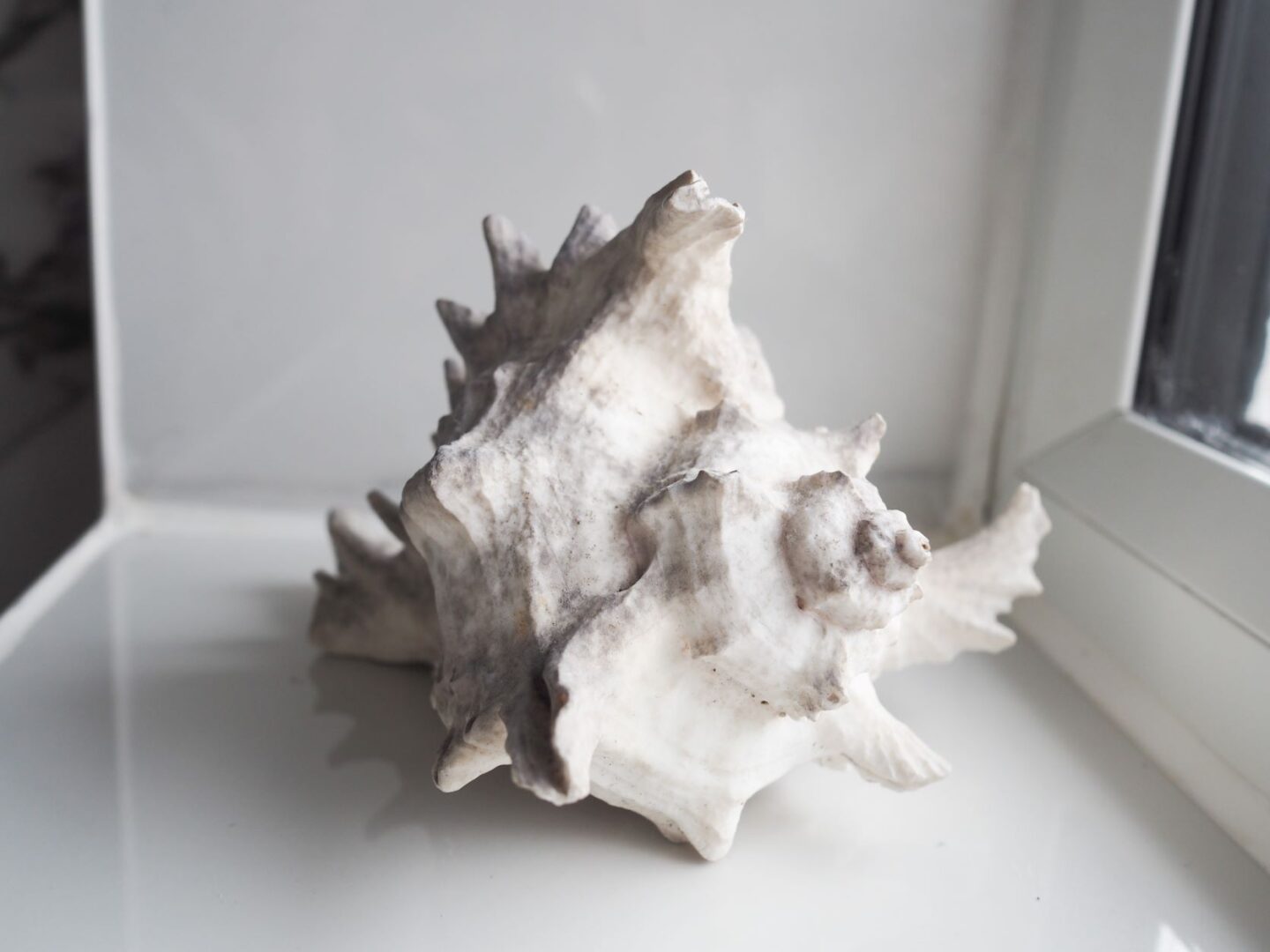 The large shell was actually mums. Brought back from Spain when I was four years old. There's a little bit of mum in every room in this house. It looks great on the windowsill though.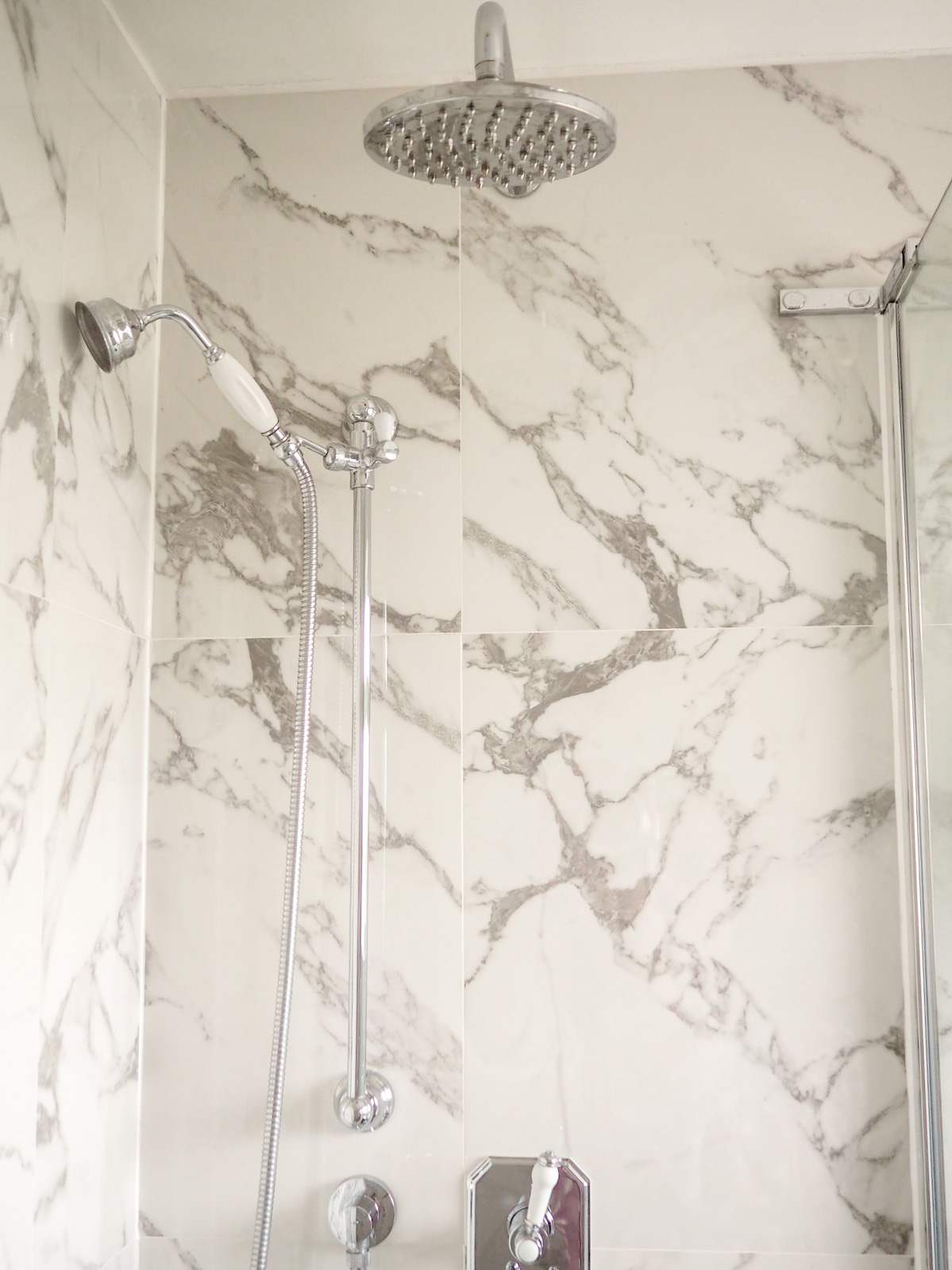 We decided to remove the bath. Dee has a job getting in or out with Fibromyalgia and I rarely bathe and prefer to shower. I love how the tiles worked out. We had the same tiles floor to ceiling and I think it worked out well giving off the illusion of space.
A double head shower. The waterfall and the jet wash. I've always bent over to wash my hair, so I use the jet more than the waterfall. Dee prefers the waterfall. We bought the bathroom from Easy Bathrooms and I would recommend them. Nothing was too much trouble and the whole process was hassle-free.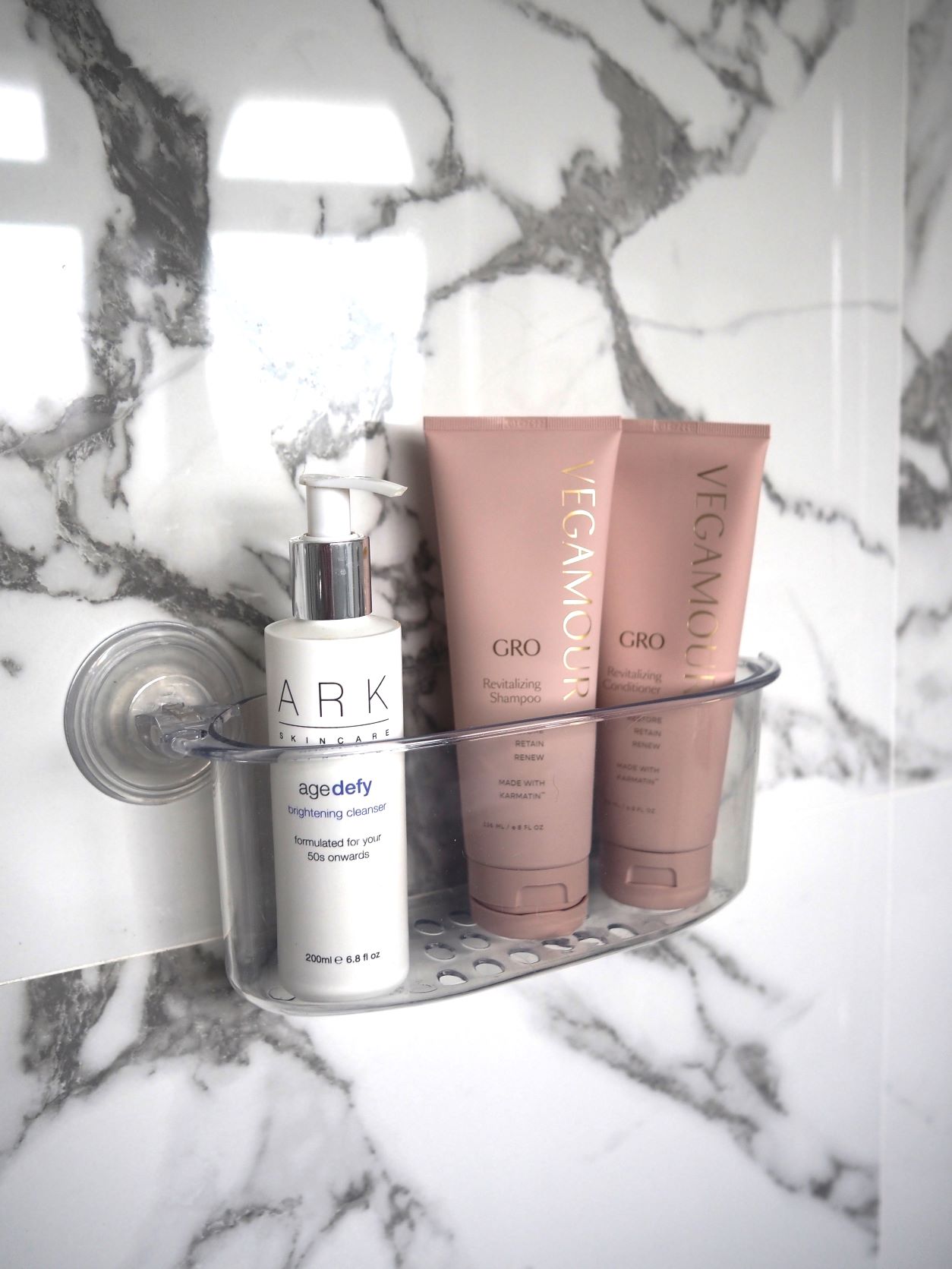 Again, there are no fixings other than the shower, so I decided to buy a suction holder that works perfectly. This one is very sturdy and it's surprising how much weight you can add to it. It stores nicely in the top drawer of the sink unit after use too.
Is the bathroom renovation finished?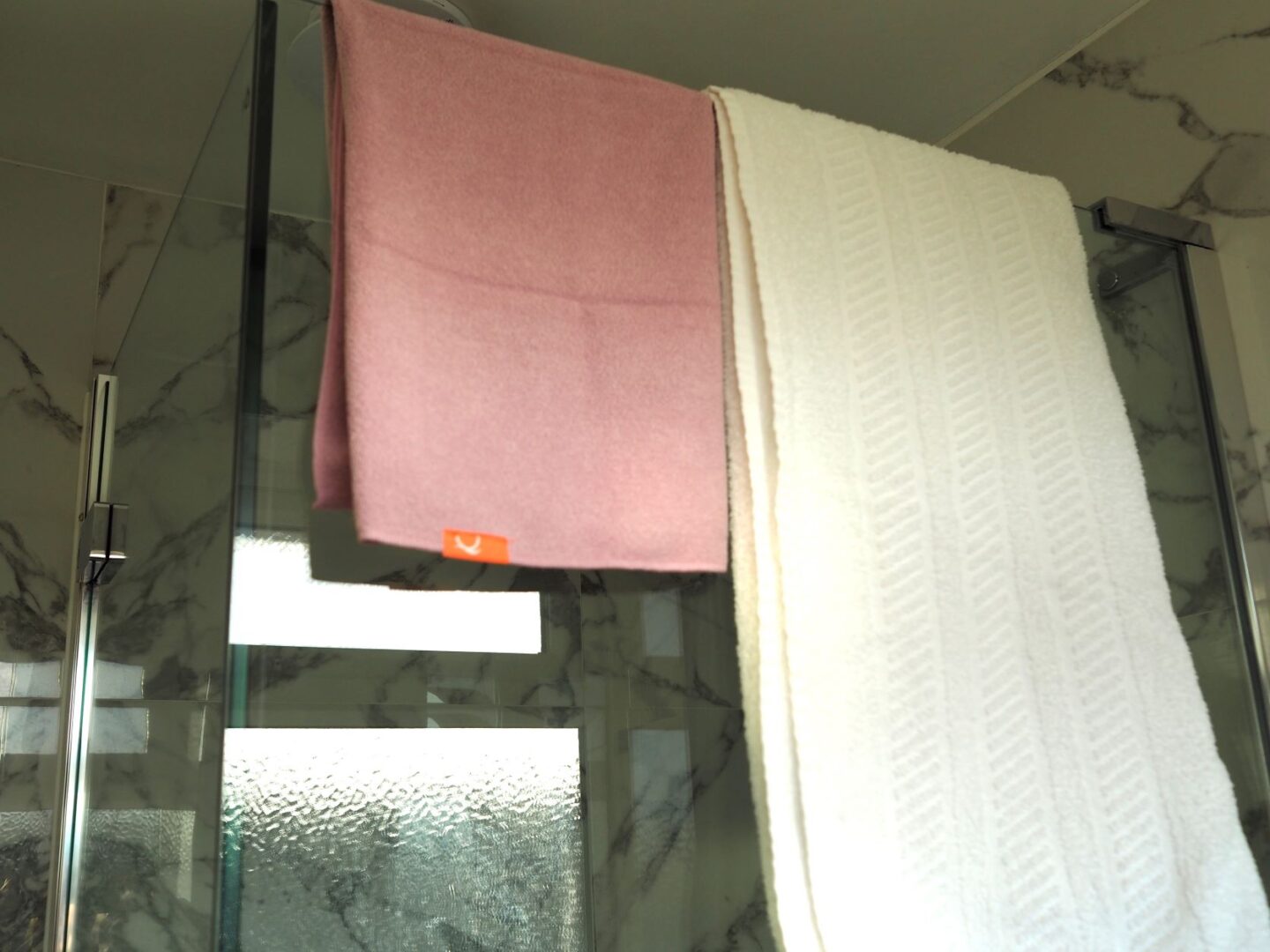 There's no towel rail again. I just flick them over the shower cubicle. I have an airing cupboard just outside the bathroom, so it's great for storing all the towels and linens.
The shower cubicle is a larger than average square size. It was the most expensive piece bought and worth every penny. It's really sturdy and made of 10ml toughened glass. Beau fits in there nicely with me after her morning walks. You'd be surprised how a white dog can come home looking black!
I chose a white and chrome radiator of traditional style. I thought it tied in well with the sink unit. The white, chrome and grey have all blended well together. I love how the renovation of the bathroom has turned out with the feeling of being in a swanky hotel room.
I do have one regret. Not coving the ceiling. I have since found coving that's durable for bathrooms and that will be added this year while the bedroom is being re-done. I will keep you updated!
Subscribe for the latest updates!