Andrea McLean has just launched a whole new clothing range for Bonmarche. It's a really lovely capsule collection and I was lucky enough to go to the press launch and meet Andrea. I always get nervous about meeting celebrities and this blogging journey has given me the opportunity to do so on a few occasions, but Andrea was lovely just like the others I have met.
The collection that Andrea has created is very easy to wear, items that you could pull out of your wardrobe year after year, and when Andrea was talking about creating the collection, (See Andrea's style tips here) she explained all the little details that make a difference, like camisoles under a blouse and lots of comfort factor. Items that, like I said, are very easy to wear.
I'm sharing two of the favourites that I chose at the press event. The collection is selling like hotcakes, so I hope Bonmarche is going to re-stock!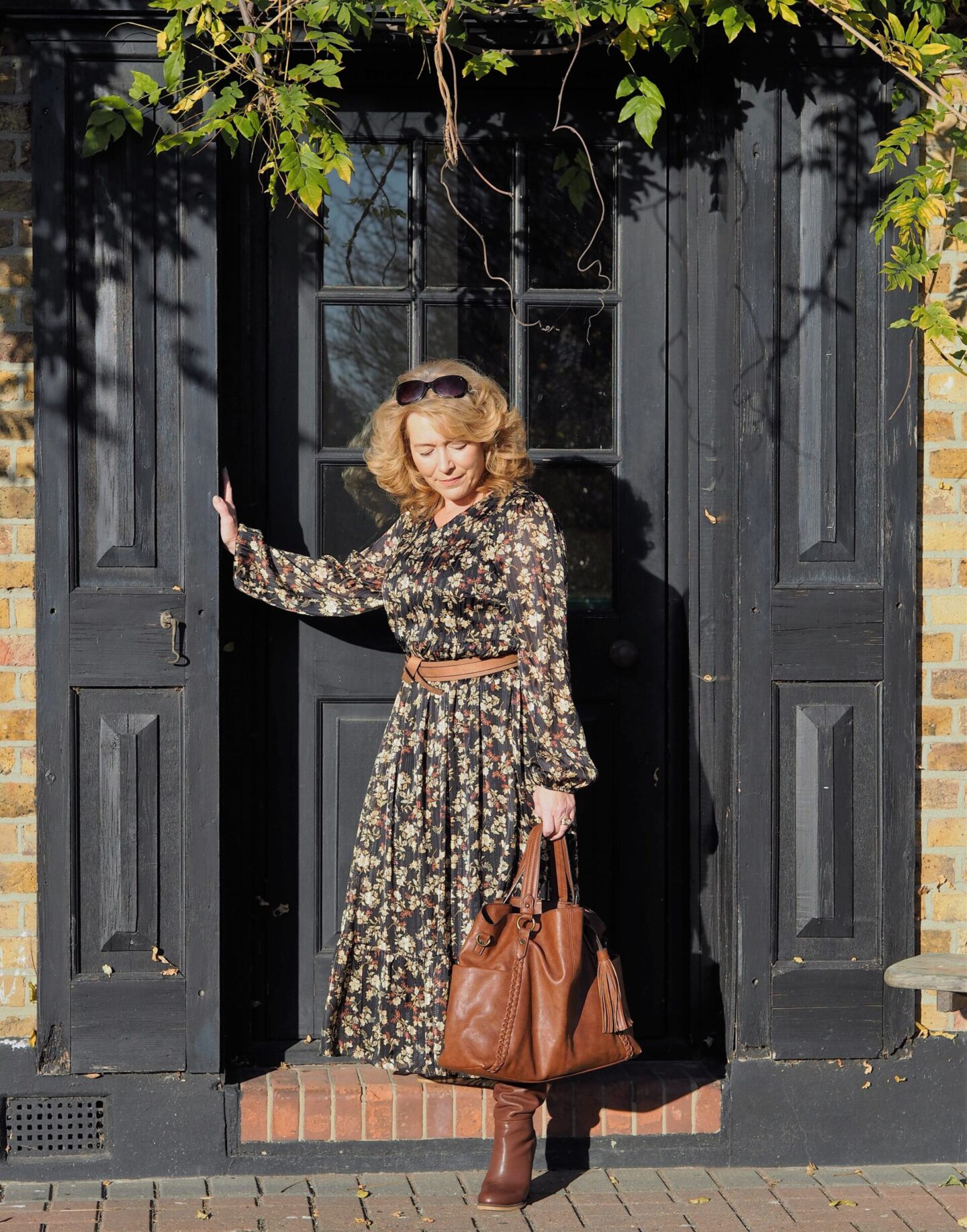 The tierd hem dress with a slightly puffed elasticated sleeve caught my eye straight away. The ditsy floral print has a thread of gold running through it.
The body of the dress is a really loose fitting flared style but I preferred it belted. The dress is lined too but I also added a full slip under mine to keep that little bit warmer. Once home, the belt taken off, it's such an easy, comfortable dress to wear. It looks great with a long cardigan over the top as well.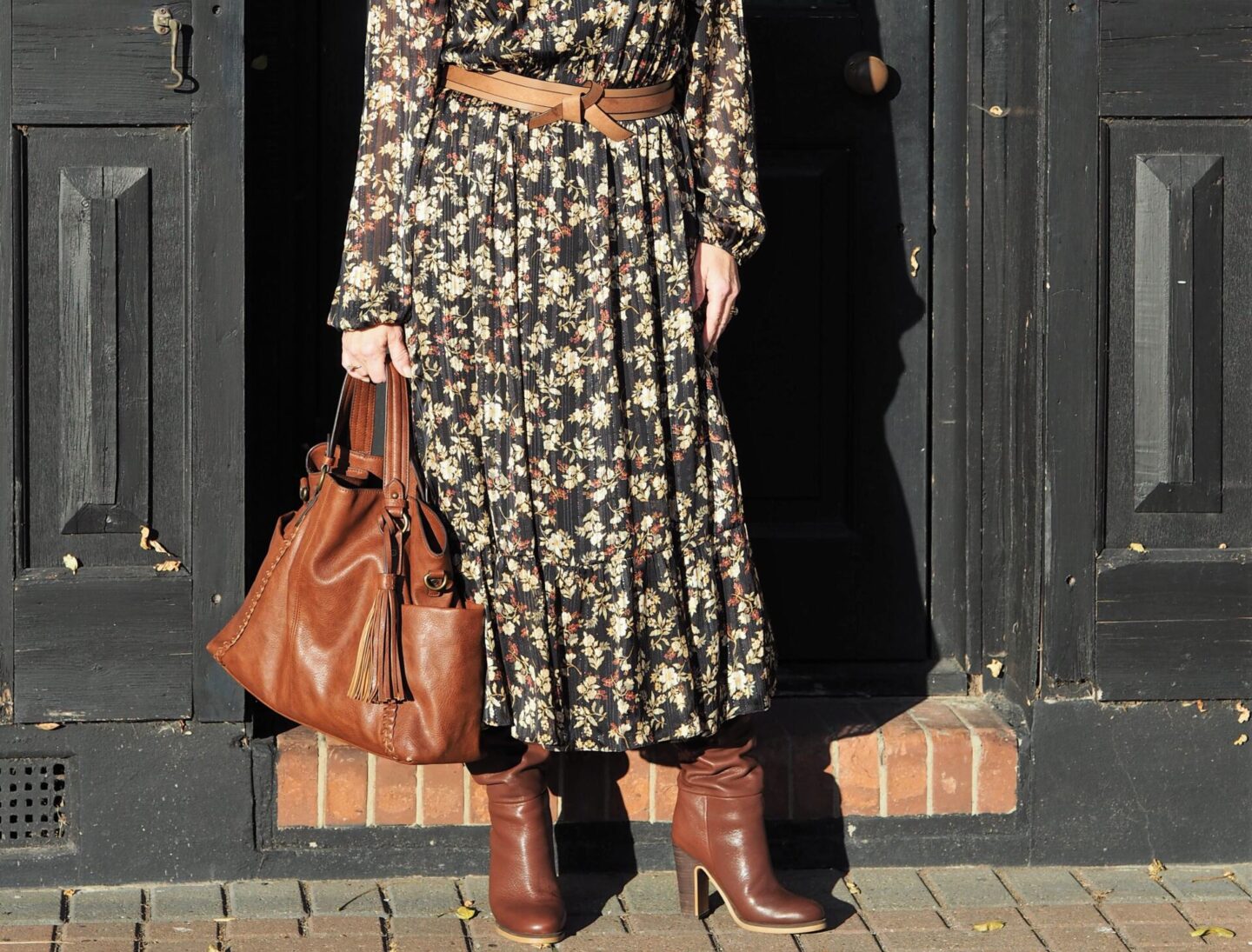 I paired the dress with brown and tan accessories. You can see in the print the warm rust floral to pair it nicely. I have since also styled it with black accessories too and it looks just as good.
I purchased the belt from H&M online and it's rather loose. I chose a size medium. I bet a size small would be too small! Just my luck because I really like it.
The Chloe boots are certainly getting a lot of outings. I always prefer brown accessories over black. I think they look so much warmer. I've always wondered why women are so obsessed with designer accessories and now I know! I absolutely love them.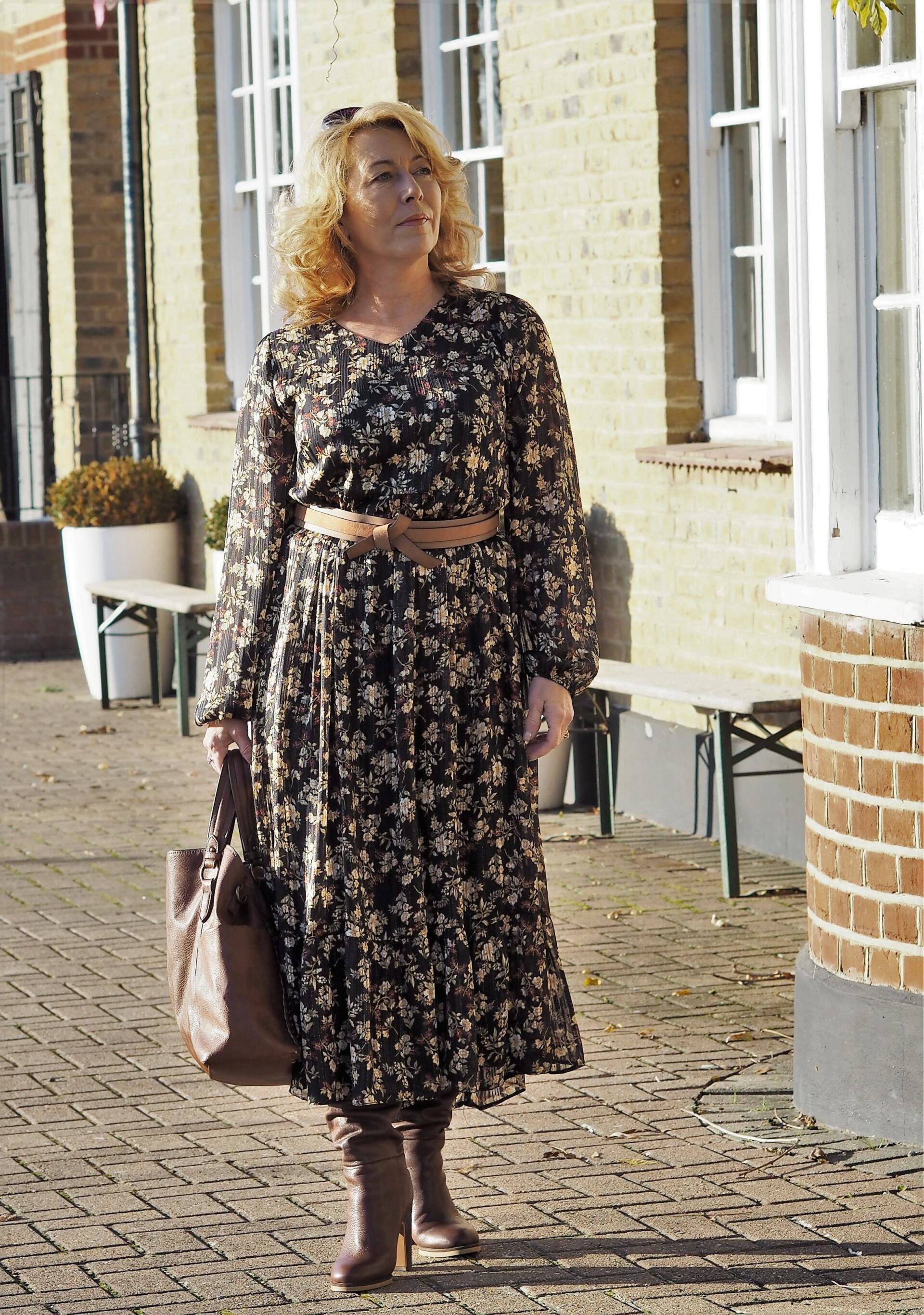 It's not just the style of the dress that I'm really pleased with. The dress doesn't crease. Wash it, hang it, and you're good to go.
And the hints of gold in the fabric means that you could really dress this little number up too. Add some gold party shoes/sandals a gold belt and a clutch bag and it looks lovely. I will be styling it like that on my Instagram stories, so keep a lookout!
Shop The Look
All the Andrea McLean collection is very versatile. Here's another outfit that could go from day to night easily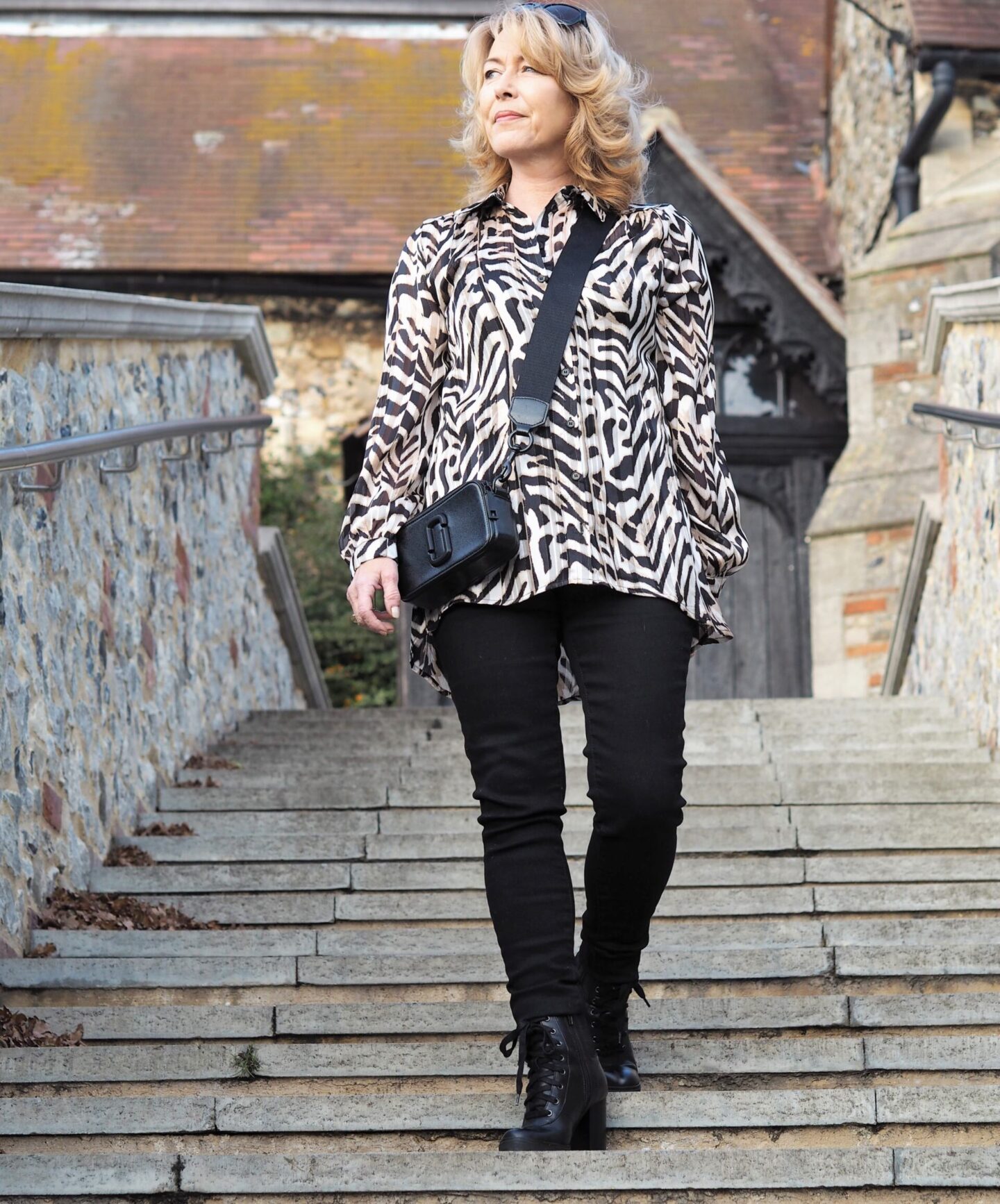 The animal print top with again, gold thread running through is really nice. A detached camisole that comes with the blouse is an added bonus for warmth. They come in so handy don't they camisoles? The top isn't see-through at all but very lightweight.
I like the dipped hem at the back of this too. Looking at the Andrea McLean collection on the Bonmarche website, this blouse has nearly sold out. I'm sure they will get more stock in though.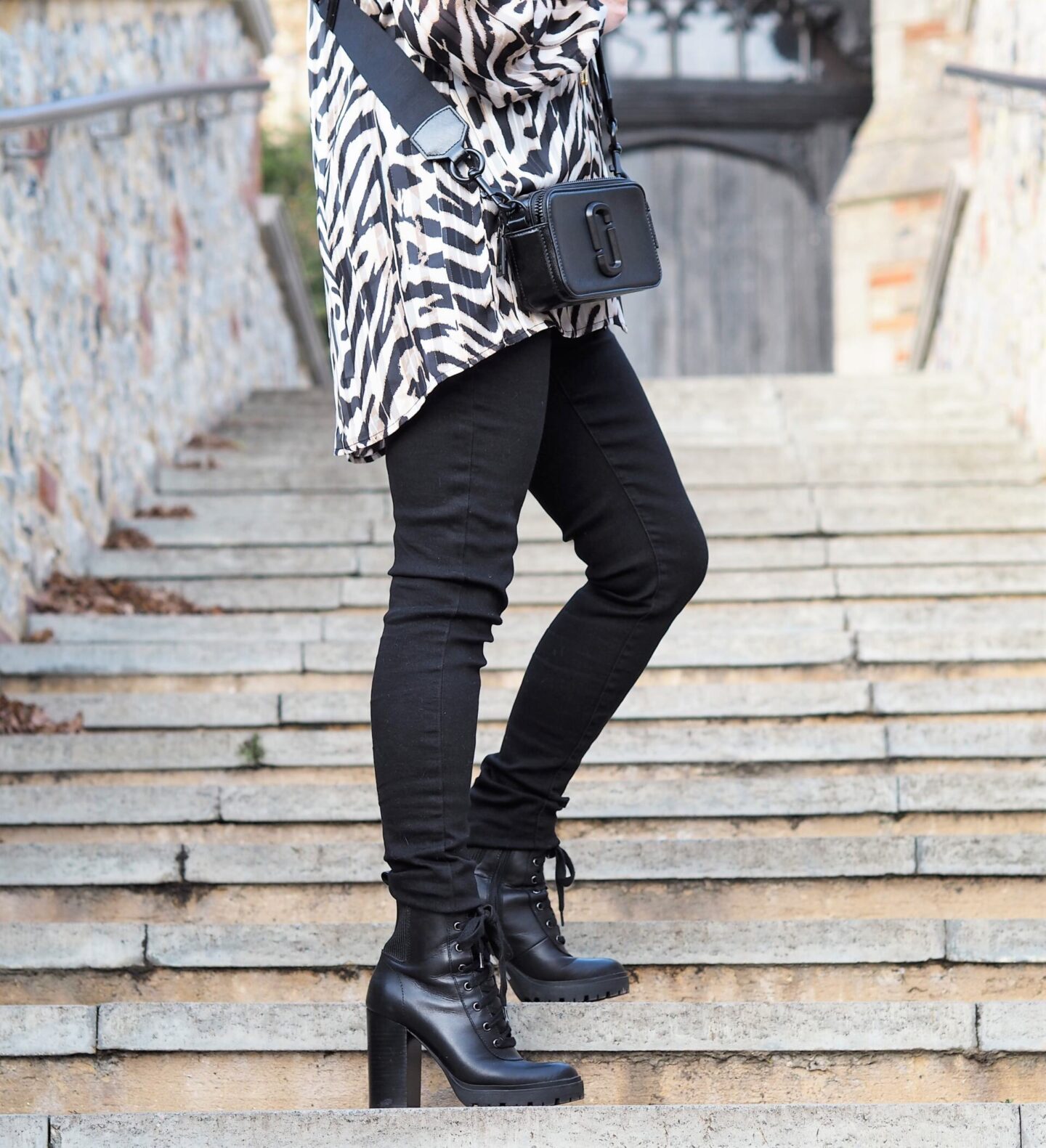 I've styled the blouse for a daytime look with accessories. My black bovver boots as I like to call them! Because of the platform, the boots are comfortable yet they give me that little extra height that I desire.
The Julie Jeggings are I have to say the most comfortable jeggings I've ever worn. I still wear my denim ones from this post a few years back. Yes. Three years and my jeggings are still going strong. So I welcome a black pair into my wardrobe.
One of the things I like about Bonmarche jeggings is that you can choose leg lengths. The jeggings look a little ruched today, but that's because of the high ankle on the boot. Really, really pleased with the jeggings and I totally recommend them.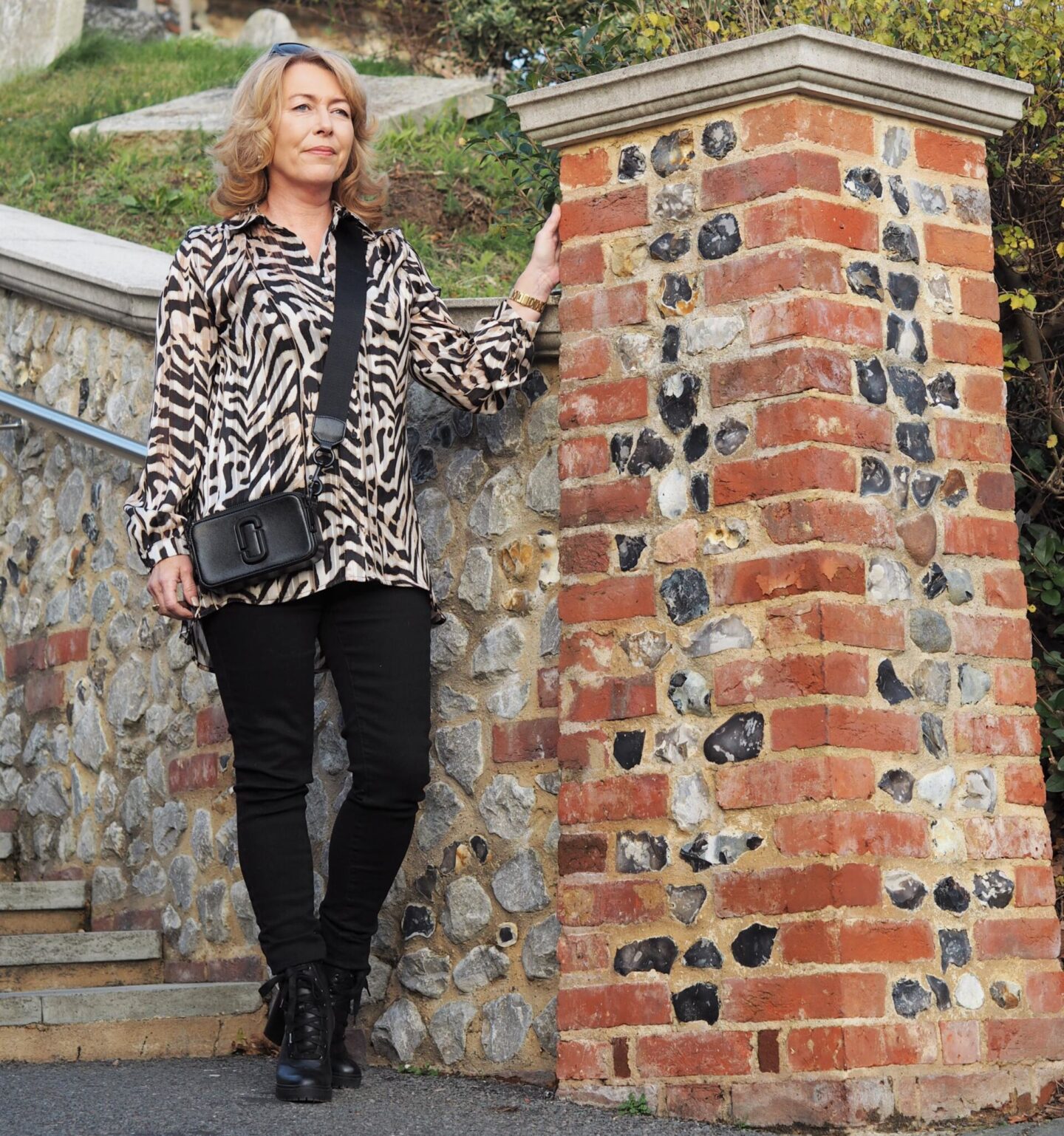 It would be easy to style this blouse for a more formal look. I've also paired it with smart camel trousers too and it looks great. Black, camel or cream trousers of a smarter style will create a more dressed up look. Add some court shoes, an evening bag and a little extra sparkle in the accessories department and you will be good to go.
I'm really impressed with my items and I recommend you take a look at the collection. I'd like to hear your thoughts. I will be filming my new in haul for YouTube (going live Monday) So if you'd like to see the clothes in my try-on session please pop over. I will leave it below this post too when it's live too.
Shop The Look
Keep you and yours safe and well xx
---
Please be aware that there are affiliate links included in this post at no cost to you if they are clicked on
---
Thank you for stopping by!
Come back for more. Click on the subscribe form below
YOU MAY HAVE A FRIEND THAT'S INTERESTED IN THIS? PLEASE USE THE SHARE BUTTONS
XO LAURIE
Subscribe for the latest updates!