I had the best experience a week ago. Are you watching the new series Just Like That? the new series following on from Sex And The City? I'm a huge fan and was very excited for the new series to start.
A few weeks ago I spotted that Covent Garden was hosting the main Character Carrie Bradshaw's pop up of her original apartment tour. Determined to get a ticket, I knew they would sell like hotcakes. I sat on my Pc for two hours waiting for those tickets to go on sale. I've never refreshed my Pc so much.
As soon as they did go on sale, timeslots sold out in seconds but I did manage to get two tickets. I was running around the front room like I'd scored a goal for England!
I took as many photos as I could, plus I filmed what I could. It wasn't easy but I'm sharing what I did manage to capture with you today.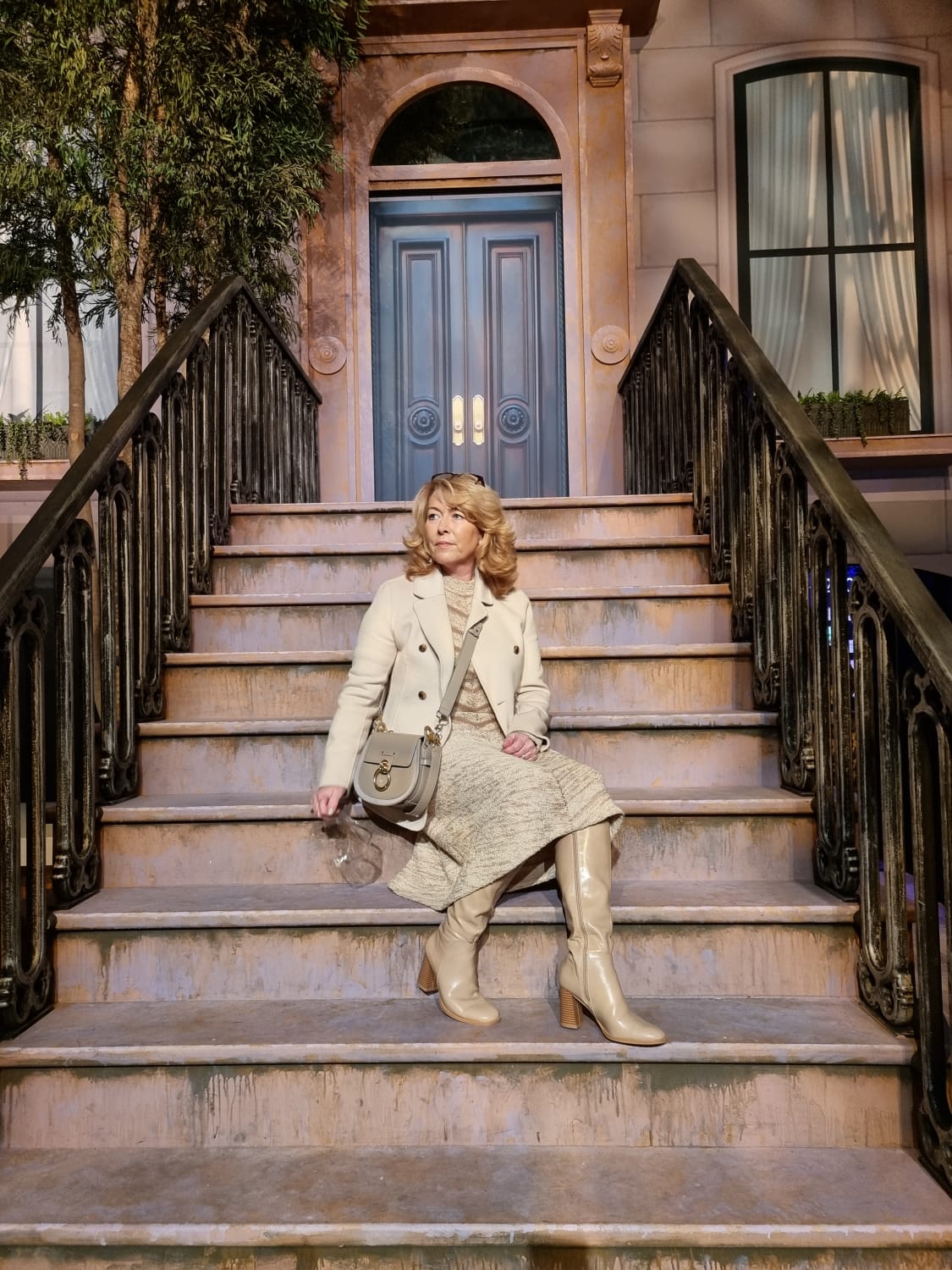 On entry you were faced with the outside of the apartment. I thought it was very authentic. You were allowed to climb no more than three steps. I wanted to take a photo by the door but after climbing those three rickety steps I understood why.
This photo was taken in front of the huge queue that was behind me waiting to enter the exhibition. It took guts to pose in front of hundreds of people I can tell you, but I was determined and made pretend they weren't there.
My trusty Vyza in hand. It's been the best of face masks. Comfortable, it doesn't touch your face and it's clear. This was the best £15.00 I spent in 2021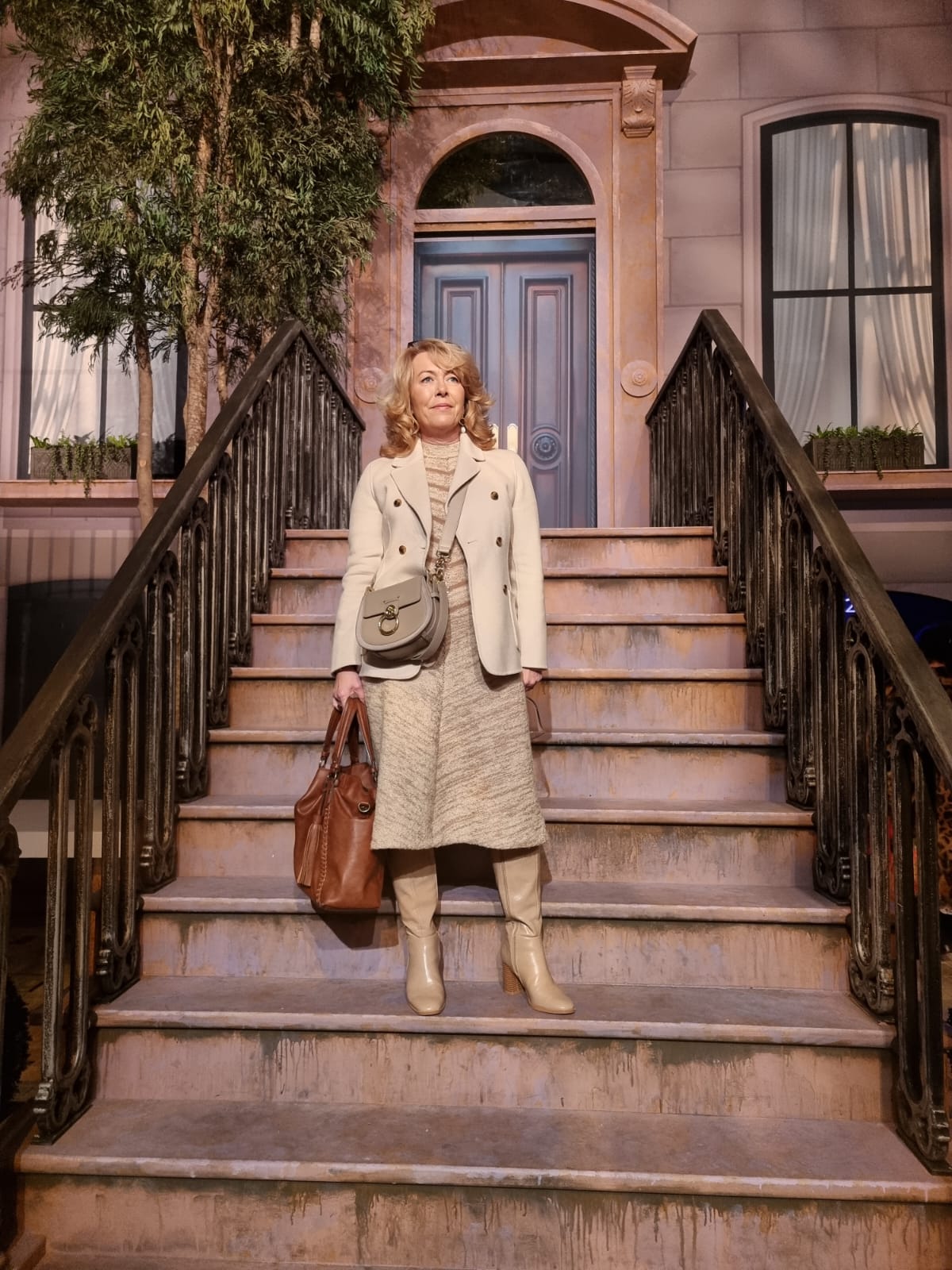 I decided I had to wear vintage on my visit. The dress from Rocket Vintage has served me well. You may remember the post about finding this great online vintage store. It paired well with my bargain find boots that I couldn't wait to wear. First outing walking around London and they passed for comfort.
Shop The Look
Just like that I was in Carries apartment!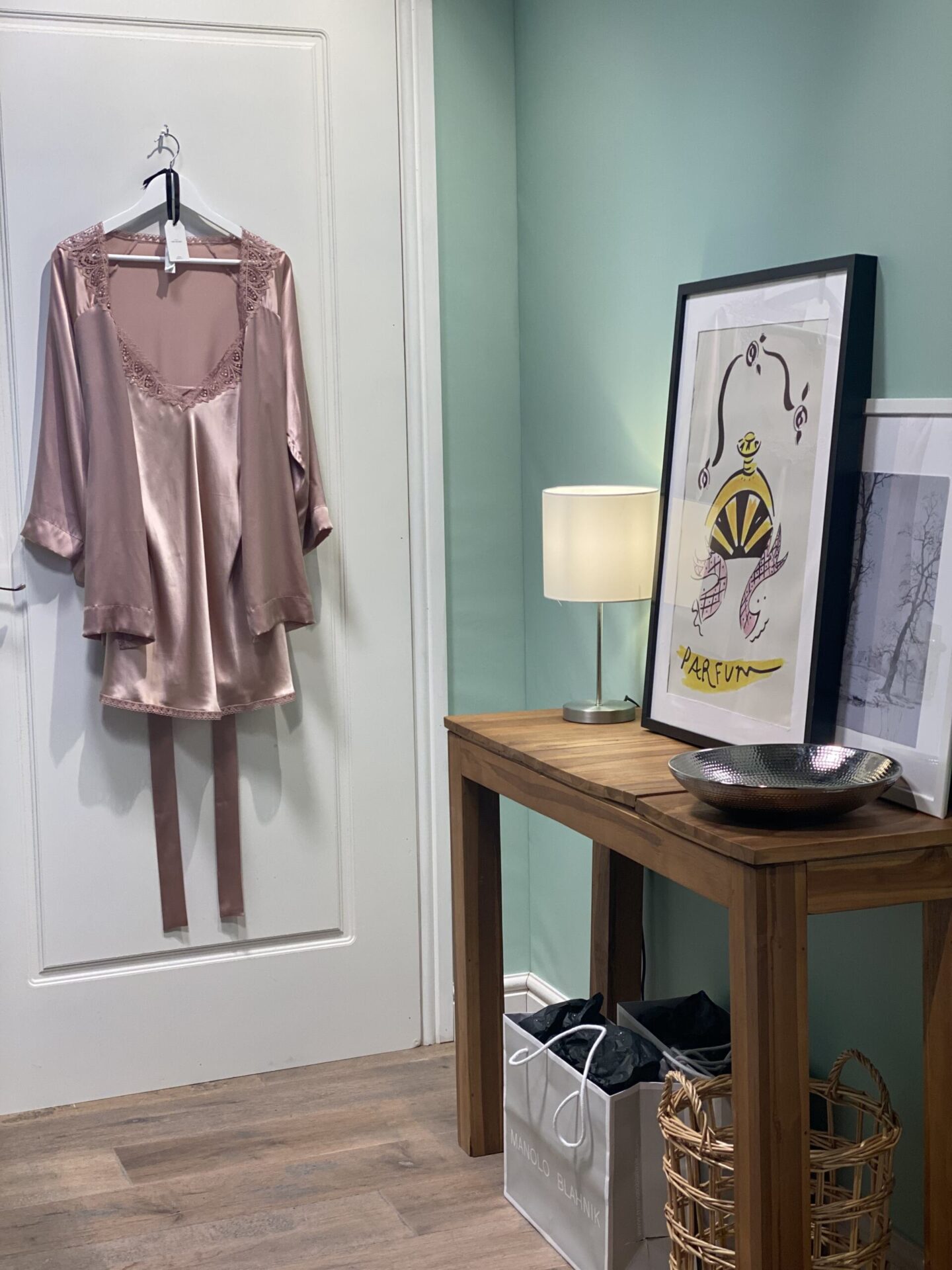 Into the entrance/hallway I smiled at the Manolo Blahnik carrier bag.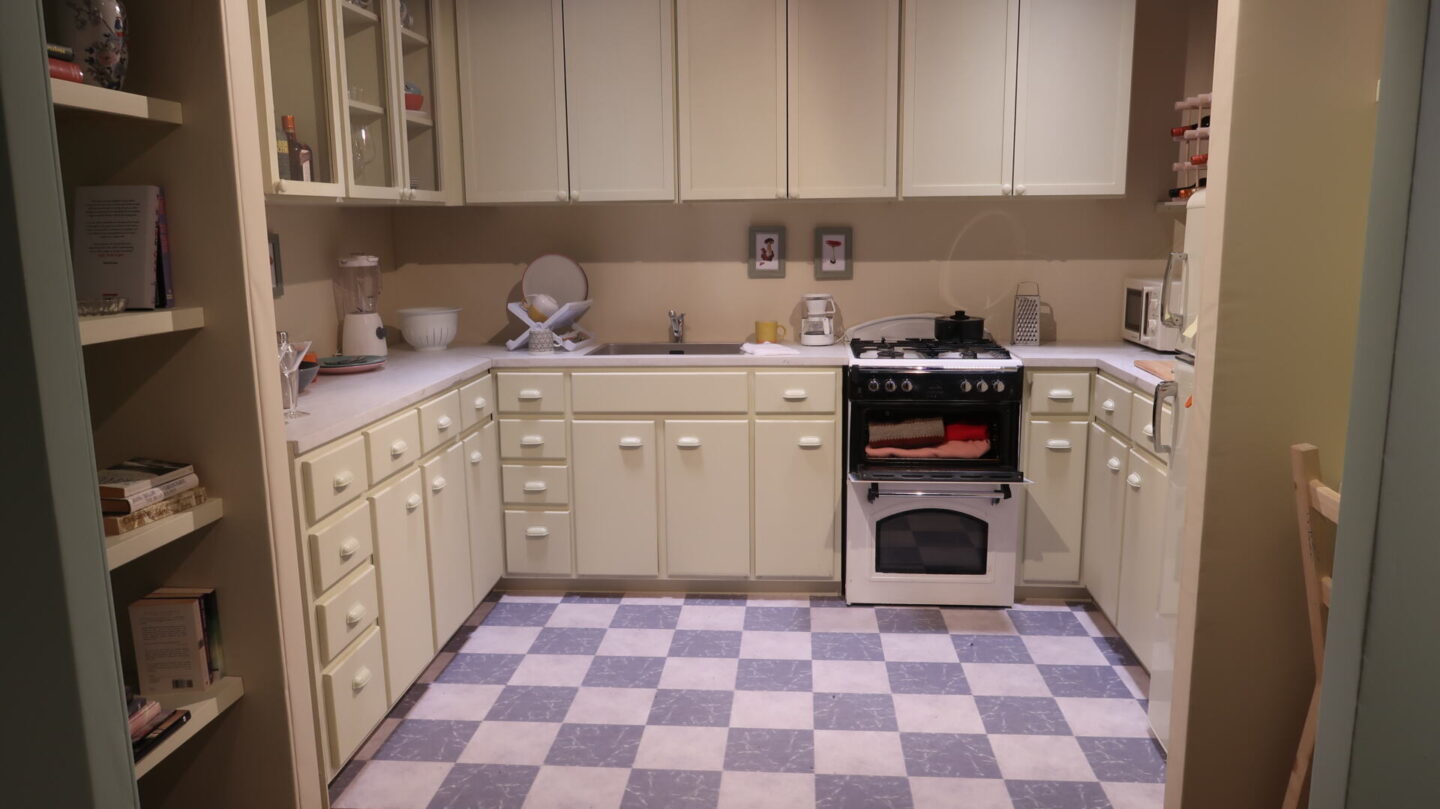 On entering the kitchen I wondered how authentic the studio set was compared to the real film set. When I got home I flicked through my Sex And The City books to check it out. It was actually a very good match.
I laughed at the oven door. It was filthy! Famed for keeping her jumpers in the oven because Carrie never cooked but she wouldn't of had a dirty oven would she? Imagine putting a Chanel cardigan in a dirty oven.
In the new series Just Like That I think Carrie is going to move back into the apartment. In the last film, she gave it a complete makeover. It doesn't look like this anymore.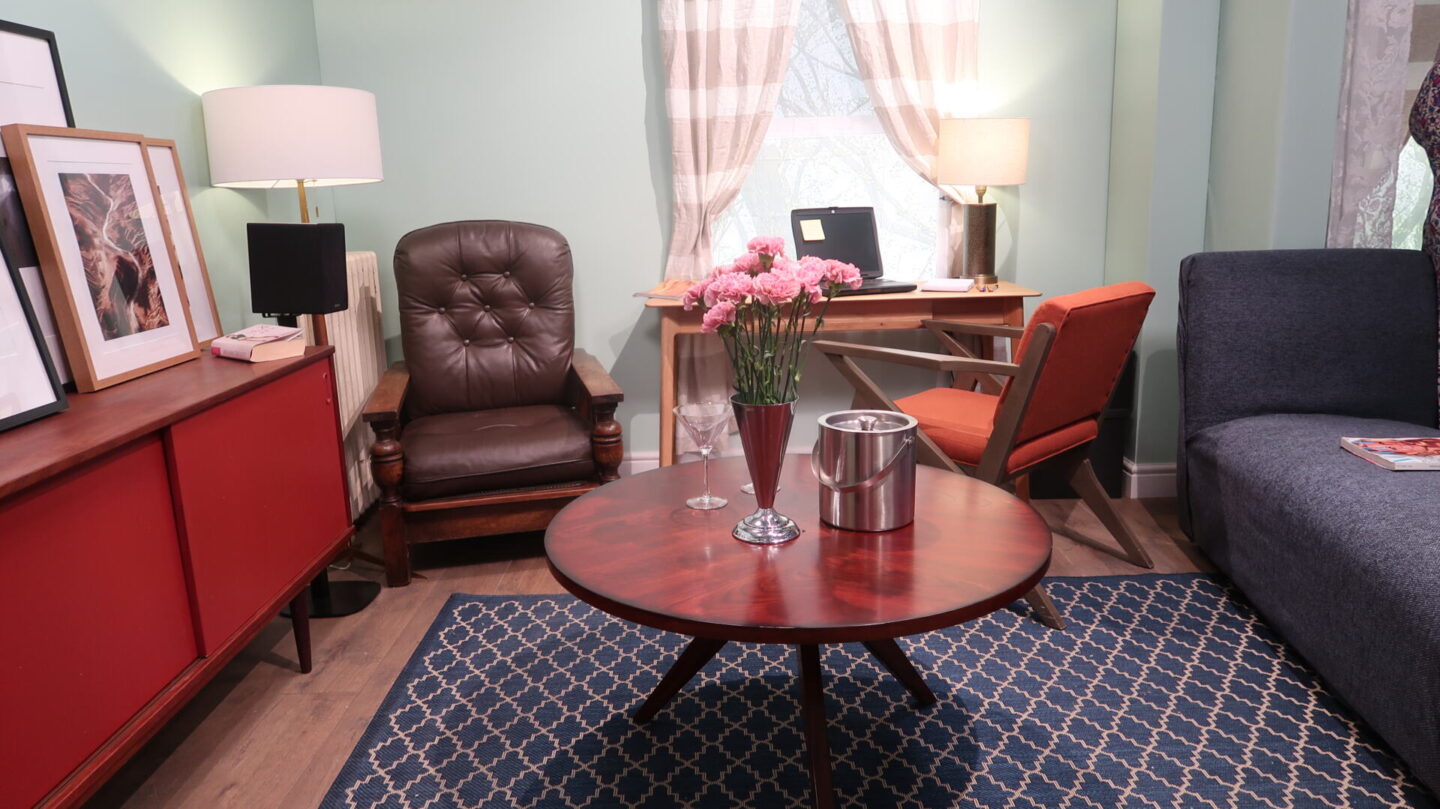 Heading into the living area, it was small like a studio apartment. The bedroom area is just about a foot apart from the living area. It did have an archway that separated it slightly. I love the retro 70's vibe of the apartment. All the teak wood gave off a warm cosy homely feeling.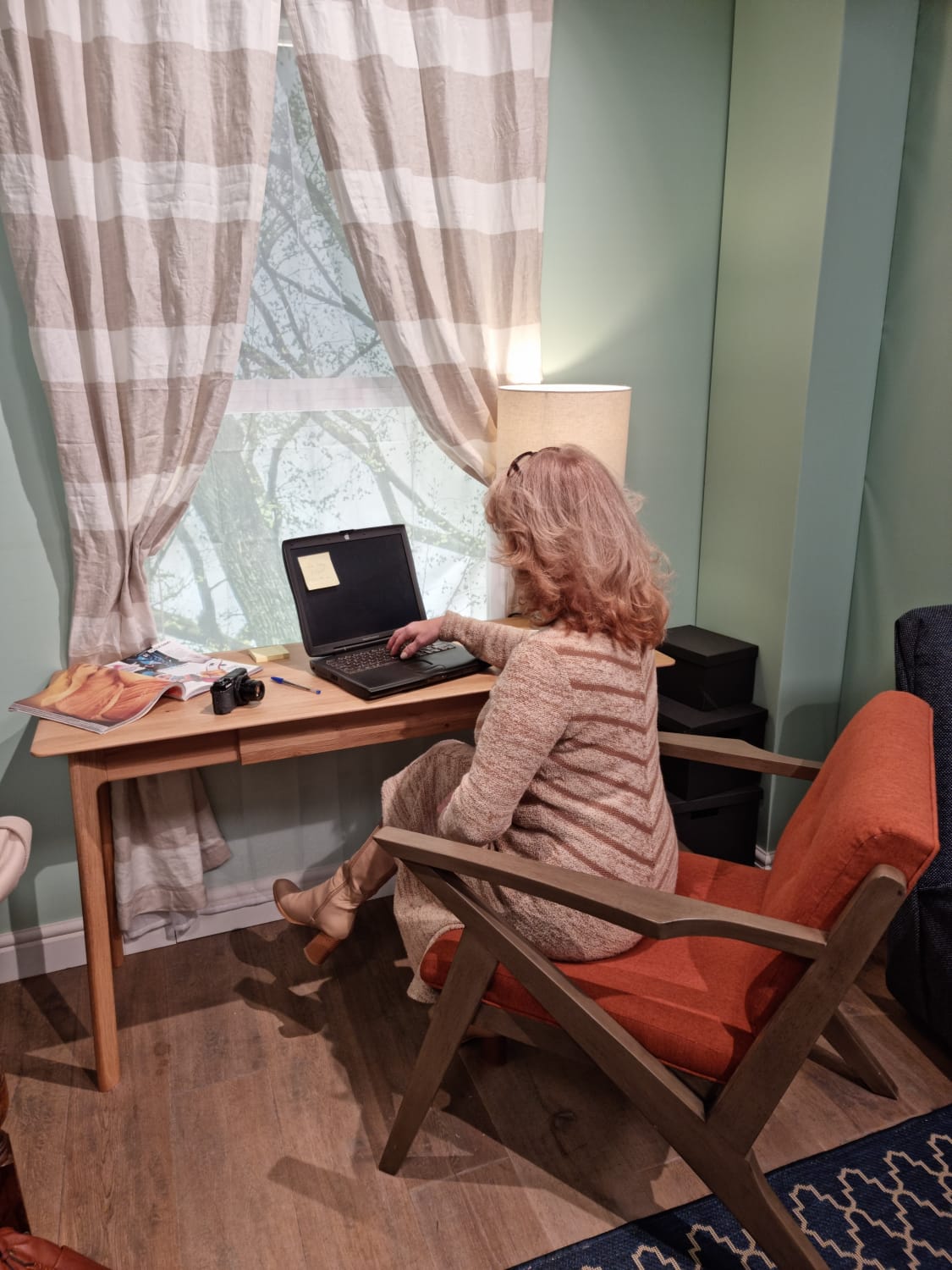 Well I had to get a photo in the director's chair, didn't I? Look at the dinosaur Pc! Everything was glued down so that no one took moments. The post-it note that Jack Berger left her in the night. "Sorry, don't hate me" gave me all the memories of that series flooding back.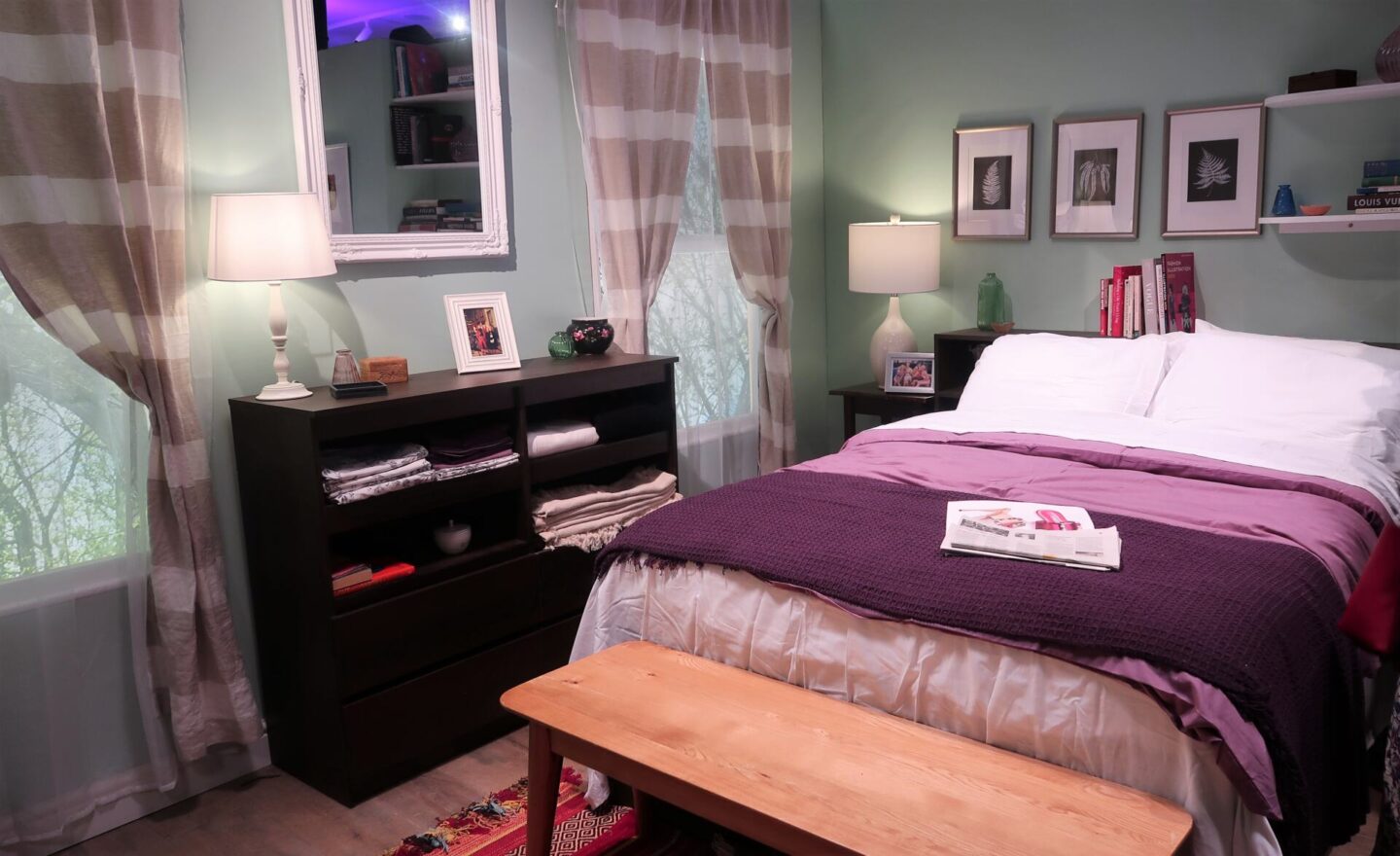 The bedroom was pretty plain and bland. I was expecting more glamour here. I think this was the worst of creating the apartment. I felt a bit let down.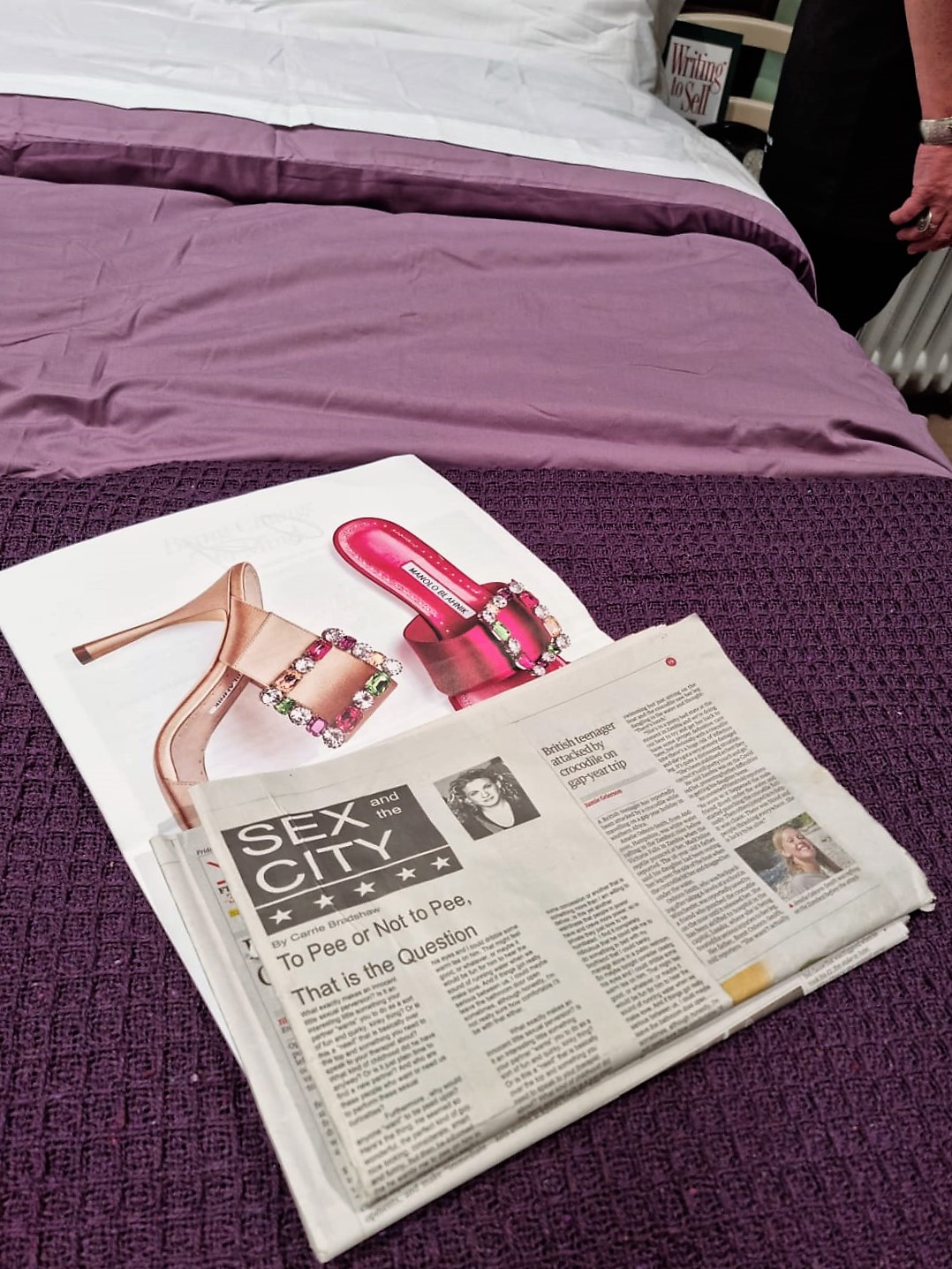 I thought the copy of the paper was a cute added piece though. To pee or not to pee. Does anyone remember that episode?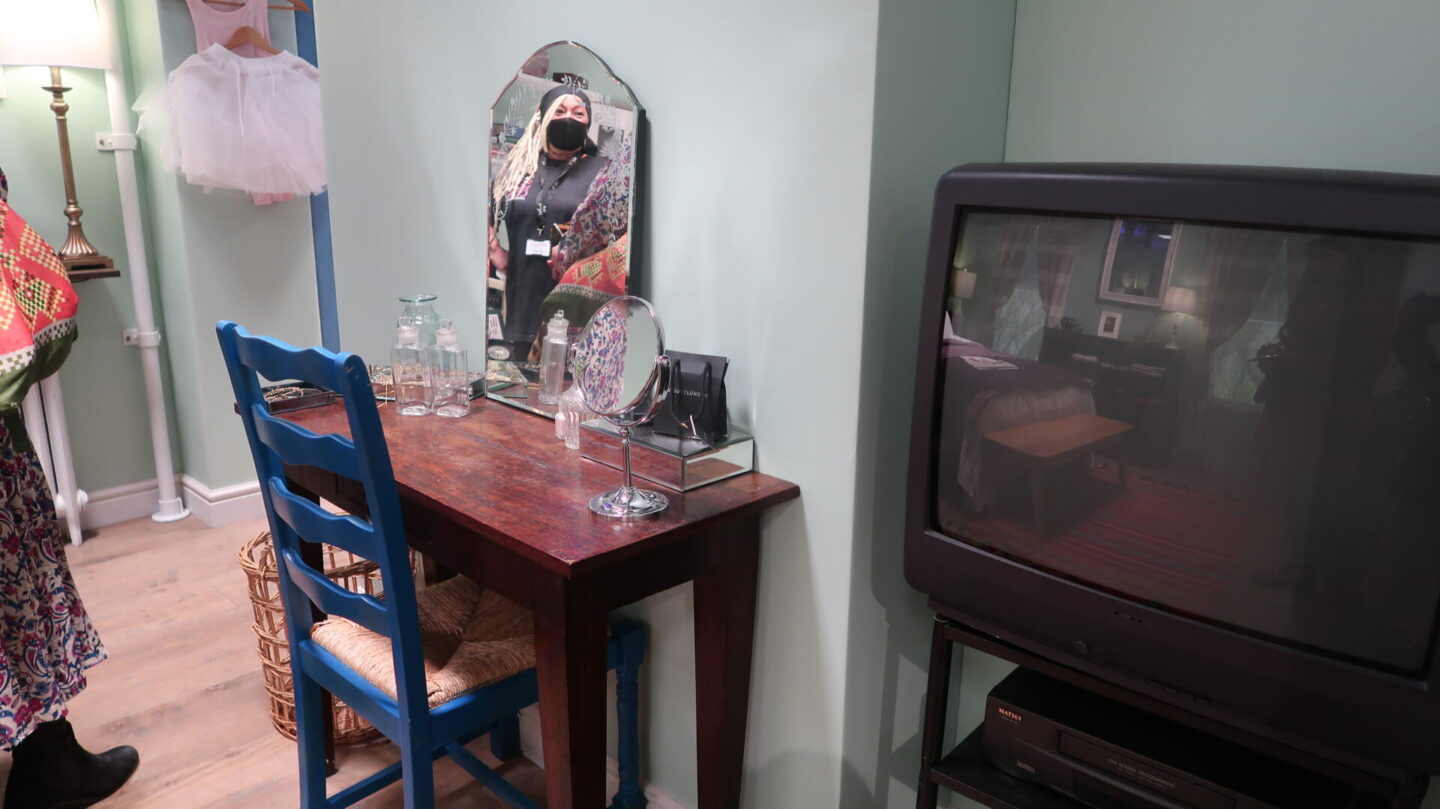 The dressing table was cute. A few little trinkets and look at the chair! I guess when you're forever buying Jimmy Choo's and Manolo's there's not much left in the bank for other luxurys. I'm laughing as I write this.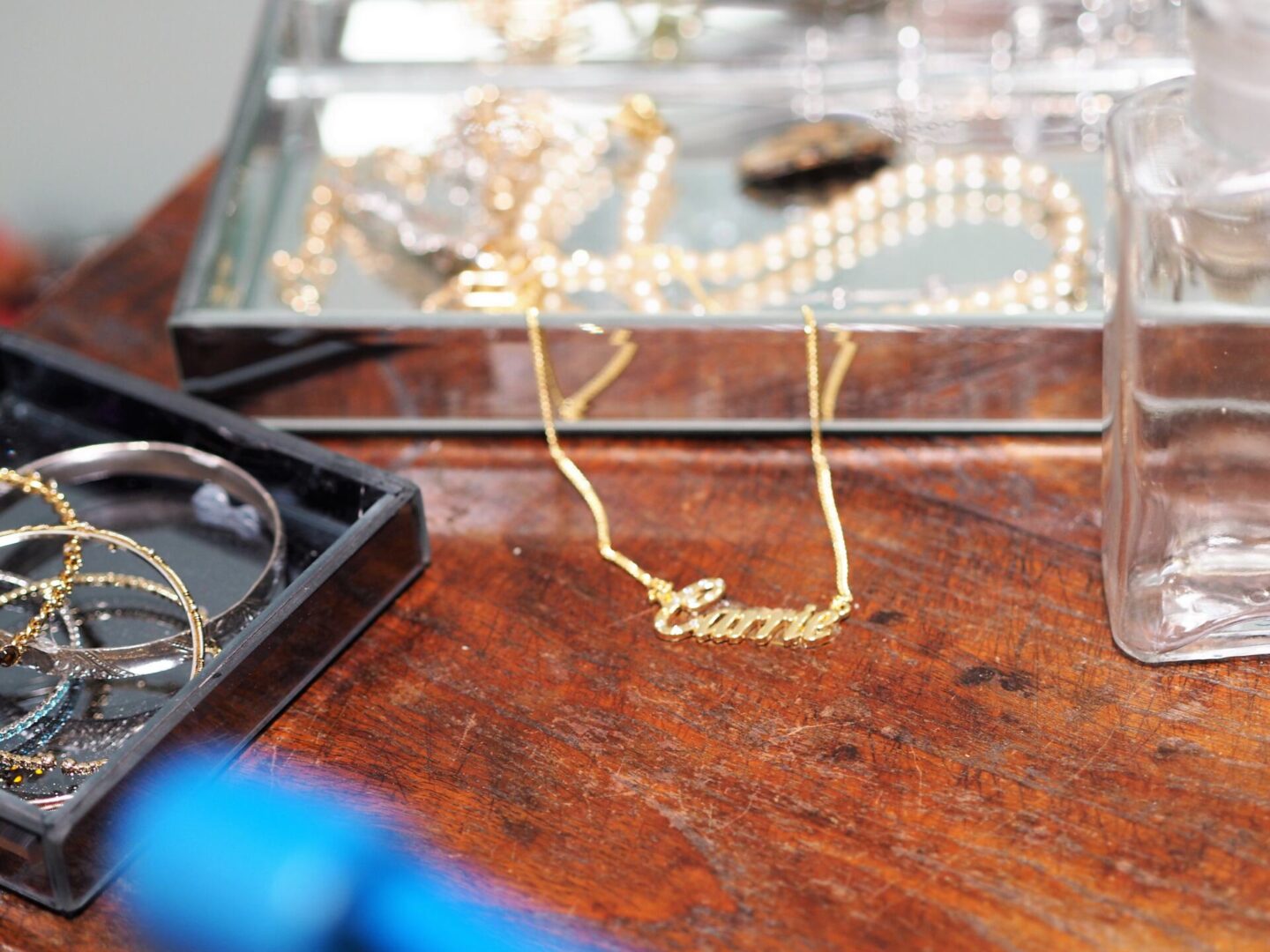 The famous Carrie necklace. Well glued down I must add!
Just like that I was in that famous walk through closet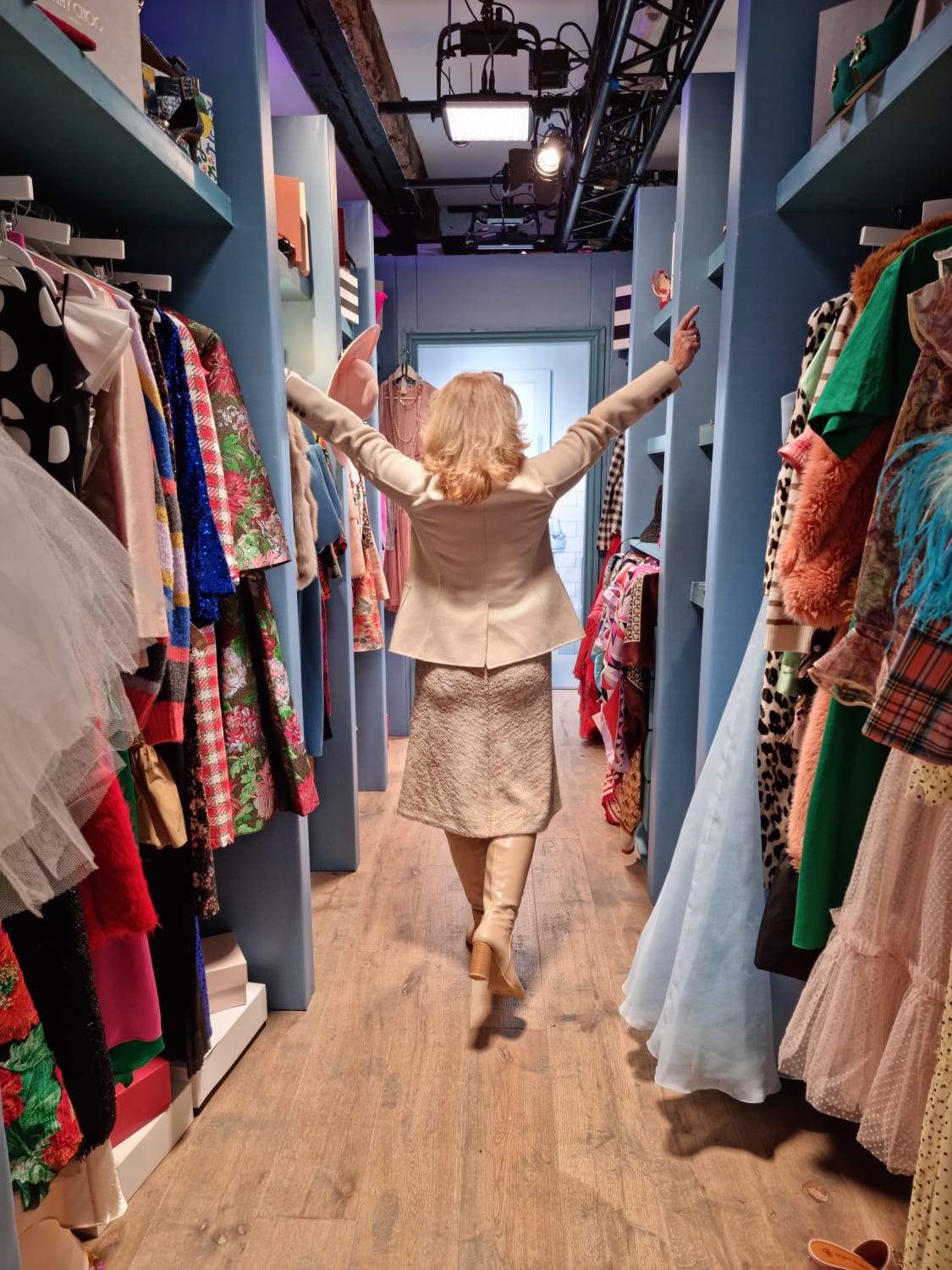 I knew that the closet had been replicated very well. Not filled with all the designer brands of course but I thought the closet was the best part of the tour. I had a lot of fun browsing at it all even though there were hundreds queuing to take a look behind me. I soaked up as much as I possibly could.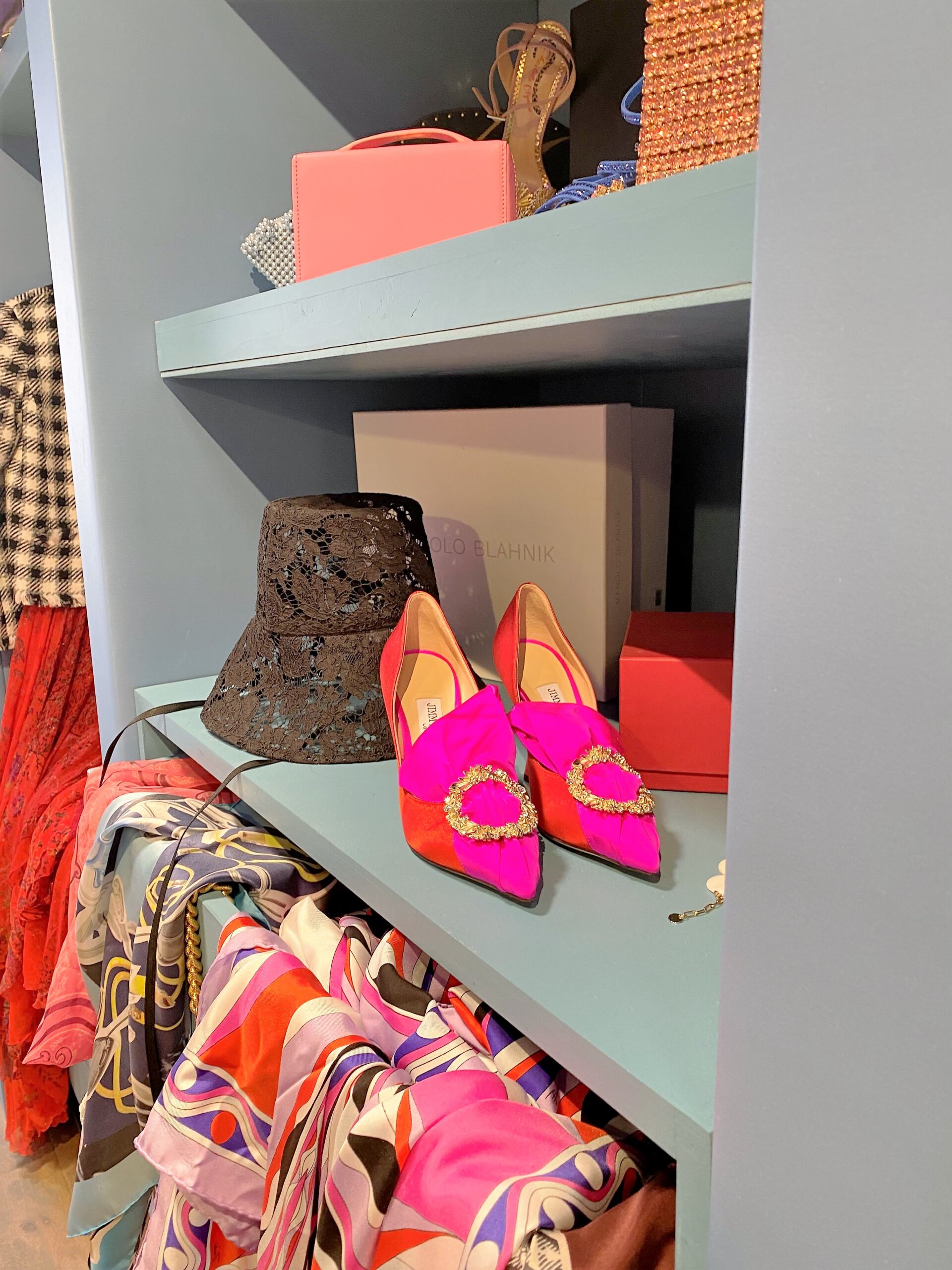 I really enjoyed the tour of Carrie's apartment. I was sad that at the end of the closet where the bathroom should have been it was just a wall with an image of a bathroom. That let the tour down I thought. After Sara and I headed into Covent Garden for a browse. It was soooo busy! I have never seen Covent Garden like it before. And sadly it was raining but it was lovely seeing how festive it was. But the tour, the whole day out was great. There's nothing like a mother/daughter day out.
Click below to watch the film!
If I don't post on here between now and Christmas, have the best possible time that you can. Praying we don't go into lockdown as I write this. Best wishes and love to you all xx
Keep you and yours safe and well xx
---
Please be aware that there are affiliate links included in this post at no cost to you if they are clicked on
---
Thank you for stopping by!
Come back for more. Click on the subscribe form below
YOU MAY HAVE A FRIEND THAT'S INTERESTED IN THIS? PLEASE USE THE SHARE BUTTONS
XO LAURIE
Subscribe for the latest updates!