Roman Originals never fails to please. There are some beautiful new items on the website for this autumn/winter and if you're ever wondering what to wear, especially for a special occasion then Roman is one of the first places to look.
I've been wearing Roman for a good few years, it doesn't date, the quality is excellent and I have many items that I wear year after year. I'm sharing three outfits here that caught my eye. There's even more on my YouTube film. I will leave that down below at the end of this post for you.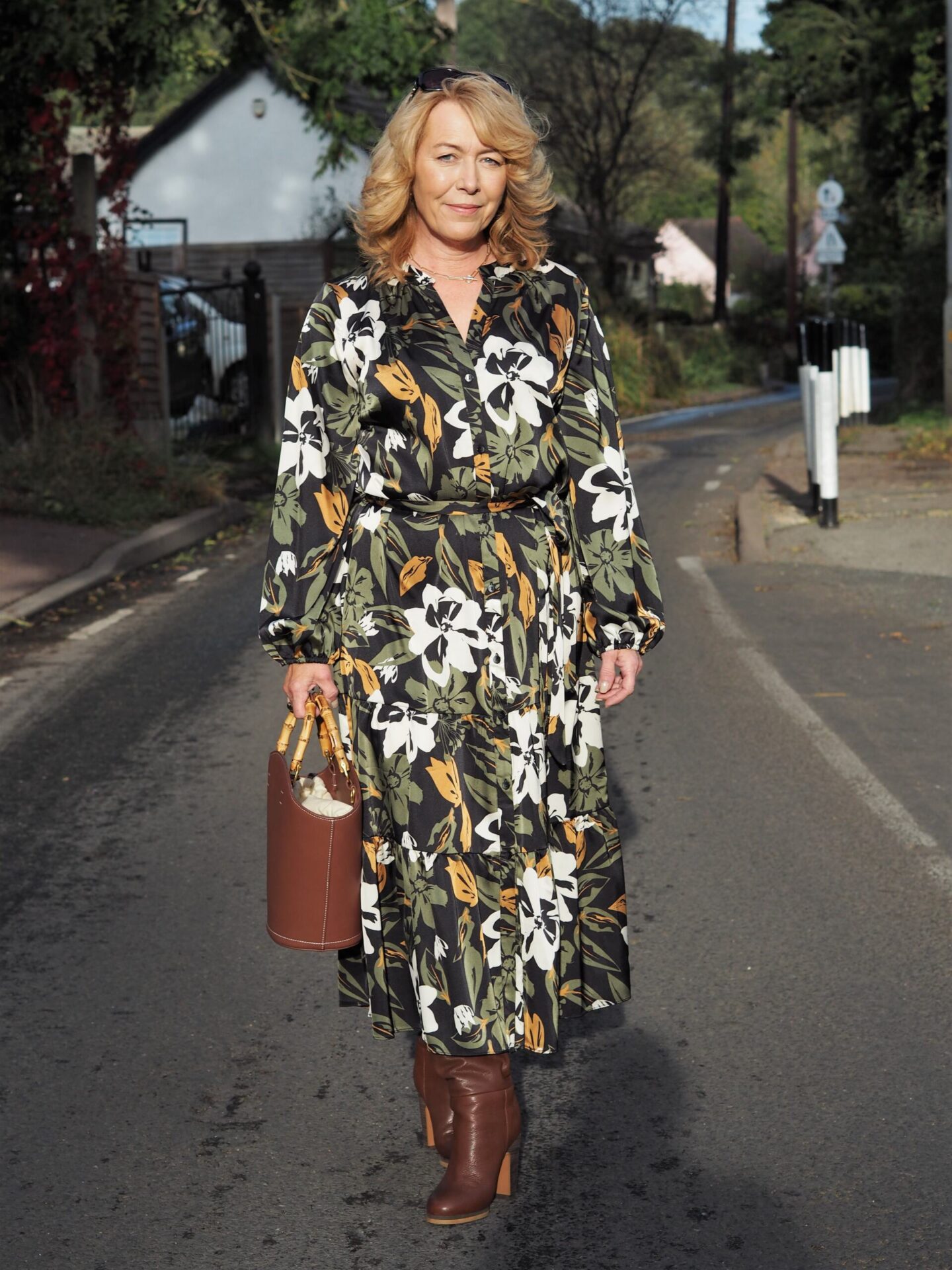 I'm sharing two dresses in this post. Worn a few times already, both don't require ironing, and they don't crease throughout the day. I can vouch for that. If I need to get out the door quickly in the morning the dresses will be waiting for me and that makes me happy. No need to wonder about what to wear, it's there ready for me. No faff.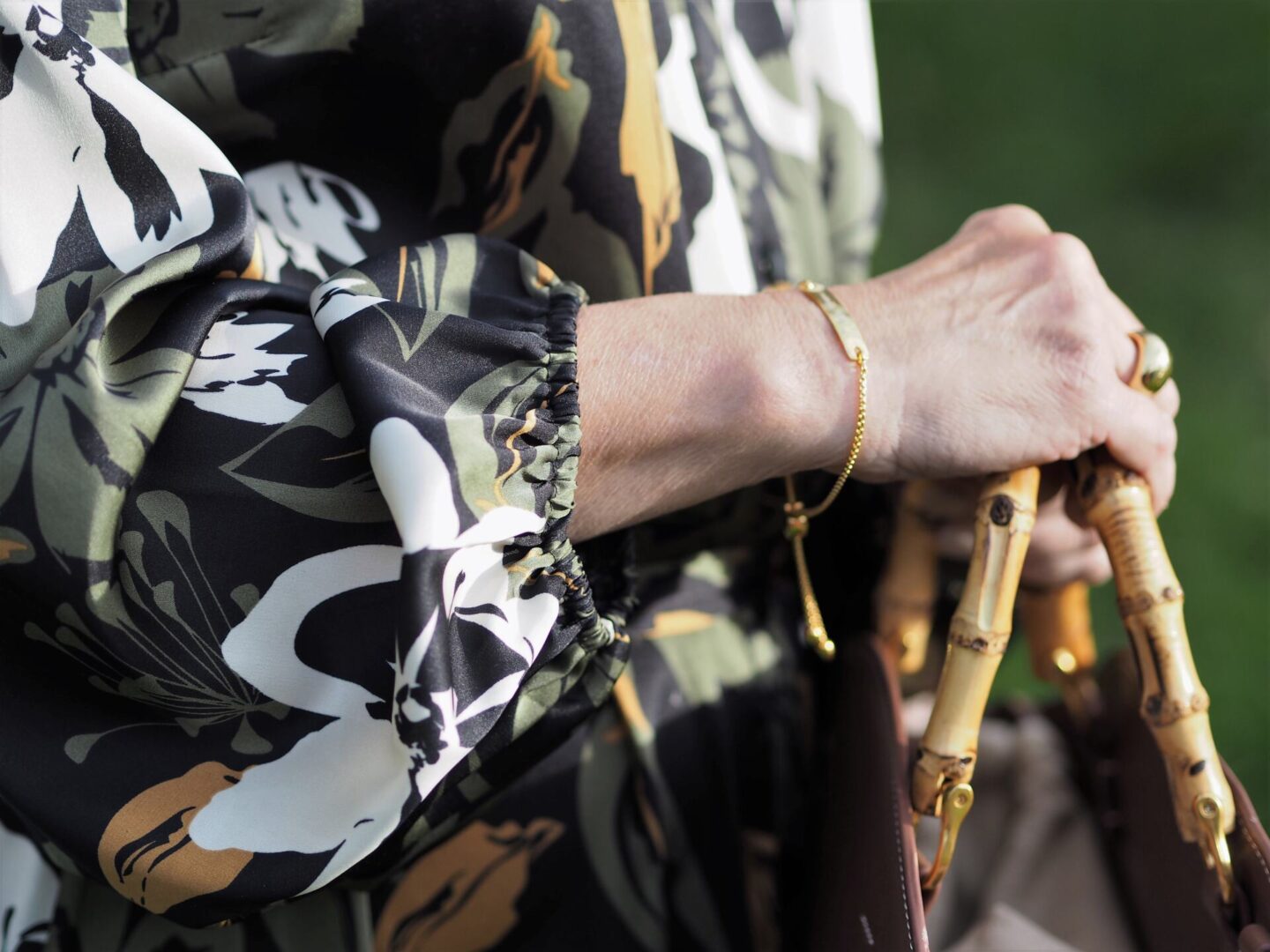 I just love the print on this dress. All the autumn colours but that pop of white to brighten it up. Easy button through with a self-tie belt ( dress up more with a wide belt ) and soft elasticated sleeves. I'm always pulling my sleeves up when I'm indoors!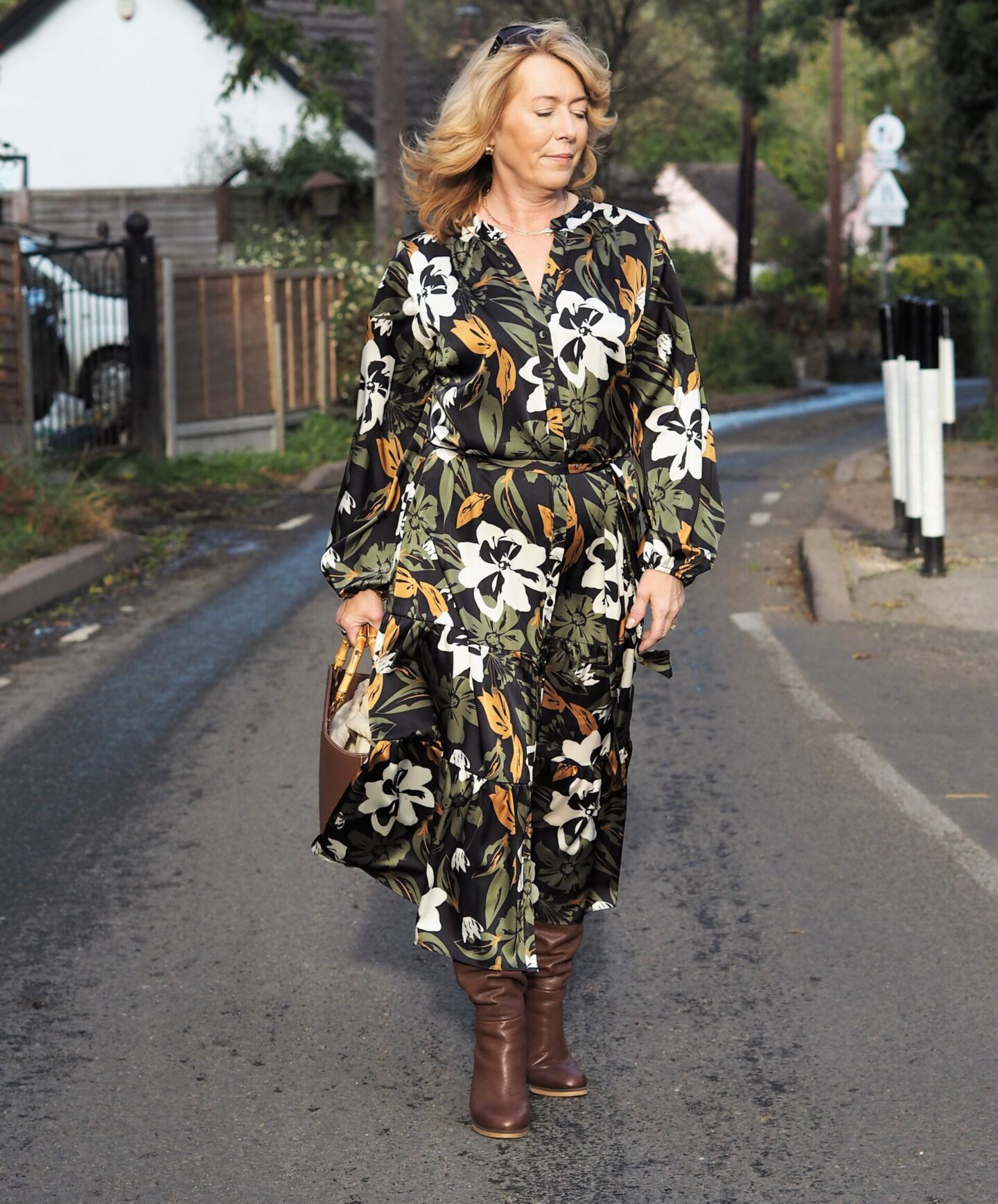 With the sun shining you can see how the white in the dress really stands out. I also like the orange tones. I've paired the dress with tan accessories here but I've also worn the dress with black. I think I'm wearing black with it in the film, but I really like the tan mixed with the orange in the dress.
The weather has been amazing, hasn't it? My S.A.D hasn't even kicked in yet and I'm feeling blessed. The later it starts the quicker it will finish. Low sun means it's harder to take photos though. I wonder if my blogger friends are finding it difficult too?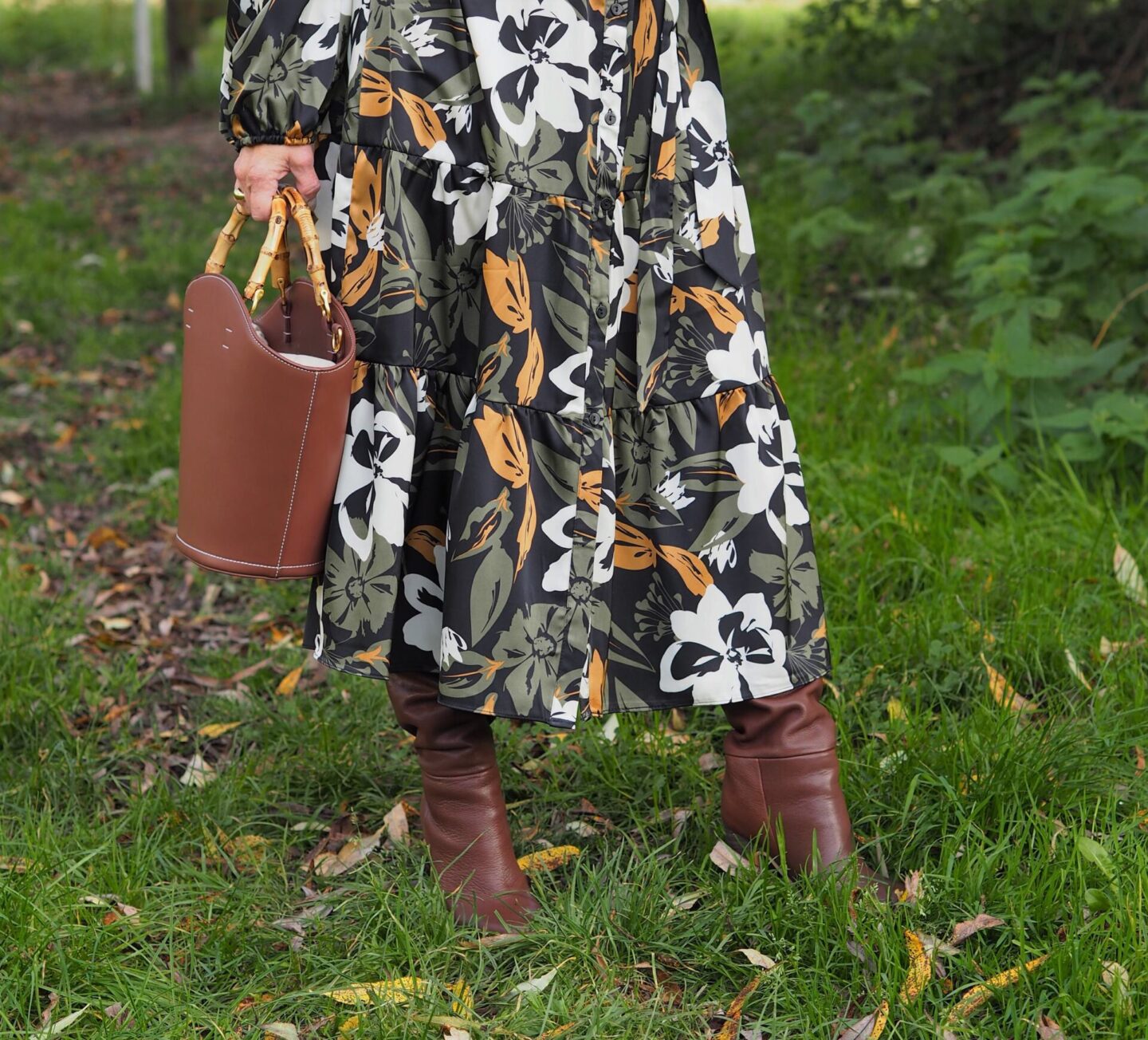 A double-tiered hem at the bottom of the dress is a nice finishing touch. When it's colder I will wear a full slip underneath and a long belted cardigan will pair with it well too. I'm happy to be wearing my bargain find Chloe boots that I bought at the beginning of the year. You will be seeing them a lot!
The bag unfortunately is sold out. But I've just found a really lovely bamboo handled raffia bag in brown on eBay. If you're a regular here you will know that I use my navy one through winter. I might just have to buy at that price!
Shop The Look
What to wear when you want to feel cosy!
As I was saying, Roman items that I have come out year after year. I've had these trousers for over three years now. I also have them in black and they work well with this jumper too.
Roman are renowned for their super soft snuggly jumpers. I will be wearing this one from last year again and they have re-launched it due to popularity. The newbie here is just so soft I like the colour blocking and the length of this one, there's also a small slit on each side of the jumper.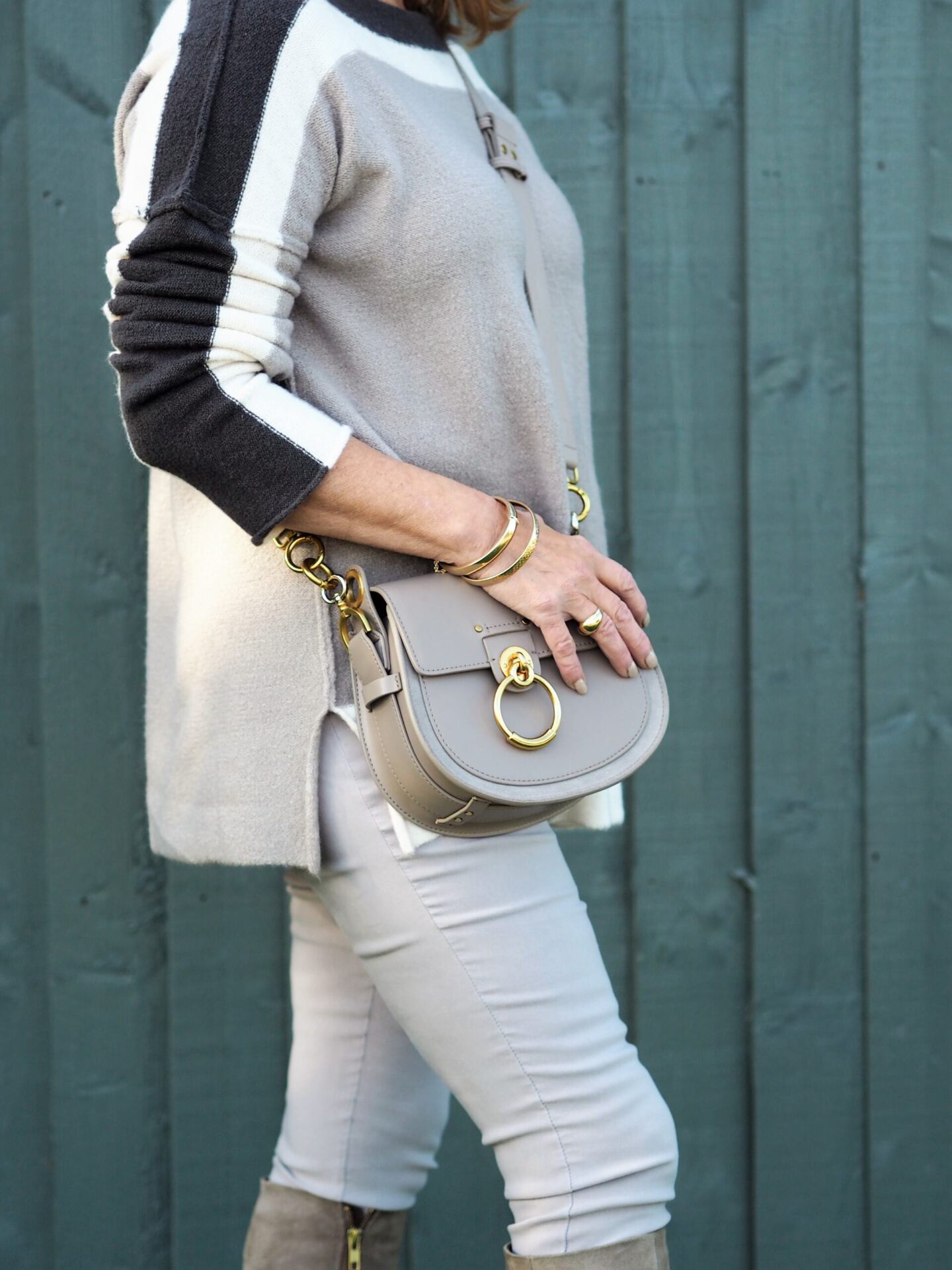 I've chosen to wear my knee-high boots with the trousers. A signature neutral look, the trousers look great with ankle boots or shoes too though. I've never found another trouser style like these. They're like leggings in a trouser material Super stretchy and they hug you in nicely. A smart legging if you like.
My Chloe dupe bag is holding up to lots of wear. I've been really happy with it. I love any Chloe design but not the price!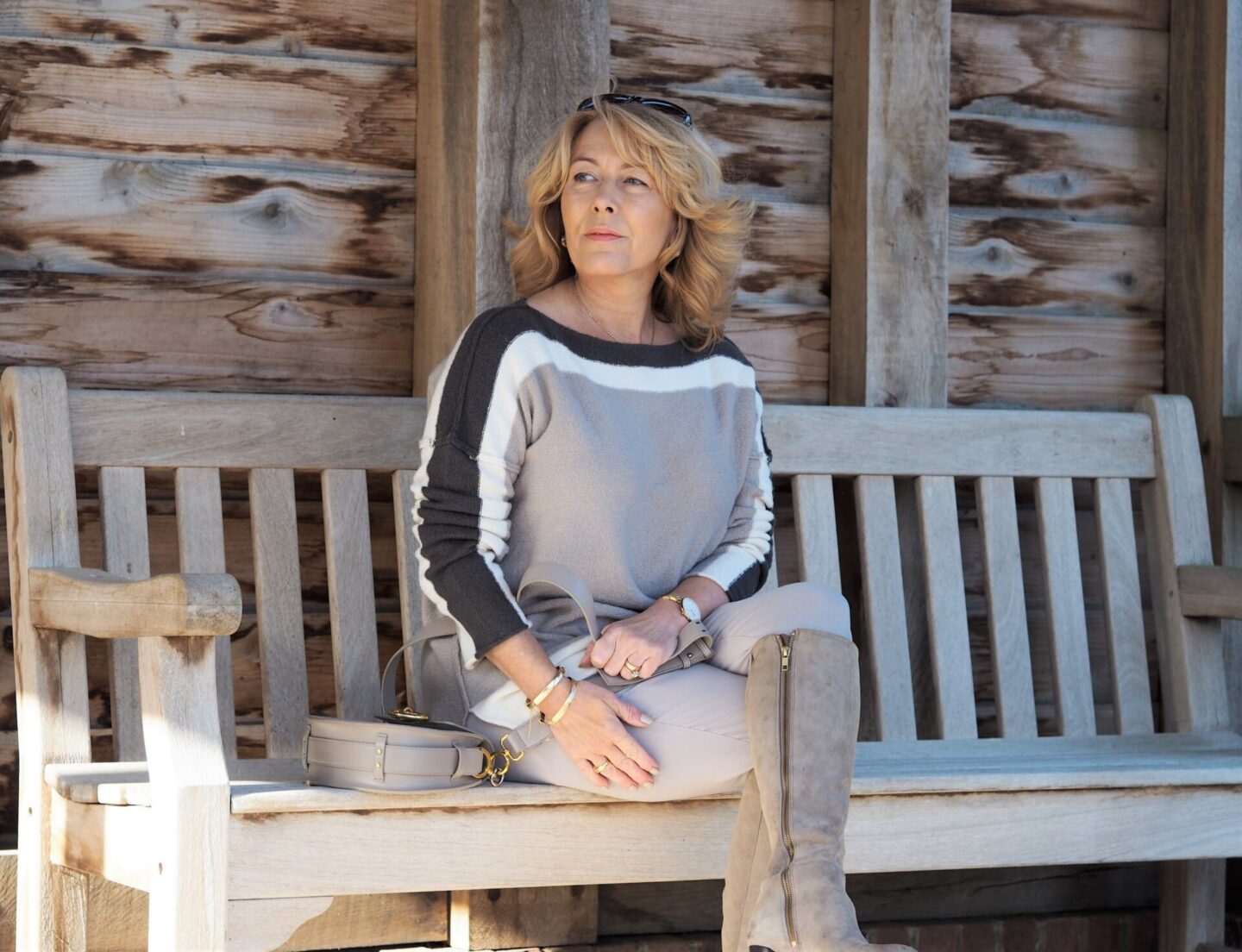 Shop The Look
A floral maxi dress is a must have isn't it?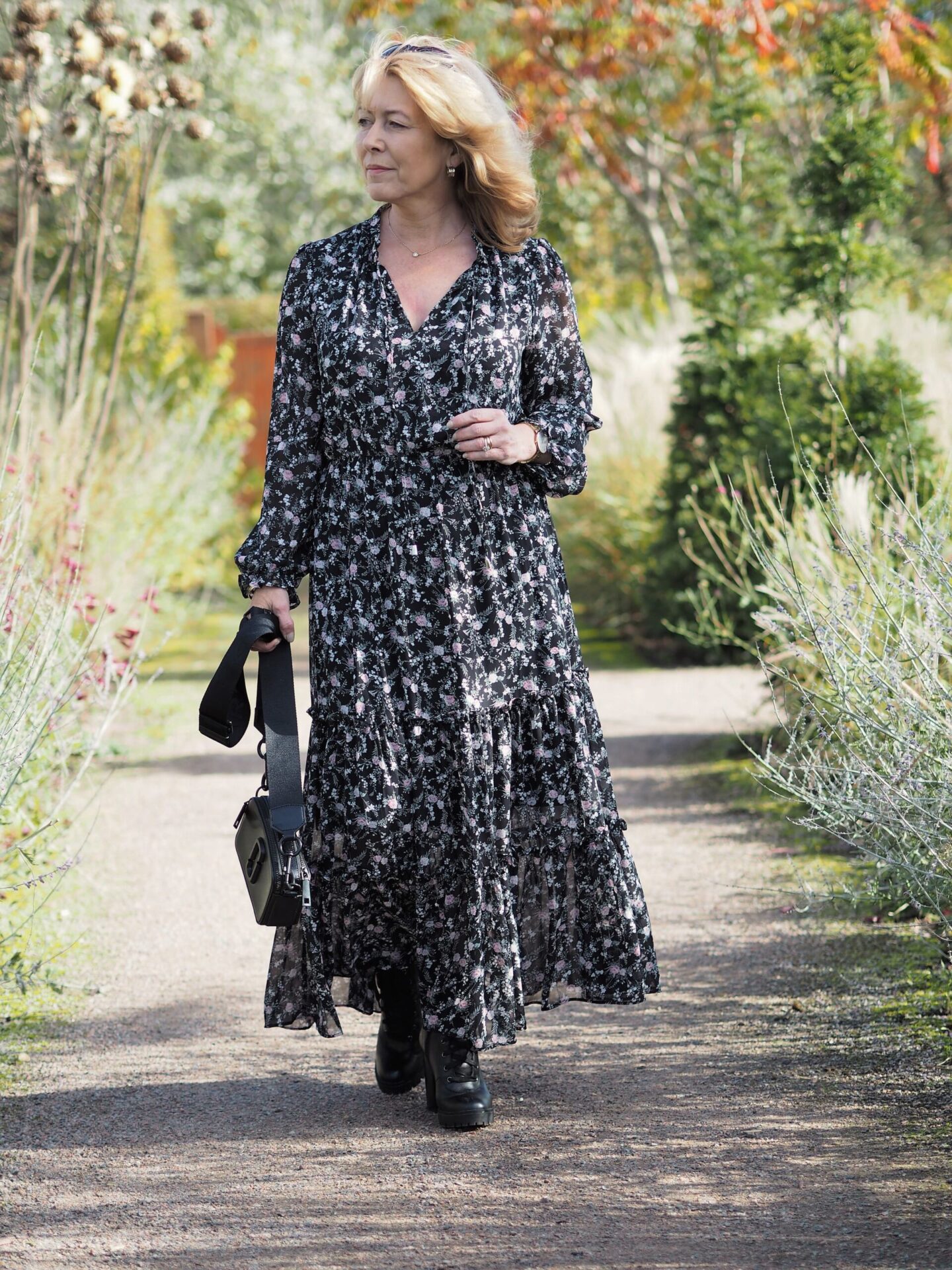 Pink and black is not normally a colour that I would put together but this ditsy print really caught my eye. A feminine dress, floaty but heavy enough for the colder months with its extra lining.
I've had to wear high heels with this one. My 5'2 frame can just about get away with it. Again, this has been washed, put on a hanger and it's good to go again. I love to travel in outfits like this. I wore it on a visit to London and got out of the car crease-free. Simple.
I will say that this dress looks better with a belt to accentuate the waistline more. I forgot to add mine before heading out to take photos.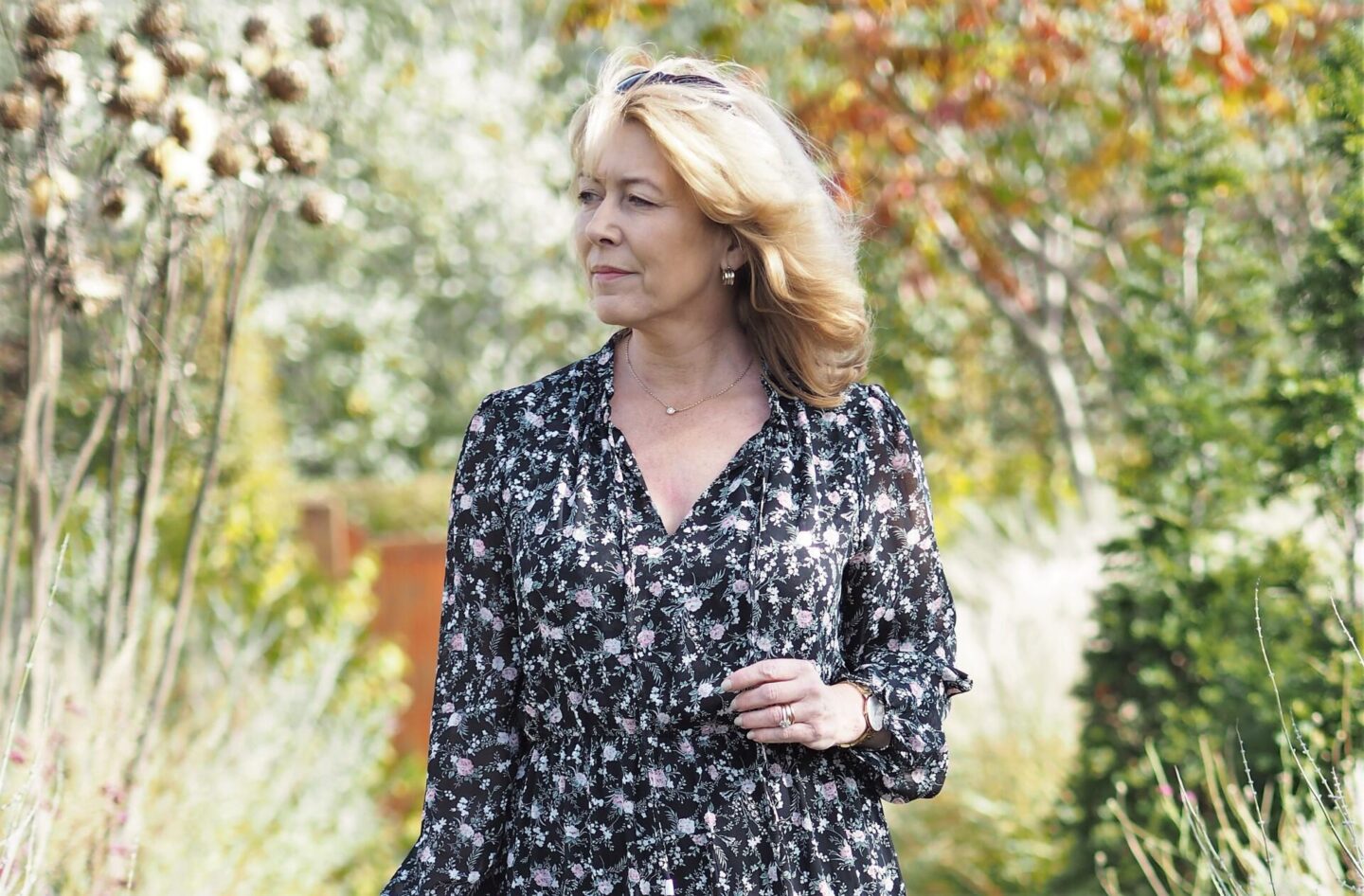 I was chatting on film about how nearly all of my newest items have got round collars. A trend? or have I subconsciously just chosen these items? The first dress is also round collared too and you will see in later posts that I have a fair few items like this, this year.
Again the sleeves have a soft elastic but this dress has a frill added. I think the frills on the dress soften the black too. The collar is also frilled on this dress but it's hard to see.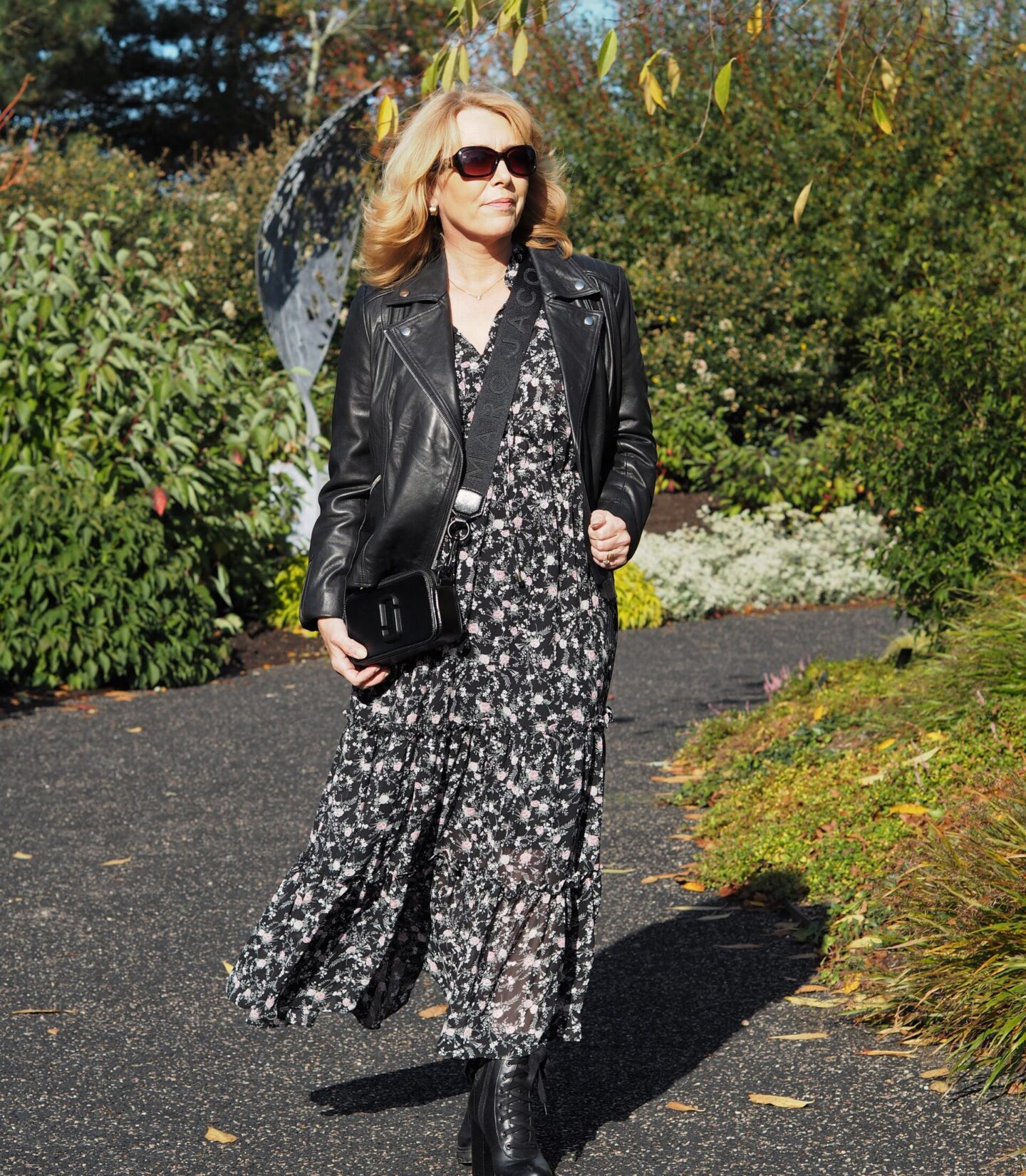 I have to say, the dress looks great with a biker jacket. I think it would look great with a belted blazer too. I have a new black blazer on way, so I will share that later. I'd love to hear which outfit is your preference here. Do you like to wear dresses often or do you prefer more comfort with separates?
Both the leather biker and the Snapshot bag were purchased late last year and have barely seen the light of day until now. This time last year we were heading for another lockdown. I was still pretty much locked down though. I'm still waiting to go into the hospital for my vaccine. Hopefully, it will be soon with our rising numbers. I'm refusing to be a prisoner again.
Shop The Look
Watch my Roman try-on with more outfits
Keep you and yours safe and well xx
---
Please be aware that there are affiliate links included in this post at no cost to you if they are clicked on
---
Thank you for stopping by!
Come back for more. Click on the subscribe form below
YOU MAY HAVE A FRIEND THAT'S INTERESTED IN THIS? PLEASE USE THE SHARE BUTTONS
XO LAURIE
Subscribe for the latest updates!