I was recently invited to try the Damart brand. I remember mum talking about the Damart brand years ago. I don't know why but I thought it was all about thermal wear and Winceyette? How wrong was I? Take a look at some of the gorgeous items Damart has to offer on its Instagram account. It certainly had me sitting up.
Damart Look One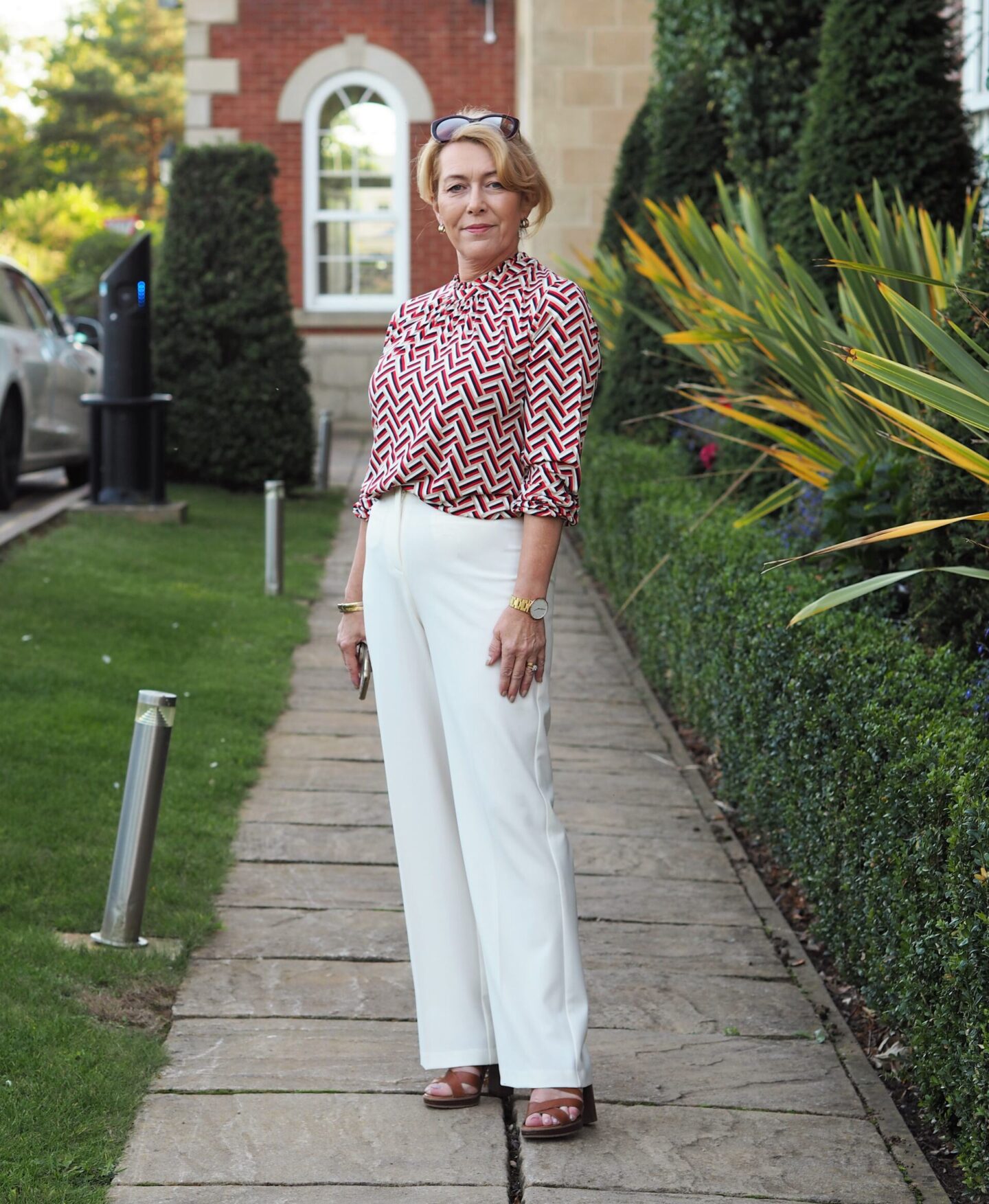 The first outfit, this chevron stripe long-sleeved T-shirt as described on the website. I wouldn't call it a T-shirt at all. It's far weightier and made of jersey. It's really well made and I think you could do a lot with this top. Look at all the colours you can mix it with. Navy, (it looks great with jeans) white/cream or the camel that's in the print. I'm chuffed with it.
The trousers are a good cut. They also have a tummy control band across the front inside. I like the kick flare, this style just seems to elongate my legs a little. I'm not giving up my cream hues during the winter months either. I think these trousers will look super chic with a camel or oatmeal coloured knit.
I wore this outfit for my stay at Whittlebury Spa Resort and the weather was gorgeous. I will be swapping sandals for shoes/boots now. The long sleeves have a slight puff added to the cuff.
I have a terrible habit of ruching my sleeves up my arms. You can see that in the first pic. I did it without even realising it!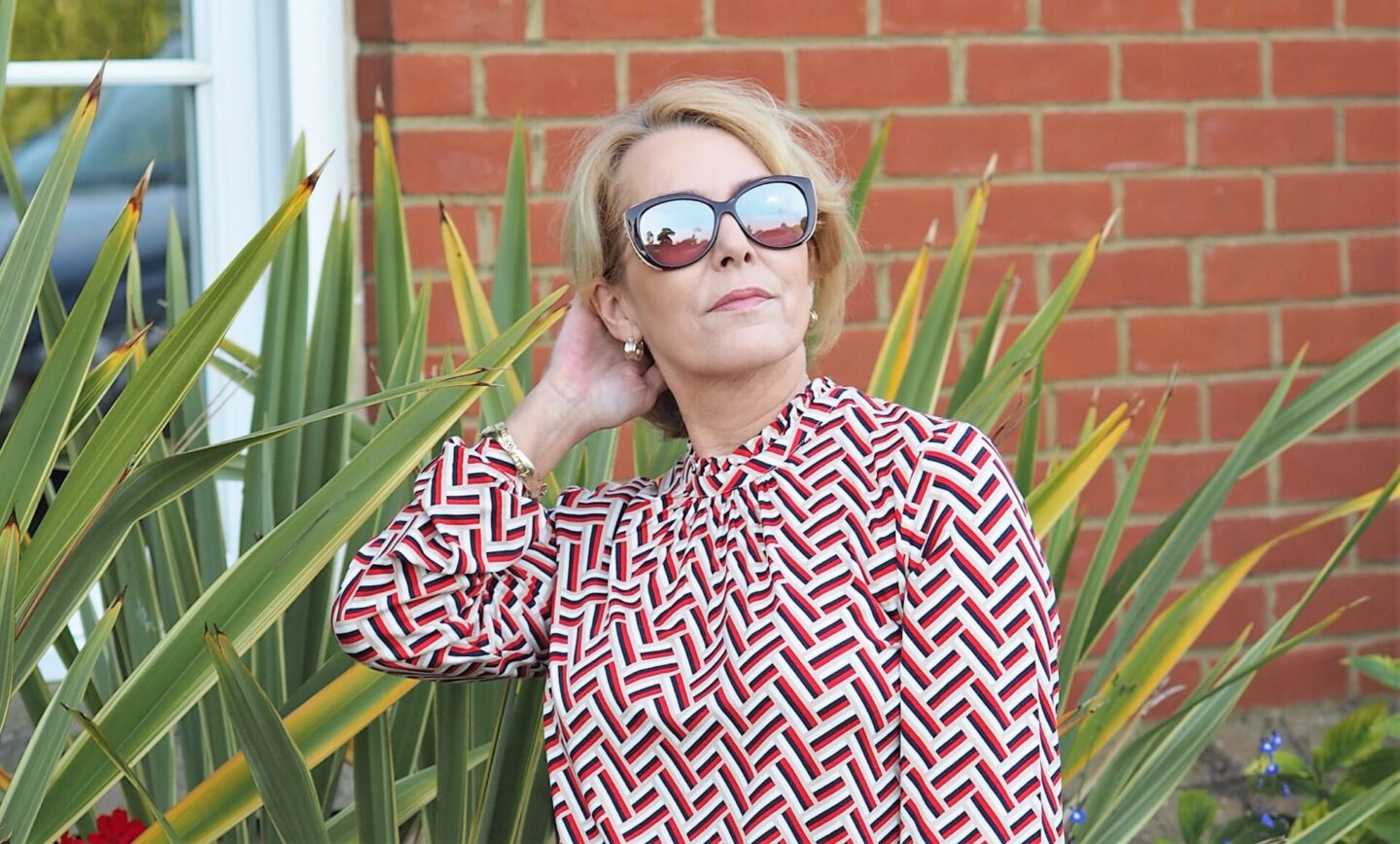 I like the detail on the collar, a slight little gathered hem is a nice finishing touch. It doesn't crease at all. I can vouch for that after packing it in my suitcase. Wash it and hang it. No ironing is a bonus. I think it will look great with a blazer over too and I'm really pleased with it.
Shop The Look
Damart Look Two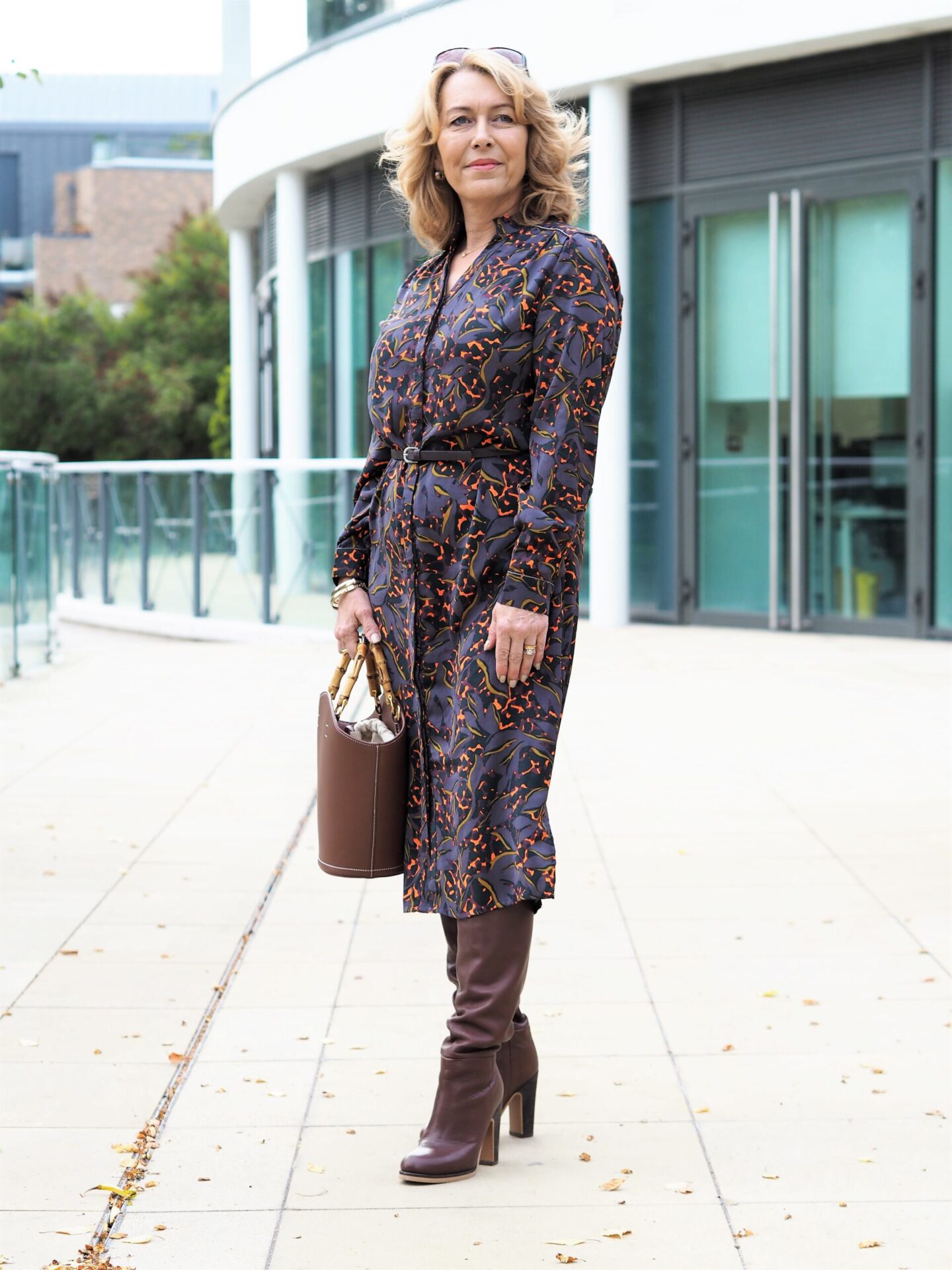 It was the print of the dress that stood out to me. With the gorgeous vibrant orange amongst winter hues, this dress has been worn a lot already. Another Damart crease-free item that I wore in the car just yesterday driving to London.
It's a really easy one piece to wear and I love it. You can wear the sleeves rolled up and secure with the tabs inside. I wore a full slip under it yesterday now that it's a bit chillier and I like the little belt that comes with the dress too. Buttons all the way through at the front and has small side splits. I also like the frilled collar, the same as the top in the first look.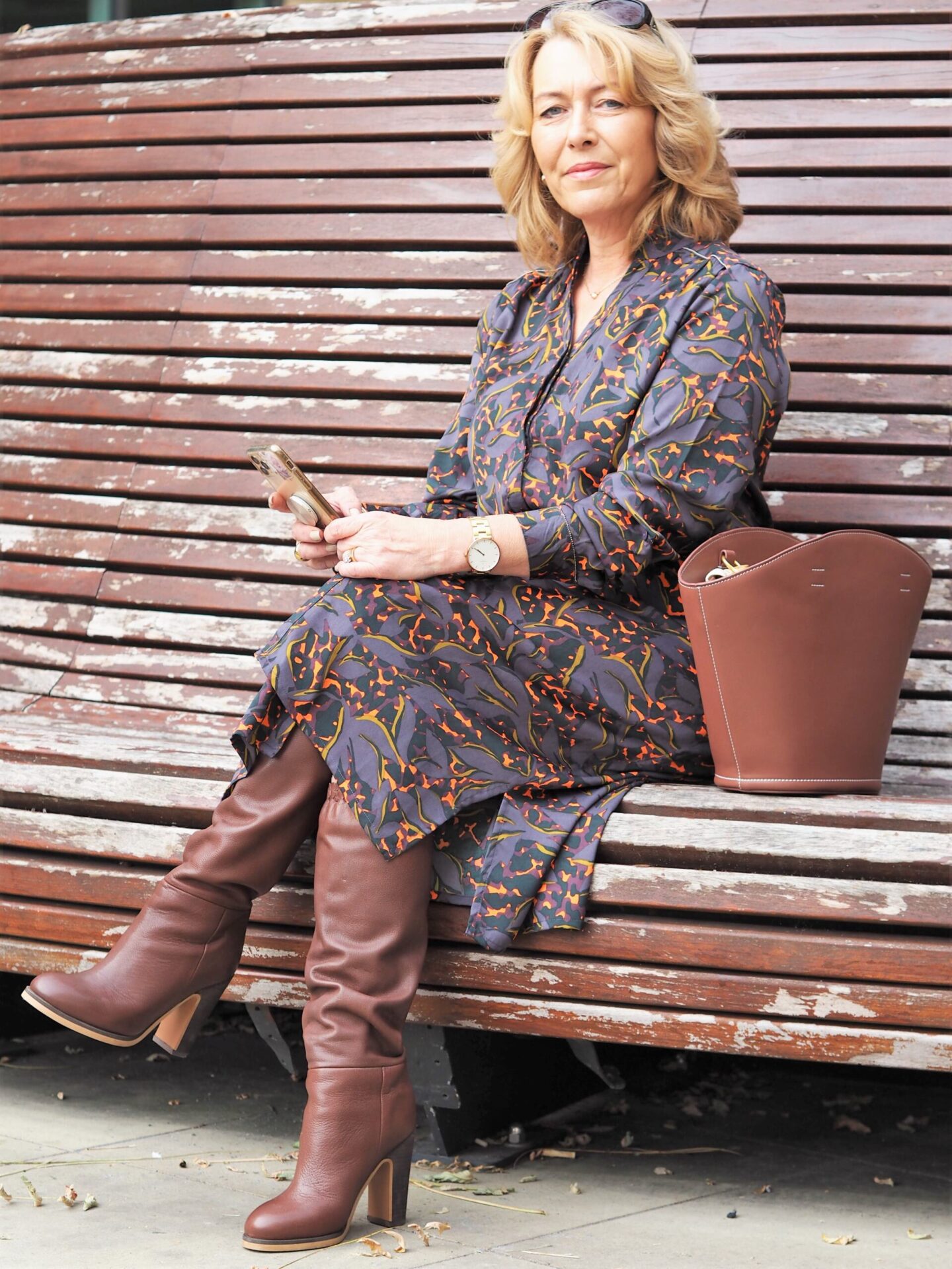 I paired the dress with my new favourite bag and boots that I bought earlier in the year. Sitting in one of my peaceful spaces in London where I've taken many a photo. I'm surprised at how the paint has deteriorated already on my bench!
If you google Damart you can see how at 68 years old, founded by two brothers that specialised in a material that had the ability to keep you warm. It also states that it sells fashion for the senior's market! Come on Wikipedia! ok, yes, I'm a senior but give us women a little more credit than that.
And looking on the Damart website you can see that it's not old and stuffy at all. They have some lovely items and I'm a new big fan. Wikipedia does also state what a strong brand Damart is and I'm not surprised at that. I will certainly be a returning customer.
The only criticism that I do have is that the Damart website needs updating. They've done a fantastic job sharing looks on Instagram but the website looks dated.
Shop The Look
Damart Look Three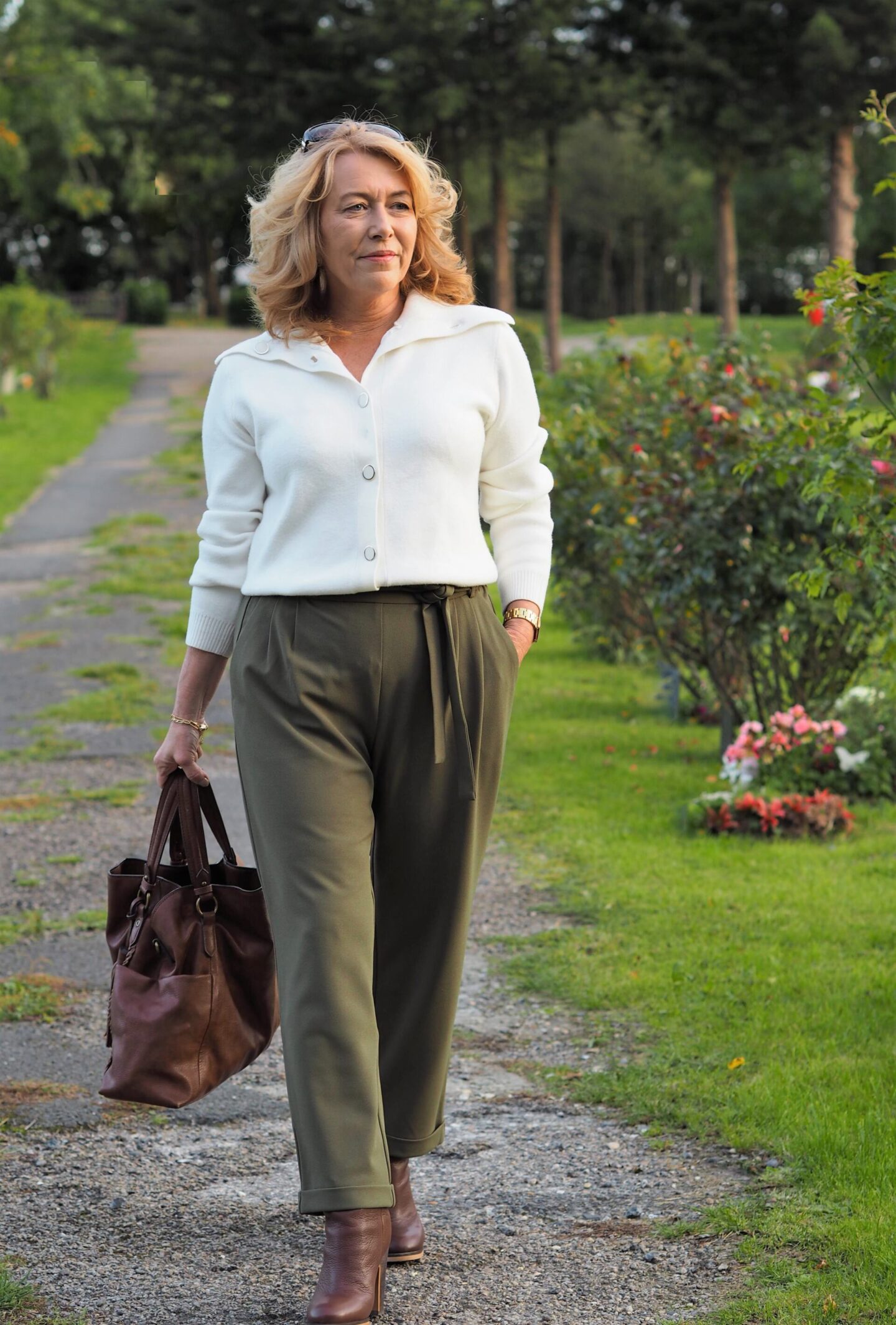 I purposely chose a casual look from the Damart autumn-winter drop. I was a little apprehensive about the cropped trousers but I really like them. Slight pleating at the front, soft elastic waist at the back, a self-tie belt, pockets and a small turn up at the hem. So easy to wear.
Green is the AW21 colour this year, so I was spot on ordering these. Also made of Jersey, they are so comfortable to wear. A great throw on and go pair of trousers.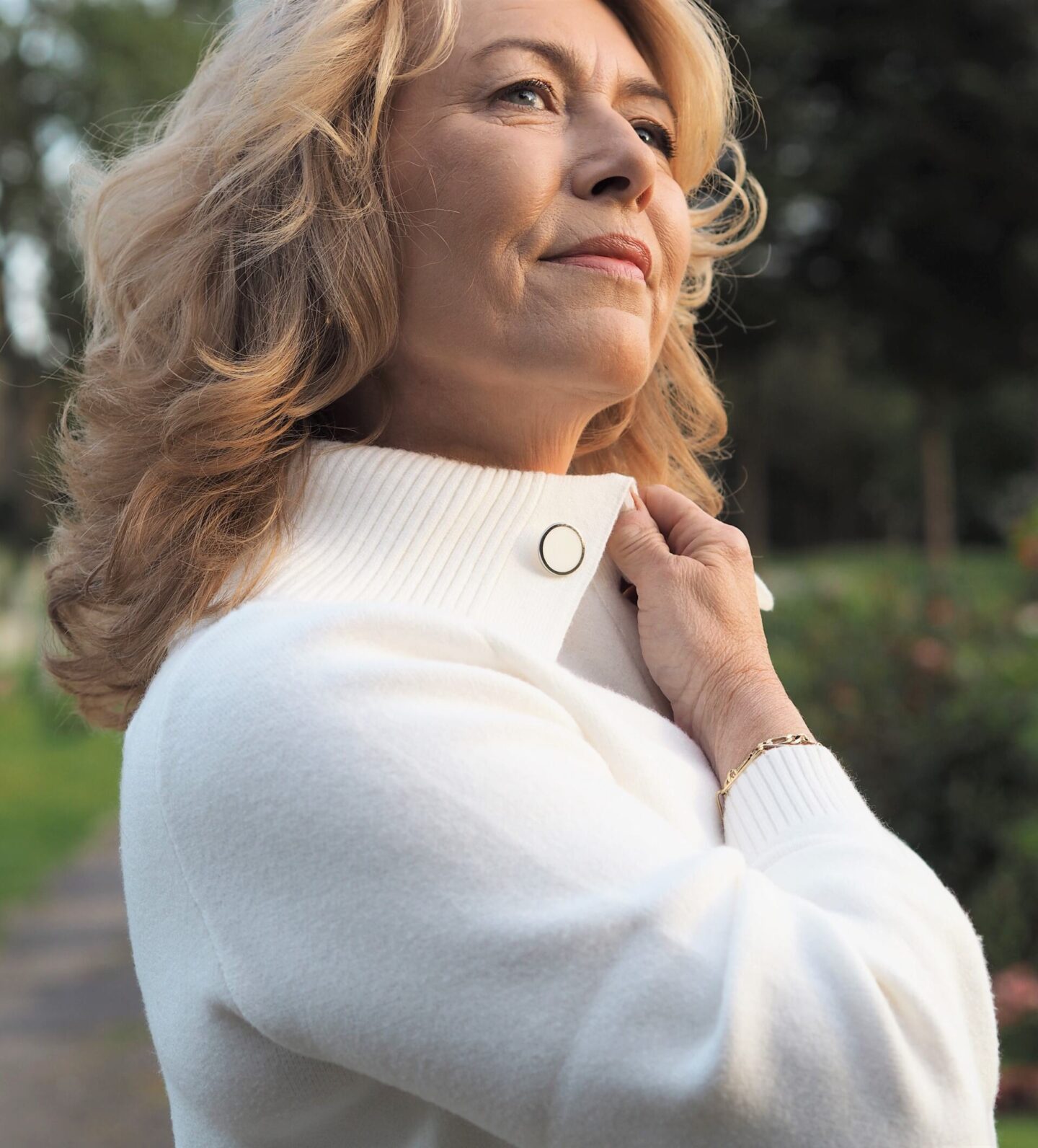 The cardigan is so soft and I like the collar You can do the buttons right up and create a roll neck. This is also available in Navy and I also like the jumper that's featured on the new Damart tv advert. Have you seen it yet?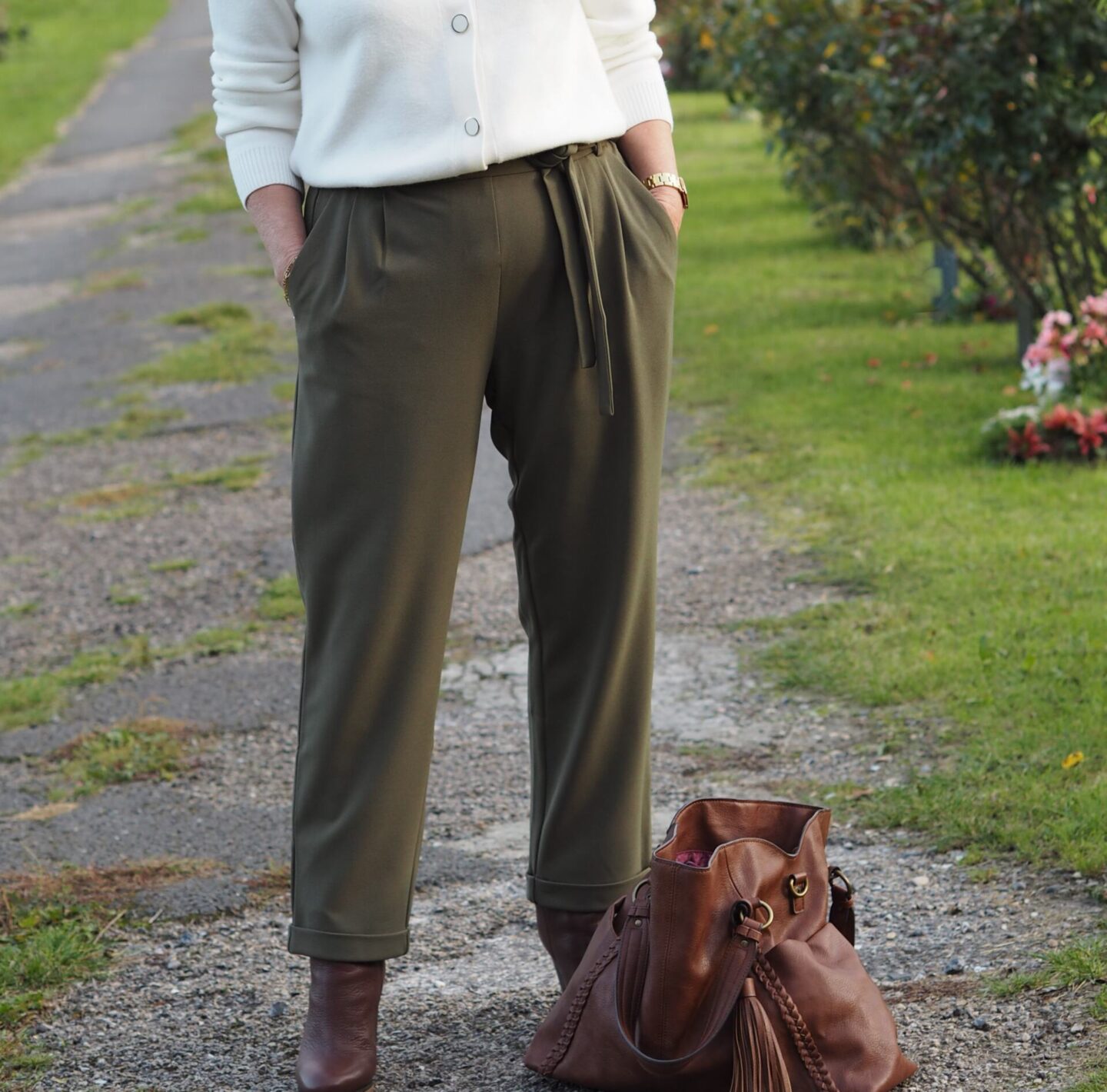 Again I've finished the look off with tan accessories for a more casual look. I think the trousers would look great with trainers too.
So that's my three looks. Which one is your favourite? I did film a try on over on Instagram. I will try and add it below for you. The ivory cardigan also looks great with the cream trousers.
Shop The Look
Do take a look at the Damart brand. I'm really impressed with the items I chose. Damart is well priced for what you receive too. I will certainly be shopping with them.
Keep you and yours safe and well xx
---
Please be aware that there are affiliate links included in this post at no cost to you if they are clicked on
---
Thank you for stopping by!
Come back for more. Click on the subscribe form below
YOU MAY HAVE A FRIEND THAT'S INTERESTED IN THIS? PLEASE USE THE SHARE BUTTONS
XO LAURIE
Subscribe for the latest updates!