I just love finding new fashion brands to share with you and this one excites me a lot. Not only are the clothes gorgeous but the accessories are to die for. Lattelier is a new brand to me but have you heard of it? I'm very impressed with the items I've received and I can't wait to explore this contemporary brand more.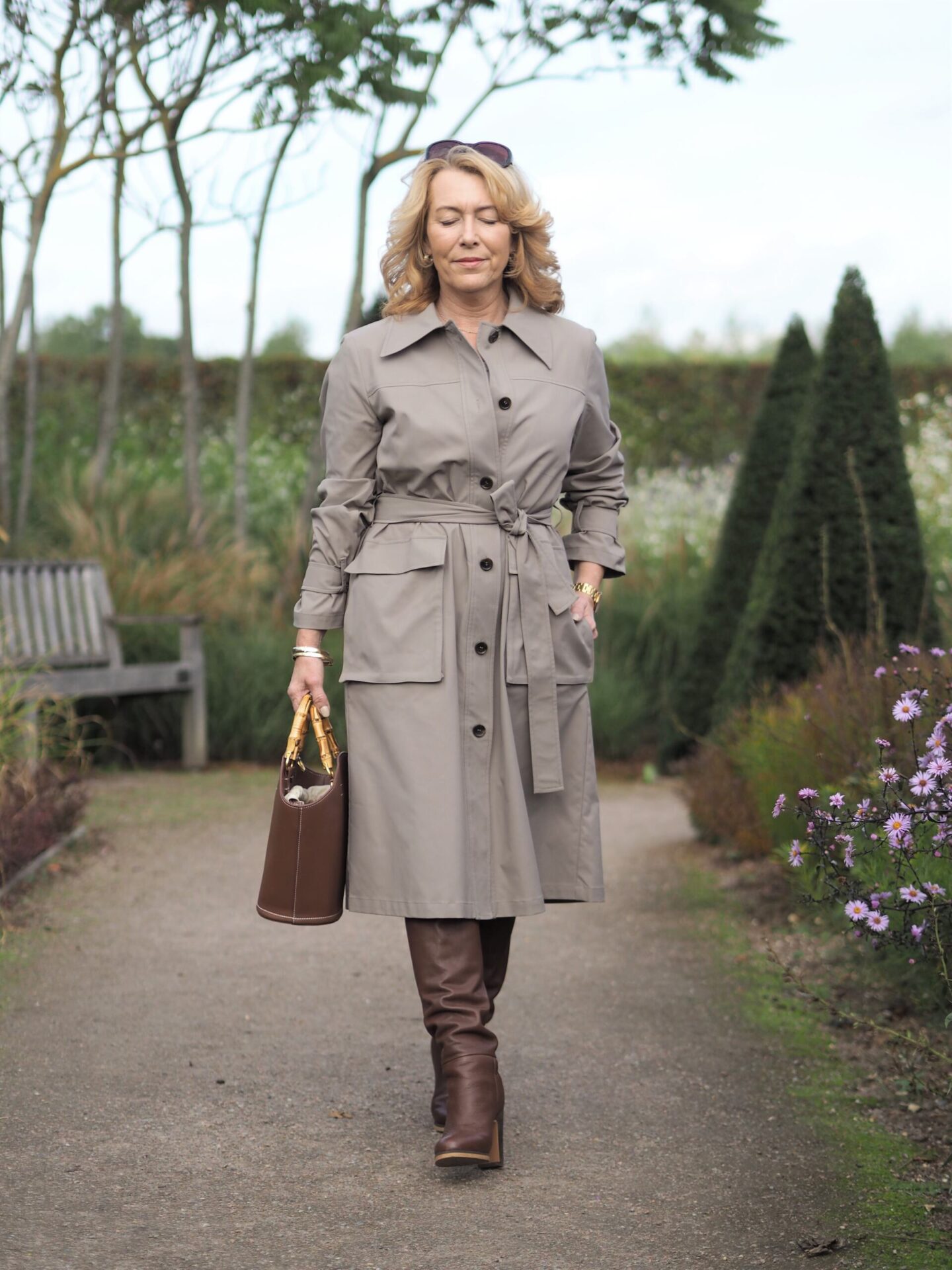 When trying a new brand I always worry that the quality isn't going to be as good as it looks on the brand's website. As soon as I clapped my eyes on the brand it was love. Contemporary, timeless pieces in all the hues that I like to wear.
Then there's sizing. All of the items are very descriptive in the sizing chart and I ordered a size medium for each item. The trousers are roomy but the other items like this trench coat are perfect. You can watch the try-on of all of these items in my latest new in haul to see movement and a more in-depth look at them.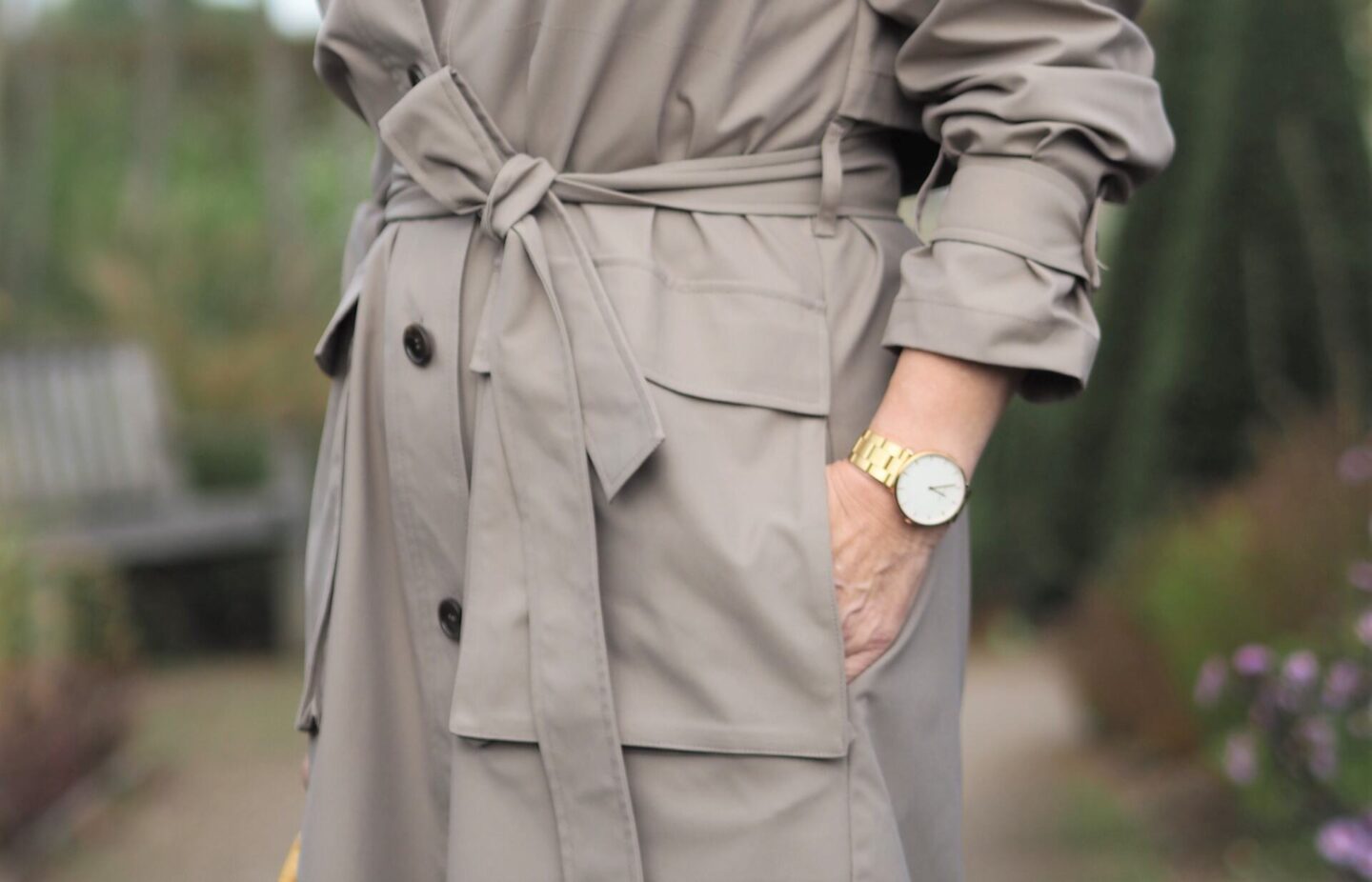 The classic trench coat is brought up to date with oversized pockets and a slightly oversized collar. I just love the colour and the tonal buttons.
There are side split pockets hiding behind the large flapped ones too. Adjustable buttons to the sleeve cuff too. I've tightened mine because sleeves are always lengthy on me and I prefer to ruche them up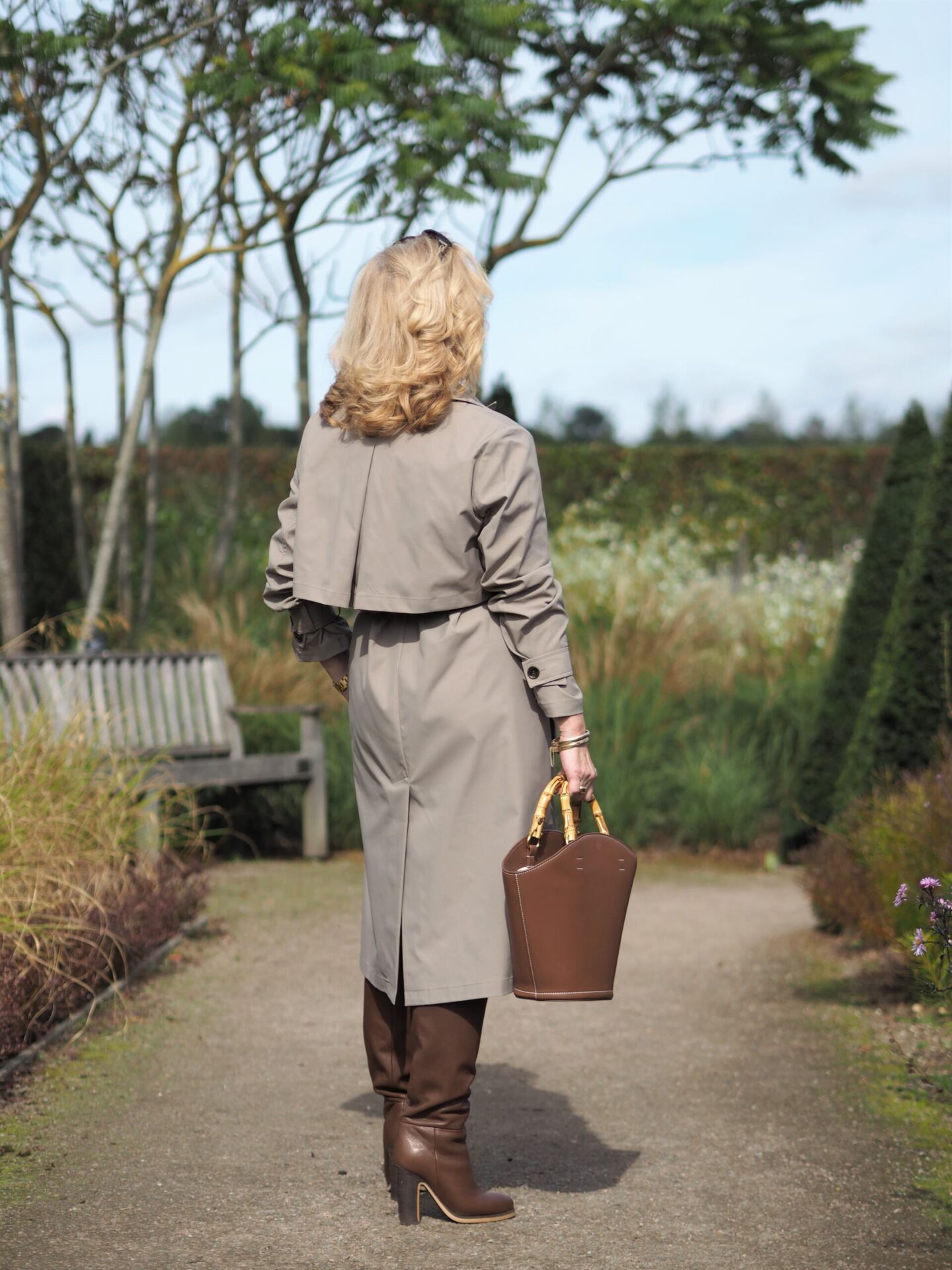 There's plenty of drama to the back of the coat too. A deep pleat allows for plenty of movement but really adds a little extra style I think. Makes your waist look nice and cinched in too!
The Lattelier brand isn't overly pricey either for such good design and quality. The coat is priced at $118 but Siri tells me that's around £86.00 There's free shipping worldwide for orders over $200 and my delivery was very swift too.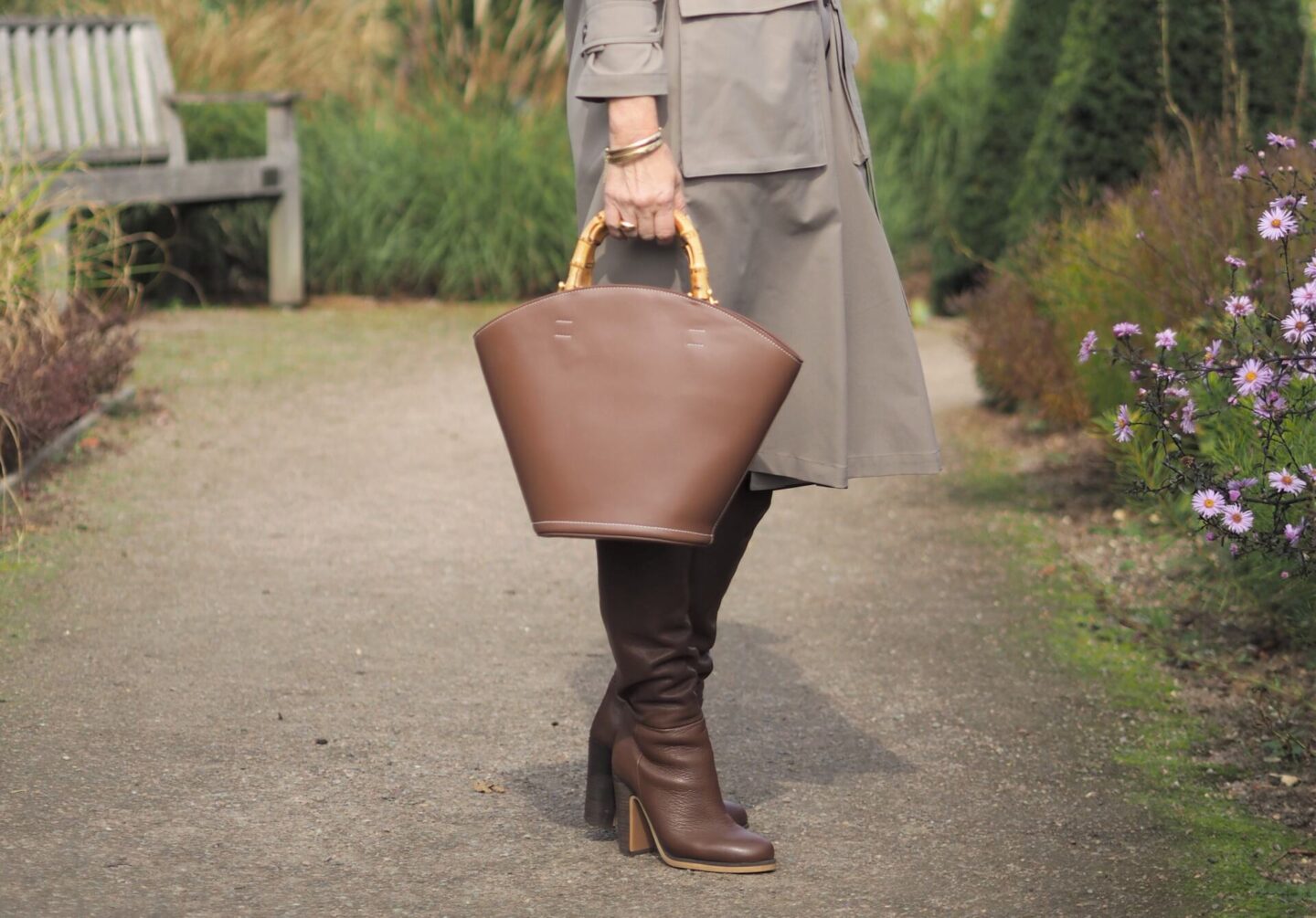 I was very excited to receive the bag. I've been looking for a round handled tote for some time now. Finding this one with the bamboo handles was a bonus. It actually has a drawstring innard too. The leather is top quality and I can tell you now, you will be seeing this bag a lot through the coming months.
I have a black tote on my wish list. In fact, I have a few on my wish list. They are stunning. It's not until you have the item in your hand to accept good quality buying new brands online but take my word for it, the quality is exceptional.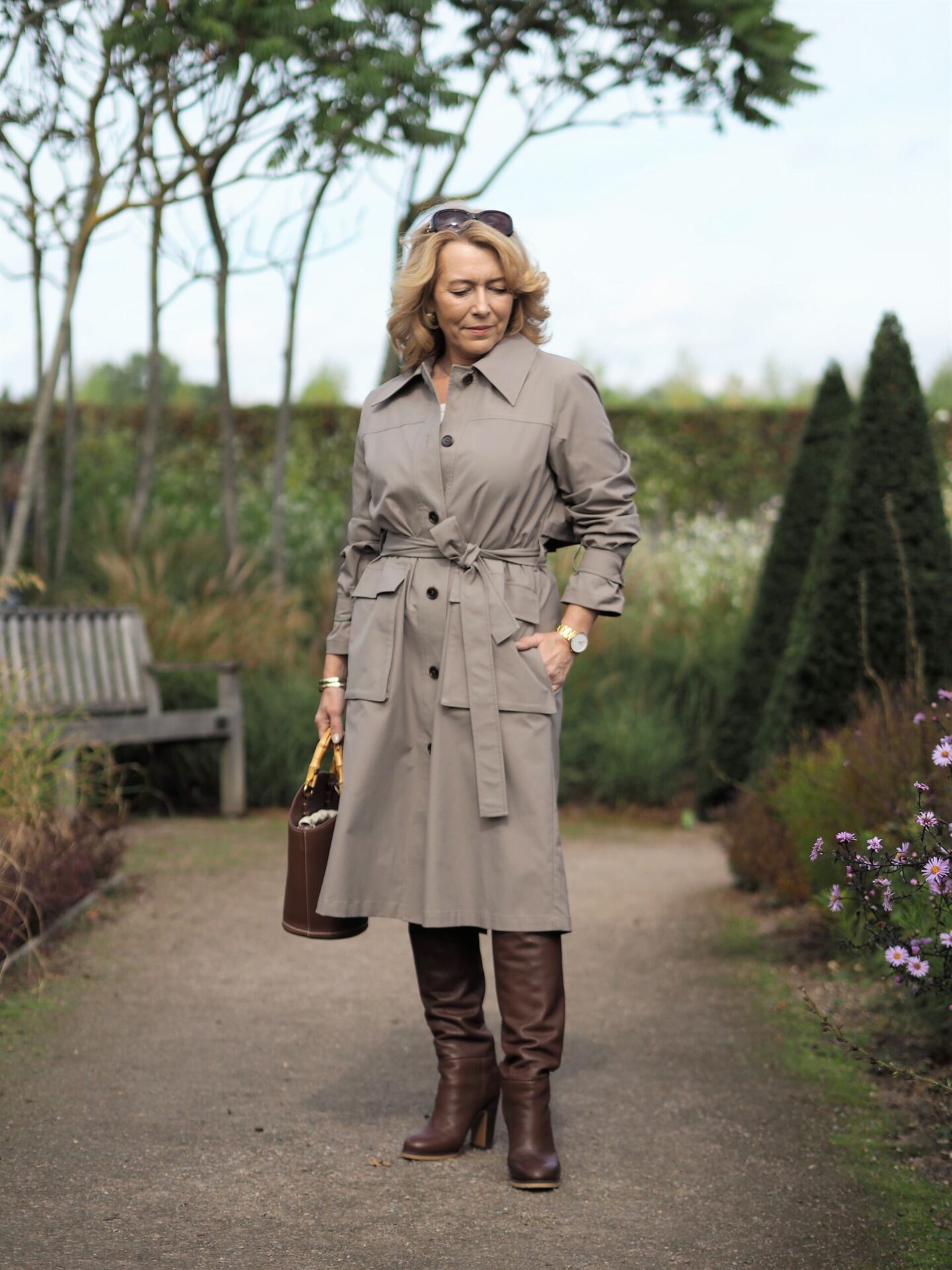 I've tied the belt the new trend way. It's the little things that keep a look more updated, isn't it? The bag is a perfect size, and at last, I get to wear my Chloe boots again. I think the boots and bag pair perfectly together.
Shop The Look
Lattelier look 2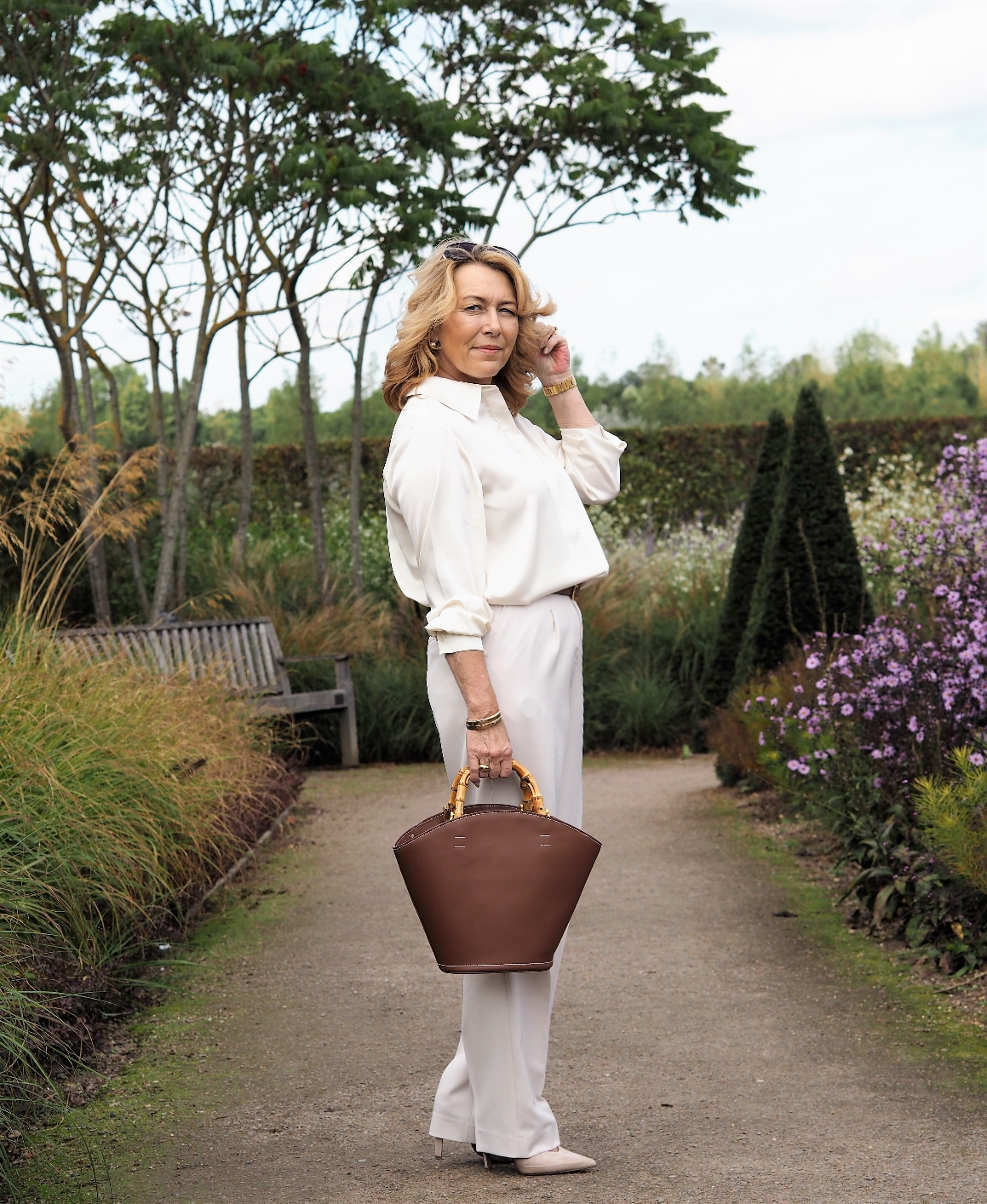 Have you noticed that the trousers trend is far from the skinny variety that we've got used to in the past god knows how long? High waist's and a much wider leg and pleats! Yes, a lot of the trousers available have pleats. I feel that this style is less forgiving on me, because of my height and I've found it hard to find the right fit.
I have a 15% discount code for you. Use margaritaz15 for discount!
These trousers seem to fit somewhere between high-waisted and mid-waisted. This made me very happy! Two neutral items here added to my wardrobe that are going to work hard. Again, I chose size medium and they are roomy. My normal size is 10 The material is good as is the finish. How do you feel about pleated front trousers? I'd like to hear your thoughts.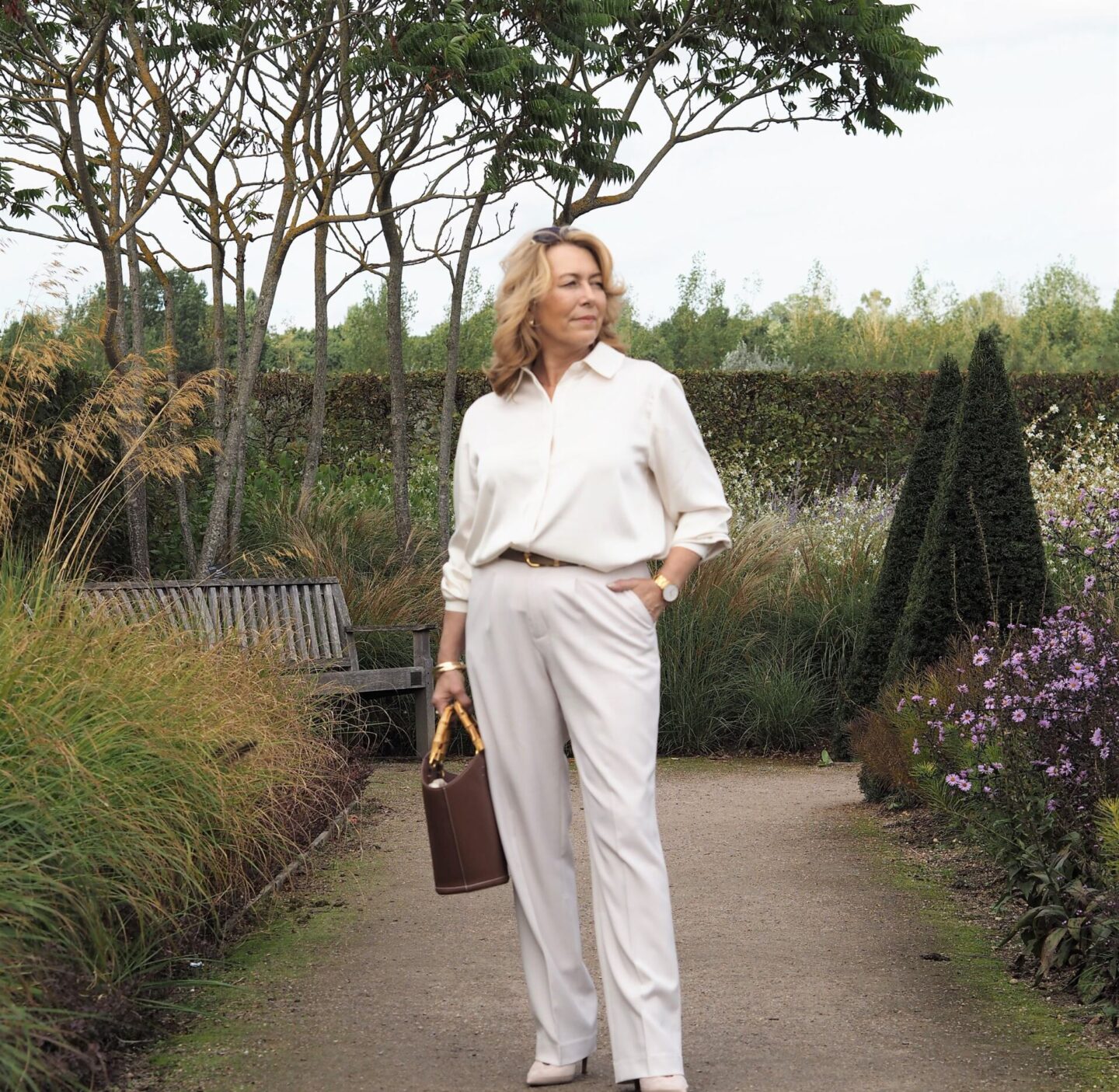 The oversized cream shirt is silky enough to tuck in. You will see below how long the shirt is. You know how I love an all beige, greige or cream look. Set off with the tan toned accessories. I wish I had taken a photo of the raincoat over the trousers and shirt. They look very well together. A great look for anyone working in an office. Very corporate. Lattelier has some lovely tailoring.
Shop The Look
Lattelier Look Three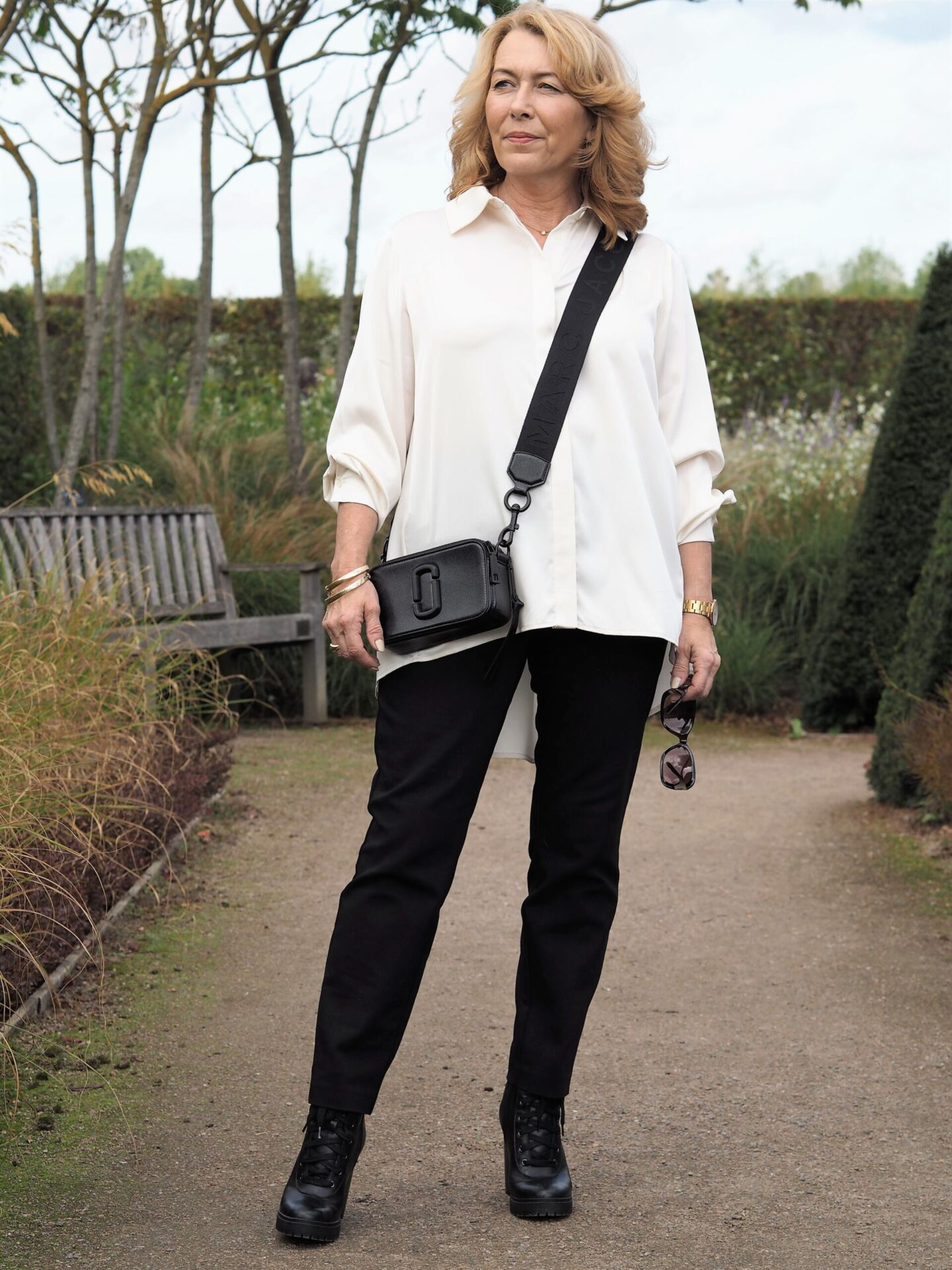 Now, this is where that cream shirt really comes into play. Not really intended to be tucked in but as shown above, it is doable.
The shirt is long with a dipped hem at the back. I love the oversized collar on the shirt and it feels lovely on considering this is a polyester material. It says dry clean only but as far as I'm aware you can machine wash polyester on a cool wash? Do I take the chance? It's very well tailored too with the concealed fastening.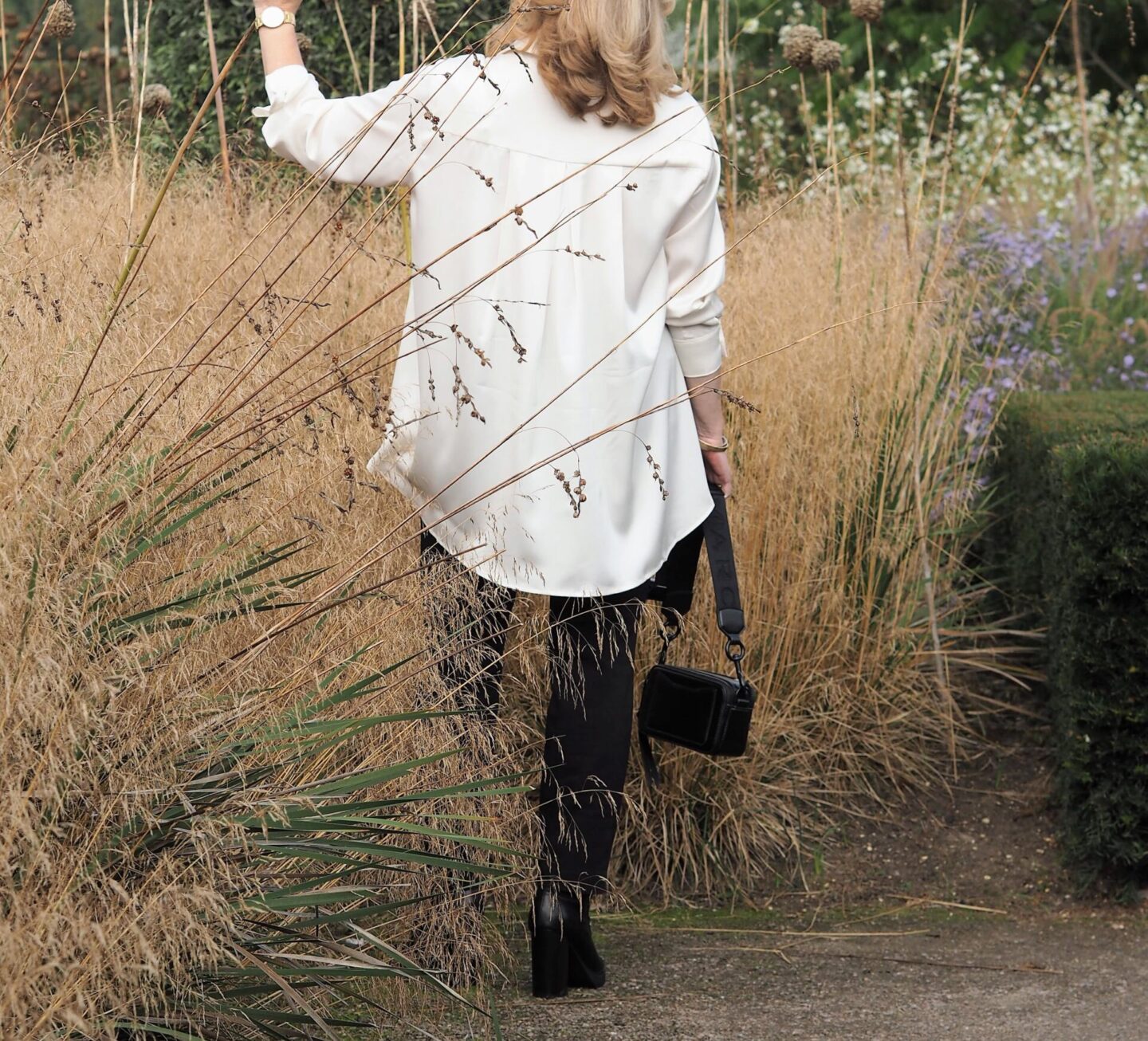 The shirt has large pleats back and I think this is a really nice detail. I don't normally wear long items like this due to my shorter frame but because the shirt is shorter at the front I feel I can get away with it.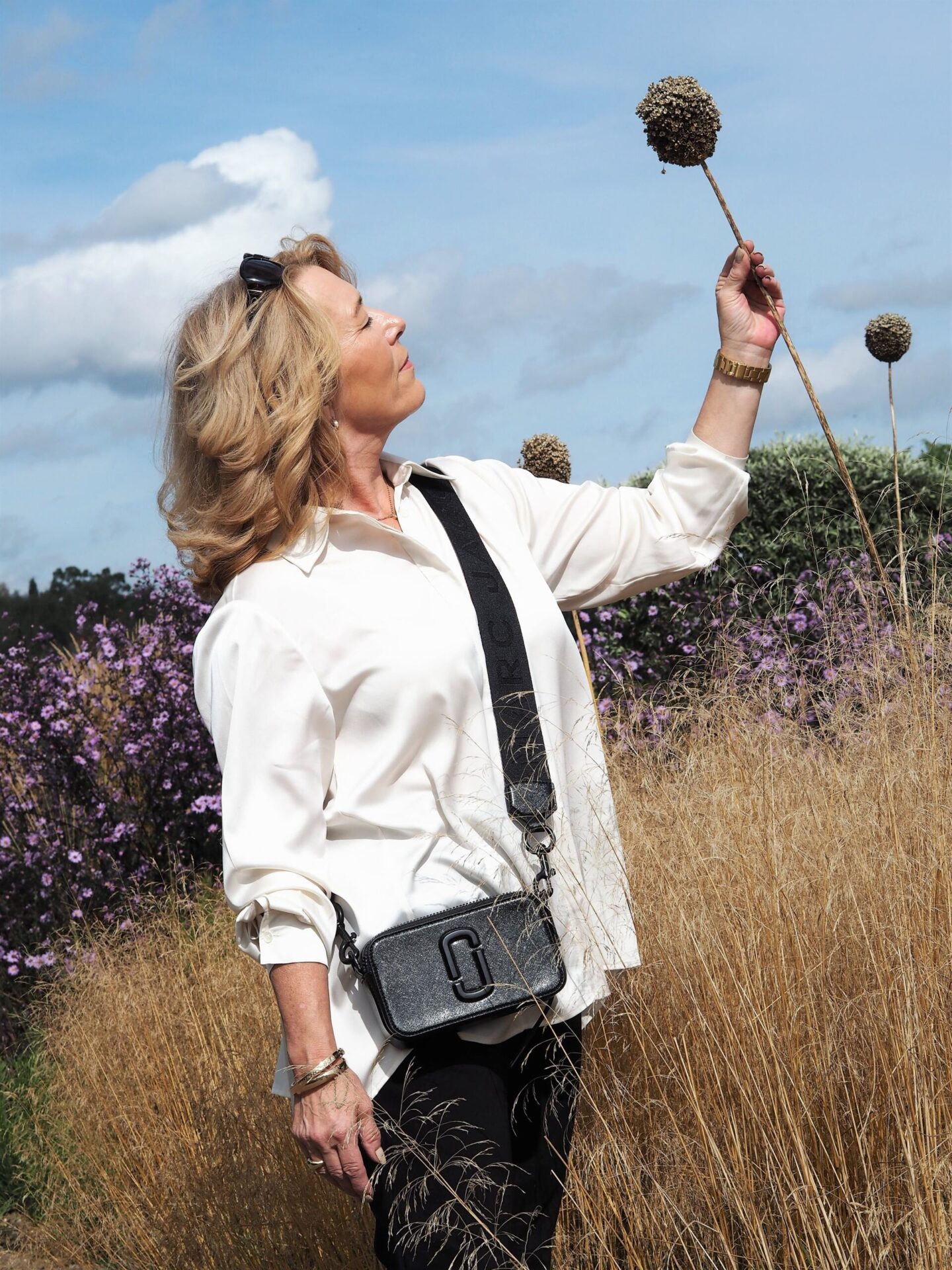 I'm taking photos at Hyde Hall for these outfits. We were blessed with some fantastic weather the past couple of weeks. On arriving I couldn't believe how busy it was and later found out that the BBC were filming there for the Chelsea Flower show. So if you saw that on tv, you may see me blissfully taking no notice, doing my own show! I've not stopped laughing about it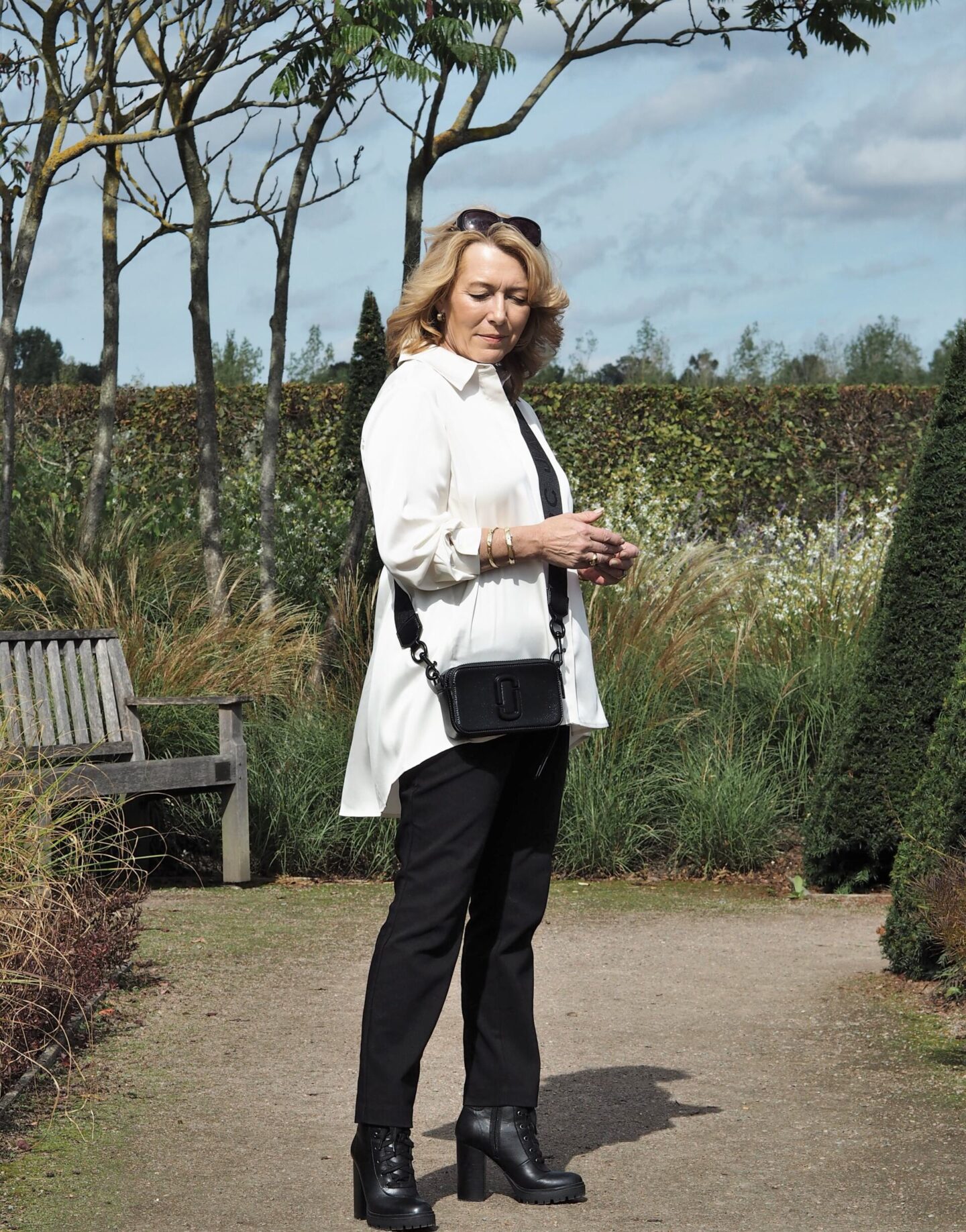 A slightly edgy look here with straight black trousers and chunky ankle boots. At last, my Marc Jacobs bag that I got for Christmas last year can start getting outings. I've barely used it, due to us being in lockdown until warmer weather and no black required for that time.
I'm still wearing heels at nearly sixty. Not ready to give them up just yet and these are really comfortable with the platform taking the edge of the height away.
Lattelier is certainly a new love label for me. Do take a look at their leather accessories. I have a huge bag wish list. the designs are a little different. I'm over the moon with the items I have been gifted to share with you.
Shop The Look
Keep you and yours safe and well xx
---
Please be aware that there are affiliate links included in this post at no cost to you if they are clicked on
---
Thank you for stopping by!
Come back for more. Click on the subscribe form below
YOU MAY HAVE A FRIEND THAT'S INTERESTED IN THIS? PLEASE USE THE SHARE BUTTONS
XO LAURIE
Subscribe for the latest updates!