Our Uk weather is like a yoyo at present. I shared this dress only last week on YouTube pairing it with boots and a cardigan. This is a lovely transitional dress to ease into autumn. a few days later on a visit to London, I decided to take photos of the dress. Luckily I had sandals on during the journey there. The cardigan and boots I had in mind to pair it with weren't needed.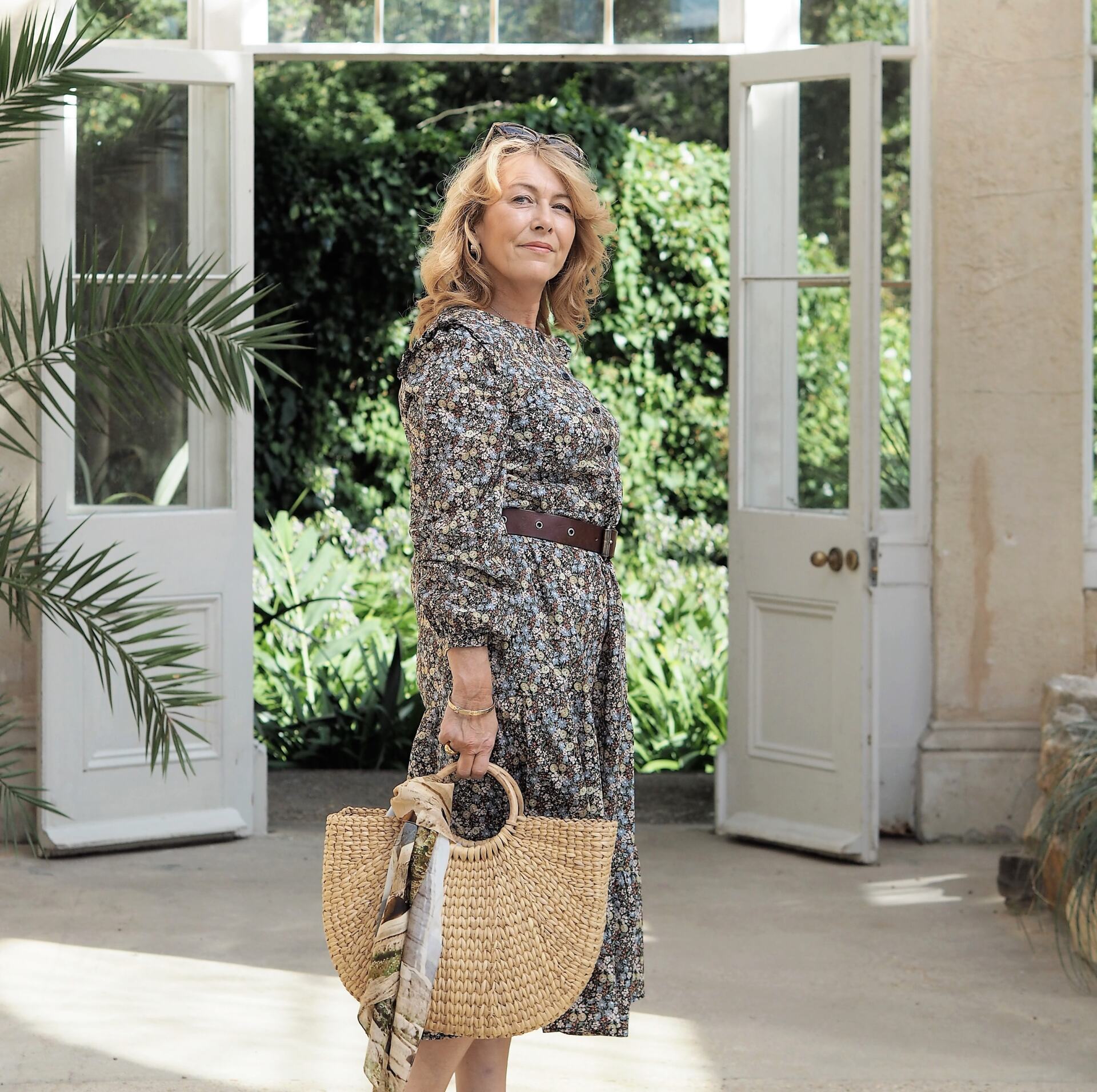 The Medea dress, made from organic cotton caught my eye on the Baukjen website. All my favourite autumn colours in one ditsy print. I like the little scattering of mustard flowers in the print, light shining through the dark makes it very easy to wear.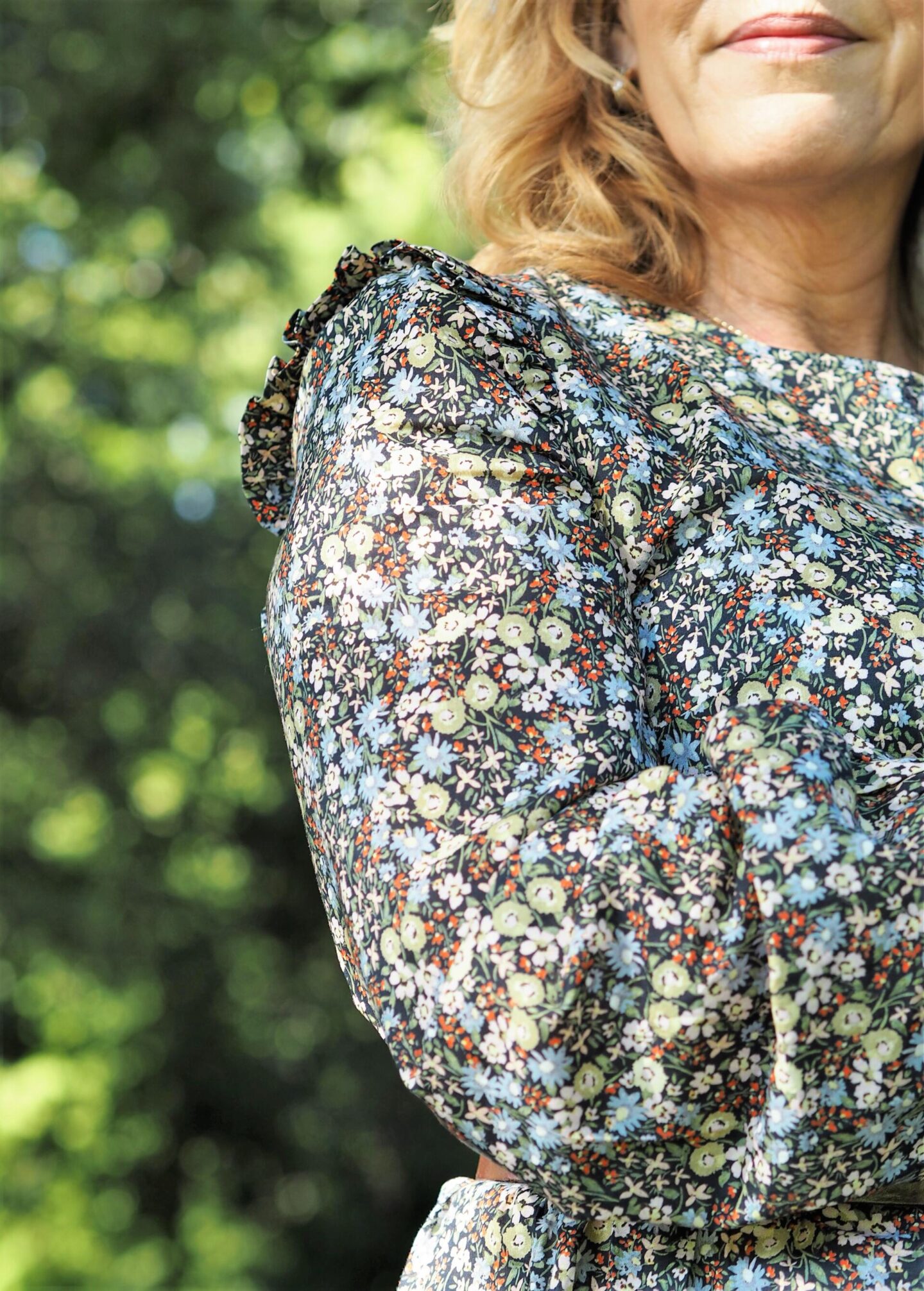 The Medea dress gives a gentle nod to the ongoing prairie style trend without being over the top. A tiny frill on the shoulders and a tiered skirt is the perfect balance. You may have seen my post a few weeks back about me complaining how this trend seems to have got out of hand with overpowering ruffles, frills and voluminosity. I feel it's all very ageing and I found I wasn't alone in my thinking via the comments.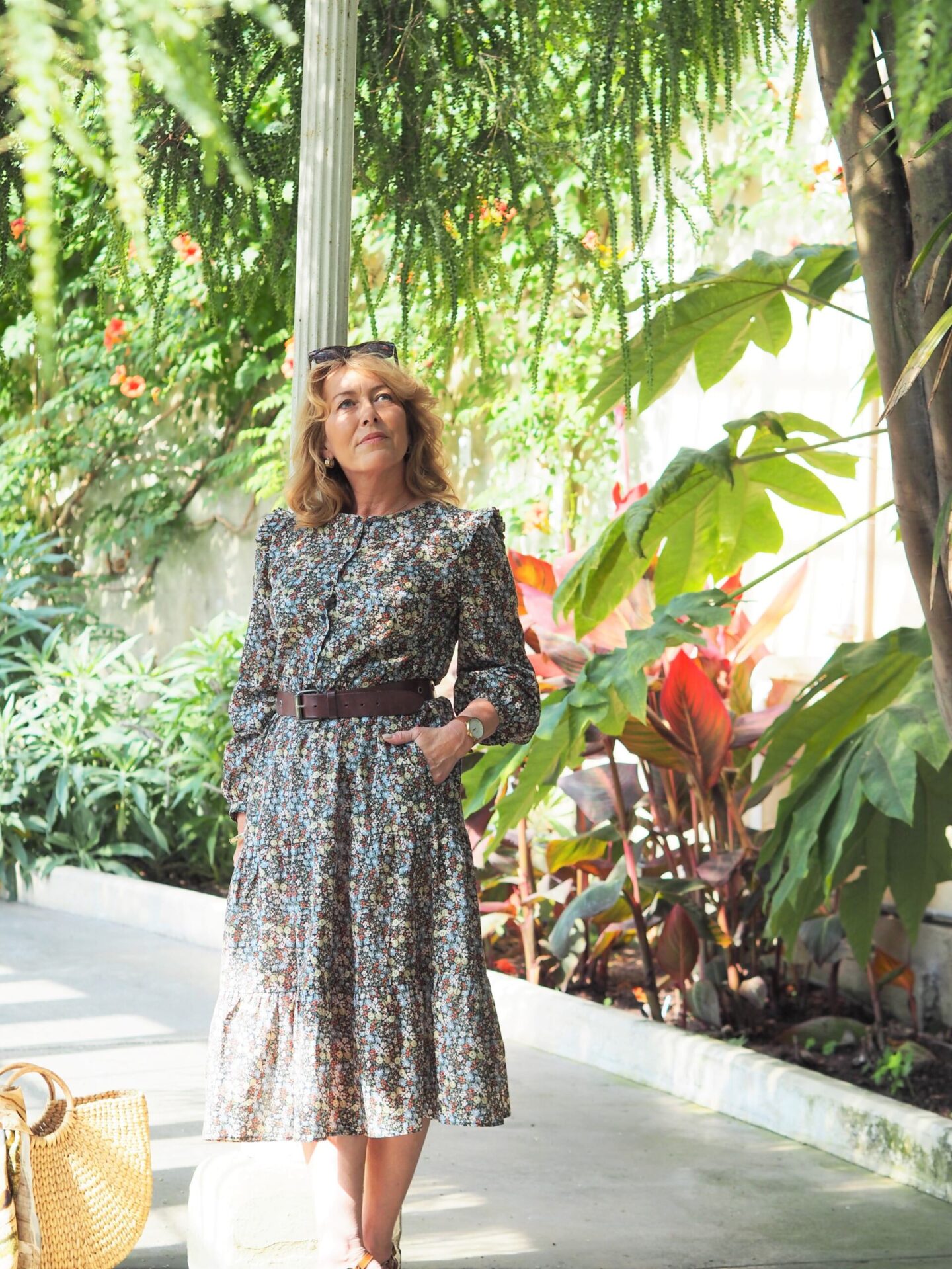 I'm visiting one of my favourite RHS gardens on this visit to London Syon Park. Many of my photos have been taken there for blog posts. It is situated literally five minutes away from where I used to live. I certainly chose a good day for the visit. It was boiling hot!
I've just purchased an RHS subscription. there was a special offer and I decided to buy one. When I visit mum's bench at Hyde Hall near my current address it costs £12.00 each visit. It just made sense to purchase one. Syon Park is also under the RHS umbrella so I didn't have to pay entry. I used to just buy a seasonal ticket for entry when I lived nearby. It's a beautiful place to visit if you're in London.
A perfect transitional dress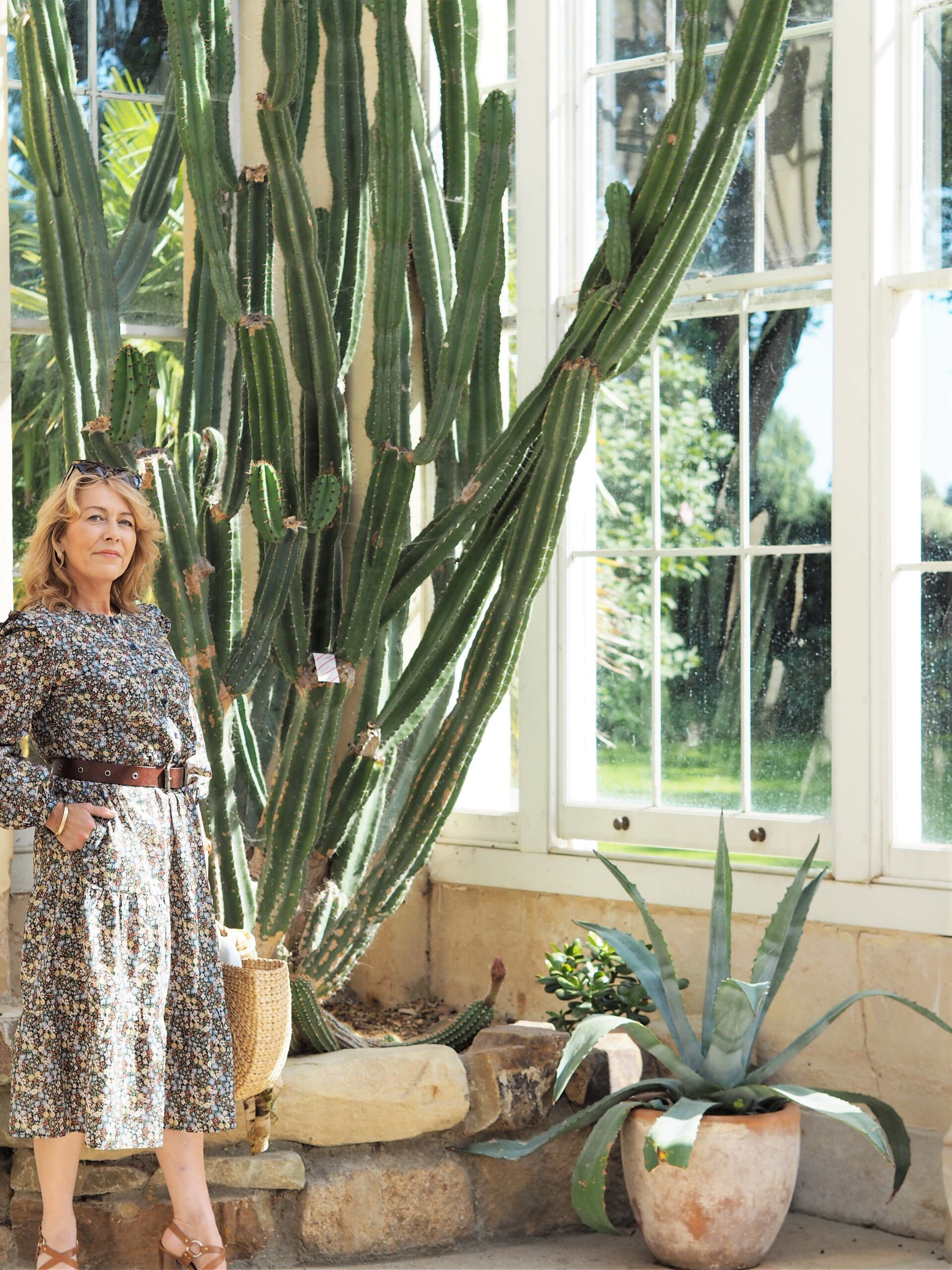 I was so pleased that I wore sandals in the car on the way up to London. And I always take my basket bag everywhere. I will eek out as much wear as possible. I can fit so much into it. You can see the tiers in the skirt of the dress here.
I have to say that the Medea dress is made from lightweight organic cotton and will require a slip underneath for the colder months. But this is what I like about clothing like the medea dress. Easy to layer with a slip under, knee-high boots and a long belted cardigan is what I have in mind for the really cold months. A good transitional piece.
I've paired the Medea dress for this post with tan accessories. I've had the belt in my wardrobe for over twenty years! I'm surprised it still fits. I also meant to mention that the dress has pockets and a slight puff to the sleeve. You can just wear the dress loose as shown on the Baukjen website but I feel with my petite height it's better to belt and add shape.
Take advantage of my 15% discount code for Baukjen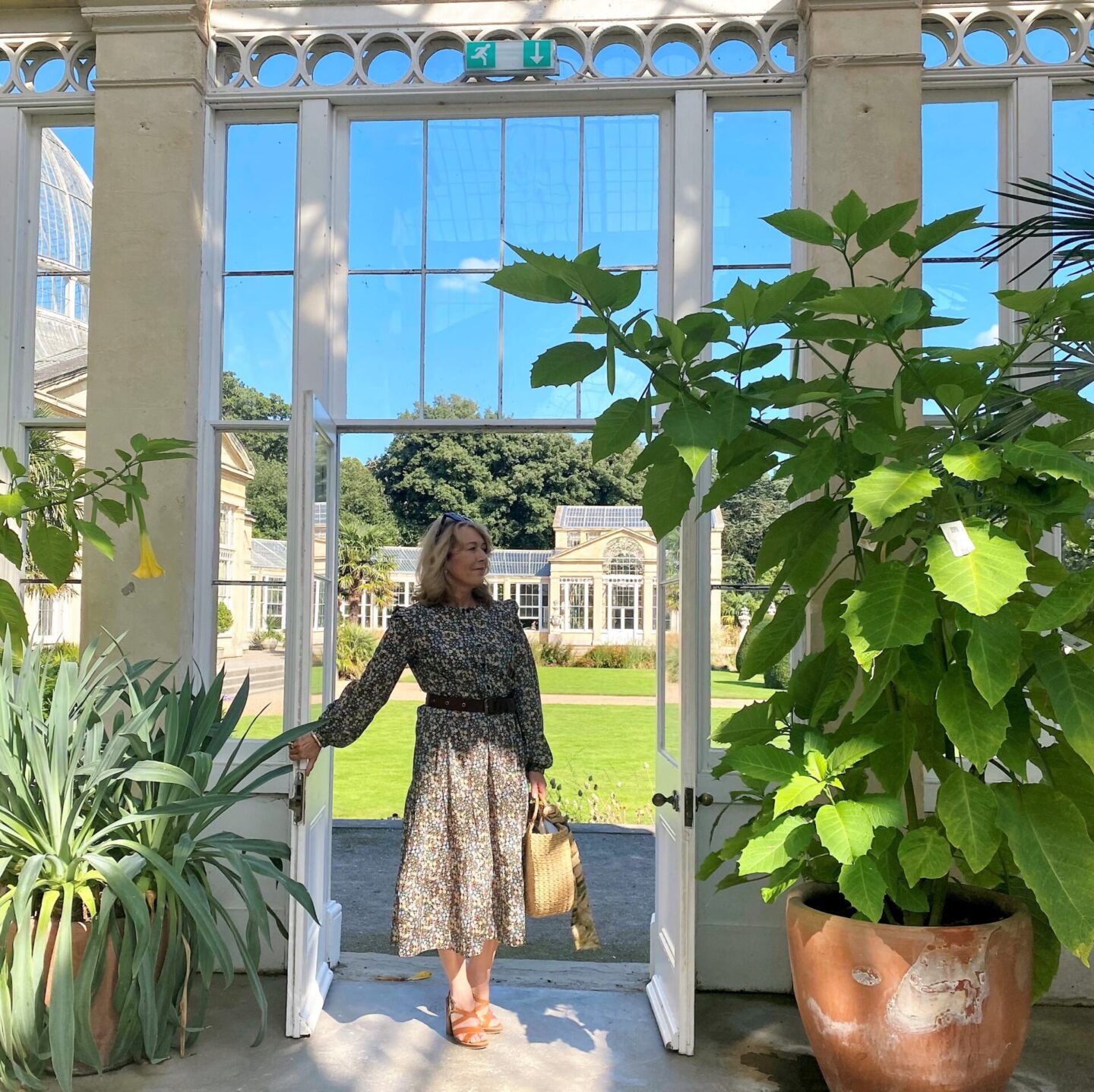 I certainly choose a good weather day to visit. Although some of the conservatory is closed off due to filming going on. BBC's Victoria has been filmed here as well as Bridgerton.
Do take a look at the new collection that Baukjen has to offer. You can use the code VM15 at the checkout for a 15% discount on full-priced items. I've been wearing my Miriam Blouse non-stop. You can see it in my last dressing room diaries post. Baukjen has also just launched a luxurious cashmere range. I purr every time I look at the website!
Shop The Look
Keep you and yours safe and well xx
---
Please be aware that there are affiliate links included in this post at no cost to you if they are clicked on
---
Thank you for stopping by!
Come back for more. Click on the subscribe form below
YOU MAY HAVE A FRIEND THAT'S INTERESTED IN THIS? PLEASE USE THE SHARE BUTTONS
XO LAURIE
Subscribe for the latest updates!