I thought I'd share some tanning tips with you this week. I'm not one to sit in the sun and tan and never have been. Give me a self-tan any day of the week. I just don't get it? Why would you want to lay flat for so long and bake yourself?
Number one, it's dangerous. Skin cancer has grown increasingly common. The sun can be so harmful to our skin. And two, there's the premature ageing that comes along with tanning your skin in the sun. I can still hear mum now. "have you got your SPF on?" Yep. Mum drummed it home to me that it's not good for your skin.
Those sun rays can be harmful even in slightly warmer temperatures. It doesn't have to be a boiling hot day and protection is a must. I always wear an SPF cream on any body parts that are exposed, especially my hands. I'm trying to keep the dark pigment spots that come with ageing at bay for as long as possible.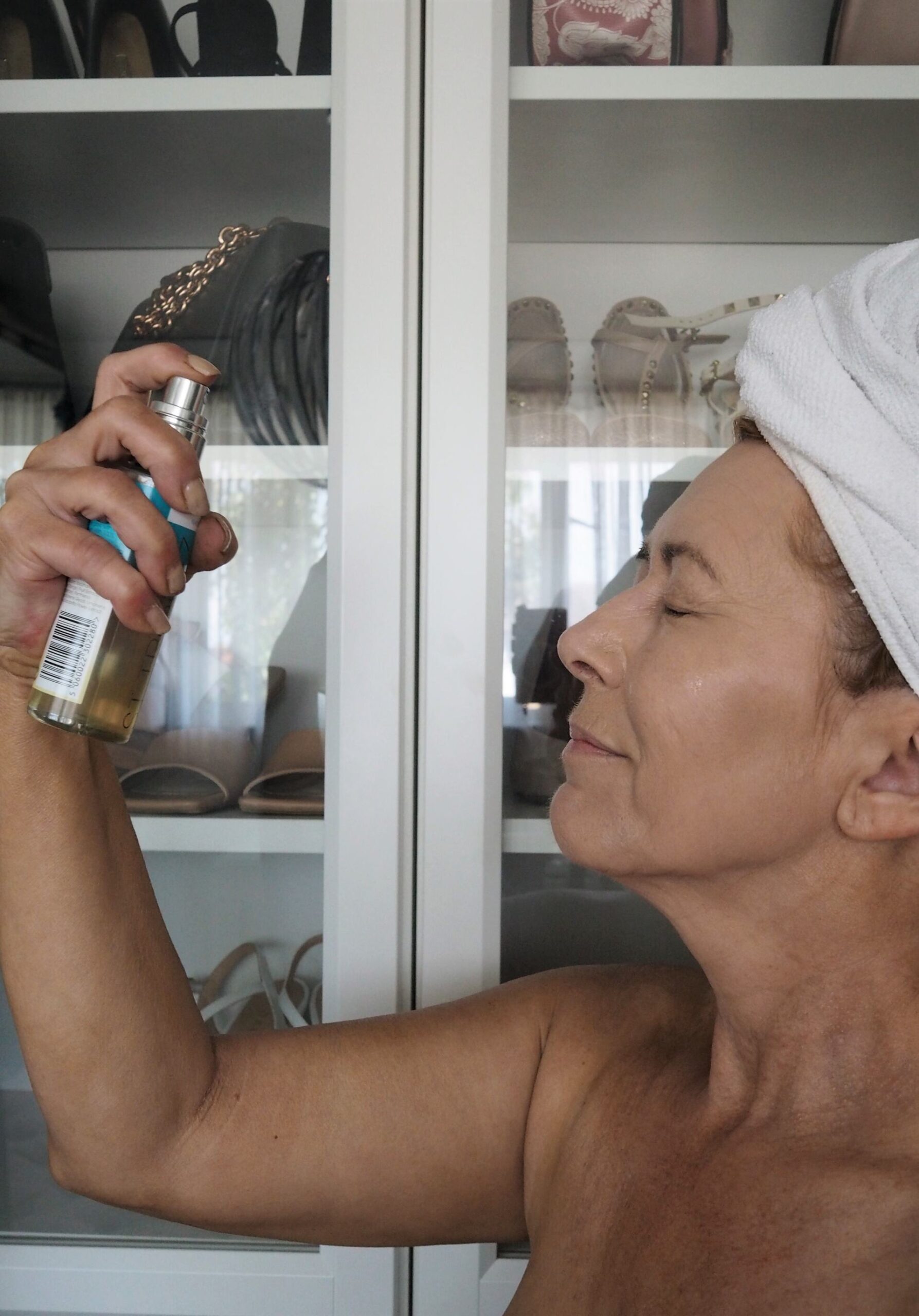 My self-tanning journey started a few years ago. Prior to that, I had tried a few self-tan brands and never had good results. I don't know if that's because my application was bad, but self-tanning products have come a long way in the past few years. It's all so much easier now.
I tried going to salons for spray tans but I could never get on with the smell, and always found that the end result wasn't very natural. Then around three years ago Dove Tanning lotions came into my life. An invite to the launch of Dove's Derma Spa Body Lotion and a stay at a swanky hotel in Bath. You can read about that here is what really started the ball rolling for me.
I am milky white, very fair-skinned and taking fashion photos for the blog has been a problem in the past. I literally have milk bottle white legs! The Dove tan is good but I just needed that little bit more colour. I treated myself to the St Tropez Classic Tan. It changed everything, and I've never looked back.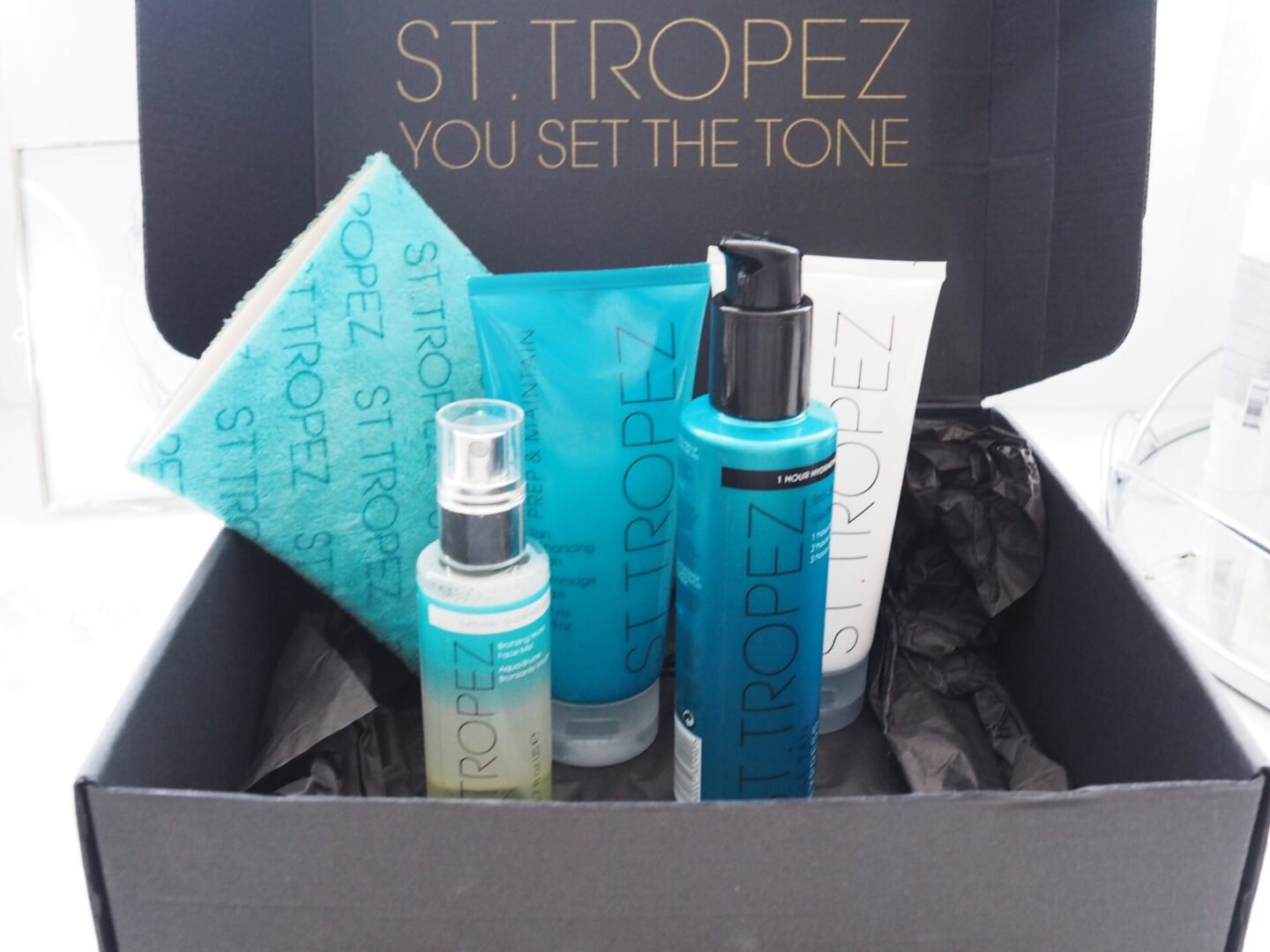 I did a fair bit of research about achieving a natural tan with self-tanners. You can find so much information about literally anything on YouTube. St Tropez always came up trumps. The application, colour and staying power all sounded good and that's what prompted me to buy the Classic Tan.
The Classic Tan is foam based. Very easy to apply and there's a guide colour too. You can see exactly where you're applying it. The colour is very natural and not at all orange! I've never had any streaks from the Classic tan and from the first day of using it I was hooked.
I've learned some do's and don't's during my tanning journey and I thought I'd share them with you. I recently became part of the St Tropez tanning tribe and I was asked to film and review the Self Tan Express Gel along with the Purity Self Tan for the face. I've been that impressed I wanted to share it here too.
To achieve a good tan preperation is key!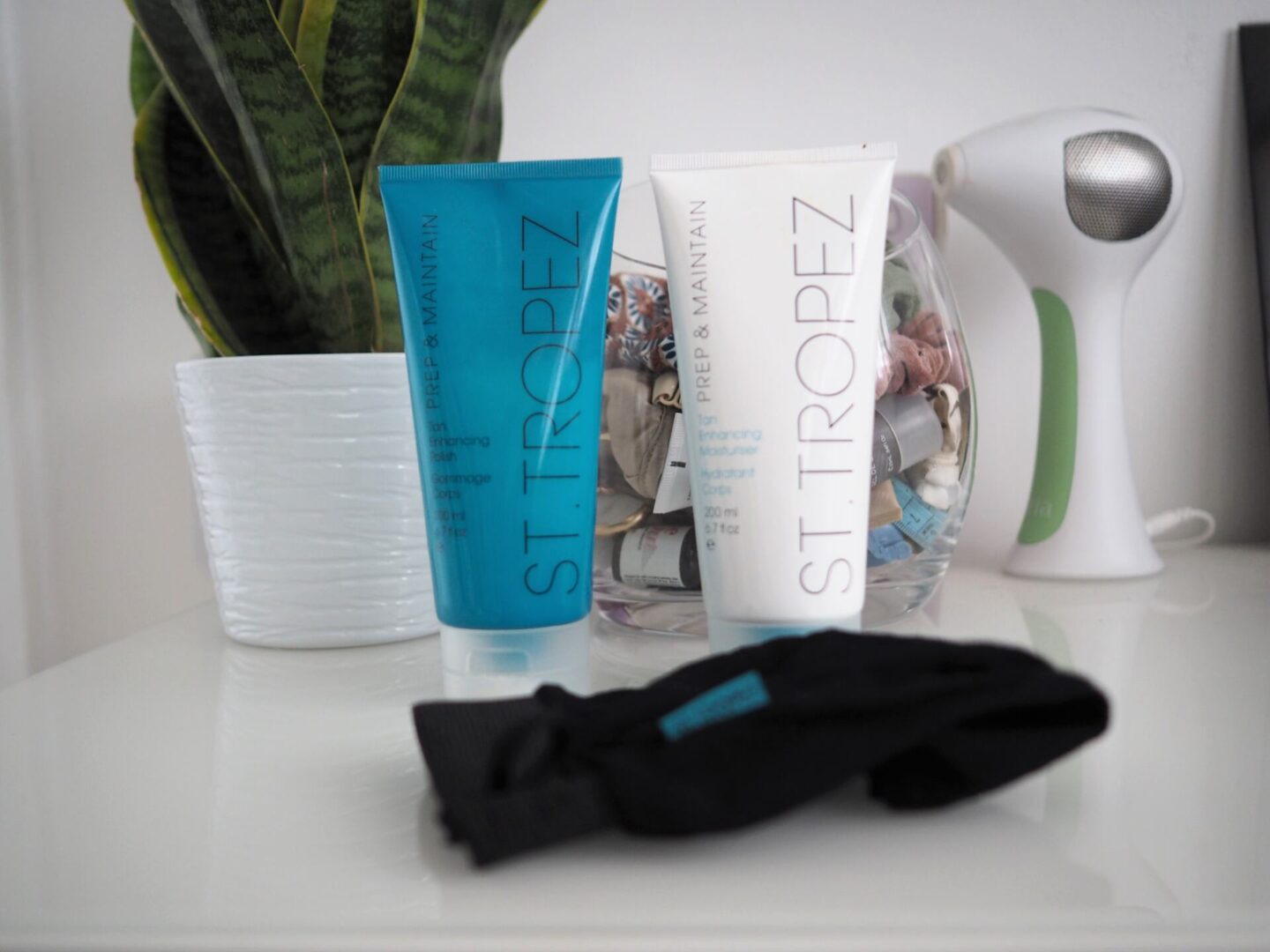 I've learned from getting ready to tan that an exfoliating sponge and shower products just won't do the job. I think having more mature skin it's even more important to use a good exfoliator or body scrub. I've tried this and cut corners with my impatientness and the results are nowhere near as good.
Preparation is just as important as the tan itself. If you want good results it's 100% worth it and trust me, that feeling when you catch yourself in the mirror with that lovely tan really is worth it. A nice golden glow really does put a spring in my step. The tan lasts longer too.
Exfoliating
In my tanning kit, I received the Prep and Maintain Tan Enhancing Body Polish. The smell is gorgeous and it's not at all scratchy.
The Exfoliating Mitt
Now I've tried the gloves and sponges as I said earlier but a good mitt makes a big difference. A more heavy-duty exfoliation is what you need to get rid of any dead skin and it's very invigorating. This is also great for removing the remaining tan if you've tanned before.
Extra moisturiser in the dryer areas
I never used to use a lotion all over my body before tanning. Yes, ankles, knees, elbows and hands are all going to grab any tan. And I've found using a body lotion all over prior to applying the tan seems to make the application easier. it will also help prolong the tan too. I didn't know that.
Also when applying to the dryer areas mentioned above, instead of just rubbing the cream in, develop a claw shape on your hands. Bend your elbows and knees to make sure that moisturiser is really getting applied to those areas.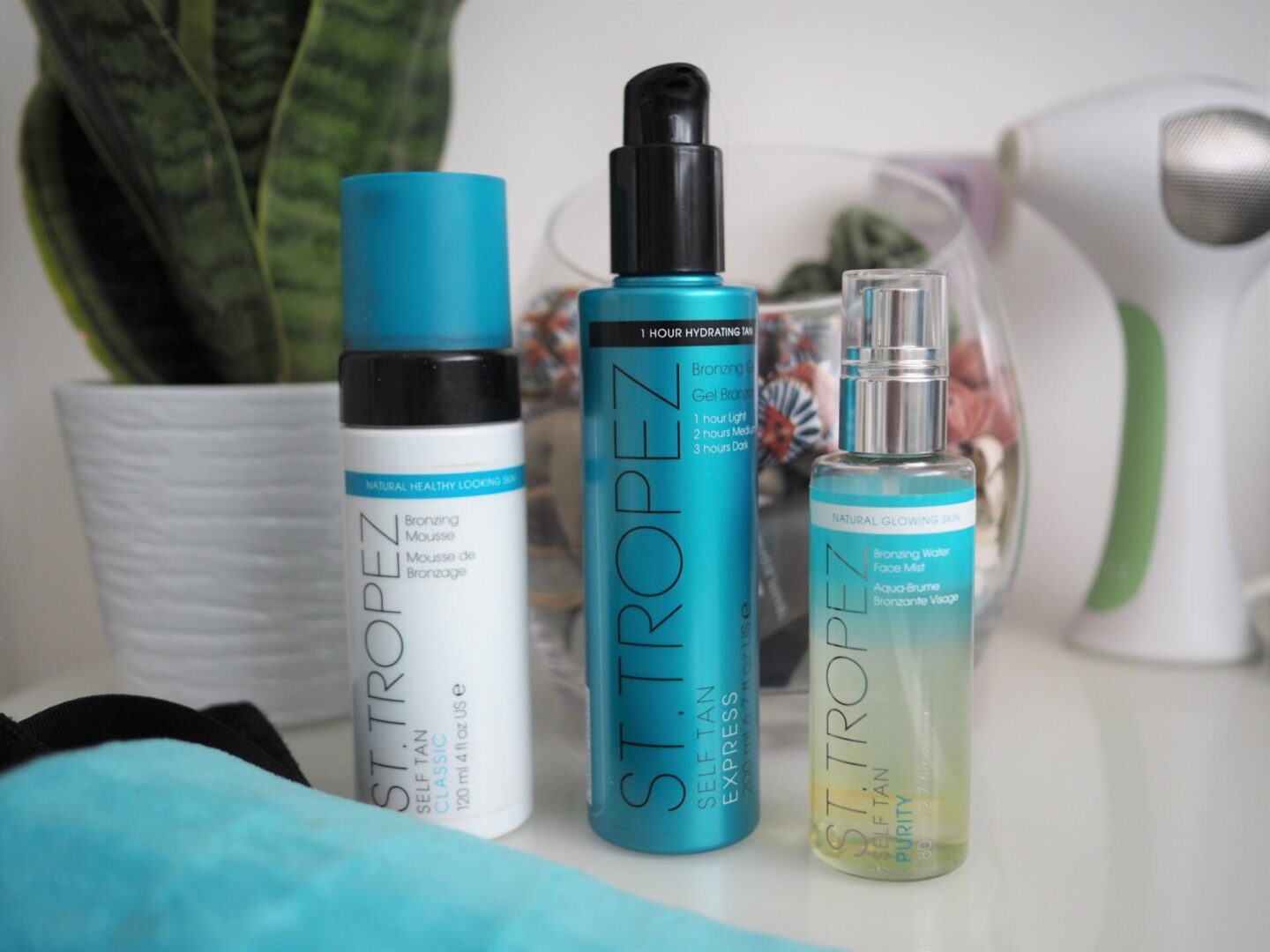 There are different variations of tan available on the St Tropez website. So far I've tried the Classic Self Tan and the new one I'm using the Self Tan Express which is a gel formula. I find both easy to use. I think the Classic is the easiest to apply but I think the Self Tan Express, also with a colour guide is a deeper more colourful tan and it lasts longer.
You can try mini kits from St Tropez to see if you get along with the regime too. I think this is a brilliant idea before investing your money in full-sized products.
Shop Tanning Essentials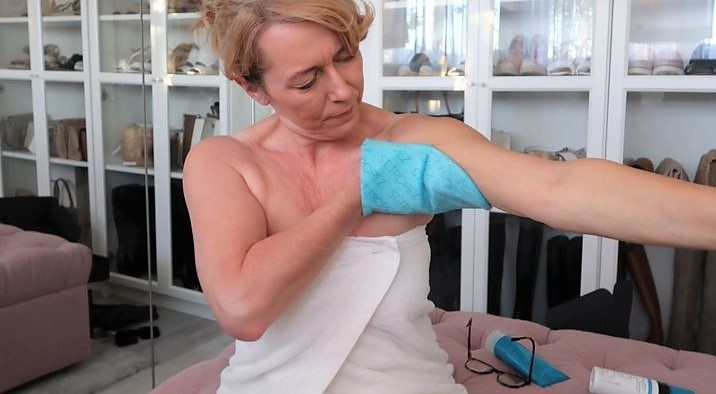 I've learned to protect areas before tanning. I have an old large towel that I lay on the floor in case there are any spillages. Using a good mitt to apply the tan is key. I bought a cheap one once and the tan seeped through the mitt and by the time I finished the application I had really orange palms!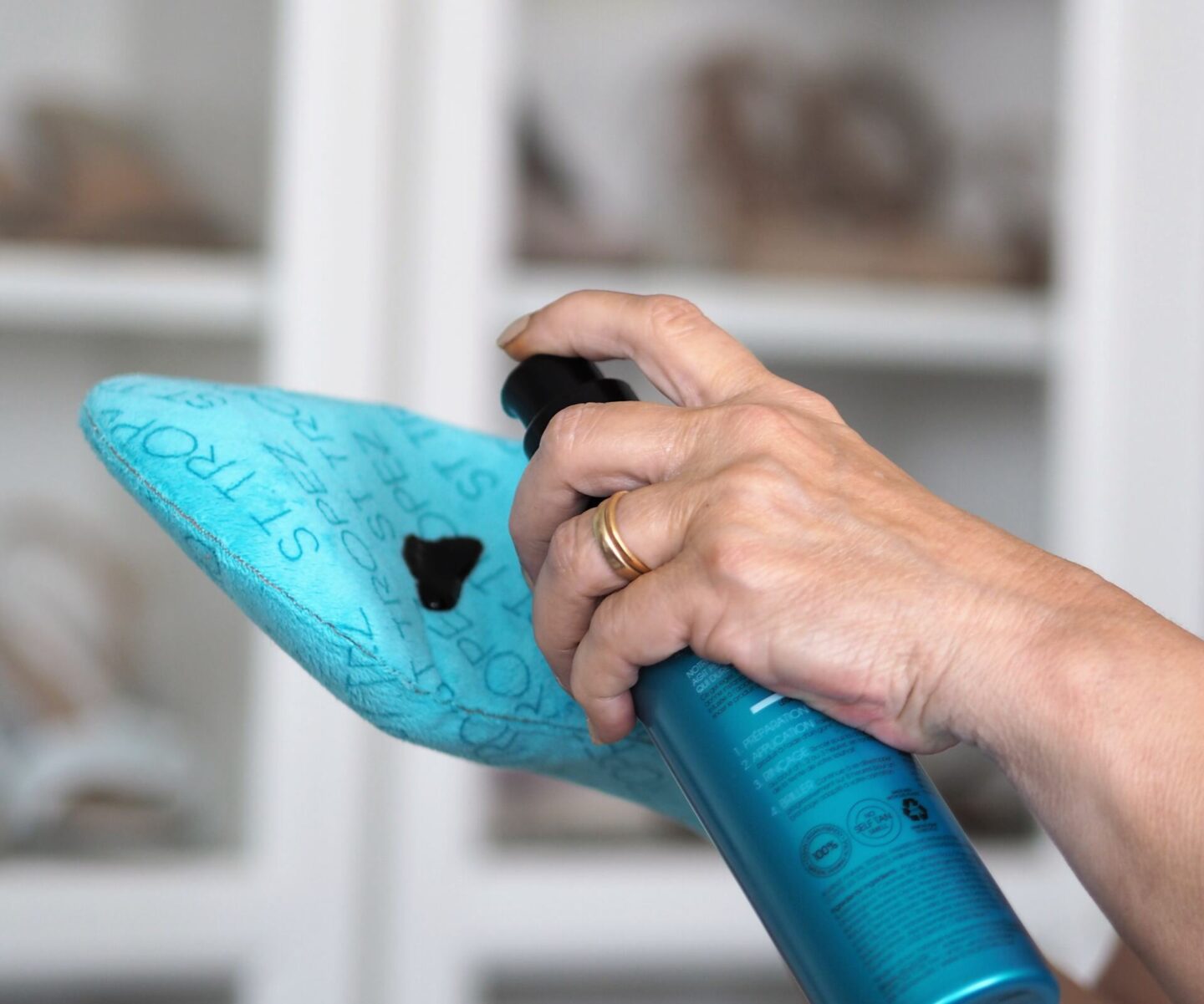 I use the Dual-sided mitt to apply the tan and then once the tan is nearly dry I buff with a St Tropez mitt that I bought earlier. There are buffing mitts available and this will blend the tan and ensure no streaking.
Bend all your joints the same as I explained for exfoliating. I tend to go over all my joints last when the mitt is not so heavily ladened with the product.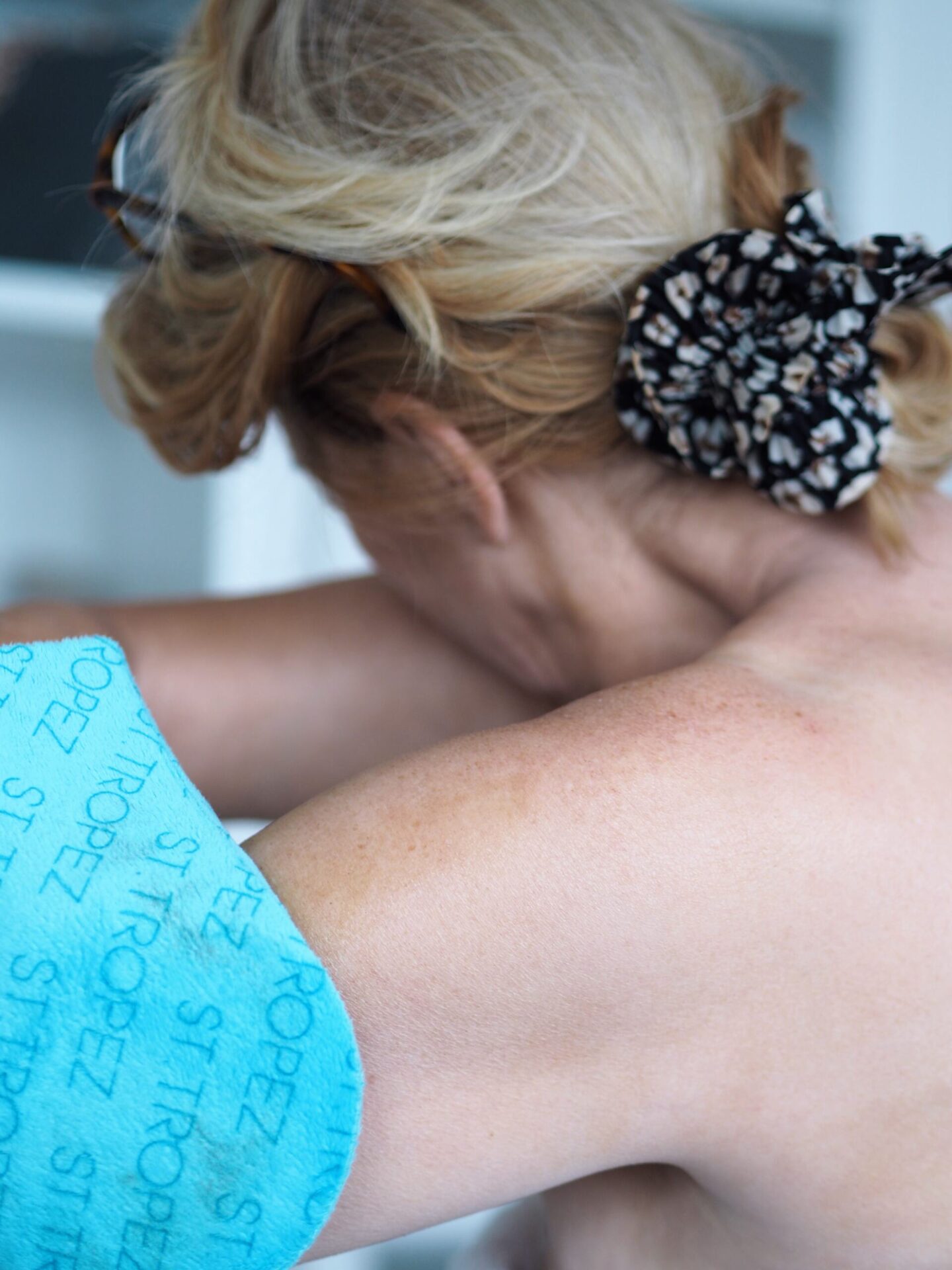 Obviously, cover every part of your body! I often made the mistake of not covering under my upper arms when I first started tanning. Raise your arms up to check that every part is covered. And using a full-length mirror also helps so that you can see everywhere.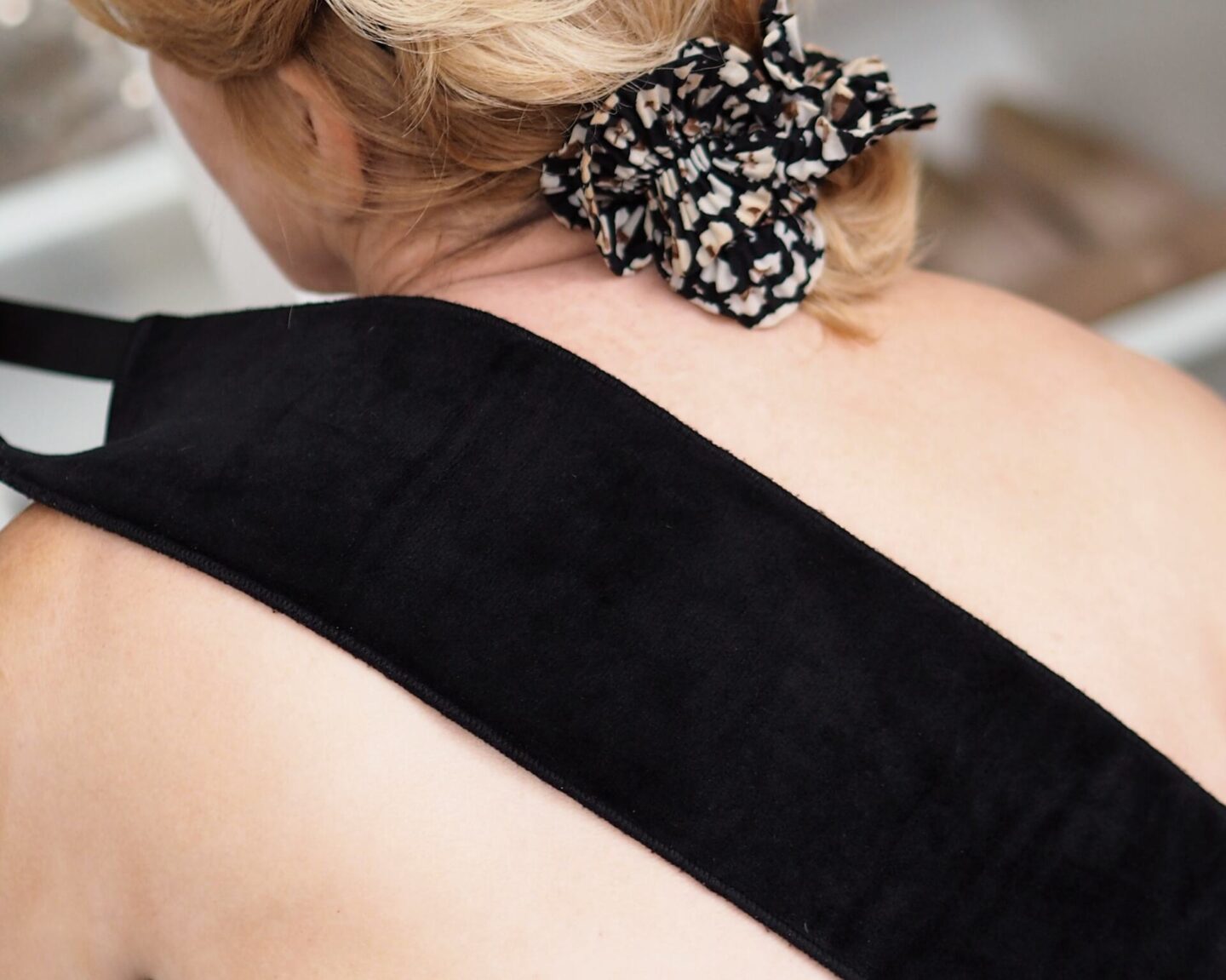 If you don't have someone to help tan your back then this velour strap is quite good at reaching the areas your hands can't. I bought a tanning kit on Amazon. The mitts were crap but this strap has worked out pretty good. I'm surprised St Tropez don't have these for sale. Lay the strap flat, apply the tan to the middle and you're good to go.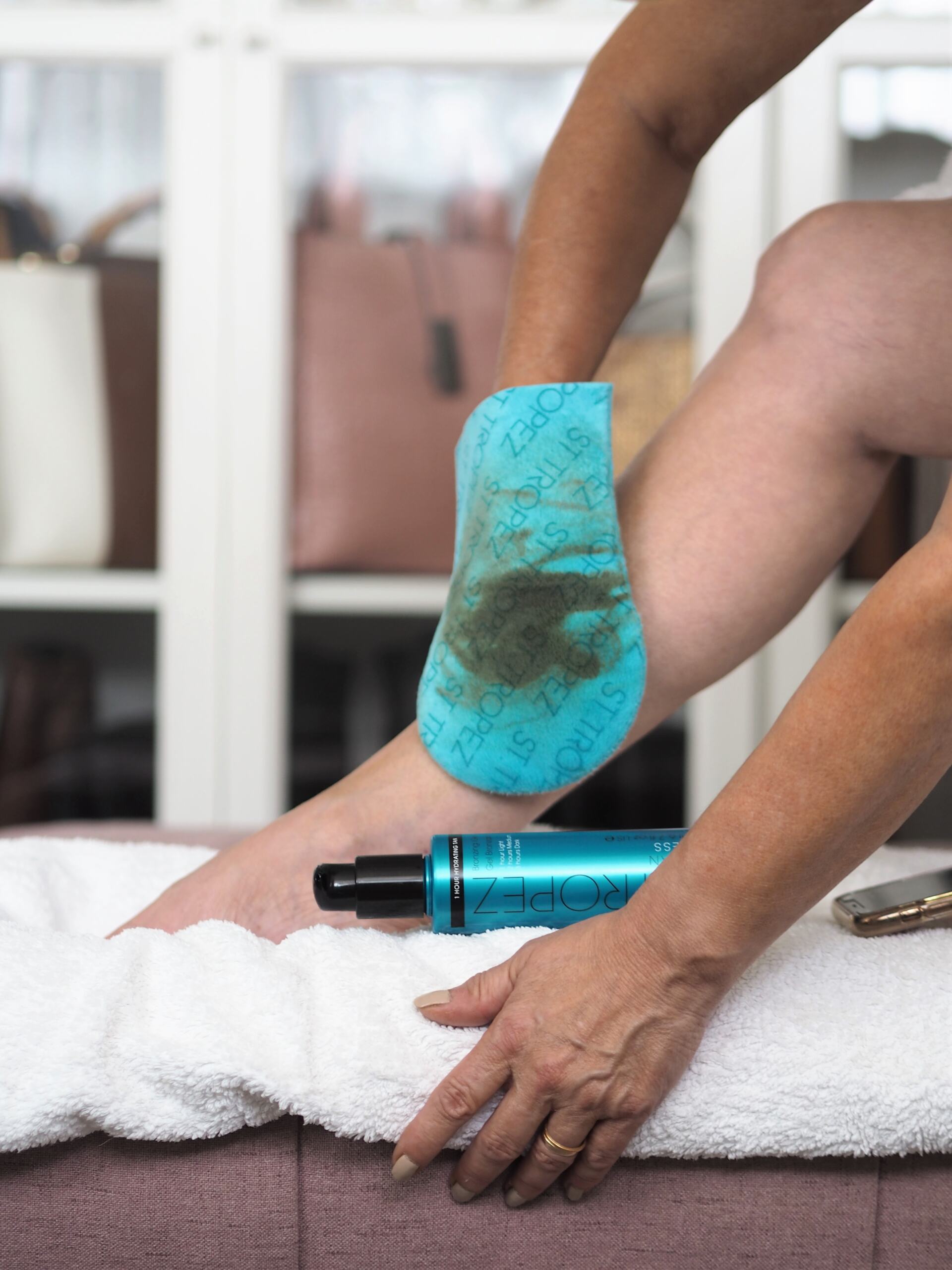 You can see the difference in colour from the top part of my body compared to my legs. I will add though that the tan, once rinsed off is slightly lighter. The Self Tan Express is called that for a reason. You don't have to sleep in it. You can leave the Express on for up to three hours for maximum darkness, two for medium and one hour for a lighter tan. I leave mine on for two hours and it's the most perfect natural shade.
The Purity Tanning mist is an absolute game changer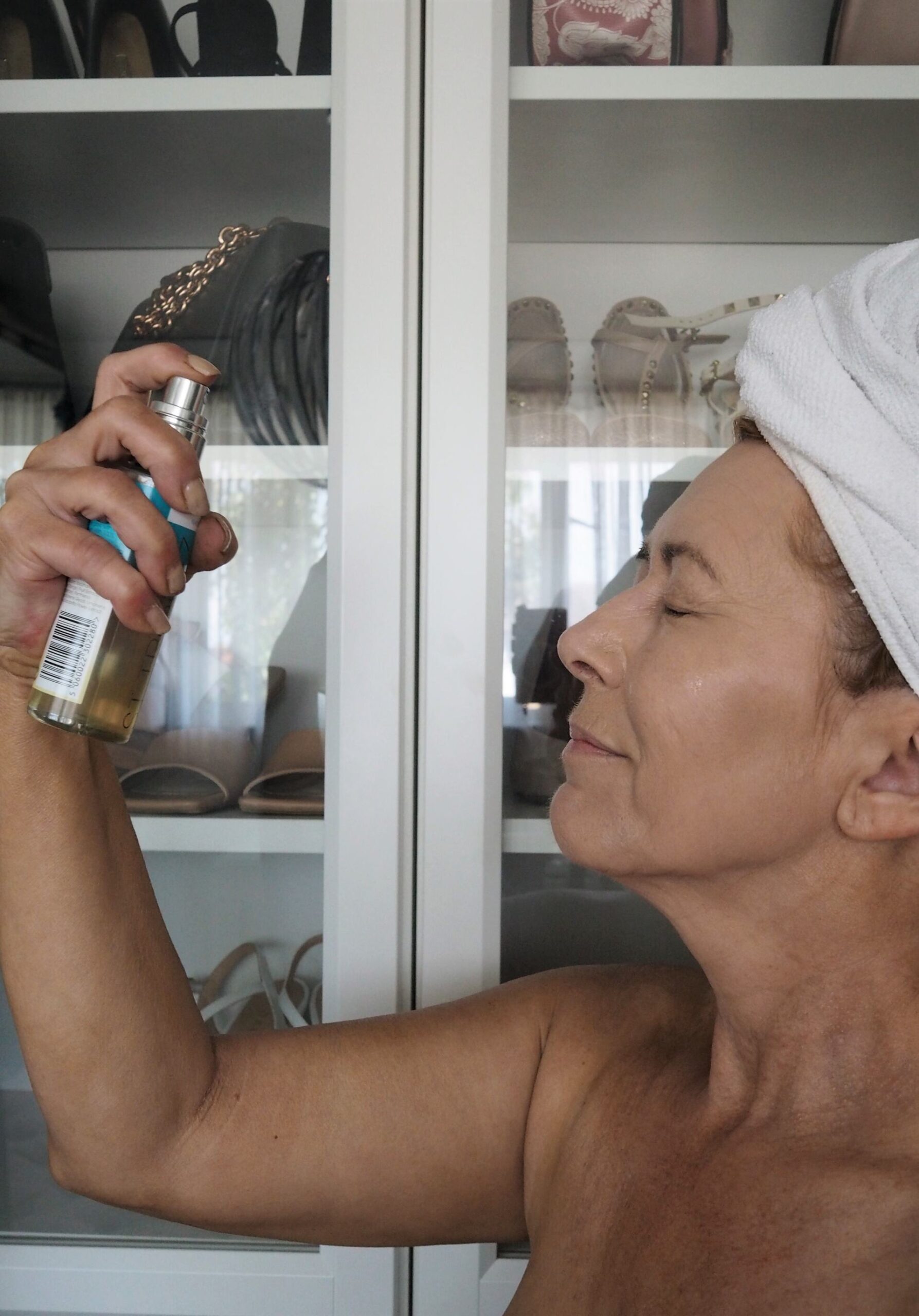 The Purity Tanning Water Mist has been a joy to use. The mist is so fine, you can barely feel it hitting your skin. I use it on my face every morning after cleansing. Allow a minute and then apply moisturiser. I can't tell you what a difference this has made to the skin tone of my face. I even look half decent without foundation!
I've had this bottle for a few months now and I haven't even used a quarter of the bottle, so it's very purse-friendly. It contains Hyaluronic Acid too. I also give my hands a light spray of this now to keep my tan topped up. It's a brilliant product that will always be in my bathroom cabinet from now on.
Shop Tanning Products
I hope you found some of these tips helpful? I'd love to hear what you think about self-tanning. Maybe I'm missing out on a tip you may have? Let me know!
Watch the application
Keep you and yours safe and well xx
---
Please be aware that there are affiliate links included in this post at no cost to you if they are clicked on
---
Thank you for stopping by!
Come back for more. Click on the subscribe form below
YOU MAY HAVE A FRIEND THAT'S INTERESTED IN THIS? PLEASE USE THE SHARE BUTTONS
Subscribe for the latest updates!