What with the weather being so bad, I thought I'd share some new skincare and makeup I've been using with you. I've been meaning to get this post out for a while and I thought now was a perfect time. I also have a discount code for a makeup brand that I love and I recommend you take a look at the website. There will be a full blog post about the brand very soon. Especially if the weather carry's on the way it is!
I've added microcurrent to my new skincare routine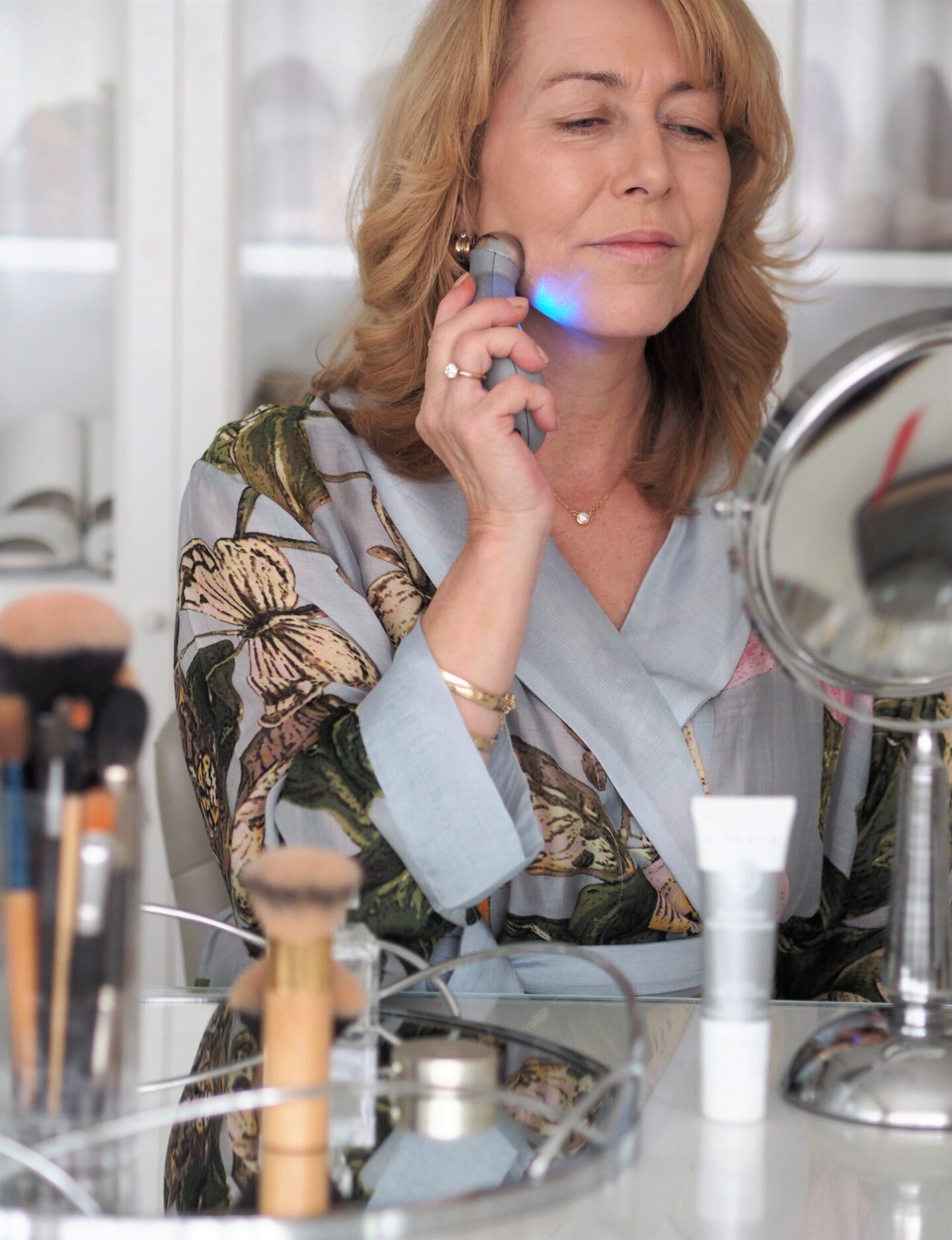 Have you ever had a microcurrent facial? I've had a few. It's like your face going to the gym! The microcurrent stimulates your facial muscles, resulting in a firmer, uplifted, toned face.
This is the third gadget I've added to my routine. I also use the Tria Laser Hair Remover and the Tria Age-Defying Laser.
I've written here before that I can't have any fillers or Botox. No invasive treatments for me due to my allergies, so I have to work that little bit harder to keep my skin as youthful as possible. I say a little bit harder but I feel it's worth it.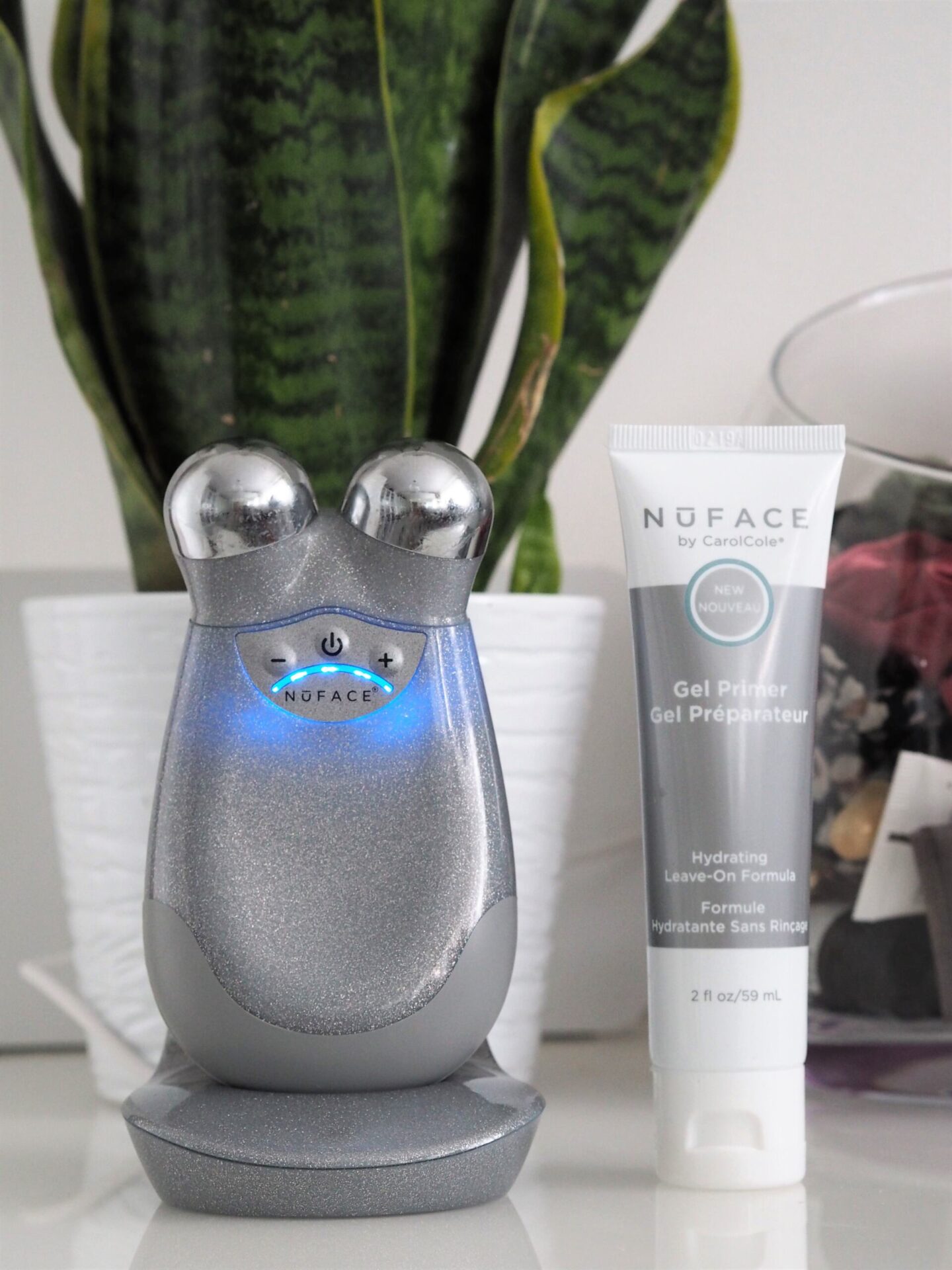 I've read and watched a lot of reviews and tutorials about the Nu Face Microcurrent device that I got from Current Body. You have to use this device five days a week. I know for a fact if you don't stick to that it just won't give you the results, so you have to be prepared to put the work in. I got this in April but a bad rash due to mask-wearing put a stop to me even thinking about trying it.
Just my luck eh? It was sitting there on charge teasing me! I have now resorted to wearing the visors for my protection. I just couldn't stand the masks anymore, breaking me out in a new spot every time I had a mask on for more than twenty minutes.
The Jowel area is my main concern, so I'm concentrating on that area. It takes around fifteen minutes each of the five mornings and you can see results straight away. But like going to the gym, in order for that lift to stay put, you have to train those muscles for a while. I love it already though, and I'm certainly noticing a difference.
You have to use conduction gel on the area you're treating and it's painless. You can feel the muscles tightening a little when you're using the device. I will report back later when I've been using it a bit longer but do have a read up on what it's all about.
A Skincare serum that I thought was a bit of a gimmick that has totally shocked me!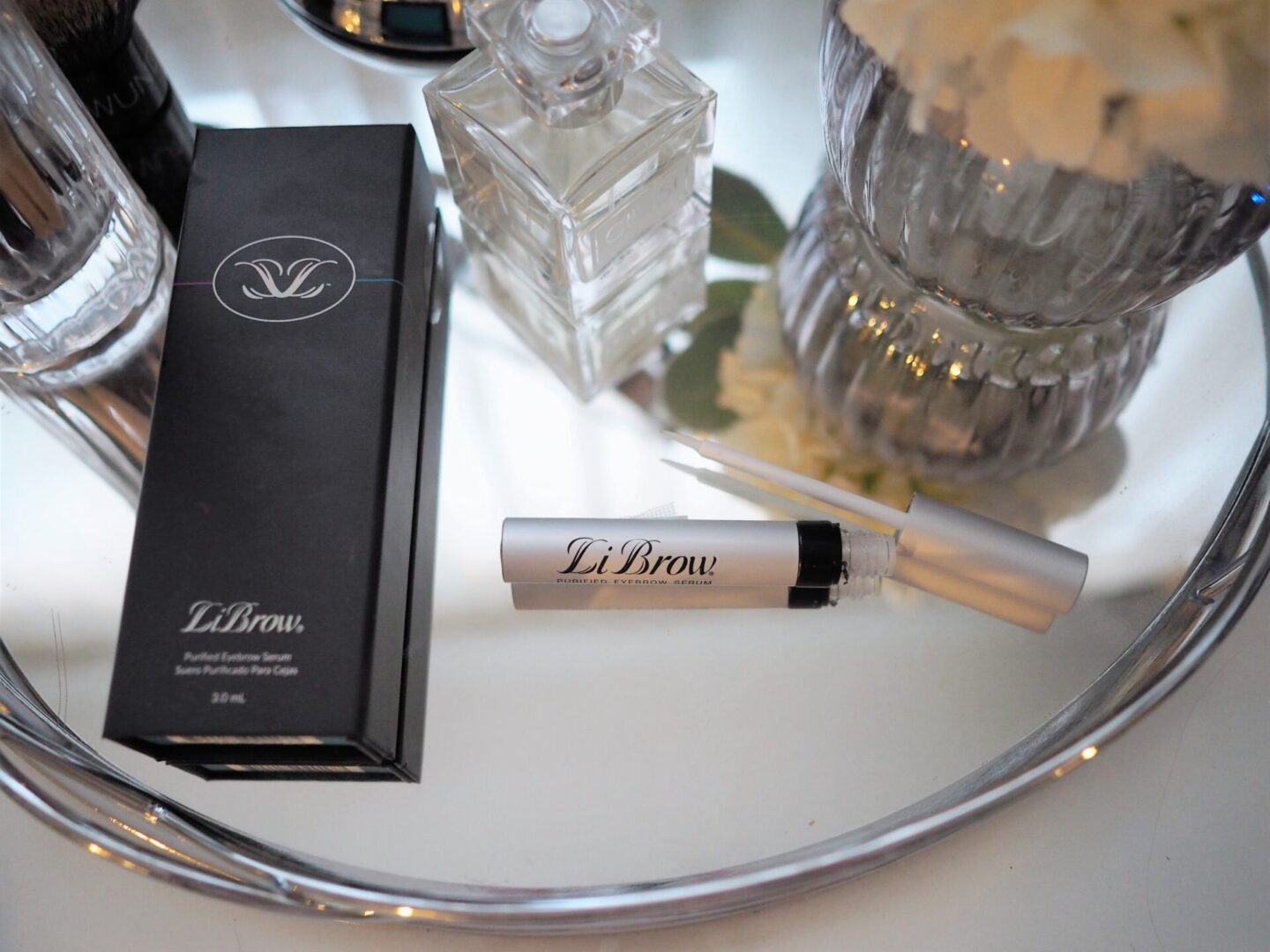 I was contacted by LiLash beauty to try their new LiBrow. This is a paid collabouration but only for Instagram. I did say to the brand that if this brow serum didn't work I wouldnt be able to post about it. I really thought it wouldn't work!
LiBrow is a serum that you apply to your brows during your skincare routine at night. For the first few weeks, I used it each night. I now only use it twice weekly. I don't suffer from barely-there brows but I did have gaps for some reason and thinning in some areas but not others, as you will see in the pics below.
By week three my brows were so much more bushier. I actually had to trim them! I don't know how this serum works but wow, I wish they would make it for your scalp! I have a thinning area at the front of my hairline and if I had a bottle of this stuff I would use it for sure.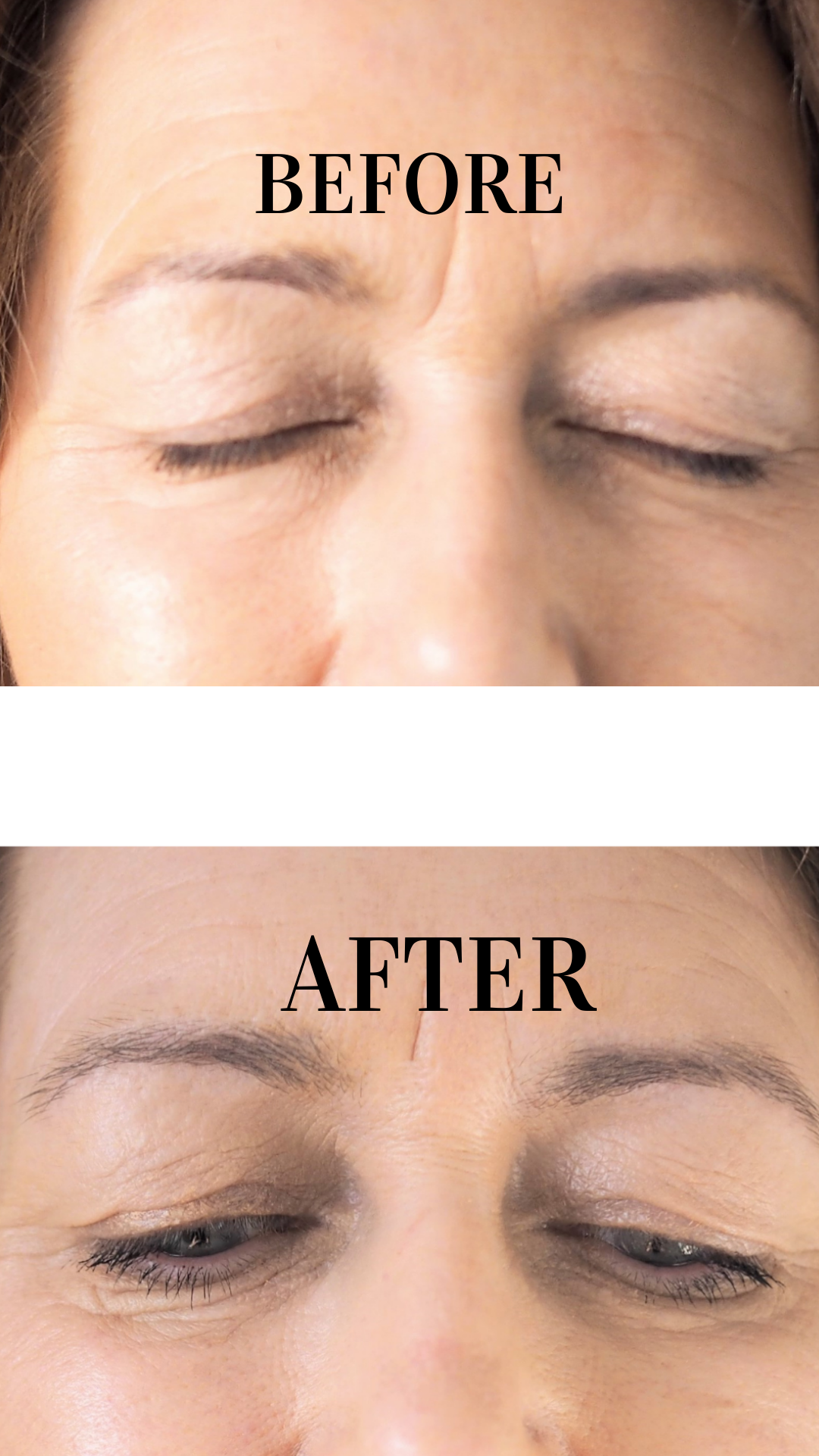 Actually, in the pictures above and others throughout this post, I'm not wearing any eyebrow pencil. I do still use an eyebrow pencil for a little definition to try and raise them a bit but through these photos, I'm not wearing anything other than a little Trinny London BFF
You can see in the after photos all the little hairs sprouting. I have had to pluck them too. I haven't had to do this for a few years. So. If you're looking for a treatment to get fuller brows this is what you need. Pricey but it does the job!
A cleanser that feels so luxurious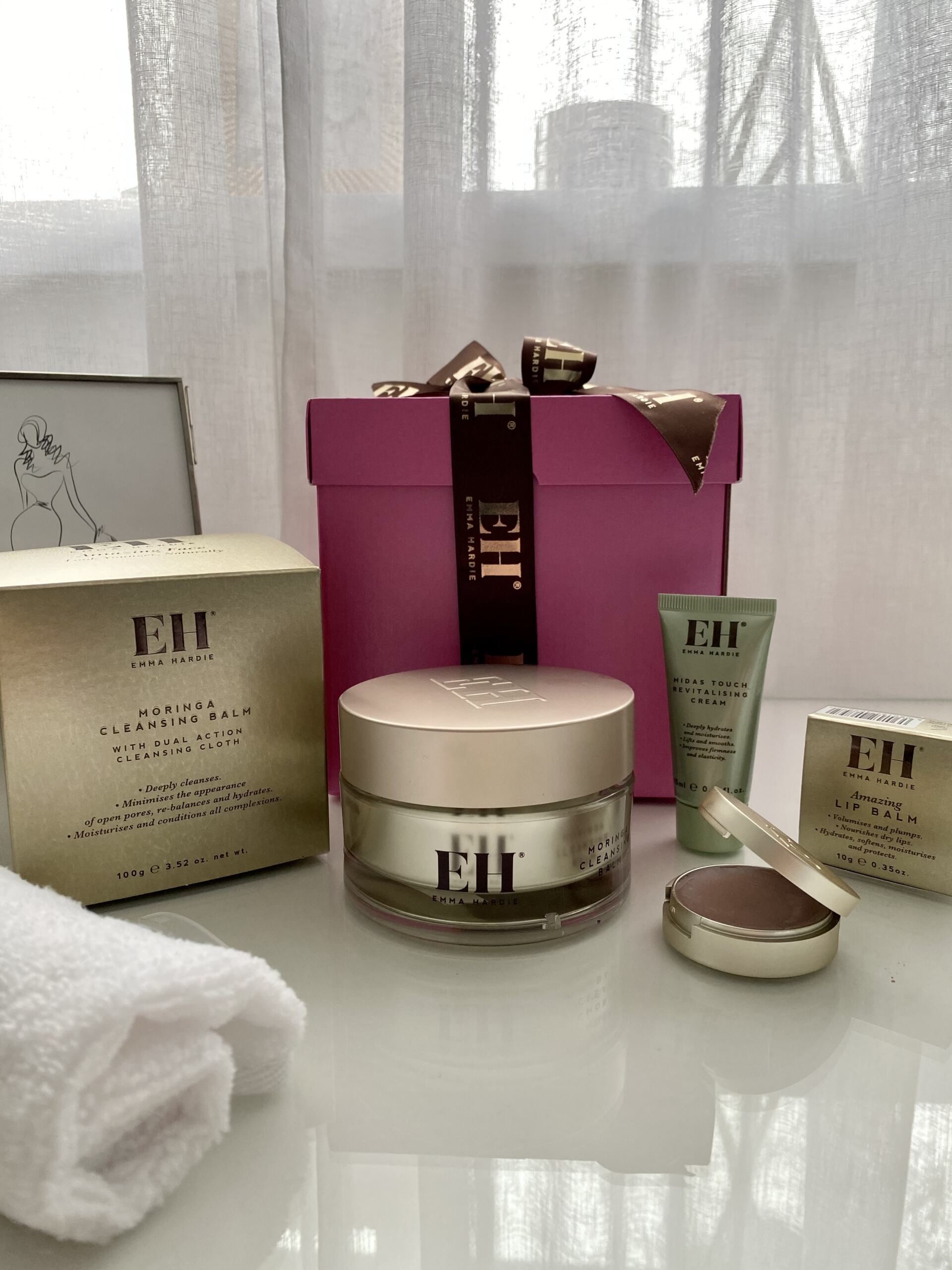 Another new to me brand that I shared on Instagram a while back. I really must do a story of how this brilliant cleanser works. (you can see here in the mini film )The Emma Hardie Morning Cleansing Balm is such a joy to use. A gorgeous fresh-smelling cleanser. You only need a nut sized amount scooped into your hand.
When massaged, the cleanser is like a thick oily paste and feels amazing. As soon as water hits onto it, it then turns to a milky substance, leaving no oily residue at all. It's such a pleasure to use and my skin loves it. I wish I could share the smell with you too!
Learning new makeup tricks with Studio 10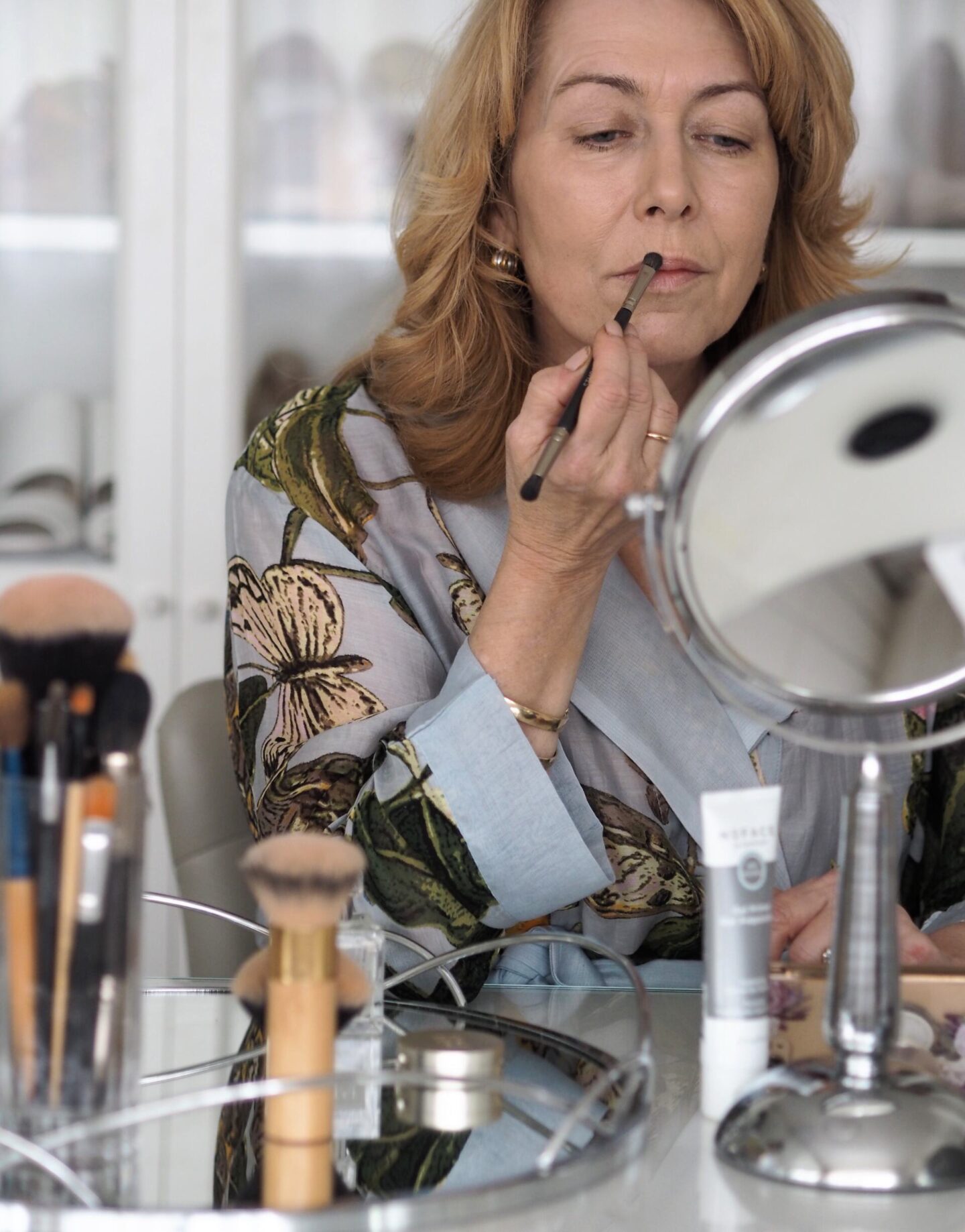 I've been using Studio 10 for a while now. There's a whole post coming up about the brand soon. I filmed with Grace Fodor the founder of this fantastic makeup brand that's created for the more mature woman for Yours magazine. If I can find the link I will leave it below. Otherwise, just check out the Yours Magazine over on Instagram.
I've had many online zoom meetings with Grace and she shares how to get the most out of her brand. The Studio 10 Lip Pencil is what I'm sharing with you today. Grace developed a nude lip liner to suit most skin shades ( it's perfect for me ) to create a fuller lip line. Our lips thin so much as we age don't they!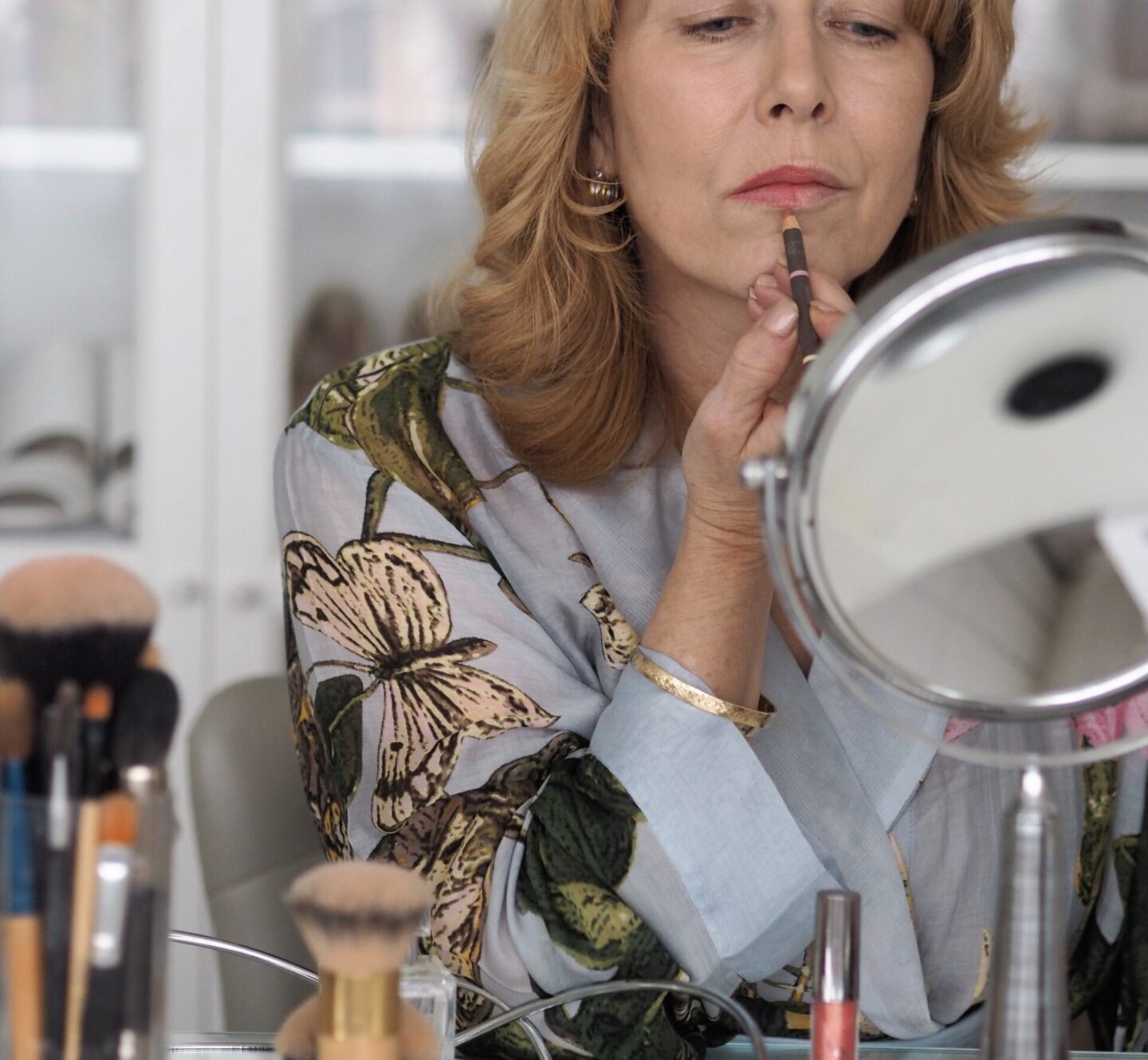 First I apply the Look Fabulous Forever Lip Prime. This stops any bleeding and is great if you are lining just outside the lip area. Because the lip pencil is near to nude, you can actually get away with pencilling just outside the lip line. I wanted to take a photo of half done and a half not done for you to see the difference. A fuller lip is definitely evident.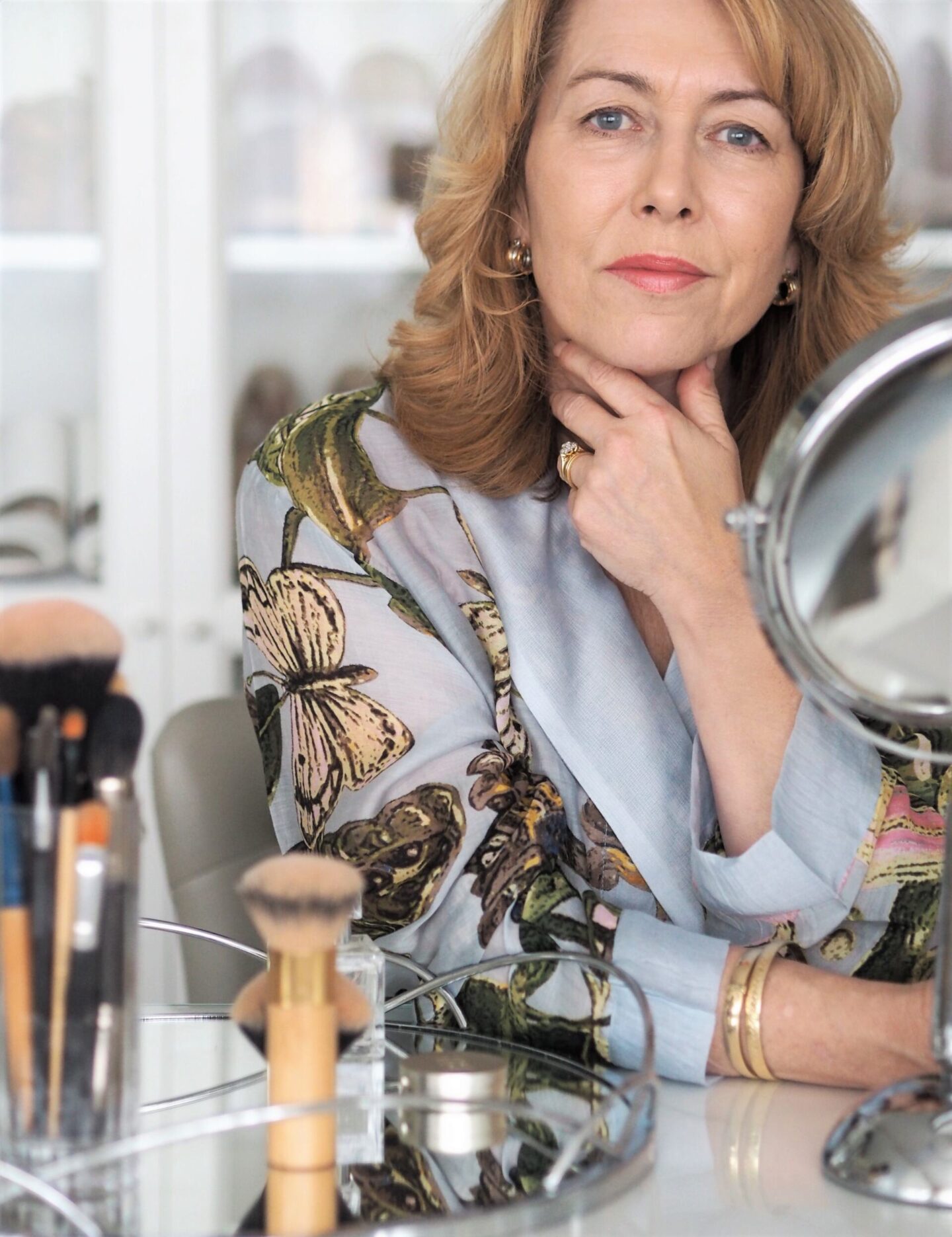 The lipliner also has a highlighter on the other end. Grace explained that using this just above the cupids bow gives the impression of a fuller lip. I like using it for a nighttime look but not for day. On me it's just a little too obvious. I've also added the Lip Perfecting Balm Gloss over the Lip Pencil above.
I think the effect is really good and I've been wanting to share on here with you for a while. Do take a look at the Studio 10 brand. There are some amazing tips and tricks to learn as well as browsing the makeup that's created with us more mature women in mind. Plus I have a 15% discount code off any studio 10 product with the code below.
Buy 2 skincare products and get a free gift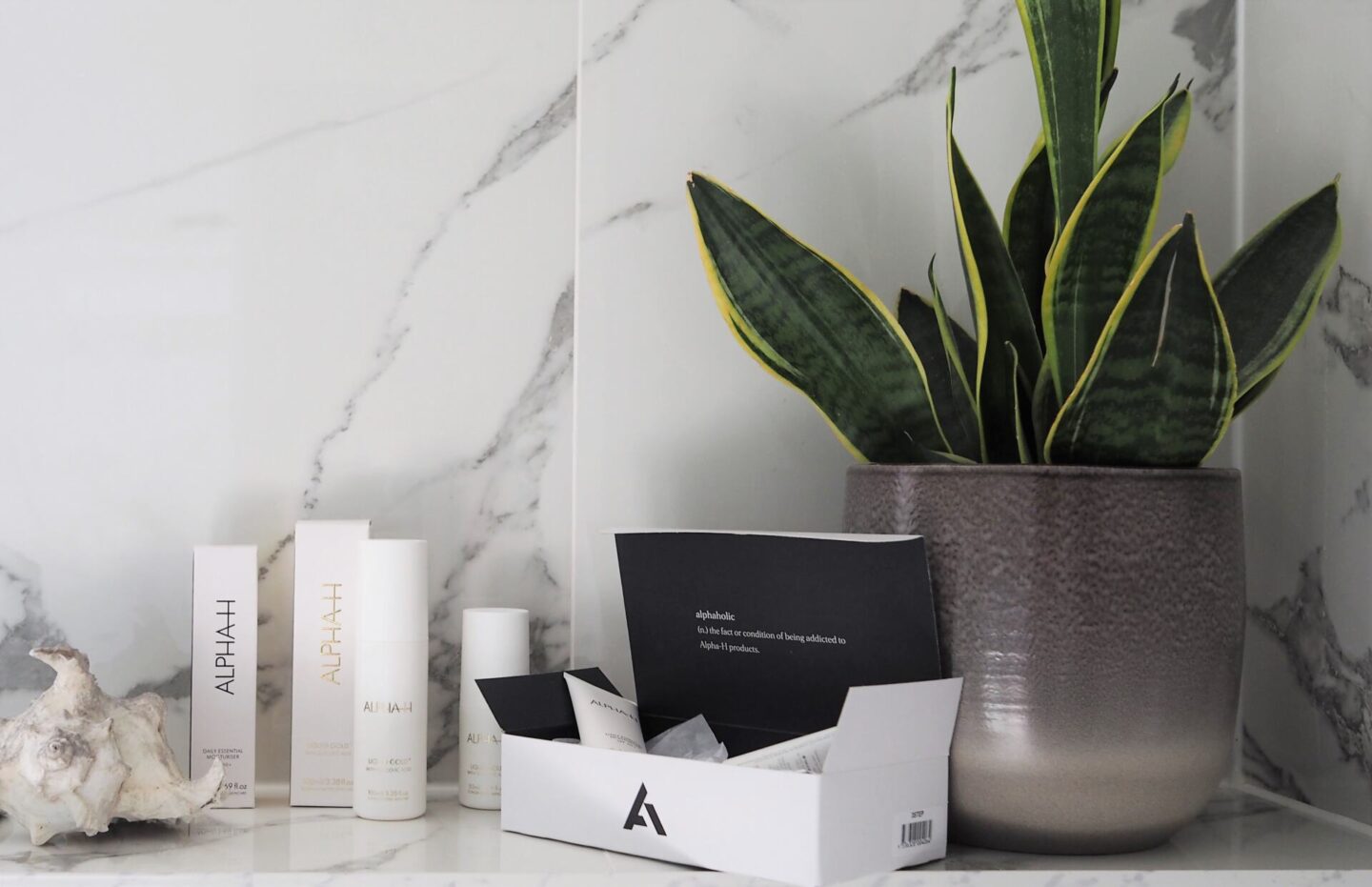 Marks And Spencer have some brilliant skincare offers at the moment. I took full advantage of this offer when I was invited to choose something to share on my socials with them. I'd heard so much about the cult leading brand Alpha H and I knew as soon as I spotted it on the Marks and Spencer website this was what I was going to choose.
The Alpha H Liquid Gold Exfoliator lives up to it's expectations! I absolutely love it. And because I chose two items I got a travel size Alpha H Skincare kit to boot. I love the Daily Essential moisturiser SPF 50 too.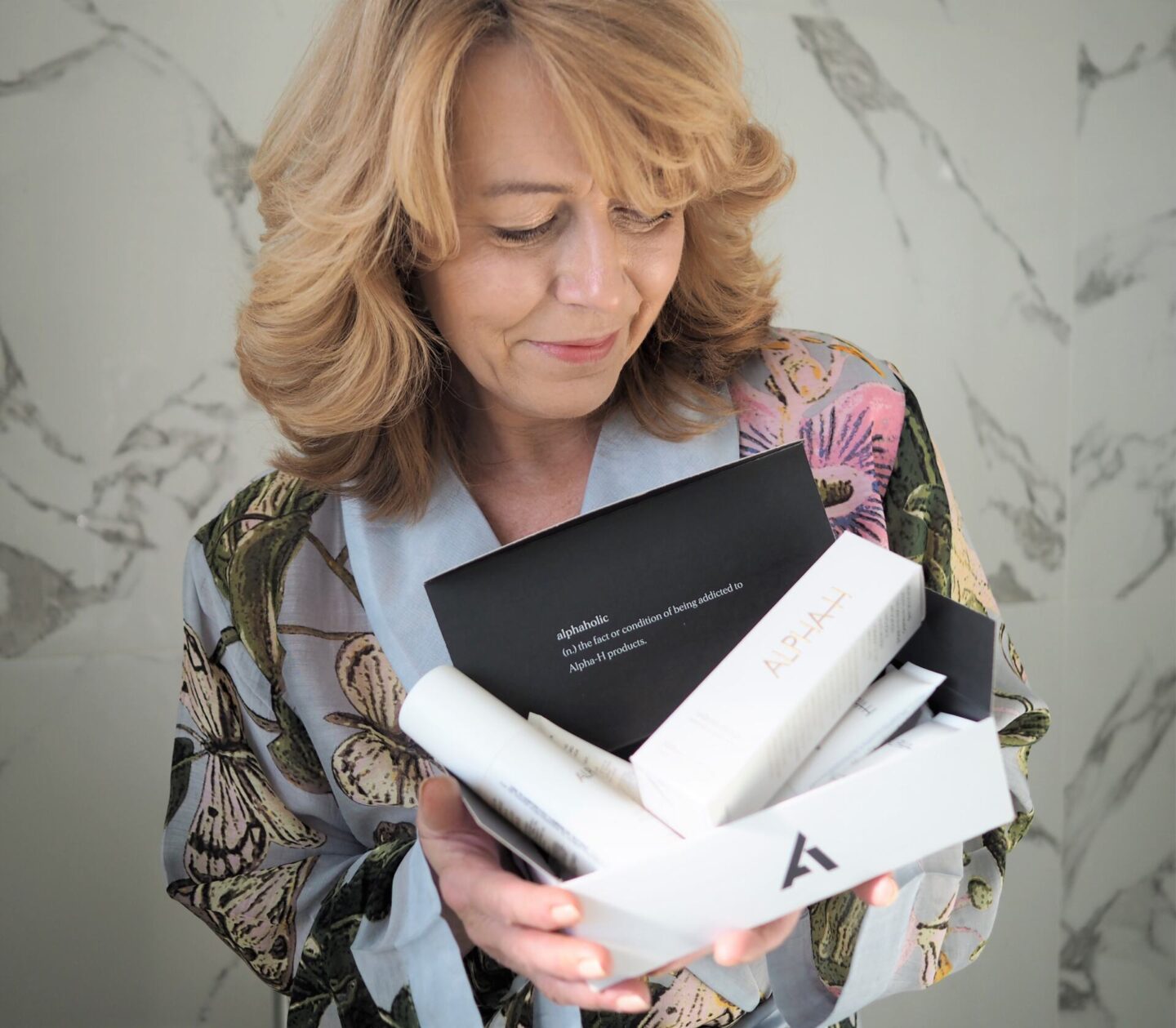 I've been trialling lots of different Retinol products. I don't know why I waited so long! I guess I worried it would be too harsh on my sensitive skin but this Alpha H one is perfect. My skin is really at its best at the moment. You do need good SPF protection when using Retinol though and the Alpha H SPF 50 moisturiser is the perfect partner. It's not chalky like a lot of the high SPF brands and doesn't leave a grey/white residue.
A brilliant way to start a new skincare regime or maybe find your favourite skincare. Marks And Spencer have some really good iconic brands incorporating this special offer that includes travel-sized gift sets.
Shop Beauty
And finally. I'm leaving you with the latest YouTube film. I'm chatting about all the items listed above.
Keep you and yours safe and well xx
---
Please be aware that there are affiliate links included in this post at no cost to you if they are clicked on
---
Thank you for stopping by!
Come back for more. Click on the subscribe form below
YOU MAY HAVE A FRIEND THAT'S INTERESTED IN THIS? PLEASE USE THE SHARE BUTTONS
XO LAURIE
Subscribe for the latest updates!