I've actually had this new blazer hanging in my wardrobe since November, dying to share it with you. I'm calling this a SS2021 edition because it's not really winter wear is it?
I picked the best day to go out and shoot photos. The first sunny day in ages but don't be deceived. The temperature was minus 3 degrees and it was freezing! I have my Teddy coat hanging on the tripod for warmth as soon as I was done! What us bloggers do eh?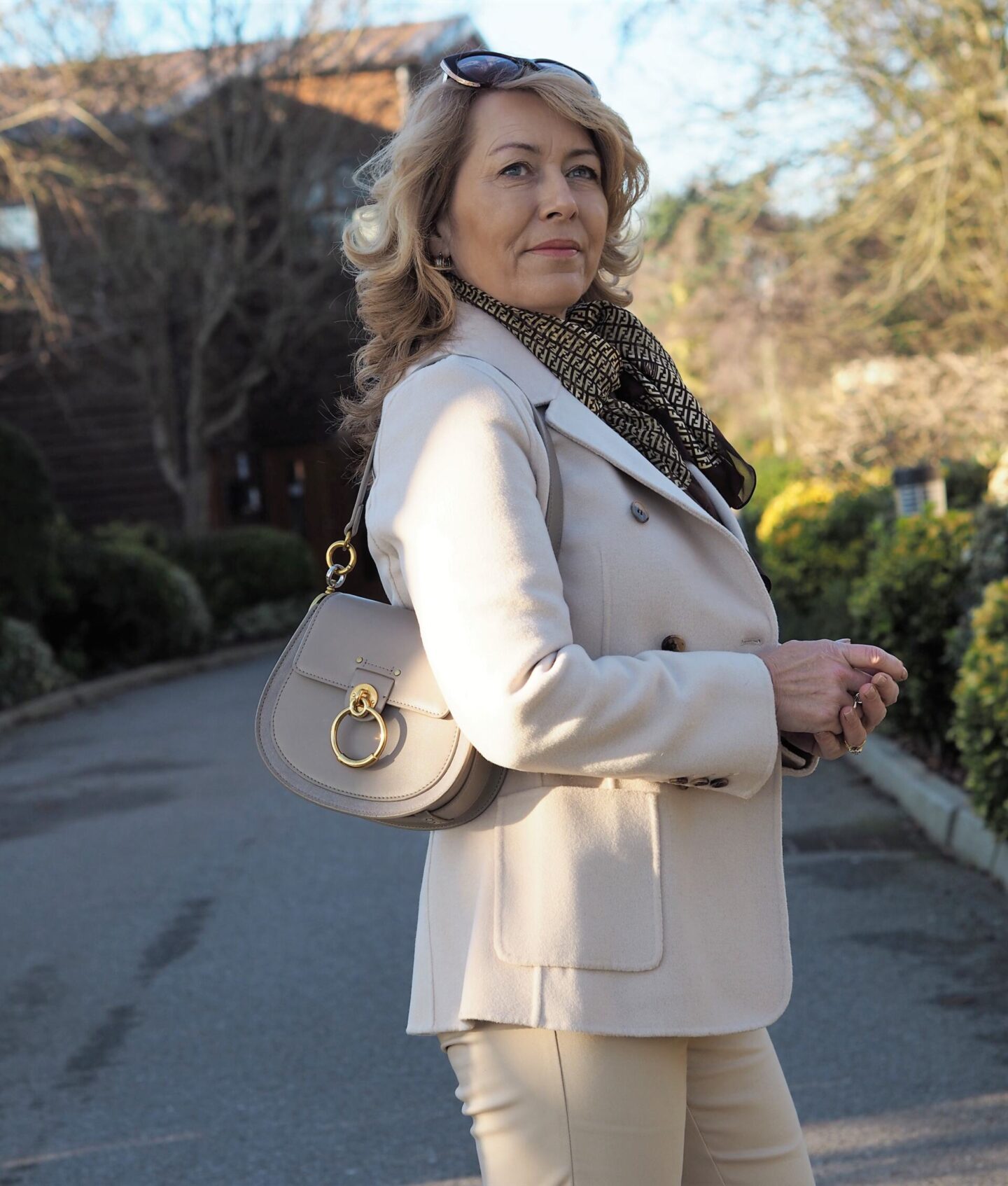 Remember the brand Tissardi that I featured last year? This beautiful bag, such a great Chloe dupe? Hard not to forget because it's been featured so much. It's my favourite bag I have in my wardrobe.
This year, from Tissardi I have been kindly gifted this Fulini Virgin Wool Blazer. Now, there was a discrepancy with the sizing here. Totally my fault, I ordered the wrong size and it is supposed to be double-breasted. But after trying it on with a few different outfits I actually like how it fits. I rarely fasten my blazers so I'm happy with it and decided not to exchange.
This Cream blazer will mix well with my SS2021 wardrobe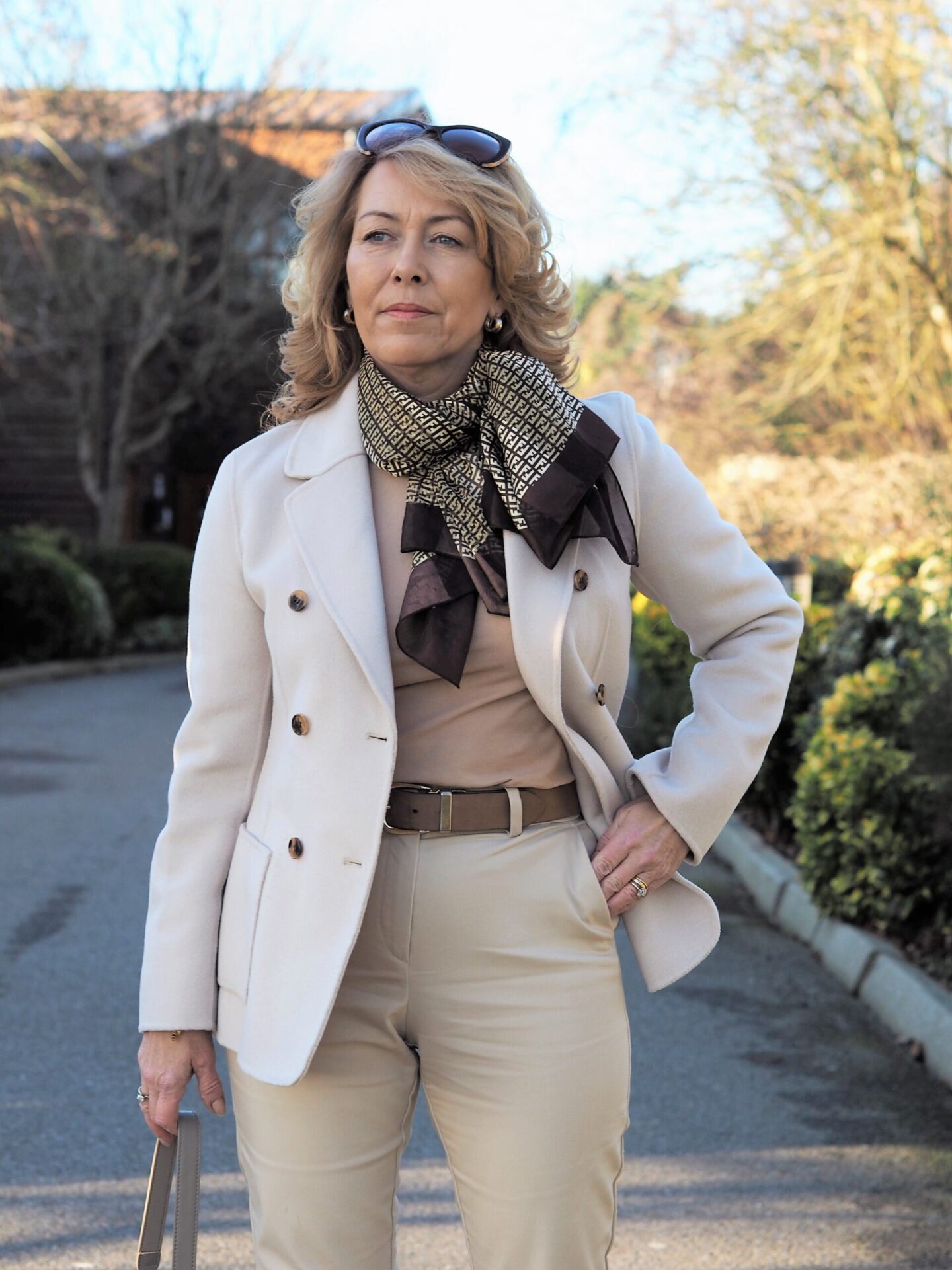 The jacket is a real super soft wool, it's unlined but I can deal with that. What I was worried about when I first clapped eyes on this jacket was how I was going to keep it clean. But it's machine washable at 30 degree's so this made up my mind to order. I just love how classic and rich looking it is. Love at first sight!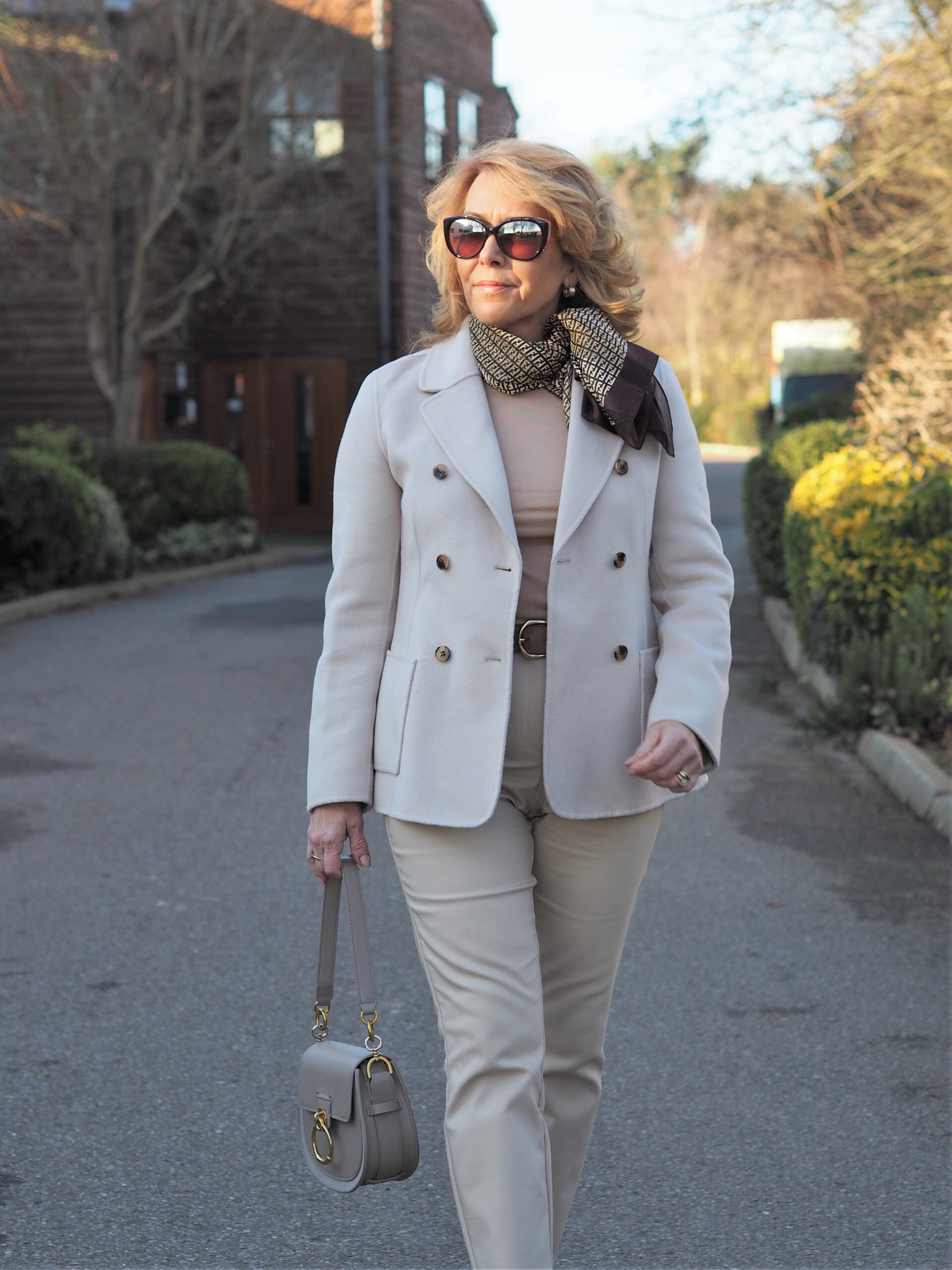 One thing I won't moan about during lockdown is that I can take photos in areas that would normally be heaving with people. Barley Lands in Essex is full of craft shops and family farm-themed park and is completely deserted and I have the whole place to myself! The grandchildren love it here and we visit often when it's open. And I must say, it's lovely to be out for a bit.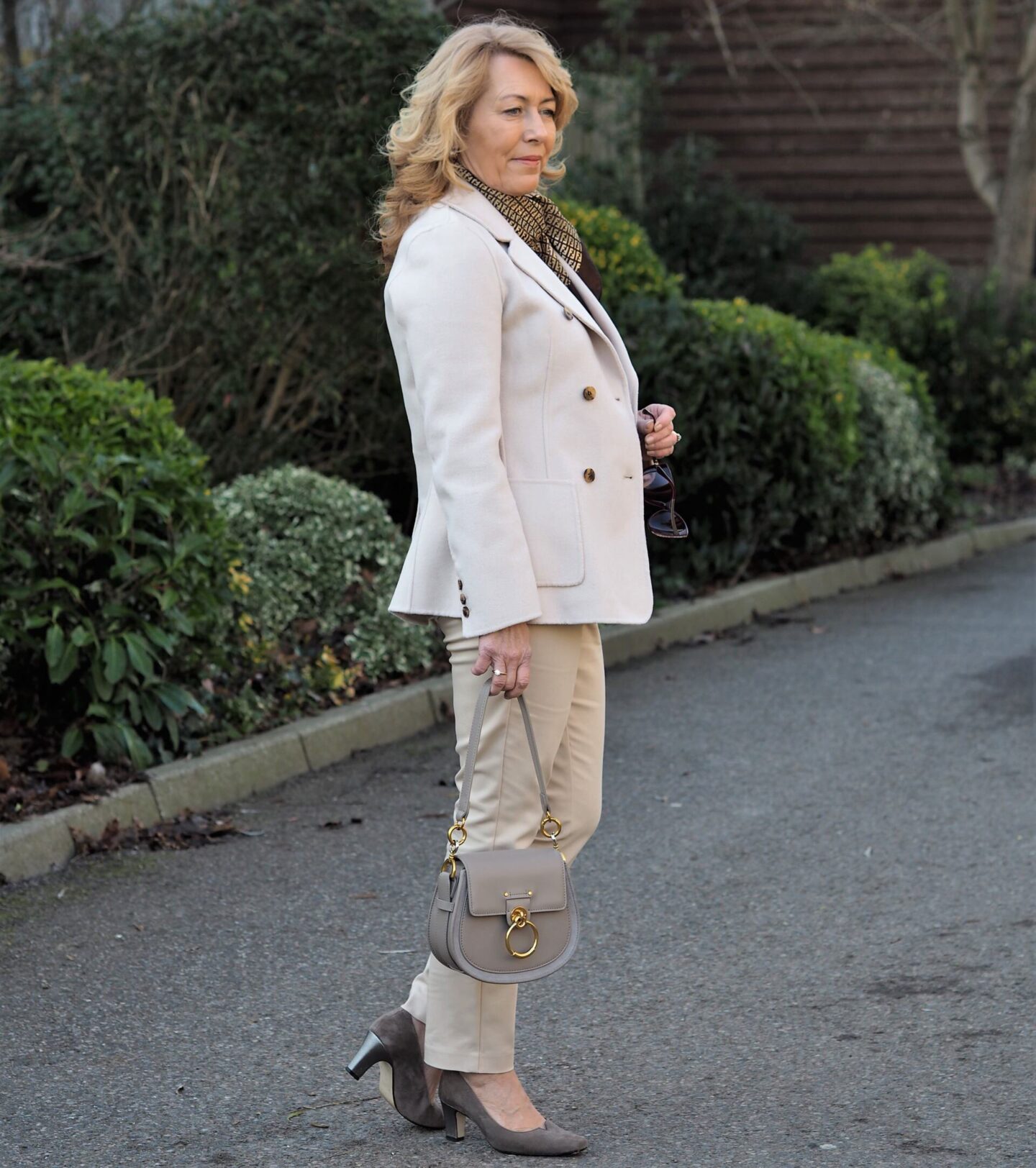 I've paired the blazer with a simple long-sleeve T-shirt and Cigarette trousers from H&M. I bought the cigarette trousers in black and loved them, so I purchased these beige ones after. They are available in other colours and I'm tempted to buy more. This colour I'm wearing is currently priced at £6.00! but at full price, they are only £17.99 and worth every penny of that
I think the blazer is going to work well with all my neutral-toned wardrobe later in the year and will look great with denim too. I have some cream jeans I think this will look great with it. The quality of the blazer is very good and I think I will love it as much as the bag I received.
The Tissardi site has so many beautiful items for SS2021 on there. I have a huge wish list! including the straight cut leather trousers. But which colour? Hmm. I've been promising myself some real leather trousers for some time.
Shop the look
Accessories maketh the outfit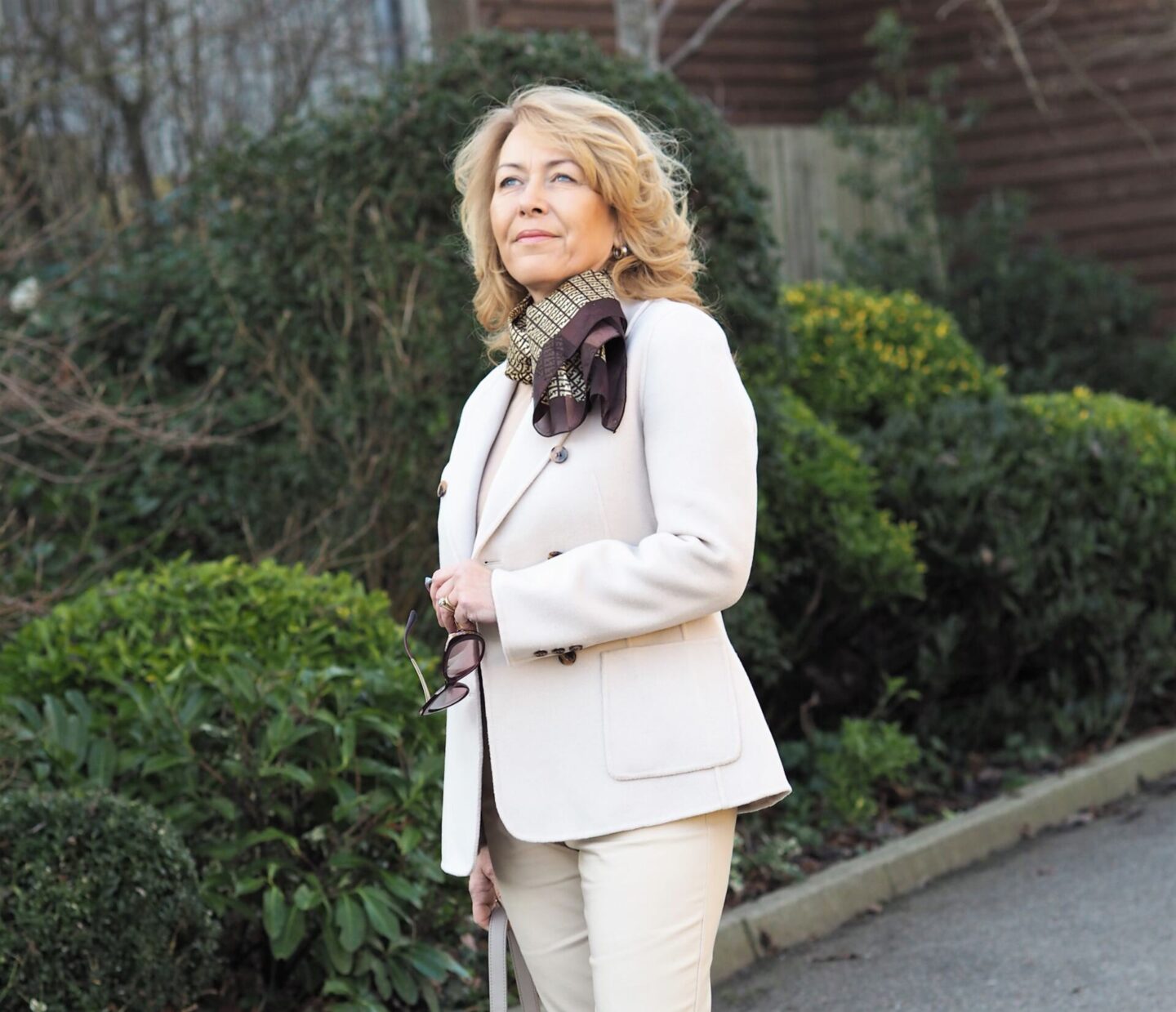 Wearing all neutral tones, accessories are key I think. The Fendi scarf was found in a charity shop years ago and I was so pleased when I found it. On showing it to mum, her eyes lit up. "Oh I love it " she said. Of course, it came straight off my neck and wrapped onto hers.
Now I have taken possession back. This is the first time I've worn it and I could smell her perfume on it. This choked me up a bit.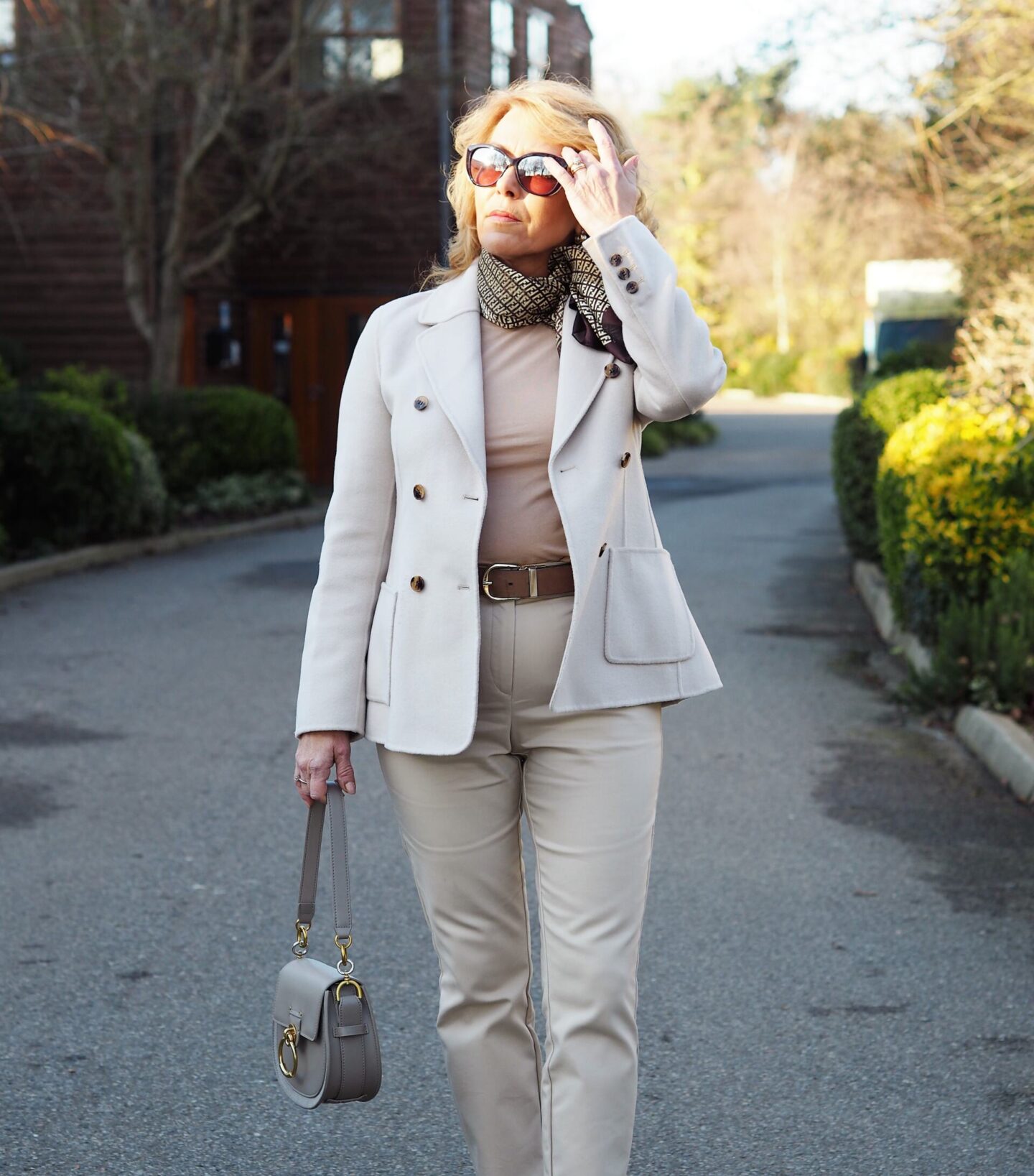 The Sunglasses I'd like to mention. If any of you are petite like me and find it hard to get the right fitting sunglasses, take a look at SmartBuy Glasses. They have all the designer brands including an Asian fit. Perfect for us Petites! They have some beauties for SS2021
Of course the bag that goes with everything. I just love the colour. It is available in other colours too, but I knew this colour would work best for me and it hasn't disappointed.
The shoes are from VanDal shoes. The heel height is perfect and these are very comfortable. Currently on sale at the moment, and again the colour mixes well with everything. This is what I love about a capsule wardrobe of neutrals! Everything just pairs together so easily.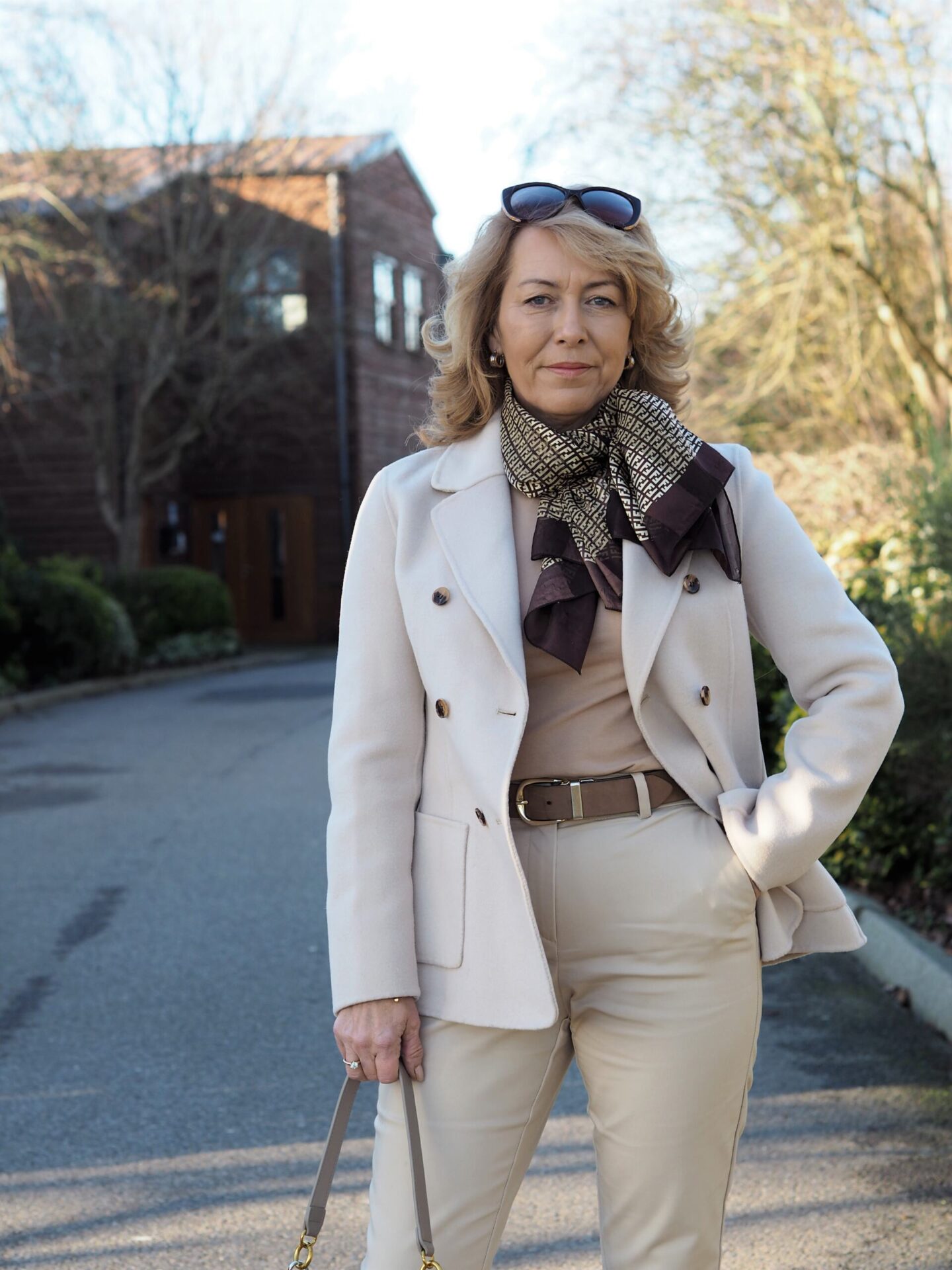 And then, of course, the final accessory, my trusty Baukjen belt. This reversible belt (it's black on the other side) completes my first SS2021 look. Oh, and before I go and warm-up, don't forget the 20% discount code for Baukjen that I have. The black top that I wore in the last post is just gorgeous. Use the code VM20 for the discount off full-priced items.
Shop The Look
Keep you and yours safe and well xx
---
Please be aware that there are affiliate links included in this post at no cost to you if they are clicked on
---
Thank you for stopping by!
Come back for more. Click on the subscribe form below
YOU MAY HAVE A FRIEND THAT'S INTERESTED IN THIS? PLEASE USE THE SHARE BUTTONS
XO LAURIE
Subscribe for the latest updates!