After chatting about and posting some clips of the kitchen renovation, I got quite a few comments and messages about the master bedroom. This was the last room that I spoke about on all my channels, so everyone was waiting for an update.
The bedroom was actually more or less finished a year ago but I'm not happy with how the room turned out, so, like everything else that I'm not happy with, it hasn't made the grade to get a mention on here!
But promise a finished bedroom post I did, so here it is. but as soon as the rest of the house is finished, it will have another make-over. This is definitely temporary.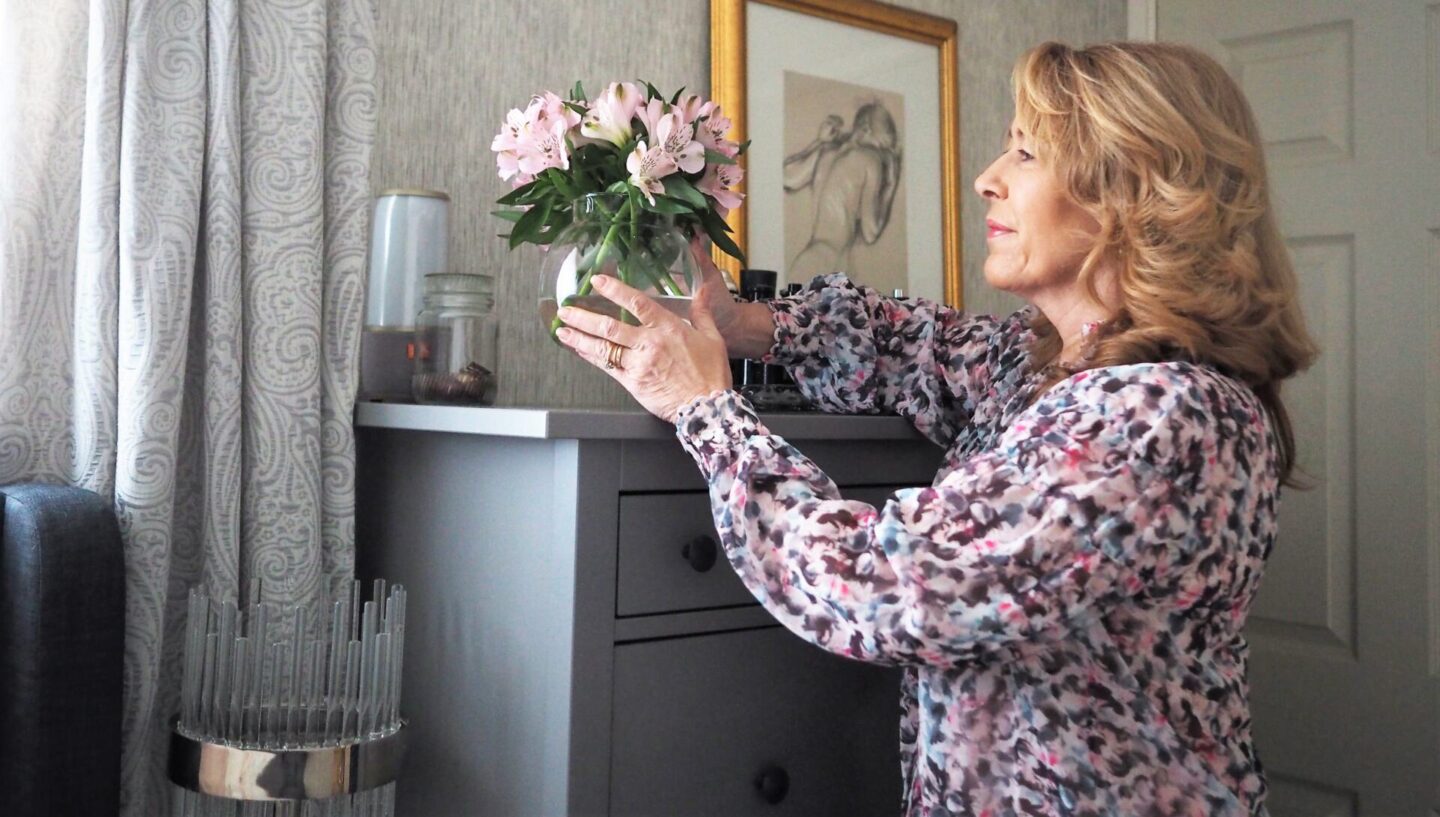 If you are a fairly long term reader here then you will remember the post about my master bedroom renovation just before I moved?
I loved how it turned out and as soon as I knew I was on the move I knew I wanted to replicate the same in our new home.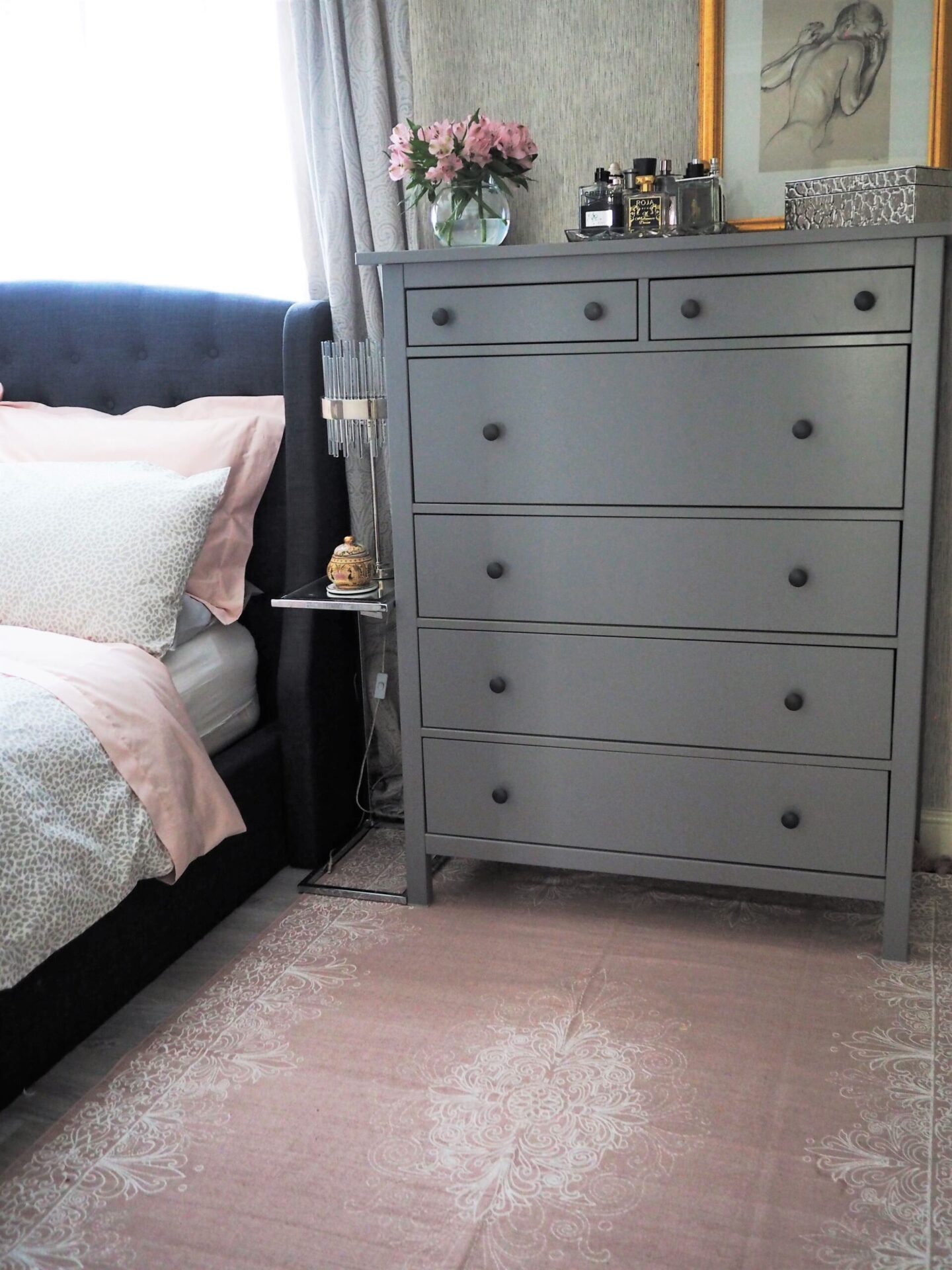 I couldn't have been more wrong in thinking that I could re-create that bedroom! Not one item of furniture fitted, the room has every bad point going for it ( according to the Sharp's bedroom designer that came to give me a quote)
A cupboard door on one wall, a pillar and window on the other two. Dimentions made it really dificult.
A master bedroom with the worst possible room dimensions!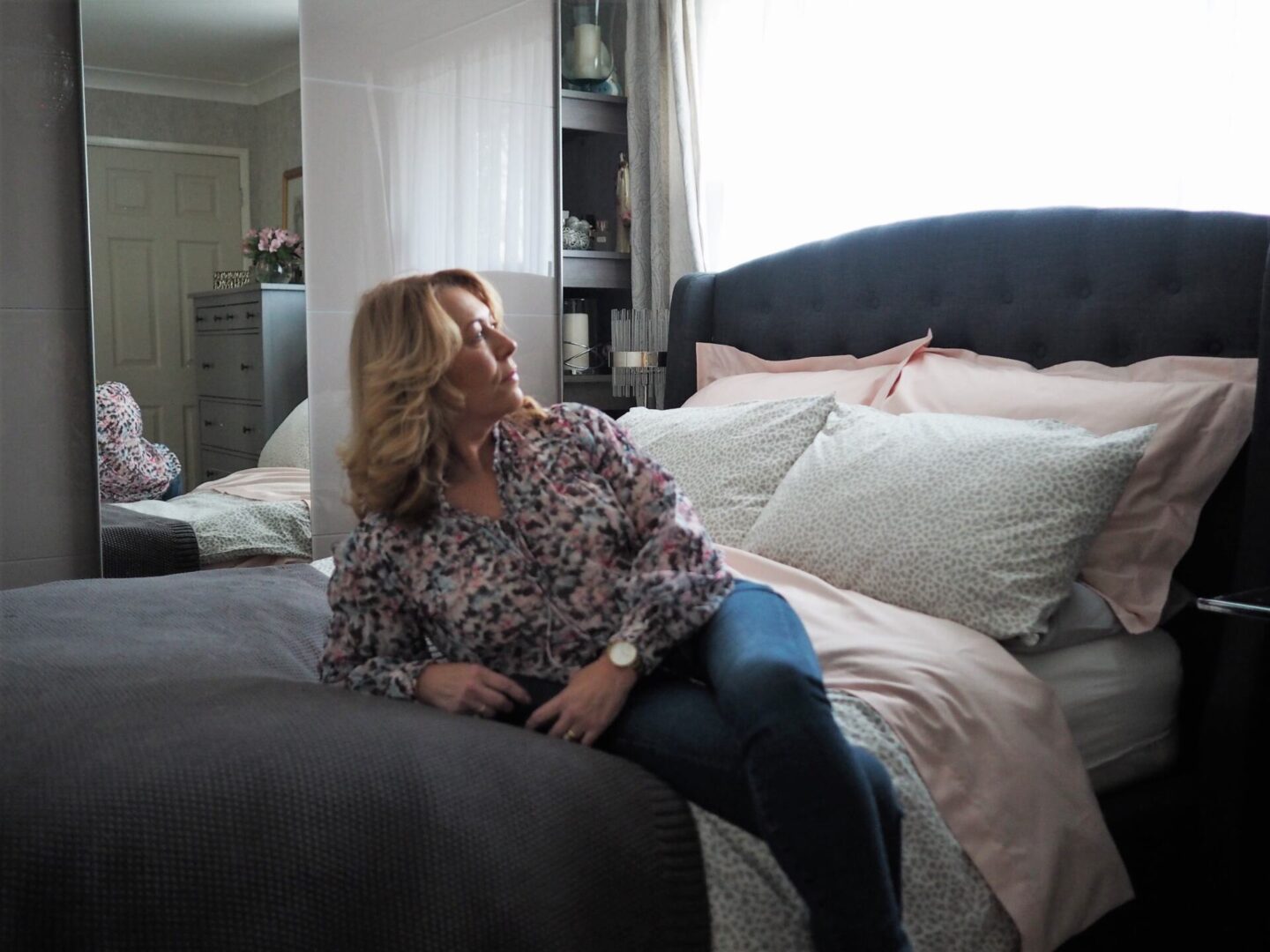 I was that set on re-creating the bedroom that we had in London I immediately ordered the same wallpaper in fear of it selling out. This was the biggest mistake that I made. And yes, as we are advised anywhere that you read about interior design, is to live with your space for a while and then decide.
Now I do have a good excuse here. Just before the start of the master bedroom renovation, Dee had the heart attack. So while the bedroom was being decorated I was at the hospital
I knew as soon as I got home to take a look it wasn't the same effect at all. I now live in a tree lined road and the room can be very dark. But at that time, how things turned out here were the last worry on my mind.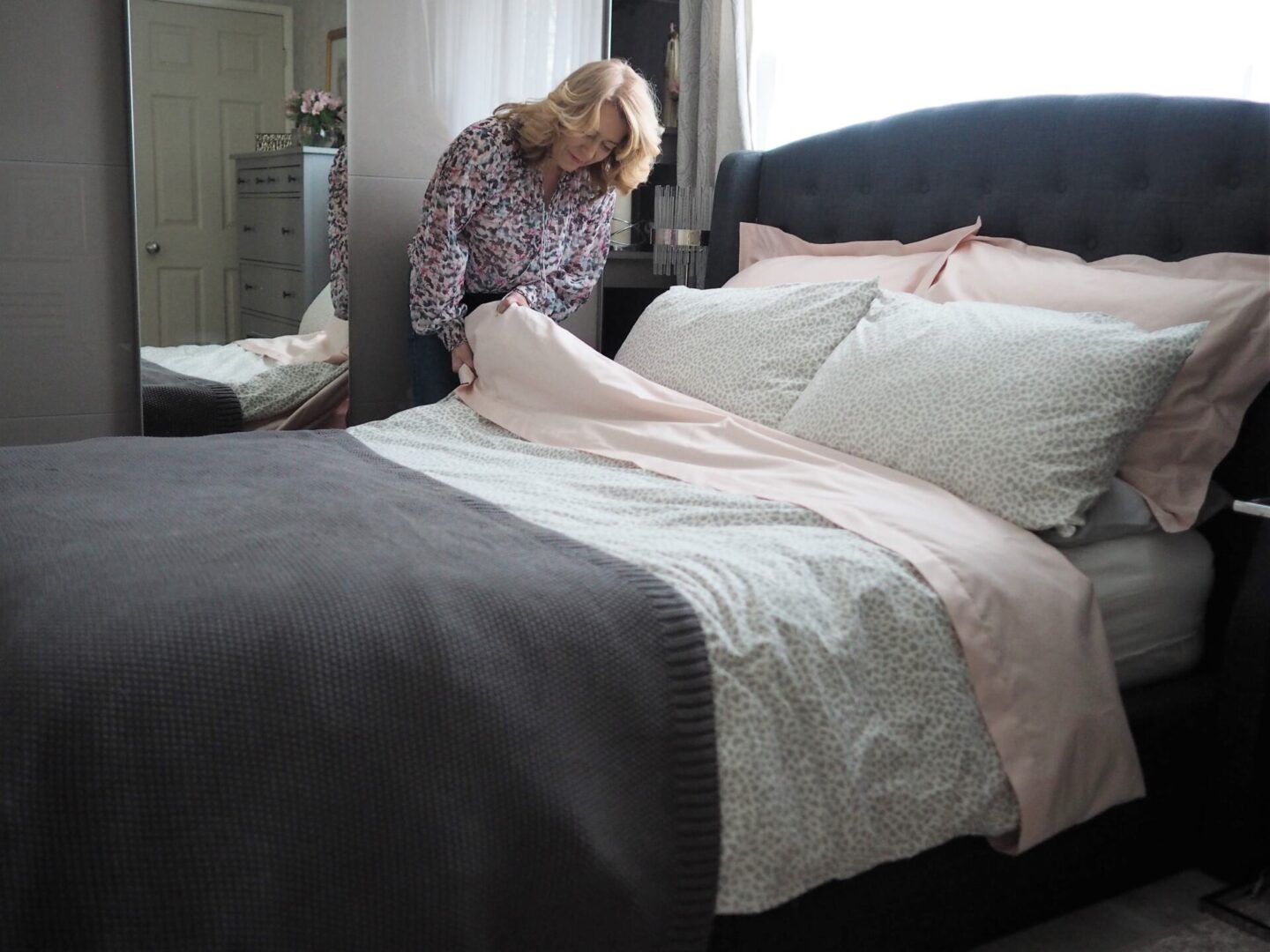 I decided to add some pink to the room to brighten it up a bit. The quilt set was a sale purchase from Vera Wang and the Dorma pink sheets and pillowcases are from Dunelm. I love the rug recently purchased from HM Home
Living in a ground floor flat in London, we never had the windows open while we slept. Having a house, I can now have them open and I love it! Even in minus temperatures I love nothing more than to snuggle in the duvet and breath in the fresh air.
When the novelty has worn off I will most probably move the bed to the other side. But it hasn't yet. I've been very pleased with the ottoman bed but this will be replaced with something lighter later on.
Finding the narrowest bedside tables for the master bedroom was a task!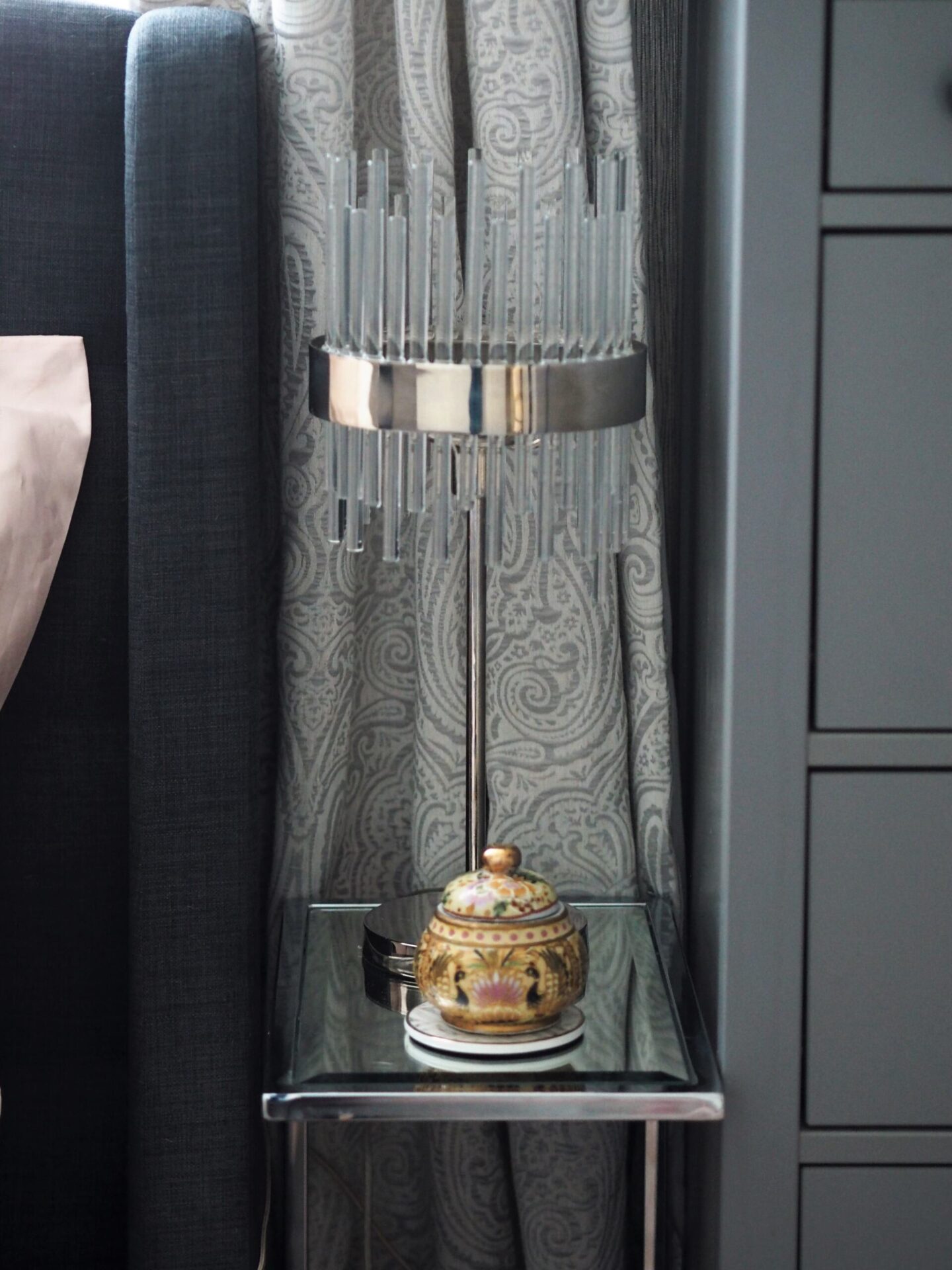 I had huge bedside drawers in the London flat but there was no way these were going to fit either side of our bed. Nor many others either! I found these chrome and glass tables at Furniture Village and I like them.
I've also been pleased with the tall chest of drawers from Ikea. They store a lot and are sturdy compared to some of Ikea's furniture. The glass tray was my grandmothers, the silver box is from TK Maxx.
I miss TK Maxx more than any other shop. I can't wait to have a browse when the shops open.
We have several pictures that haven't been hung yet. I've just propped them up in places until the bedroom gets re-done.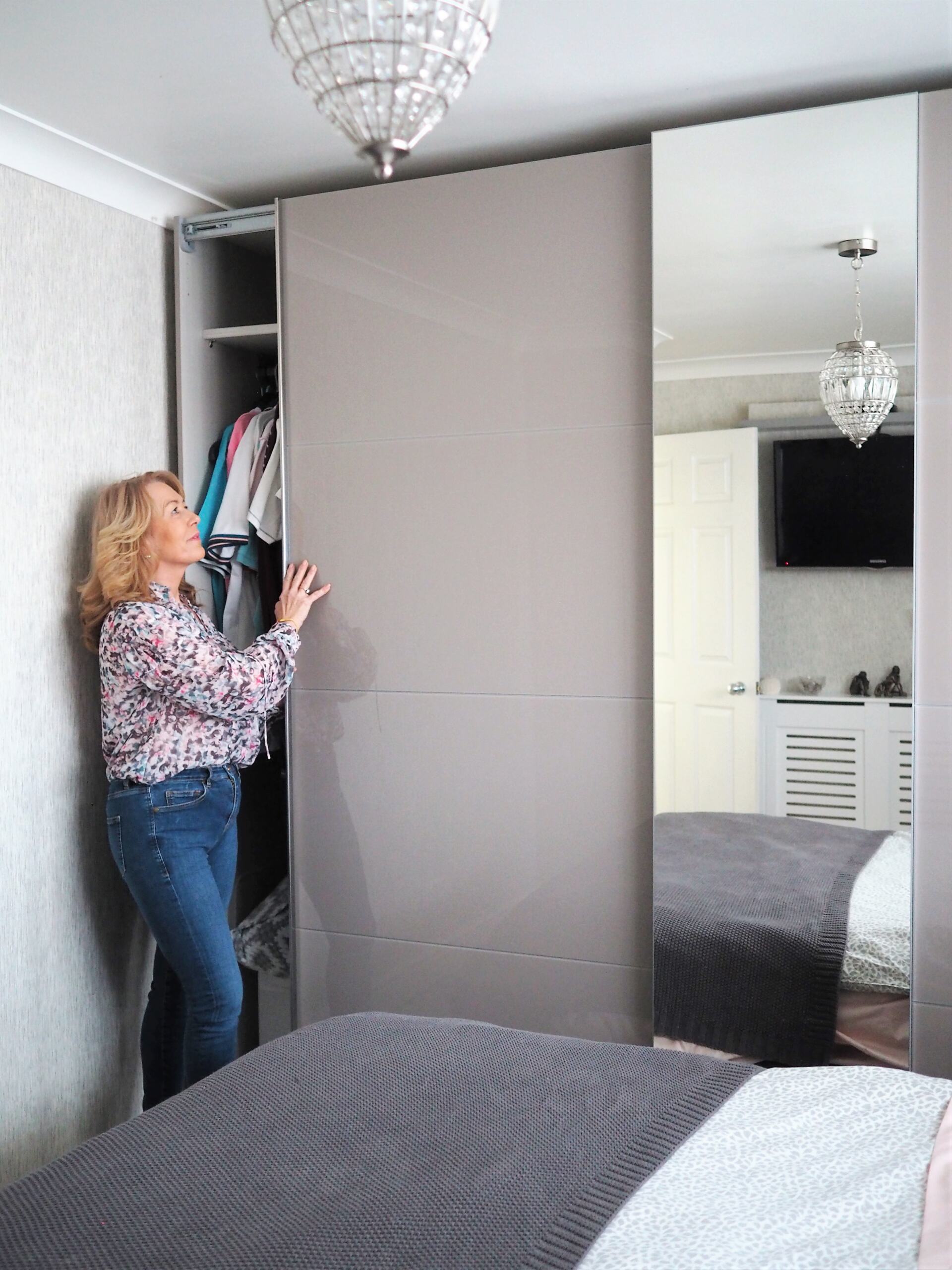 Finding the best fitting wardrobes was a task. I had two bedroom companies come to the house to give quotes and the prices were ridiculous. £4000 for a simple run of units? I decided to shop around and found these at furniture village.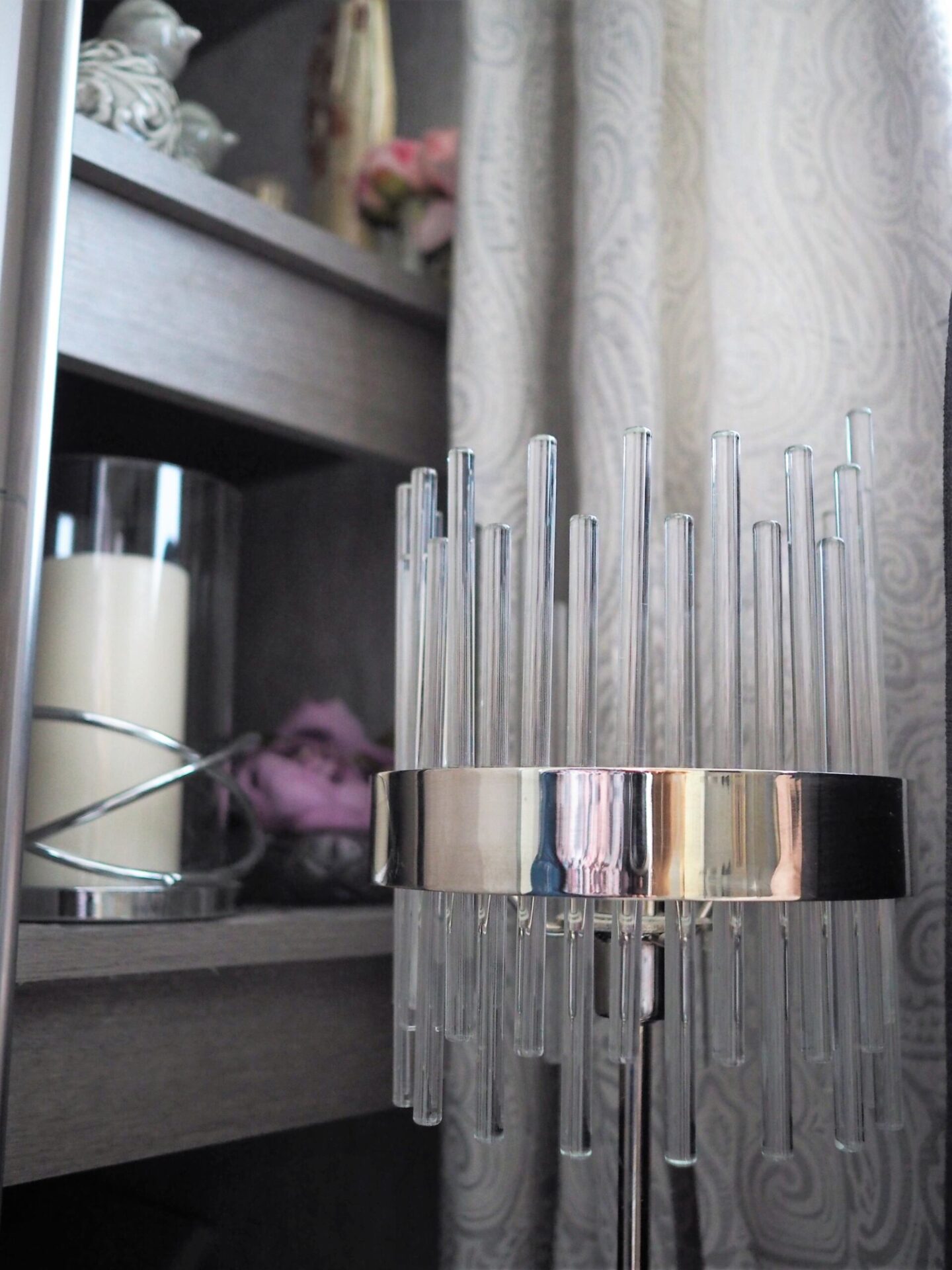 Just after ordering is when we hit lockdown and my 3-month wait turned into four. This was an absolute pain in the butt, storing clothes etc but I am really pleased with them. German-made and very sturdy.
We had some shelves made to fit on the end of the wardrobes for bits and pieces to be stored. I still love the lights that I purchased back in London but I might change those too.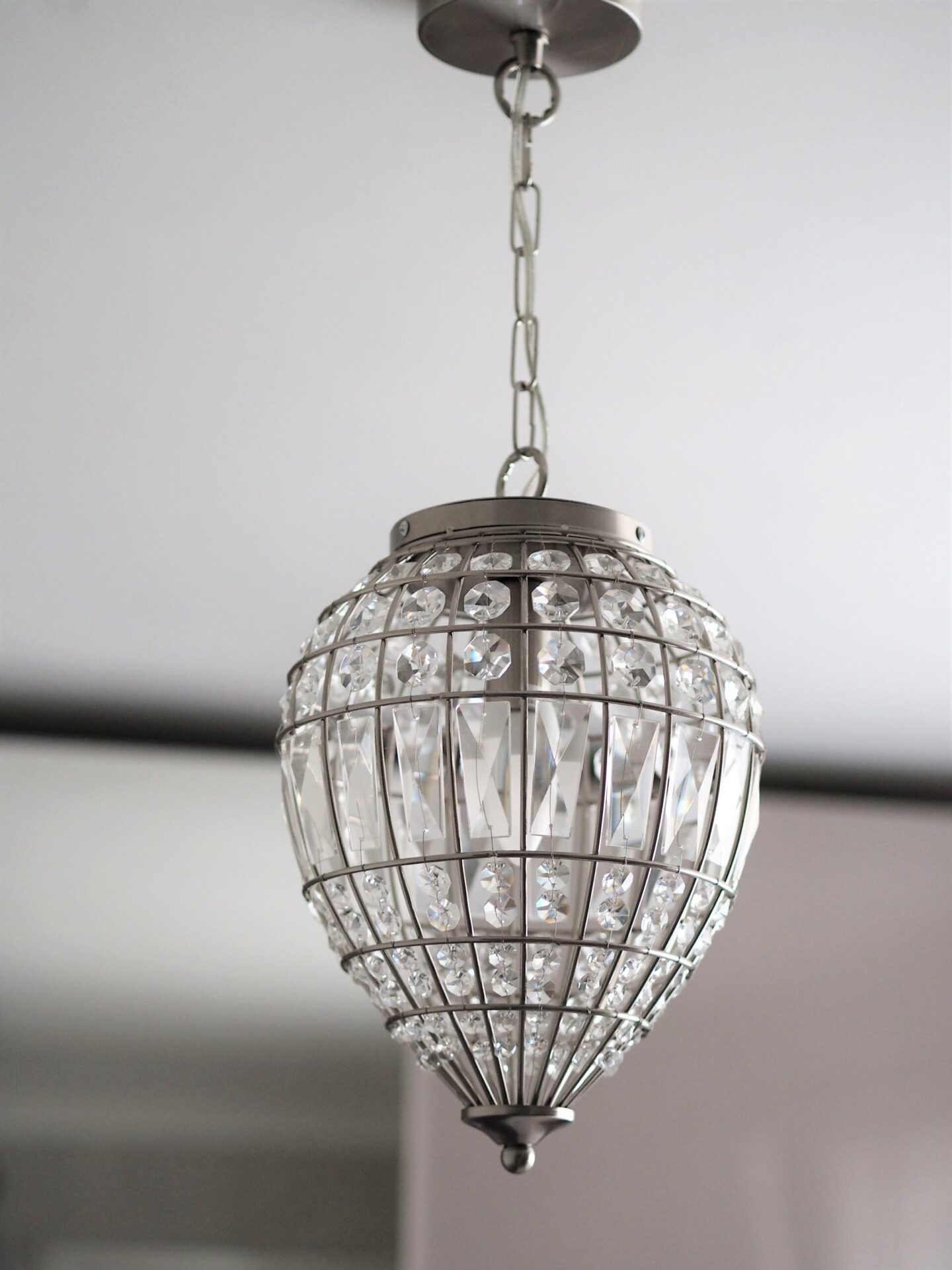 The mirror in the middle is handy. I can watch the tv from whichever way I'm laying in bed! I do like to snuggle down and have a bed day every now and then watching some new series or other.
The light is from Wayfair and I love it. I had a right laugh on social media when I ordered the first one that I clapped eyes on!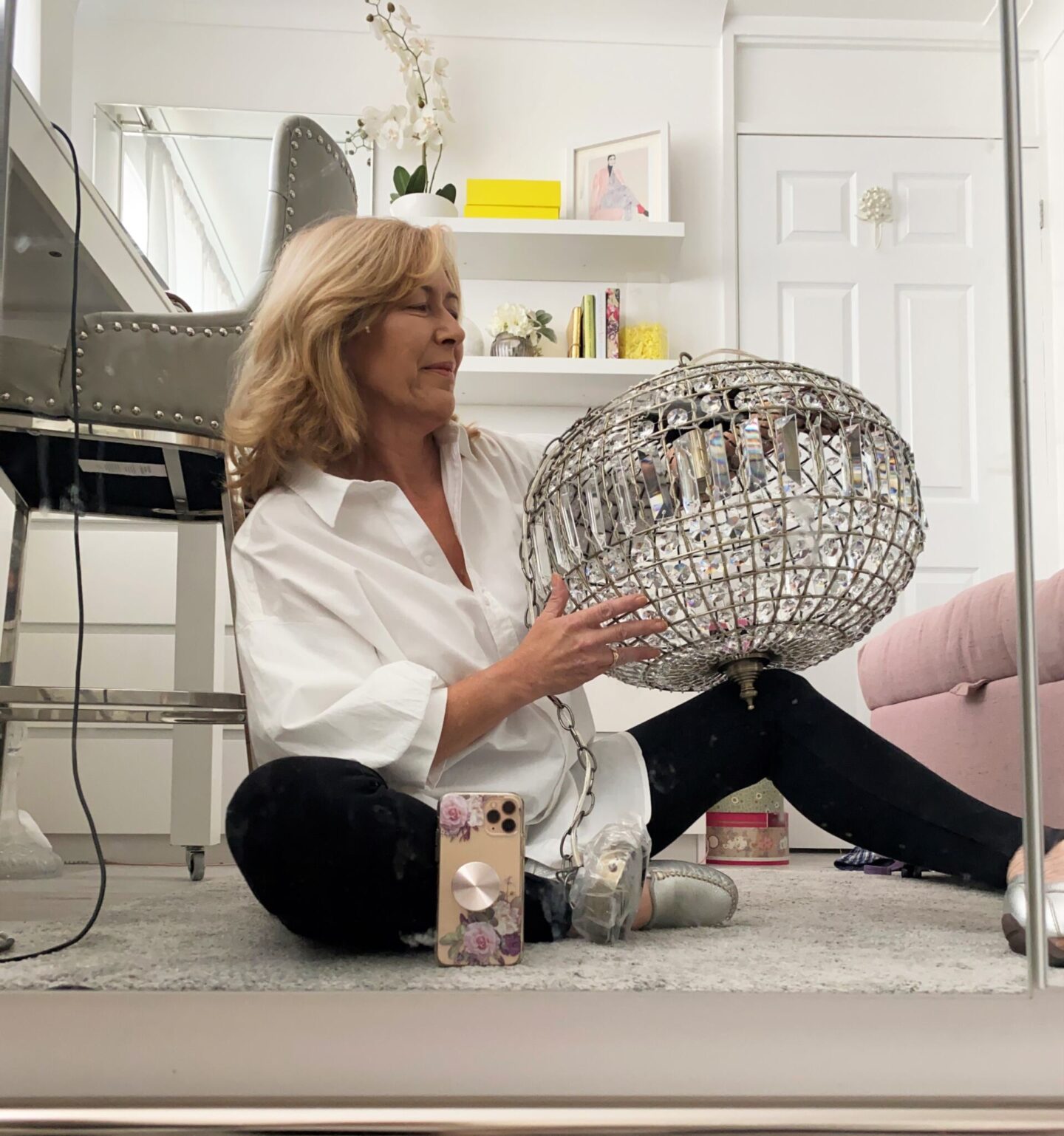 Remember to check dimensions! Yes, it's been a big learning curve. I fell in love with this light. You should have seen Dee's face when it arrived! A quick swift change and I found the replacement. I must say that Wayfair is very good regarding customer service if you're ever thinking of buying from them. Impressed with them and I recommend.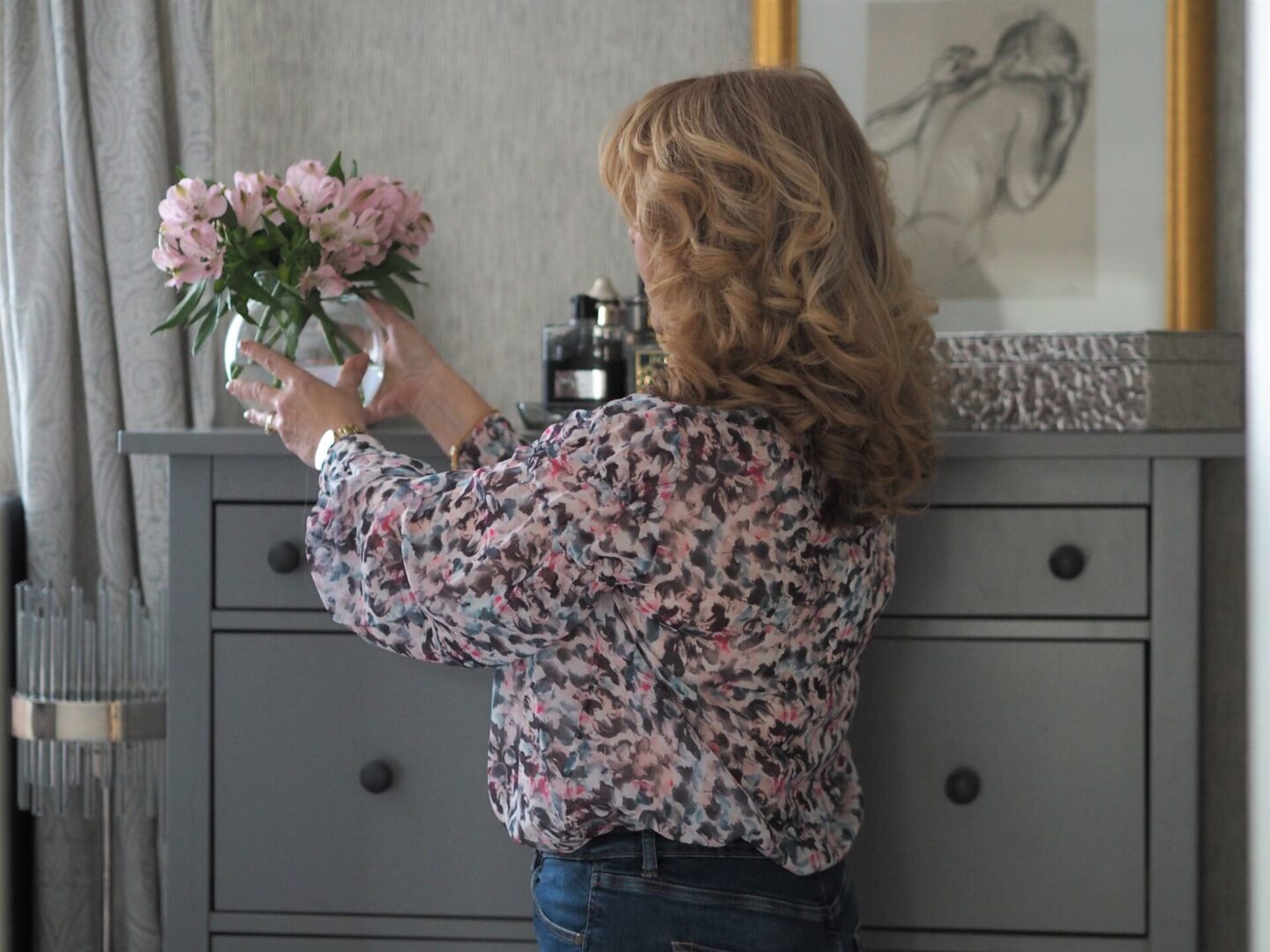 So. That's all there is to show. I will continue to add my favourite alstroemerias in my master bedroom to cheer me up when I'm in here. When the changes are made to the room, I will of course give you an update.
I will be sharing the bathroom renovation here soon, and I look forward to that. It's been so much easier than the master bedroom and I love it.
Keep you and yours safe and well xx
---
Please be aware that there are affiliate links included in this post at no cost to you if they are clicked on
---
Thank you for stopping by!
Come back for more. Click on the subscribe form below
YOU MAY HAVE A FRIEND THAT'S INTERESTED IN THIS? PLEASE USE THE SHARE BUTTONS
XO LAURIE
Subscribe for the latest updates!