At last, it's time to start wearing some lighter layers. The weather has been so much better here in Essex the past week. It was lovely to actually go out and take photos of these new Cotton Traders items. A little windy but lovely and bright.
It will soon be time to do the wardrobe switch over and I've just purchased yet another pair of my favourite espadrilles for the warmer months. I smile when I wake up early and the sun's out and it's lovely and bright. It changes everything.
I'm so happy to be sharing some lovely pieces with you this week. A different colour mix for me, but the blue and tan pairing really caught my eye. It's good to try something different every now and then, well Different for me anyway. As you know how I love all my neutral monochromatic shades.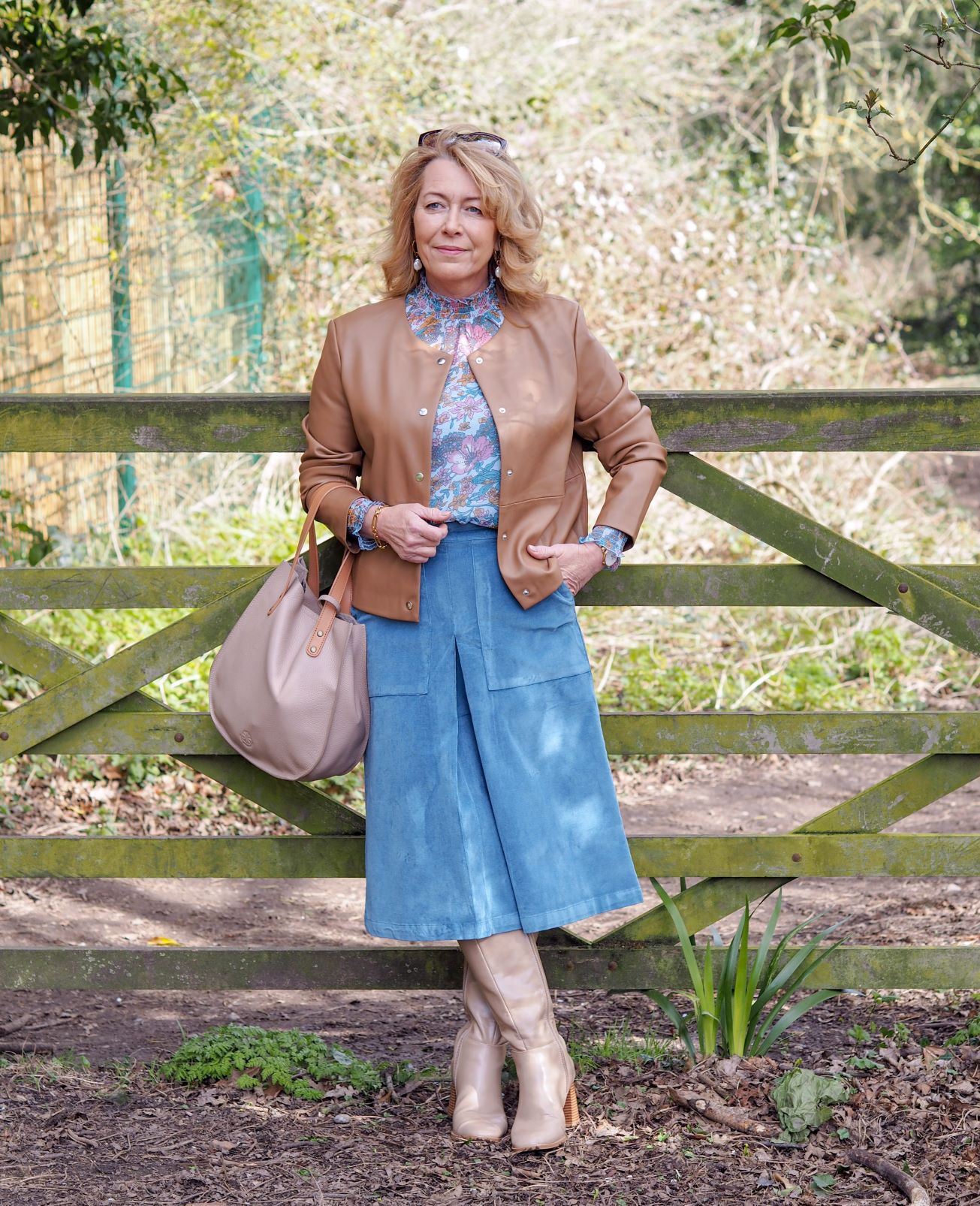 I haven't added a new skirt to my wardrobe for some time and two things came to mind when I spotted this one. The colour is gorgeous and it's made from corduroy. It's years since I've worn anything corduroy and I spotted quite a trend for the material watching the winter fashion week catwalks.
I like the sharp pleat at the front and the deep pockets. I think paired with the blouse, it has a slight 70's vibe. The Cotton Traders Lila Stretch Cord Midi Skirt is available in three other colours including the colour hue I would normally go for of Light Sand but it was the blue that caught my eye.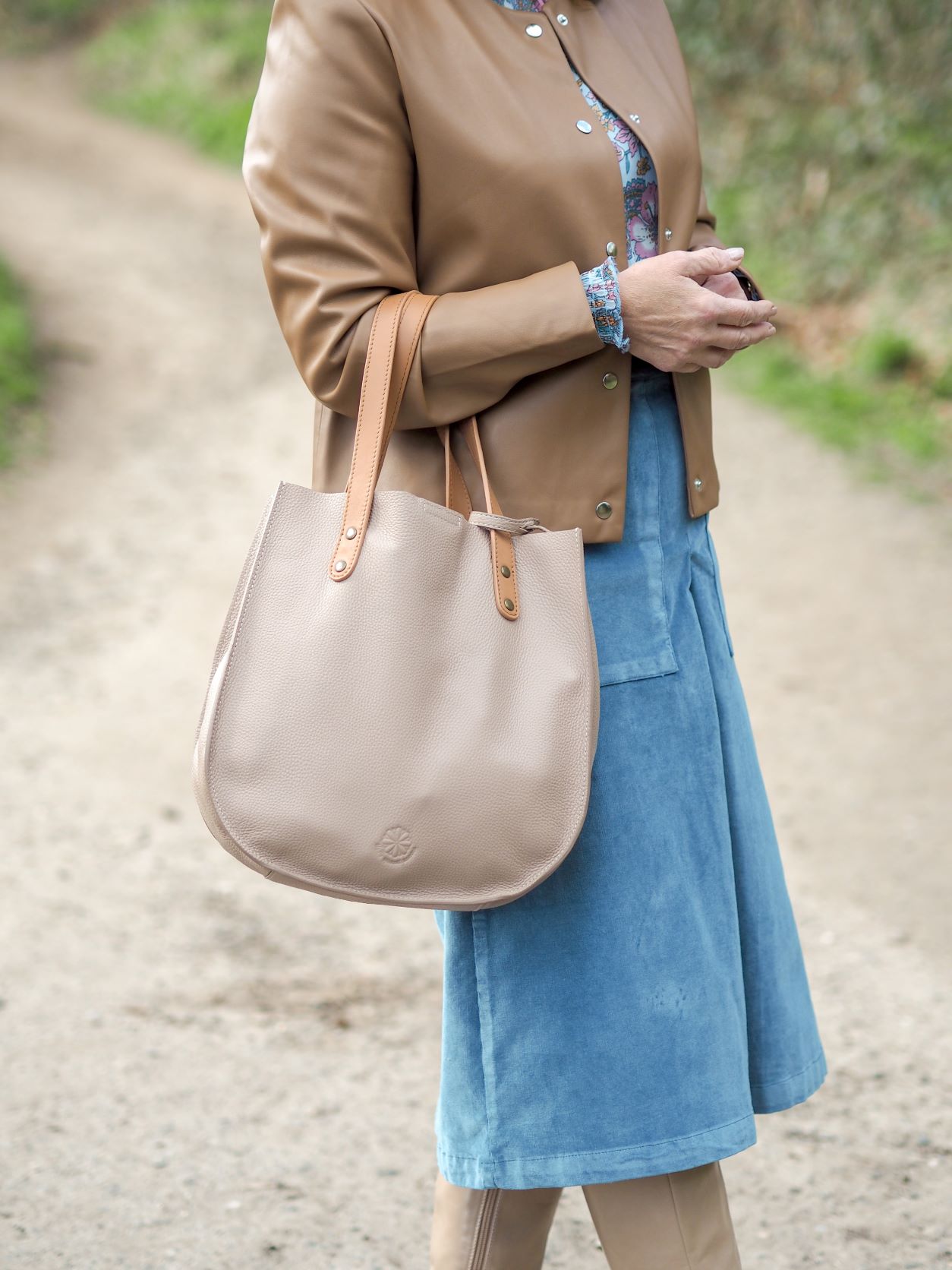 I've paired the outfit with lighter accessories to give a spring-like feel. The new love in my life is the St Ives Tote bag from Nadia Minkoff. The softest pebbled leather in the shade of sand, I like the contrasting handle straps.
The bag also comes with a good-sized leather purse attached to a detachable strap fitted to the handle of the bag. No more rummaging for the purse! Nadia has kindly given a 20% discount code for the St Ives bag. The sand colour is just going to pair with everything and I've been using the bag non-stop!
Use the Code StIves22 for a 20% discount. Available until the end of March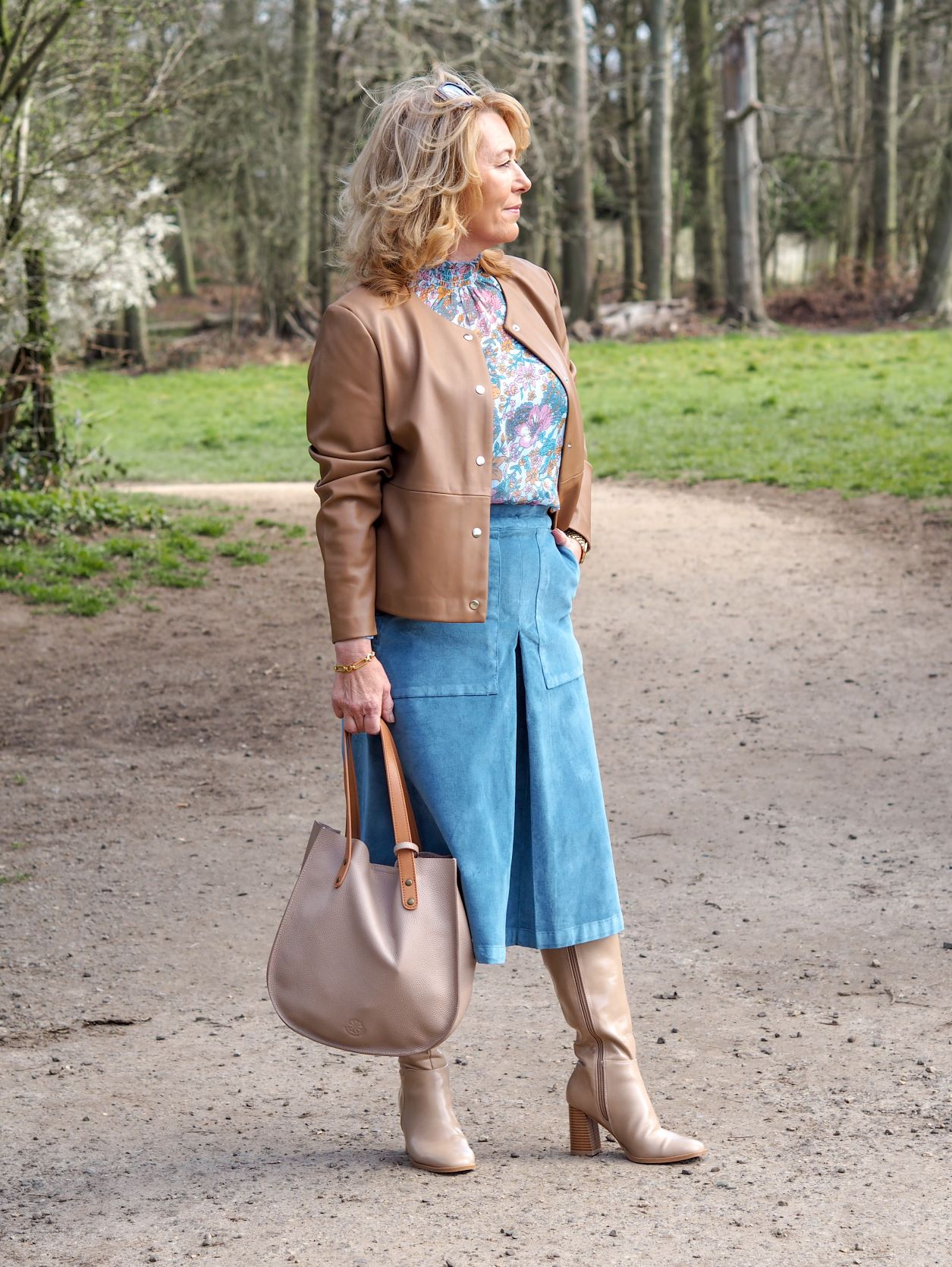 How gorgeous is this Tres Chic Cotton Traders faux leather jacket? Currently on sale at half price. The first thought that sprung to mind was how good this will look with a roll neck jumper? And tan is such a classic, isn't it? This will also look great with jeans or a more formal look with a cream skirt or trousers. Or black. I always think tan and black pair well. It's super soft and I really like hardware/popper fastenings.
I like the soft shirring around the neck and cuffs of the blouse, but I also wanted to share these gorgeous new hoops and large pearl drop earrings from Lattelier. They took ages to arrive in the post but were worth the wait.
The Cotton Traders "Oh So Pretty Blouse" is just that!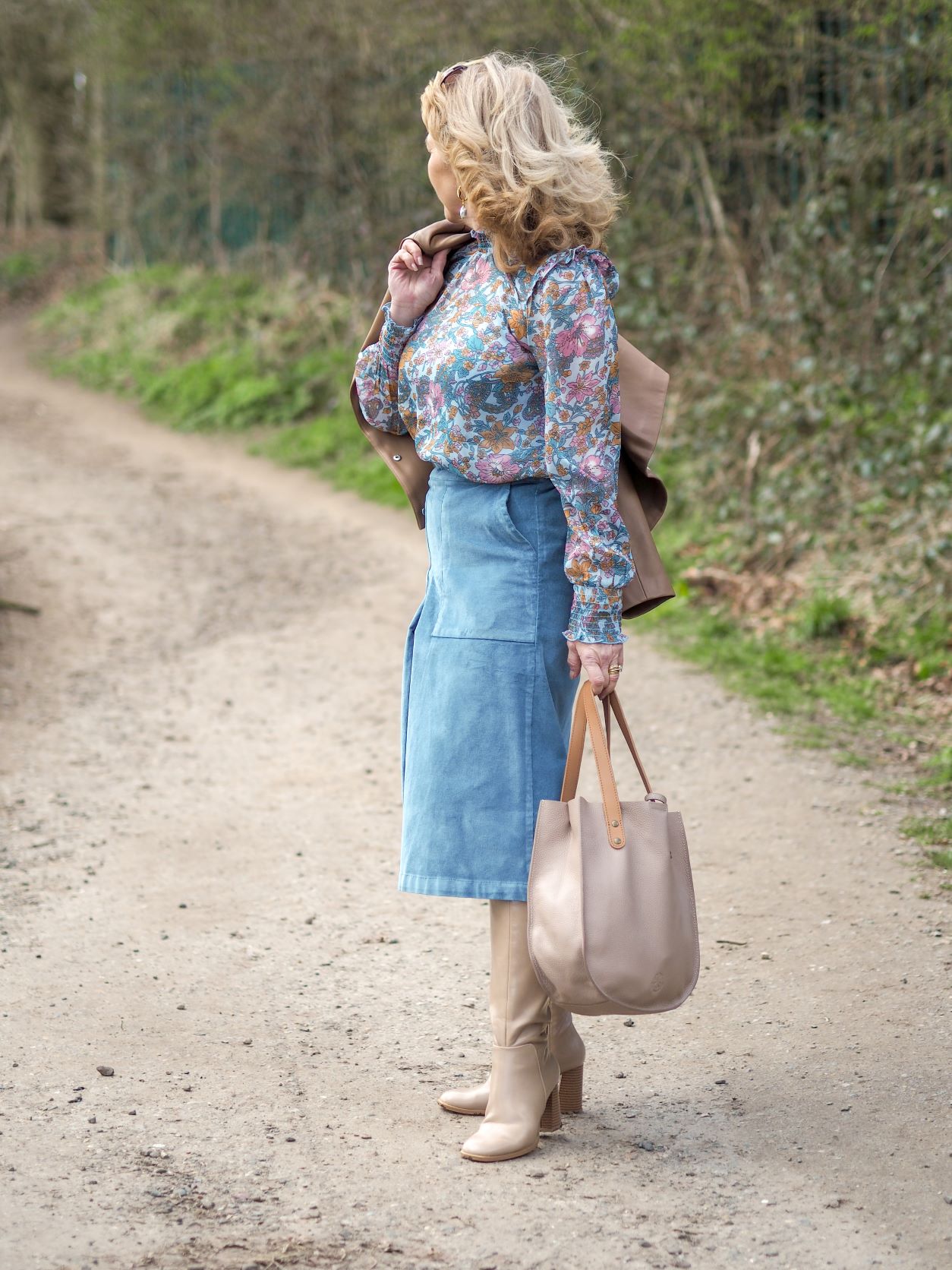 I can see myself pairing the blouse with pink trousers in the warmer months. I think the print is beautiful. It's a really feminine blouse with a frill on each shoulder. The blouse also comes with a camisole underneath with adjustable straps. It will be great to wear with shorts later when it's hot. Also currently on sale the blouse also comes in plain ivory and a Dogtooth print.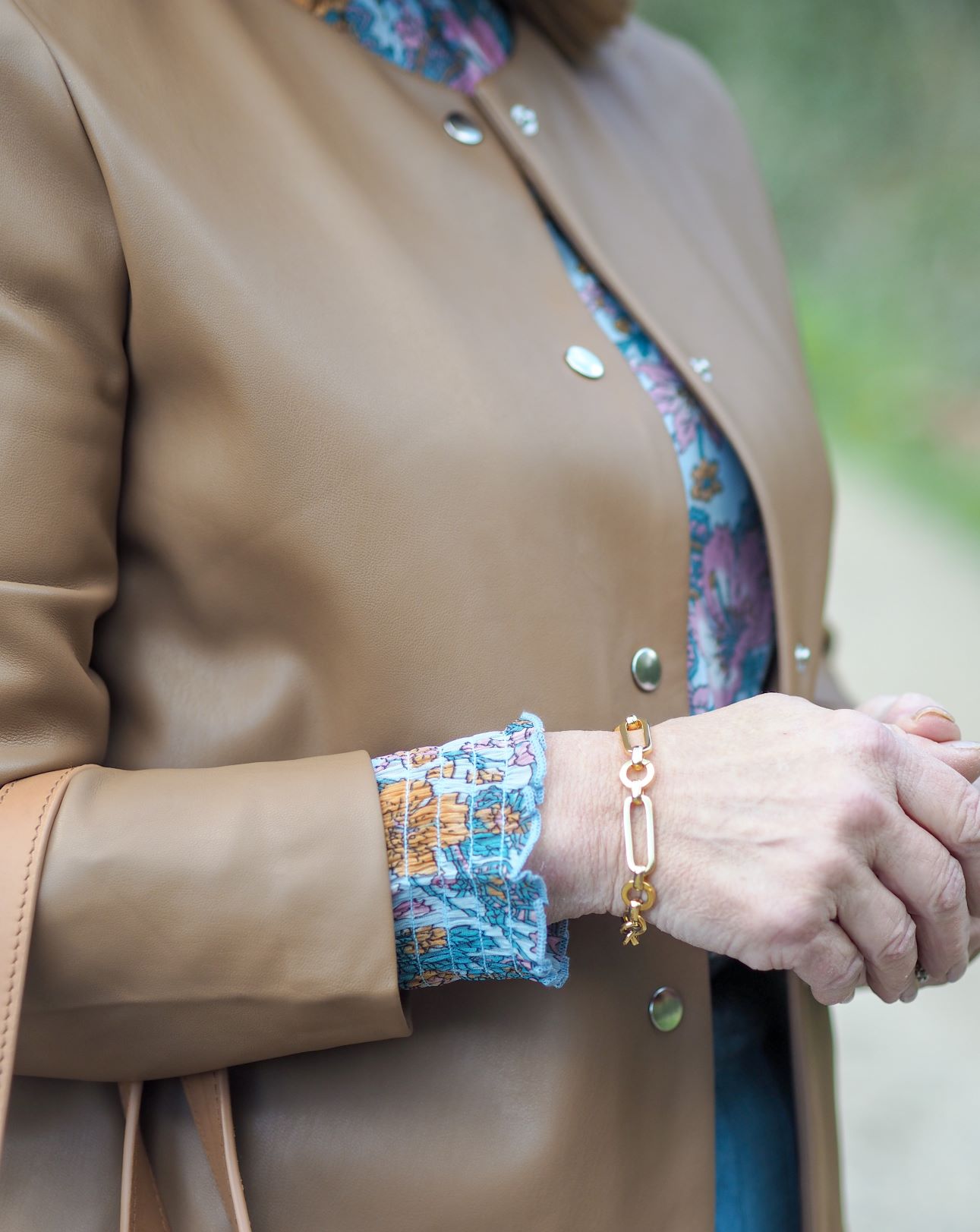 Another new accessory I wanted to mention was the Paperclip Chain bracelet from Gingiberi. This paper clip style is really trending at the moment and I think it's all the little accessories that you add to a classic style outfit that keeps the look updated. You can get 35% off at Gingiberi. The quality of the jewellery is good but not as expensive as some of the bigger well-known brands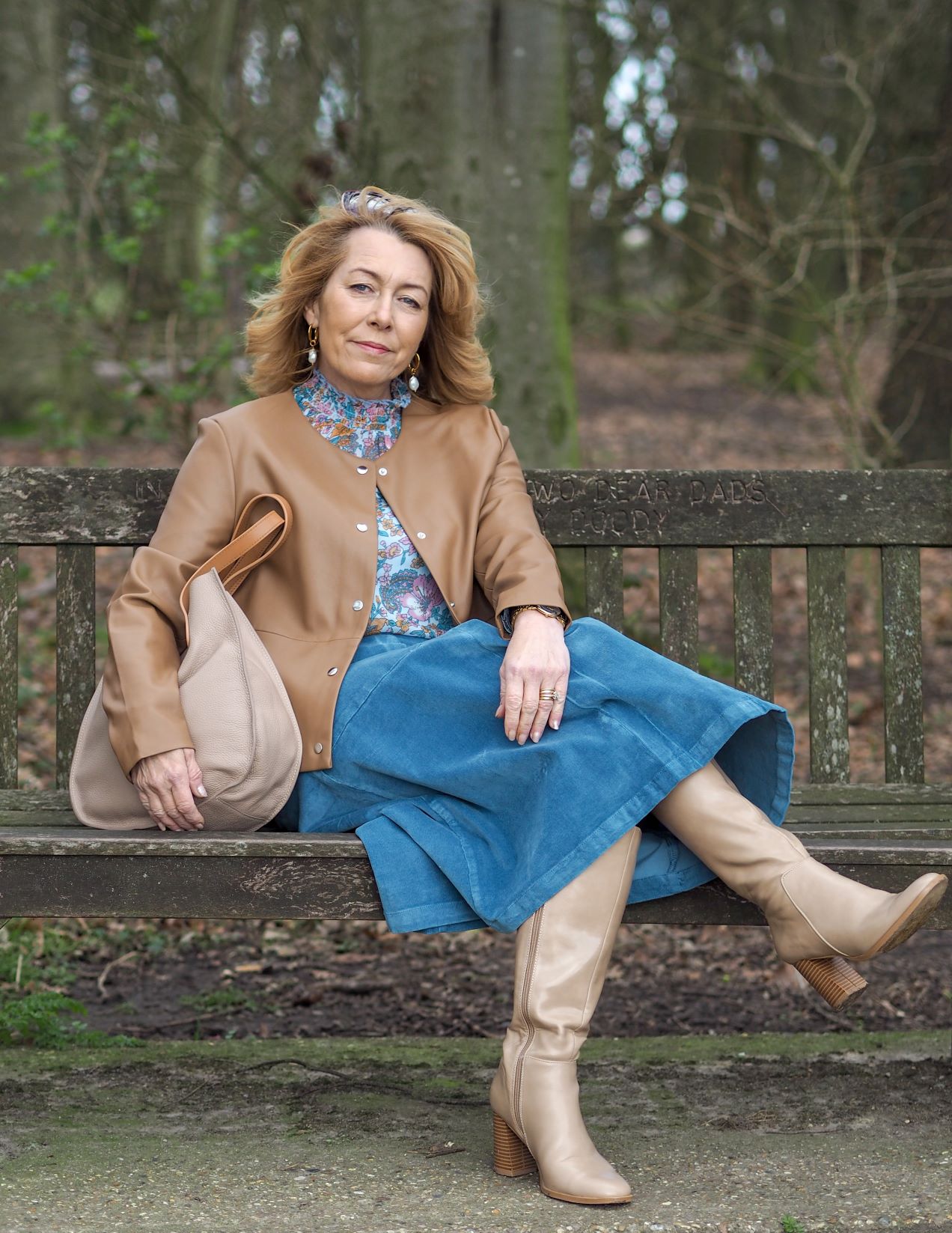 I'm super happy with all the new items here. I always love to share a bargain with you too! I look forward to styling them in different ways. The bonus is that you can grab these items at cut price at the moment! Which is your favourite piece?
Shop The Look
Please be aware that there are affiliate links included in this post at no cost to you if they are clicked on
---
Thank you for stopping by!
Come back for more. Click on the subscribe form below
YOU MAY HAVE A FRIEND THAT'S INTERESTED IN THIS? PLEASE USE THE SHARE BUTTONS
XO LAURIE
Subscribe for the latest updates!