Happy new year everyone. I wonder what 2022 will have in store for us? Since the pandemic have you learned to shop online more? Do you prefer it? I know I do. And with that, I want to nominate a fashion brand online that really surprised me in 2021 and I look forward to seeing new collections from this brand over the coming new year.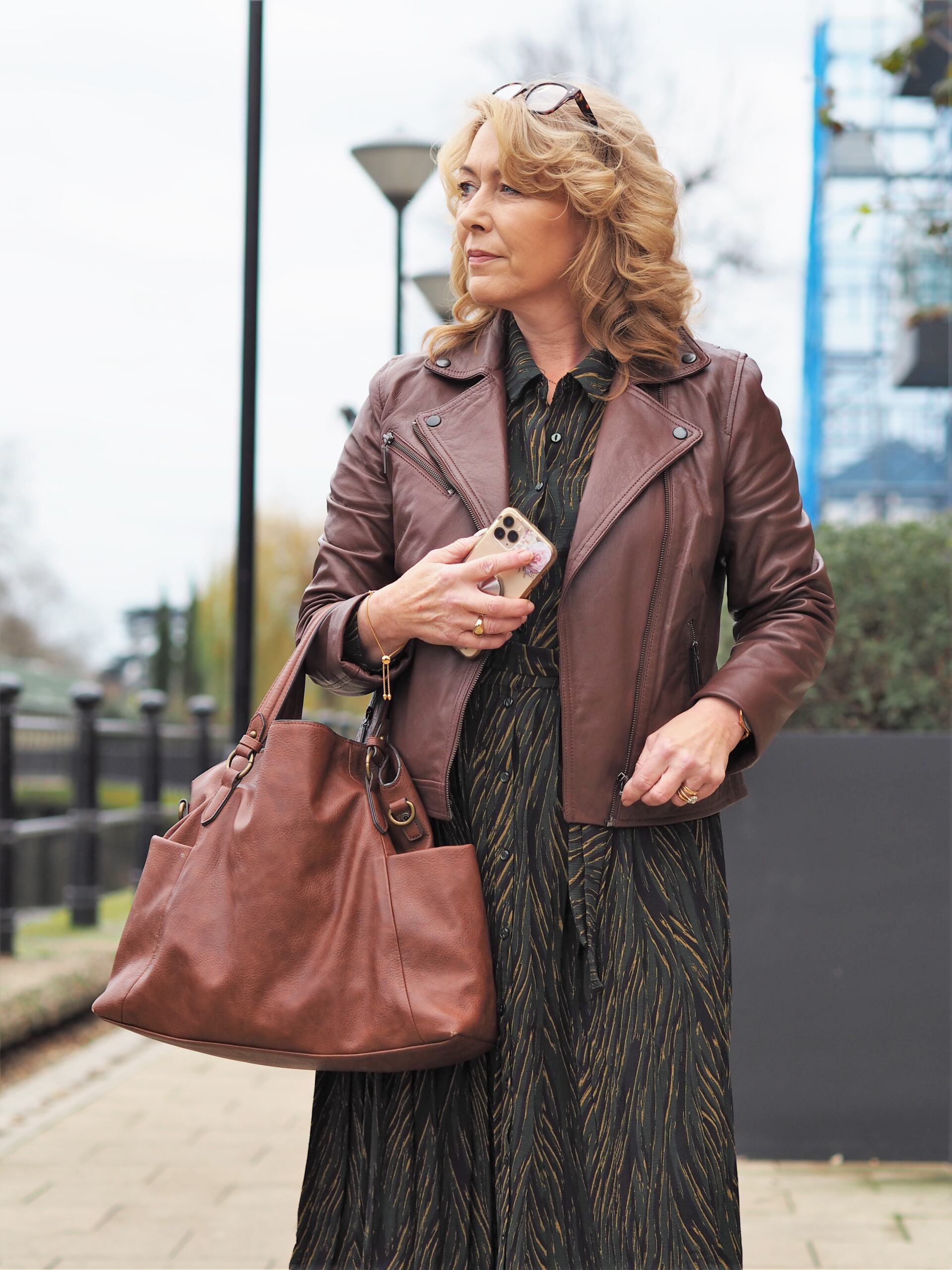 The brand in question has to Damart. You may remember my first post in late summertime? I'm still wearing those items now and as for the green trousers. I literally live in them!
This is the second campaign that I've partnered with Damart and when I was asked to choose some items I didn't have any problem finding items at all!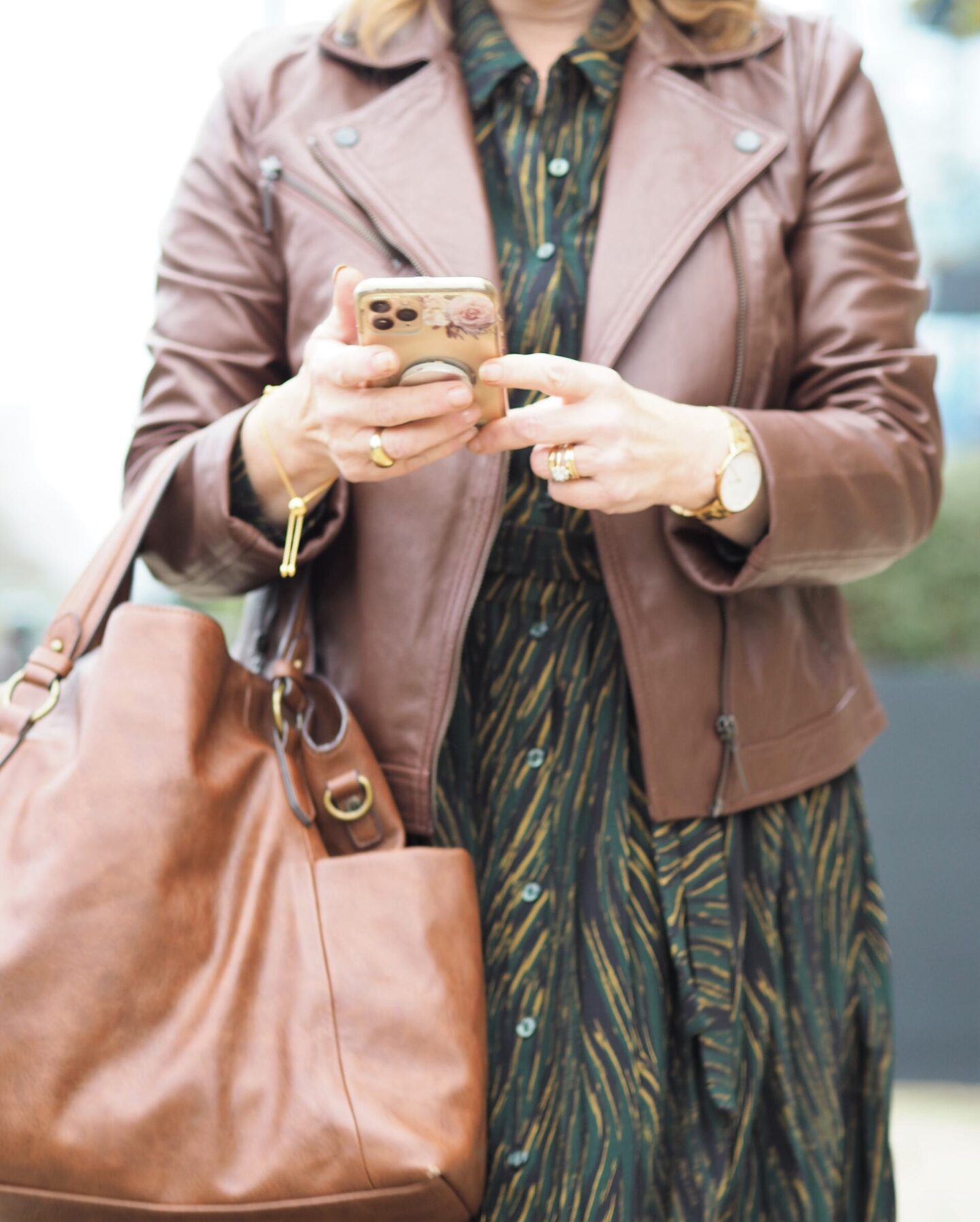 Take this leather biker. At an exceptional price of £84.50, I fell in love with the rich chestnut colour that you don't often see and I liked that it didn't have shiny hardware. The leather is like butter and far better quality than my other two leather bikers that I own.
It's certainly going to be worn so much over the coming months. It's great with dresses, jeans and jeggings. I've already worn it a lot. I also like the lapels snap down with the press-studs. No flapping about!
The day to night dress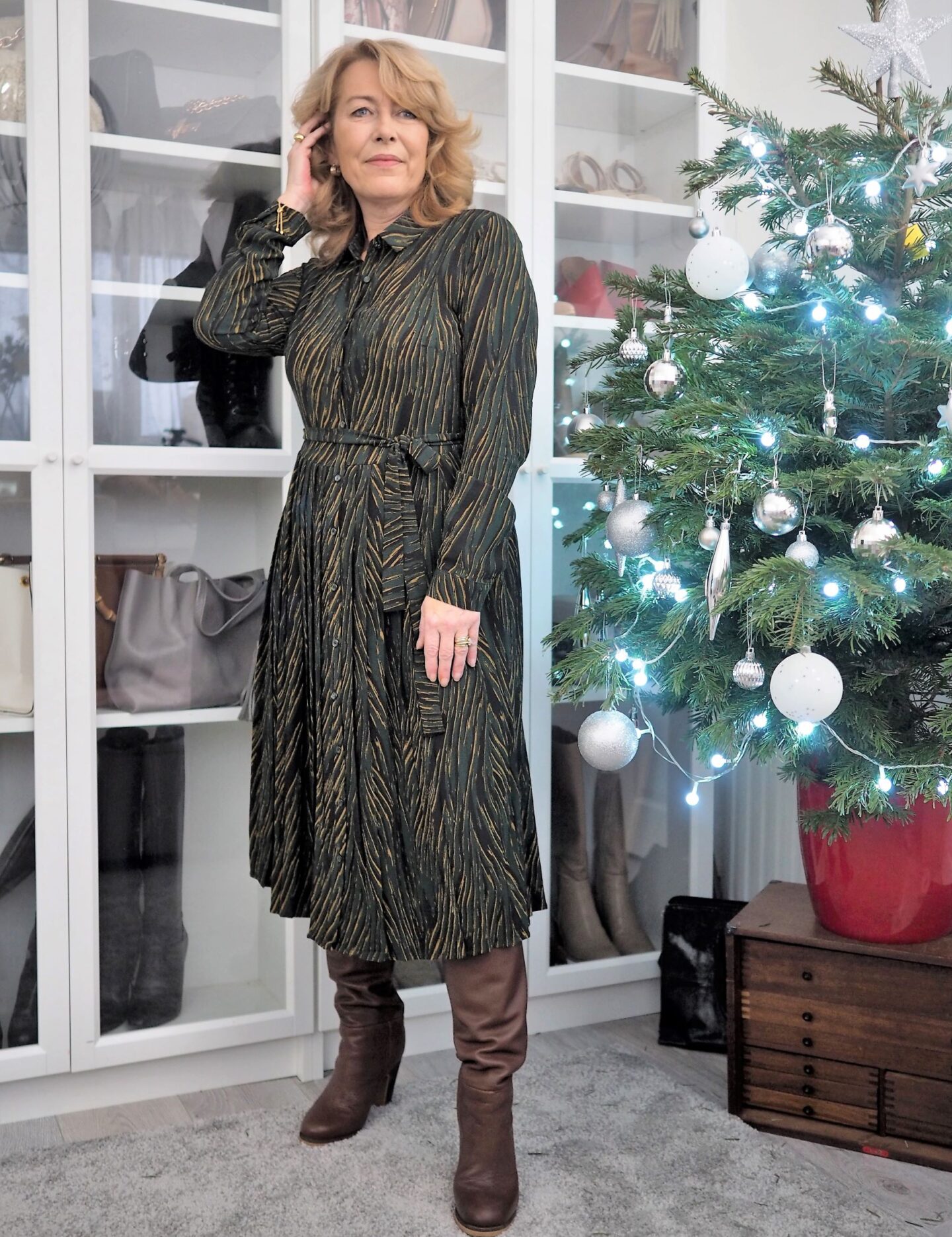 Worn under the jacket is this gorgeous shirt dress. I love the unusual print and the on-trend colour green. The dress has a pleated skirt and It's really comfortable with its self-tie belt. I've styled it on YouTube with a tan leather belt and this also looks good. I prefer the sleeves rolled up for a less formal look though.
This dress can easily adapt to a nighttime look. I've also styled it over the festive season with a gold belt and heels. The mustard tones in the dress work really well together. It would also work with a black evening bag and heels too.
Shop The Look
Damart was the fashion brand I chose to wear at Christmas for comfort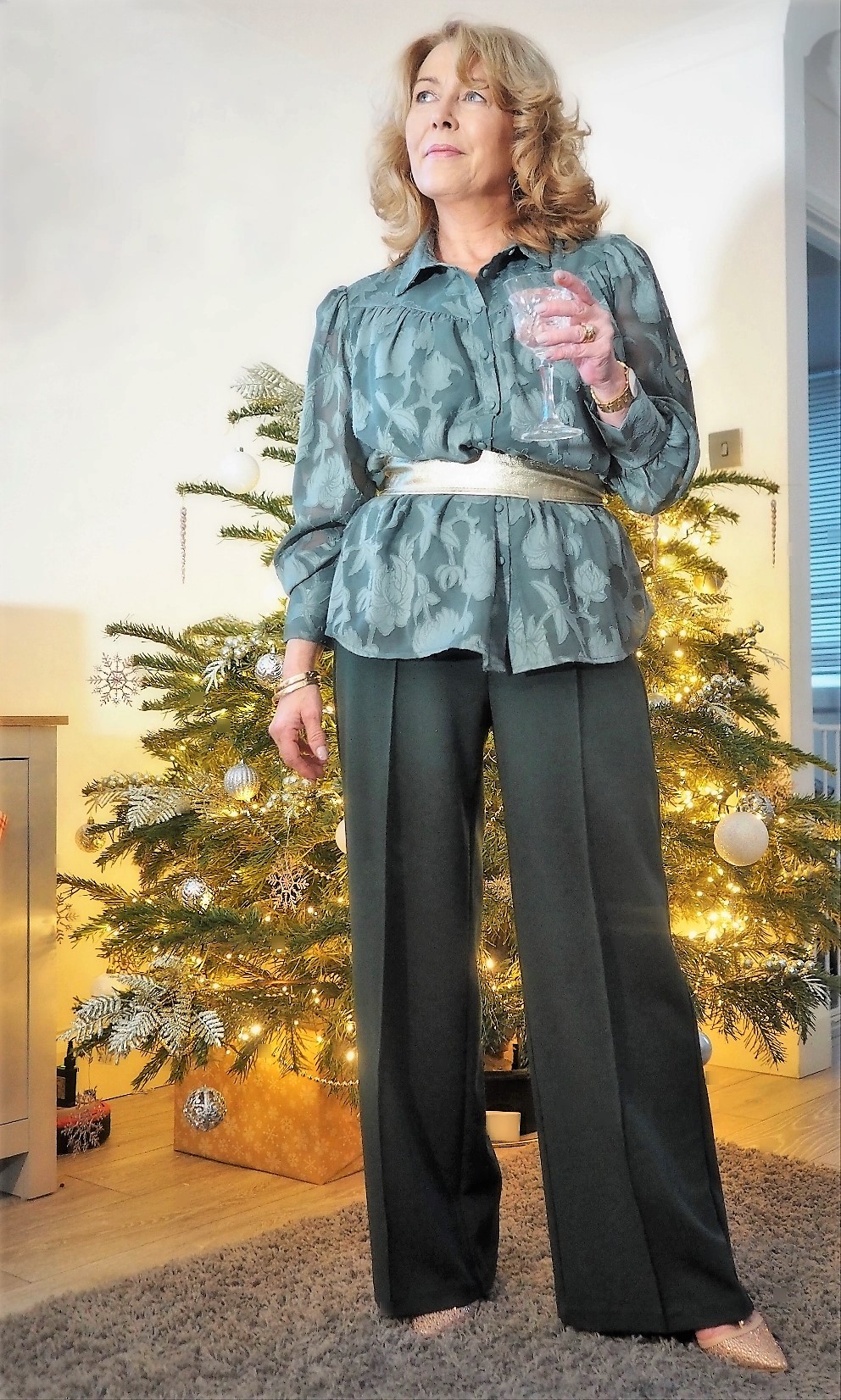 Choosing something to wear over the Christmas period I had my heart set on this printed top but it had completely sold out. I opted for the next best thing, a similar style in again, this year's on-trend green.
Looking on the website, I have to say that the clothing looks dowdy. This is the only downside to this fashion brand. They just need to update it. Take a look at Damart's Instagram and you can see how the media team have styled and put items together. This is where I start to purr!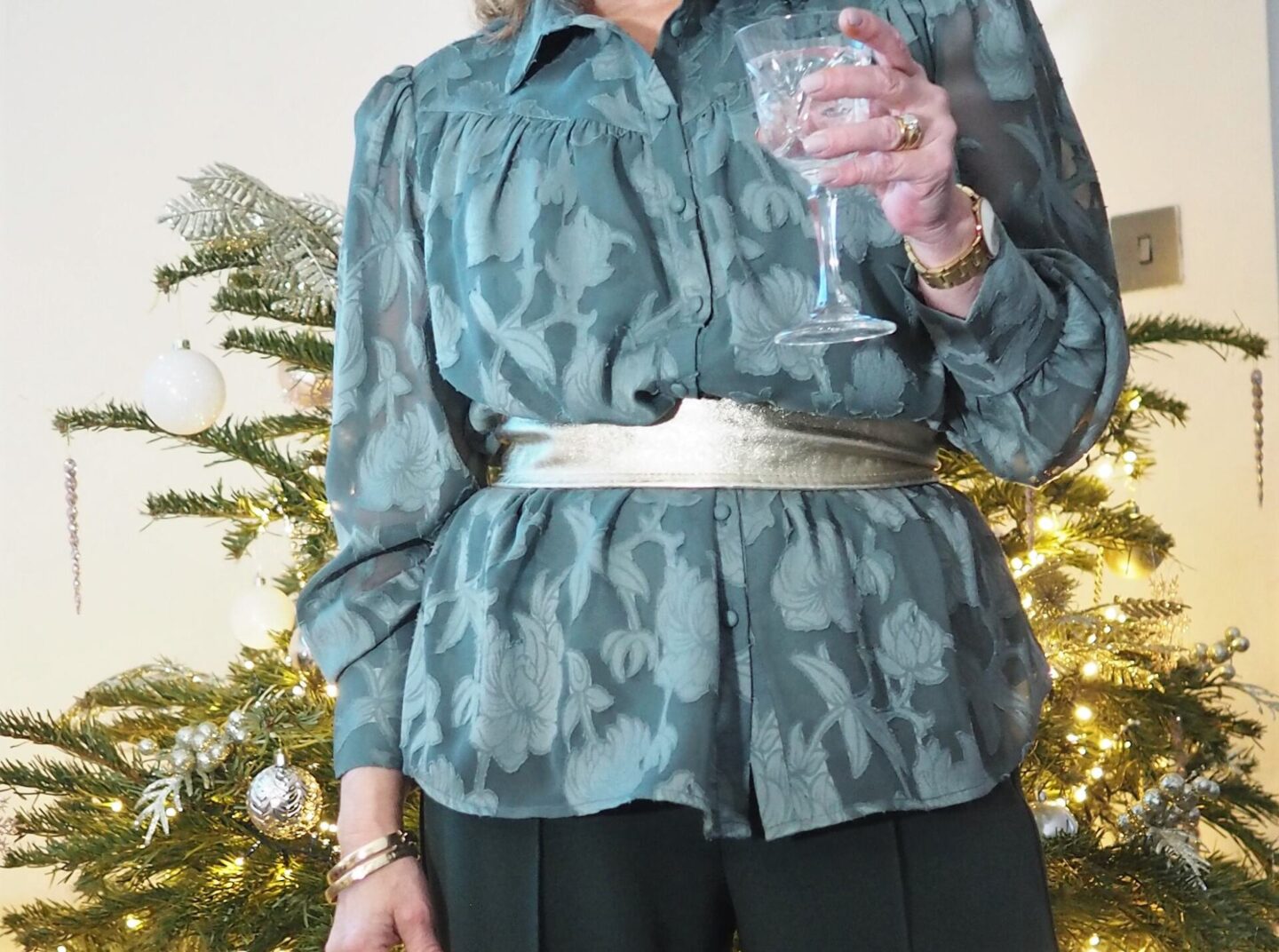 The devore material, (the body of the blouse is lined) covered buttons and full puff sleeves are what caught my eye. It's a really loose-fitting blouse with the smock detailing so I added a gold belt to dress it up and create some extra shape. This came off after my meal I must add! The belt is from the seventies. It was mums. It was a nice surprise that I could still fit into it. Gold shoes finished off my festive look.
The trousers are super comfortable, just like flared leggings. I loved them so much I have them in Black and Navy too. I'm going to pair the navy ones with the chevron print top from the last Damart post. A soft elasticated waistband, a seamed front for smartness and they don't crease. Really pleased with them.
Shop The Look
This years new years eve outfit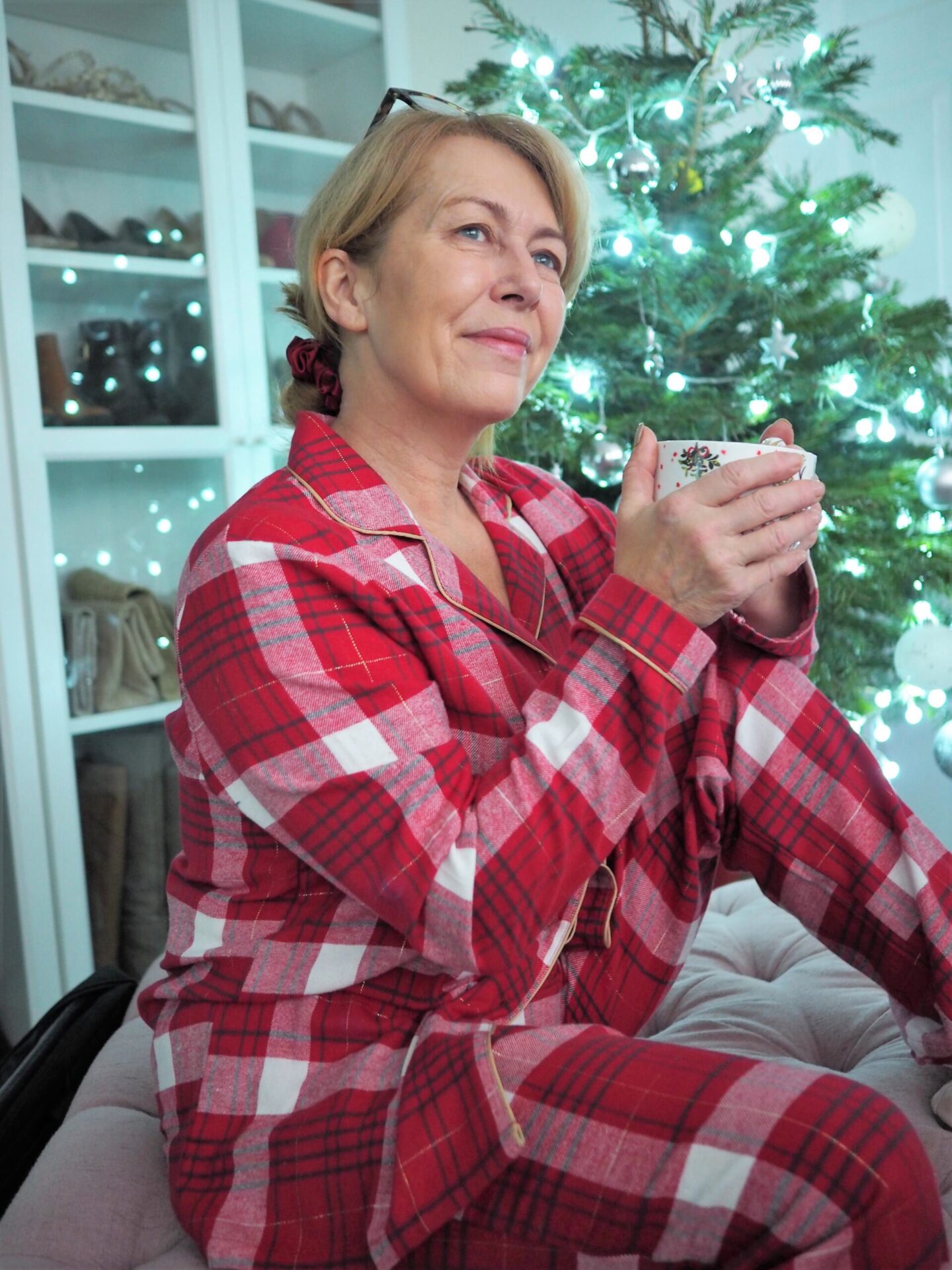 Yes. This will be what I'm wearing to see in the new year of 2022. The Covid finally got me. I have to say I'm relieved. I'm actually not suffering too badly either. Not being able to have the vaccine and advice from doctors to be extra careful because of the over-active immune system I have, I've been so worried for the past two years about going down with this virus. I almost feel like celebrating this along with the new year. It's such a relief to get this over and done with.
So I have the cosiest of pyjamas to wear. And trust me these are now the most worn out of the three outfits. They were just what the doctor ordered! Why I haven't had a pair of cosy winceyette PJ's in my draw is beyond me!
Happy new year to you all. Here's to a better 2022!
Keep you and yours safe and well xx
---
Please be aware that there are affiliate links included in this post at no cost to you if they are clicked on
---
Thank you for stopping by!
Come back for more. Click on the subscribe form below
YOU MAY HAVE A FRIEND THAT'S INTERESTED IN THIS? PLEASE USE THE SHARE BUTTONS
XO LAURIE
Subscribe for the latest updates!