Just as I was about to start preparing a post for skincare and makeup items I'm currently using that I want to tell you about, I realised that I hadn't told you all the outcome of a few brands that I used last year and will certainly continue to use. Retinol was such a big discovery for me last year and I thought I would share the journey and my thoughts.
In fact, there's so much that I need to tell you about and I'm going to edit some skincare and makeup post categories. I'd love to hear what type of skincare and makeup you would be interested in reading about. Let me know.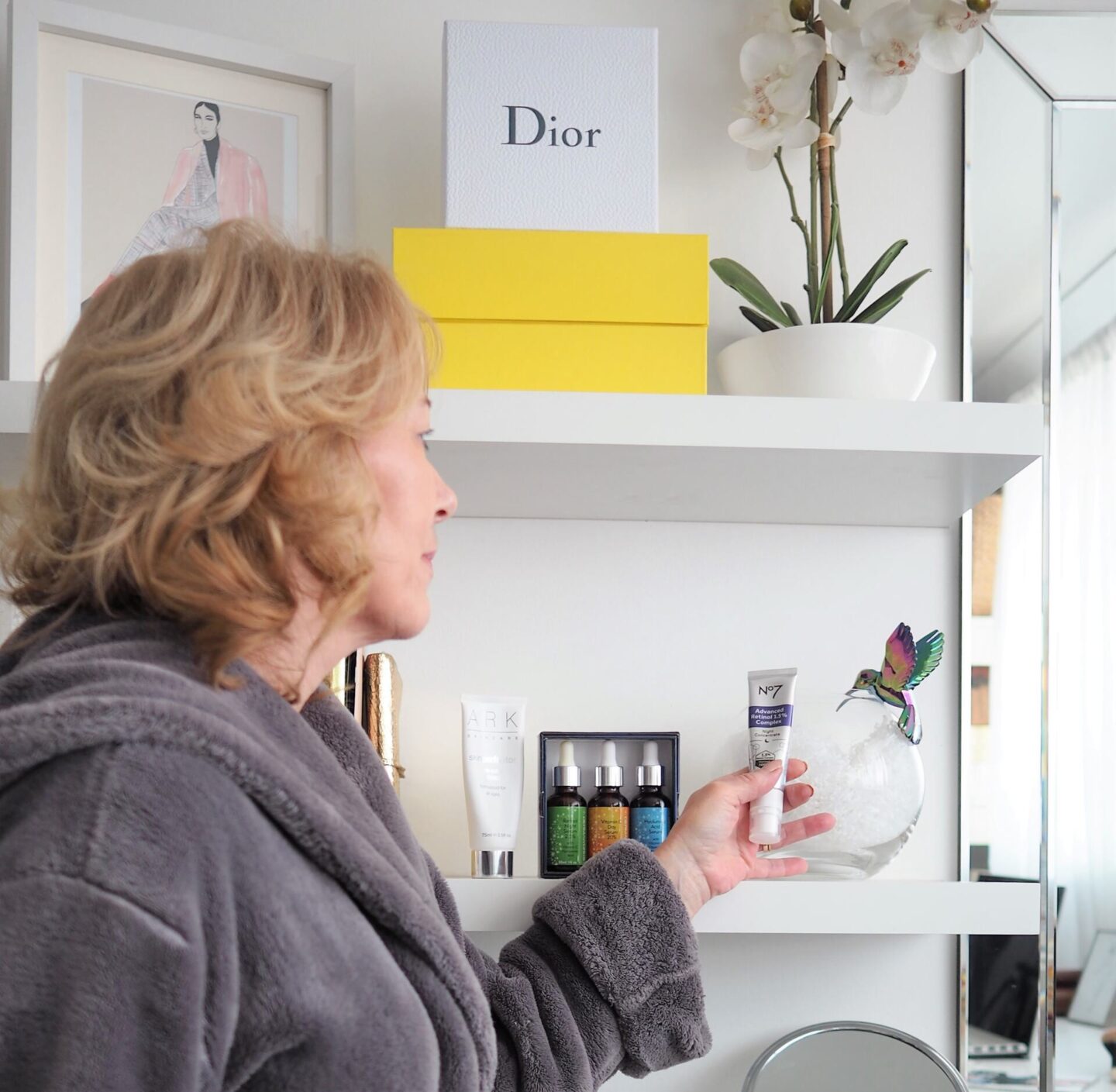 Retinol was my biggest skincare discovery in 2020
I'm a little late to the party using Retinol. Do you use it? I always worried my sensitive skin wouldn't cope with a serum or cream that removed dead skin from your face.
But after reading all that Retinol can do for mature and young skins I wanted to give it a try. Shrinking of pores, a smoother skin plus the boost of cell renewal and a more even skin tone enticed me.
Exfoliating is key to encourage new skin growth and give a boost to cell renewal that slows down as we age. I took the plunge after speaking with the girls from Skin chemist. My first ever trial of Retinol to me was a huge revelation. My skin looked it's best ever by week two of using it.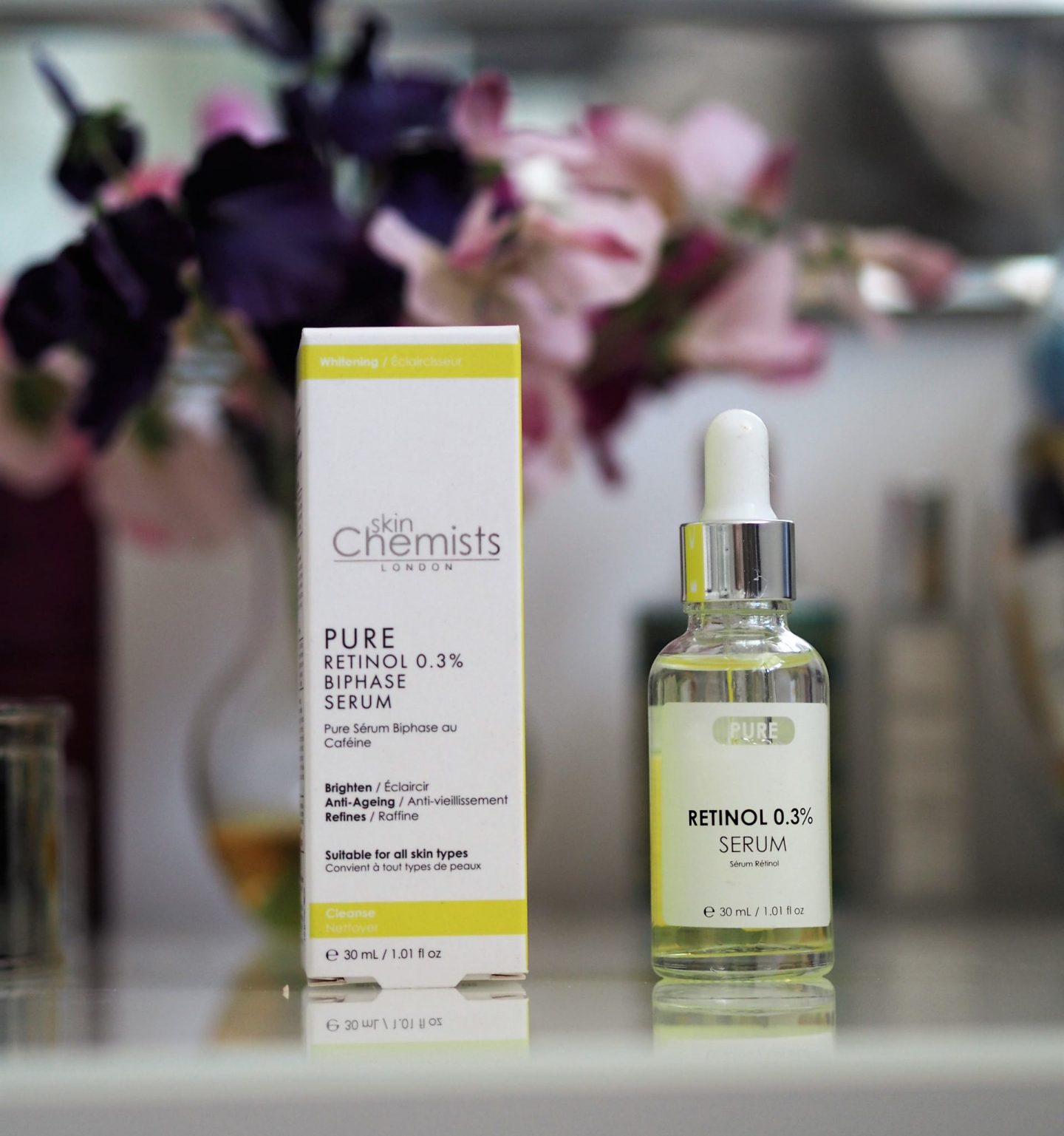 If you are sensitive and would like to try Retinol, I highly recommend this brand as a starter. At 0.3 a very low grade and a good number to start on. This Pure Retinol Biphase serum feels a little oily and I never applied night cream over the top of this serum. You are advised to using most Retinols but I didn't feel the need. I really noticed a big difference to my skin. (now updated with Aloe) It wowed me and so my journey of using Retinol began.
The second Retinol treatment I trialled was the Boots No.7 Advanced Retinol Complex Night Concentrate. At 0.3 I think other ingredients within the cream make this a little stronger. I worked at increasing this serum to three times a week but my skin couldn't take it. One pump is all you need to. A very economical retinol compared to many out there.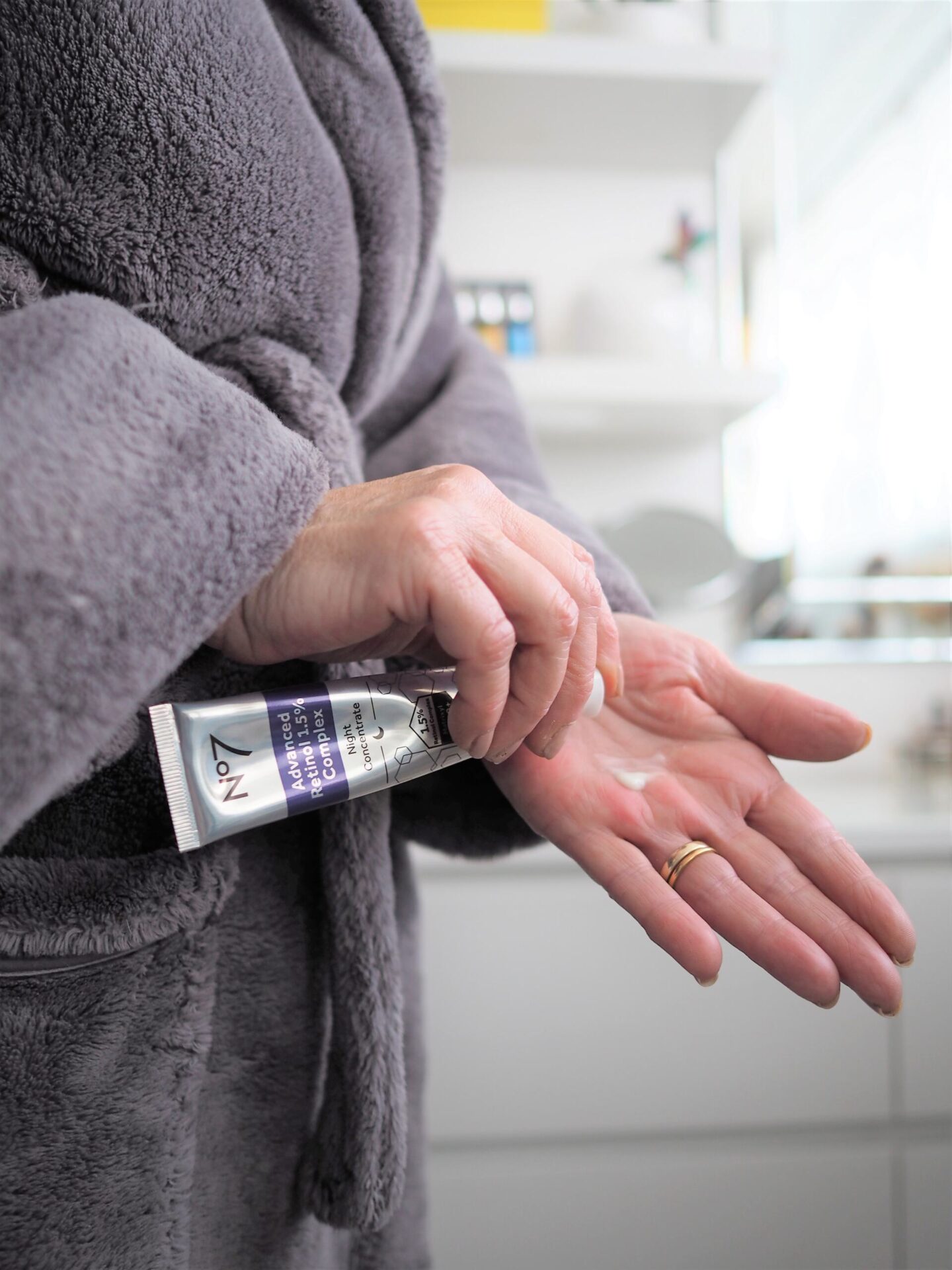 Using it twice weekly is fine and it was at this point that I noticed those larger pores on the nose, spreading beyond to shrink considerably. I also use a night cream over this once the serum has sunk into my skin.
I think the No.7 Advanced Retinol Complex Serum is a great price for what your getting in the 3oml tube. It works but I would say build the amount of times you use it slowly.
A complete skincare System with Derma Works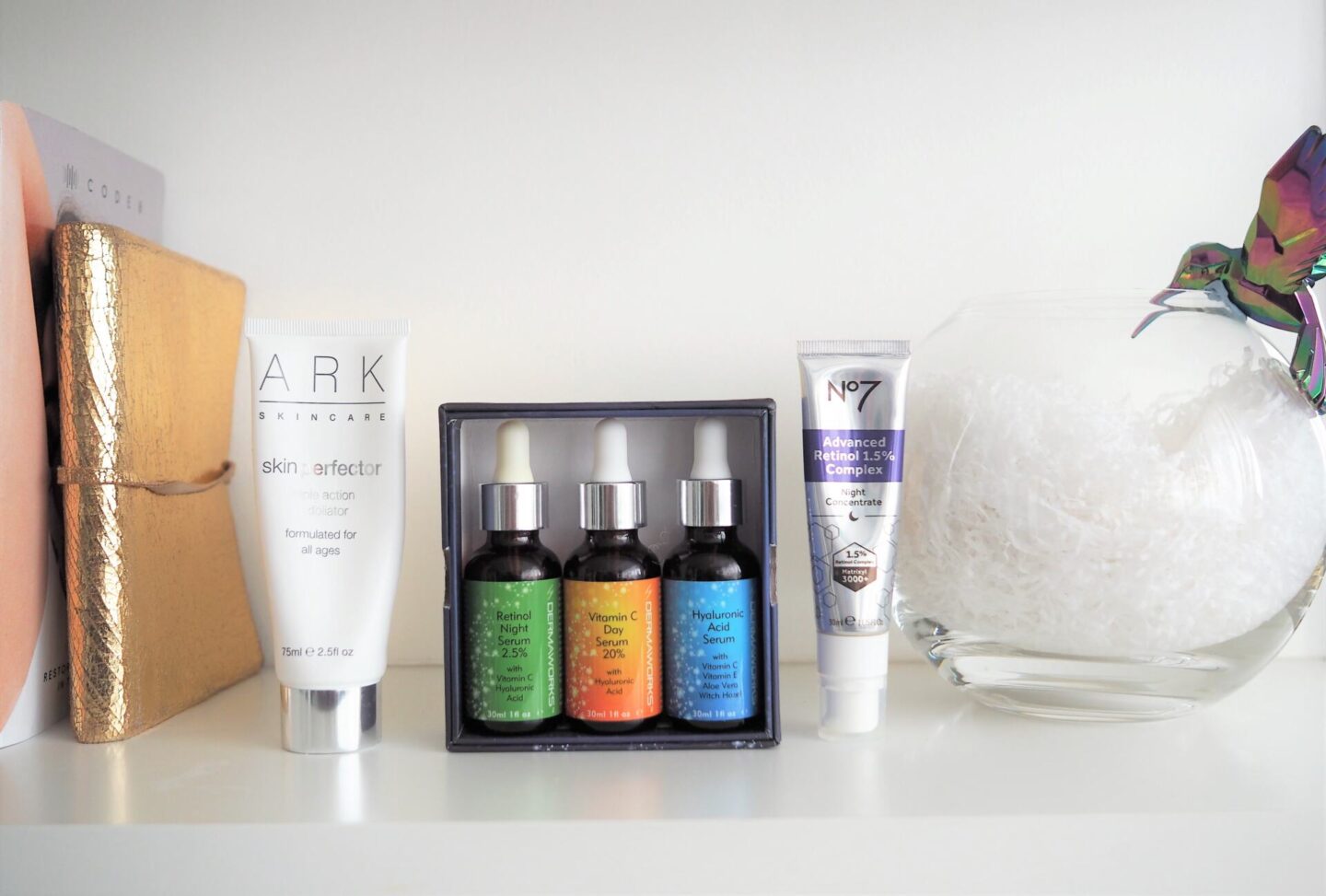 The triple serum kit that I'm using at the moment and my first play with vitamin C. The Retinol is stated that it's 2.5 so a little harsher again. After reading about using Retinol the advice is to build and go for a higher concentrate each time you renew your skincare.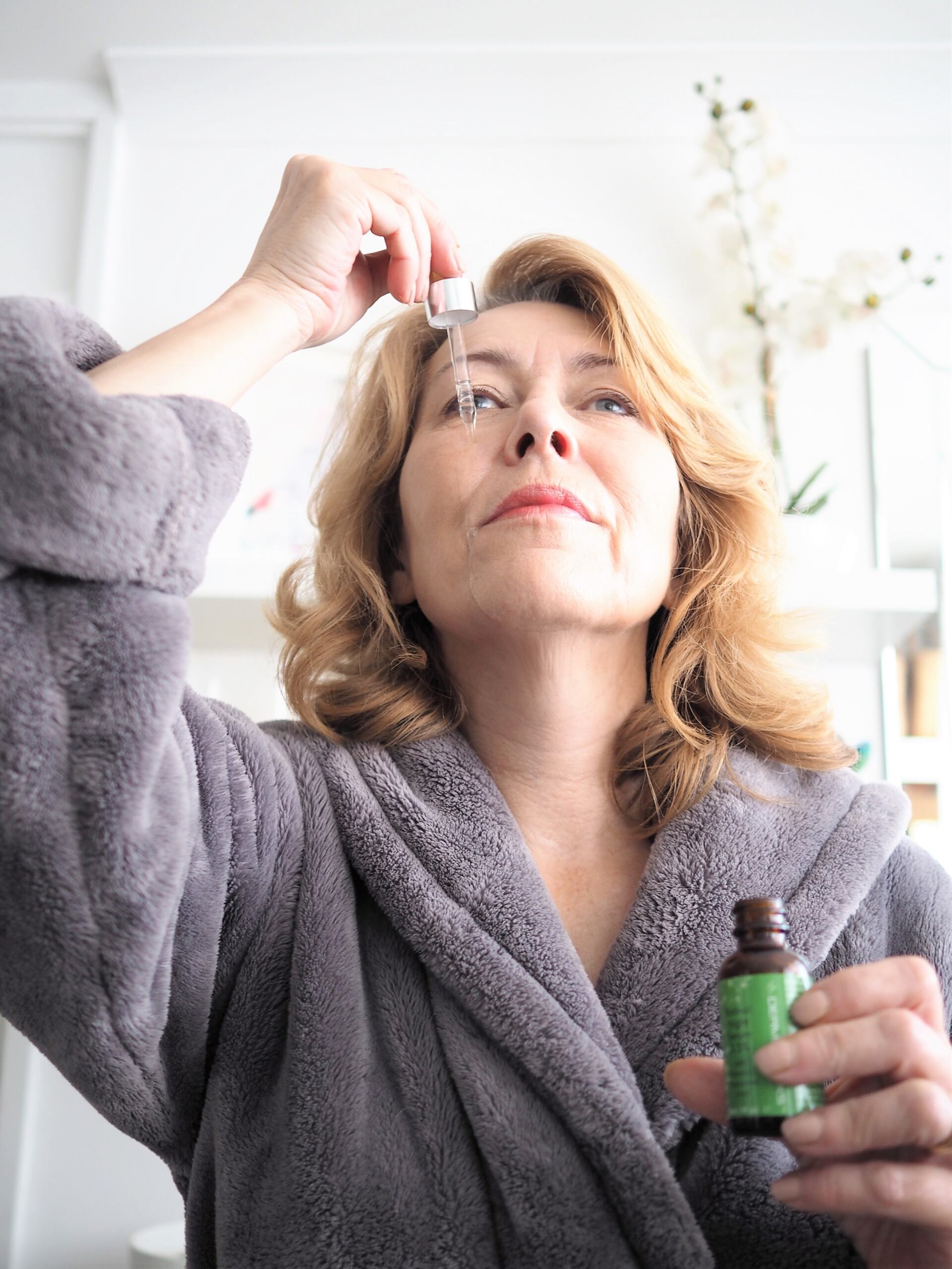 I would have to say that this doesn't feel any more aggressive than the Boots No.7 Retinol serum. It doesn't irritate (I'm using twice weekly) my skin but it is advised to use this daily. I might up the game and try using three times a week. The Hyaluronic acid that comes within the pack is amazing too.
And the picture above? I wanted to point out that straight to the face is way better than the palm of your hand. Rub in as quickly as possible! These bottles are small and I want every bit of it on my face.
I have a 10% discount for Derma Works
I feel that my skin has really benefited from using Retinol this past year. I really do feel like I have a new surface! I can say that it was my best skincare discovery of 2021. Here are a few tips I found helpful using Retinol below.
Start by using once a week
You must use a good SPF of at least 15 (I use 30 or higher)
I would recommend using Hyaluronic acid as a moisture boost
Use a mild exfoliator. I know Retinol is an exfoliator but I find a little help with an exfoliator really useful. Ark Skincare does an amazing one. Read about here
A liquid version applied with a pipette should be applied straight to the face. Don't waste it on your hands
If you were to try Retinol I would recommend the Derma Works as a really good starter. The price for what you're getting is the most appealing. Plus you can get 10% off anything on the Derma Works site using the code Vanity21 If you already use Retinol and want something a little stronger, then the Boots one would be a good buy.
I hope you find this little review of Retinols helpful. There's no going back for me. It was worth trying on my sensitive skin and the results have been amazing.
Keep you and yours safe and well xx
---
Please be aware that there are affiliate links included in this post at no cost to you if they are clicked on
---
Thank you for stopping by!
Come back for more. Click on the subscribe form below
YOU MAY HAVE A FRIEND THAT'S INTERESTED IN THIS? PLEASE USE THE SHARE BUTTONS
XO LAURIE
Subscribe for the latest updates!