Here we go again. Another lockdown edit I guess? There will be lots more edits from the dressing room and I'm not going to moan about it, it's freezing here in Essex at the moment and it's lovely just staying indoors!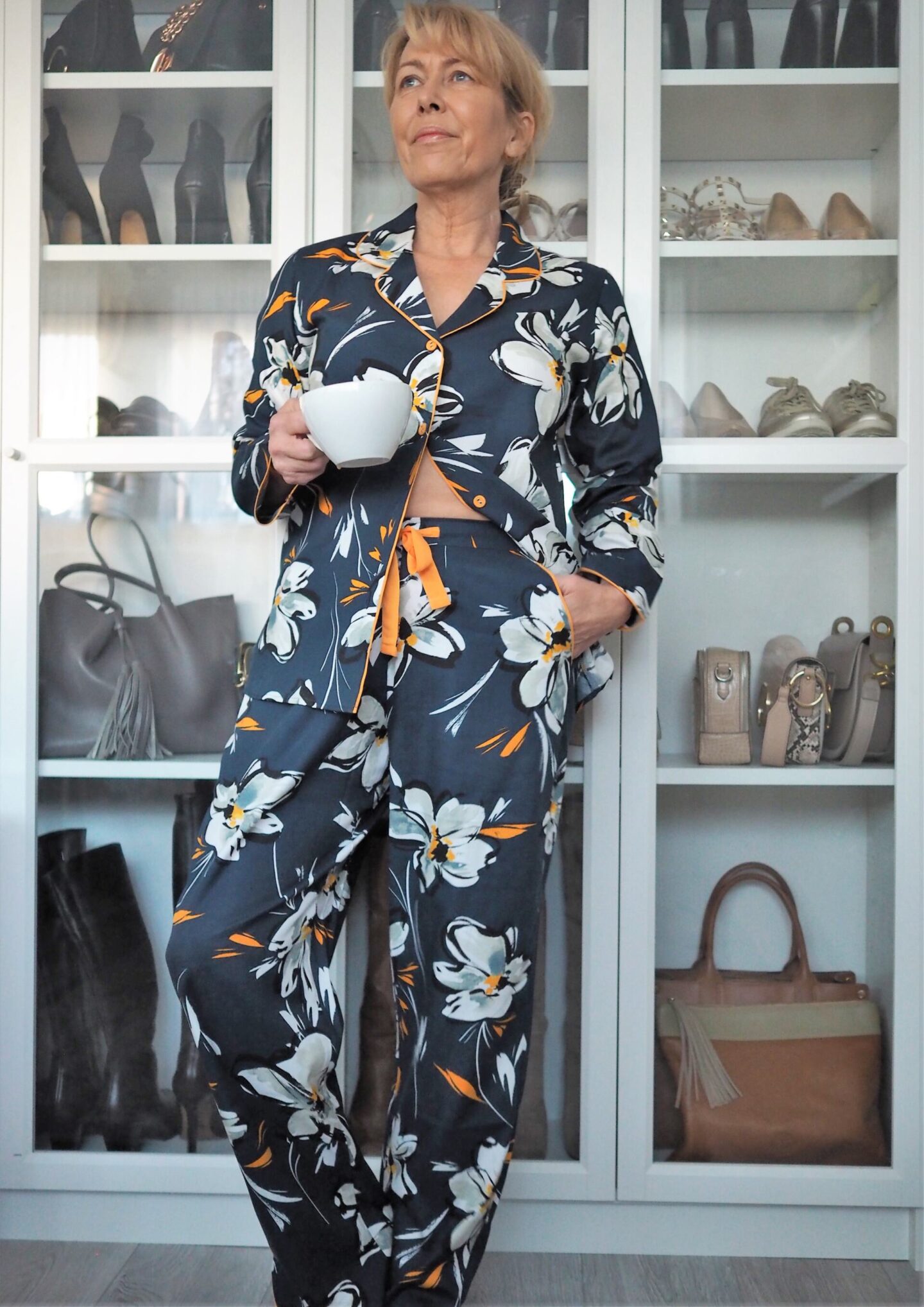 Now is the time for some good loungewear. If the heating's not cranked up I wear my cashmere robe over these gorgeous pyjamas from Figleaves They look so lovely together but I wanted you to see the full impact of the gorgeous print and the mustard piping.
You might remember I had a pink pair from Figleaves earlier in the year? The brand is Cyberjammies and they are so comfortable to wear and I can while away a good few hours in comfort at my desk in my dressing room editing my blogposts and films for YouTube.
Having nice loungewear makes me smile. And looking this smart doesn't make me feel so guilty if I don't get dressed until late!
Umbrellas up in the dressing room?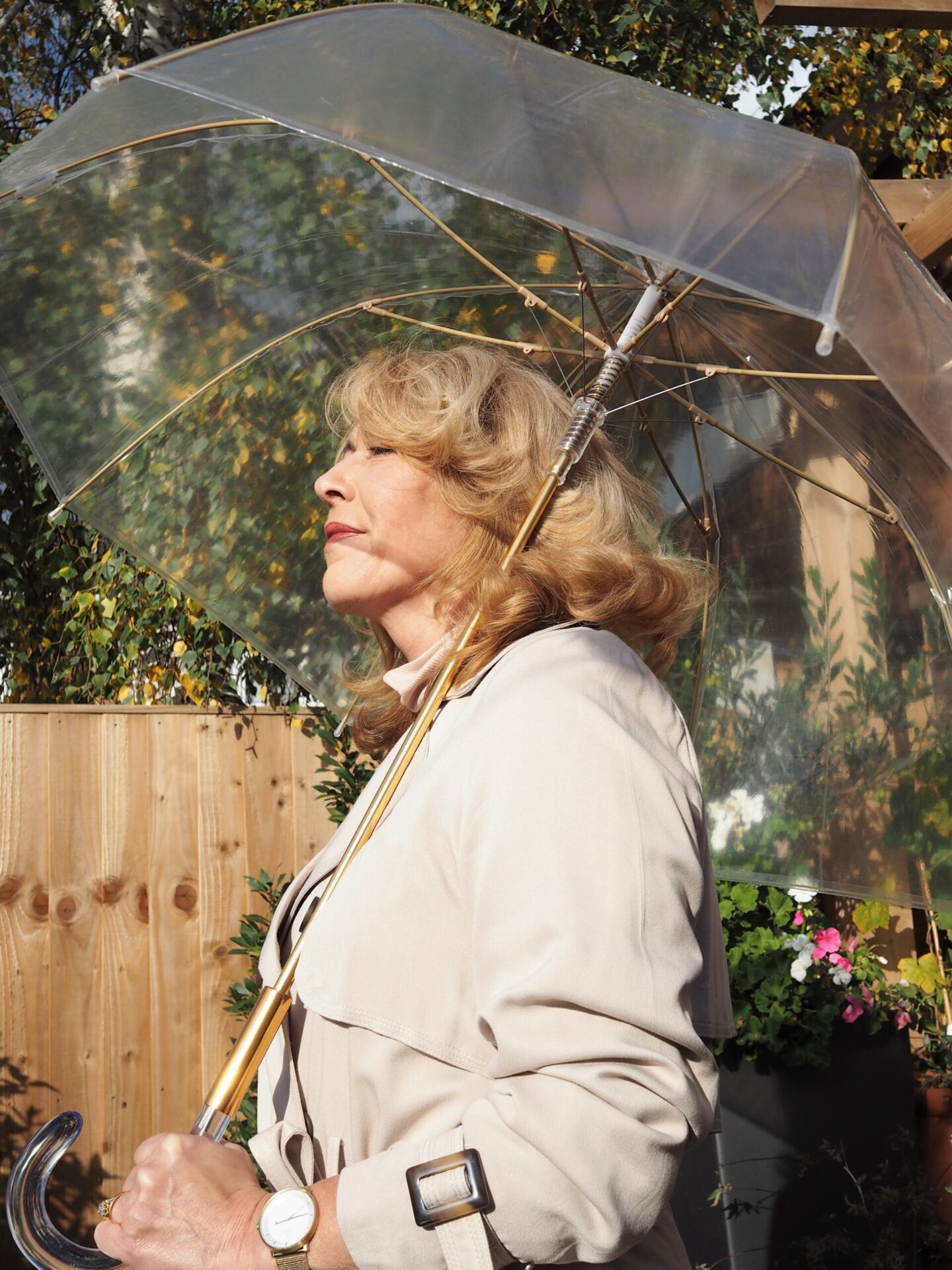 I posted this umbrella on my weekly wish list a couple of weeks ago and it created a lot of interest. We've had so much rain this past few weeks! I nearly took photos of this in my dressing room too. I could see mum staring out from that picture frame saying "Don't you dare"! Are you superstitious? Luckily I was spared half an hour rain-free and headed out to the garden
I'm so pleased with my posh umbrella. I purchased this umbrella from Amazon and when it arrived I was worried about the thickness of the plastic but on a trip to Bond Street London, it withheld very well against the wind and the rain. I love all the gold hardware on it and that the dome is completely see-through.
New autumn/winter shoes and accessories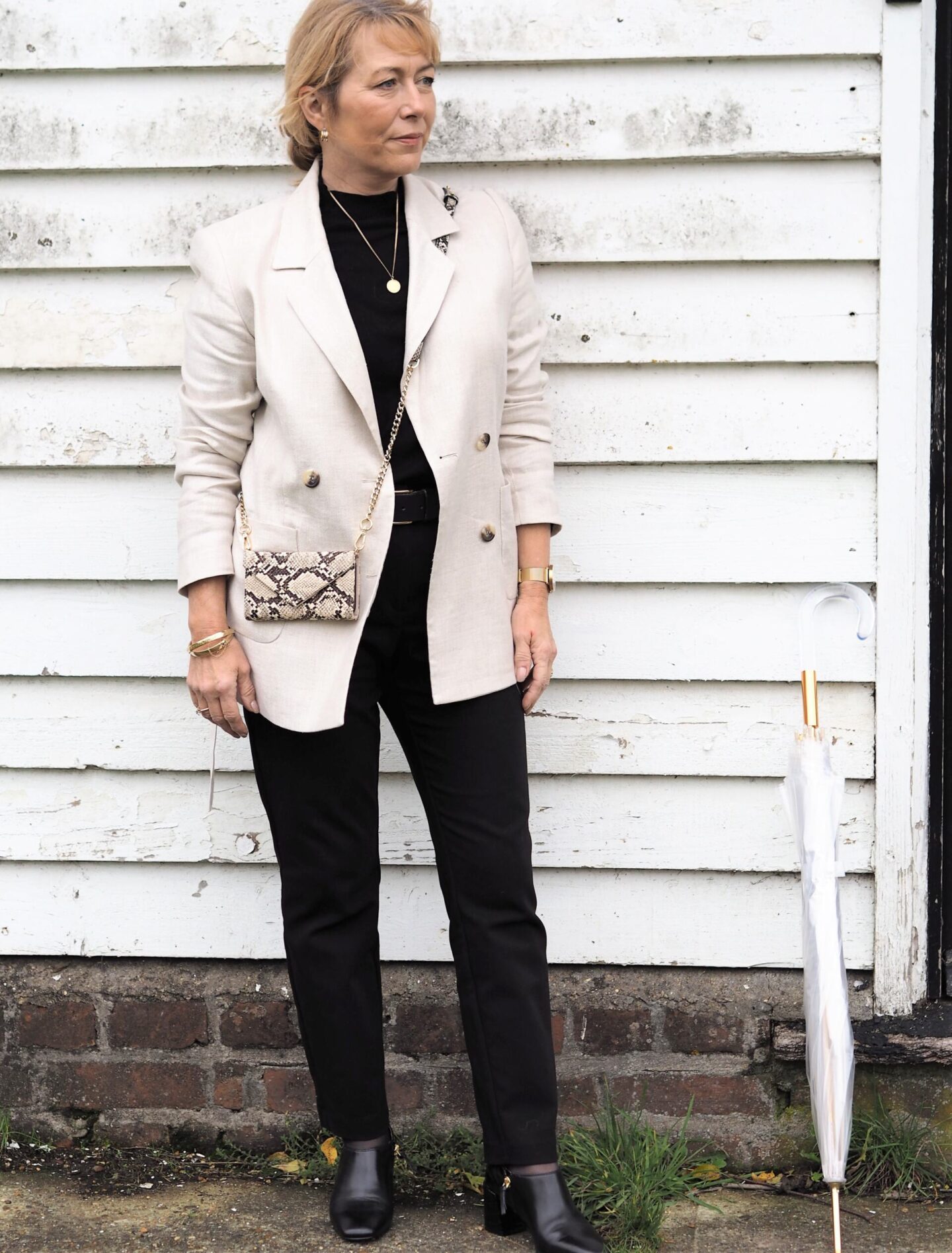 The only good thing about our Essex weather was that the temperatures were very mild. I didn't even bother with the hair, a complete waste of time in the damp air. I have my trusty umbrella on standby!
I'm having a little play with black here, a colour I don't often wear. A compliment from Dee and Sara has got me thinking maybe I should experiment with black a little more. The light jacket (now reduced) helps I think and it's perfect with a jumper under.
The outfit. The black trousers from H&M that are amazing and I highly recommend them. £17.99 for tailored trousers in many different colours and materials, they are tailored so well for the price.
There are two reasons I'm out taking these photos and one of those reasons are my new AW20 Vionic Uk shoes. How smart are they? I can't help thinking how great these would be for any office/city worker.
You must know by now how much of a fan I am of Vionic shoes. You can read what they're all about here. So much more than just a shoe! Vionic shoes/boots are what I reach for out of my dressing room shoe cabinet if I'm going to be doing a lot of walking.
These are called the Linda Shootie and I'm so pleased with them. I like the patterned heel that's just the perfect height.
I'm over the moon with this new accessory!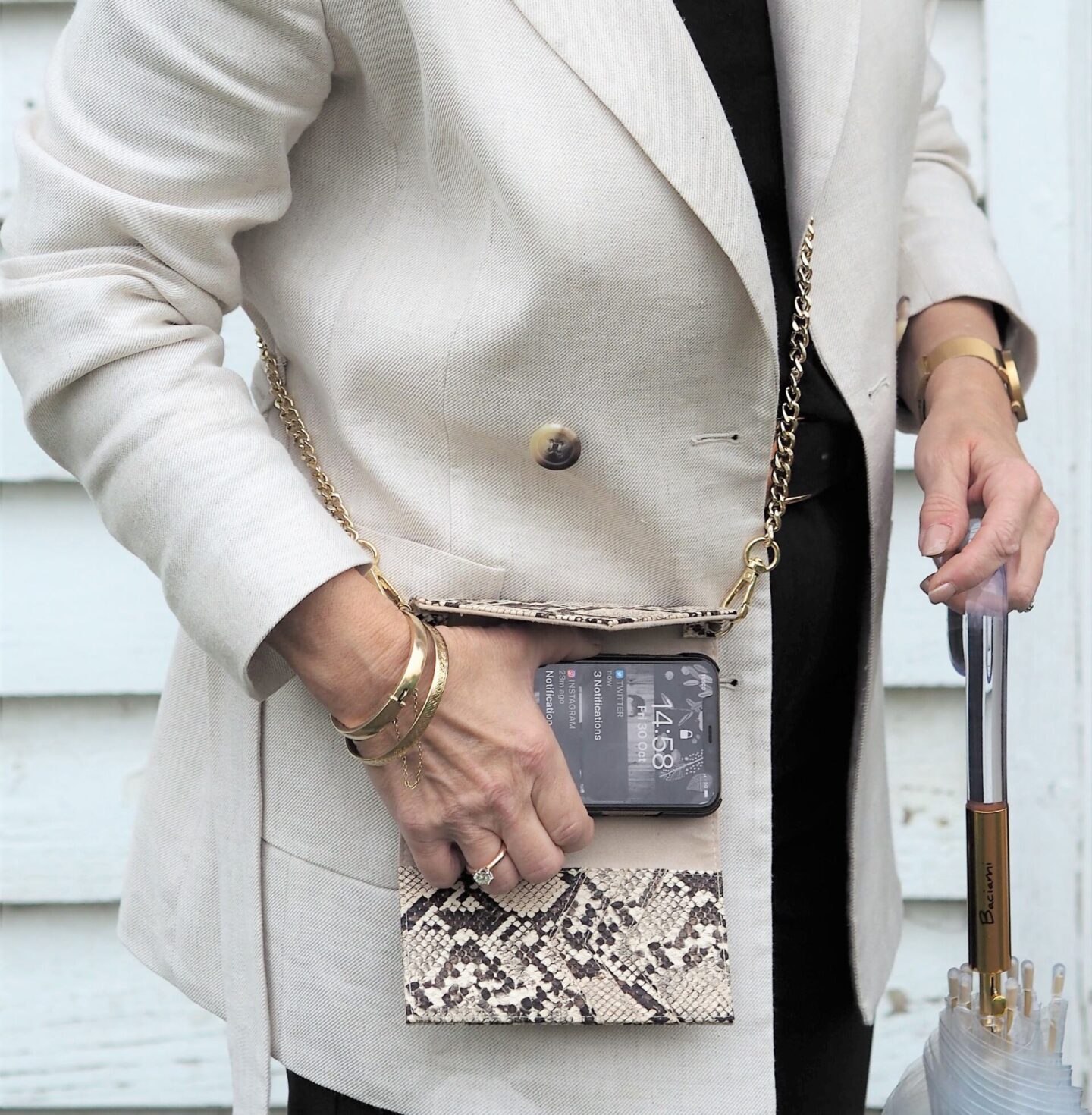 I was offered a gift from Ideal Of Sweden to share with you along with a discount code. I'm so happy with what I chose, this little phone bag. I think it's such a handy little piece.
The phone case inside the bag is a strong magnet. And you can clip it away from the bag whenever you like. I'm always carrying my phone in my hand when pushing the trolley in the super market and now this is a way to be hands free knowing my phone is a lot more secure in this little bag rather than my hand. I always have my shopping lists in my phone!
It's also good that it's just to hand even if I am carrying a bag. No more rummaging for it. It comes with a wrist strap but you can but the crossbody strap separately. The bag comes in all different patterns or plain coloured.
Ideal Of Sweden cater for all your phones needs, there are covers, protector screens and they also have matching earpod sets too. Well worth a look and there's a 15% discount code below for you.
Use the code vanityandmestyle15 to get 15% off
Shop The Look
More new shoes to add to the dressing room shoe cabinet!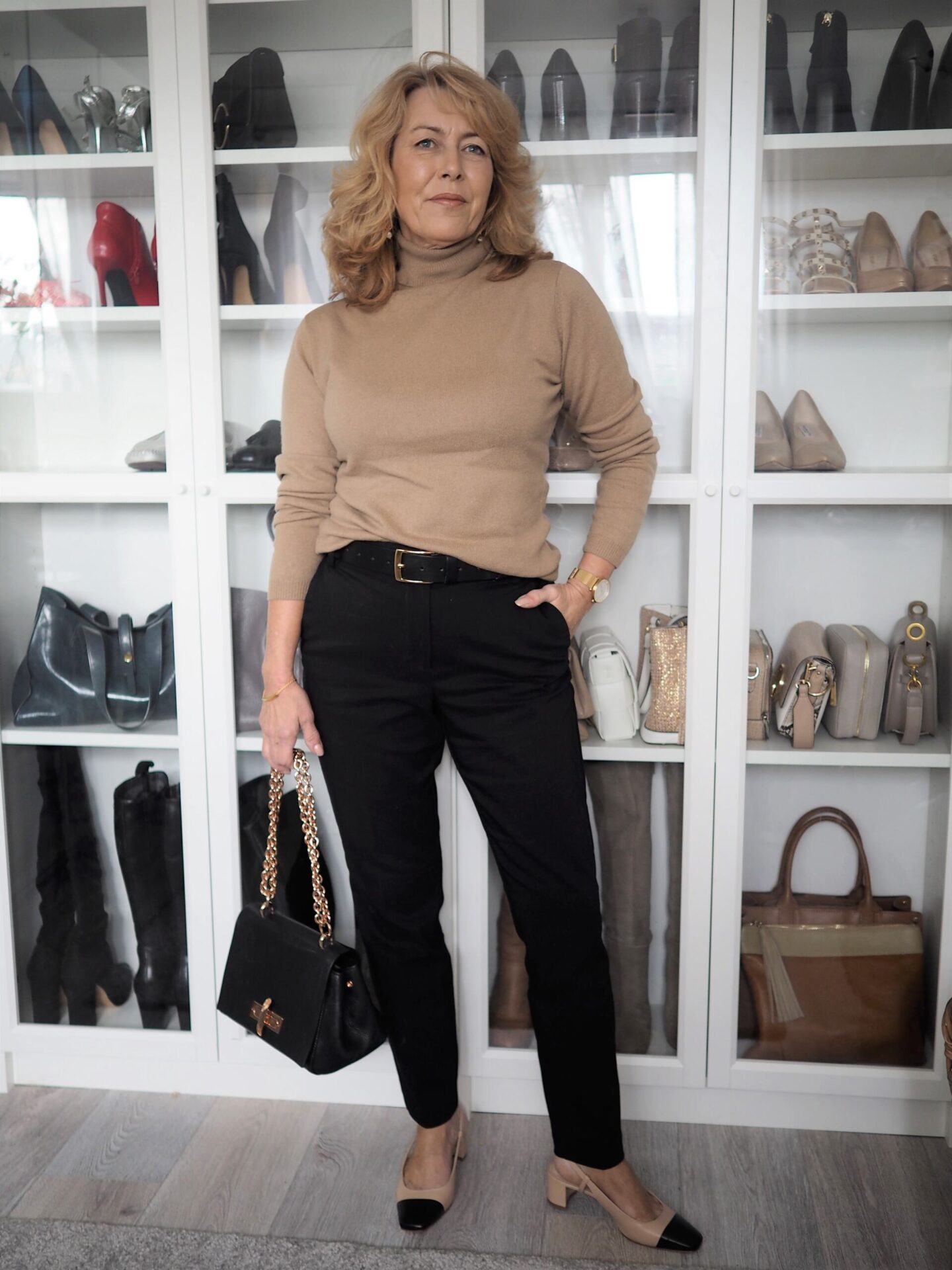 How gorgeous are these Chanel dupes? I was contacted by Susan that is the creator of Olive Aubrey Shoes. I actually had a summer pair of bright yellow sling backs similar to this style a good few years ago when I first started blogging. I still have them and wear them from time to time but they are bright yellow.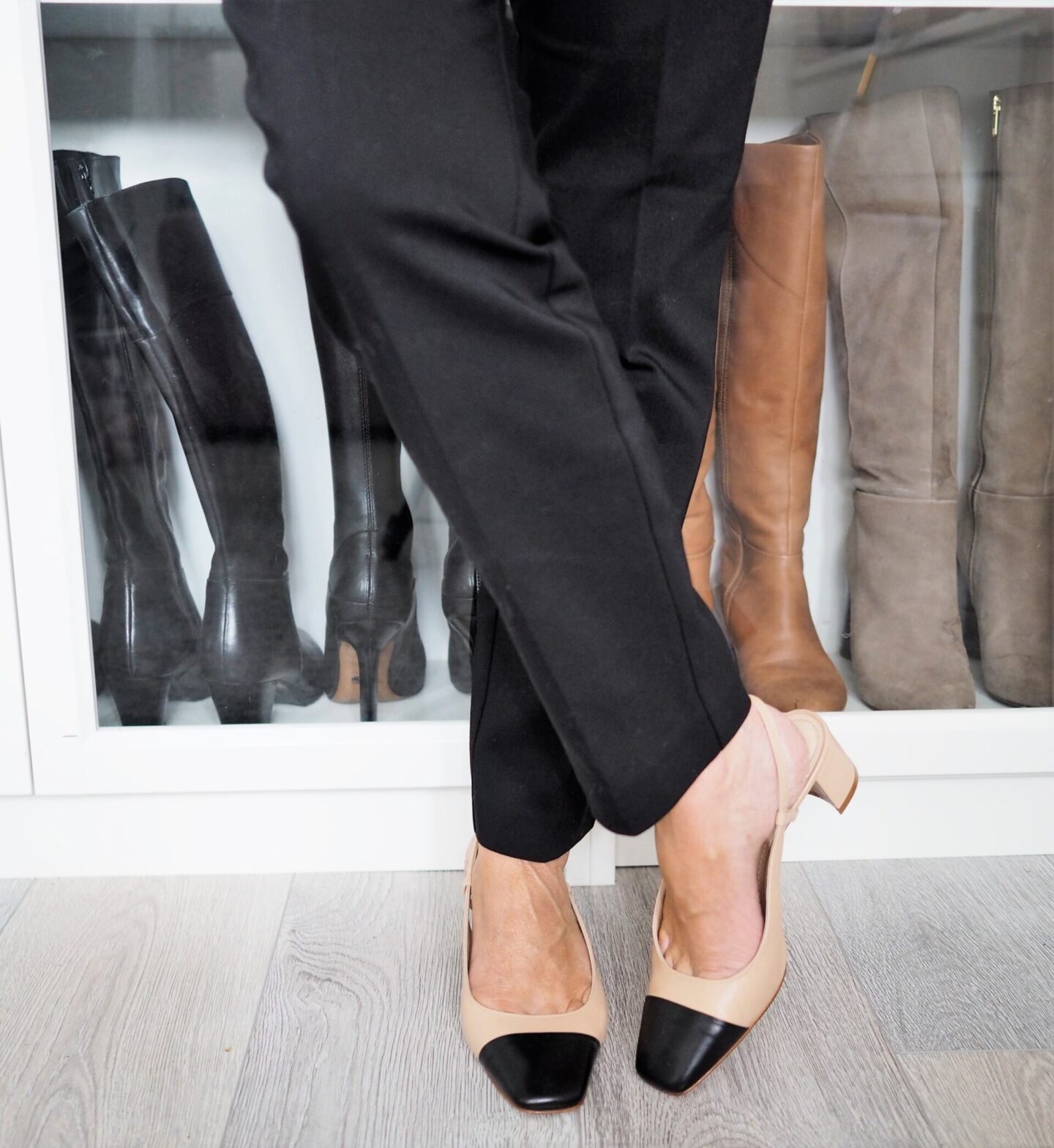 But these beauties are going to go with so much aren't they? They feel like slippers on and are crafted from the finest leather. There are some gorgeous styles over on the Olive Aubrey site. Again, worth a look.
Shop The Look
I have so much more to tell you about. I have some new beauty items to share with you but I realise this post will be a mile long! I will make a new in beauty post in the next week or so.
This week's wish list
Thoughts of adding some black items to my wardrobe is where this week's wish list came from. I really like the ankle boots! I'm so tempted to buy them!
On film
A try on of what's new in my wardrobe
I love unboxing surprises!
Keep you and yours safe and well xx
---
Please be aware that there are affiliate links included in this post at no cost to you if they are clicked on
---
Thank you for stopping by!
Come back for more. Click on the subscribe form below
YOU MAY HAVE A FRIEND THAT'S INTERESTED IN THIS? PLEASE USE THE SHARE BUTTONS
XO LAURIE
Subscribe for the latest updates!