Oh, wouldn't I just love to be on a safari right now. I have had no bath or shower in the house for nearly a week. I'm beg borrowing and using anyone's shower that's available! Here's hoping I can share a sparkly new bathroom with you all soon but today I'm sharing this safari-style skirt from my old home town. I'd certainly look the part if I was on safari although I think I would have to swap the heels for flats!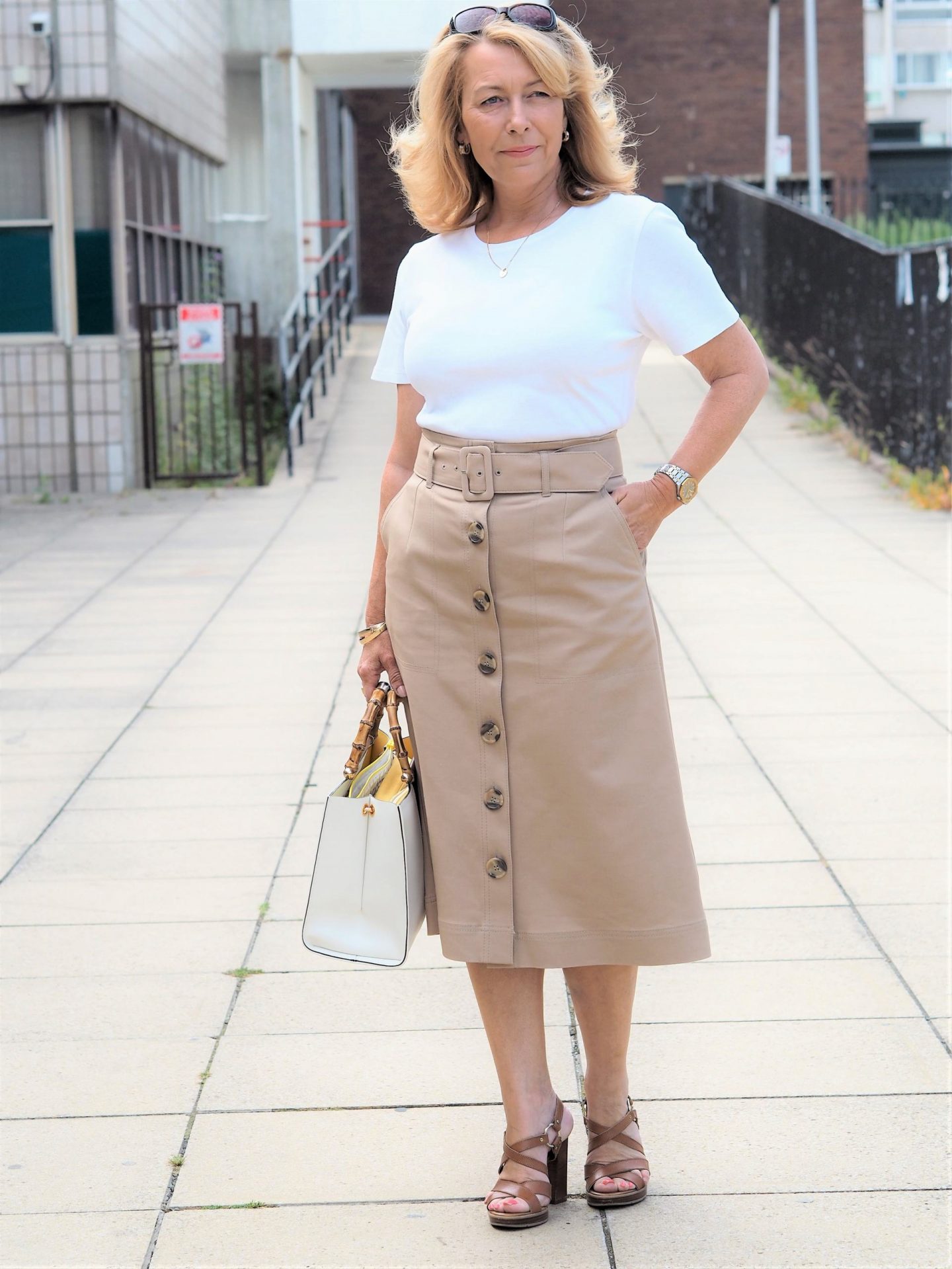 I was totally influenced to buy this skirt. I tried to buy it last year after seeing it on my blogger friend Gail from Is This Mutton. After seeing it on her post I rushed out to buy it but the only size available was a size eight and it was just too tight.
This is a high waisted safari style skirt from Marks And Spencer. It became available again this year ( also available in white ) so I ordered it online in a size 10 online. I'm really pleased with it and I think it will wear well into the colder months with a jumper and knee high boots.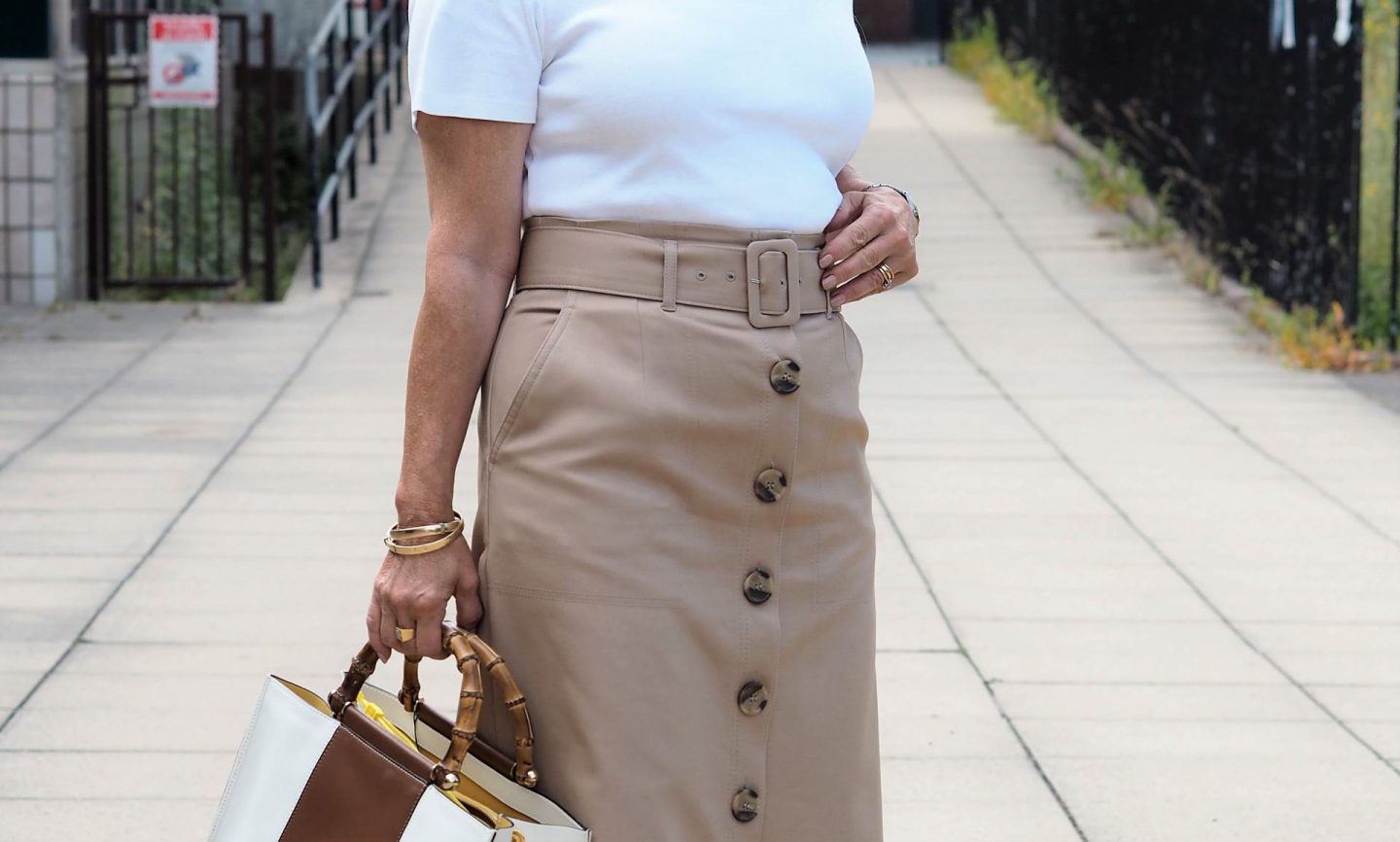 The matching belt ( I may change for a tan leather one) and tortoiseshell buttons, plus the added pockets and the good price point makes this a nice skirt. I love the tan colour and it will slip nicely into my neutral wardrobe that I'm collecting over time. I keep meaning to do an updated post about that!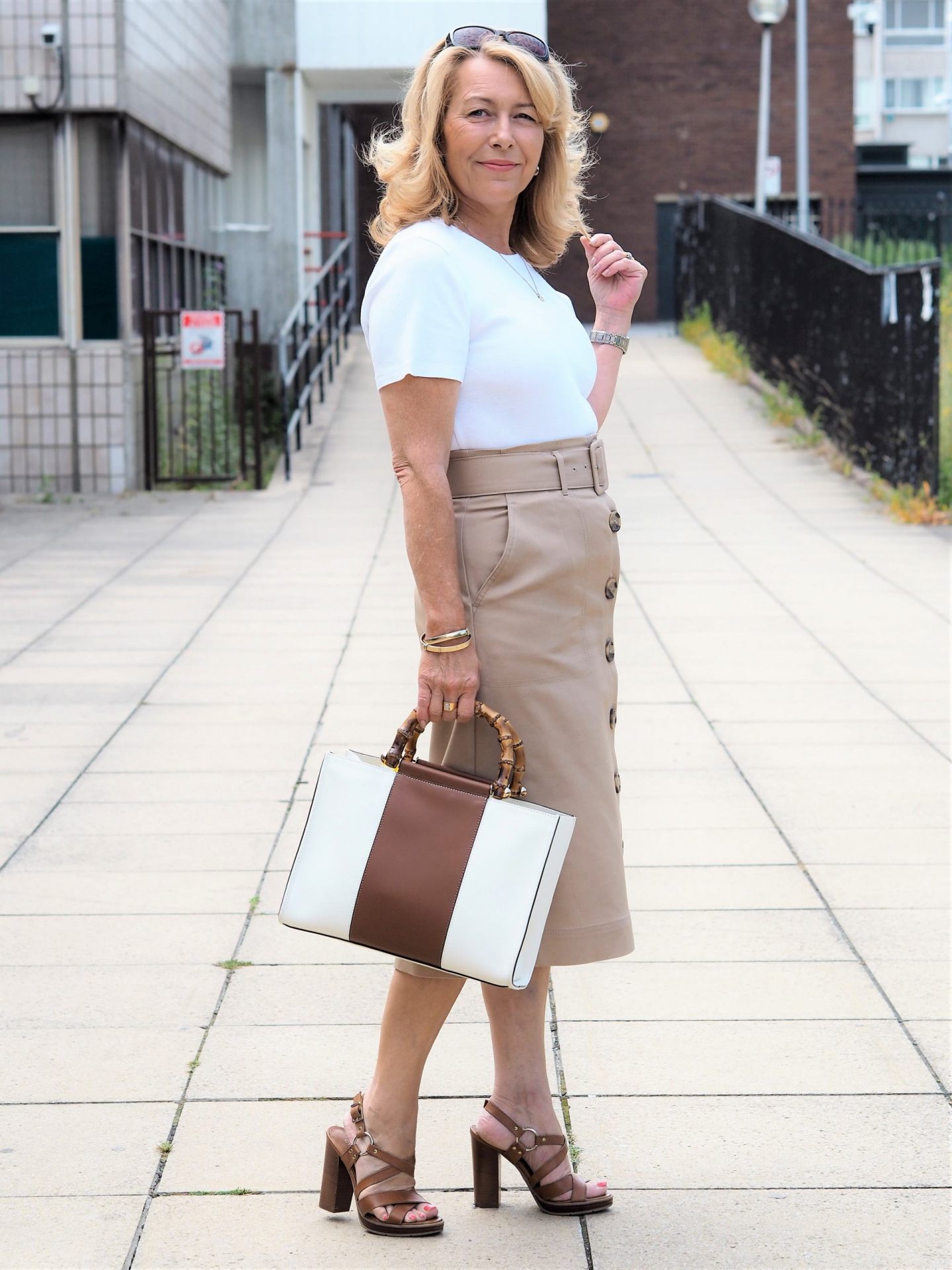 Putting the outfit together was easy. My forever worn plain cream T-shirt and neutral/tan accessories. Simple, classic and easy. The Tan sandals that I purchased last year are on sale at the moment. They look high but are so comfortable.
As I right this post, looking at the photos, we didn't venture far away from the builder doing the bathroom and headed to my nearest town that's literally at the end of my road.
The demise of my old home-town is very sad. There's lots of work going on here though and hopefully, it will be brought back to life soon. I have so many memories of growing up here and how it used to be.
safari-style accessories that I love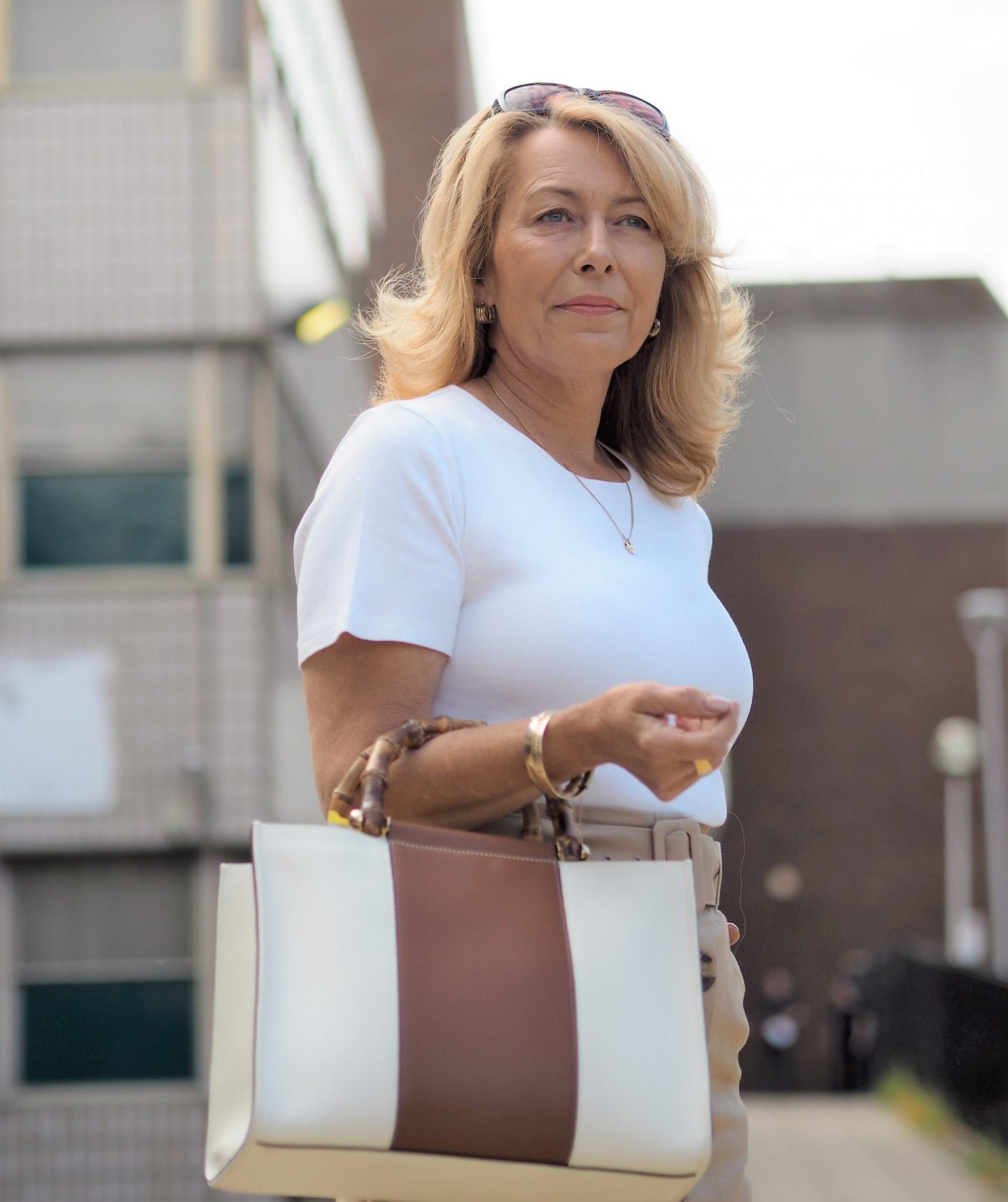 The handbag is new and I love it! Big enough for everything, I love that it's tan and white and the handles are gorgeous. I love the bamboo style. Do you think I love it? Haha!
This handbag was gifted to me by Daniel footwear. Now on sale and you may have seen the sandals that I ordered to go with the bag in last week's post. The bag is all leather and worth every penny! it has an inner fabric bag and also a leather crossbody strap.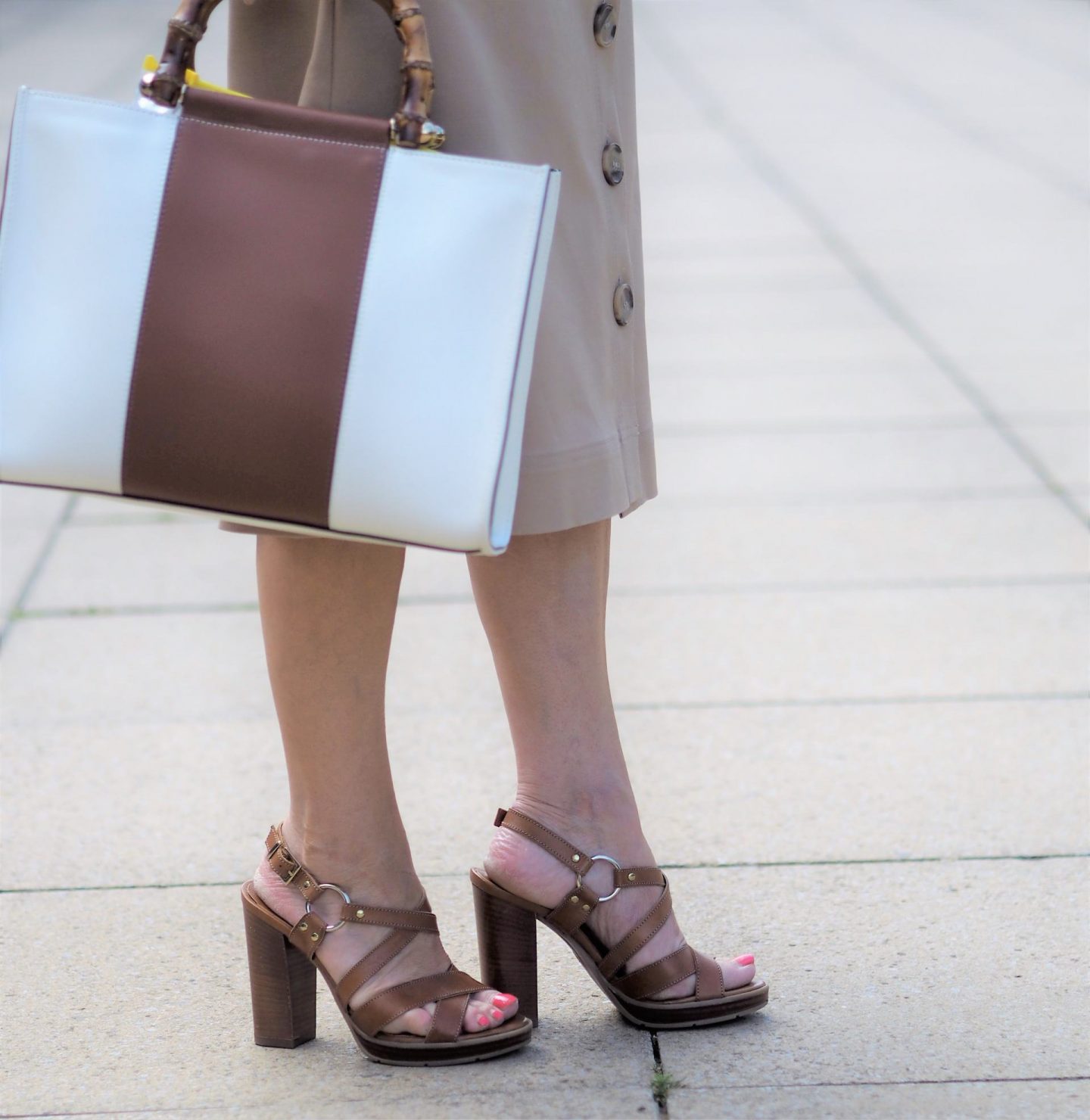 The bag and new white sandals make a lovely duo and the sandals are on sale too. both at half price now. I will be pairing them together very soon for another outfit to feature on the blog. But I like how the bag pairs with my tan sandals too.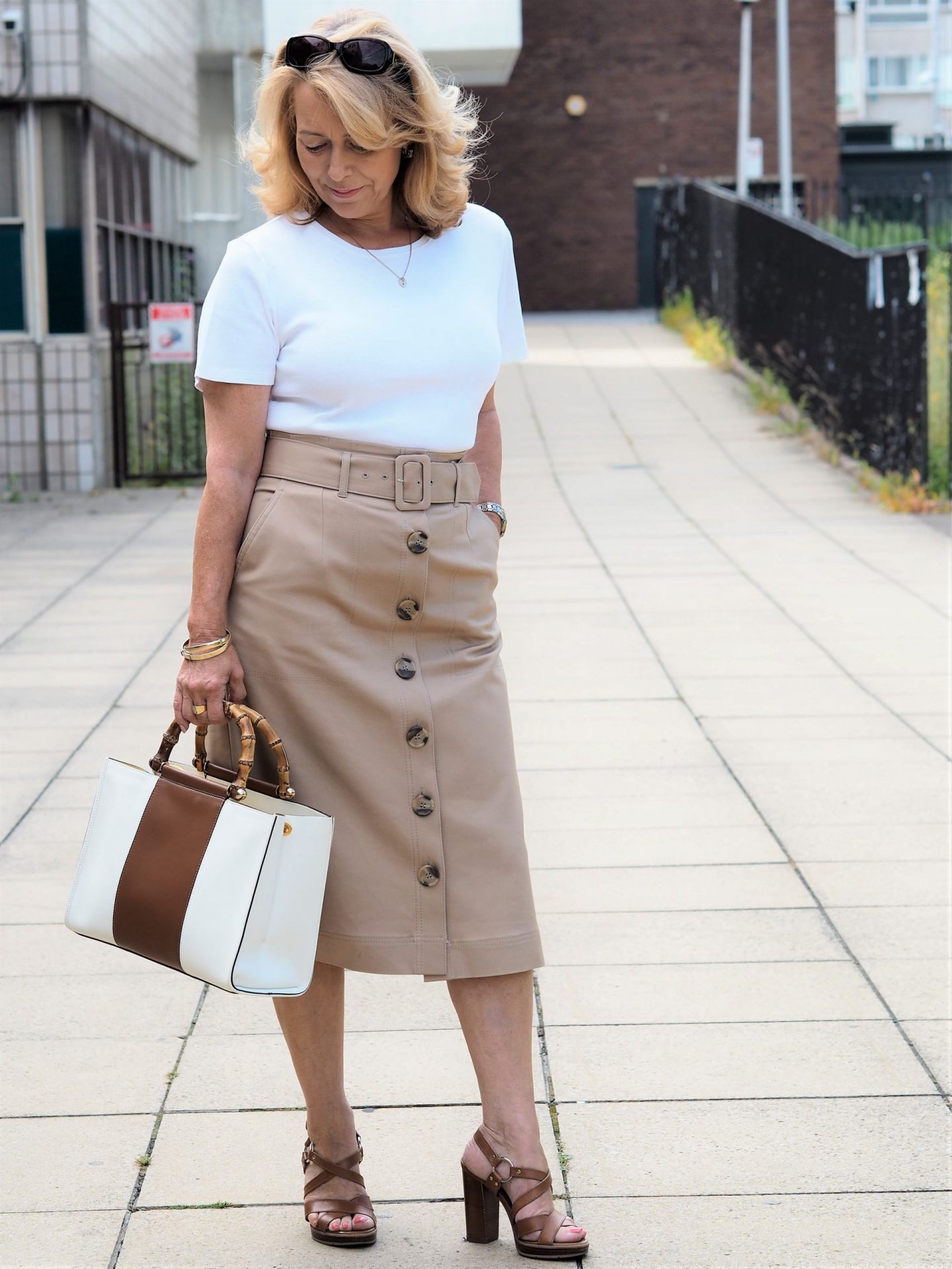 I'm so pleased that the skirt became available again this year and I managed to grab myself one. After all, it's not a style that's going to date at all and quite a sustainable piece I think. I'd love to hear your thoughts about it. M&S comes up trumps with some really good designs sometimes and this is one of them. I'm tempted to try the linen version too.
Shop The Look
Keep you and yours safe and well xx
---
Please be aware that there are affiliate links included in this post at no cost to you if they are clicked on
---
Thank you for stopping by!
Come back for more. Click on the subscribe form below
YOU MAY HAVE A FRIEND THAT'S INTERESTED IN THIS? PLEASE USE THE SHARE BUTTONS
XO LAURIE
Subscribe for the latest updates!