It was nice to go for a walk around one of the local parks after the mini heatwave. I wanted to get a photo of this puff-sleeves shirt and I didn't go out at all during those hot days. I knew all the parks would be busy.
I bought this a while ago but it sold out very quickly, so I didn't post it here. But I noticed this week it's back in stock, and I wanted to share you because it's such a bargain find and perfect for more hot days to come.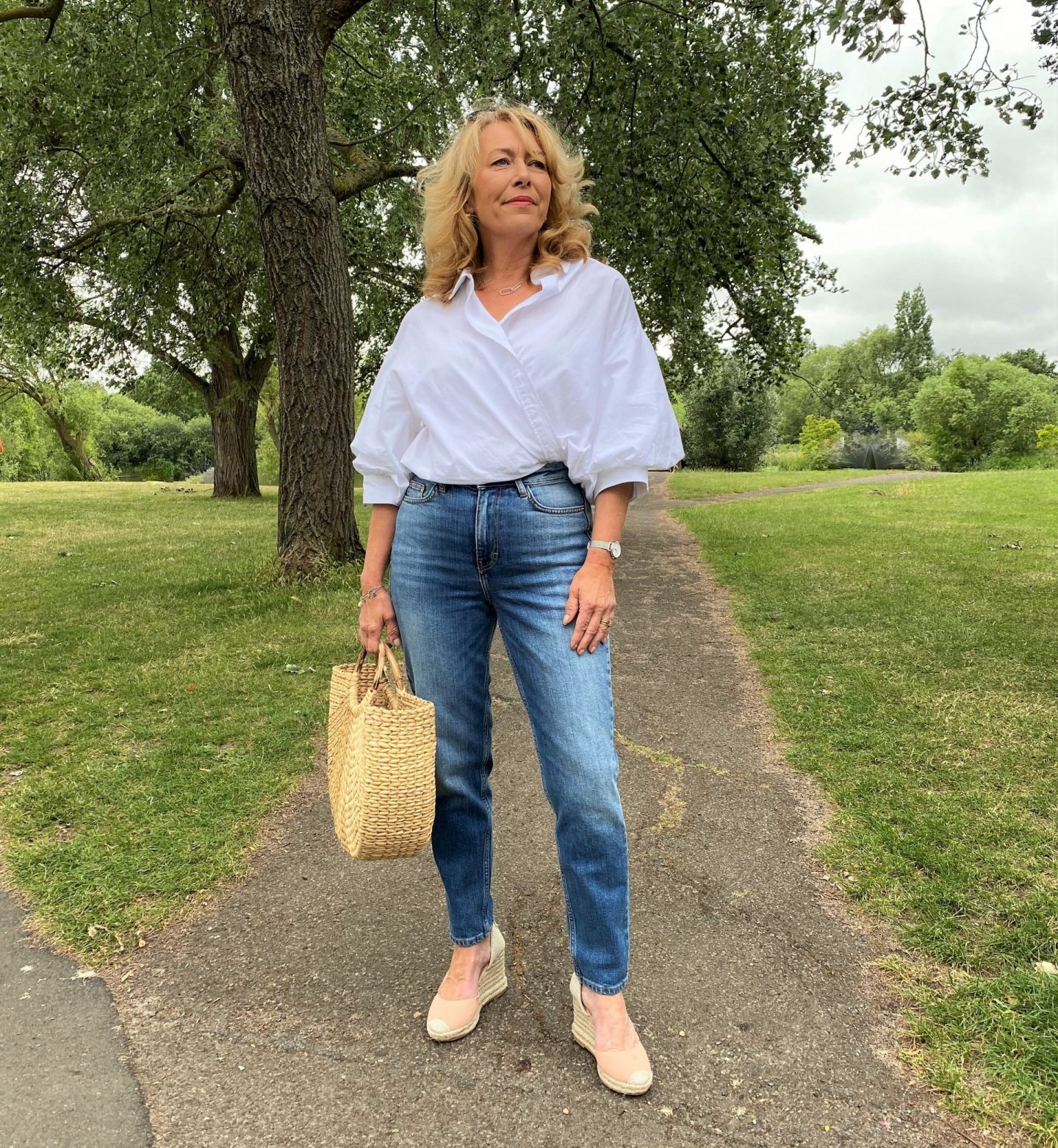 I'm having a bit of a love affair with puff sleeves. Surprising considering how short I am. My favourite most worn is the Broderie Anglais one I featured a while back.
This shirt is full of volume. I'm wearing a size small and when it arrived I thought it looked very tent-like! I've crossed the front over rather than doing up the buttons. It's very long in the body and I have worn it un-tucked with these jeans too. I featured it here on YouTube if you would like to see. Quite a versatile shirt considering the £17 price tag.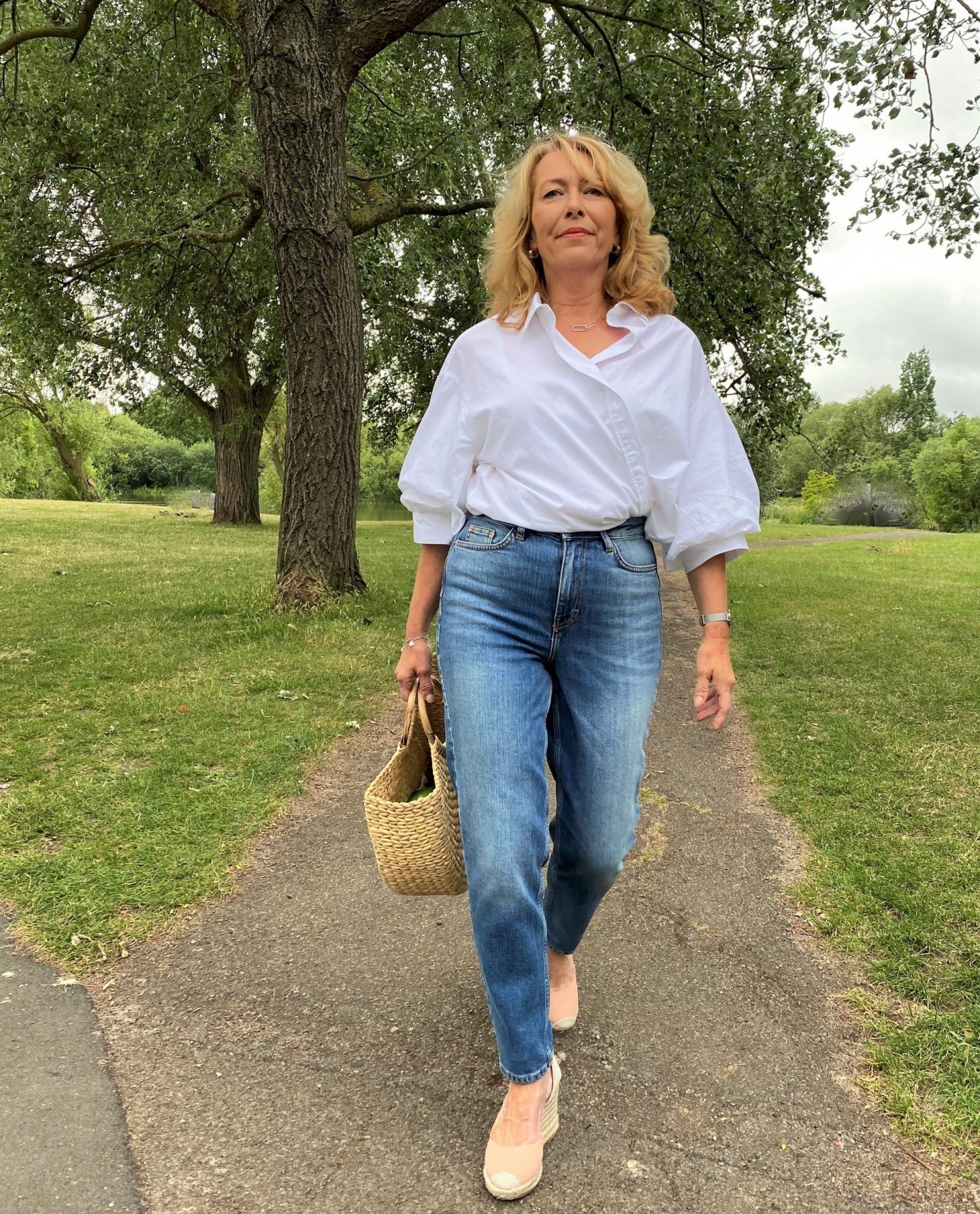 I've paired the shirt with Mom jeans from FandF and I'm sorry, I can't leave a link with you for those. I wish FandF would hurry up and get back online! I'm really pleased with them and often buy my jeans from there. FandF's contour range is very good too.
I have just ordered the Girlfriend jeans from Baukjen because the fit is perfect. I tried them on at the press day and fell in love with them. They have been sold out until now and was lucky to grab a pair. so I have linked them below in the shop the look. I now have a Baukjen discount code for my readers. VM20 gives 20% off all full-priced items.
A basket bag and my bargain Espadrilles that I featured a couple of weeks back finish this easy laid back look.
Shop The Look
Why do hydrangeas go brown?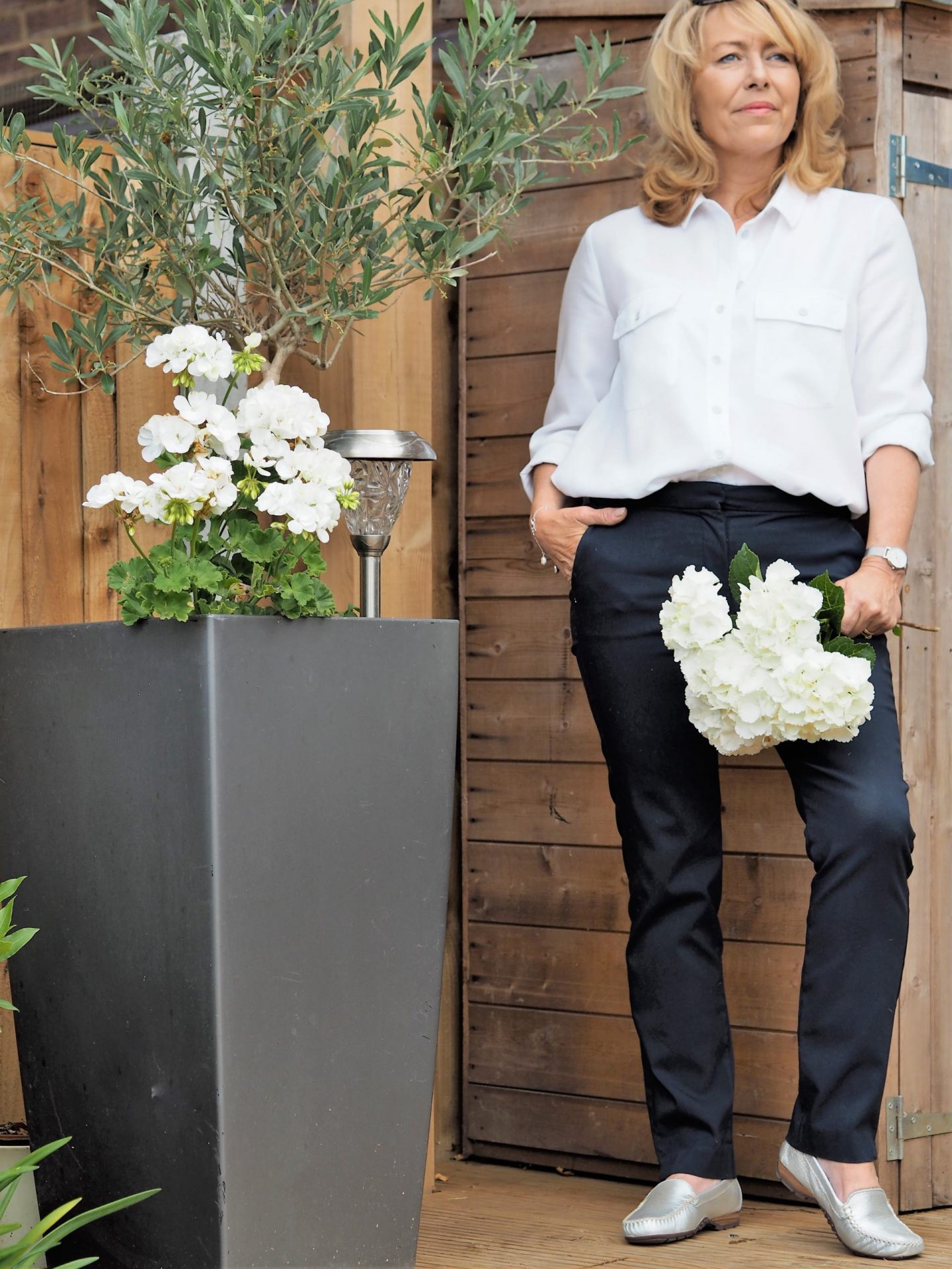 I hope you can help me here? Why is it that as soon as you get a rain shower on those hydrangeas the petals all turn brown? Is there something I can feed them to stop this happening?
No sooner did we have all that rain after the heatwave I noticed that the hydrangeas were starting to go brown. I decided to cut and bring the best ones indoors. Also, is it better to prune them back?
I'm also giving my new moccasins an airing on the blog. The leather is super soft, perfect throw on and be ready for anything shoes.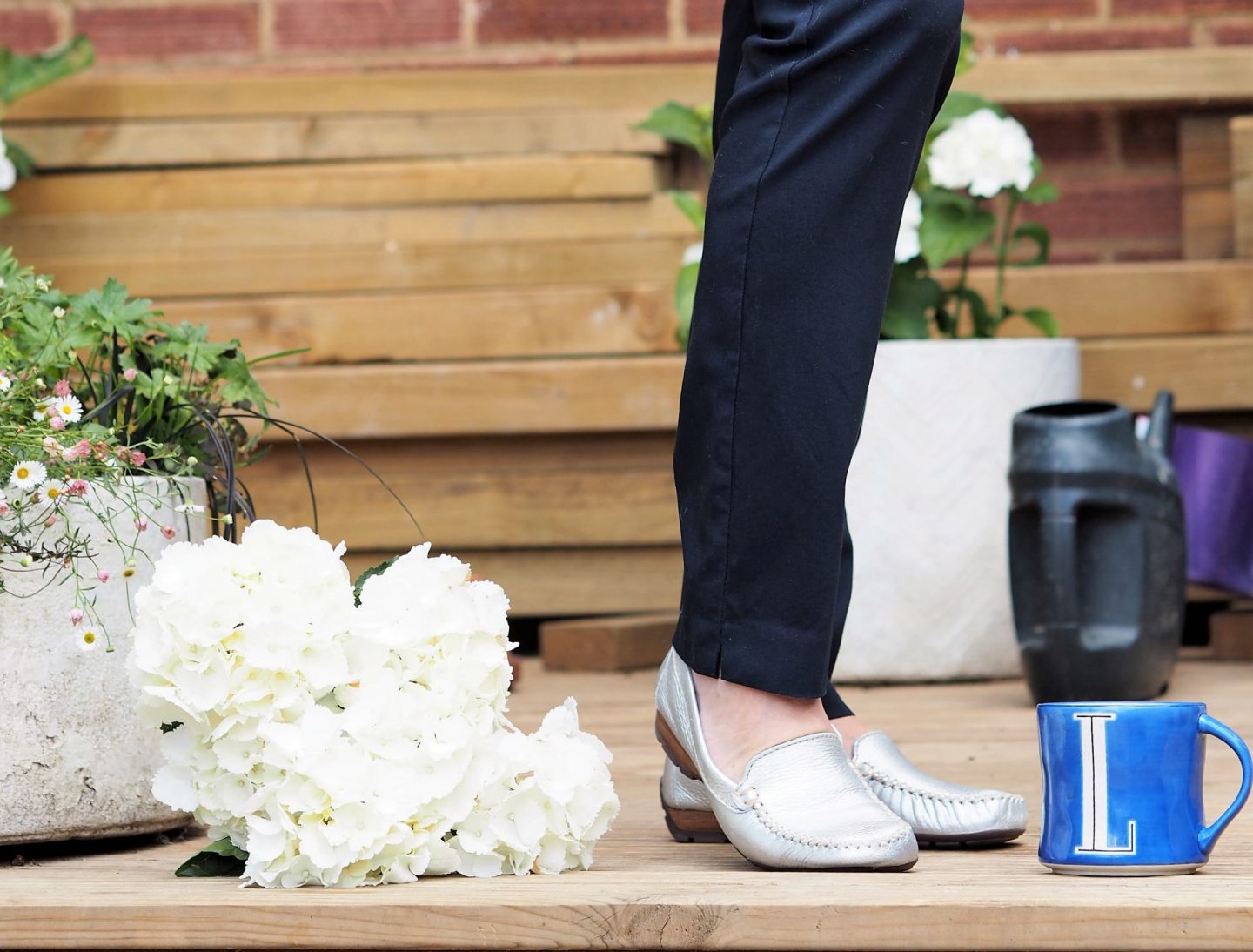 The moccasins are from VanDal shoes. I love this brand for supplying extra wide fitting shoes. I have wide feet, and that little bit extra just makes them feel like slippers!
Another casual look here. The loose fitting white shirt and the navy trousers are both from Mango. I have been very impressed with the quality of the trousers. Very comfortable to wear too.
Shop The Look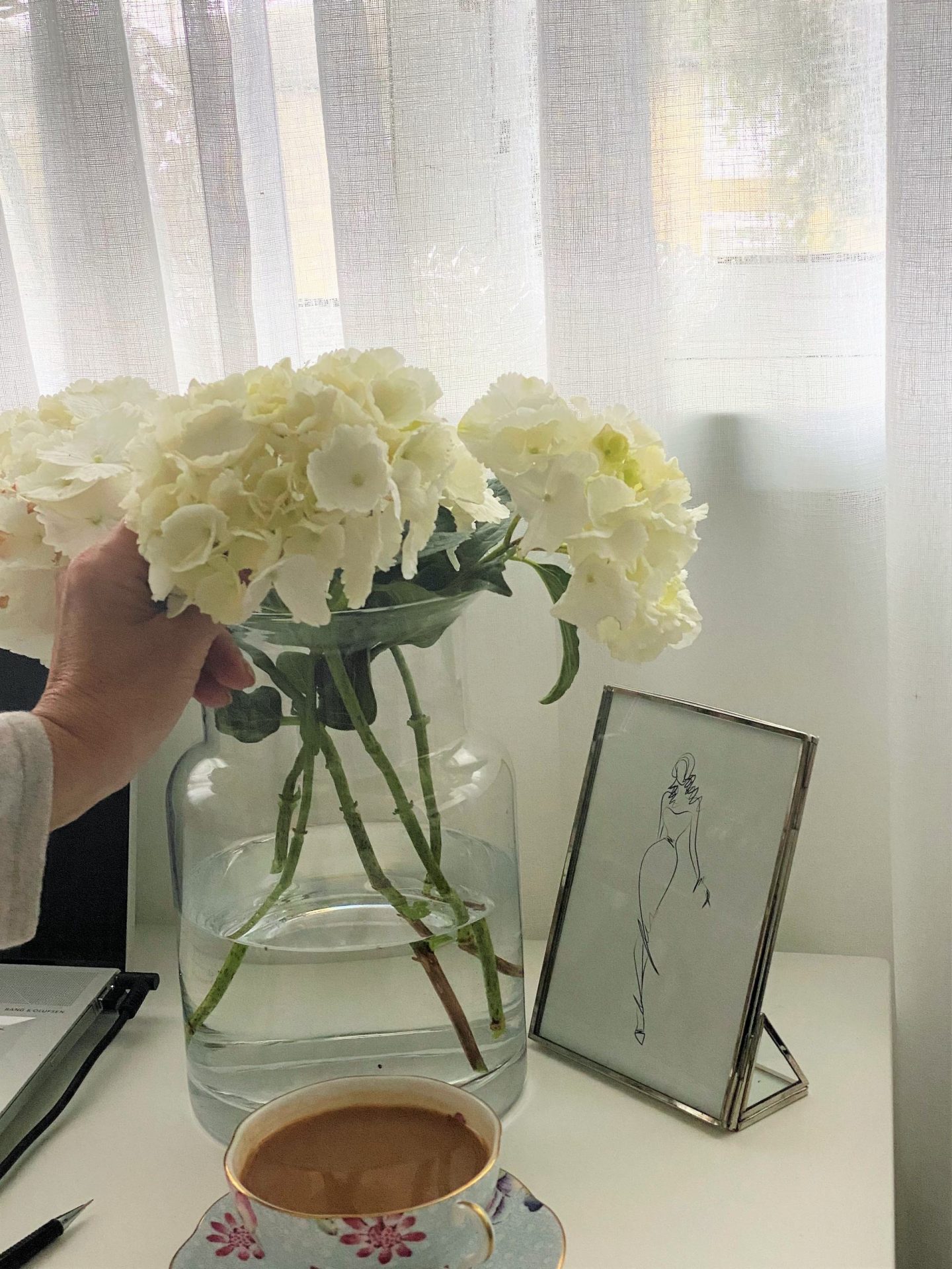 I've enjoyed having the hydrangeas on my desk. And yes I do have my tea builders brewed! I bought the vase recently from Morrisons on a weekly shop.
And while I'm talking about indoors, Oh boy what dilemma's I've been going through! I will try and keep it short. My bathroom has been re-scheduled to be fitted in the next couple of weeks. Hurrah! I had originally decided to go with splash wall panels throughout the bathroom but the design I had found online via pinterest was no-where to be found.
I thought the idea of no grout was good and I had read really good things about splash walls and that this is the new way to go. I eventually found a supplier of the design I wanted and ordered a sample.
Then the lock-down began and no sample arrived. The last couple of weeks have been spent hunting down showers, toilets, radiators etc. One of the bathroom suppliers we visited also had splash walls. I didn't like any of the samples there but the shop manager offered me brochures and low and behold I found the design I wanted.
It was god-damn pricey stuff! We started thinking about lowering the budget on our shower and all the other items we had chosen so I could get those panels. The following day the sample I originally ordered arrived. I was so disappointed with it.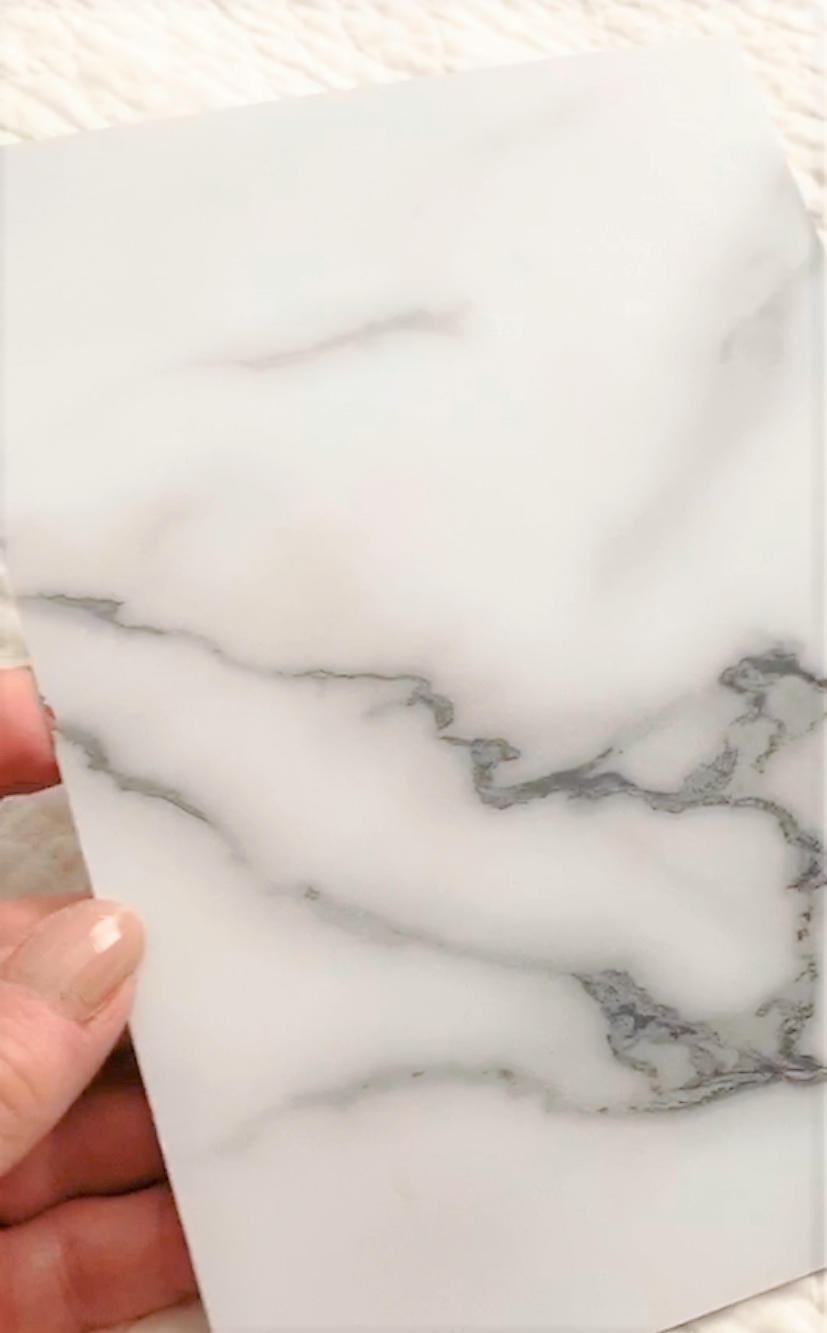 I think it would have been great in a shower cubicle, but my bathroom is fairly small and I didn't want to break up walls with different materials. So, the last few days have been spent on the hunt for tiles. Hence why this post is a day late! But I'm glad I never went ahead with ordering those panels.
A lesson learned to make sure the product is right there in front of me before buying. It's easy to get carried away and be hasty, isn't it? Have you ever made a wrong move buying something expensive online before seeing it in the flesh?
The shower cubicle that I fell in love with online was hard to find in a showroom and we had to drive a fair few miles to see it, but worth it to do that. I just want to get the house finished and my patience is wearing thin. Anyway, enough waffle from me. I look forward to sharing the finished result with you.
I have a 20% off code for Claudia Bradby!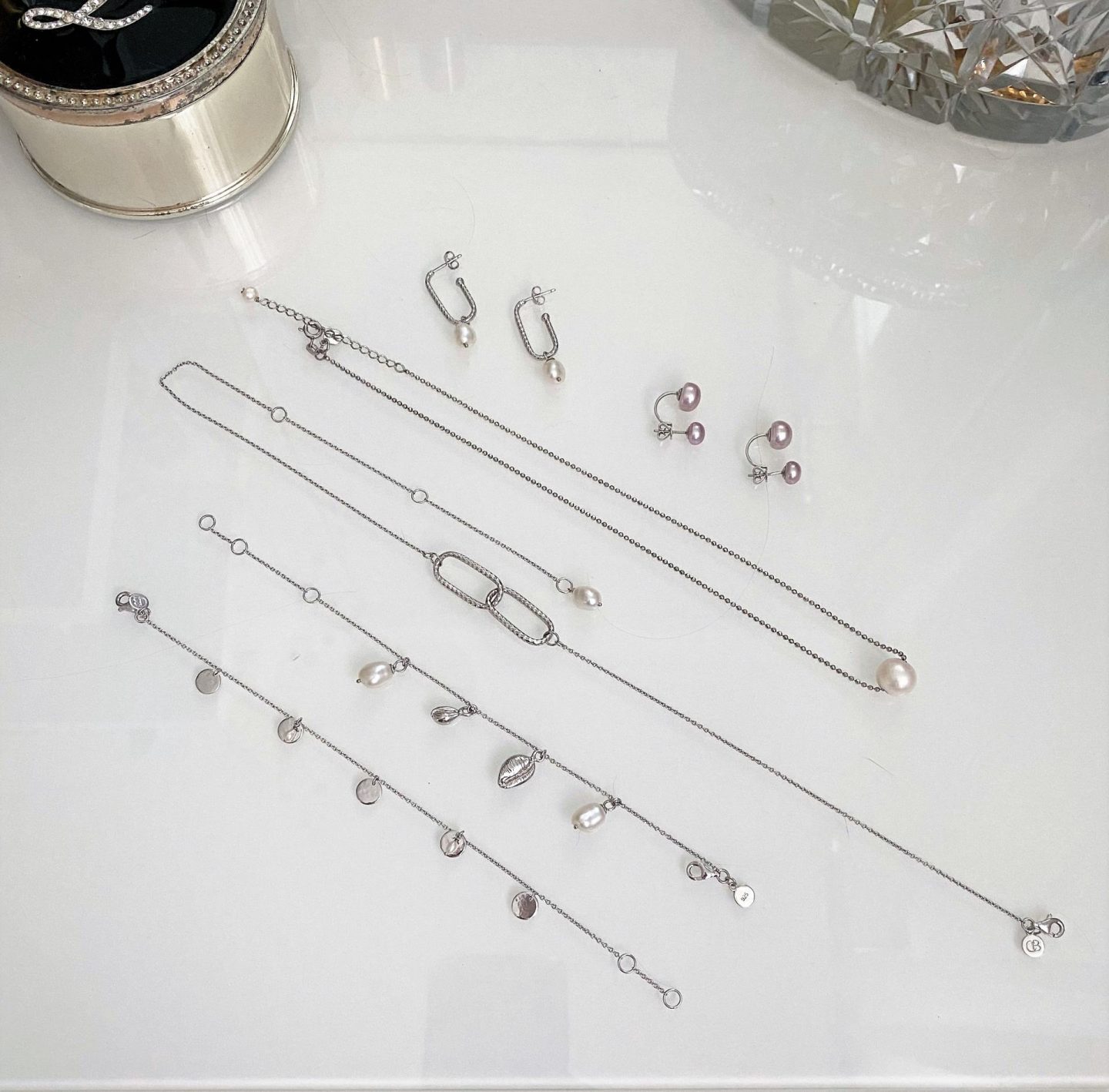 If you're a regular reader here, you will already know how much I love my pearls! I have also worked alongside with the Claudia Bradby brand for a few years now.
I'm happy to share a 20% discount for you all. This discount is available for the whole of July. I've pictured above the items that I wear most. I'm wearing the Helix necklace in the first outfit and the Cowrie bracelet in the second. I love the single pearl necklace, it goes with everything.
Use laurie20 at checkout to get the discount
*Use code VM20 for 20% off full priced Baukjen*
*Use code laurie20 for 20% off at Claudia Bradby*
Two new films
Keep you and yours safe and well xx
Please be aware that there are affiliate links included in this post at no cost to you if they are clicked on
---
Thank you for stopping by!
Come back for more. Click on the subscribe form below
YOU MAY HAVE A FRIEND THAT'S INTERESTED IN THIS? PLEASE USE THE SHARE BUTTONS
XO LAURIE
Subscribe for the latest updates!