Hi All. I hope you're all safe and well? Don't forget to keep me updated on how this awful virus is affecting you. I'm interested in hearing how you're coping. I've certainly had my ups and downs. Today I'm talking about the beauty routine. The anti-ageing routine as I call it.
Until a few weeks ago ( I'm currently trialling the new Platinum range by Prai) I was doing the nightly beauty ritual and realised how long it was actually taking me to complete. I've been sent many a skincare this or other to try and when I like something I will stick with it. This has certainly made my routine longer but I'm pleased with the results.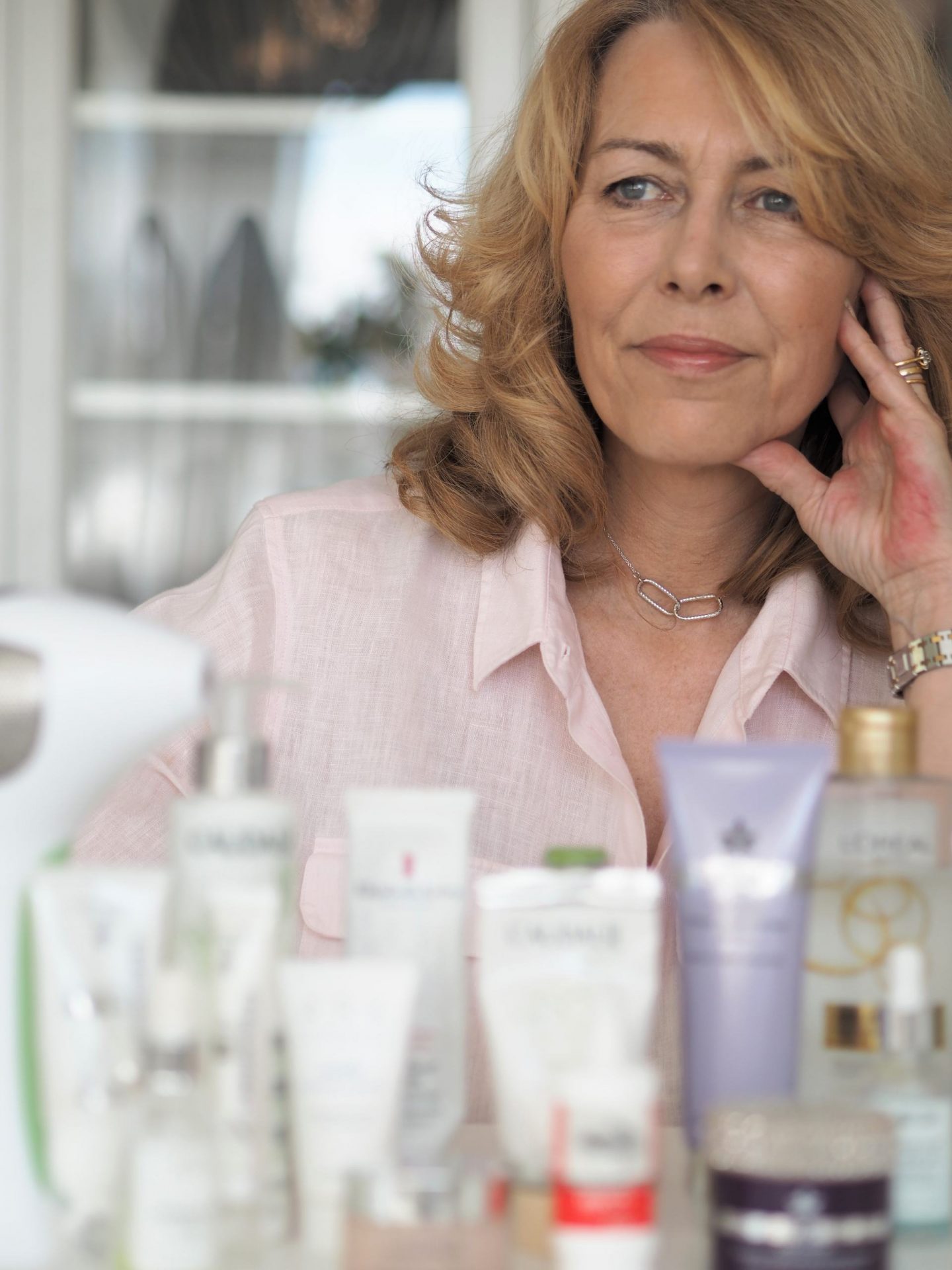 I thought I would give you a diary of my morning and night time beauty routine. What I like about it and the difference it makes.
Some items I only use once or twice a week, so I will have to write out each evening for you. The mornings are pretty much the same though. If it changes I will add that day in.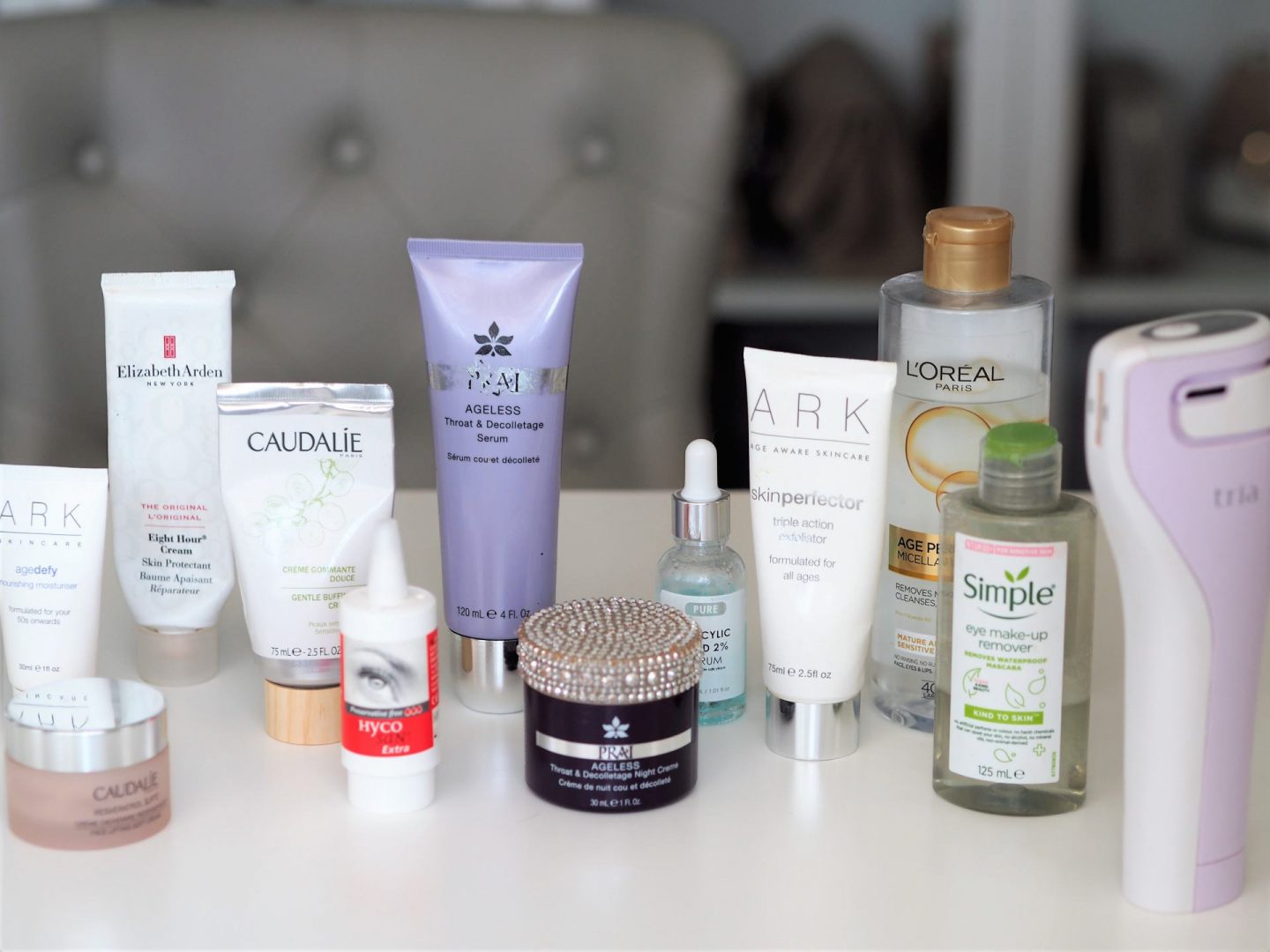 Sunday Pm
I rarely wear makeup on a Sunday. I try and give my skin one full day makeup-free. If I'm out taking photos for the blog, then that will be the only reason I would wear makeup.
if there's ever a better time to take a good close look at what your skin is doing, it's now during this lock down. If your not leaving the house for 48 hours, try going makeup free. Don't wash your face at all during this time. It will give you a good idea of whether you are still secreting any oil from those pores or how dry your skin actually is without any products.
At 57 I'm still surprised when I give this practice a go. I still get an oily nose! Life in the old girl yet! But if your skin is quite oily you might not need such a heavy face cream for night/daytime and you could end up with very congested skin and breakouts.
So, lets say I haven't worn any makeup. I cleanse with Caudalie's Cleansing milk. I'm really enjoying using this cleanser. I prefer a foaming cleanser (Caudalie's is excellent) but when I add water to my face after applying it does actually foam up a little.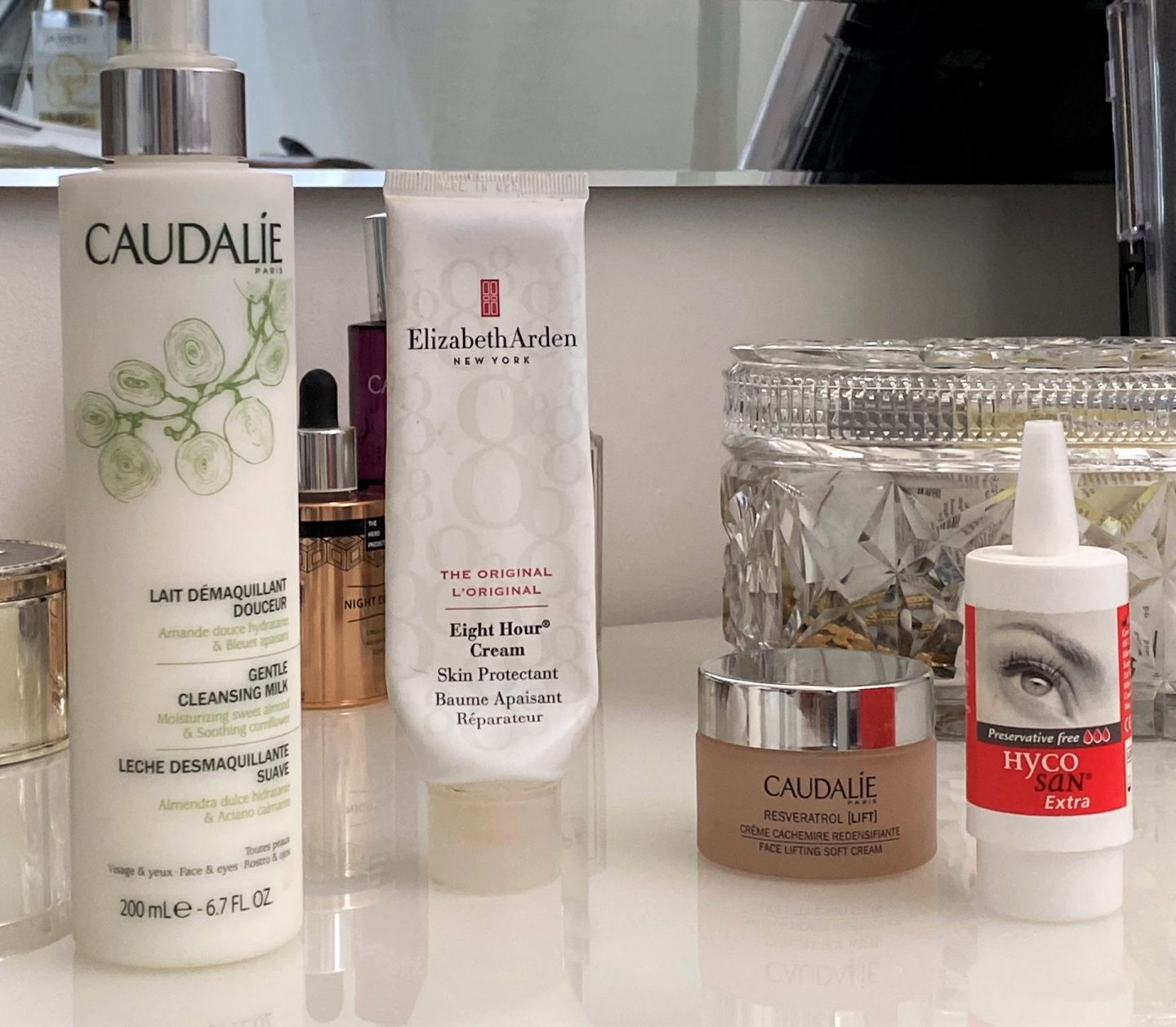 Next part of the beauty routine I use the Skin Chemists Retinol 0.1. I mentioned this product a month or so ago and I love it. My skin seems to be clearer and brighter using this. I wondered what all the fuss was about using Retinol but now I can see for myself. It's like exfoliating your skin really well. working all by itself overnight.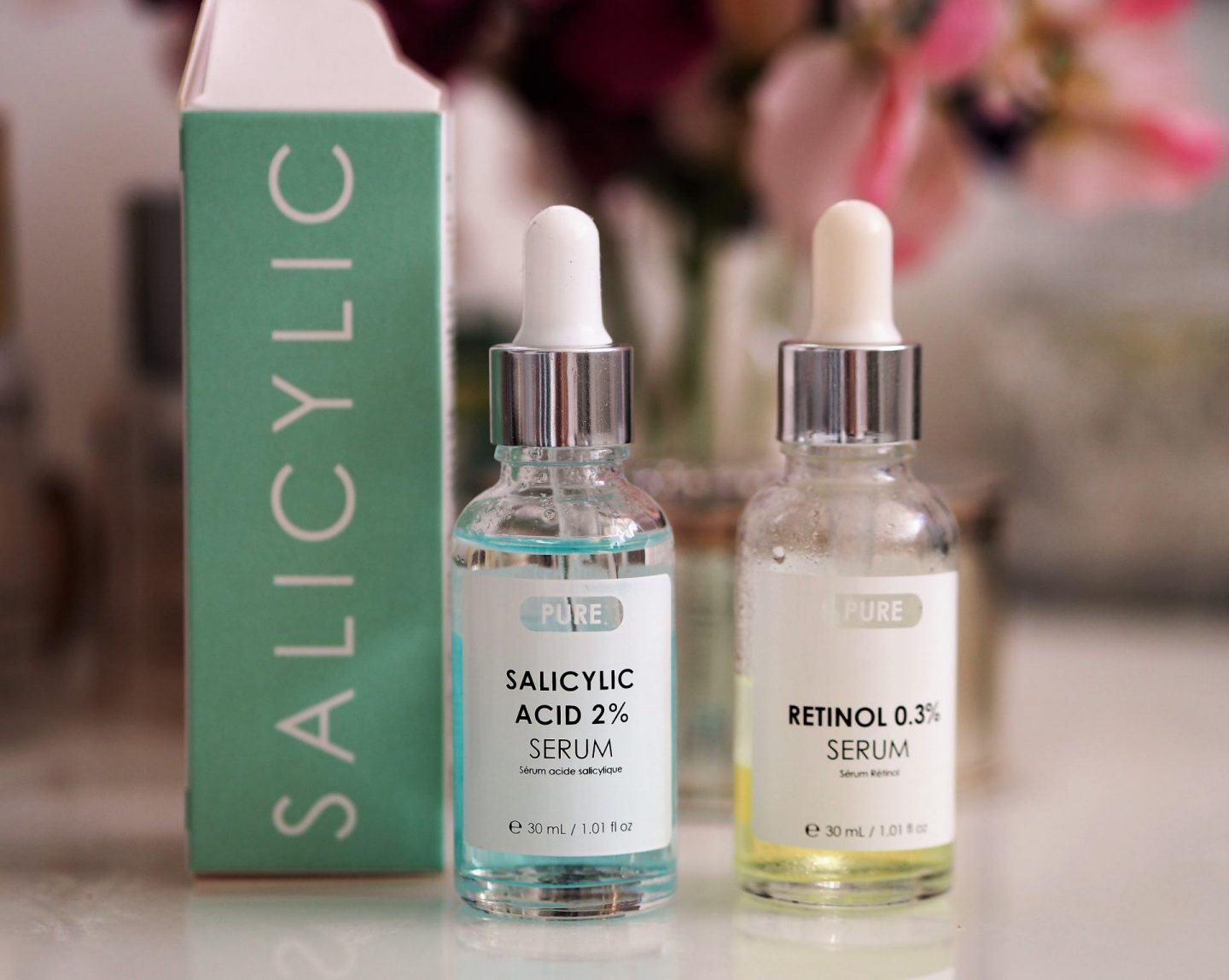 I wait five minutes until I apply a serum. For the last few months I've been using Boots Firming Booster Serum and I'm really impressed with this. I will be buying again. Then the final phase I use either, Caudalie's Resveratrol or Ark skincare Age Defy cream. Both leave my skin hydrated. I love the Neroli in the Ark Skincare.
Finally, I use Elizabeth Arden Eight Hour Cream on my lips. I also use Prai Neck And Decolletage serum and cream. Oh, and my eye drops. My eyes have become very dry the last couple of years ( too much Pc) And these have helped a lot. I use these Am and Pm.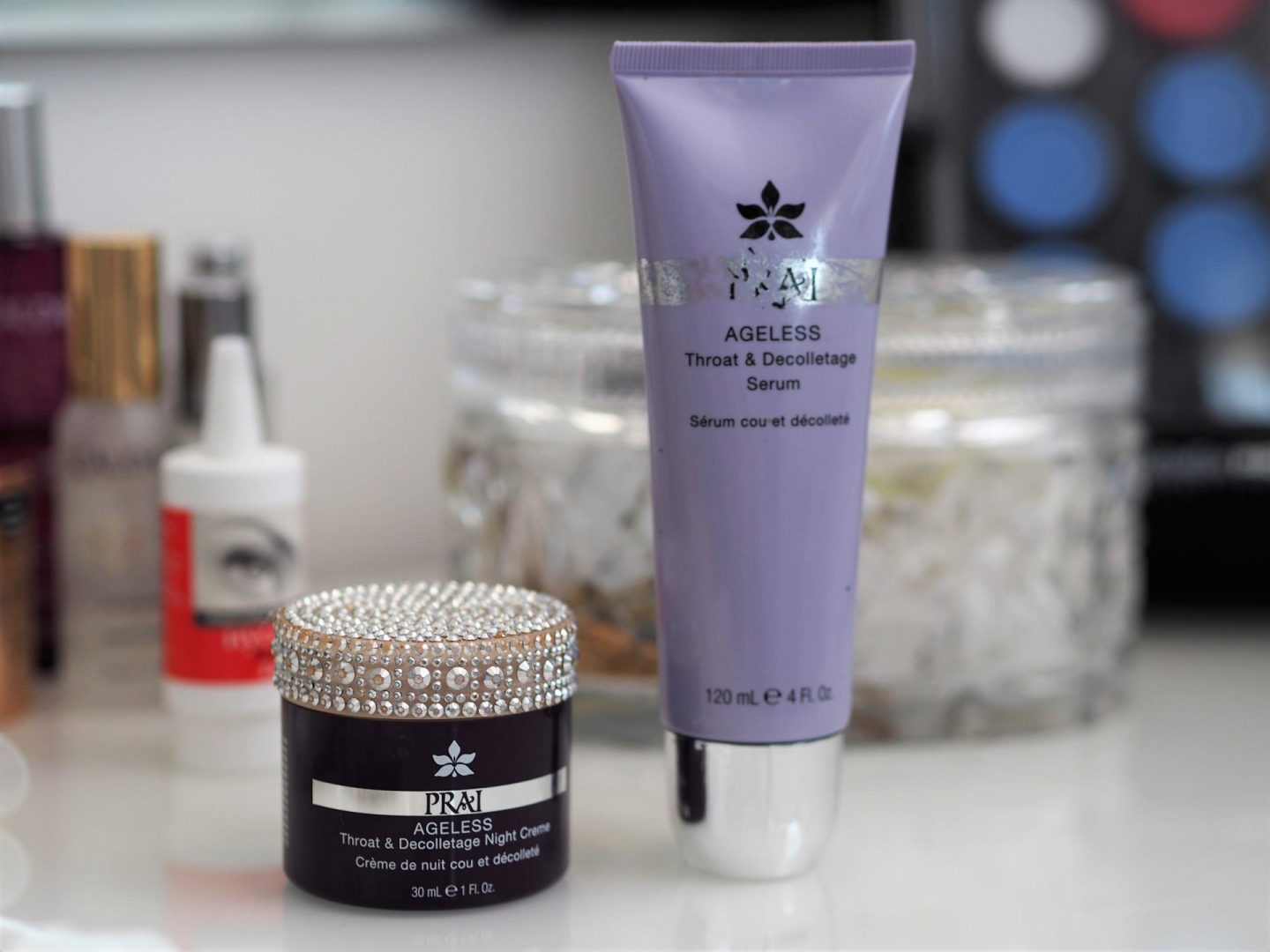 Monday Am
As I mentioned in the last beauty post, the first thing I do when I've had my morning cuppa is check in the magnifying mirror for any unwanted hairs on my face! Once I've dealt with that I use Caudalie's Gentle Buffing Cream. I find using an exfoliator after the Retinol the night before works well. My skin looks clean even-toned and glowy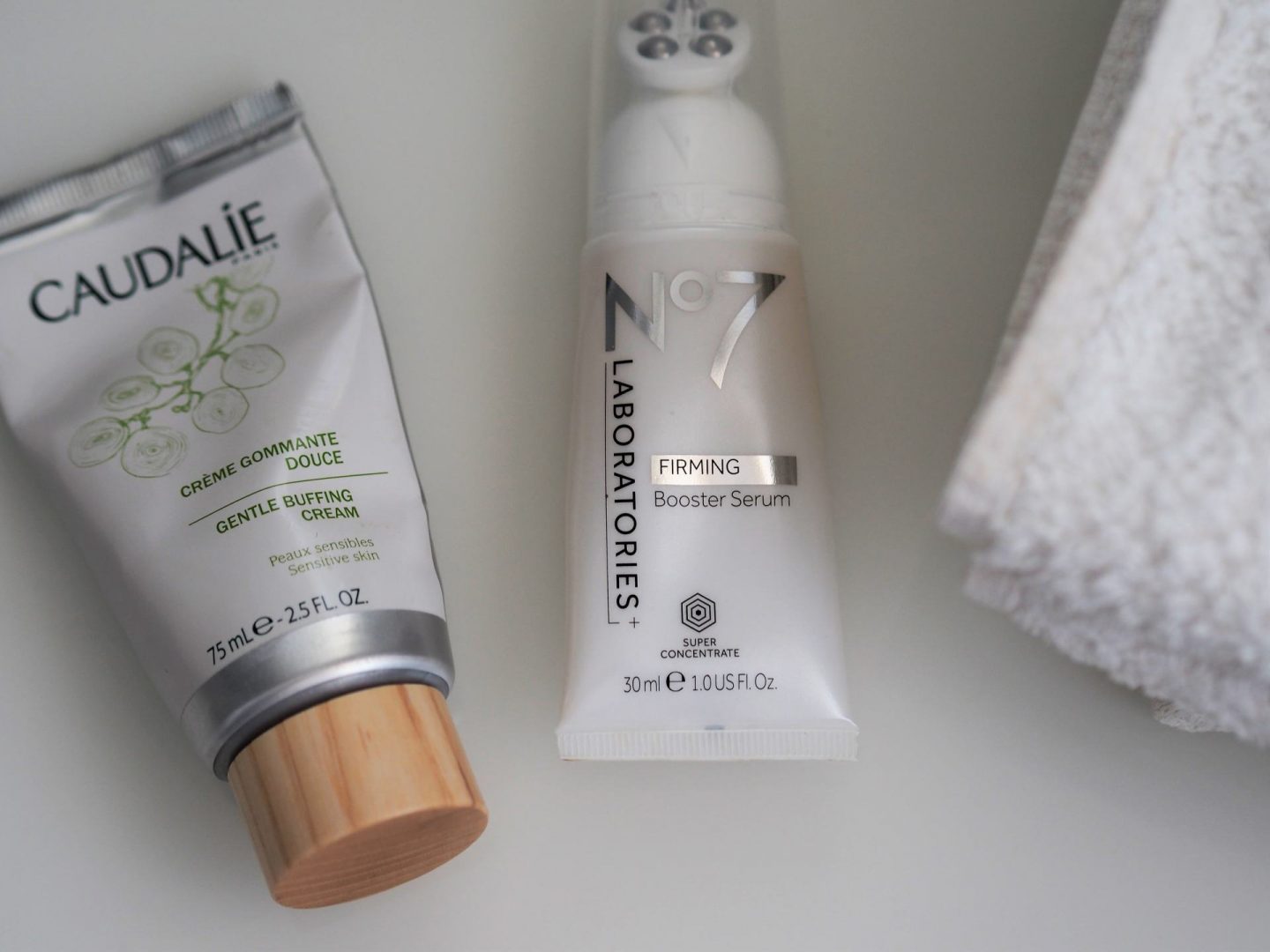 I then apply the boots Serum and wait a few minutes before applying my moisturiser & Eight Hour Cream on my lips. I swear this helps with lip lines! And then Some SPF. At the moment it's a Nivea one for the face and body SPF 50 (I will call this the routine morning cleanse) Apart from the added exfoliator.
Monday Pm
A slight change here. I cleanse as normal, and any day that I've had makeup on I pre-cleanse with L'oreal Age Perfect Micellar Water and Simple Eye Makeup Remover. but before I use anything else I use my Tria Age-defying Laser.
I've had this little gadget a couple of years now. There's a full review of how to use and I did stop using it for a while when I moved house. It was only when I stopped using it that I realised what a good job it had been doing!
This takes just under 10 minutes, so it makes getting ready for bedtime a little longer. After that, I use the same serum and then moisturise.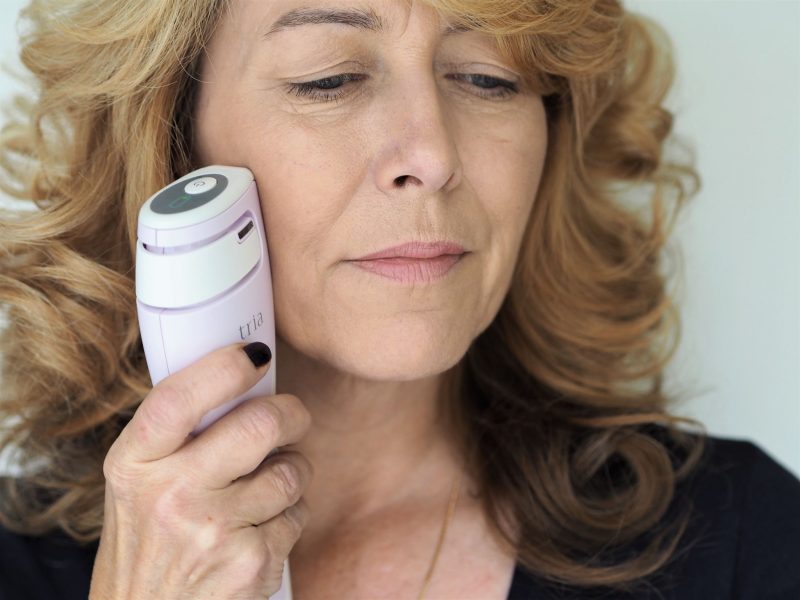 Tuesday Am
The same routine as the morning before but I also use the new gadget that I spoke about recently The Tria Hair Removal Laser. I haven't written up the full review yet but I can tell you that it's working! I'm seeing a lot less growth on my chin and upper lip. This takes under a minute to do, so I'm not complaining about time here.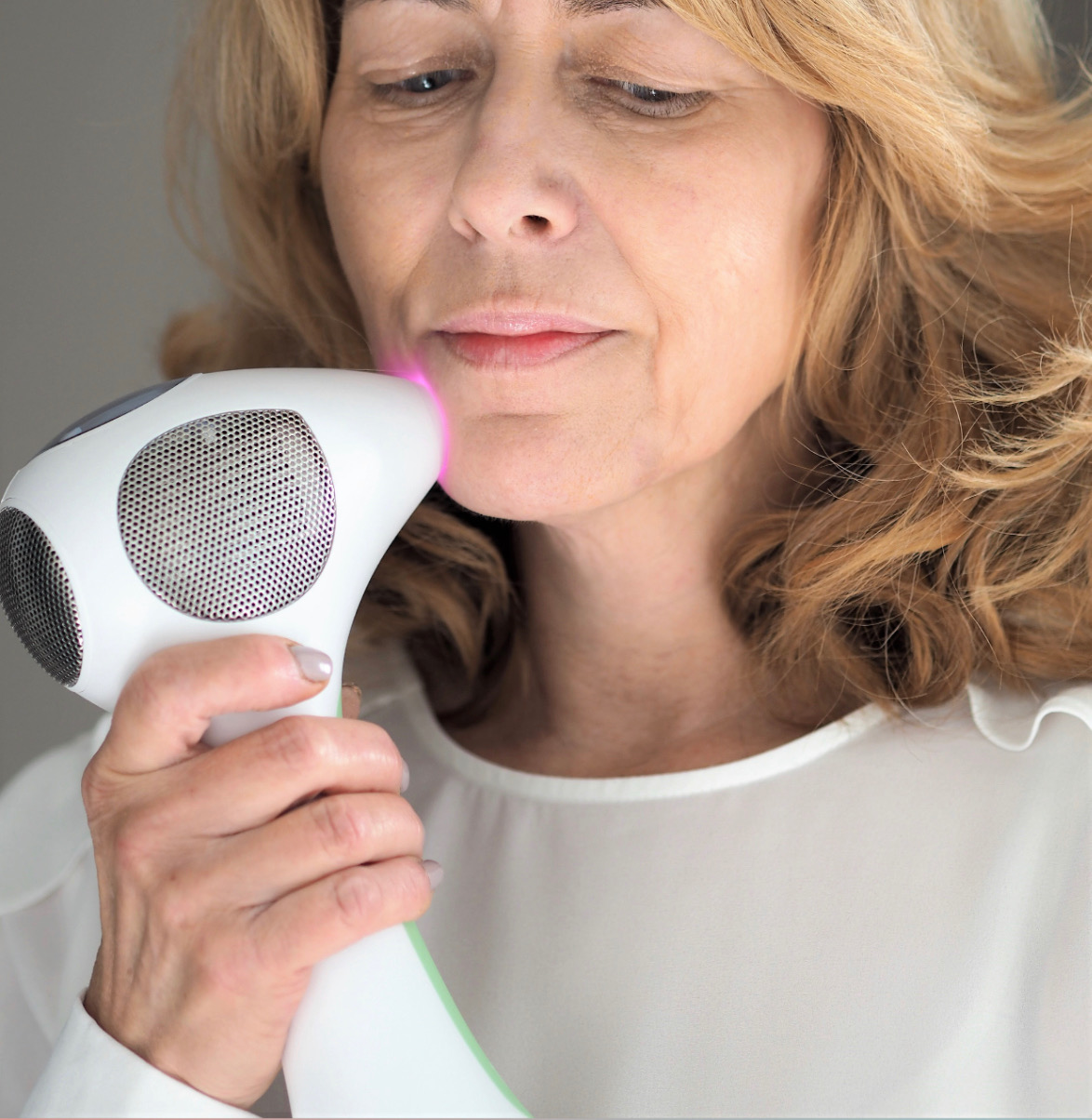 Tuesday Pm
The same as the night before but no laser.
I had to write a calendar of what to use and when for the beauty routine. What I did when so I don't get mixed up. I kept forgetting what I had used when!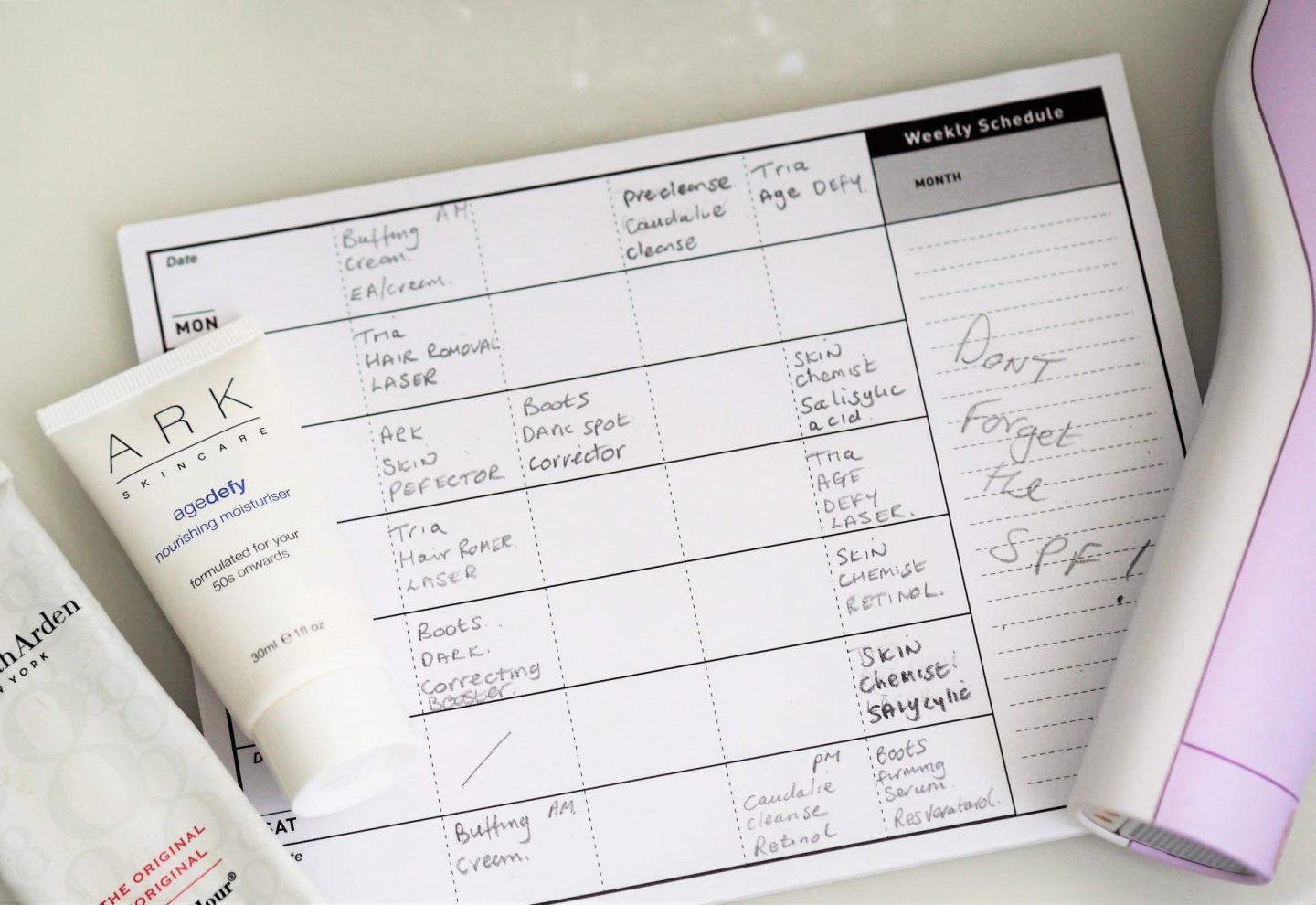 Wednesday
I use a stronger exfoliator. I use Arks Skin Perfector. This really gives a good deep exfoliation but it's oily, so I cleanse after. Other than that it's the regular daily routine.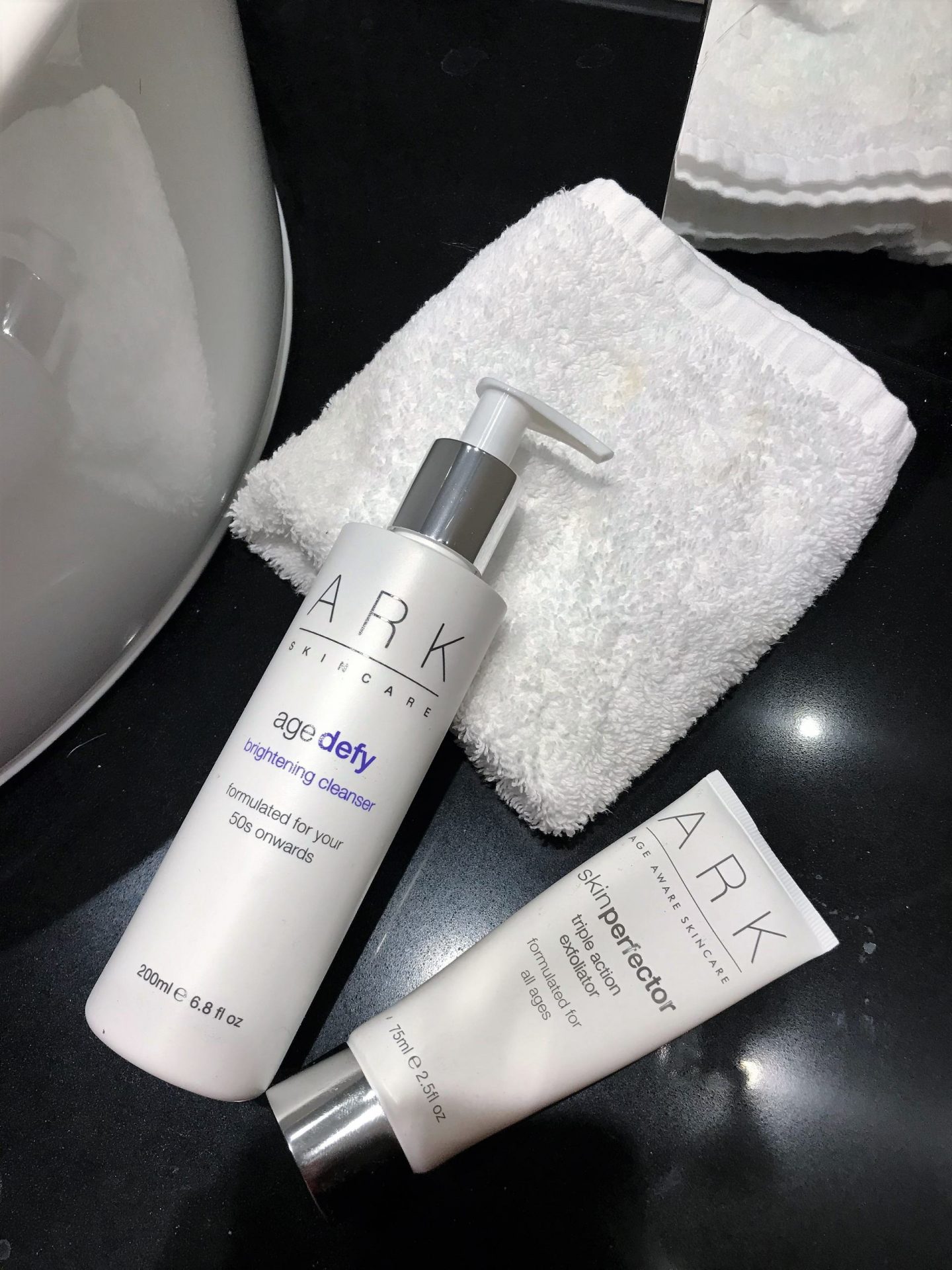 I forgot to mention that I've also been using Boots Dark Spot Correcting Serum down each side of my neck. I used to have bad pigmentation there. It's really faded a lot after using this. It's the first serum to work for me. It says to use daily but I only use it twice a week. I found it irritated me on a daily basis. This is brilliant stuff and if you have dark spots (mine looked like a rash) I really recommend this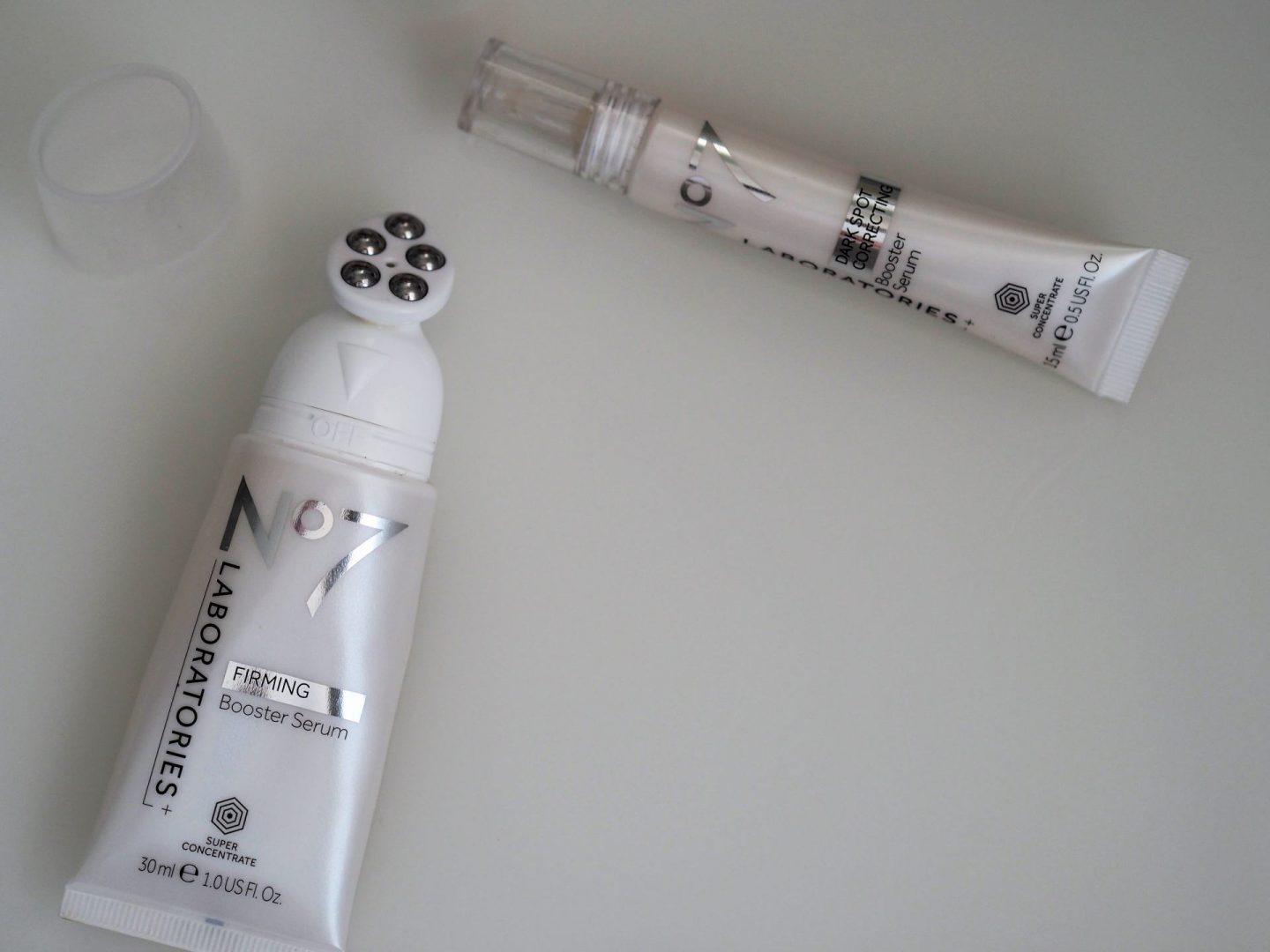 Wednesday Pm
The same night time routine other than one different treatment and that's Skin Chemists Salicylic Acid 2% I've been using this to shrink my enlarged pores on my nose and chin area.
I've only been using this for a couple of weeks twice weekly. I haven't noticed much change as of yet but I think it's early days. I will let you know! I'm not using any of these products at present while testing the Prai regime.
Thursday Am
The same routine as the regular morning but I use the Tria Laser Hair Remover again.
Thursday Pm
The normal routine but with the Tria Age Defying Laser. I try and use this in between the Skin Chemist serums. I don't want to sensetise my skin. Both the Age Defying Laser and the Laser Hair Remover heat the skin.
Friday Am
A regular morning cleanse with the light Caudalie Gentle Buffing Cream. This really is the barely-there of exfoliators by the way and would be great for anyone with sensitive skin. I also use the Boots Dark Spot Correcting Serum on my neck for the second time.
Friday Pm
The same routine cleanse but I use Retinol for the second time this week.
Saturday Am
A simple routine cleanse and moisturiser.
Saturday Pm
A simple cleanse and the Tria Age Defying Laser
In your 50's skincare takes more time and effort!
It sounds a lot doesn't it? This fight against ageing is certainly taking up more time as I get older! I do feel that it's worth it though. I don't have any fillers or Botox due to allergies, so I have to work that little bit harder.
I would have fillers and Botox if I could. I'm interested in hearing if you do and if you feel you can get by without it? Are you still able to get your fixes during this time?
I do have the odd late night and tend to skip a longer bedtime beauty routine too. I try my best all the rest of the time. Do you have any recommendations? I would love to try a teeth whitening system but I can't, again due to allergies.
So that's my beauty routine. I sometimes use an Espa oil every now and then. I only leave it on for around half an hour for a hydration boost but other than that, that's my routine done. I think I work hard enough at it anyway!
Keep you and yours safe and well xx
Please be aware that there are affiliate links included in this post at no cost to you if they are clicked on
---
Thank you for stopping by!
Come back for more. Click on the subscribe form below
YOU MAY HAVE A FRIEND THAT'S INTERESTED IN THIS? PLEASE USE THE SHARE BUTTONS
XO LAURIE
Subscribe for the latest updates!