There are thousands of different skincare brands to choose from nowadays. Magazines, social media and Online stores have so many choices and you can get your head in a bit of a spin. When you start to see a certain brand pop up everywhere or trending as we call it, you start to sit up and notice and look further into that brand. That's exactly what happened when I came across Cult 51 London.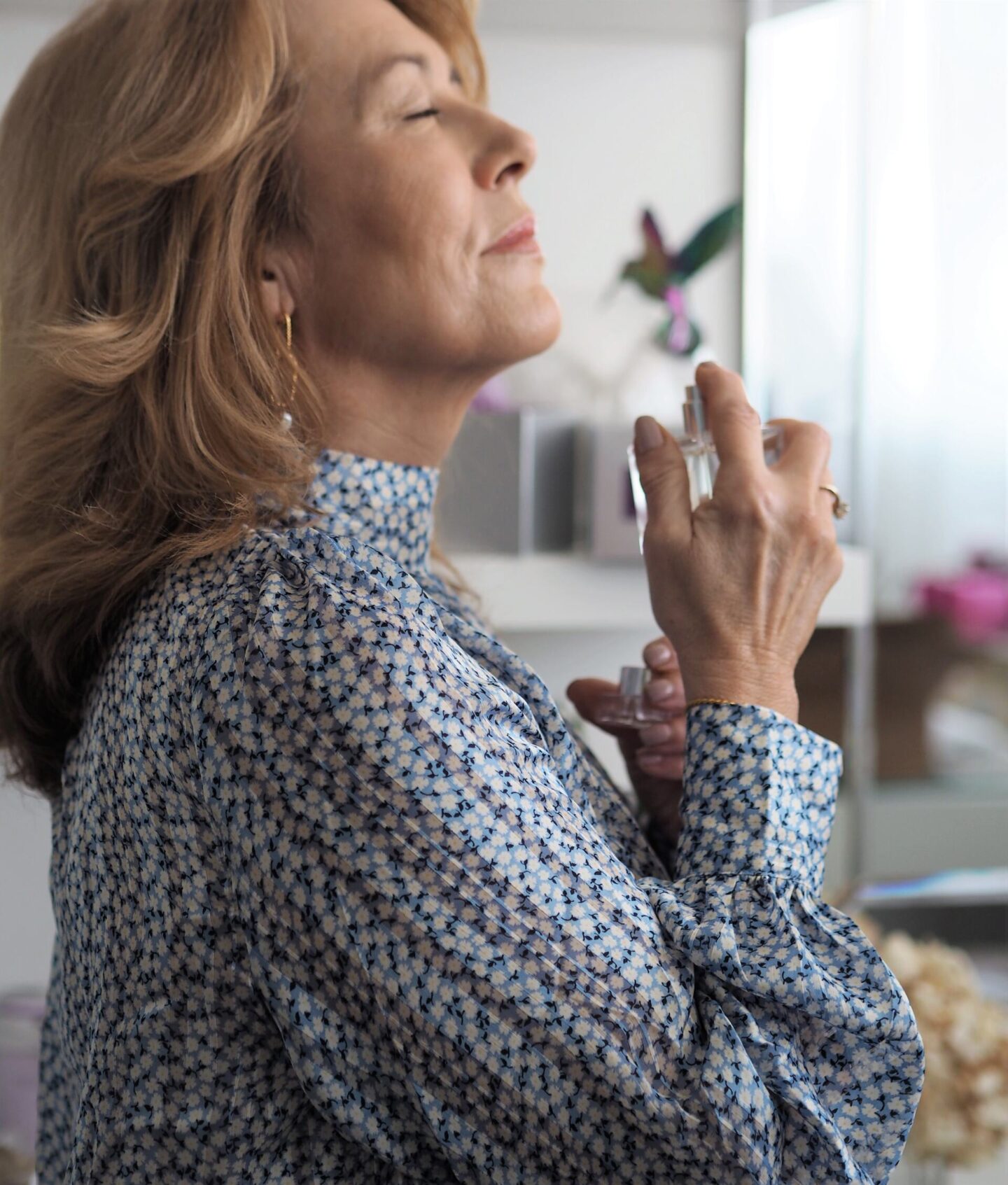 I started chatting with the team of Cult 51 on Instagram and was kindly offered some products to try. Better still, I have two products worth £90.00 from the brand to give away. I got a lot more than I bargained for from Cult 51 with a real surprise that made me so happy. Let me tell you the story.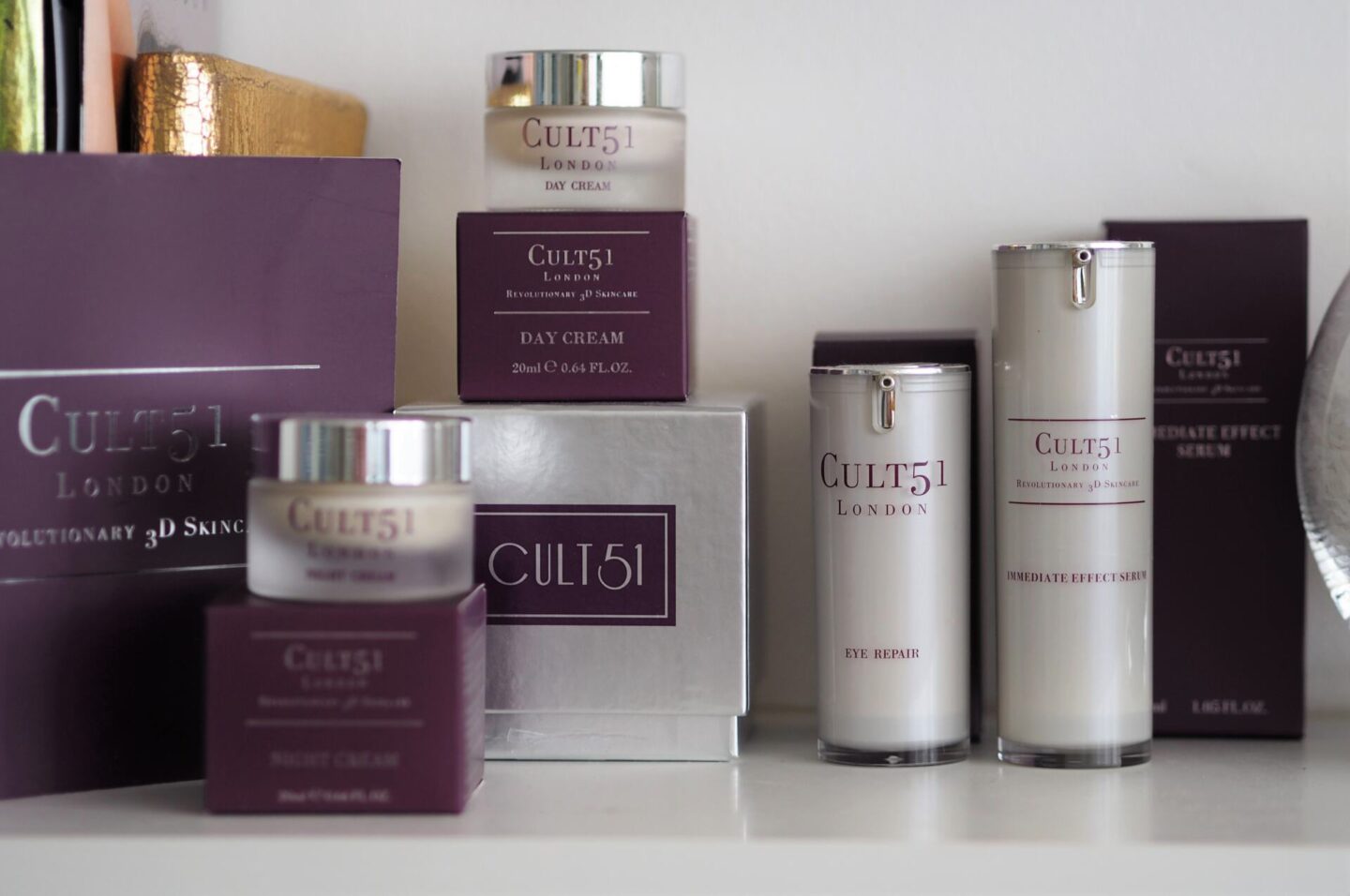 Cult 51 has a fragrance that I just can't get enough of
Before I get into the review for the skincare I'm going to talk about the amazing smell that wafted out of the box when the skincare arrived. Sucking up the scent that had obviously been applied to the tissue paper I contacted Cult51 to confirm my delivery and I couldn't help asking what that gorgeous smell was.
"Oh. That's our signature fragrance" was the reply ( it was sprayed on tissue paper ) I'm very sensitive to different smells. With my allergies, I'm very wary of trying new scents. I have been known to be sick after having a few whiffs of different brands whilst out shopping. A real nightmare. So for me to find something new that not only smells wonderful but agrees with me is just amazing. I can wear Chanel No.5 or the Original Miss Dior here's also a body oil that I often use through summer months but that's it. I've been wearing the same brands for years and I'm over the moon with my new found scent. This is so refreshing.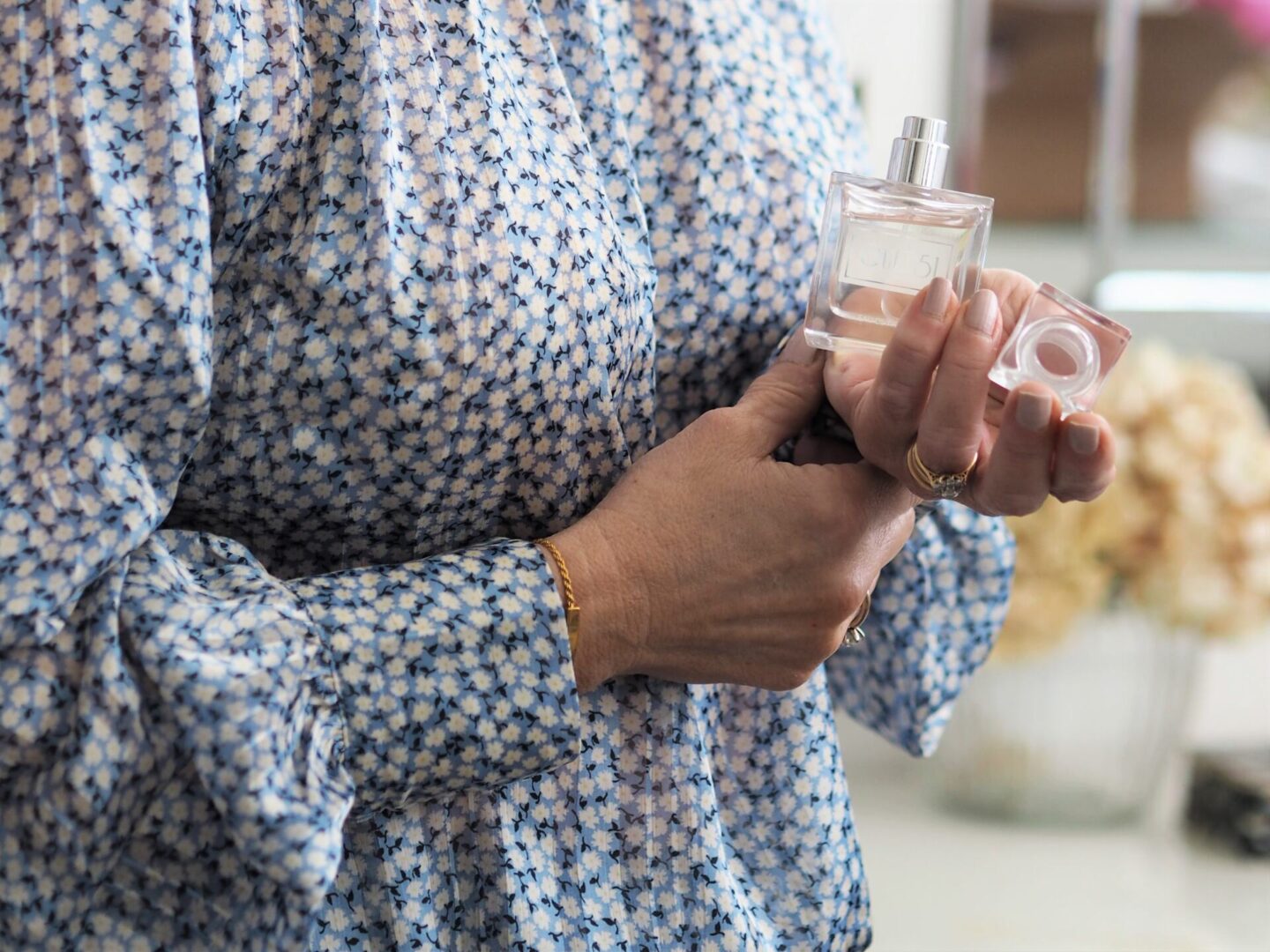 Gardenia, the main ingredient of the scent and myself obviously get along together. There's Jasmine, subtle spicy Narcisse, Lily, Sandalwood, Vetiver, Blonde Wood and Cedar on a base layered with Cashmere Musk. It really is beautiful and not too floral. I think the musk is what really attracts me. I am very pleased with my discovery and I will continue to purchase my new found scent.
The Cult 51 Eye Repair gets top marks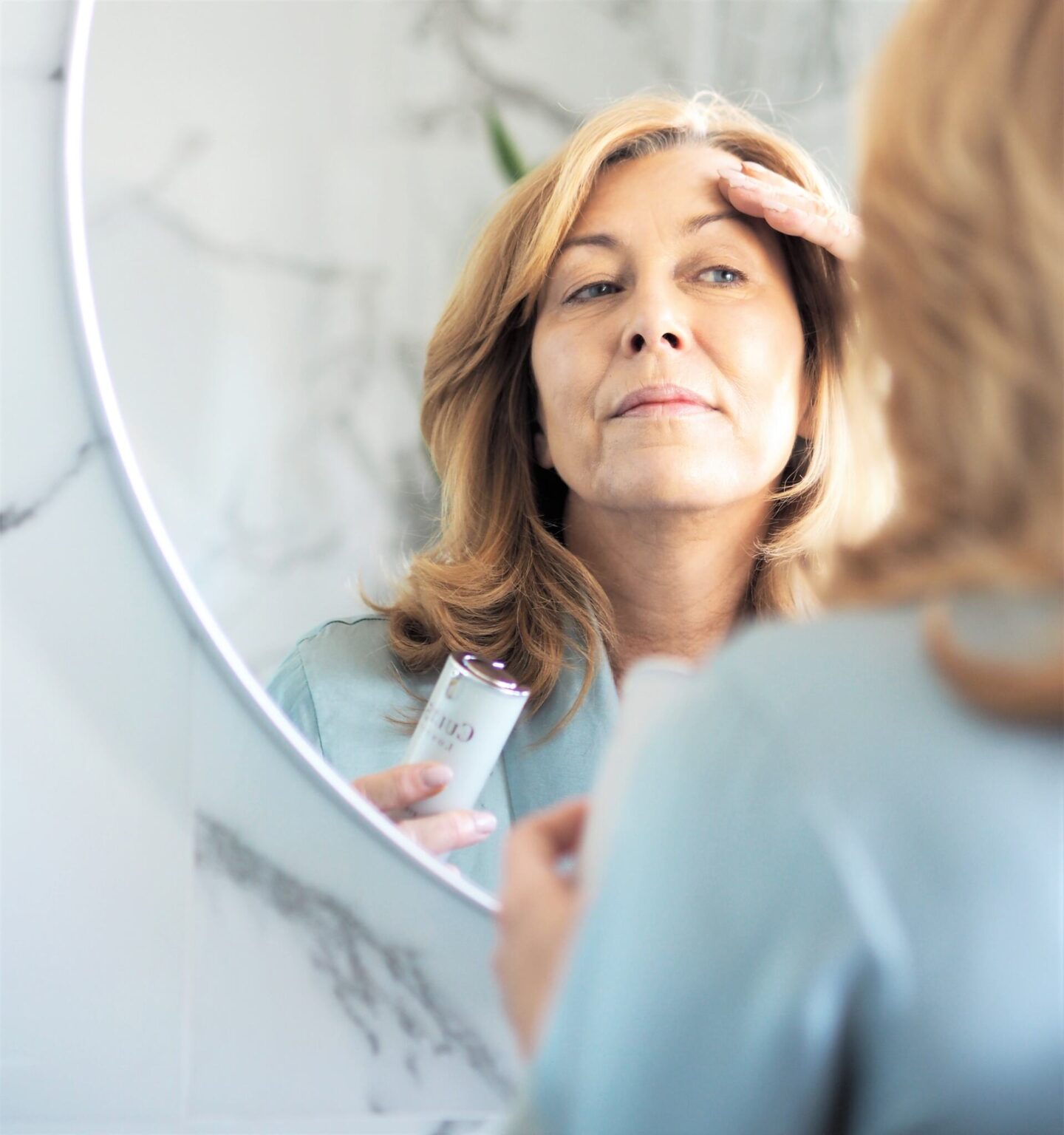 I've been using the Cult 51 brand for just over a month now. Enough time to report results about the brand. I want to mention the Eye Repair Serum first because this is where I saw the biggest results.
I have very hooded eyes and the skin of them is quite crepey. After using the serum for a week or so this is so less noticeable. I'm super impressed. Anything that truly works nowadays brings me joy!
Take a look at all the ingredients that the brand uses in the potions. It's paraben free, made in the UK and cruelty free too. The 15ml pump action delivers the acquired amount with one pump and I always prefer that. No over use of product.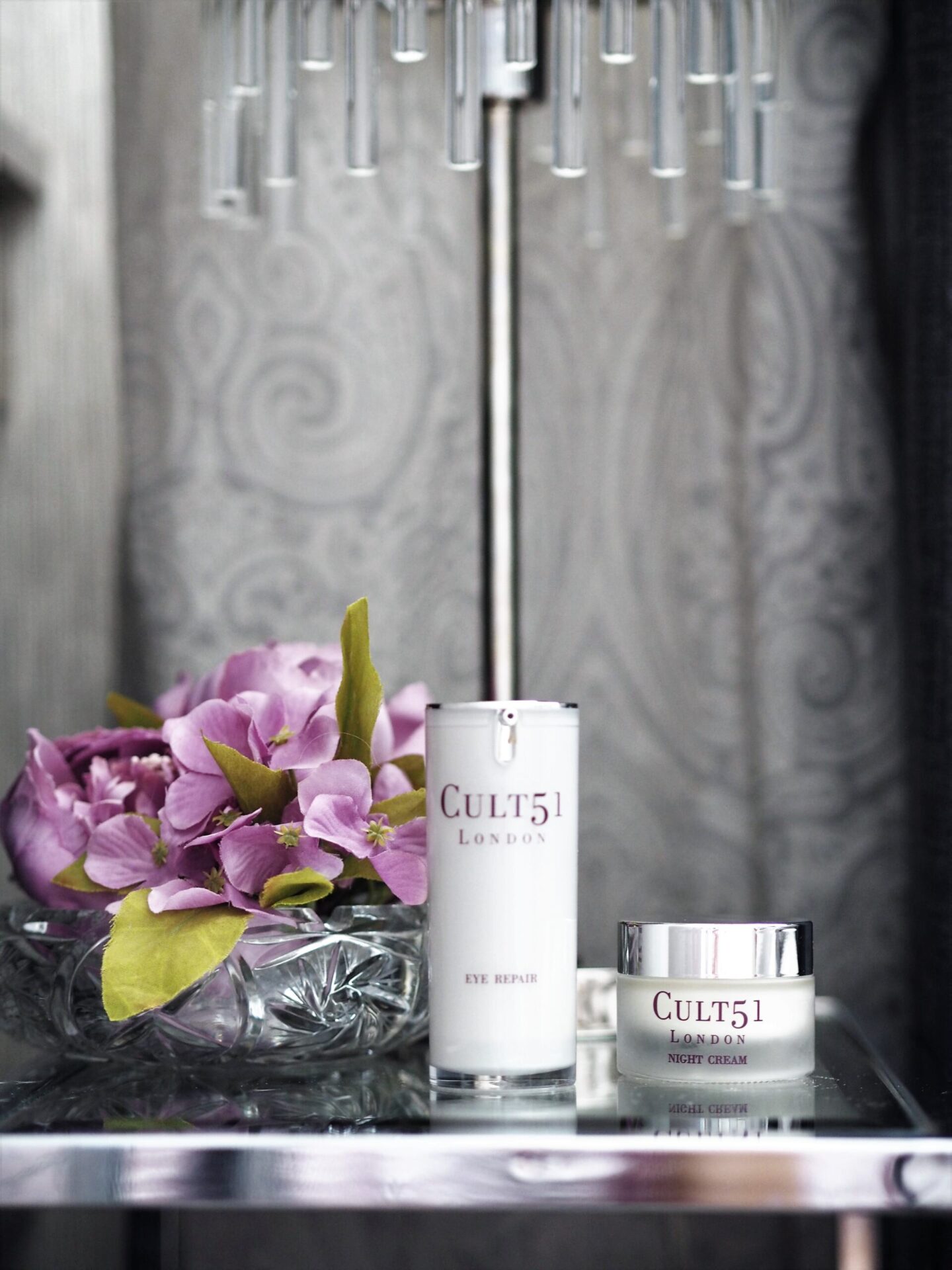 Immediate Effect Serum
The instructions state to apply this serum to the affected areas only and not all over the face. I didn't use it on my eyes because I wanted to see how the eye serum worked alone. I applied the Immediate Effect Serum to my areas of concern, the deep lines on my forehead and creases around the mouth and lip area.
I noticed a decent amount of plumping to those areas it was applied but it didn't "wow" me like the eye serum did. The reviews are amazing and I expected more. Maybe it's just me.
The Cult 51 Day and Night Cream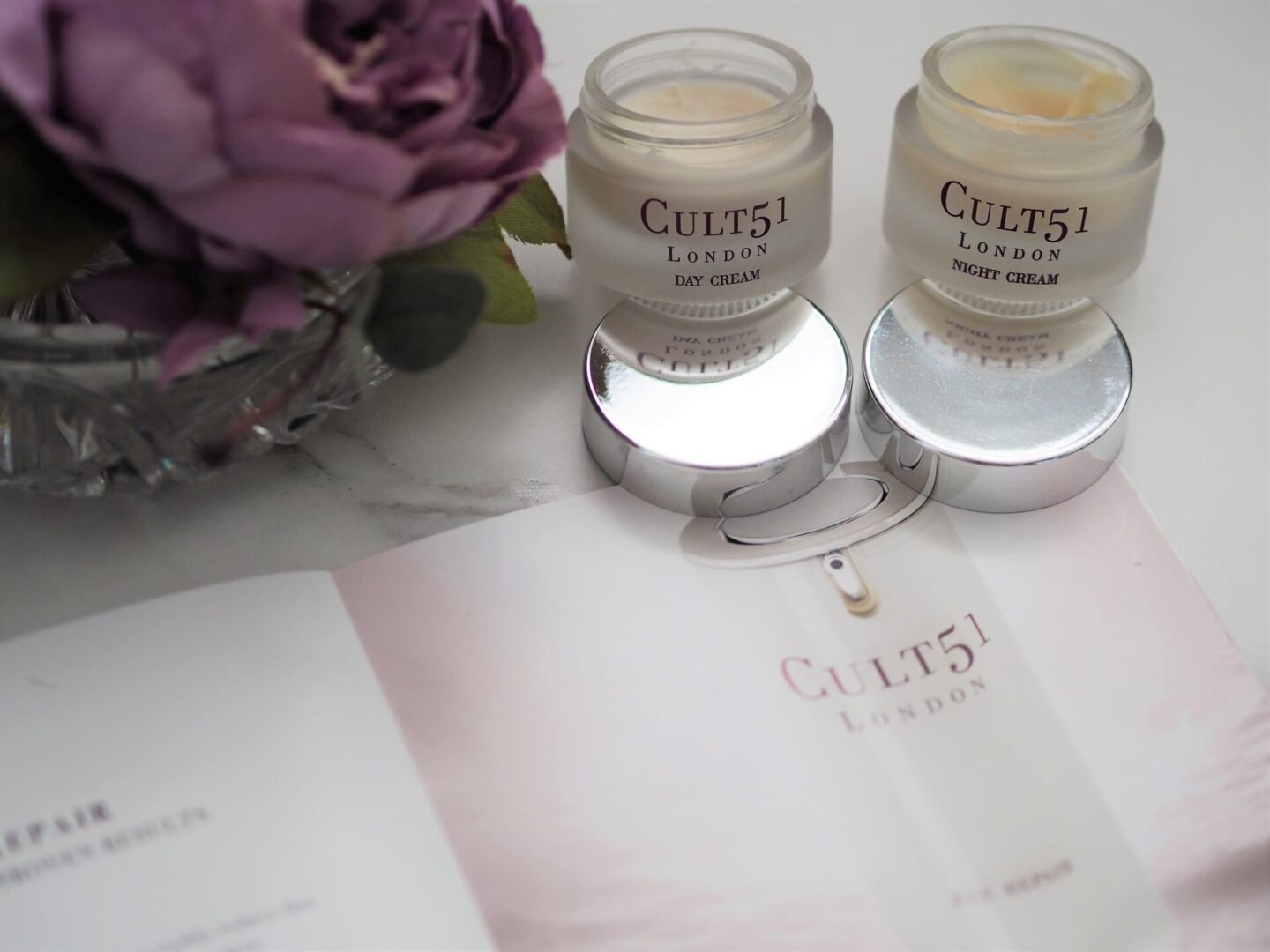 Both the day and night cream I have really enjoyed using. The day cream has an SPF. I won't use a day cream without SPF anyway, Anyone that's a regular reader knows that my mantra is to protect from ageing in any way possible. SPF is your artillery, it's so important! The texture of both creams are not at all heavy. The day cream is a little more solid than the night cream. and I didn't get any pilling with either of the creams.
Antioxidants, shielding from pollutants and aggressors, the day cream is a joy to use. my skin has felt good every day. Apparently, this is a good cream for helping with Rosacea too. I don't suffer from this problem but I think it's worth mentioning.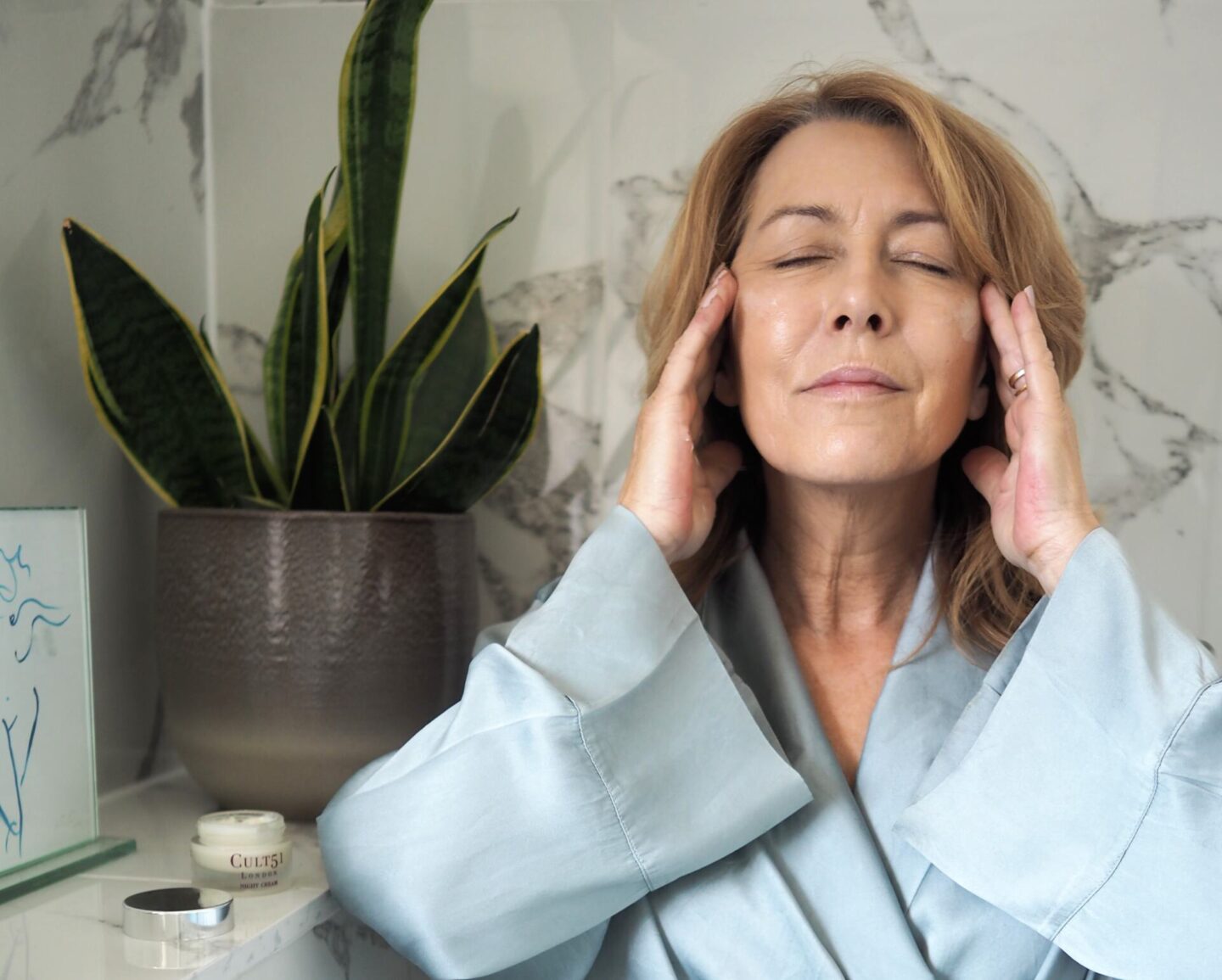 The night cream has a hint of the scent that I'm enjoying in it. his is a pet hate of mine. I don't normally like creams to have scent in them but this one time I don't mind. Containing 51 anti-ageing benefits, (I think this is where the brand name comes from) Works on dark spots and in synergy with your own metabolism to regenerate cells.
My skin has been good in the mornings, certainly plumper. It's very hydrating. I would certainly recommend both the day and night cream to anyone with sensitive skin as I have. The results have been good and I would purchase either of the creams.
I have a Day Cream and Eye Serum to give away!
I will be hosting a giveaway over on Instagram This will start on the 7th of April for a Day Cream and an Eye Serum. Write a note on your phone! Look out for the Cult 51 brand on my grid. The giveaway is worth £90.00 and available in the UK only. I'm so pleased to introduce the brand to you all, the Cult 51 website is certainly worth looking at and having a read of how everything works and what the key ingredients are. There is also a 10% when you subscribe to Cult 51 plus free delivery in the UK.
Keep you and yours safe and well xx
---
Please be aware that there are affiliate links included in this post at no cost to you if they are clicked on
---
Thank you for stopping by!
Come back for more. Click on the subscribe form below
YOU MAY HAVE A FRIEND THAT'S INTERESTED IN THIS? PLEASE USE THE SHARE BUTTONS
XO LAURIE
Subscribe for the latest updates!