How are we all? Had enough yet? I think everyone is just longing to get back to normal, but here in the UK, we are far from normal yet. I actually took the plunge and made an escape out of the house to Tesco's last week. I had no choice because I had to pick up a prescription.
It surprised me how once in the store I could clearly see there is no social distancing. It's fine while you are queuing up but once inside the two metres distance goes out the window. I had to go back a second time and it was the same. How do you feel about doing your weekly shop? Are you going out to the supermarkets?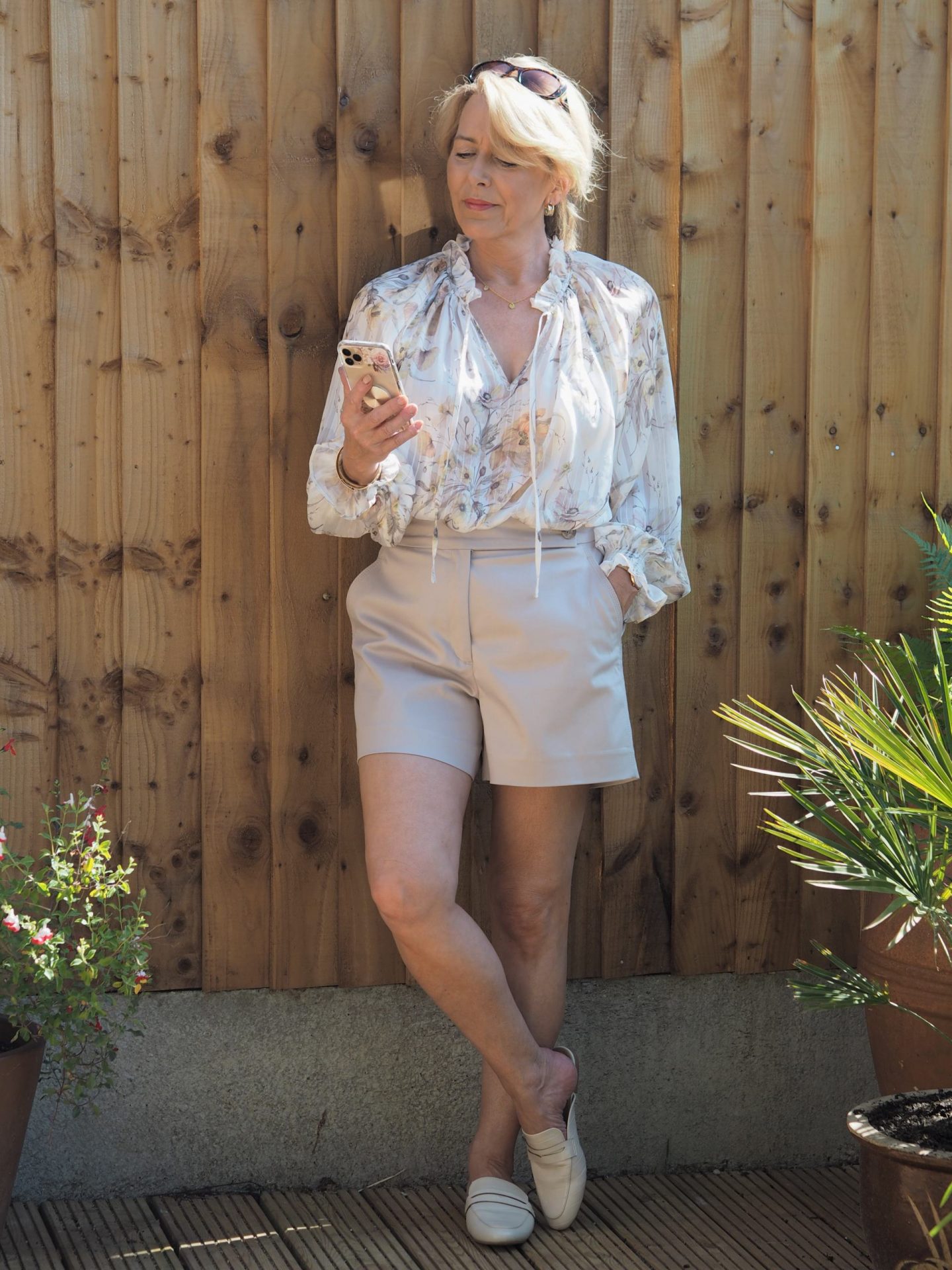 There was a treat in store in the FandF clothing department though. 50% off everything. I managed to get some "mom" jeans and the mules featured above. The jeans were £9.00 and the shoes were knocked down to £7.00!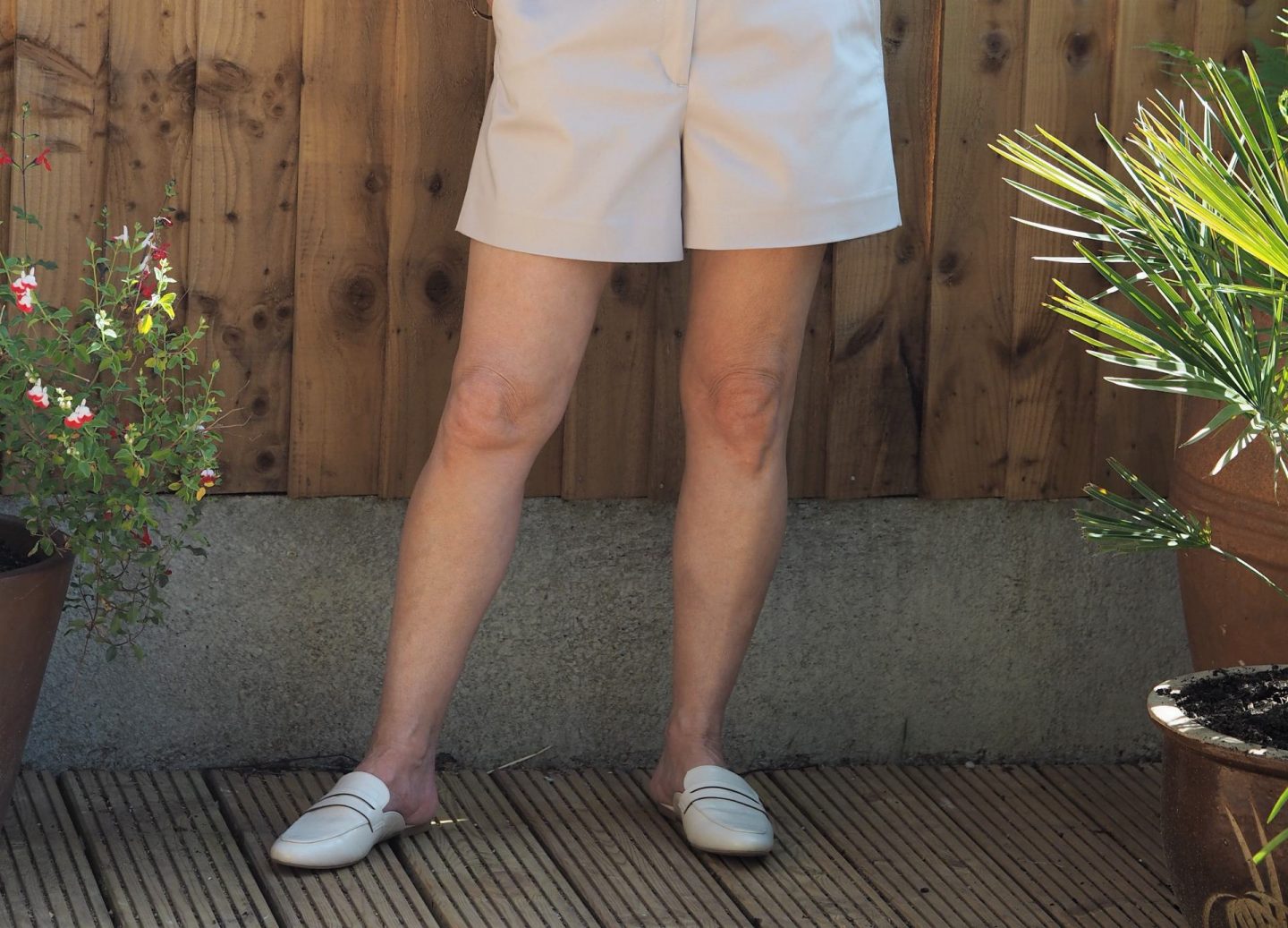 Why FandF had to go offline baffles me. I think they must be kicking themselves. I used to always feature FandF here on the blog but when I couldn't provide links after posting outfits here I was messaged a few times asking for them. Hence I stopped buying from there. The shoes I bought are linked below, nearly identical and cheap too!
If you look on the FandF Instagram account there are thousands of comments complaining that they aren't online.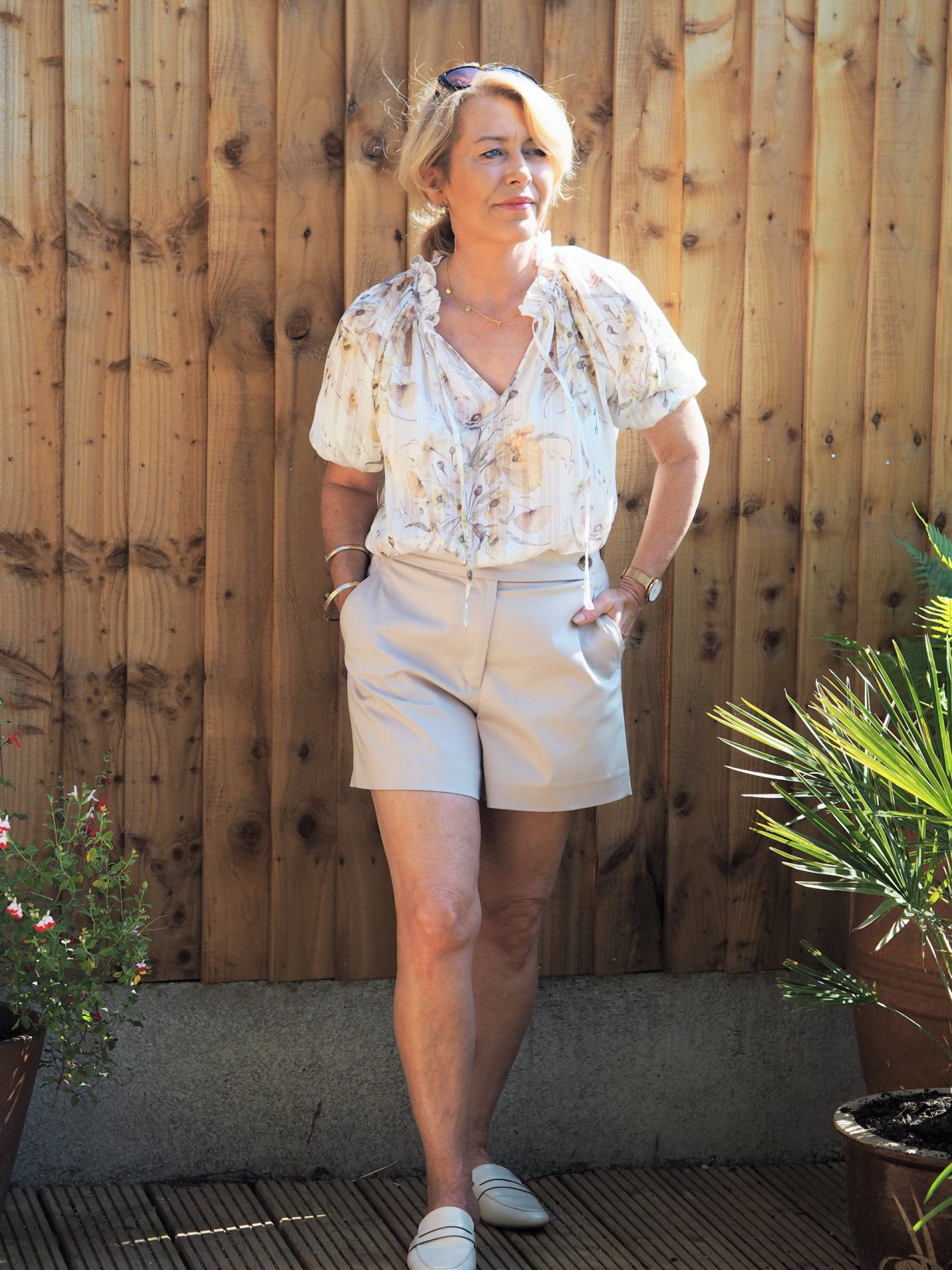 It's been beautiful weather, that I am thankful for. I actually got to wear shorts for the past few days. I love these tailored shorts I purchased from the Reiss sale late last year. Reiss has a constant sale on and it's well worth keeping an eye out.
I wanted one pair of good quality tailored shorts and these didn't fail to please. There's some lovely summer tops on sale and I have my eye on this one. The top I'm wearing above has elasticated sleeves and I just tucked them up
Escape – trying out different locations for our walks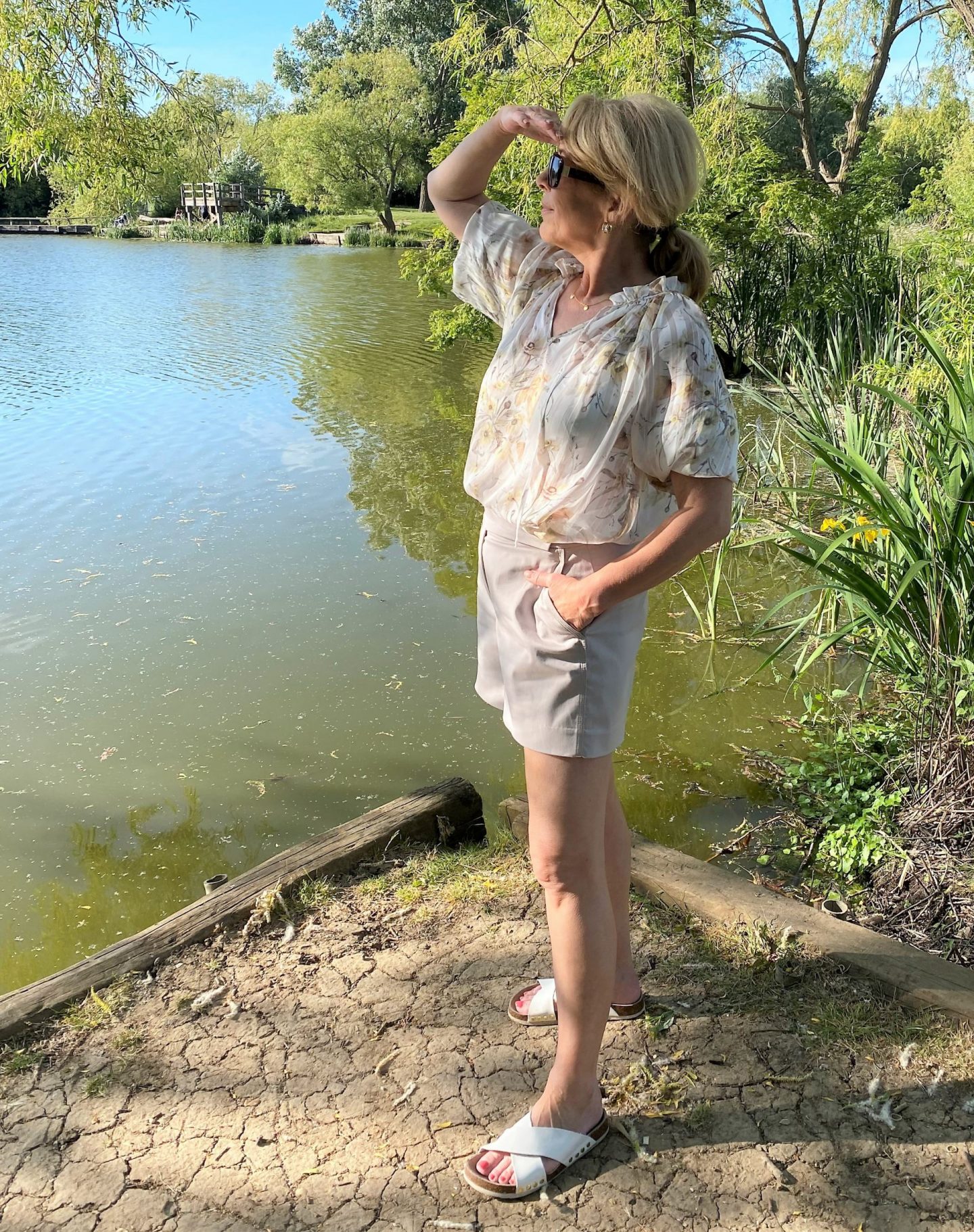 I've never walked so many different parks since lockdown. Dee and I have made a promise to ourselves to continue doing this when we get back to normal. I never realised how un-appreciative I've been regarding taking time out to escape the house together and discovering new places. We walk and we talk, and enjoy.
Shop The Look
It's good to store away the winter dressing gowns and greet a sunny morning in new PJ's
The Teddy Bear dressing gowns and onesies have been packed away all but one for just in case there is a chilly morning/night. Out come the Kaftans that I live in around the house along with lightweight dressing gowns and pyjamas.
I was gifted these gorgeous Cyberjammies from Figleaves. I love the vibrant print. I wake around 5.30 at this time of year and I love nothing more than having my first cuppa in the garden that's very nearly completed.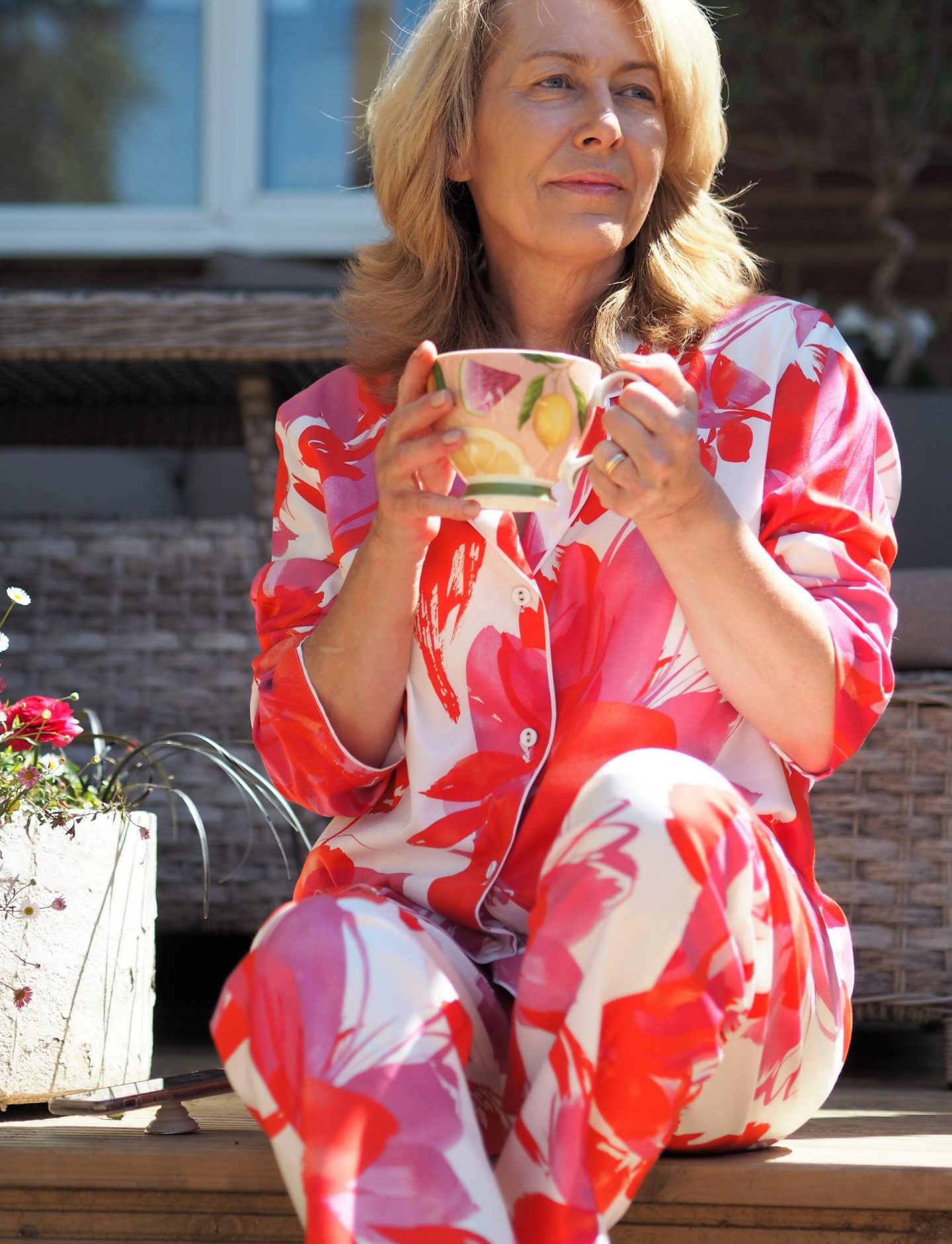 I realised when I tried the pyjammas on that a wrong size had been sent. I would normally go for a size 10 but these are a size 14. They are very genorously sized and at first I thought "Oh no, these will have to go back" but then I changed my mind.
They are really comfortable oversized, so I kept them. Figleaves have some lovely pieces on sale at the moment and my favourite underwear brand Fantasie has my favourite set that I got last year in that sale too.
If you haven't tried the Fantasie brand I really recommend their underwear. The support of their bras is amazing. No boompety boom walking in those bras and the designs are beautiful.
Pamper sessions. Time to get summer ready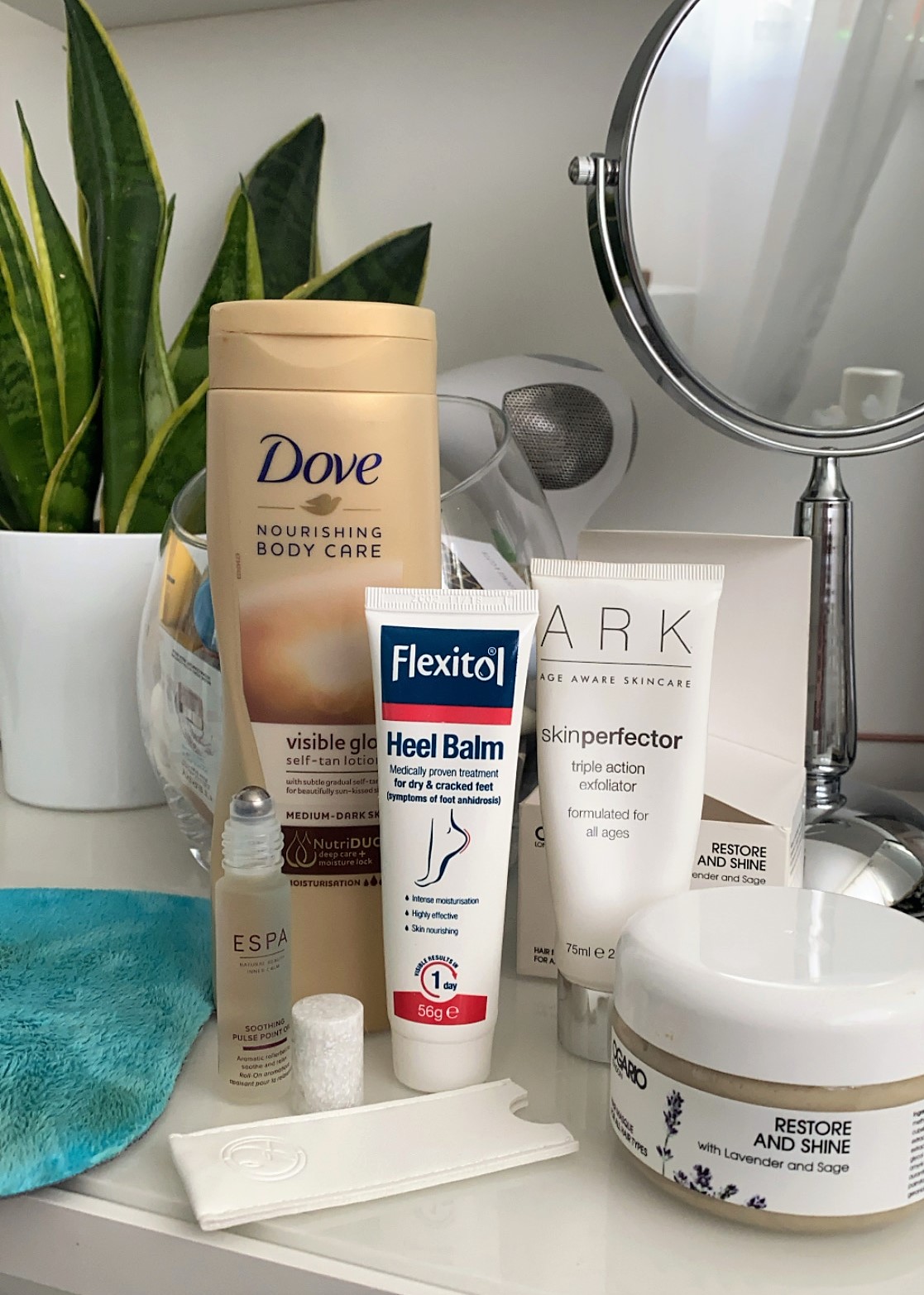 I normally have a visit to a beauty salon for my annual pedicure at this time of year. I have one just before winter and one just before summer. Apart from the odd facial, I do everything myself at home.
I'm regularly applying my Dove Visible Glow. a favourite since the product was introduced to me a couple of years ago. You can read how I tan here. And I'm loving the Espa Soothing Pulse Point Oil. I apply it at bedtime too. A few deep sniff's and you're relaxed!
I'm super impressed with Flexitol's Heel balm. I've been using this for a couple of months now and it's the best cream I have found for cracked heels. I suffer from cracked heels really badly. Are you missing your pamper sessions at the beauticians? Or do you pamper at home?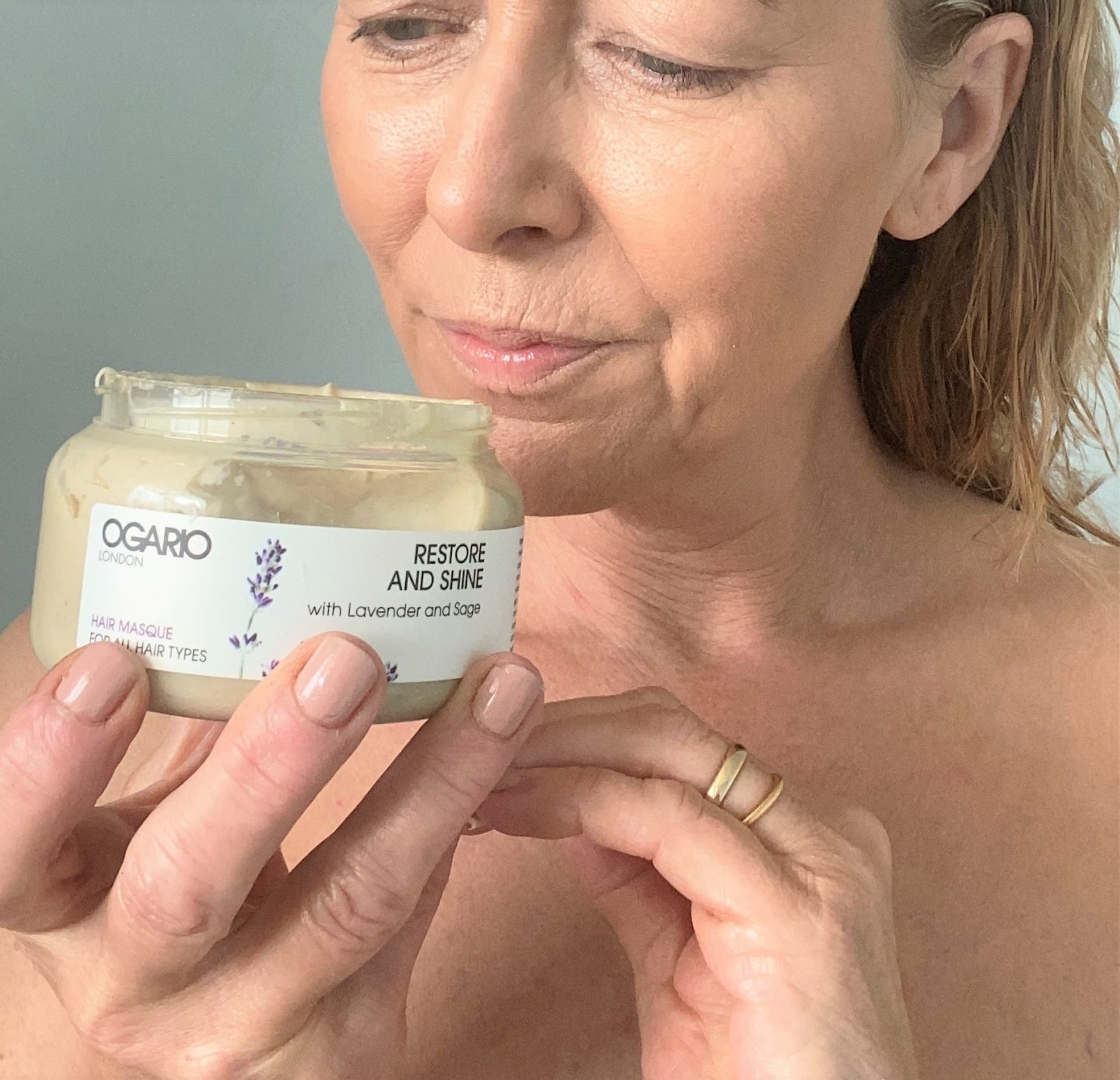 Where has this brand been all my life! For the first time, I have found a conditioner for my hair that doesn't weigh it down and look lank after a couple of days.
The Ogario London hair mask smells amazing.I've asked them to make candles in the scent it's that good! And yes, it does state " Hair Mask" and I've used it this way a couple of times but I love it so much I'm using a pea-sized amount as a conditioner and it works like a dream.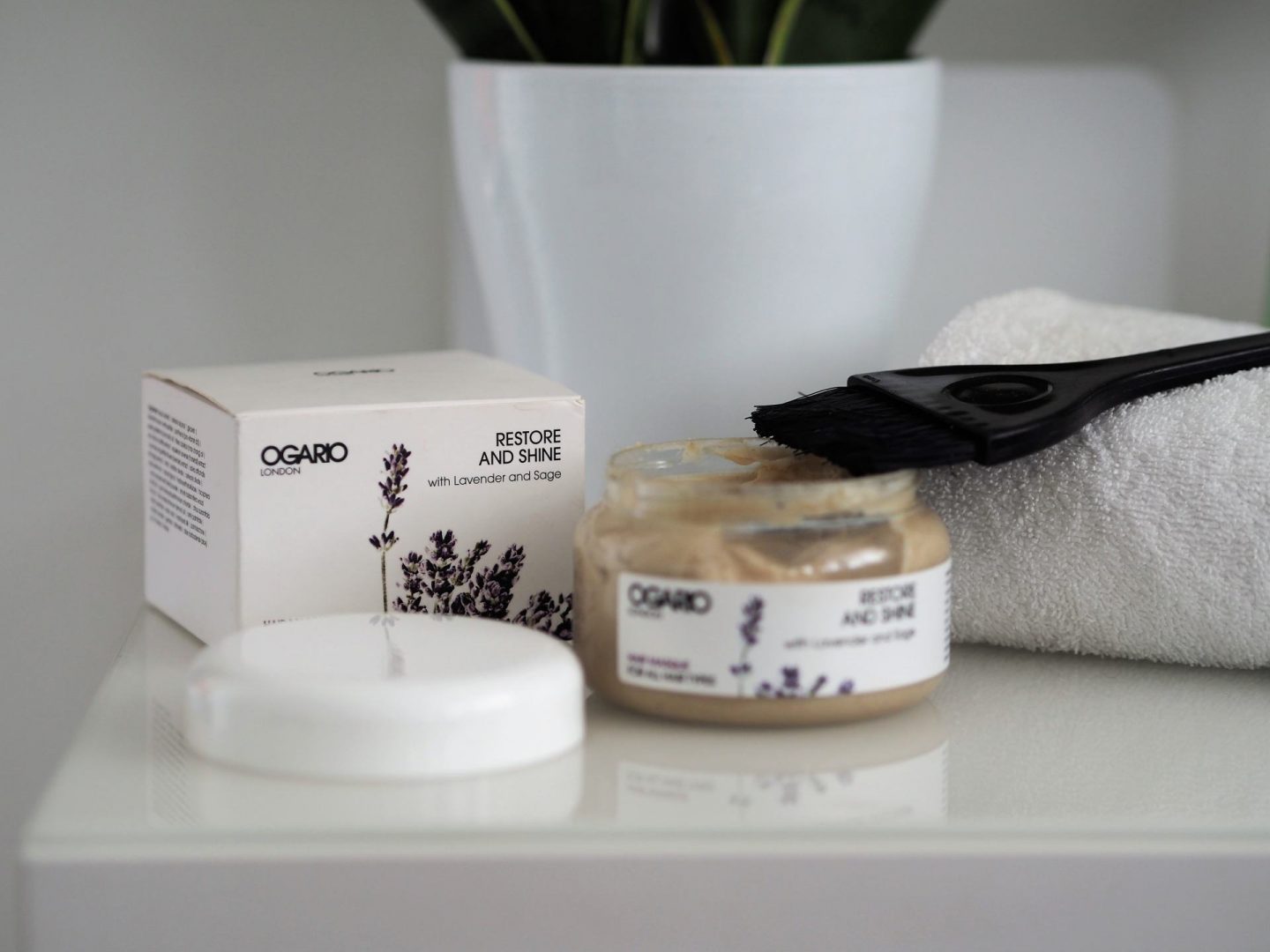 Ogario London is a multi-award-winning haircare brand. I couldn't recommend this product enough and I look forward to trying more from them. I'm going for a shampoo next. The mask contains Lavenda and Sage but it smells citrus and fresh. Gorgeous!
Grab a cuppa and join me!
There are two new vlogs over on my Youtube Channel. I'd love you to join me over there. The first is a fashion one, trying on new items.
The second is a bits and pieces film spread over a few days. I'd love to hear your thoughts. Honest ones! I can take any criticism. And any requests too. Do you watch many vlogs?
Keep you and yours safe and well xx
Please be aware that there are affiliate links included in this post at no cost to you if they are clicked on
---
Thank you for stopping by!
Come back for more. Click on the subscribe form below
YOU MAY HAVE A FRIEND THAT'S INTERESTED IN THIS? PLEASE USE THE SHARE BUTTONS
XO LAURIE
Subscribe for the latest updates!