I feel like I've been giving you all little snippets about the new Prai Platinum skincare for some time now. I'm running a little behind on my posts but I will explain all in my weekly edit at the weekend.
I wanted to see how this new Platinum range by Prai would truly work on my skin and I decided to ditch my whole regular skincare routine apart from the morning and night time cleanse for a week prior to starting my new routine of morning and night time serums and creams.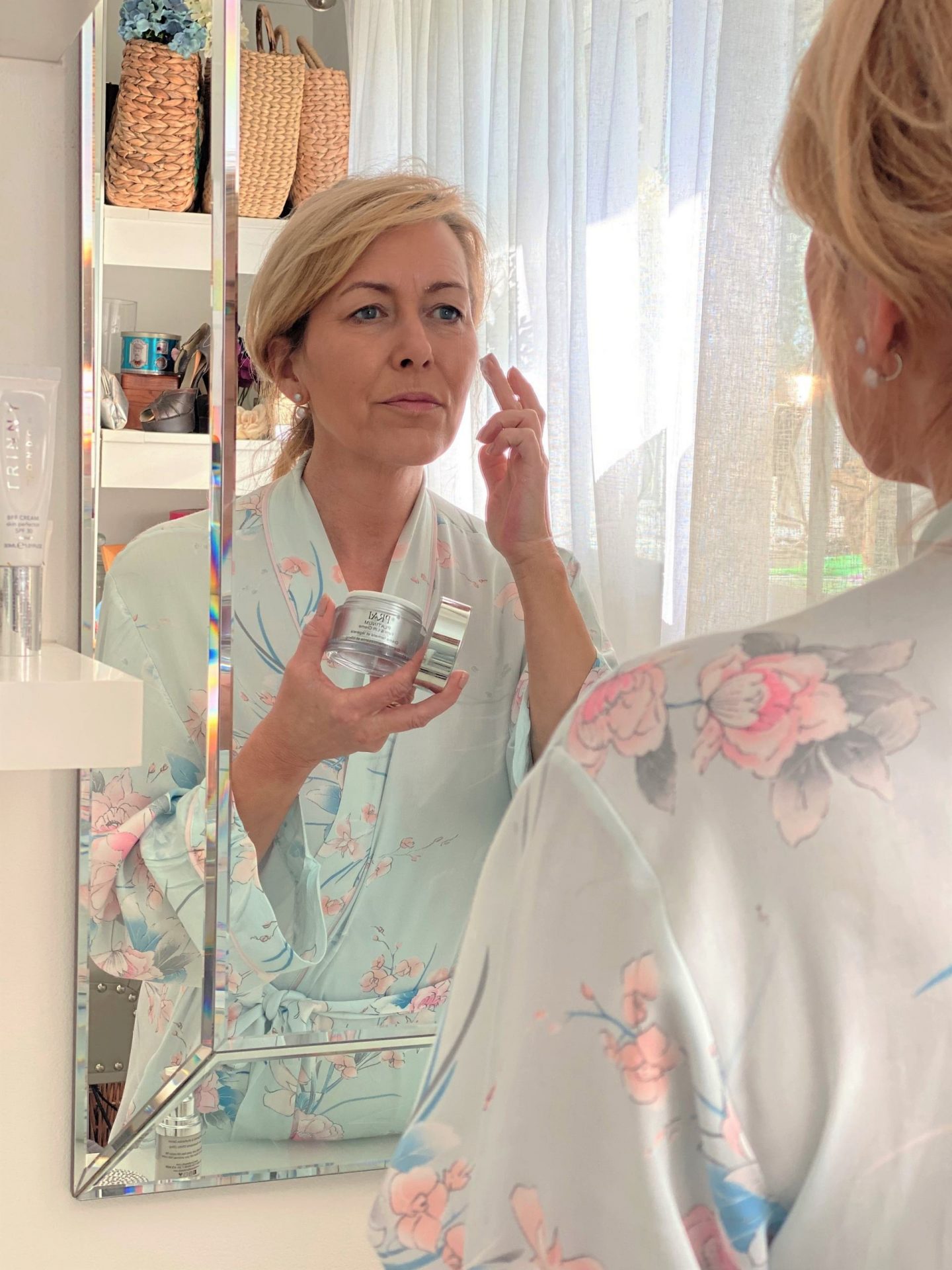 I'm a huge fan of the Prai brand. I use their neck and decolletage cream religiously and have been for over a year, since my first review for Prai. I'm on my third pot of cream! A good priced brand and I have seen a good improvement on the condition of the skin on my neck. I'm sure it's not as saggy as it used to be!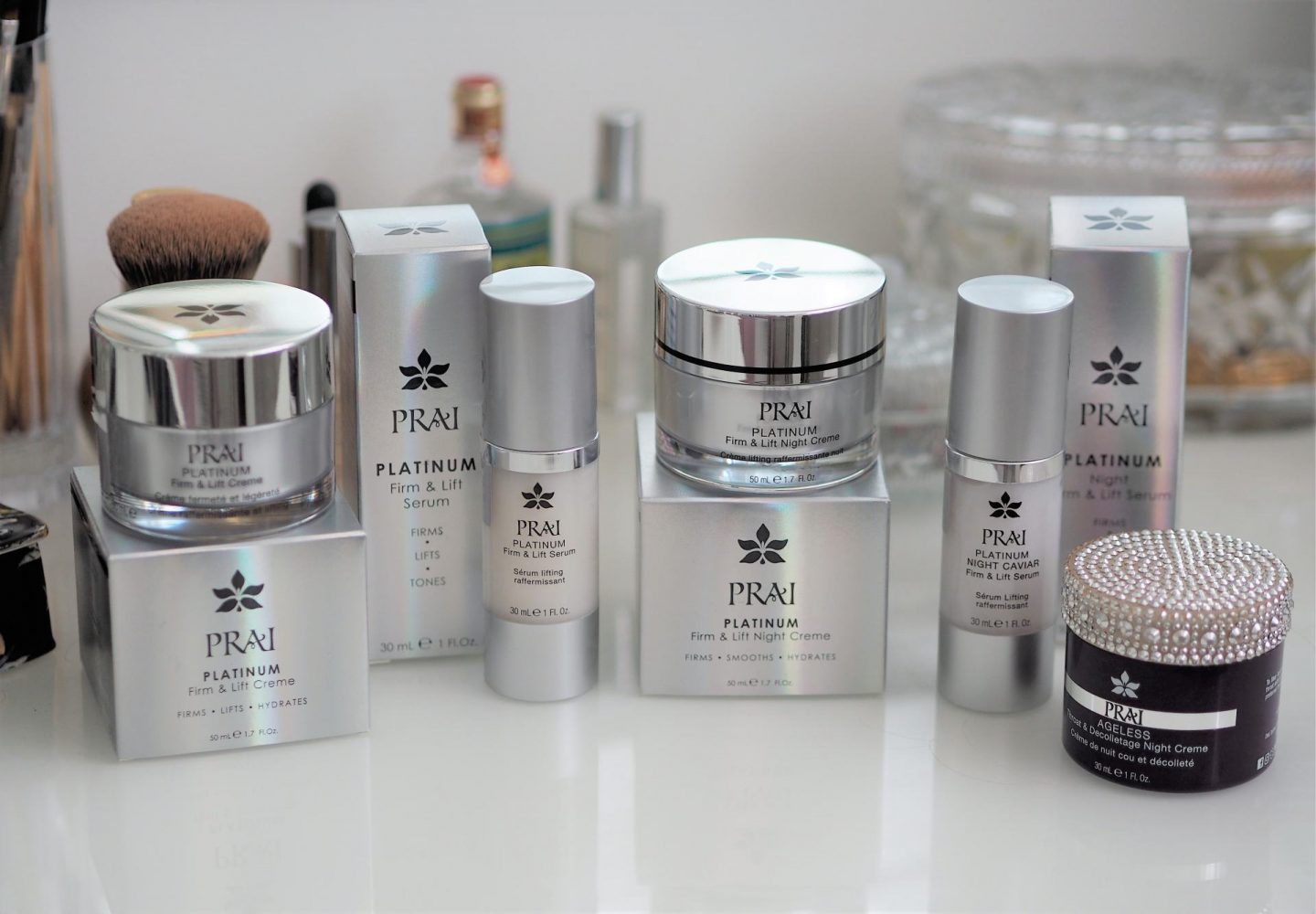 It was hard not using any form of moisturiser for a week I must say. My skin was crying out for hydration. My skin has got used to quite a pampering of late, my fight against my skin ageing has seen quite a regime unfold, especially my discovery of retinol.
Prai Platinum Firm And Lift is designed for the menopausal woman
I can still remember the slow change my skin went through due to the menopause. I always had quite an oily skin and it dried out in no time. I remember thinking how sallow my skin looked, and I do think hydration plays a huge part in maintaining a youthful look. I was excited to try this new routine and find out what it was all about. This is what Prai has to say about the new skincare range.
"It is often found that post menopause, your skin can become drier, less firm and more susceptible to free radical damage. This luxurious daily creme combats this and firms with one of Earth's most coveted precious metals, giving a more sculpted and defined appearance. Platinum delivers antioxidants while Almond proteins work to tighten and firm the skin. IDEALIFT™ boots elastin levels, and NULASTIC™ SILK builds skins structure while targeting problem areas helping you achieve a smoother, more youthful complexion.
Features:
Platinum delivers antioxidants and helps fight free radicals and environmental aggressors
Almond proteins tighten and firm skin
IDEALIFT™ boots elastin levels, while promoting a facial contour lifting effect
NULASTIC™ SILK builds skins structure and releases key nutrients to the skin as needed while smoothing targeted areas
Precious PRAI Oil imparts smoothness and suppleness to the skin"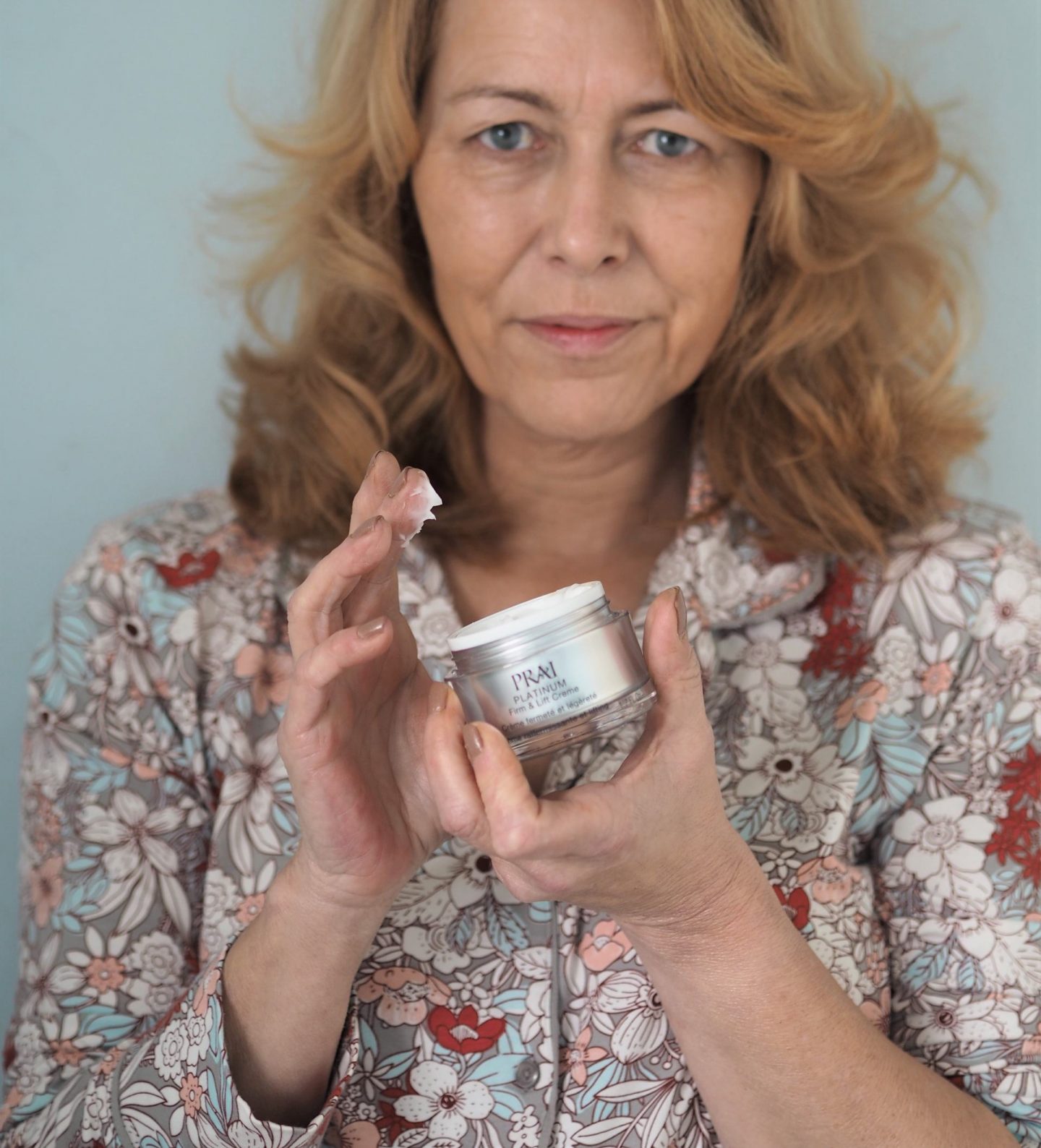 week 1
You can see how parched my 57-year-old skin is! I think it would have felt better if I slapped a good dollop of lard on it! I really didn't want to publish this photo of my makeup-free skin in the morning starved of any moisturiser.
The Prai Platinum Serum
The serum is light in texture. It sinks into my skin ready for a moisturiser after around 60 seconds. The magic ingredient here, patented by Prai is called Syn-coll. This mimics the body's collagen production by way of tissue growth factor.
Prai Platinum Firm and Lift Cream
This is where the name for the brand comes from. Platinum is an actual ingredient within this cream. Platinum is full of anti-oxidants and fights free radicals and protects from the environment.
Almond Proteins are also a big ingredient in the cream and I had to patch test prior to use. I'm allergic to all nuts and have to be careful. I didn't get a reaction and have had no sensitivity from using this cream. A bonus to me. Looking at the reviews for the day cream excited me. They are all good. The cream sinks in easily. It feels very hydrating.
week two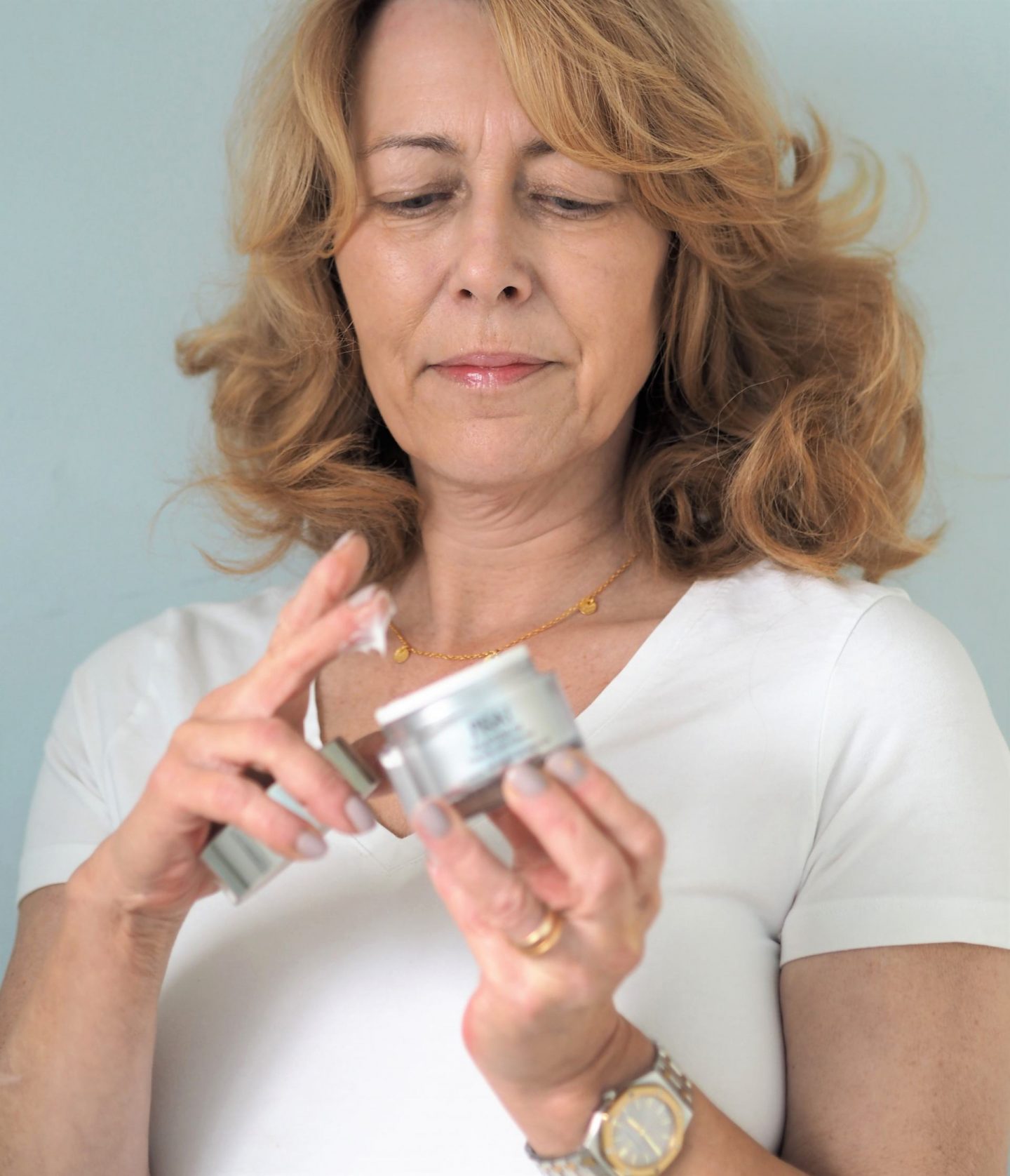 Into the second week I'm happy with the platinum range. I'm missing the brightness that my Retinol serum delivers and I'm concidering adding this to the regime. As you can see above my skin isn't looking so dry. I hate doing no makeup photos!
I'm also missing not using my usual exfoliator too. I do feel that the creams would be more efficient if I used it. Getting rid of the dead layer of skin to make way for these products to work at their best.
The Prai Platinum Night Serum
The key ingriedients in the night serum are Platinum, Advocado and Argan. I like Advocado in most creams because it's such a soothing property.
The serum is very much like the daytime serum but a bit heavier. It takes a little longer to sink in and I'm guessing this is because of the two added extra ingredients.
The Prai Platinum Firm And Lift Night Cream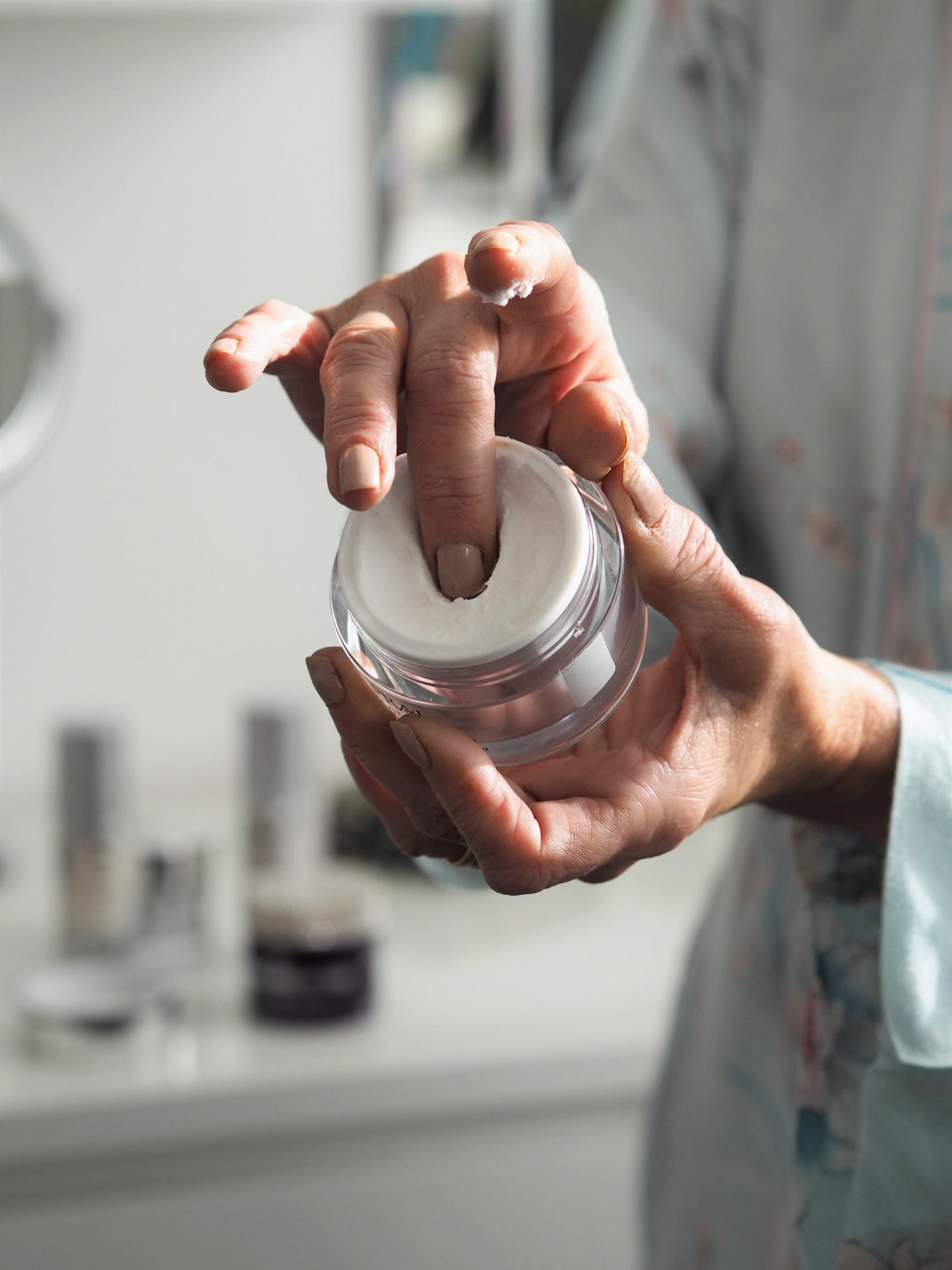 This is one firm pot of cream! I had to take a photo to show you. I had been using the cream for four weeks at this point and I've literally just skimmed off the surface. The cream is very thick and I've stuck my finger in it to show that it doesn't cave around my finger. You need the tinyest amount to cover your face.
I stuck with using my regular Prai Neck cream during this trial and I really recommend this product.
I guess it's the Shea Butter that's added to this along with vitamins A,E and F to help boost the skin. What we lack in after the menopause has begun.
My skin feels good in the morning, very hydrated and not oily or puffy from the heaviness of the cream. I feel that by the time I get in bed there is a slight residue resting on my face after applying and I was dubious about that creating a puffiness, but it doesn't.
Week three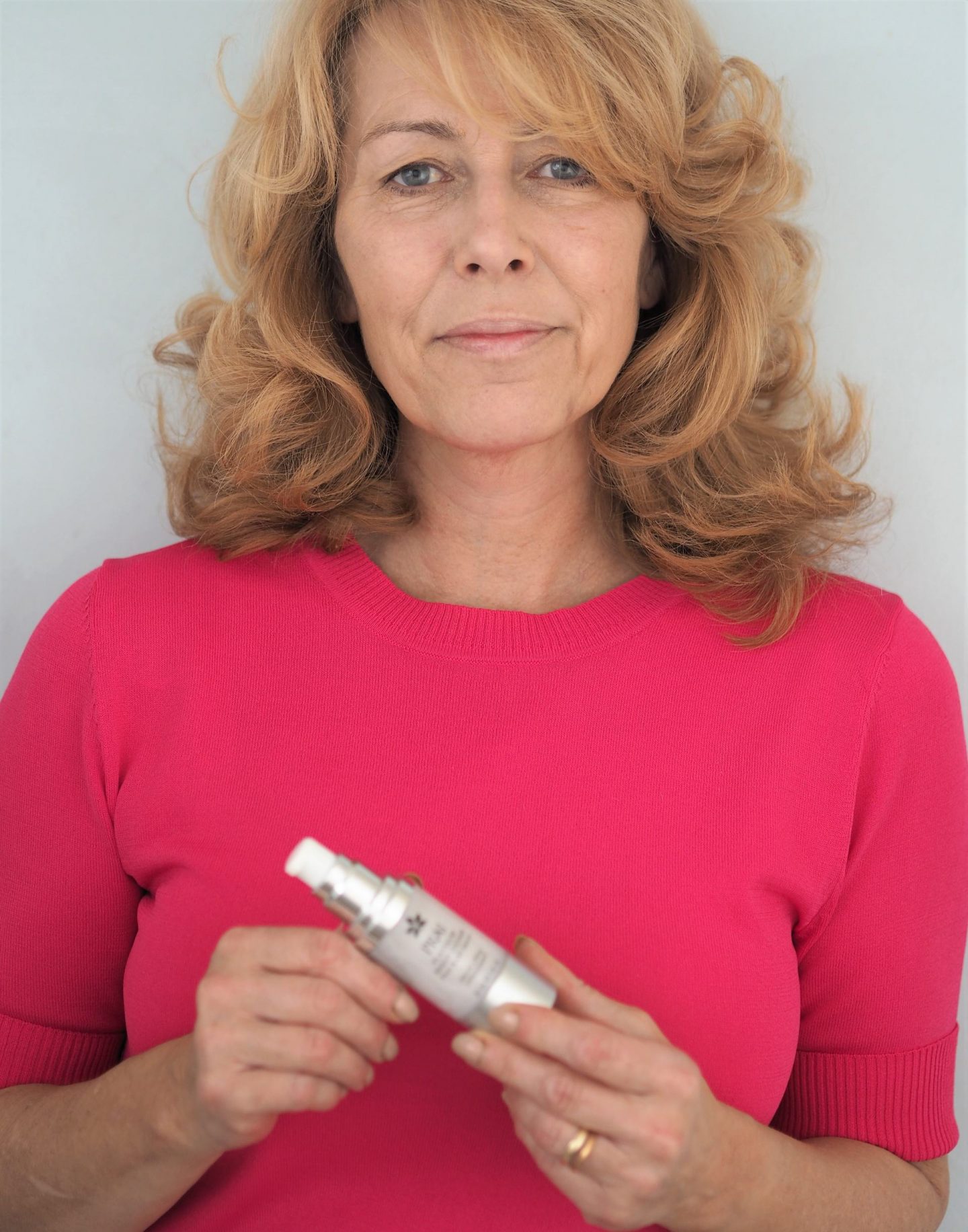 I'm quite happy with how my skin looks by week three. It's certainly not looking dry but quite healthy. I have no dryness but I can't see visible lifting results. Moving into week four I reflected on my thoughts about using the Platinum range and I'm going to list my views below of the pro and cons.
The Pro's
Price. I think Prai is a good skincare range that's not overly expensive. If you are watching your spend this is the brand for you.
Hydrating. The serums and creams have left my skin looking and feeling hydrated and the finer lines are certainly less visible.
I would definitely continue using this with my other skincare. I've had worse results with more expensive brands and the ingredients make sense if you read up about them.
The con's
No SPF! Although as all brands will say, the creams are not so effective if this is added to anti-ageing creams.
Pilling. I found applying my foundation after the cream sinking in I got some pilling when I applied my foundation. Everything would roll off my face. I wondered if it was just surplus and after rubbing my face with a dry flannel, this fixed the problem.
I didn't notice much lifting effect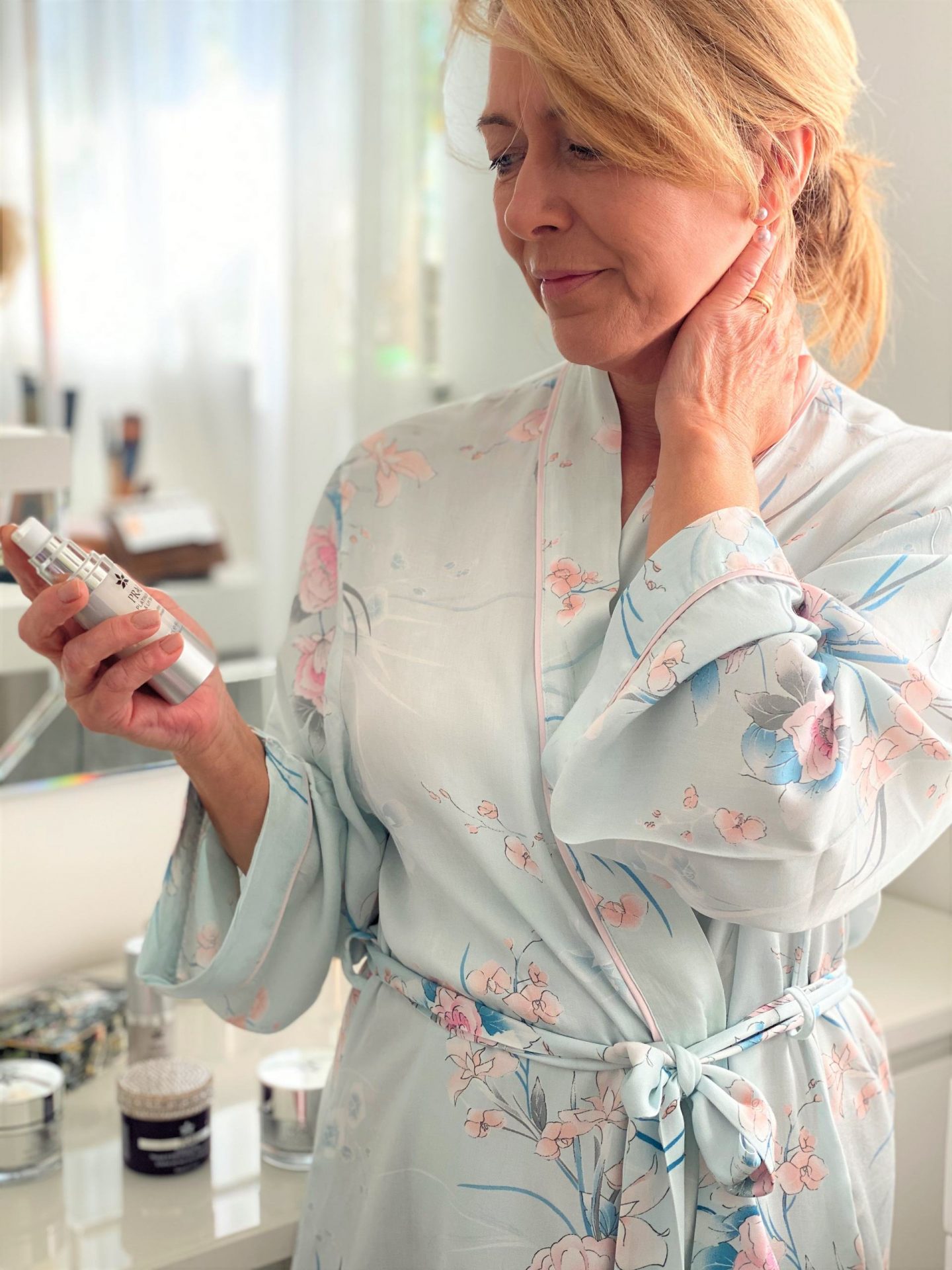 Have you tried any of the Prai range? I totally recommend it. I certainly wouldn't be without the neck cream, and like I said I would continue using these serums and creams again. If I didn't like them they wouldn't have got a mention here like many potions I'm sent to try.
Keep you and yours safe and well xx
Please be aware that there are affiliate links included in this post at no cost to you if they are clicked on
---
Thank you for stopping by!
Come back for more. Click on the subscribe form below
YOU MAY HAVE A FRIEND THAT'S INTERESTED IN THIS? PLEASE USE THE SHARE BUTTONS
XO LAURIE
Subscribe for the latest updates!