Well. It's taken time, hasn't it? I moved into the new house in September which seems forever ago. At last, I have a room to reveal, a retreat to escape to when the going gets tough doing the other rooms! Now, this one is finished I don't want to leave it. Someone wave a magic wand please so that everything is done when I open the door to the rest of the house!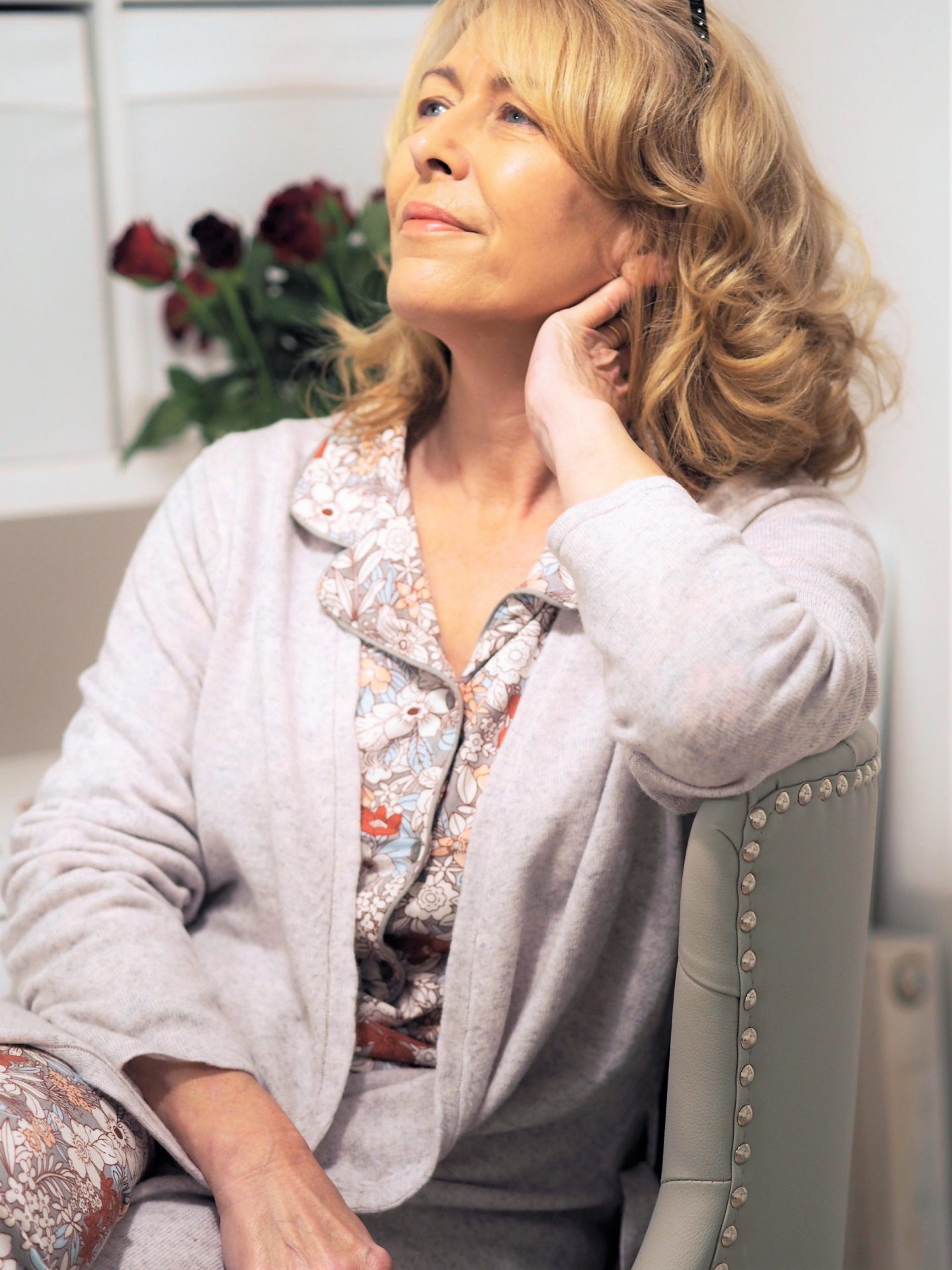 Perfect timing for the room reveal. Thank you Woolovers!
This is another sponsored post from my favourite knitwear brand Woolovers. It's good to get to work with a brand I hold in such high regard. I spoke with Woolovers about my house move and all the decorating that's been going on when I posted about the striped jumper that was so popular a while back. I think I had just moved here then?
So it was agreed that when my room was ready to be shared with you my lovely readers I had a lovely item of loungewear to celebrate it in too. There's a 20% off code for Woolovers at the end of this post for all you too.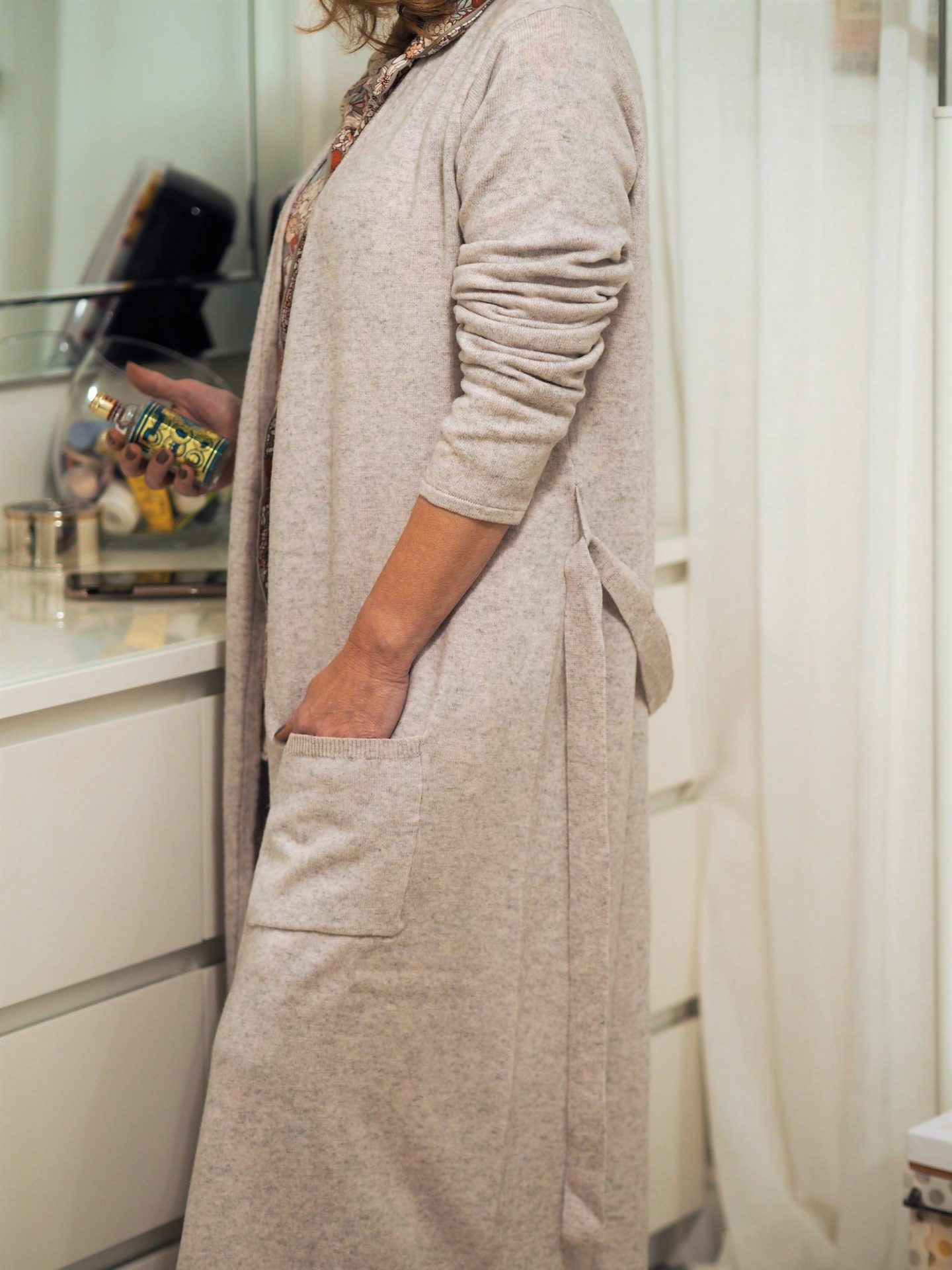 This dressing gown is 90% Merino and 10% Cashmere for a dash of luxury. It's very lightweight but surprisingly warm. It's also machine washable at 30 degrees too, but I wash all my woolover jumpers in the machine on a 30-degree wash anyway and they have all been fine.
Deep pockets and a belt finish this dressing gown off perfectly for me. It's not showing as available online in the Light Grey but there's a Charcoal Grey available. I'm sure there will be a re-stock as I'm sure this will make a great present for someone over Christmas.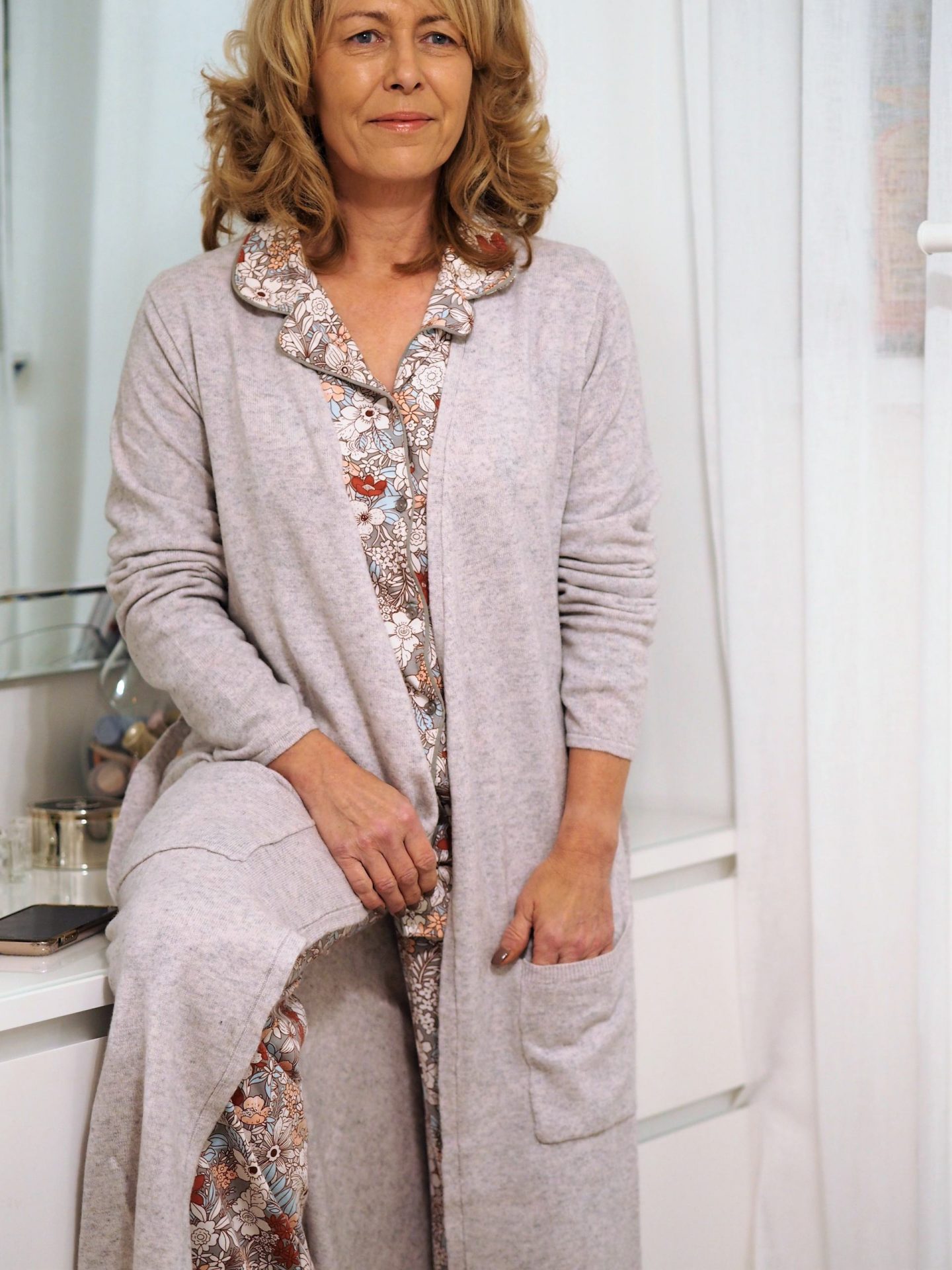 Just for the record, I'm wearing size Medium and I could have easily fitted into a small size. It's very roomy if you're looking for size reference. I'm feeling very "lady of the manor" wearing it.
The room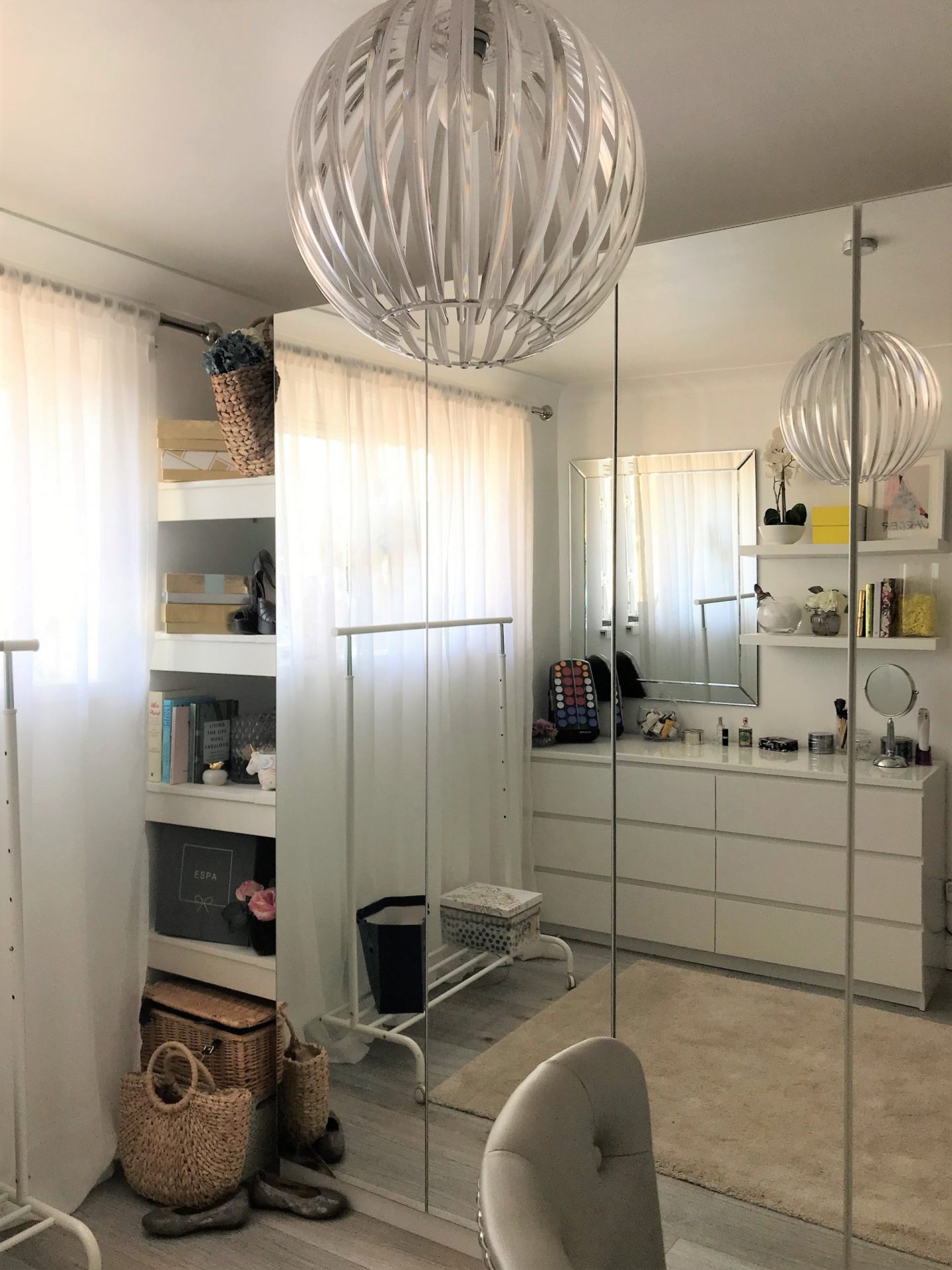 There's actually not a lot of difference here compared to the room I had decorated in January living in London. Don't fix what's not broke! I was very happy with how it turned out and it all worked well for me.
There are a couple of new items though. My new wardrobes wouldn't fit at the new house. I was gutted about that. One extra inch of height on the ceiling would have been perfect! So on the search, I went looking for replacements.
I wanted to try and fit as near to the ceiling as possible and I found the ones I bought at The Range for a very reasonable price. I didn't want a full wall of mirror and was going to wrap some of the doors in a gloss white Fabulon. But once they were fitted into the room I was happy with them.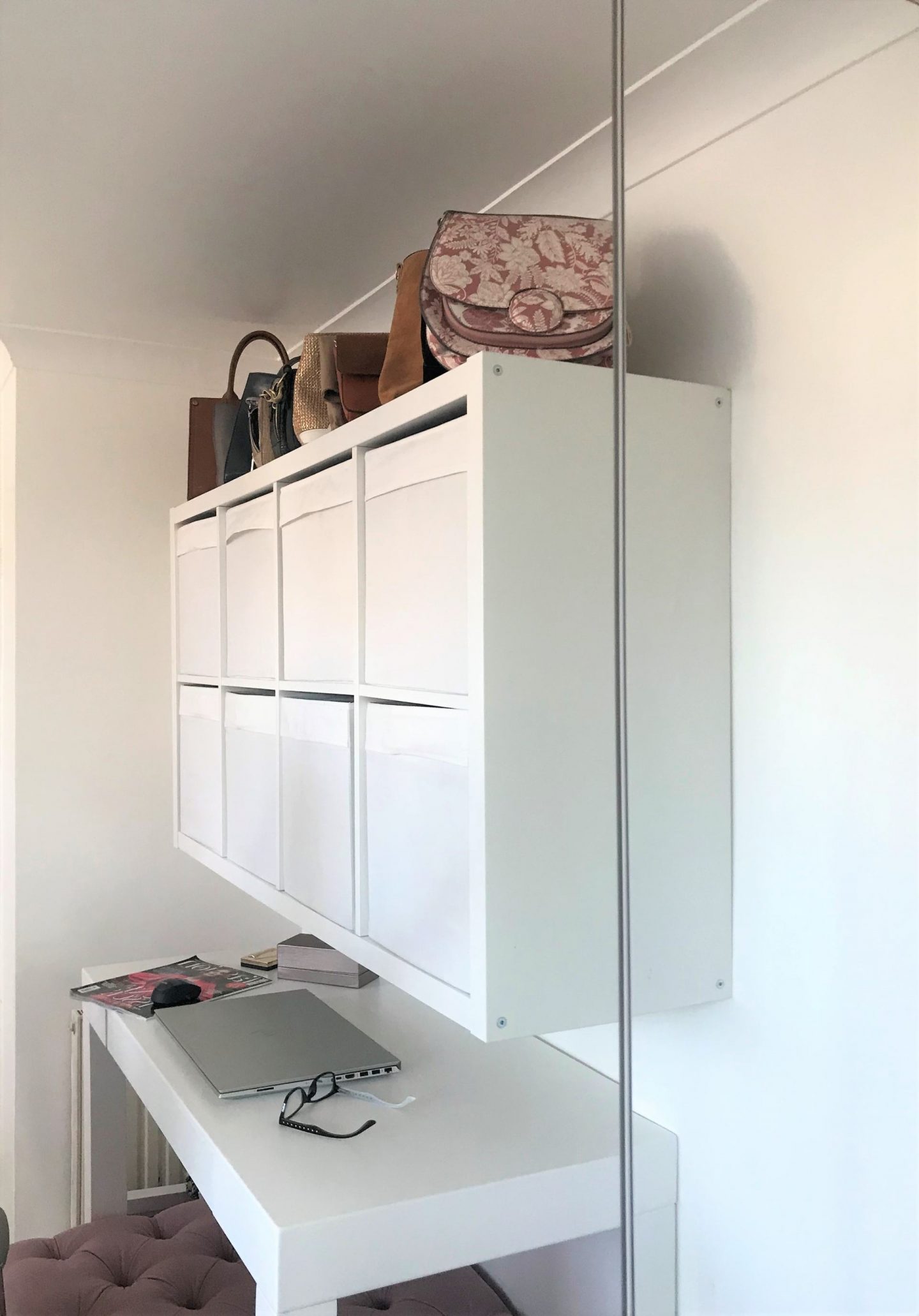 Remember the Ikea Kallax shelving on wheels from the last room I shared with you? The weels have been taken off and the shelves have been fitted onto the wall this time.
I used to have a little room off of the kitchen leading out to the garden in the London flat and I used to do all my blogging work in there. I tried working downstairs at the table here in the front room but I'm a messy bugger with papers etc, so I decided to have a work table added to this room. I bought this one from Wayfair.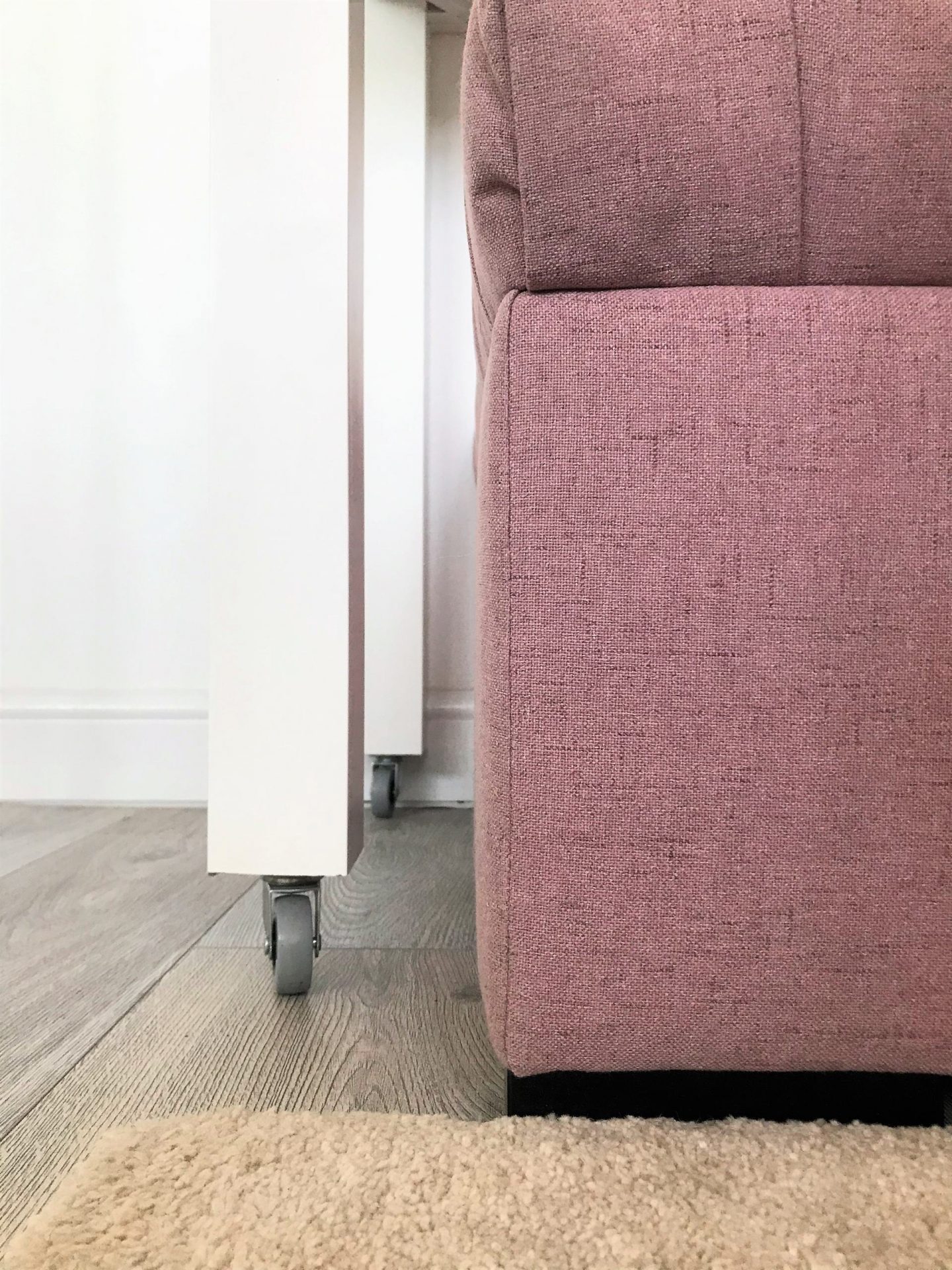 I've added wheels to the legs of the table for movement. I can put the desk in front of the window for any makeup/skincare vlogs/blogs. There's a new film coming up if you'd like to follow my YouTube channel? I'd love that.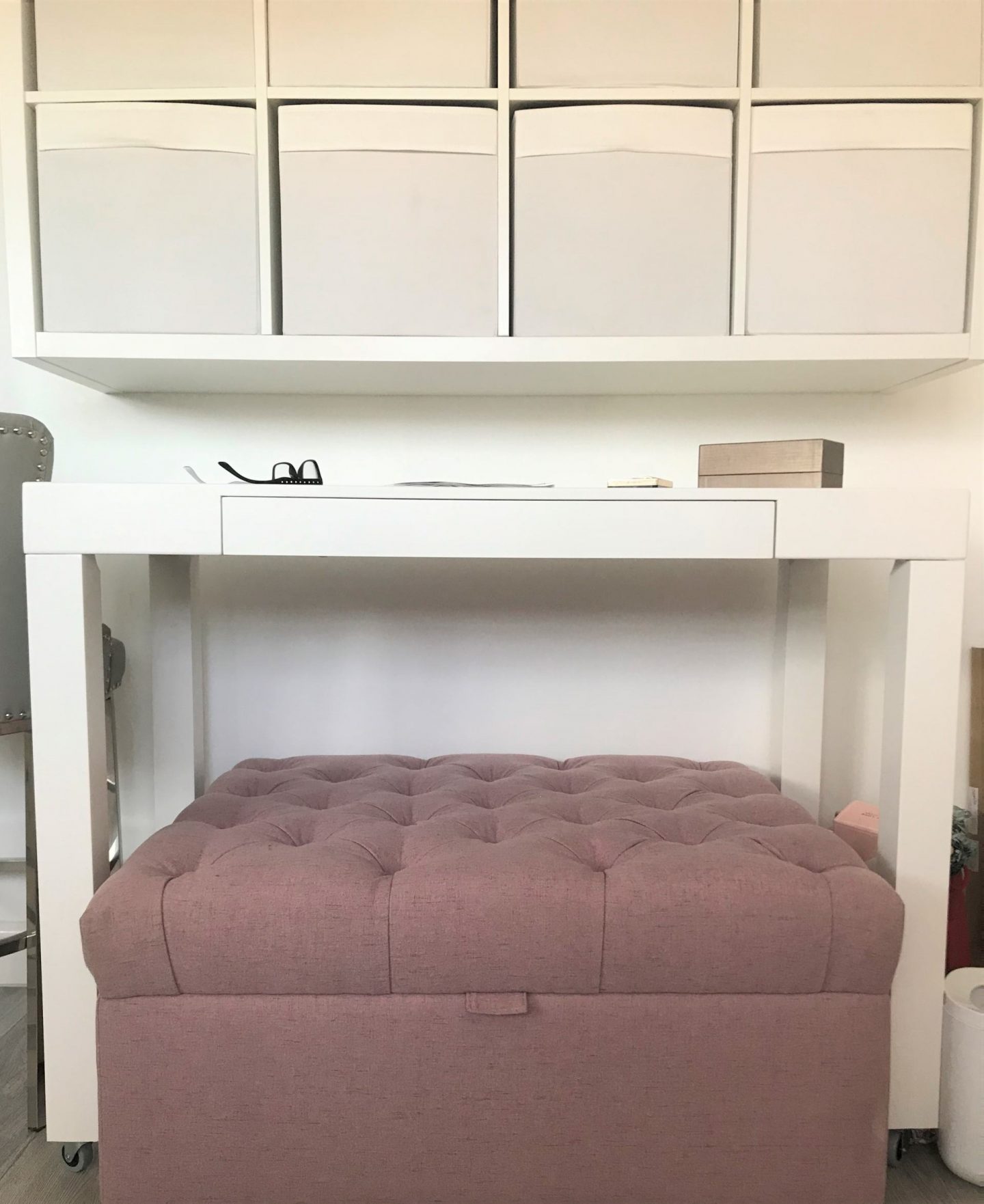 Under the desk is my bed in a box. Another reason I need the wheels on the table. I just pull the desk out a couple of feet when I'm working.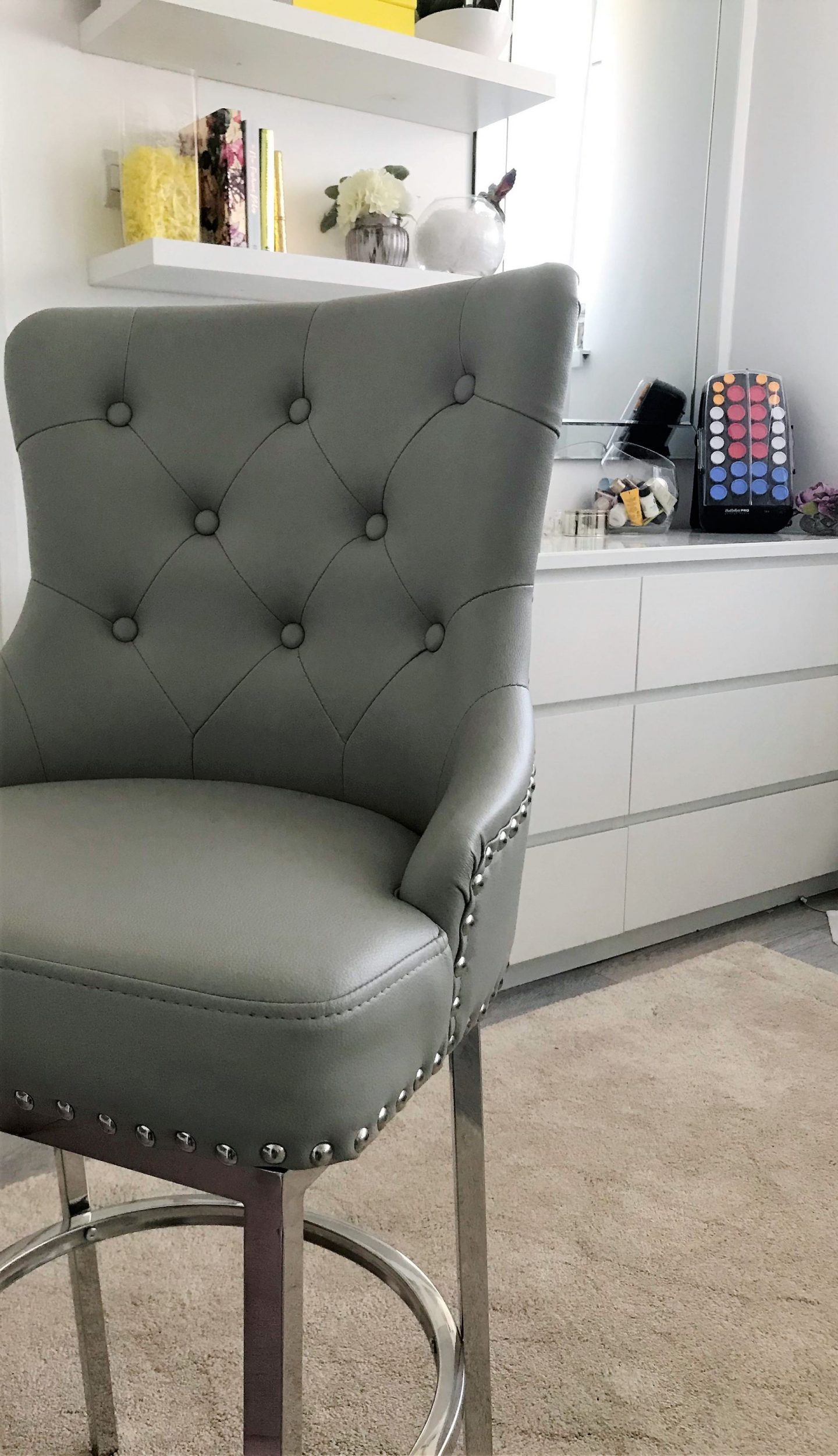 A new stool was needed for the desk and I've been really pleased with this one from Atlantic Shopping. There are thousands to choose from there. I've chosen Grey to work with the White and pink in the room.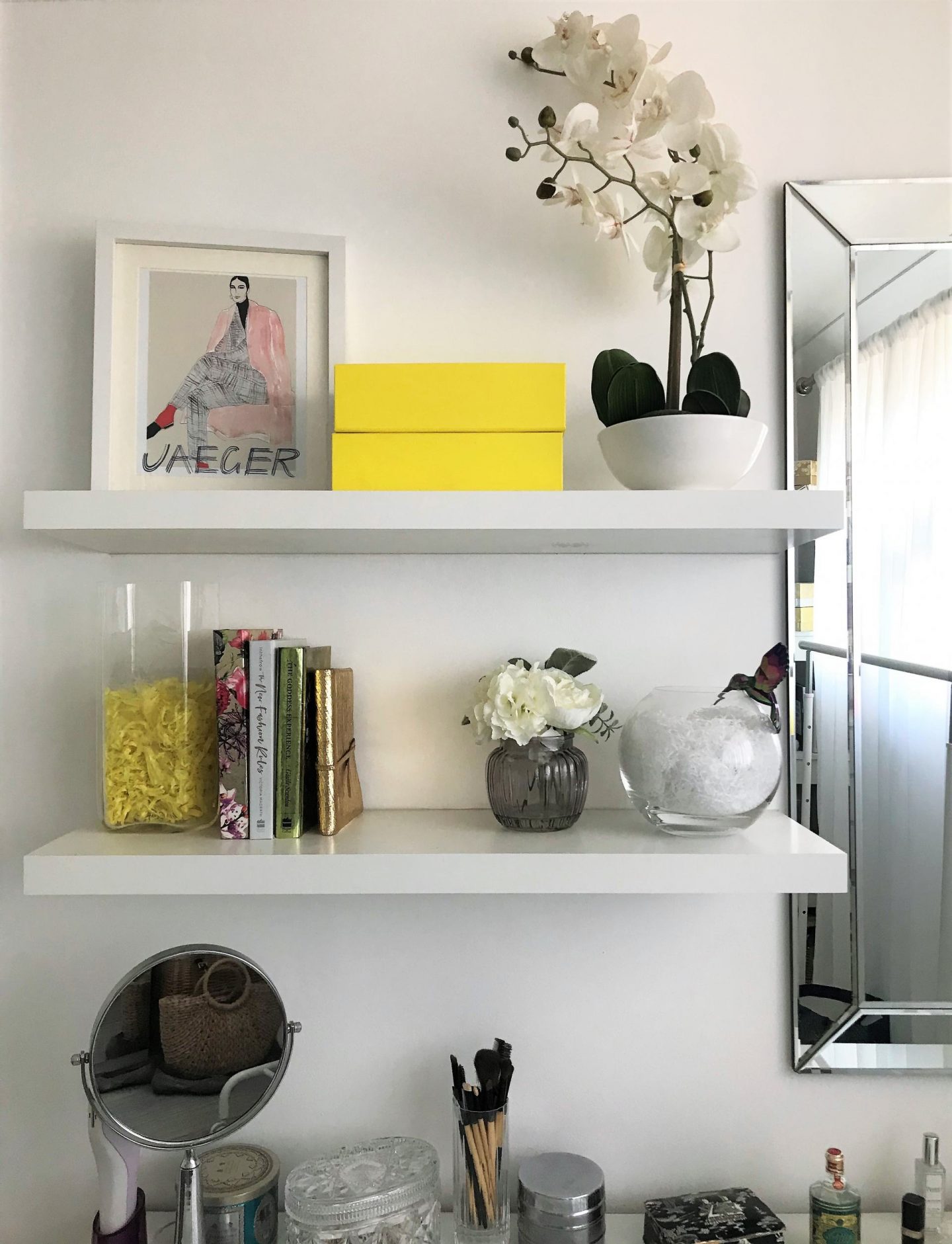 The shelves look just like they did in the London flat. I've added in the bright Yellow Trinny London boxes and bought some shredded tissue paper from Hobbycraft and added it into one of my vases, just for a little splash of colour in the room.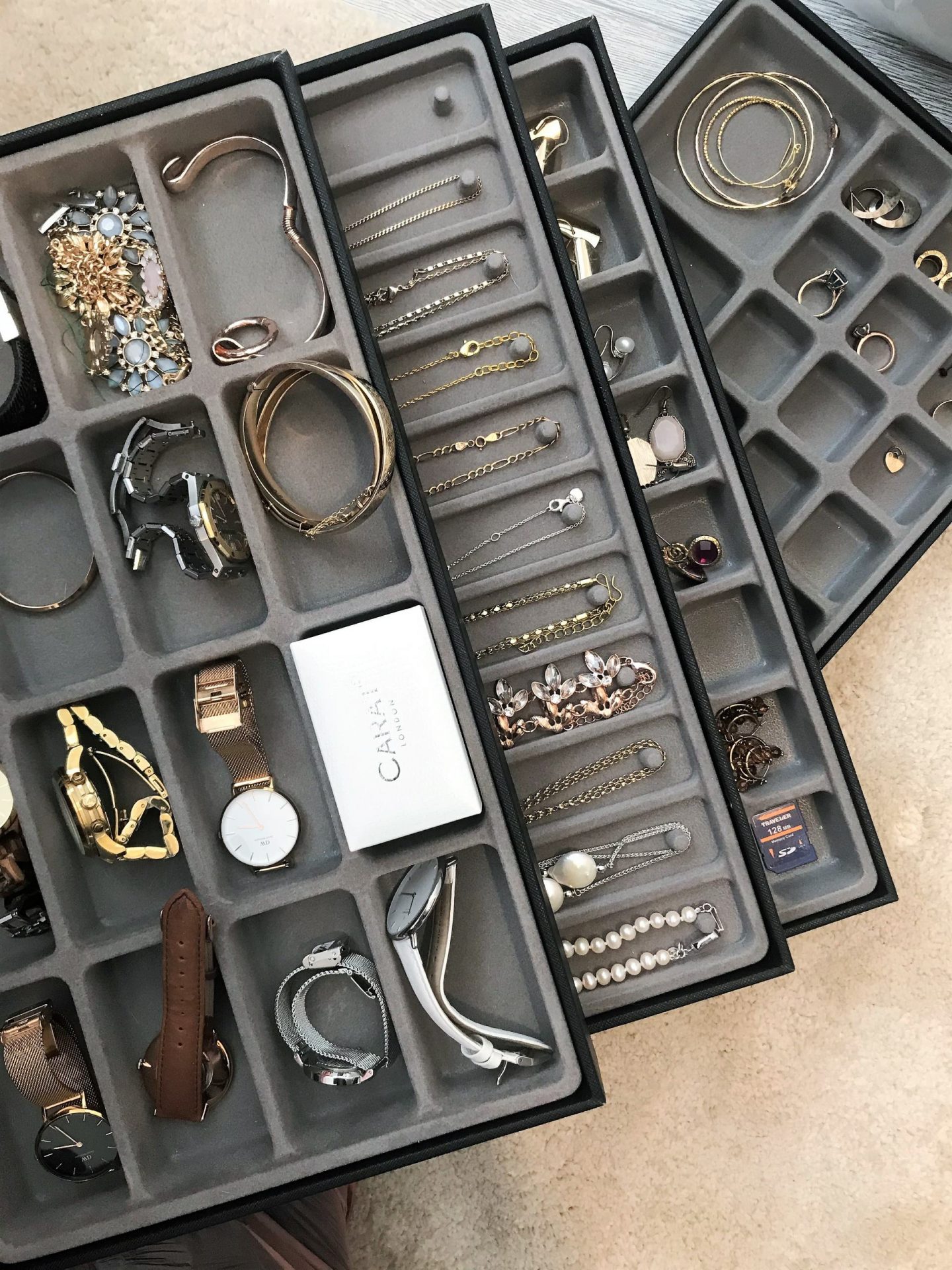 If you watch my stories on Instagram, you will have seen me talking about these stacking jewellery boxes from Amazon. I store them in the bottom of the wardrobe and they have been a godsend for just reaching out for the item you want to wear.
£30.00 well spent, they are great. There's a tray for bracelets, one for earrings, one for necklaces and another box with different shaped compartments. Again I think these would make a great Christmas gift.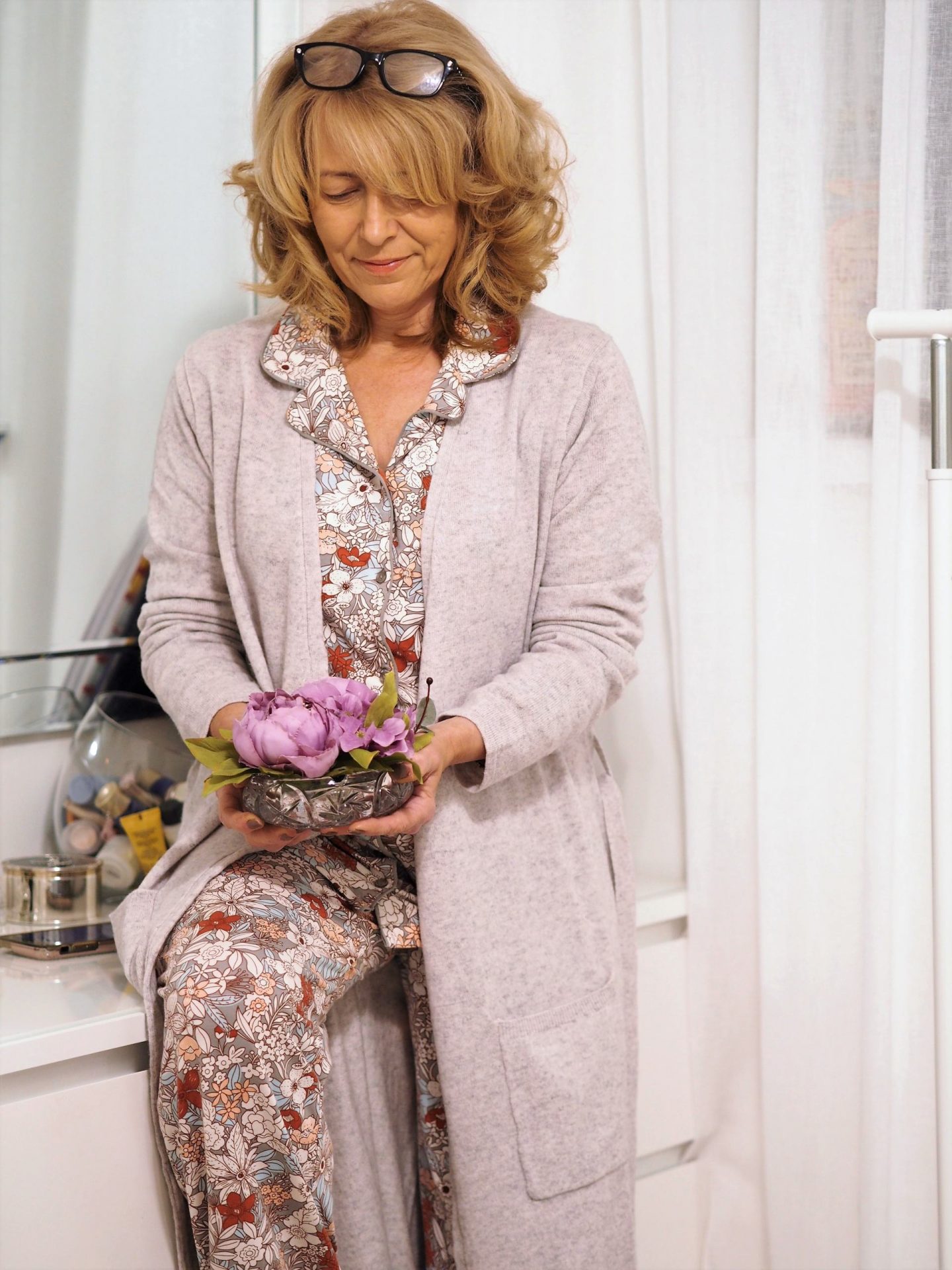 So. I hope you like my new little room? I'm happy. It's amazing how everything takes so much time, isn't it? The things that you can't see like the plastering, the electrics being re-newed and moved. Stuff like that. I'm going to change the rug but other than that Voila it's done!
Get 20% off at Woolovers using the code VANITY20
And the same code VANITY20 USs readers available here
---
Please be aware that there are affiliate links included in this post at no cost to you if they are clicked on
---
Thank you for stopping by!
Come back for more. Click on the subscribe form below
YOU MAY HAVE A FRIEND THAT'S INTERESTED IN THIS? PLEASE USE THE SHARE BUTTONS
XO LAURIE
Subscribe for the latest updates!