As I mentioned last week, I should be moving soon and a few readers commented about the renovation on our little London flat that I had started. So I thought I should explain.
The main bedroom managed to get finished and we had just started on the hallway, having all new architrave and doors added.
Then, just after Christmas one of the grandchildren got ill. It was quite a long drawn out illness. Sadly he's severely autistic too. It changed everything. My daughter needed me more than ever to help out and that made up my mind. We have to move. I don't want her to feel that desperate ever again.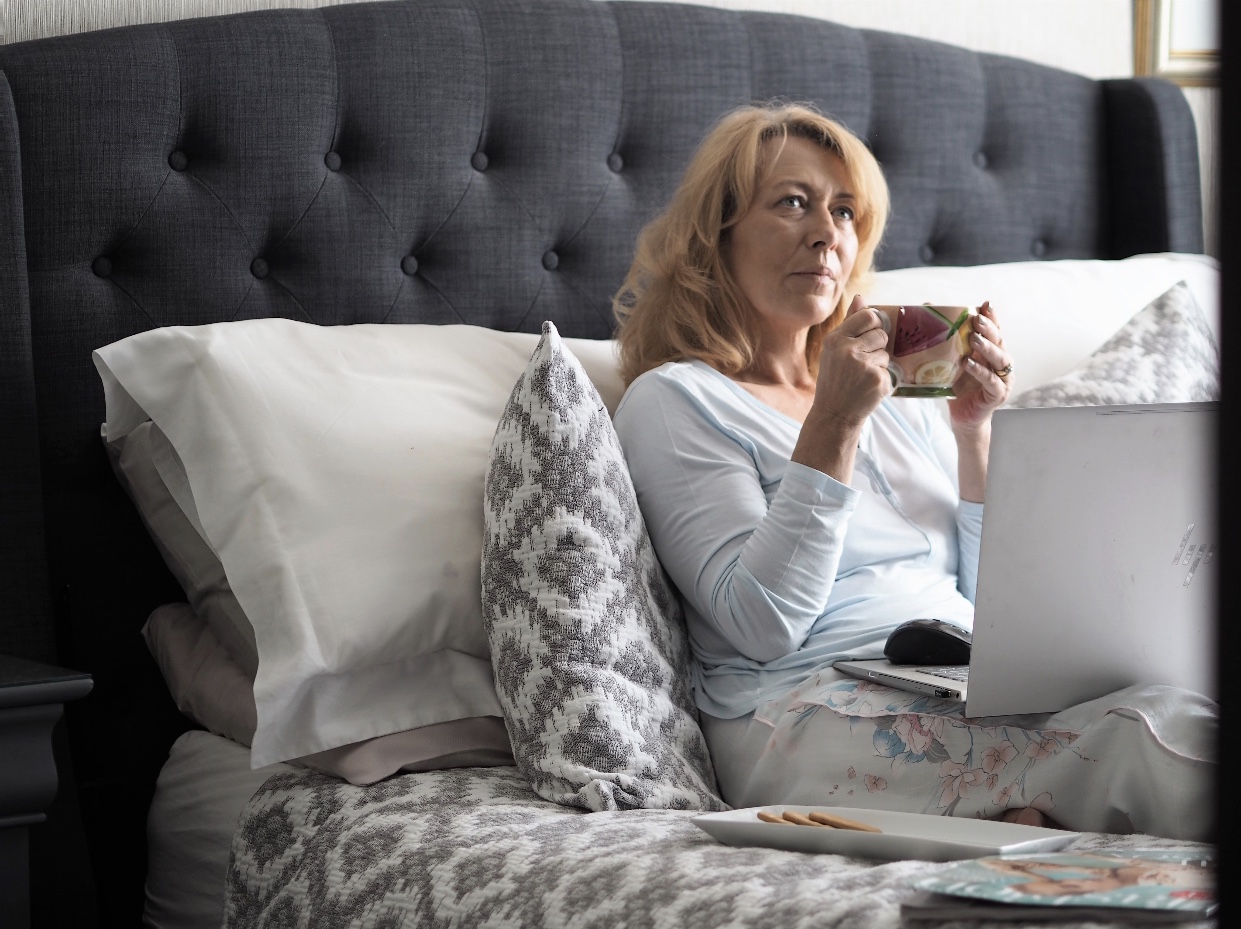 So. we have found a house in Essex. All fingers crossed it won't fall through and I'm packing away like a little beaver! But as I laid in bed thinking about those comments that were said. Yes, I've done some decorating, and I realised I haven't ever shared the second bedroom. I guess because it's still not truly finished.
So I'm sharing what I can with you here today. I hope you like it. It's as monochromatic as my wardrobe! But I love what we managed to get done.
I'm taking the bedroom with me!
The only thing that I spent money on that I can't take with me is wallpaper, coving and skirting boards. But all is not lost because everything else is coming with me.
Grey, Cream and White is the main theme of the room. There are a couple of prints hung on the wall that we love and wanted to keep but I wanted to change the frames to silver and Dee didn't. I lost the argument on that one! so we have both silver and gold in the room. Does anyone else have to fight over decor with their other halves?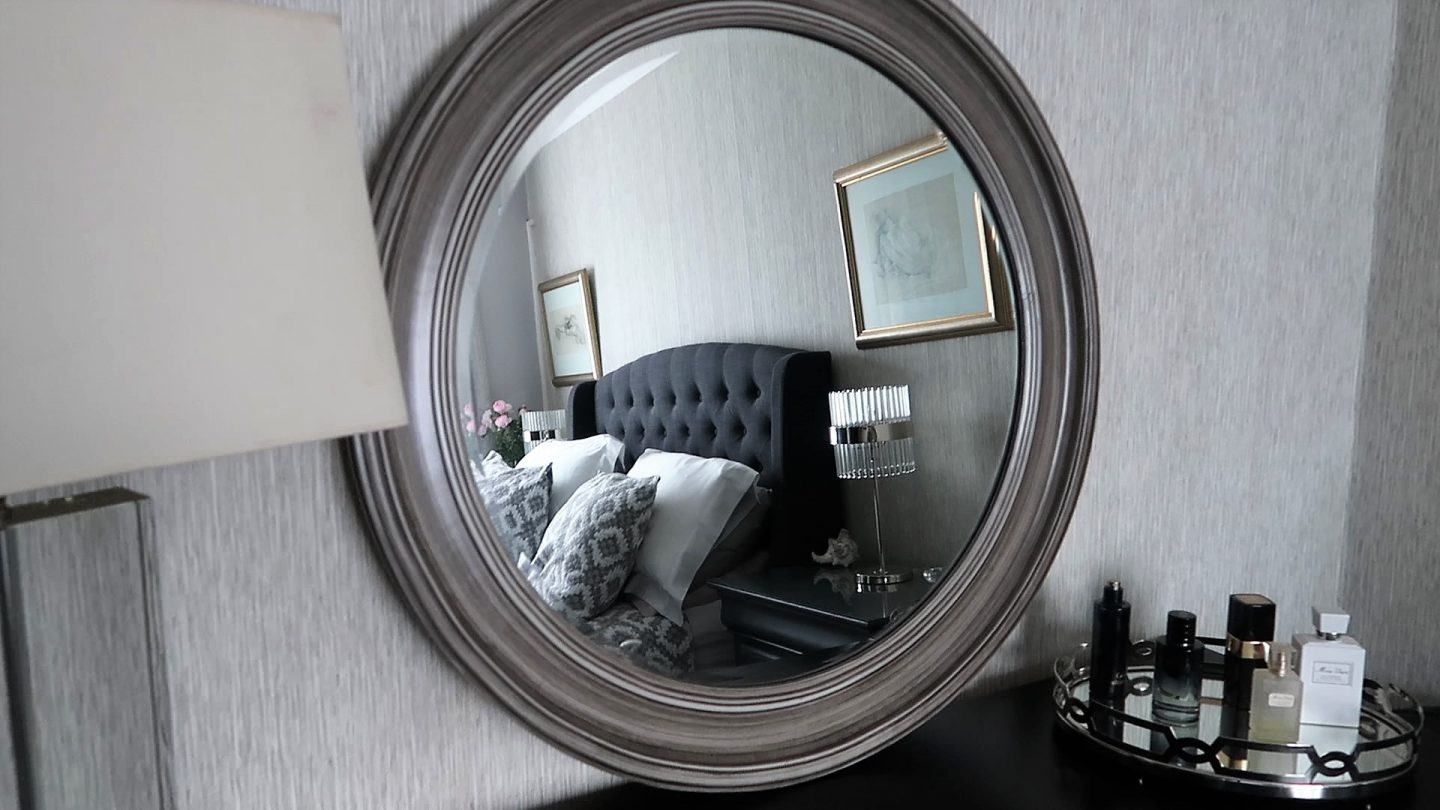 I love the round mirror that I bought in The Range. It hasn't been hung on the wall. I decided not to add any more fixings so that the new people that are going to live here won't have unnecessary hooks and bits and pieces to worry about. The ottoman bed was purchased from Dunelm and I'm really pleased with it.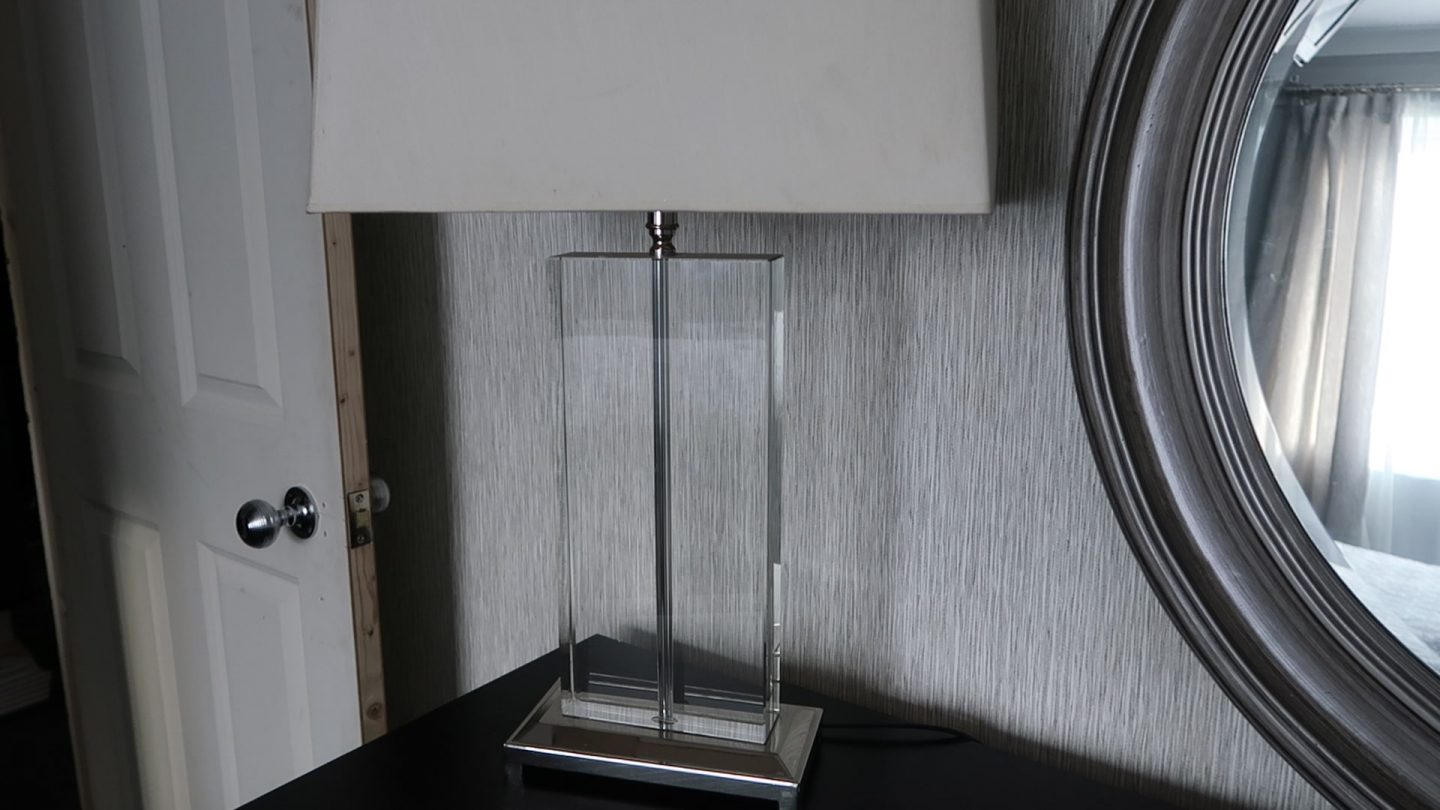 I've had the table lamp for some time. It's from Andrew Martin and it's my prize boot sale find! I paid just twelve pounds for it instead of the four hundred it would have cost new. I'm still on the hunt for a new shade for it though, and as soon as I move a re-decorate I will buy one.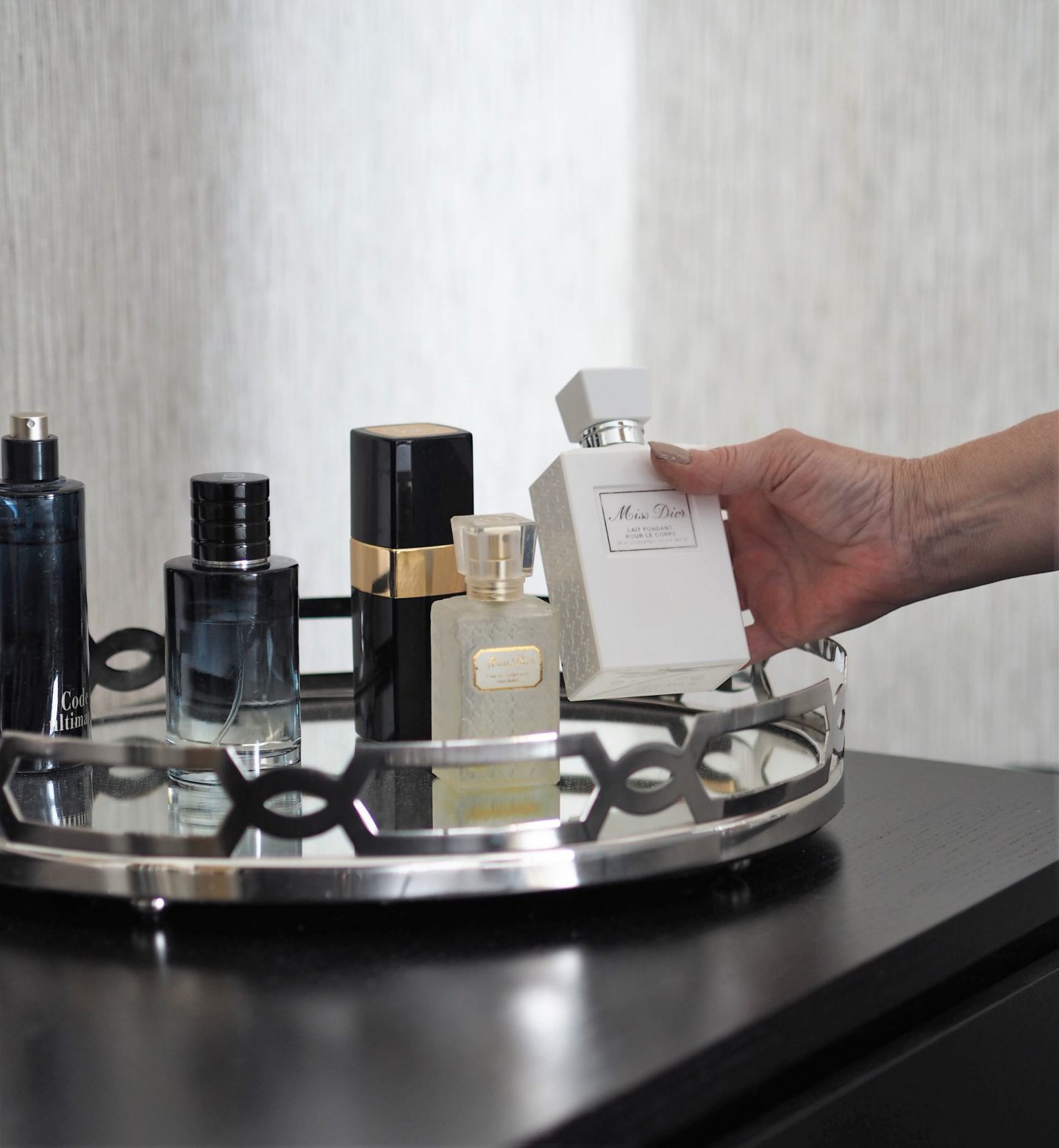 I found the silver tray in Laura Ashley. I thought it added a nice finishing touch. I'm not keeping the large chest of drawers that the tray sits on. I will be replacing those.
If you've seen the decorating the bedroom vlog then you would have seen how the bedside chests looked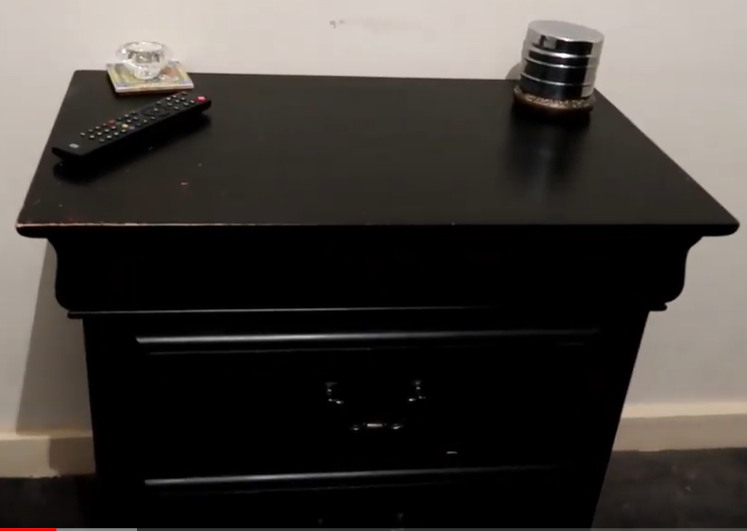 We found these bedside chests of drawers at a secondhand furniture retailer locally. They're really solid and I had a plan for them.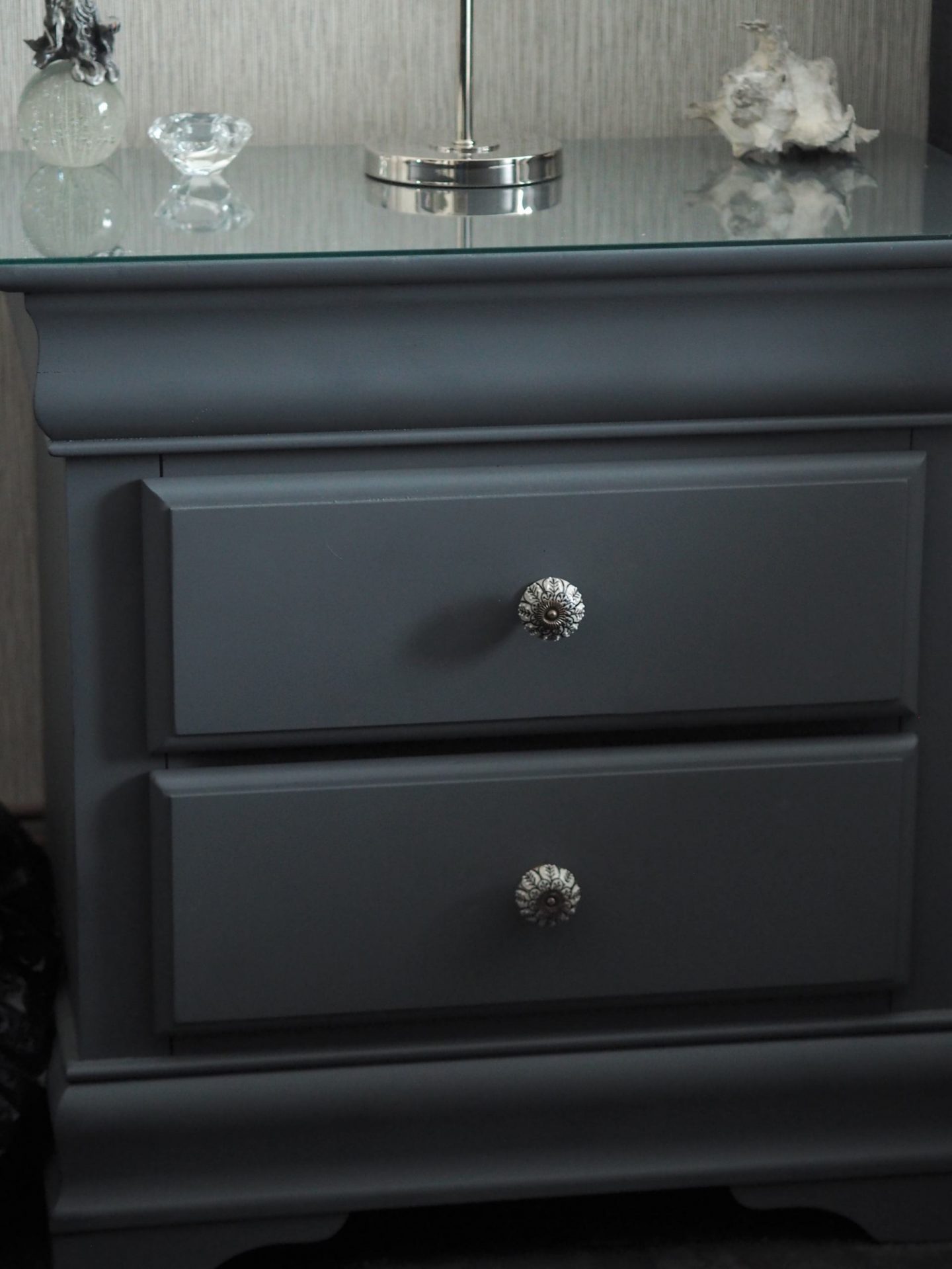 I spray painted them In Grey, had a glass top cut to size and added different handles that I found in TK Max. I'm really pleased with how they look.
A neutral wallpaper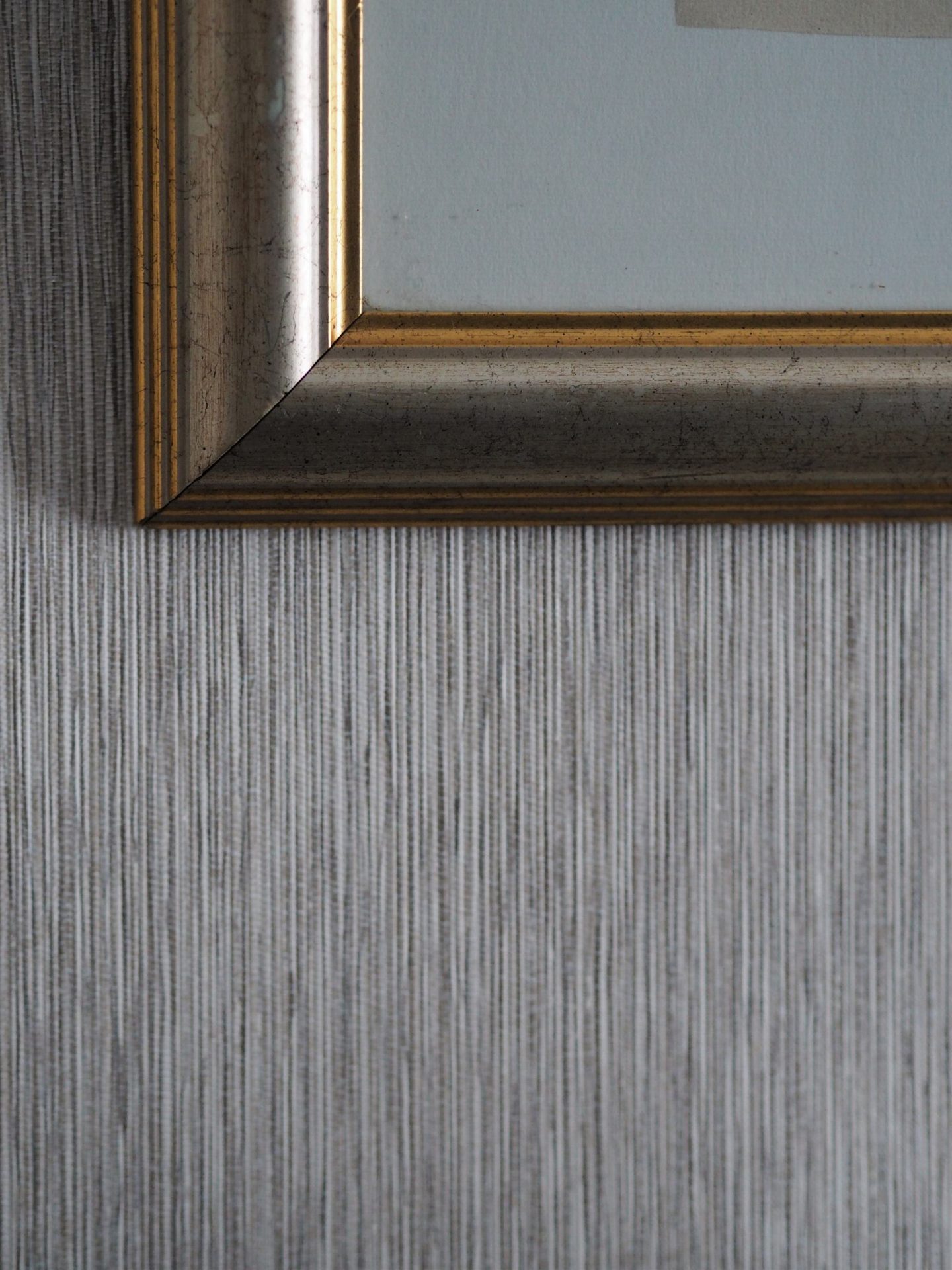 I found the wallpaper in The Range. It's a textured paper with lots of neutral coloured stripes running through it. I wanted to add as much light as possible to the room because our furniture was so dark. I'm really pleased with it and I'm just about to re-order for the new bedroom.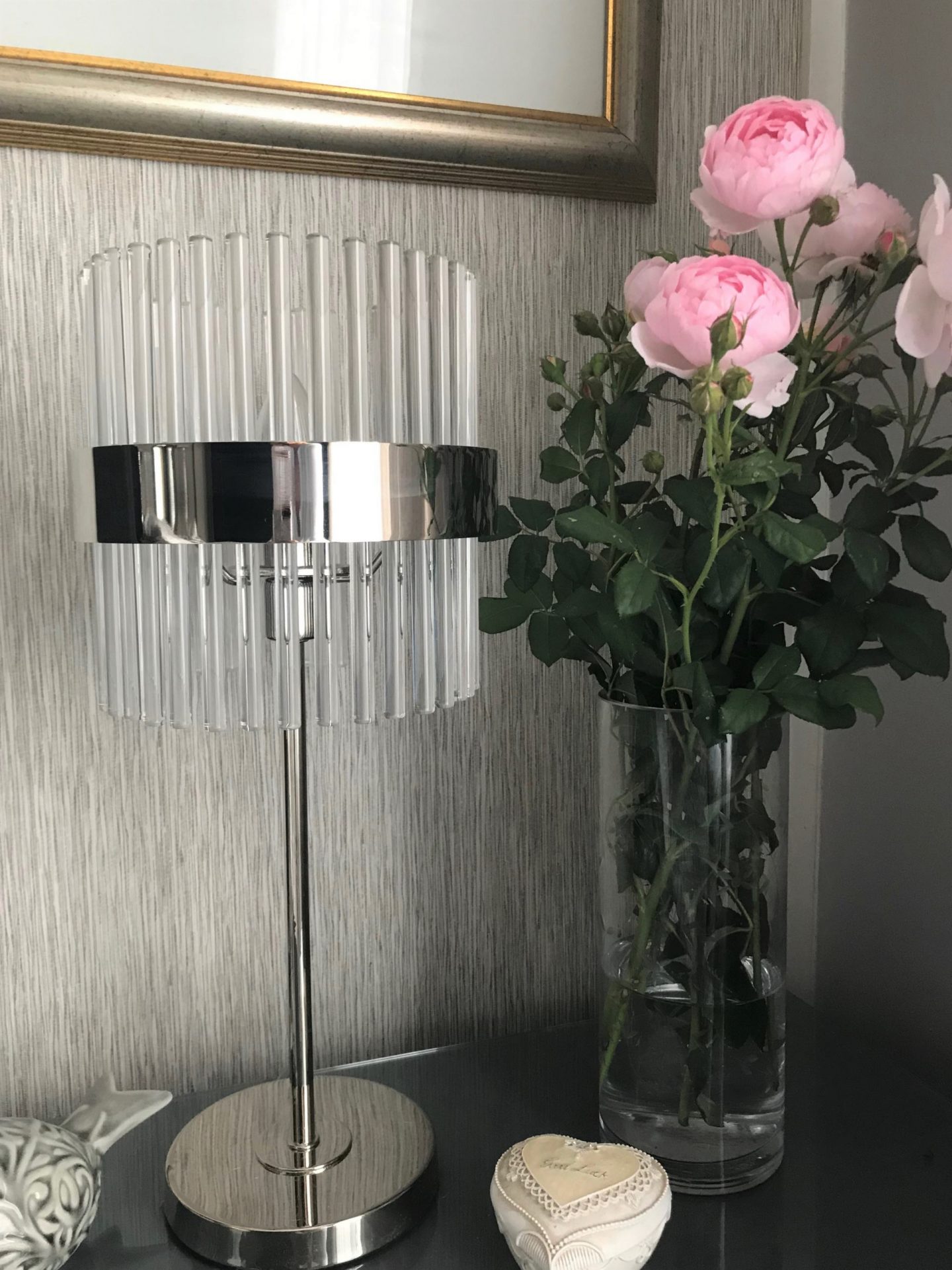 The bedside lamps were from Laura Ashley on sale. I'm quite shopping savvy! I'm waiting for the matching ceiling pendant to go on sale now too. The cut roses are from the garden and the scent they give off is gorgeous.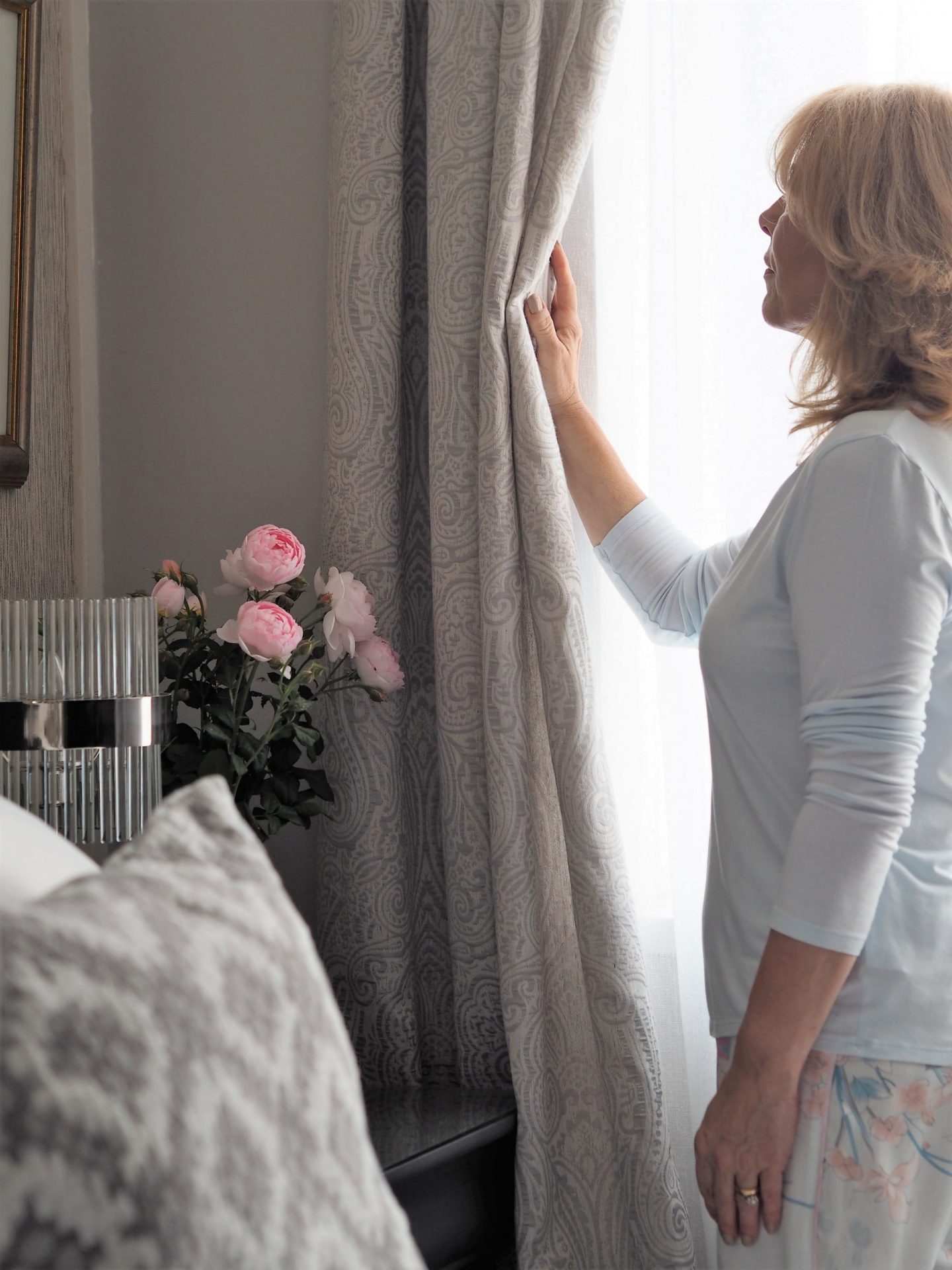 The curtains were found in TK Max. I always find what I want there. I also added the cotton sheer curtains that I used in the first bedroom makeover. TK Max and Homesense are my go-to places when looking for bedding, towels and accessories. I have four large stores all in a 10-20 minute drive of each other in London. I will miss them!
After all the hype that I've read about The White Company bedding, I had to try it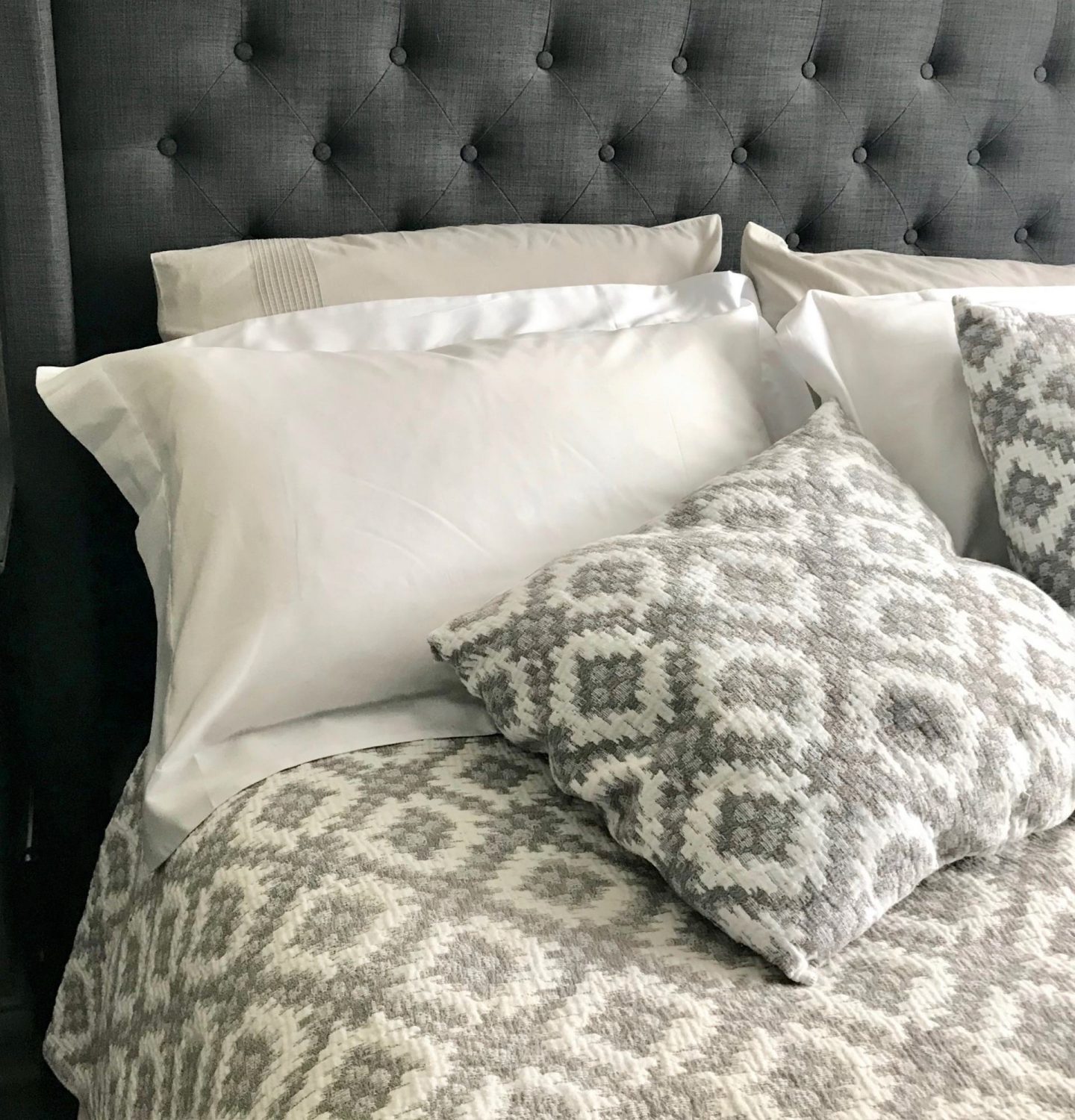 I decided to treat myself to some White Company bedding. I watch and read some interior blogs and they all rave on about it. I bought a quilt cover and pillowcases but it's too hot for the quilt yet, so I'm just using the pillowcases at the moment. I have to say I love how they feel. They wash lovely and the quality is what you would expect for the price. I recommend it highly. I get what they're all going on about now.
The throw and large cushion covers are from Ilva. A store that opened up in Essex quite some years ago. It was a bit like an upmarket Ikea and didn't last long. No sooner had they opened stores, they shut them again.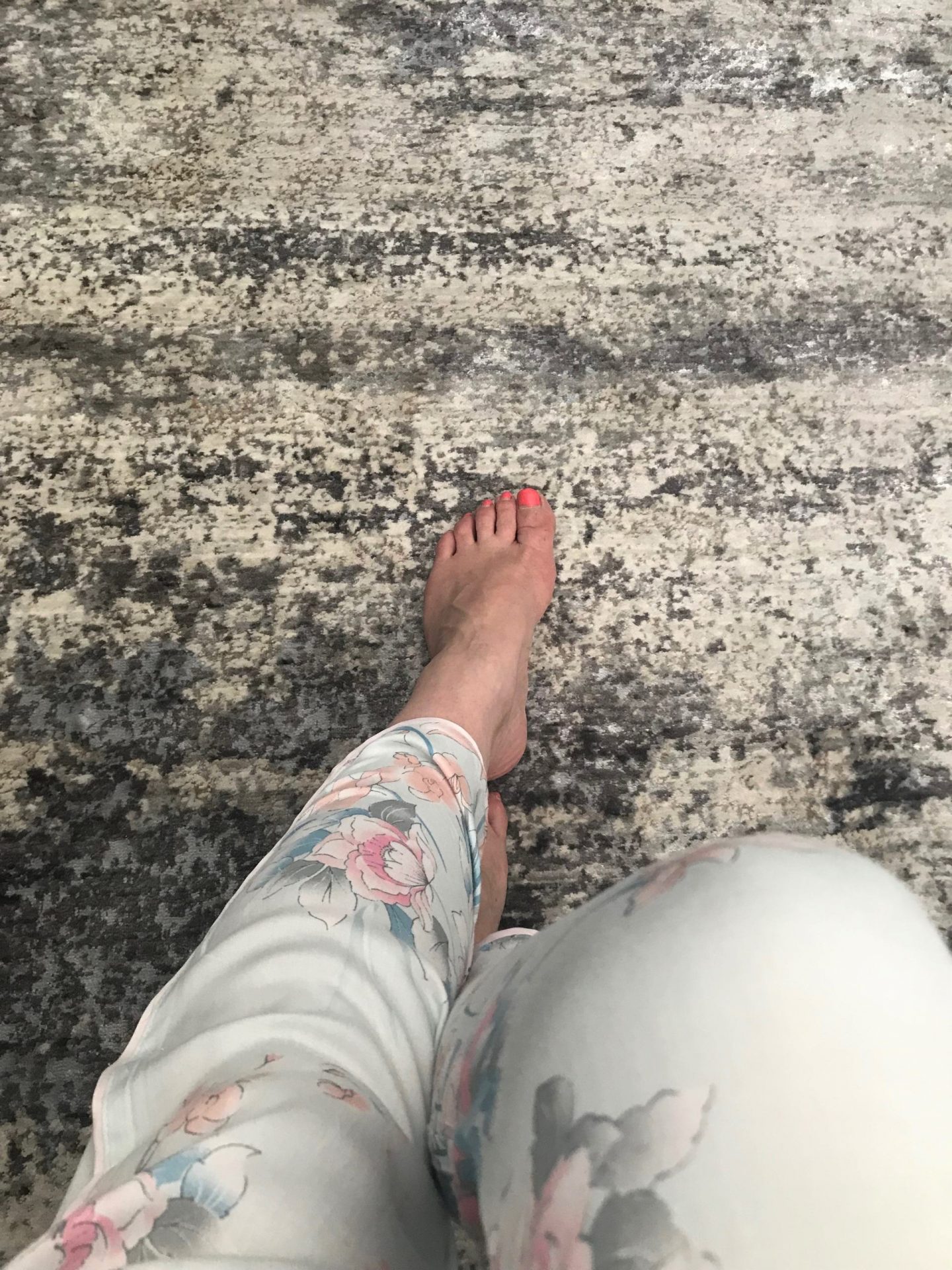 Bedside rugs in grey colour tones went down on the floor. Again another good find from TK Maxx
One big mistake!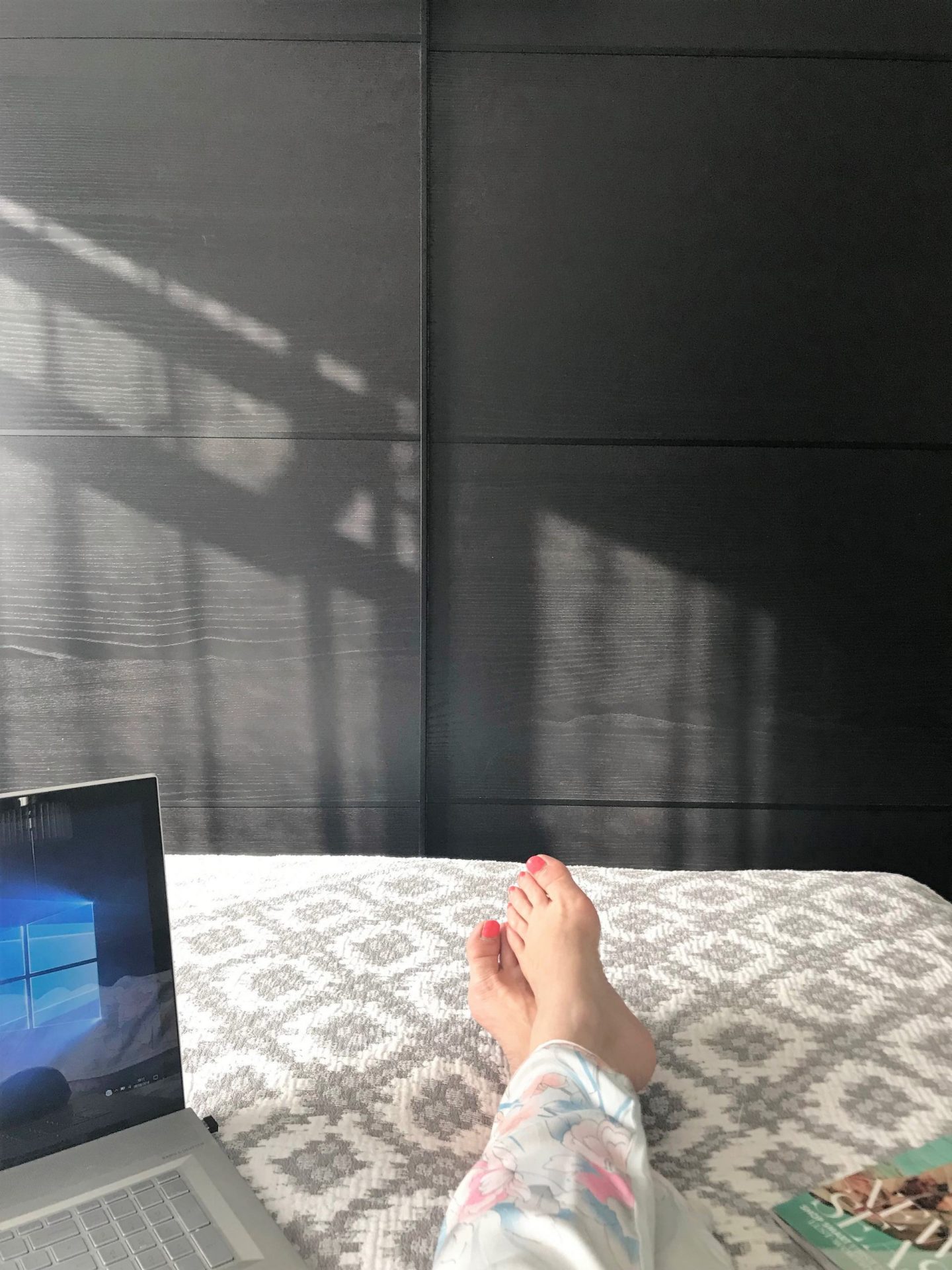 We decided to re-jig the wardrobes that we already had. The room was completely changed around and the doors wouldn't open fully in their new position.
I decided to buy sliding doors to replace the normal opening doors. I have the Pax wardrobes from Ikea and you can more or less design what you want. I just wish I had changed the colour. I hate them! They are just too dark for my liking and they will be going as soon as I decorate the new room!
So. That's it. That's as far as we got with our renovation. I'd love to hear what you think of it. Would you like to see more interior posts even? Let me know.
Thank you for stopping by!
Receive every post by clicking subscribe on the right-hand side.
You may have a friend that's interested in this? Please use the share buttons
Xo Laurie
Subscribe for the latest updates!